How to make Caramelized Onions in the most delicious way possible. These 5 easy but crucial steps result in sweet and sticky caramelized onions every single time!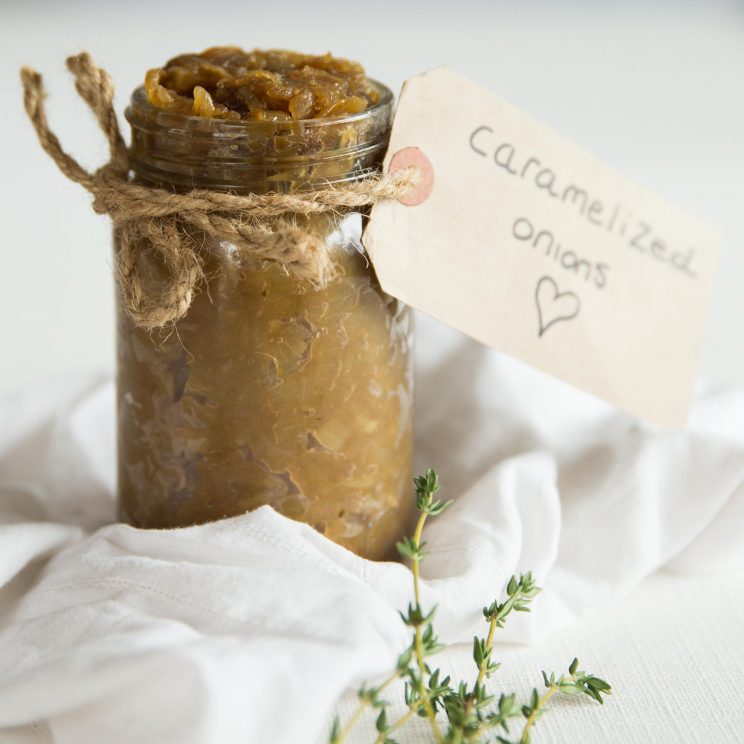 Homemade Caramelized Onions
There's really not enough kind words I can say about our dear friend caramelized onion. So sweet, sticky and rich, it's the perfect side serving to, well, literally anything! And that includes a large dessert spoon straight from the jar as well by the way. The best thing? Caramelized onions are the EASIEST things to make.
What do you need to make caramelized onions?
For a basic batch of caramelized onions all you need is a pan and some oil. Onions cooked on low heat over time release sugar, which in turn caramelizes. Sounds great right? There's more.
Through the unimaginable amount of caramelized onions I've cooked up over time, I've picked up a few tips and tricks along the way to truly offer the best caramelized onions recipe. Here I offer a short but sweet guide on how to get the most incredibly caramelized onions every single time.
I'll also show you how to use caramelized onions. Heads up – grilled cheese and caramelized onions is an insanely delicious combo.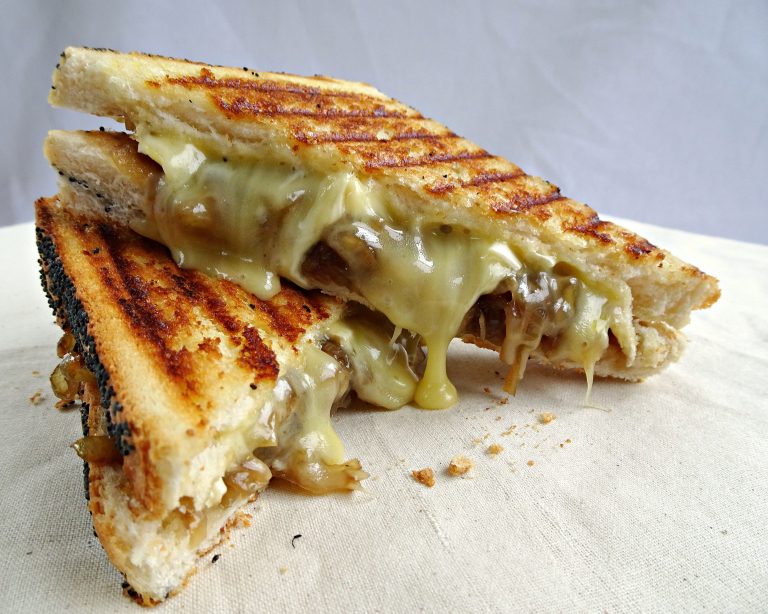 How to make Caramelized Onions – 5 Easy Steps
1. Prepping your onions
Best onion for caramelizing
I usually go for white onions, but red onions work just as well. I understand in the US you have 'yellow onions' and 'sweet onions' which I imagine will work just as well. Here's a quick guide to the 6 main types of onions!
Begin by evenly slicing your onions. This is important to ensure they cook at an even time. I normally use 1kg (2.2lbs) of onion to make a big batch. Lastly, make sure you have a large, non-stick & flat bottom pan. The bigger the surface area of the pan, the more onions get direct heat, which increases their chances of caramelizing and not steaming.
2. Caramelized onions in butter
Butter adds gorgeous richness to the onions. A lot of people use olive oil because it's got a higher smoking point, but I find that as long as your pan is non-stick and you're cooking low and slow you won't have a problem. You could also use half butter half oil. Simply melt butter into your pan and stir in the onions until fully coated.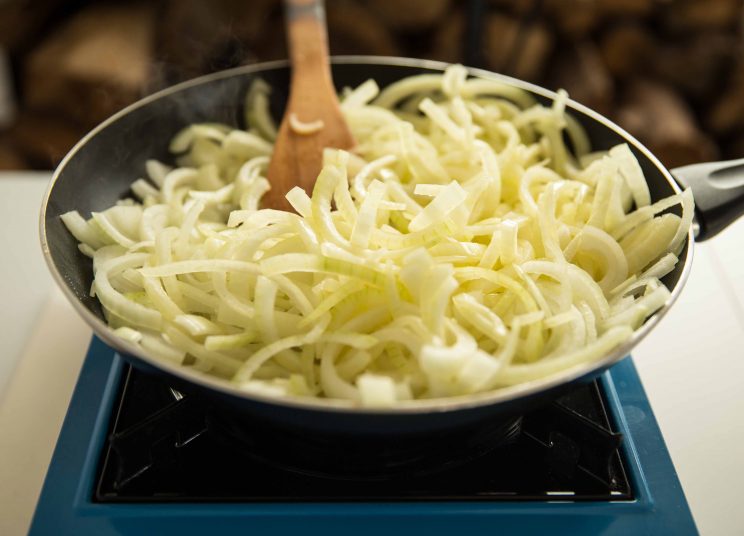 3. Caramelized Onion Seasoning
The great thing about caramelized onions is you don't need a whole heap of seasoning to bring out the best in them. I only use salt, pepper and fresh thyme (but that's completely optional). It does add a beautiful blast of aroma the the onions though.
Once the onions are fully coated and begin to soften, add in your salt and pepper. Cooking low and slow is the aim of the game. After around 10 mins your onions should look like the photo below. Translucent, wonderfully fragrant and almost fully soft.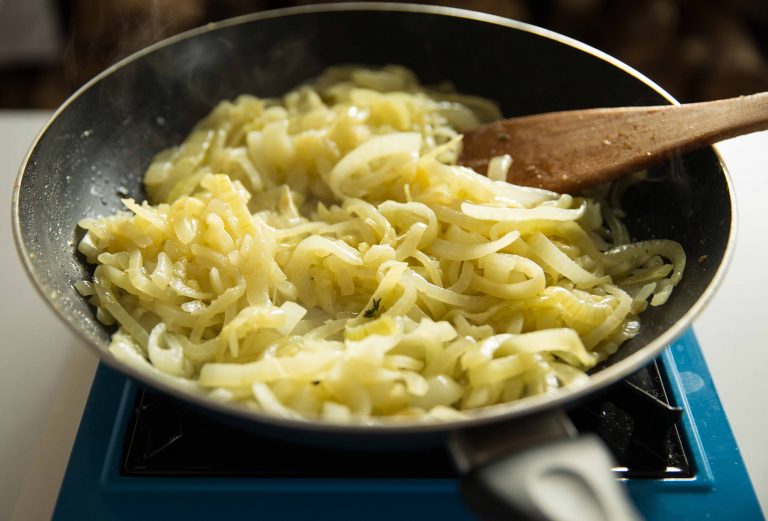 4. Caramelized Onions in Balsamic Vinegar
Adding balsamic vinegar to the caramelized onions helps balance out the sweetness with a little hit of acidity. It's also great in deglazing the bottom of the pan where there's heaps of flavour.
Around 25-30mins into the process of cooking on low heat and stirring occasionally, your onions will begin to turn golden and caramelized, looking like the photo below. At this point add in brown sugar and balsamic vinegar. The brown sugar will help along with the caramelization process.
Onions are packed with natural sugars, which when are brought to the surface of the onions, caramelize in the pan. In such case you don't NEED brown sugar, but it does help along with the process.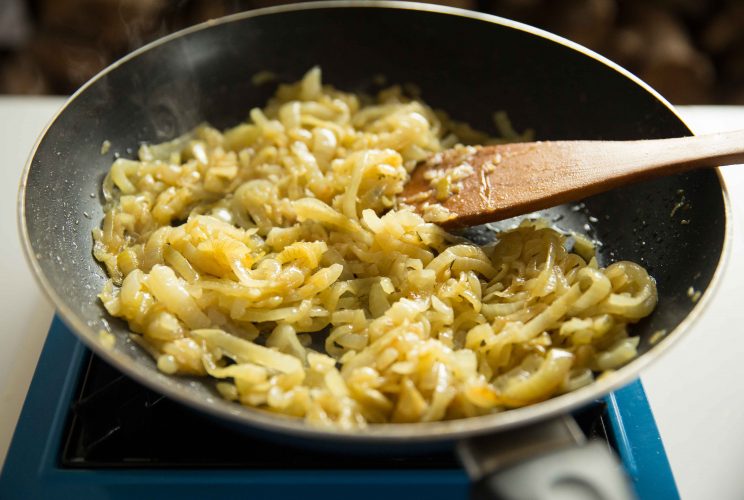 5. How long to cook caramelized onions?
So far they've been frying on low for about 30mins, so they're on their way, but not quite there. Honestly? The lower and slower the better. I've actually made caramelized onions over a period of 2 hours before (and they were bloomin' gorgeous!). But a minimum should be another 20mins (50mins in total).
How can you tell when onions are caramelized?
They'll be a deep golden colour, VERY soft to touch and taste sweet and sticky.
How to store caramelized onions
Pop in an airtight jar in the fridge. They should keep for up to a week!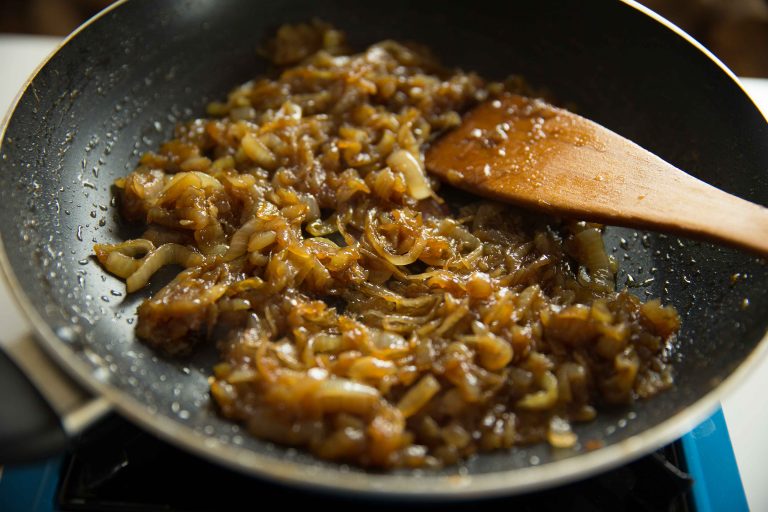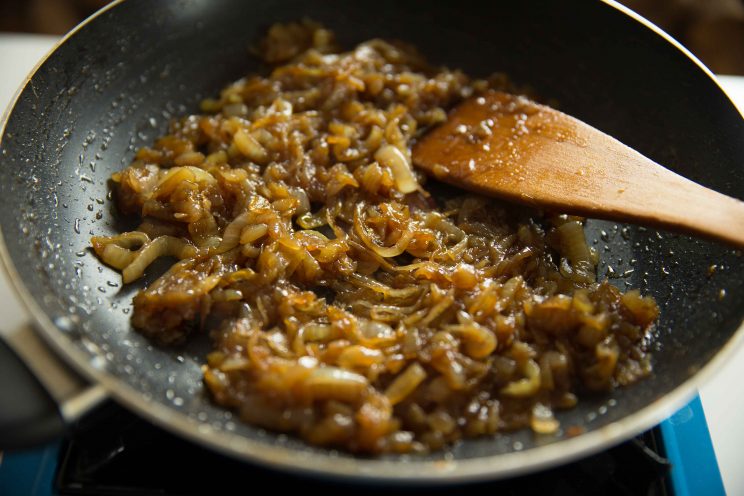 Recipes using Caramelized Onions
Now you've got your caramelized onions ready and waiting, what to do with them? They're perfect on a cheese board and delicious in a grilled cheese, but here's some of my personal favourites:
Best Recipes using Caramelized Onions
Alrighty, let's tuck into the full caramelized onions recipe shall we?!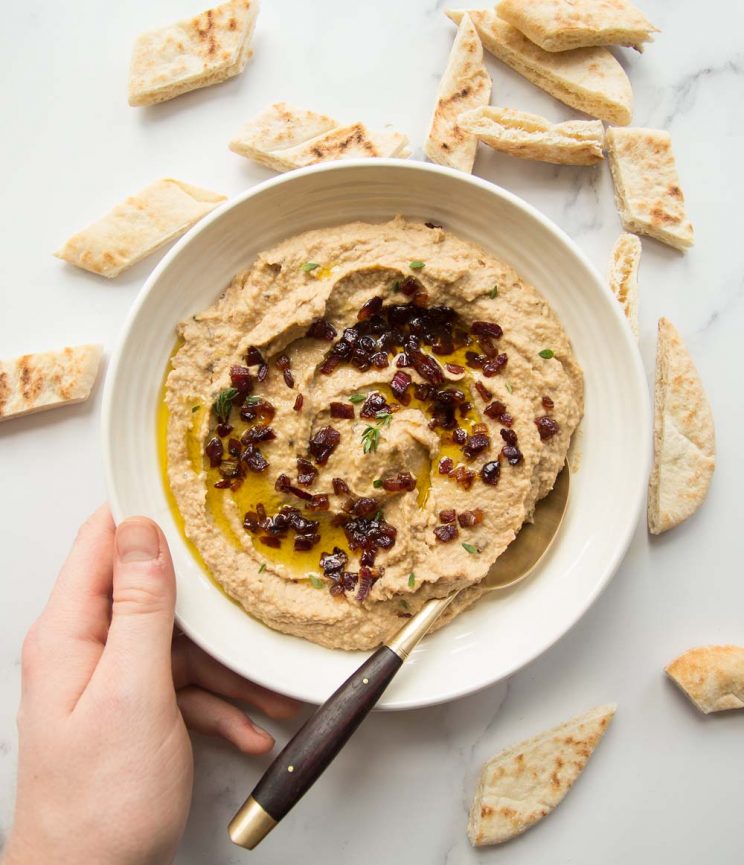 How to make Caramelized Onions

(Full Recipe & Video)
How To Make Caramelized Onions (Seriously Delicious!!)
How to make Caramelized Onions in the most delicious way possible. These 5 easy but crucial steps results in sweet and sticky caramelized onions every single time. Makes approx 2 cups worth, serving size is 1/4 cup.
Print
Pin
Rate
Share by Text
Servings (click & slide):
2
cups
Calories per serving:
62
kcal
Cost per serving:
50c / 50p
Equipment:
12" Non-Stick Skillet

Wooden Spoon
Ingredients (check list):
2 lbs / 1kg

Onions, sliced (see notes)

2

tbsp

Butter (see notes)

2

tbsp

Brown Sugar

2

tbsp

Balsamic Vinegar

3/4

tsp

Salt, or to taste

1/4

tsp

Black Pepper, or to taste

2

sprigs

Fresh Thyme (optional)
Instructions:
Melt 2 tbsp Butter over low heat into a suitably sized non-stick pan and mix in your onion slices. Once fully coated, stir in 3/4 tsp salt, 1/4 tsp Pepper and Thyme (optional).

Stir occasionally ensuring an even cook for all the slices. After around 20-25 mins they will begin turning brown and releasing sugar. At this point add in 2 tbsp brown sugar and 2 tbsp balsamic vinegar. Keep on low heat.

Cook for a further 25-30mins, stirring occasionally until dark brown and sticky. Eat hot or store in a tightly sealed jar in the fridge for up to a week.
Notes:
a) Type of Onion - White, Sweet, Red or Yellow Onions all work great!  b) Low and Slow - The aim of the game is to cook them low and slow. I've actually made caramelized onions over 2 hours before on a really low heat (they were absolutely gorgeous). If they start catching and/or charring at any point the heat is too high. Patience is a virtue with these bad boys. c) Balsamic Vinegar and Sugar - Onions are packed with natural sugars, which caramelize when brought to the surface. So if you cook them low and slow enough they'll still turn sweet. Balsamic vinegar and sugar just add flavour and slightly speed along the process. d) Butter or Olive Oil - You can absolutely use olive oil instead of butter, or even half and half! e) Calories -  This recipe will make around 2 cups of Caramelized Onion. Nutritional guidance is based on 1/4 cup i.e 8 servings.
Your Private Notes:
Nutrition:
Nutrition Facts
How To Make Caramelized Onions (Seriously Delicious!!)
Amount Per Serving
Calories 62
Calories from Fat 18
% Daily Value*
Fat 2.02g3%
Polyunsaturated Fat 0.072g
Monounsaturated Fat 0.558g
Cholesterol 4mg1%
Sodium 244mg10%
Potassium 145mg4%
Carbohydrates 10.43g3%
Protein 1.05g2%
Vitamin A 61IU1%
Vitamin C 5.4mg7%
Calcium 27mg3%
Iron 0.38mg2%
* Percent Daily Values are based on a 2000 calorie diet.
Nutrition is based on the absence of salt unless stated as a measurement in the ingredients. Cost is worked out based on ingredients bought from UK supermarkets, then divided by the number of servings. In both instances these values are just for guidance. Please check out my FAQ Page for more info.
---
If you loved this Homemade Caramelized Onions recipe then be sure to pin it for later! Already made it or got a question? Give me a shout in the comments below and pick up your free ecookbook along the way!