These Chipotle Taquitos are loaded with chicken and cream cheese, then baked OR fried until crispy on the outside and cheesy & delicious on the inside!
Chipotle, chicken and cheese are a match made in heaven and we're here today to celebrate that. These taquitos are perfect as finger food or even great for a quick lunch! Better still, they truly couldn't be easier to make. Follow me…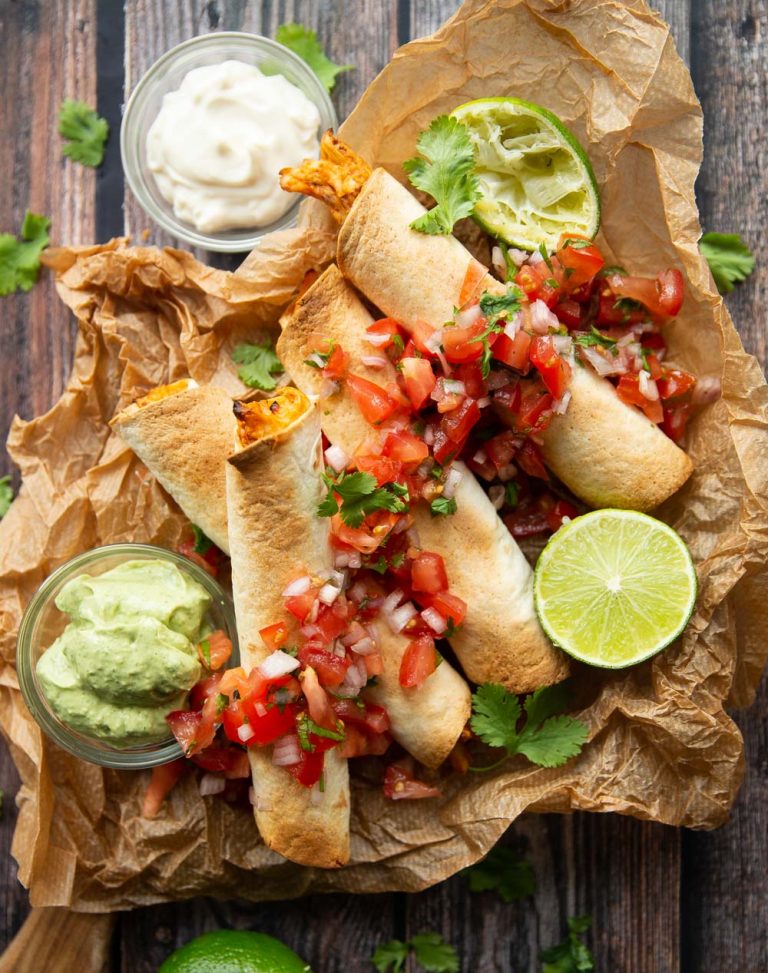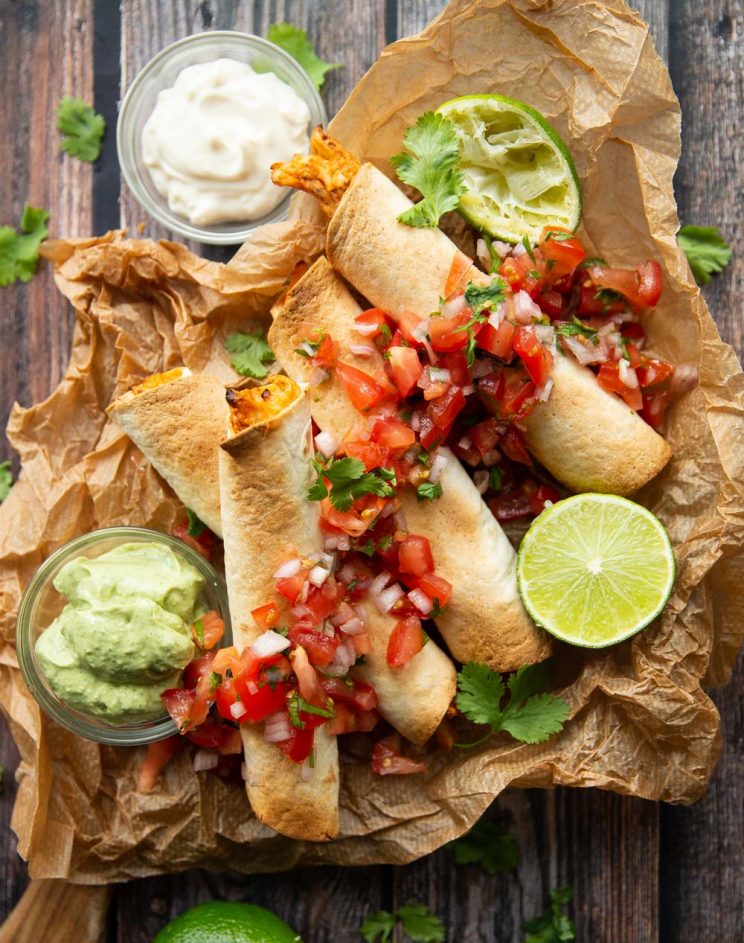 Taquito Filling
Chicken
The heart and soul of these taquitos are indeed the chicken. Leftover rotisserie chicken works perfect here, alternatively you can cook up some chicken breast and shred it.
Cream Cheese
Cream cheese makes a good base for a taquito filling, not only for added flavour, but more so because it keeps everything moist without dampening the tortillas too much. It also works as a great binder for all the filling. You'll want to warm the cream cheese in the microwave before mixing in the filling, just so it's easier to work with and doesn't clump up.
Chipotle
I love the flavour of chipotle so much and it works perfectly in this context. If you're in the UK you'll find Chipotle paste in most supermarkets, and if you're in the US and can get your hands on Chipotle paste use that. If not you can mash Chipotle peppers in adobo, or, use chipotle powder.
To make the taquito filling: Mash seasoning, chipotle and lime juice into cream cheese, then add in chicken & cheese and combine until evenly distributed.
Top Tip – Make sure you don't mash the chicken into oblivion, only gently combine until the cheese is mixed through. If you over mix it'll go clumpy and the taquitos will come out tough and dry.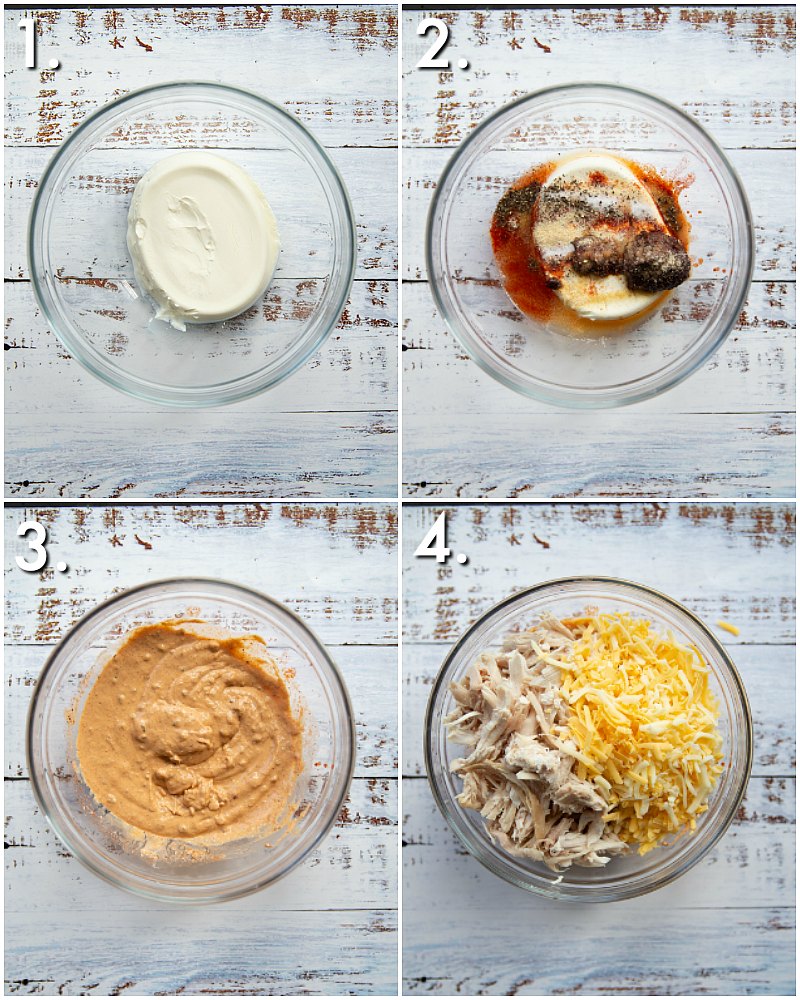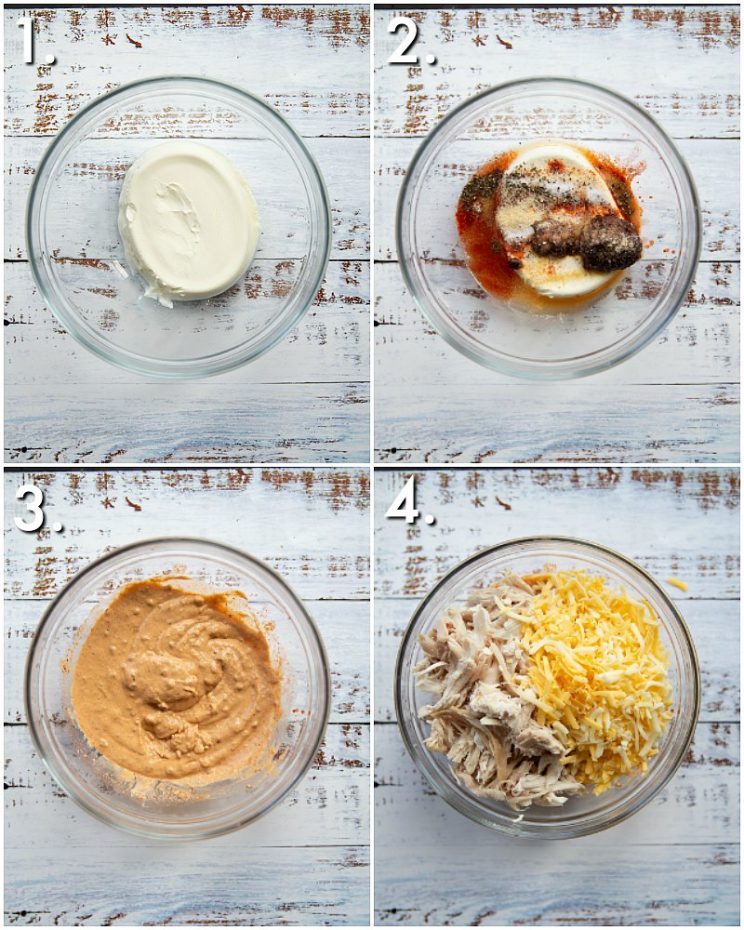 How to roll Taquitos
To make taquitos you can use either flour or corn tortillas. Most recipes use corn, but personally I feel flour works just as well. In fact flour tortillas are easier to roll, so that's something to consider. In all cases you'll want them quite small – around 6-7″ works best.
How do you roll tight taquitos?
Place the filling in a line towards one side of the centre, fold over the short side to cover the filling, then tightly roll until you reach the other end.
How do you keep corn tortillas from cracking when making taquitos?
Like I mentioned, corn tortillas are slightly dryer than flour, so sometimes can crack when rolling into taquitos. A tip that will help you with this is to place a damp towel over the wraps and microwave until they soften. This will make them more pliable when rolling.
How do you make taquitos stay together?
First thing you'll want to do is ensure you cook them seem-side-down. This will help 'glue' the opening shut as they cook. Also, if you need to don't be afraid to seal the opening shut with tooth/cocktails sticks.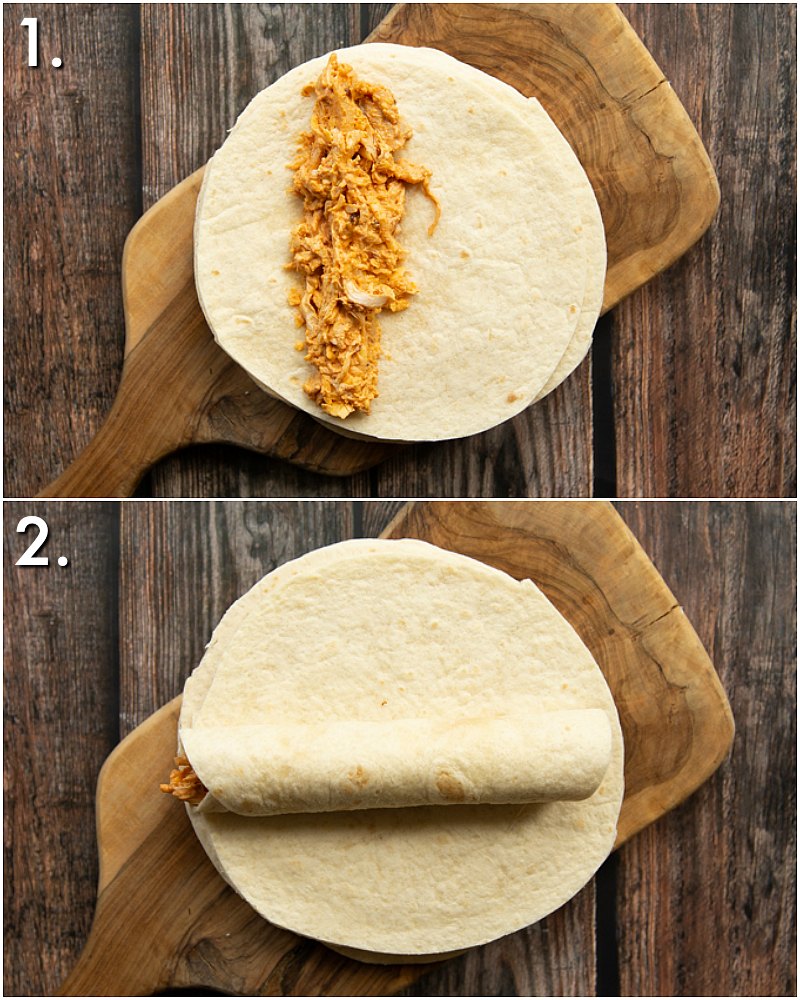 How to cook Taquitos
Fried Taquitos
First option is to fry the taquitos. To do this you'll need to heat up around 1/2″ oil in a pan, then add the taquitos and rotate until golden all around. Whilst this method is arguably quicker than baking, it brings with it the obvious hassle of shallow frying. If you're not confident with this, you might want to consider baking.
Baked Taquitos
Baking is great because you can throw them in the oven and not have to think too much about it. They also come out nice and crispy, with far less oil. This is my preferred method 🙂
Can I make these ahead of time?
I actually recommend making them fresh, just so they're nice and crispy. But you can both prep them ahead of time or fully cook and reheat. Notes on that in the recipe card.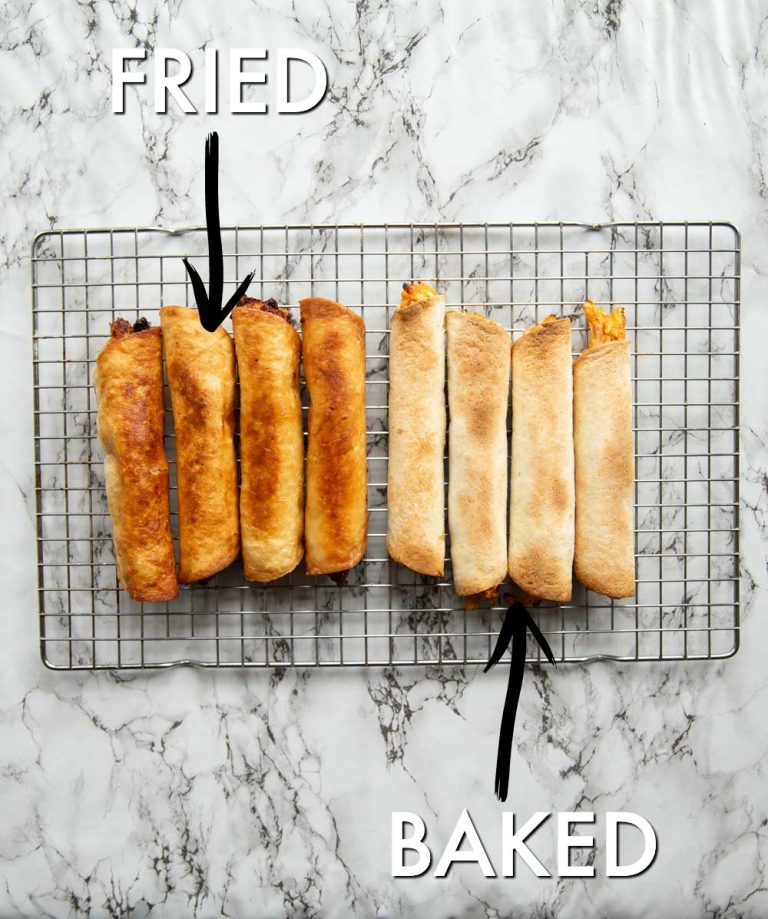 Serving Taquitos
I usually serve these in an appetizer context, sometimes at a dinner party, or even just as finger food at a potluck scenario. To go along side I recommend Tomato Salsa and Creamy Avocado Dip.
If you like the sound of these Chipotle taquitos then definitely check out my Chipotle Mac and Cheese!
For more similar recipes check out these beauties too:
Alrighty, let's tuck into the full recipe for these chicken taquitos shall we?!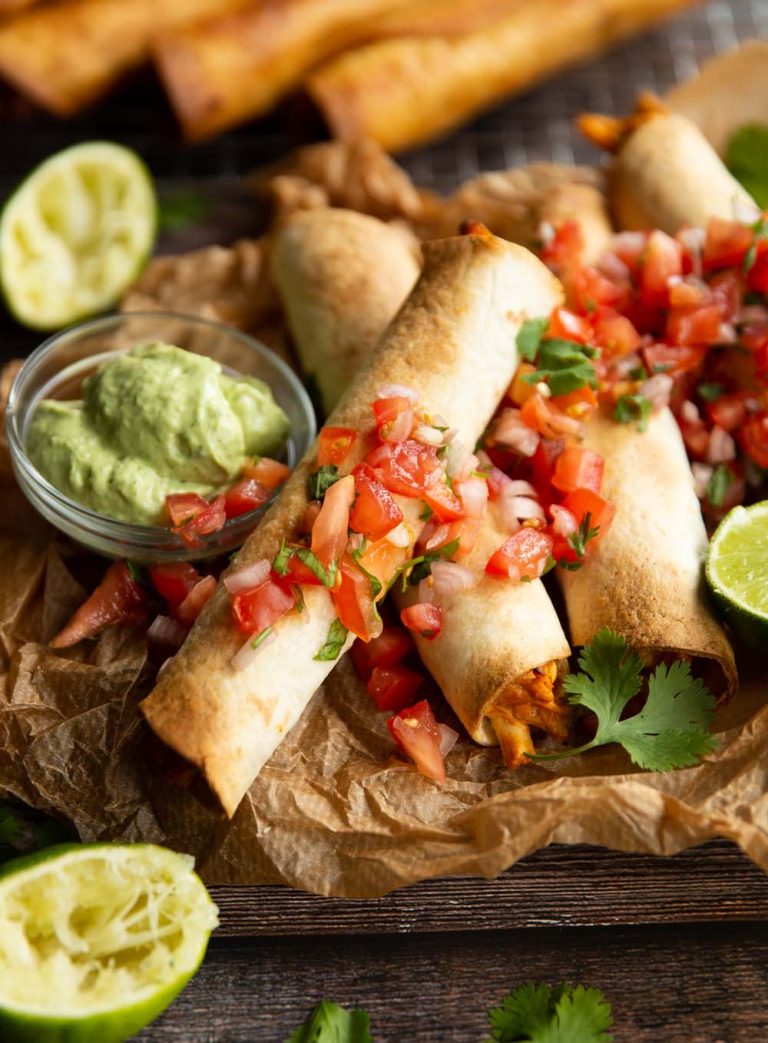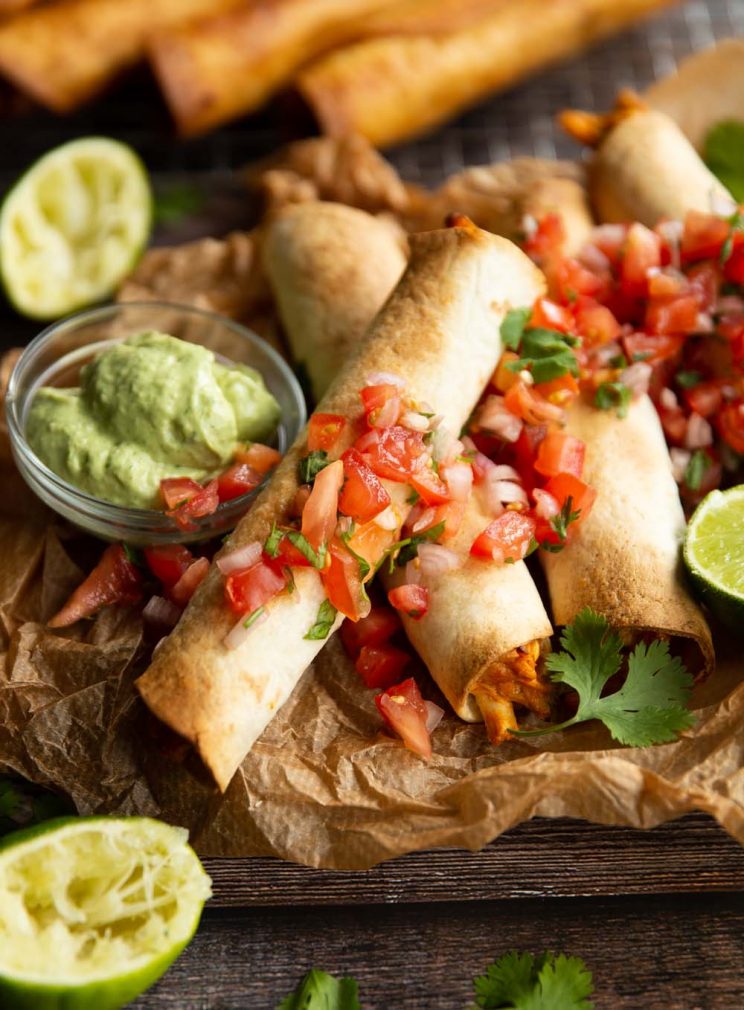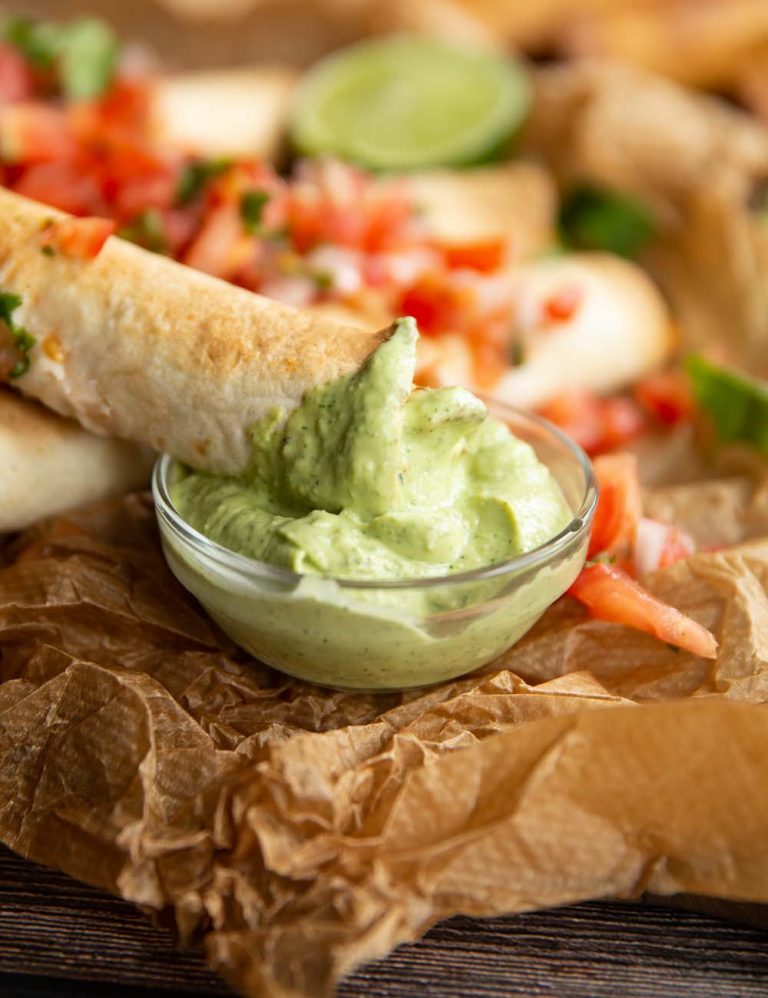 How to make Chicken Taquitos

 (Full Recipe & Video)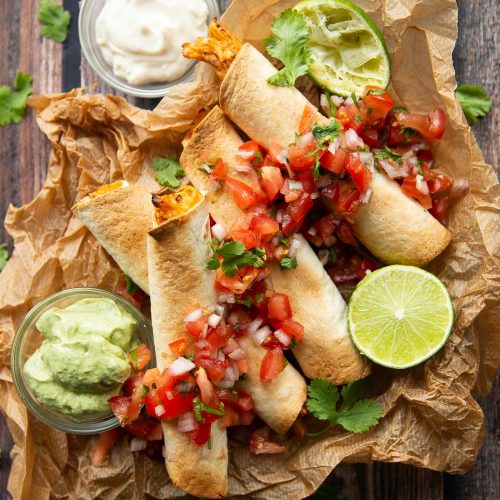 Chipotle Chicken Taquitos
These Chipotle Taquitos are loaded with chicken and cream cheese, then baked OR fried until crispy on the outside and cheesy & delicious on the inside!
Print
Pin
Rate
Servings (click & slide):
10
Taquitos
Calories per serving:
207
kcal
Cost per serving:
£1 / $1
Equipment:
Medium Sized Mixing Bowl & Spatula

Cheese Grater

Frying Pan, Tongs & Thermometer (for frying)

Baking Tray & Brush (for baking)

Tooth/Cocktail Sticks (optional)
Ingredients (check list):
Taquitos
10-12

small

Tortilla Wraps warmed in the microwave (around 6-7", corn or flour)

2 packed cups / 250g-300g

Cooked Shredded Chicken

1 1/2 cups / 150g

Cheese, grated (Cheddar, Monterey Jack or Mexican Cheese blend work great)

5.3oz / 150g

Cream Cheese warmed in the microwave

1

tbsp

Chipotle Paste (see notes)

1

Lime, juice only

1/2

tsp

Smoked Paprika

1/4

tsp EACH:

Onion Powder, Garlic Powder, Salt, Pepper (or to taste)
Vegetable Oil, as needed
To Serve
Instructions:
Add your cream cheese to a medium sized mixing bowl and if you haven't already, pop in the microwave until it's softened and warmed through, just so it's easier to handle. Add in 1 tbsp chipotle paste, the juice of 1 lime, 1/2 tsp smoked paprika, 1/4 tsp onion & garlic powder, salt & pepper (or to taste. Mash with a fork to combine.

Add in shredded chicken and grated cheese and gently fold until combined. Don't mash into oblivion or the chicken will come out chewy.

If you haven't already, warm your tortilla wraps in the microwave to soften up. If your wraps are particularly dry (some corn tortillas can be) pop a damp cloth over whilst microwaving. Divide your chicken filling among wraps and place in a line just to one side of the centre. Tightly roll up each one. If they're not tightly folded consider fastening with a tooth/cocktail stick.
Frying
Heat up around 1/2" oil in a suitably sized pan to 356F/180C. If you don't have a thermometer drop a crumb of tortilla in, you want it to rapidly sizzle. Oil needs to be hot or they'll go soggy, the filling may start to leak out and the oil can begin spitting. Carefully place 3-4 taquitos seem-side-down into the oil and fry until golden (only needs a couple of minutes, rotating as you go). Place on wire rack if you have one, if not use paper towels.
Baking
Space out taquitos on a large greaseproof or lined baking tray and lightly brush with oil. Pop in the oven at 390F/200C for 20mins, or until lightly golden and crispy. If you notice at all the edges starting to char, turn down the heat.

Serve with salsa and dip!
Notes:
a) Chipotle Paste - You'll find this in most supermarkets in the UK. If you're in the US do try and use chipotle paste, if not you can mash up 1 tbsp worth of chipotle chili in adobo sauce. Failing that just use chipotle powder. Around 1 heaped tsp should suffice, but work to spice preference. b) Can I use fresh chicken? - You'll still want shredded chicken, so I recommend doing the following: Use two large chicken breasts (approx 14oz/400g), season and fry both sides to get a nice colour, then fill up with water or chicken stock, pop a lid on and allow to simmer until cooked throughout. Depending on the size of breasts this could take between 8-12mins. Pop in a bowl and shred with two forks. c) Can I make these ahead of time? - If you can, I recommend making fresh, just because sometimes the lime juice/cream cheese can seep into the wraps and make them damp. However if you were to make them ahead I recommend tightly covering for up to 24hours in the fridge, then cook as instructed. Best to bring them to room temp before frying, just so they heat through properly. Also consider an extra 5mins cooking if straight from the fridge. d) Can these be frozen? - Best way to freeze is to freeze them on a tray for a few hours, then transfer to a zip lock bag and freeze up to a month. If they were uncooked, just thaw in the fridge and cook as instructed. If they were cooked, allow to completely cool before freezing. To cook thaw in the fridge and reheat at 180C/350F in the oven until piping hot through the centre. e) Calories - calories based on 10 taquitos using 2 cups chicken breast, Mexican cheese blend for the cheese and 1 tbsp vegetable oil for baking. No sides included.
Your Private Notes:
Nutrition:
Nutrition Facts
Chipotle Chicken Taquitos
Amount Per Serving
Calories 207
Calories from Fat 106
% Daily Value*
Fat 11.78g18%
Polyunsaturated Fat 0.918g
Monounsaturated Fat 3.143g
Cholesterol 49mg16%
Sodium 211mg9%
Potassium 148mg4%
Carbohydrates 12.04g4%
Protein 13.6g27%
Vitamin A 333IU7%
Vitamin C 1.3mg2%
Calcium 134mg13%
Iron 0.89mg5%
* Percent Daily Values are based on a 2000 calorie diet.
Nutrition is based on the absence of salt unless stated as a measurement in the ingredients. Cost is worked out based on ingredients bought from UK supermarkets, then divided by the number of servings. In both instances these values are just for guidance. Please check out my FAQ Page for more info.
---
If you loved this Chicken Taquito Recipe then be sure to Pin it for later! Already made it or got a question? Give me a shout in the comments and pick up your free ecookbook along the way!