This Homemade Cheese Sauce is versatile, incredibly easy to make and utterly delicious! Here I show you a few tips and tricks to making the best cheese sauce imaginable!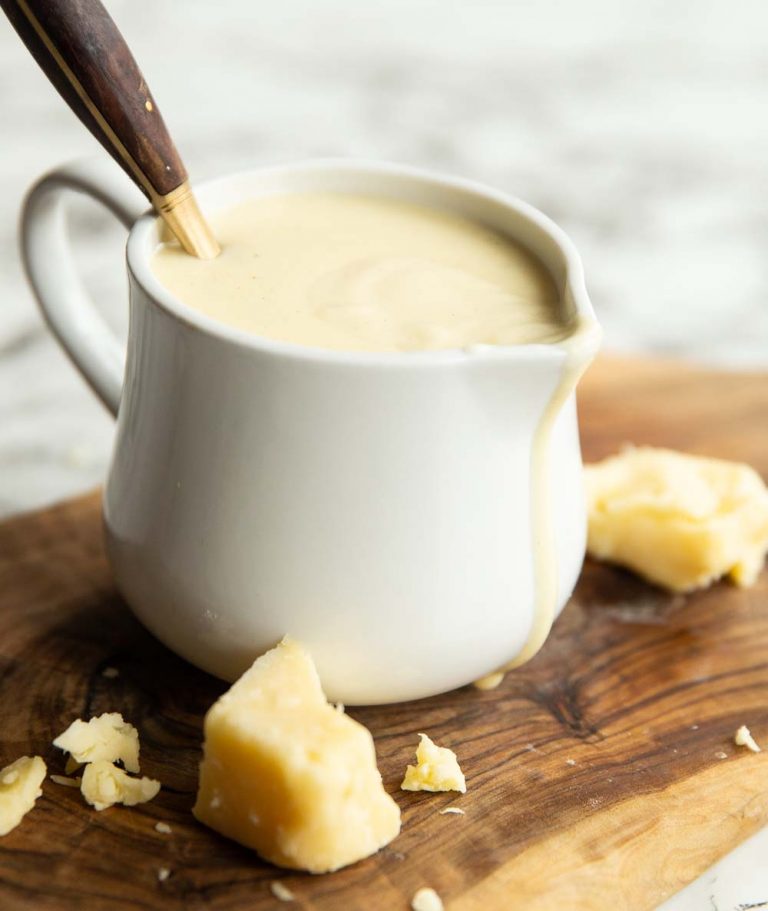 Cheddar Cheese Sauce
The mother of all sauces. One of which I grew up on and one of which I still make regularly to this very day. This sauce is something you'll be slathering on anything even remotely edible, and quite frankly it couldn't be more simple to make. At it's most basic all you need is:
Butter – Unsalted butter works best as it gives you most control over the saltiness of the sauce.
Flour – Plain or All Purpose flour.
Milk – I recommend whole milk for a fuller flavour.
Cheddar – I find mature cheddar packs the most flavour, but mild works well too.
Alongside these, I like to add another couple of game changing ingredients.
Dijon Mustard
This is what really takes your cheese sauce to the next level. Even if you don't like mustard, I promise just a dash of this will work wonders. It emphasizes the cheesiness of the sauce, whilst offering a very gentle background 'hum' of flavour.
White Pepper
Unlike black pepper, this will offer flavour without adding graininess or discolouration to the sauce. White pepper generally tends to offer a bit more heat than black pepper does, which works nicely in this sauce.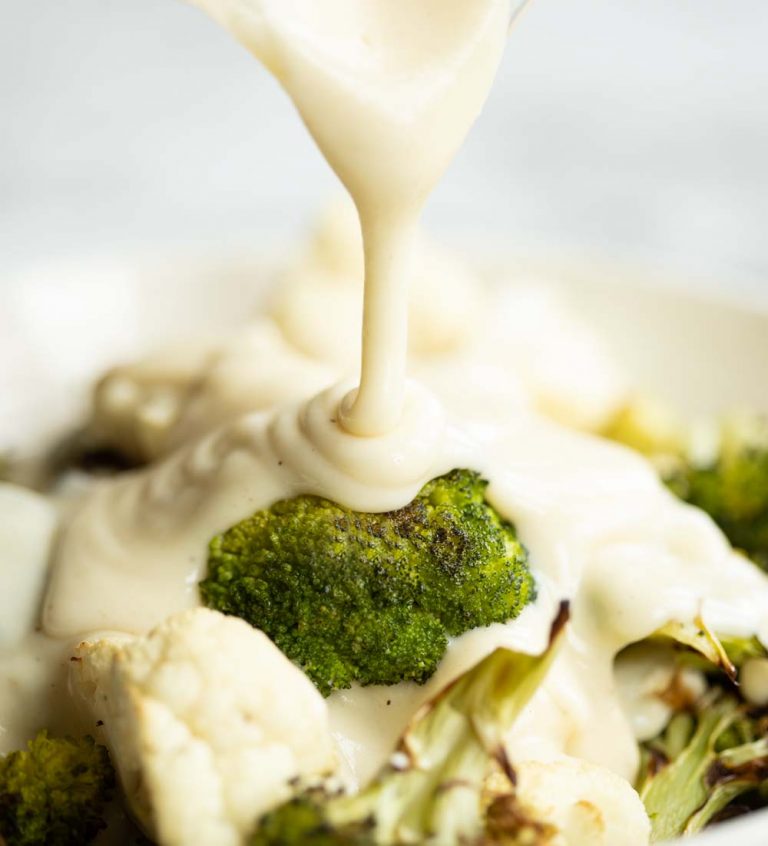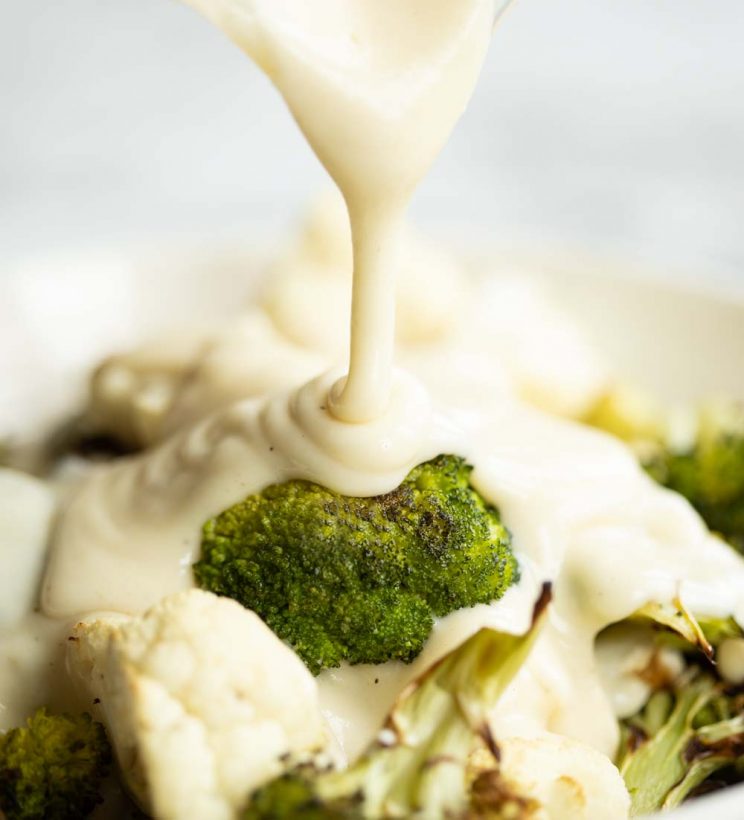 How to make Cheese Sauce from scratch
Like a lot of sauces, you'll want to start by making a Roux. A Roux is essentially the combination of flour and fat (in this case we're using butter) in order to thicken a sauce. Here we'll be using equal parts butter and flour.
Once you've combined the two and a paste forms, you'll want to add in your liquid. Here we're using milk. Although pouring in milk sounds like a breeze, here's a couple of things to keep in mind to ensure your cheese sauce is nice and smooth.
How do you stop cheese sauce from going lumpy?
Slow – Absolutely crucial you add the milk very gradually and ensure you continually whisk as you go.
Heat – Ensure your heat is no higher than a medium as you add the milk.
Room Temp – Make sure your milk is at room temp. Using cold milk straight from the fridge can sometimes cause it to curdle when it hits heat.
Process shots: add butter to pan (photo 1), sprinkle in flour (photo 2), whisk to form paste (photo 3), gradually whisk in milk (photo 4), stir in cheese (photo 5), add seasoning (photo 6).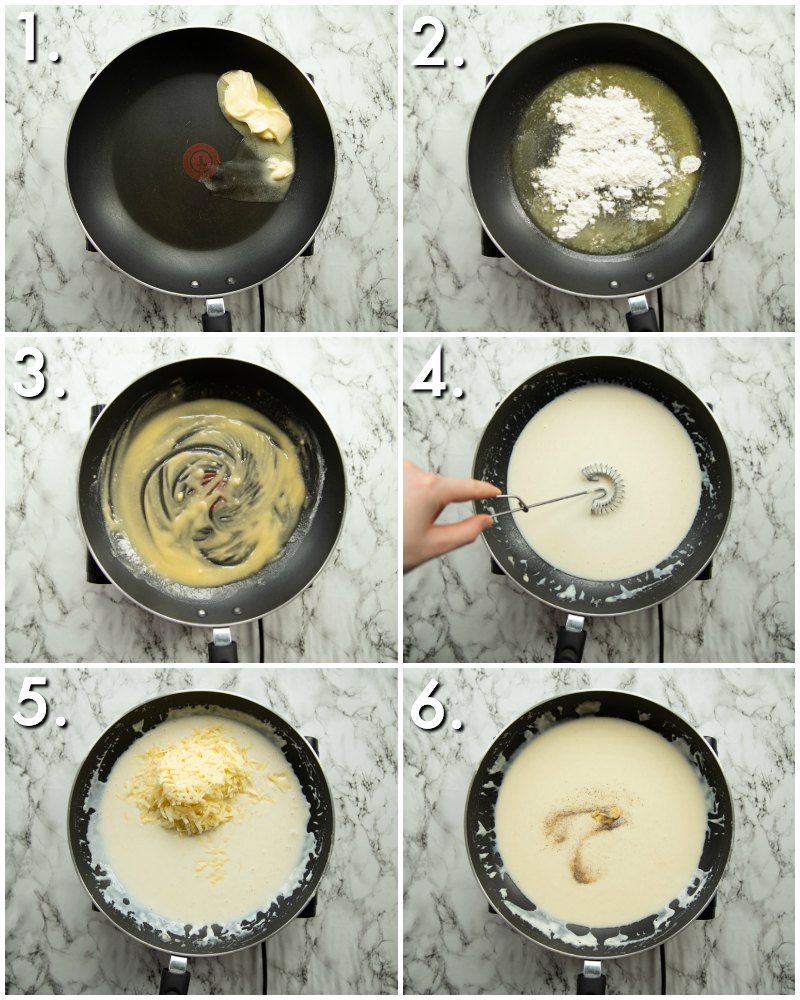 How to prevent a cheese sauce going grainy
Alongside the risk of a cheese sauce being lumpy, you also run the risk of it going grainy. Here's a few reasons why your cheese sauce might be grainy:
Fresh Cheese – It's essential to use freshly grated cheddar, not the pre-grated packaged stuff.
Heat – Once you've thickened the sauce, turn down the heat to low (or completely off) before adding the cheese, otherwise you run the risk of it splitting and going gritty.
Slow – Once again just make sure you gradually add the milk, otherwise the roux can form little lumps, which don't disperse properly into the sauce and cause a grainy texture.
Once you've made the sauce I recommend removing it from the pan right away or it'll continue cooking. Take into consideration the leftover heat will continue thickening the sauce even when in a jug.
How do you store cheese sauce?
Allow to completely cool then store in an airtight container in the fridge or freezer.
How do you reheat cheese sauce?
If freezing I recommend thawing in the fridge. From there your best bet is to place over low heat in a saucepan, stirring as you go to stop the sauce from splitting. Freezing dairy is always a bit tricky, so I recommend using the fridge and using in the short term.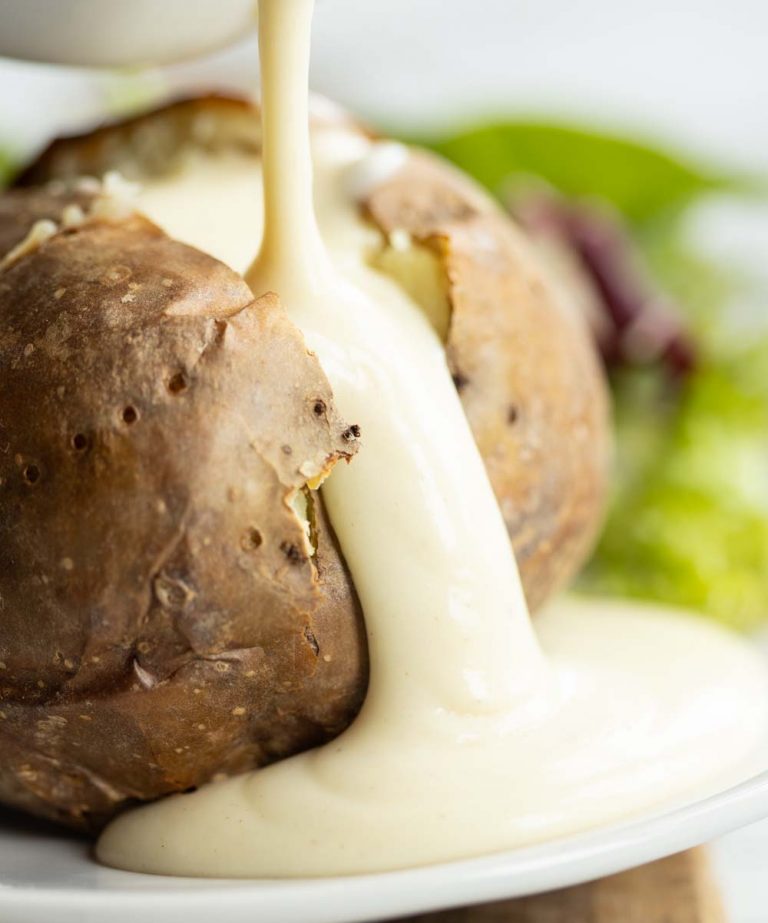 Where can I use cheese sauce?
Broccoli and/or Cauliflower
Pour over Nachos
Make Mac and Cheese or just pour over Pasta
Serve with Roast Dinner
And there we have it! All my top tips and tricks to making perfect cheddar cheese sauce.
If you're looking for more similar recipes check out these beauties too:
Alrighty, let's tuck into the full recipe for this cheddar sauce shall we?!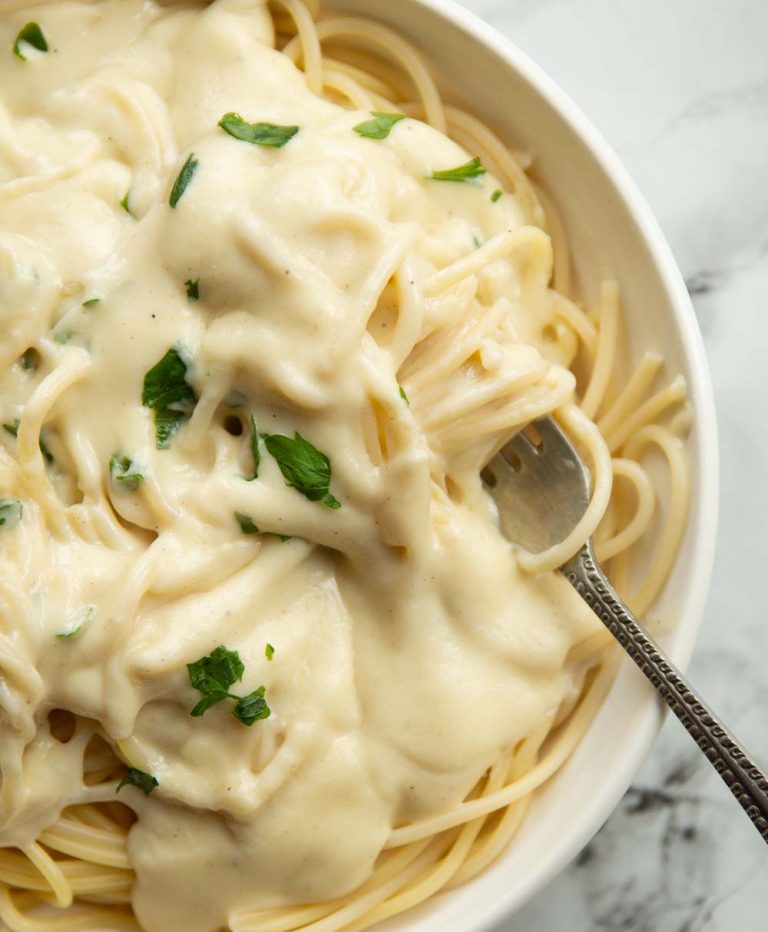 How to make Cheese Sauce

 (Full Recipe & Video)
Cheddar Cheese Sauce
This Homemade Cheese Sauce is versatile, incredibly easy to make and utterly delicious! Here I show you a few tips and tricks to making the best cheese sauce imaginable!
Print
Pin
Rate
Servings (click & slide):
6
Calories per serving:
176
kcal
Cost per serving:
£1 / $1
Equipment:
Large Skillet or Pot

Wooden Spoon

Whisk

Jug (for milk)

Cheese Grater
Ingredients (check list):
2 cups / 500ml

Milk, at room temp

1 cup / 100g

Cheddar Cheese, grated

3

tbsp

Unsalted Butter

3

tbsp

Plain/All Purpose Flour

1/2 - 1

tsp

Dijon Mustard (see notes)

1/4

tsp EACH:

Salt, White Pepper (or to taste)
Instructions:
Melt butter into a pan over medium heat, then sprinkle in your flour. Whisk the two to form a paste, then very gradually start pouring in your milk, whisking as you go to ensure no lumps form. If at any point you notice tiny lumps forming stop pouring the milk and whisk until the sauce smooths out.

Once the sauce has thickened, turn heat to low and sprinkle in your cheddar. Give a good stir to melt the cheese, then add in dijon, salt and white pepper (to taste). Give it a final stir then pour into a jug ready to serve. It will carry on thickening from leftover heat.

See notes for serving suggestion, storage and tips on preventing it from going grainy!
Notes:
a) How do you make cheese sauce smooth? - There's a few things you can do to avoid your cheese sauce going grainy. First is make sure you use freshly grated cheese, not the pre-grated packaged stuff. Secondly ensure the heat is either low or off completely when you add the cheese or it may split and go gritty. Last just make sure add the milk gradually and only add more once the previous drizzle has fully incorporated.
b) Cheese sauce serving suggestions - Traditionally I serve this with a roast dinner. Goes great with broccoli and/or cauliflower. Could serve with a baked potato and potato wedges, it even works great as a nacho cheese sauce. Also great for a quick mac and cheese or just poured over pasta.
c) How to store cheese sauce - Allow it to completely cool then store in an airtight container for 3-4days in the fridge (longer at your discretion) or in the freezer. 
d) How to reheat cheese sauce - If reheating from fridge you can nuke in the microwave (I recommend in 20-30 second intervals, stirring in between). But I find popping it in a pot over low heat and stirring until bubbly will give you a better chance of the sauce not splitting. Use milk to thin out if needed. If frozen I recommend thawing in the fridge. Freezing dairy is always a little tricky so I recommend using it short term and storing in the fridge.
e) Dijon Mustard - This is the secret weapon in this sauce. 1/2 tsp adds a very gentle background flavour, you'll barely even notice it, but it really enhances the cheesy flavour. 1 tsp will add a slightly more prominent flavour. I usually go 1 tsp, but start off with 1/2 if you're not sure.
f) Calories - based on using whole milk and divided by 6.
Your Private Notes:
Nutrition:
Nutrition Facts
Cheddar Cheese Sauce
Amount Per Serving
Calories 176
Calories from Fat 116
% Daily Value*
Fat 12.93g20%
Polyunsaturated Fat 0.593g
Monounsaturated Fat 3.38g
Cholesterol 35mg12%
Sodium 263mg11%
Potassium 132mg4%
Carbohydrates 7.17g2%
Protein 7.75g16%
Vitamin A 439IU9%
Calcium 223mg22%
Iron 0.32mg2%
* Percent Daily Values are based on a 2000 calorie diet.
Nutrition is based on the absence of salt unless stated as a measurement in the ingredients. Cost is worked out based on ingredients bought from UK supermarkets, then divided by the number of servings. In both instances these values are just for guidance. Please check out my FAQ Page for more info.
---
If you loved this Cheese Sauce Recipe then be sure to Pin it for later! Already made it or got a question? Give me a shout in the comments and pick up your free ecookbook along the way!