A step by step guide to making the Best Baked Potato. Crispy on the outside and fluffy on the inside, the perfect Jacket Potato is yours, ready and waiting!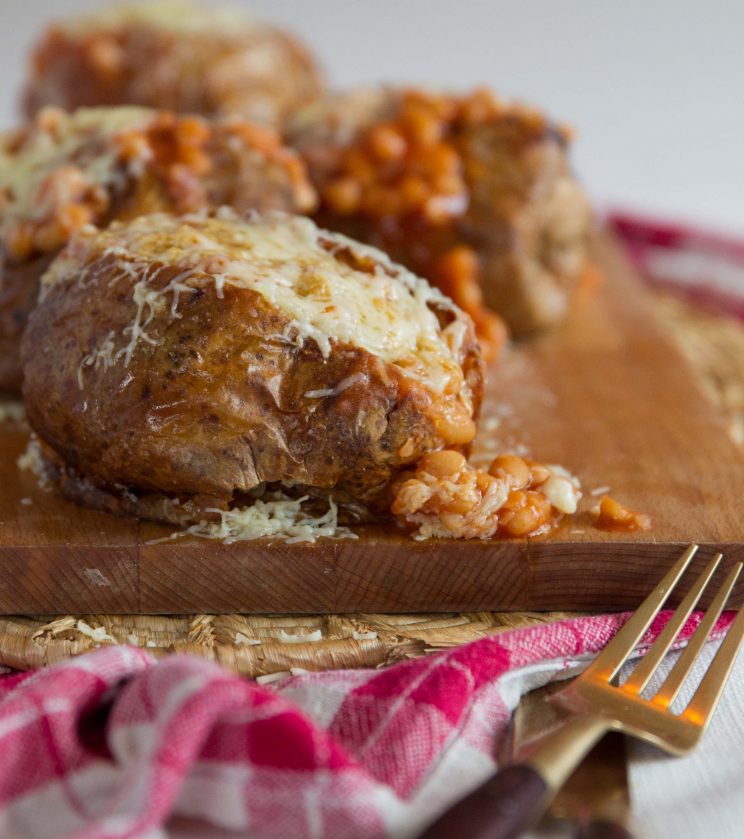 Top Tips for the BEST Baked Potato
We're all looking for a beautifully crispy skin with a fluffy inside right? Okay good.
Here I have compiled some quick game changing tips, to help you finish with the perfect jacket potato in the oven every single time. All you need is some spuds, an oven and salt/oil. These steps couldn't be more simple but the effect they have is huge.
1. Best Potatoes for Baking
Russets are the most popular for baking as they're usually very large, with thicker skins and starchy centres. Other large floury potatoes which work well are Maris Pipers and King Edward. For your convenience, most stores will have varieties called 'Baking Potatoes'. Check out this quick Know Your Potatoes article for a little more info on types of potatoes and their uses.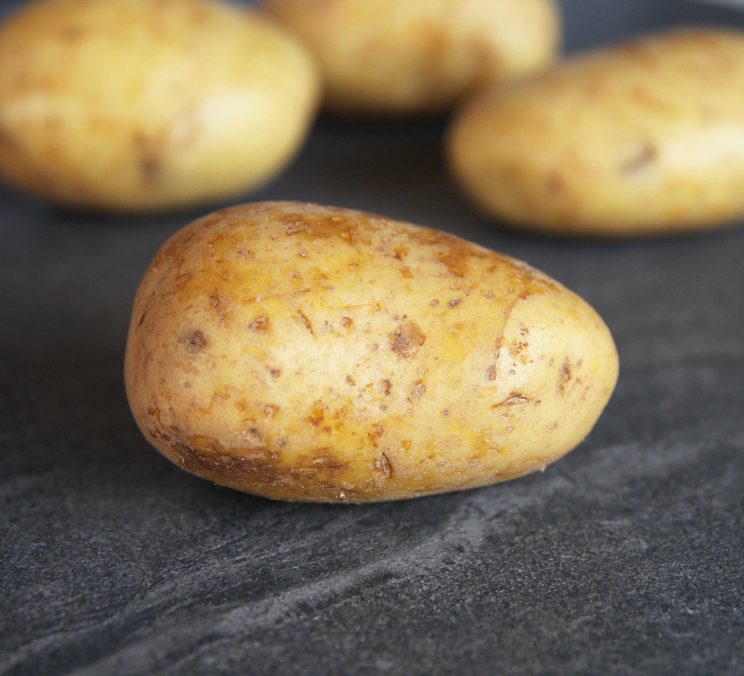 2. Do you have to stab baked potatoes?
Short answer is no, BUT… I usually stab my potatoes around 6-8 times (evenly spread) before baking them. This helps release the steam inside whilst it's cooking, which reduces any chance of an exploding potato in the oven. I've also found that not stabbing it sometimes results in the skin becoming too moist from the steam and leaves it a little wilted, instead of firm and crispy. Here's a great article on To Poke or Not To Poke your potatoes.
3. Oil and Salt is all you need!
Adding salt not only seasons the potato, but it will also help draw out moisture from the potato and help produce a fluffy interior. Rubbing the potato in oil before baking will finish in a super crispy skin. It's also pretty convenient in helping the salt stick.
4. What temperature to bake potatoes?
It took me a lot of tweaking for this one, but for me the perfect time and temperature to bake a potato is 80mins at 180c (355f) and then blasted up to 220c (430f) for 10 minutes. The lower temperature gives the potato a decent time to cook through the centre and get rid of as much moisture as possible. The blast at the end produces that gorgeous crunchy skin you're after.
Of course all potatoes will cook at a slightly different speed (mostly depending on size rather than variety) so just be vigilant after 60mins at 180c/355f.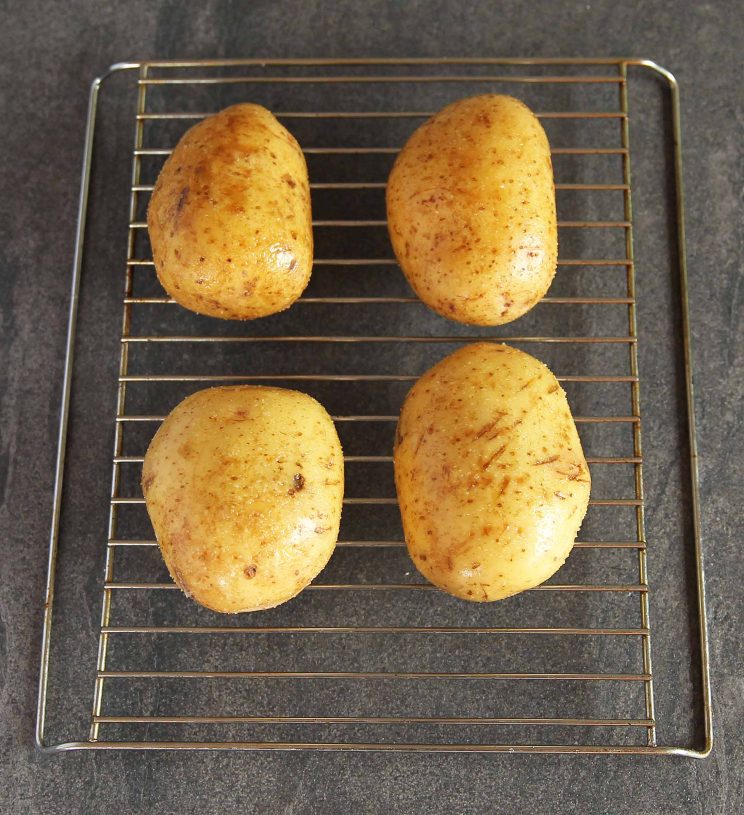 5. Baked Potato Toppings
Whatever topping you choose, start with butter. It just turns the fluffy inside into rich, creamy goodness. But here's some of my favourites:
Best Baked Potato Toppings
Instead of topping the potatoes, you can also slice the top off, scoop out the centre and add a different filling. This is exactly what I do with my Jalapeno Popper Loaded Potatoes and Cheesy Broccoli Stuffed Potatoes.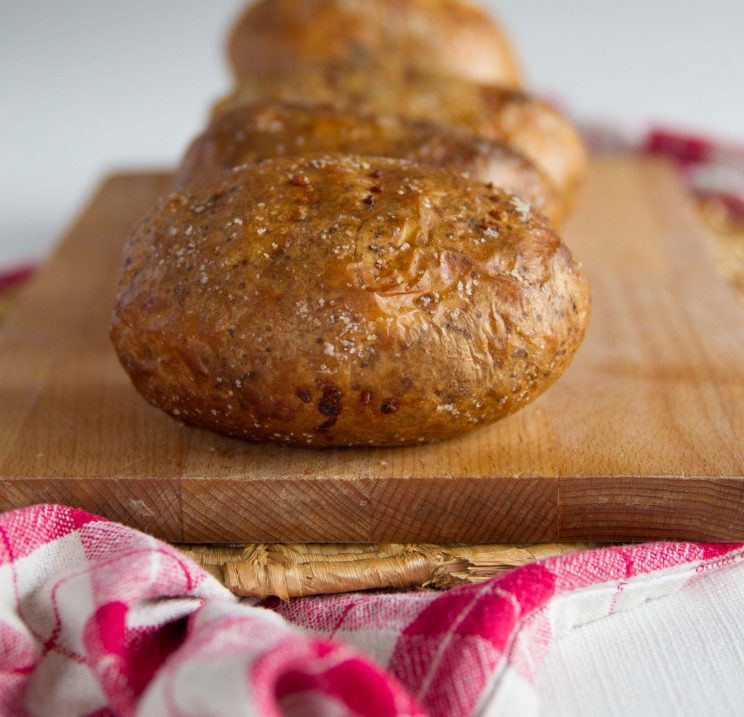 Common Mistakes to Avoid when Baking a Potato
1. Baked potato microwave and oven
Of course, starting in the microwave is quicker, but your potato will never get truly crispy skin with a fluffy centre. Microwaving produces too much moisture for that. It also cooks the potato unevenly.
2. Should baked potatoes be wrapped in foil?
No – chuck that foil straight out the window! Giving your jacket potato and extra jacket to bake in will lock in the moisture and keep the skin from getting crispy.
3. Oven Etiquette
Aim for the middle of the oven and spread your spuds out evenly. I also find that using an oven rack instead of a tray helps for a more even bake. Sometimes when using a tray, your baked potato forms a hard flat surface on the bottom.
4. Don't wait!
No seriously, what are you waiting for!? Crispy baked potatoes don't stay crispy for long, so get those Instagram snaps in quick!
Best Potato Hacks
Phew, we made it! Trust me it'll be worth it in the end. Just to summarise:
Alrighty, let's tuck into the full baked potato recipe shall we?!
How to make the Best Baked Potato & Video

 (Full Recipe)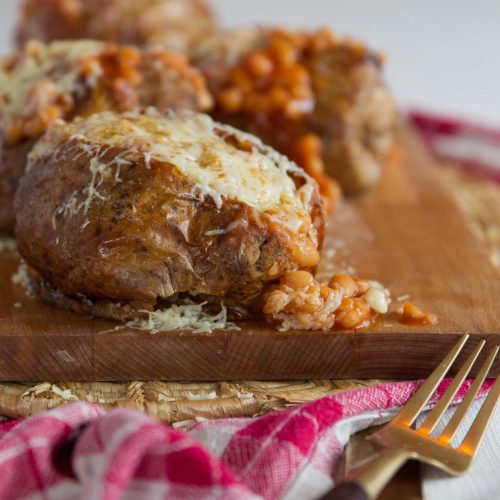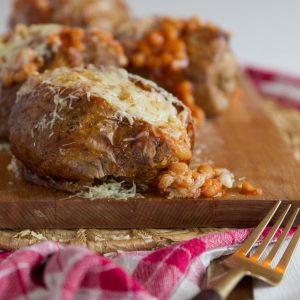 The Best Baked Potato
A step by step guide to making the Best Baked Potato. Crispy on the outside and fluffy on the inside, the perfect Jacket Potato is yours, ready and waiting!
Print
Pin
Rate
Servings (click & slide):
4
Calories per serving:
433
kcal
Cost per serving:
50c / 50p
Equipment:
Large Baking Tray

Wire Rack (optional)

Paper Towels
Ingredients (check list):
4

Baking Potatoes (see notes)

4

knobs

Butter
Salt
Olive Oil
Instructions:
Preheat oven to 356f/180c

Begin by washing your potatoes under cold water to remove any dirt.

Thoroughly dry with a paper towel, and stab with a fork several times all over, wiping away any extra moisture.

Coat in a glug of Olive Oil and a good pinch of Salt. Pop on an oven tray (or wire rack if you have one).

Bake uninterrupted for 80mins, then crank up the heat to 430f/220c for 10mins or until ultra crispy. 

Slice open, add a knob of butter and enjoy with your favourite topping!
Notes:
a) What Potato to use - Russets are great because they're large, with thick skin and starchy centres. Maris Pipers and King Edwards also work great. Some supermarkets also sell a variety of potato called 'Baking Potatoes' which is also quite handy.
b) Stabbing - Stabbing the potatoes is important to allow moisture to escape during cooking. Just be sure to wipe away any moisture after doing this (and also important to thoroughly dry after washing). Any excess moisture will cause the potatoes the steam and prevent crispiness.
c) Foil - Absolutely no need for this. As above, it encourages steaming and prevents the skins from getting crispy.
d) Toppings - A real British combo is baked beans, cheese and Worcestershire sauce (personal fave). Tuna mayo works great, as does chicken salad and chilli con carne. Or, just add a good dollop of butter and serve as a side.
e) Calories - Based on using 1 tsp olive oil and 1 tbsp butter per large russet potato.
Your Private Notes:
Nutrition:
Nutrition Facts
The Best Baked Potato
Amount Per Serving
Calories 433
Calories from Fat 147
% Daily Value*
Fat 16.31g25%
Polyunsaturated Fat 1.064g
Monounsaturated Fat 6.276g
Cholesterol 31mg10%
Sodium 110mg5%
Potassium 1542mg44%
Carbohydrates 66.69g22%
Protein 8.02g16%
Vitamin A 359IU7%
Vitamin C 21mg25%
Calcium 51mg5%
Iron 3.2mg18%
* Percent Daily Values are based on a 2000 calorie diet.
Nutrition is based on the absence of salt unless stated as a measurement in the ingredients. Cost is worked out based on ingredients bought from UK supermarkets, then divided by the number of servings. In both instances these values are just for guidance. Please check out my FAQ Page for more info.
---
If you loved these steps for the Best Oven Baked Potato then be sure to pin the recipe for later! Already made it or got a  burning question? Give me a shout in the comments below and pick up your free ecookbook along the way!