If you're after a new crowd-pleasing side dish you're gonna love this Mashed Butternut Squash. It's rich, silky, smooth and totally delicious!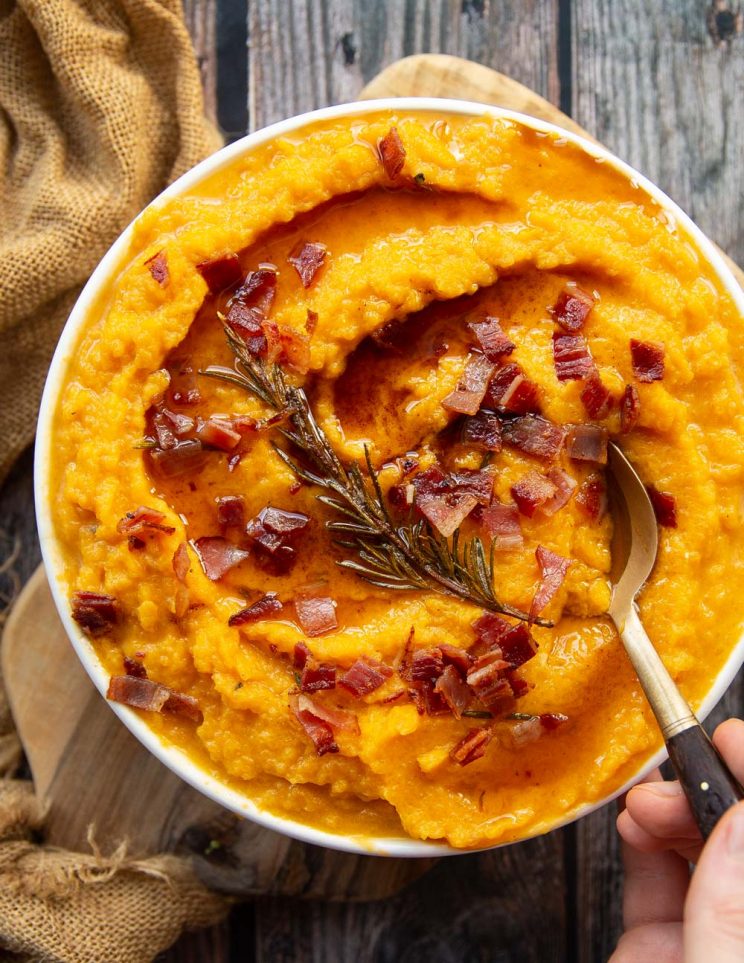 Butternut Squash Mash
Butternut squash is insanely versatile. In most circumstances I can think of, what you can do with potato you can also do with butternut squash. And we all know how versatile potato is (I don't think there's many potato recipes I haven't covered on this blog 😛). However, it is important to note they do need to be prepped and cook slightly differently.
Butternut squash is packed with a lot more moisture than potato. Butternut squash mash is notorious for being wet and sloppy in comparison to potato mash, and that's due to the high water content.
BUT, there is hope!
Here I'll give you some tips and tricks to getting butternut squash mash that isn't splirting out water like a leaky tap. Plus, this mash is insanely delicious and bursting with flavour. You're gonna love it.
Follow me…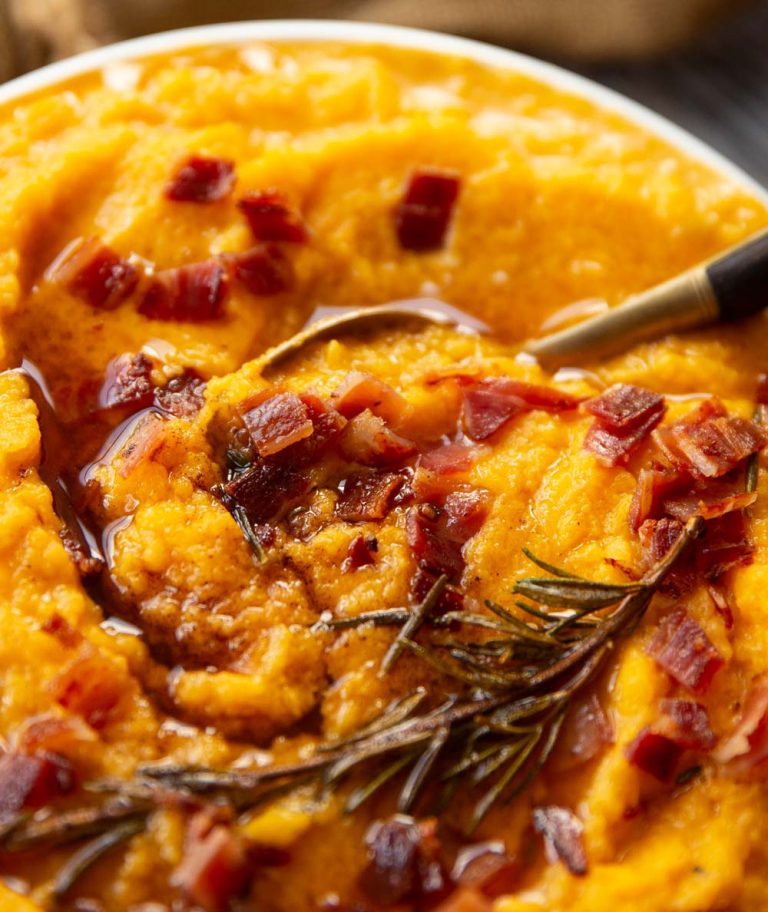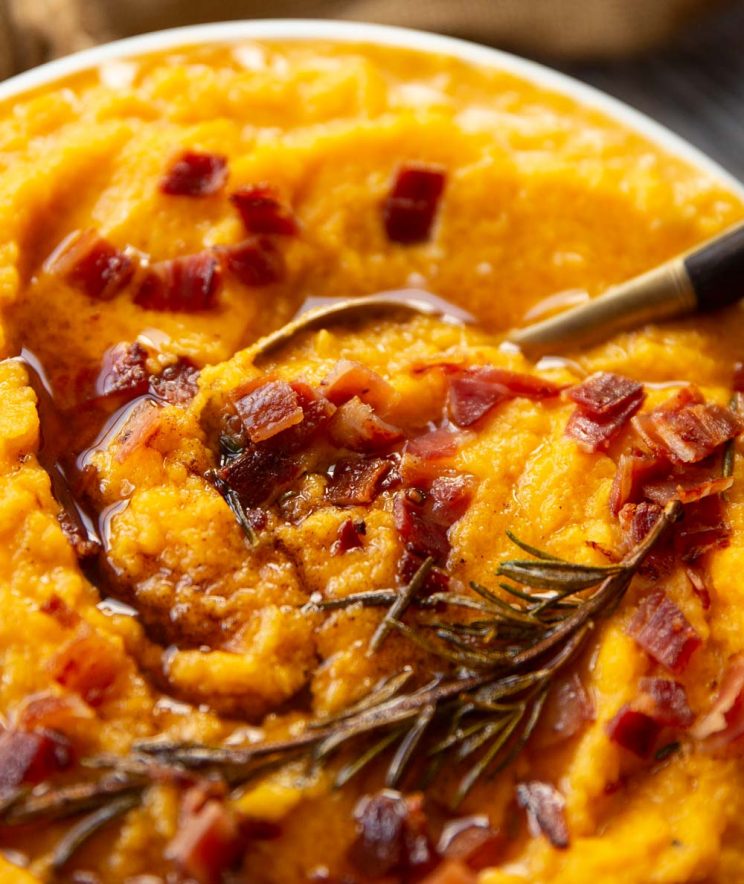 Roasted Butternut Squash
The first, and arguably most crucial thing you can do to improve the texture of butternut squash mash, is to roast it instead of boil it.
When you boil squash you're essentially adding more moisture into it. By roasting it you squeeze out that moisture. PLUS, when you roast you gain so much more flavour because the squash caramelizes in the oven. It's a win win!
How to Roast Butternut Squash
The number one tip for roasting butternut squash, especially when making mash, is to roast low and slow. This will ensure the squash tenderizes right through so you won't be left with any lumpy bits when you mash it. It also ensures the natural sugars in the squash rise to the surface and caramelize (i.e added flavour).
Process shots: slice off stalk (photo 1), slice horizontally (photo 2), scoop out seeds (photo 3), brush will oil, salt and pepper (photo 4), add 2 cloves of garlic into two of the squashes (photo 5), roast until very tender (photo 6).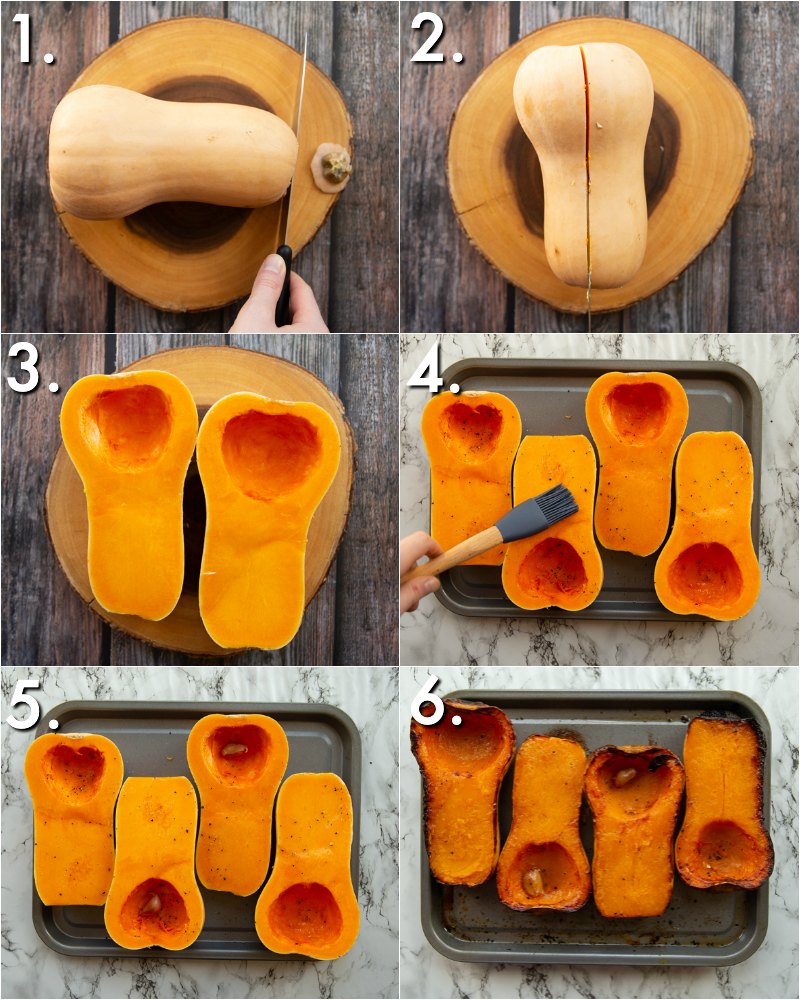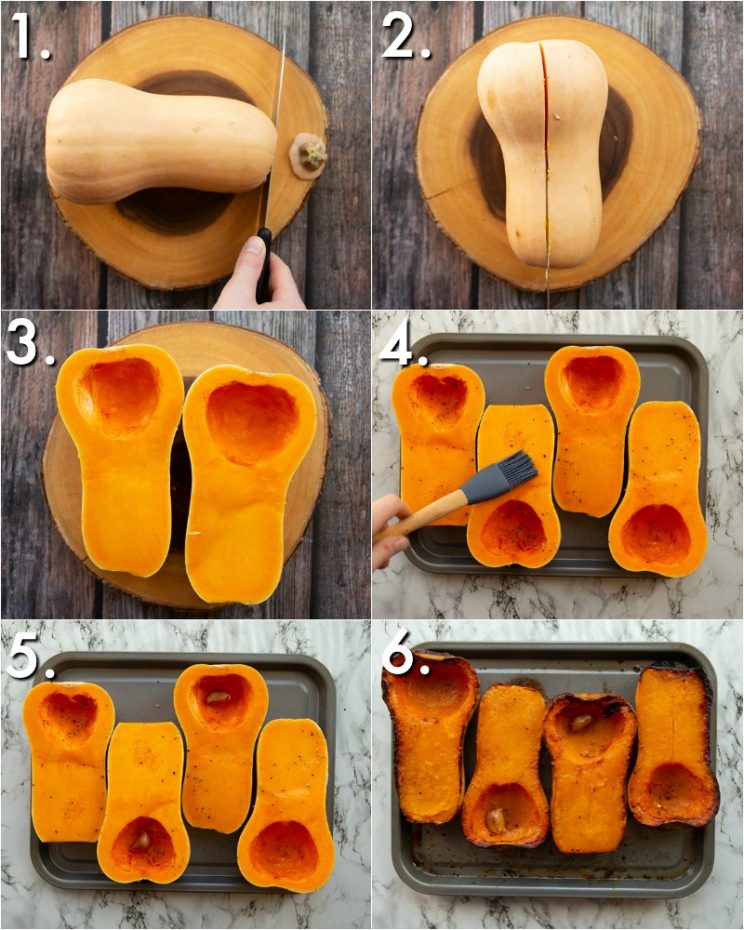 Browned Butter
Alrighty, butternut squash in the oven, let's talk butter. If you've been a reader of mine for a while you'll know talking about butter is one of my favourite things to do. Hey, who doesn't like talking about butter?!
Realistically where there's mash, there's butter. But here we're going to take it up a few notches and add browned butter. Browned butter goes so well with butternut squash and really brings the whole thing to life.
What is browned butter?
Browned butter has a sweet, nutty and rich flavour. It actually tastes completely different to regular melted butter. Browned butter is essentially melted butter that's been slowly cooked down until it turns from a lemony yellow colour, to a deep brown colour.
How do you brown butter?
Melt butter into a pan and begin gently stirring until it starts to foam. Continue cooking and stirring past this point until you see tiny black specs forming. These are just milk solids. The butter will be browned when it starts to smell nutty and turns from a light brown to a slightly darker brown.
I also like to add a spring of fresh rosemary to inject a bit more flavour (sage also works perfectly). Half of this will go IN the mash and the other half ON TOP.
Process shots: add butter to pan (photo 1), melt until it begins to foam (photo 2), add rosemary (photo 3), keep gently frying until browned (photo 4).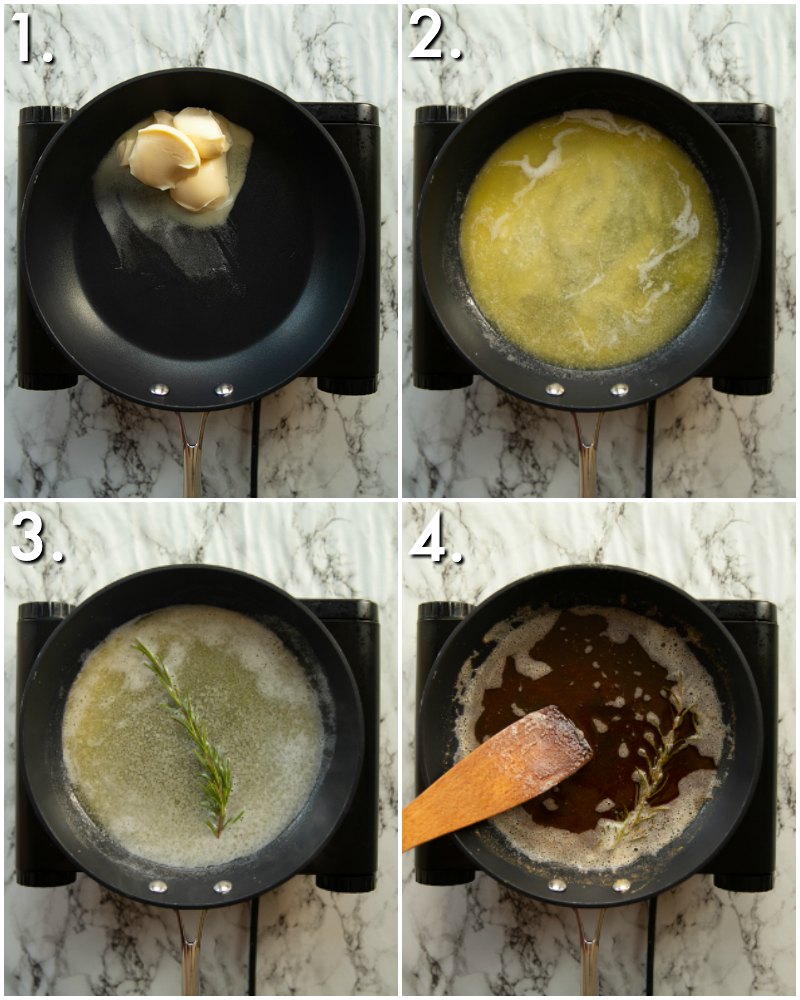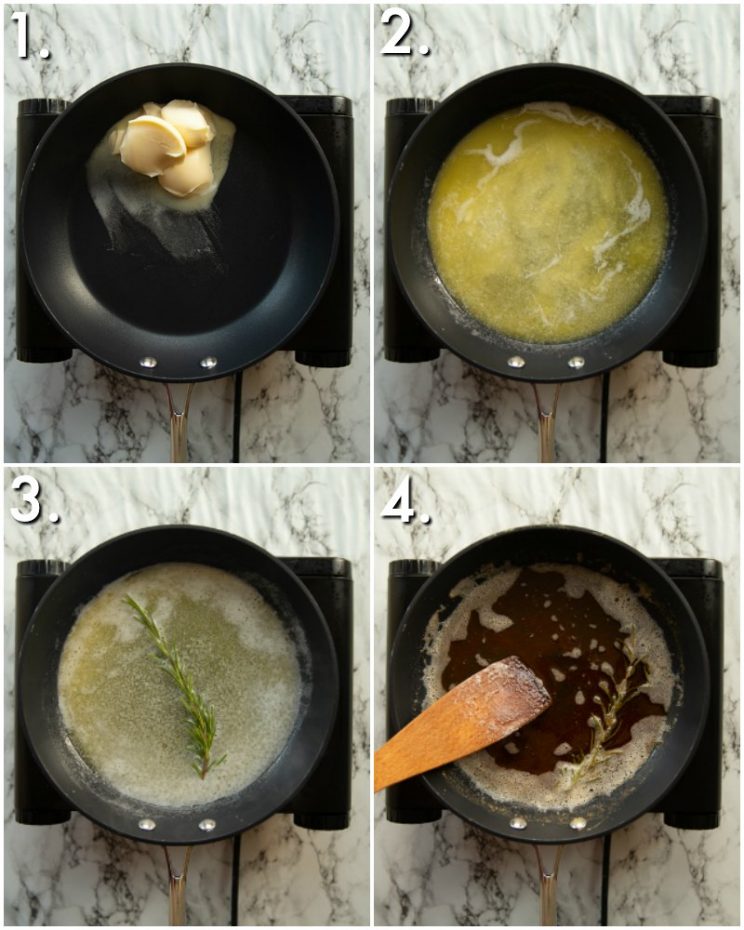 Mashed Butternut Squash Mash
When it comes to making the mash, just scoop the flesh out of the roasted butternut squash and place in a bowl.
At this point I highly recommend leaving it to steam dry for a while. This will allow more moisture to escape before you mash everything up. If you mash it right away you run the risk of it being watery.
Roasted Butternut Squash Mash Ingredients
Parmesan
Roasted Garlic
Browned Butter
Thickened Cream (optional)
I prefer using a hand mixer to blend everything together, but you can use a potato masher if you wish!
How do you thicken mashed butternut squash?
Whilst we've taken a few steps to try prevent this, it's still easy to end up with soupy mash, especially if you go overboard with the butter/cream. I find the easiest way to counteract this is to run it through a sieve to get rid of some of the moisture. From there you can dry it out slightly on the stove or even in the oven. Another tip is to stir in something starchy like mashed potato.
Process shots: scoop out roasted squash into a bowl (photo 1), add in parmesan, roasted garlic, half butter and seasoning (photo 2), mash (photo 3), stir in cream if using (photo 4).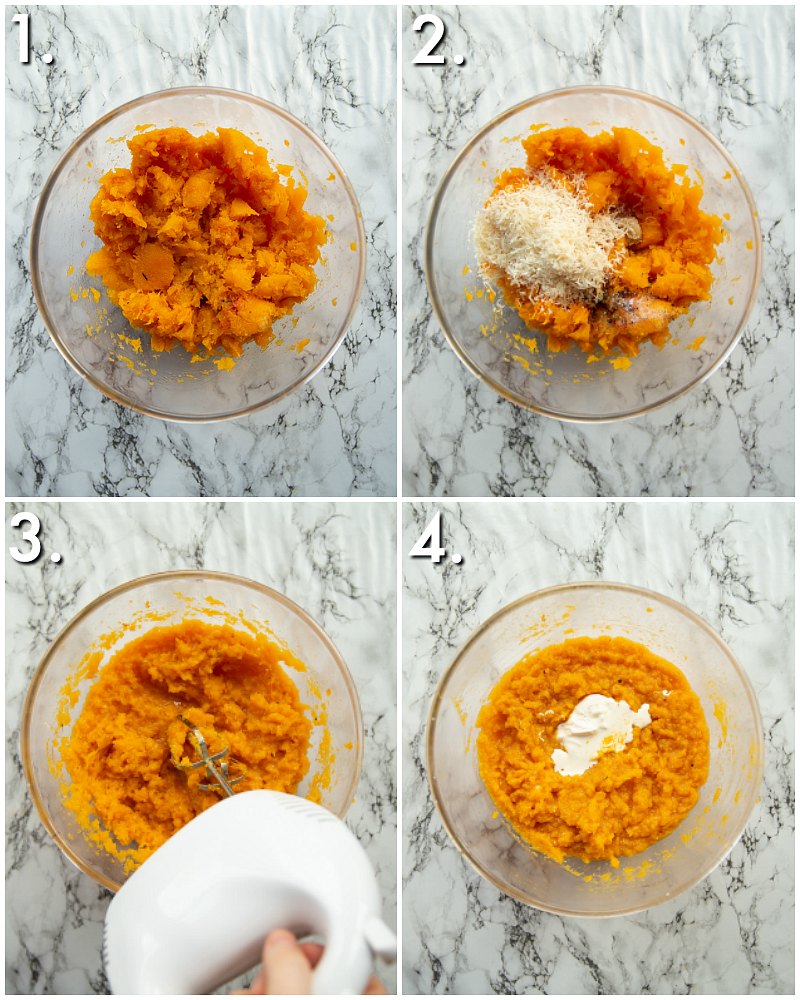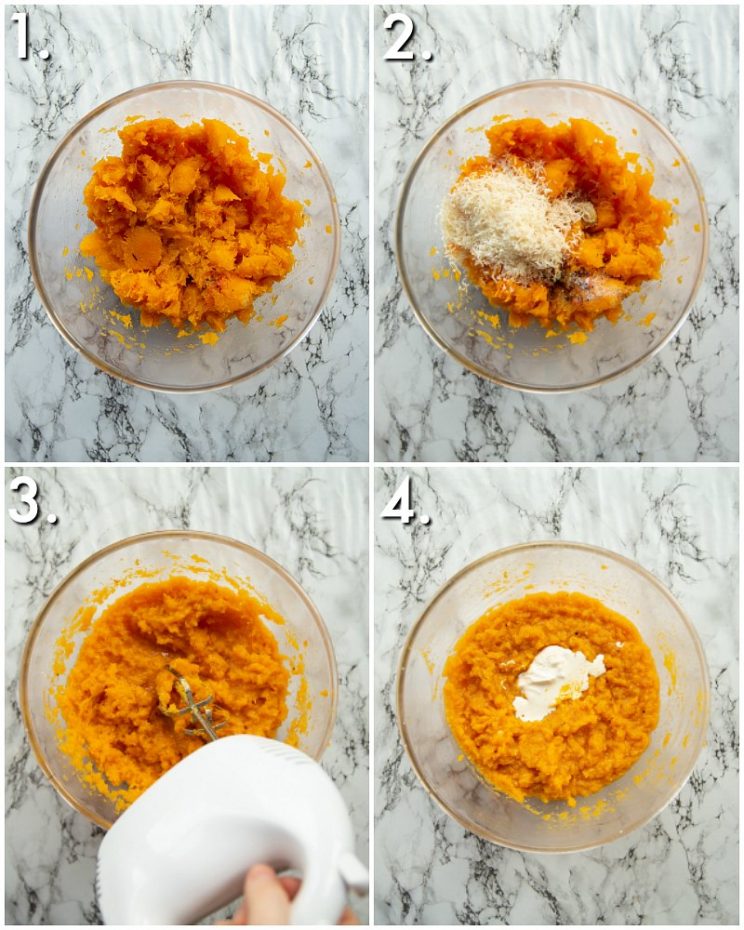 Serving Butternut Squash Mash
When serving I recommend a good sprinkling of bacon and drizzling over the second half of your browned butter. Some water leaking out of the mash is inevitable as it rests, so either pour it out if you can or give it a good stir.
Can I make this ahead of time?
Yep! Just leave off the topping and tightly cover in the fridge. I recommend reheating in short blasts in the microwave or on the stove.
If you're looking for more mash recipes check out my Mustard Mash and Cheesy Roasted Garlic Mashed Potatoes!
For more similar recipes check out these beauties too:
Delicious Vegetable Side Dishes
Alrighty, let's tuck into the full recipe for this roasted butternut squash mash shall we?!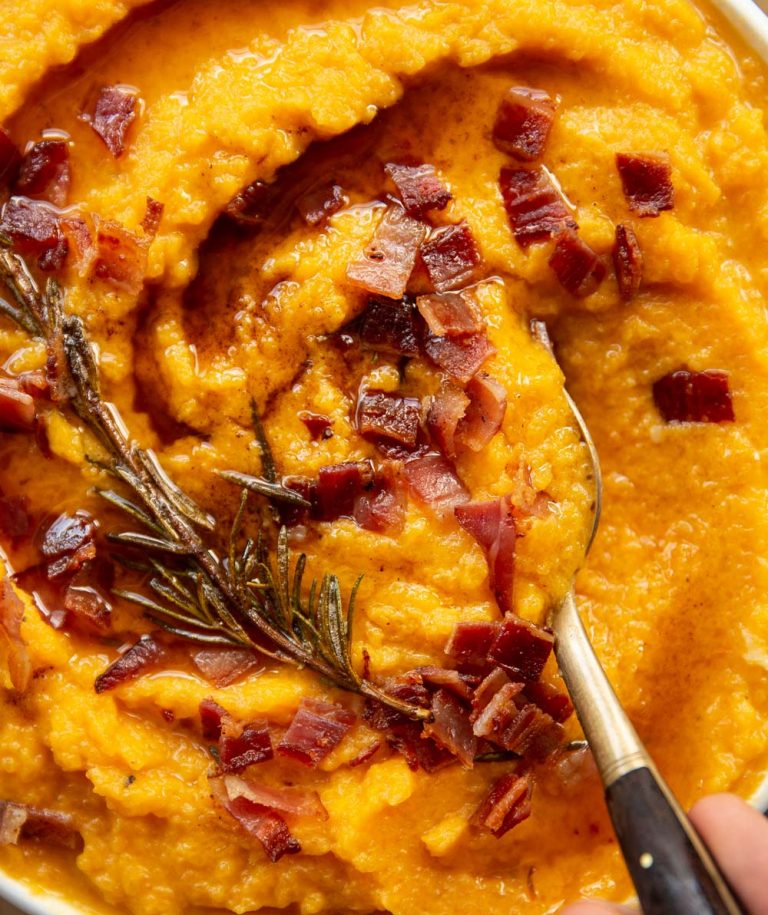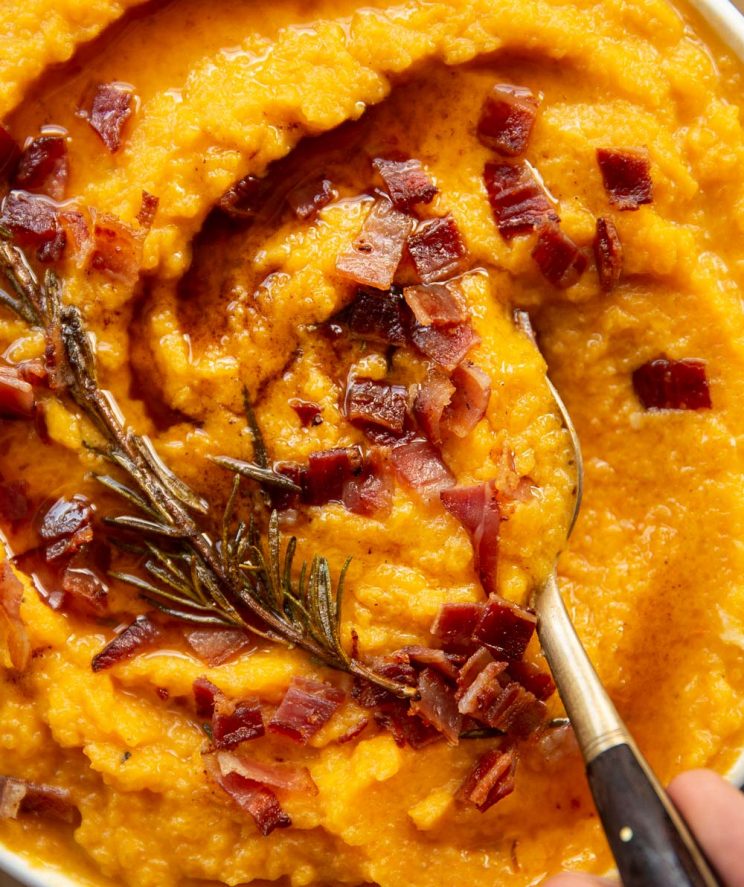 How to make Butternut Squash Mash

 (Full Recipe & Video)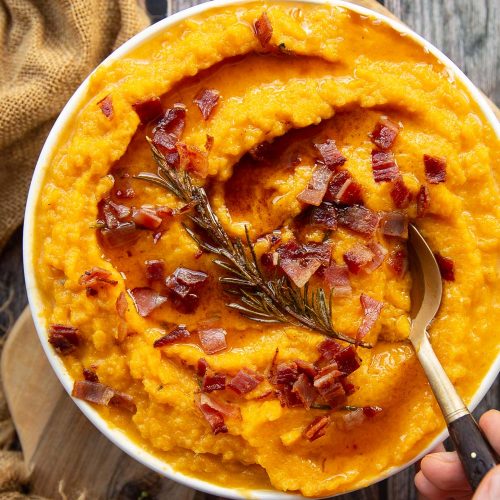 Butternut Squash Mash
If you're after a new crowd-pleasing side dish you're gonna love this Mashed Butternut Squash. It's rich, silky, smooth and totally delicious!
Print
Pin
Rate
Share by Text
Servings (click & slide):
5
Calories per serving:
316
kcal
Cost per serving:
£2 / $2.50
Equipment:
Sharp Knife & Chopping Board

Large Baking Tray

Small Frying Pan/Pot & Wooden Spoon

Large Mixing Bowl

Hand Mixer or Potato Masher

Fine Cheese Grater

Brush (for basting butternut squash)
Ingredients (check list):
2

medium

Butternut Squash (1kg/2lb EACH)

1/2 cup / 40g

freshly grated

Parmesan

4 tbsp / 60g / 2oz

Butter

2-4

rashers of

Bacon, cooked, cooled & chopped

2

cloves of

Garlic,

left in skins

1

large sprig of

Fresh Rosemary (can sub fresh Sage if you prefer that flavour, 2-3 leaves should suffice)

1

heaped tbsp

Thickened Cream (optional)
Olive Oil, as needed
Salt & Pepper, to taste
Instructions:
Prep Squash: Slice off the firm stalk at the end, then carefully slice the squashes in half lengthways. Scoop out the seeds and place on a large baking tray flesh side up.

Roast: Brush with a good drizzle of olive oil and a heavy pinch of salt and pepper. Pop a clove of garlic in the base of two of the squashes. Roast in the oven at 190C/375F for 45-60mins, or until very soft and slightly caramelized. Take them out half way and baste in the oil/juices. Don't rush this, low and slow is best to really soften and sweeten the squash.

Browned Butter: Melt butter into a pan over medium heat. Gently stir until it begins to foam then add in a large spring of rosemary. After a few more minutes you will start to see tiny dark specks start to form on the surface, these are just the milk solids. Continue browning the butter until it turns a deeper brown colour. It will releases a nutty aroma. If at any point the nutty aroma smells more like burning, then simply reduce the heat.

Mash: Scoop the flesh from the butternut squash and place into a large bowl. Leave to steam for 5-10mins to allow as much moisture to escape as possible. Pour out any moisture that collects. Add in parmesan, roasted garlic (squeeze from the skins), half the browned butter and a good pinch of salt and pepper. Blend with a hand mixer or mash with a potato masher. Stir in a tbsp of thickened cream (optional) and check for seasoning.

Serve: Transfer to a serving bowl and drizzle over the remaining butter (don't have to use all of it, work to preference). Sprinkle over bacon and serve up! See notes below for storage/making ahead.
Notes:
a) Watery Mash - Butternut squash is packed with moisture, so to avoid a watery mash it's important to get rid of as much of this as possible. Roasting as opposed to boiling helps a huge amount with this already. The steam drying is an important step as it allows excess moisture to leave before you mash it. The squash will release a small amount of water as it rests, just give it a mix before serving (or drain away if you're able to). b) How do you thicken mashed butternut squash? - If at all you end up with watery mash I find the quickest and easiest way to thicken it is to place in a sieve/strainer and push out excess moisture. From there you can place in a pot and simmer to try and thicken/dry out. Re-season if needed. You can also stir in something starchy like mashed potato. C) Make Ahead - You can absolutely make this ahead of time! Make up until the point of adding the topping (half of browned butter and bacon), tightly cover and store in the fridge. Keep the browned butter and bacon separate. Reheat mash in short pulses in the microwave, stirring in between, or on the stove. Reheat bacon either in the oven or in a pan to crisp up and reheat butter over low heat in a pan, gently stirring as you go to ensure it doesn't curdle/split. d) Calories - Based on sharing 2 rashers of bacon to top, cream included, 1 tbsp olive oil to roast then shared between 5 people.
Your Private Notes:
Nutrition:
Nutrition Facts
Butternut Squash Mash
Amount Per Serving
Calories 316
Calories from Fat 131
% Daily Value*
Fat 14.54g22%
Polyunsaturated Fat 1.007g
Monounsaturated Fat 5.432g
Cholesterol 28mg9%
Sodium 318mg13%
Potassium 1329mg38%
Carbohydrates 44.36g15%
Protein 8.14g16%
Vitamin A 38911IU778%
Vitamin C 76.6mg93%
Calcium 270mg27%
Iron 2.81mg16%
* Percent Daily Values are based on a 2000 calorie diet.
Nutrition is based on the absence of salt unless stated as a measurement in the ingredients. Cost is worked out based on ingredients bought from UK supermarkets, then divided by the number of servings. In both instances these values are just for guidance. Please check out my FAQ Page for more info.
---
If you loved this Butternut Squash Mash recipe then be sure to Pin it for later! Already made it or got a question? Give me a shout in the comments and pick up your free ecookbook along the way!