Leeks wrapped in a rich cheesy sauce, then baked in the oven until crisp on the top and oozy underneath. They make the perfect side dish for just about everything!
If you're looking for a new delicious way to use up leeks then look no further. I mean, not that there's anything new about throwing copious amounts of cheese over vegetables, certainly not on this blog anyway 😂 But let's be real, it never gets boring. Follow me…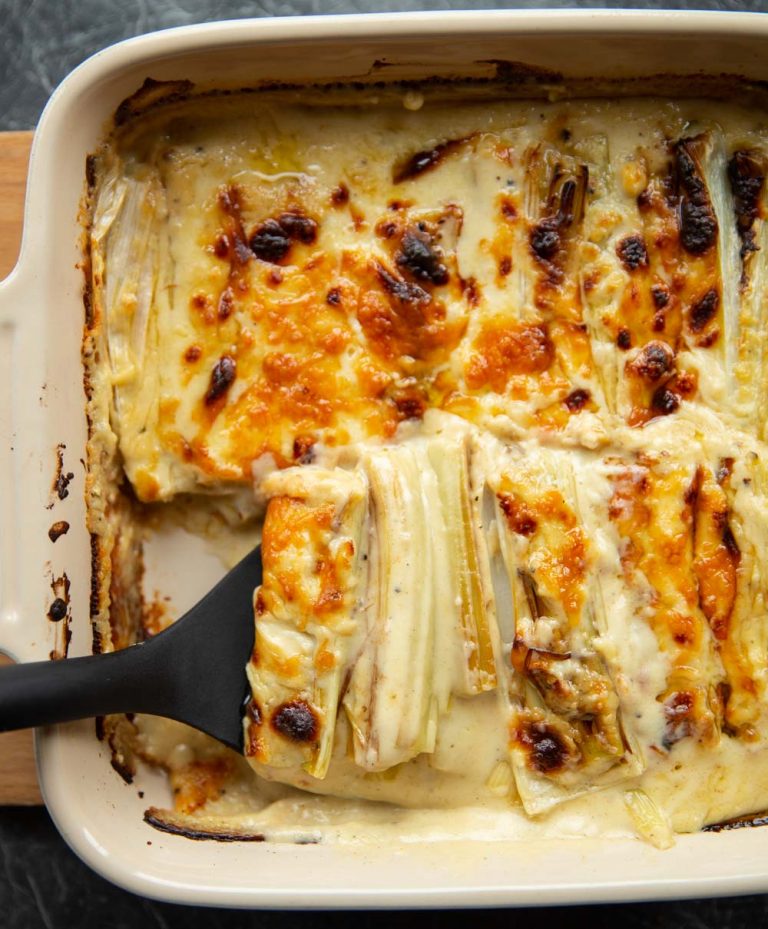 Preparing Leeks
The dream: smother leeks in cheese and bake. The reality: prepare leeks or you'll end up with chewy dirty (cheesy) leeks.
How to prepare Leeks
First thing you'll want to do is essentially get rid of half the poor thing. Well, not half. Just the dark green/tough part. Saving grace is you can save this for making stock though!
Second thing you'll want to do is remove the dirt. Leeks are notorious for storing dirt in between the layers, which is difficult to remove unless you slice open the leek. Keeping the root intact, just slice the leek lengthways and wash out the dirt. Ensure you then thoroughly dry them.
Don't forget the seasoning!
Realistically the leeks are the star of the show here, so it's important they don't get lost in the cheese sauce. Season the insides of the leek with a hefty pinch of salt and pepper.
Process shots: trim leek (photo 1), slice open with root intact (photo 2), soak in cold water (photo 3), slice off root (photo 4).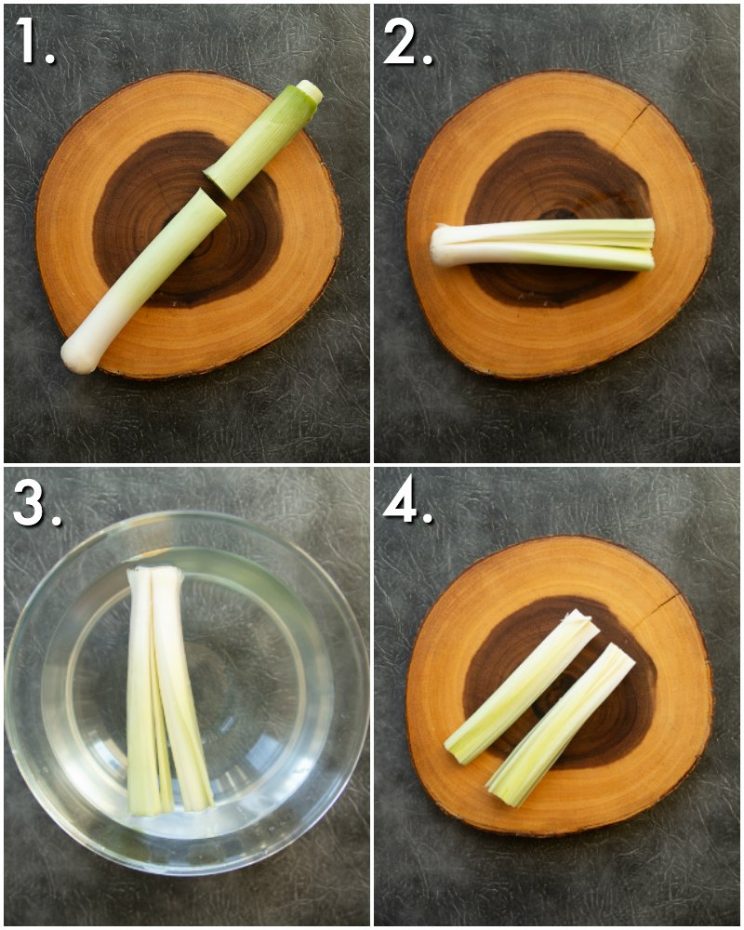 Cooking Leeks
You can cook leeks in a variety of different ways. Like onions, you can fry, roast, steam or even eat them raw. Whilst the leeks will cook slightly as they bake in the cheese sauce (we'll get to that in just a sec) they do need some pre-cooking or they'll come out tough and chewy.
Pan Fried Leeks
Because this recipe calls for thin leeks, you can get away with keeping them in half and frying them that way. Just keep them on a low heat with a dollop of butter and allow them to soften right through. This step will not only ensure the leeks obviously cook, but it also injects flavour into them when they caramelize in the butter. Because, as we know, butter makes everything better.
Process shots: add leeks flesh side down in butter (photo 1), fry until buttery soft (photo 2).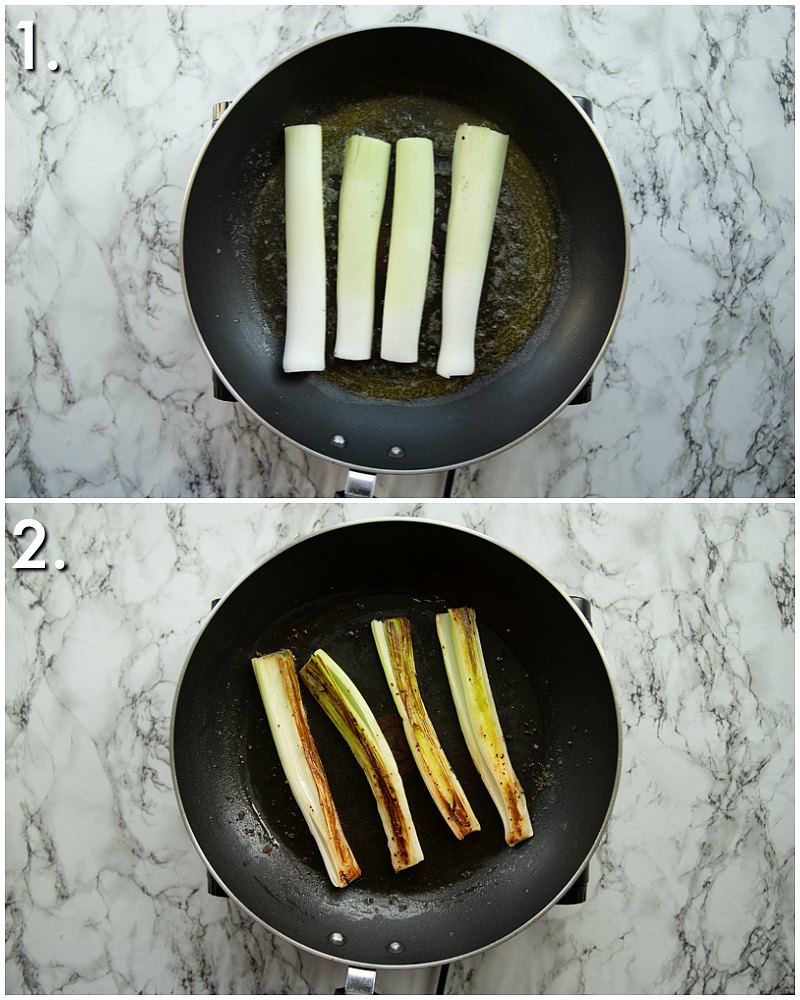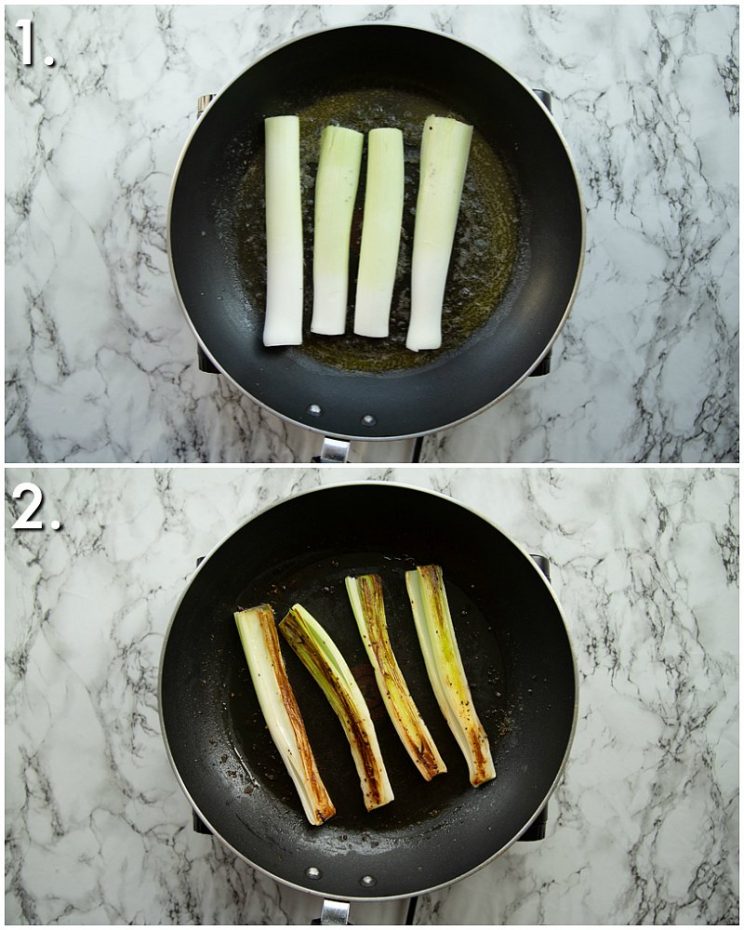 Cheese Sauce
Leeks done and dusted, onto the sauce. Which by the way will start in the same pan as the leeks were cooked, just to use up any leftover flavour.
What Cheese to use?
Here I use two difference cheeses: Cheddar and Gruyere. Gruyere has a really gorgeous nutty flavour to it that not only goes amazingly with cheddar, but also goes great with leeks.
Two secret weapons
To really take this sauce to new heights I HIGHLY recommend adding in a dollop of dijon mustard and a good few pinches of nutmeg. The mustard emphasises the sharp cheesy tones of the cheddar, whilst the nutmeg brings out those gorgeous nutty tones in the gruyere.
As far as making the cheese sauce goes it's just a regular roux.
Process shots: melt butter and mix in flour (photo 1), gradually whisk in milk (photo 2), add in seasoning (photo 3) add in cheese (photo 4).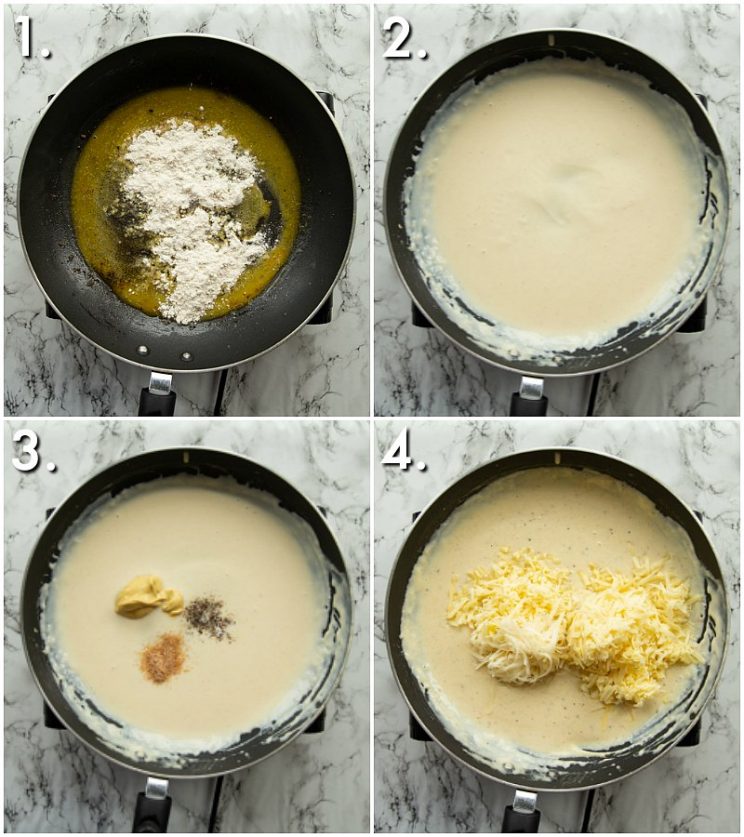 Baked Leeks
As you can imagine, from here the process is pretty simple. Here's a few tips to help along the way:
First Layer – You'll want to spread a spoonful of the sauce on the very first layer to ensure the leeks don't stick to the dish.
Cut side up – Ensure you stack the leeks cut side up so the sauce seeps right into the leeks.
Extra Cheese – Finish everything with a good sprinkling of cheese to get that crispy, browned finish!
Can I prep this ahead of time?
Yup! Just allow to cool and tightly store in the fridge until ready to bake.
Process shots: spread sauce then add half of the leeks (photo 1), pour over sauce (photo 2), add leeks (photo 3), pour sauce and top with cheese (photo 4).
Serving Cheesy Leeks
Once they come out the oven they'll be hot as hell, so just let them rest for 5 mins or so.
What to serve cheesy leeks with?
My two favourite things to serve these with are Homemade Sausages and Roasted Spatchcock Chicken!
If you're after another cheesy and delicious side dish check out my Broccoli and Cauliflower Cheese!
For more similar recipes check out these beauties too:
Easy Side Dish Recipes
Alrighty, let's tuck into the full recipe for these cheesy leeks shall we?!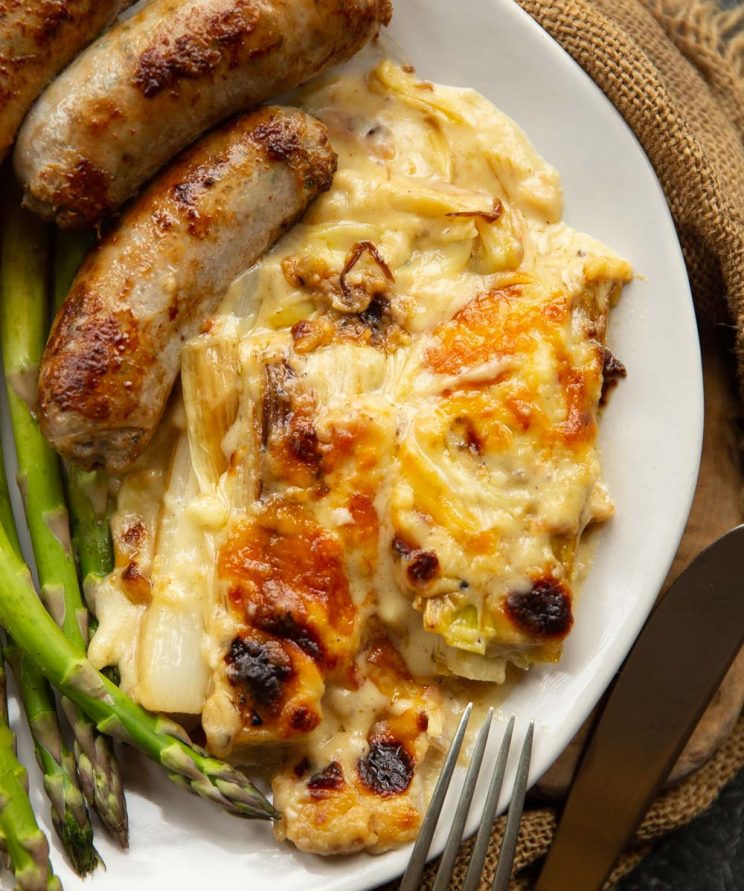 How to make Cheesy Leeks

 (Full Recipe & Video)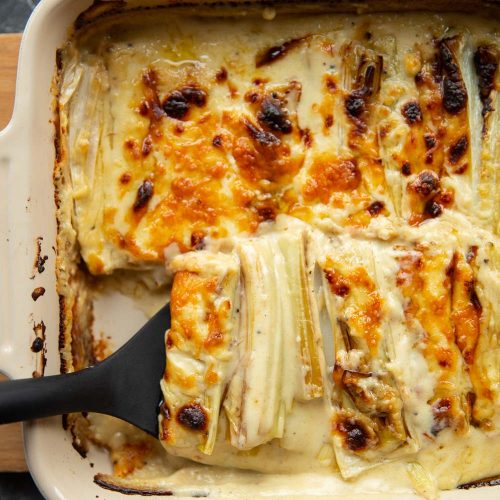 Cheesy Baked Leeks
Leeks wrapped in a rich cheesy sauce, then baked in the oven until crisp on the top and oozy underneath. They make the perfect side dish for just about everything!
Print
Pin
Rate
Servings (click & slide):
4
Calories per serving:
527
kcal
Cost per serving:
£2 / $2.50
Equipment:
9" x 9" Baking Dish (or similar size)

Large Frying Pan & Wooden Spoon

Sharp Knife & Chopping Board

Tongs

Whisk
Ingredients (check list):
6

thin

Leeks (approx 2lb/1kg total BEFORE trimming)

1 1/2 cups / 150g

Cheddar, grated (save 1/3 for topping)

1 cup / 100g

Gruyere, grated (see notes)

2 cups / 500ml

Milk, at room temp

3

tbsp

Butter

2

tbsp

Flour

1

tbsp

Dijon Mustard

1

tbsp

Olive Oil

few pinches of

Ground Nutmeg
Salt & Black Pepper, as needed
Instructions:
Prep Leeks: Dice off the coarse green tough part of the leek (save for making stock if you wish). Keep the root intact and slice in half lengthways. Clean out any dirt under the tap or in a bowl of cold water then thoroughly dry. Trim off the root then season the insides with a good pinch of salt and pepper.

Fry: Add 1 tbsp butter and 1 tbsp olive oil to a large pan over low-medium heat. Add leeks (work in two batches, or as many as you can fit) seasoned/flesh side down and gently fry until soft and buttery. Discard any papery outer layers that detach. Really take the time to ensure they soften right through. If your leeks are quite thick consider adding a splash of stock or water, putting on the lid and allowing them to steam through. That or quarter instead of halving them. Place to one side and repeat with second batch, adding a splash more oil if needed.

Sauce: Turn heat to a medium and melt in 2 tbsp butter. Stir in 2 tbsp flour to form a paste, then very gradually begin adding in 2 cups/500ml milk, whisking as you go to avoid any lumps forming. Once thickened, add in 1 tbsp dijon mustard, a good few pinches of nutmeg and salt & pepper to taste. Turn off heat then add in 1 cup/100g Gruyere and 1 cup/100g Cheddar and stir until smooth.

Bake: Spread a spoonful of cheese sauce in the base of a 9"x9" baking dish. Add 6 leek halves cut side up, pour over sauce, add the remaining leeks on top then pour over the rest of the sauce. Finish with your remaining cheddar and bake in the oven at 200C/390F for 20-25mins or until golden and bubbly.

Serve: Allow to rest for 5 or so mins until it cools down, then slice right down the middle. Serve up and enjoy!
Notes:
a) Pre Cooking Leeks - I like to fry mine before hand to not only soften them, but also to caramelize them and develop more flavour. Because they're so thin frying on a low heat will cook them right through. If you've got fairly large leeks you can either dice them into rounds and fry them that way, you can boil them, or you can fry them to caramelize the flesh then add liquid & a lid to steam them through. They will cook a little more as they bake in the sauce, but most of the cooking is done before hand. b) Gruyere - This adds a gorgeous nutty flavour to the sauce. You should be able to find it in most stores, but if for whatever reason you can't you can just sub more cheddar. c) Pre Ahead - You can prep this up to the point of putting it in the oven. Just allow to cool, tightly cover and store in the fridge. Pop in the oven at 190C/375F (slightly lower temp if cooking straight from fridge) and cook until golden and bubbly. d) Calories - based on sharing between 4 people.
Your Private Notes:
Nutrition:
Nutrition Facts
Cheesy Baked Leeks
Amount Per Serving
Calories 527
Calories from Fat 317
% Daily Value*
Fat 35.26g54%
Polyunsaturated Fat 2.003g
Monounsaturated Fat 11.2g
Cholesterol 94mg31%
Sodium 640mg27%
Potassium 483mg14%
Carbohydrates 28.68g10%
Protein 25.17g50%
Vitamin A 3317IU66%
Vitamin C 16.3mg20%
Calcium 793mg79%
Iron 3.32mg18%
* Percent Daily Values are based on a 2000 calorie diet.
Nutrition is based on the absence of salt unless stated as a measurement in the ingredients. Cost is worked out based on ingredients bought from UK supermarkets, then divided by the number of servings. In both instances these values are just for guidance. Please check out my FAQ Page for more info.
---
If you loved this Cheesy Leeks recipe then be sure to Pin it for later! Already made it or got a question? Give me a shout in the comments and pick up your free ecookbook along the way!