This chicken parmesan is smothered in an easy marinara sauce, topped with fresh mozzarella and packed with plenty of fresh basil. It's also completely baked in the oven!
Whether you call it chicken parmesan, chicken parm or chicken parmigiana, we're here today to celebrate it in all its glory. This glorious dish is usually initially fried, but today I'll show you how easy it is to get a crispy chicken parmesan in the oven. Follow me…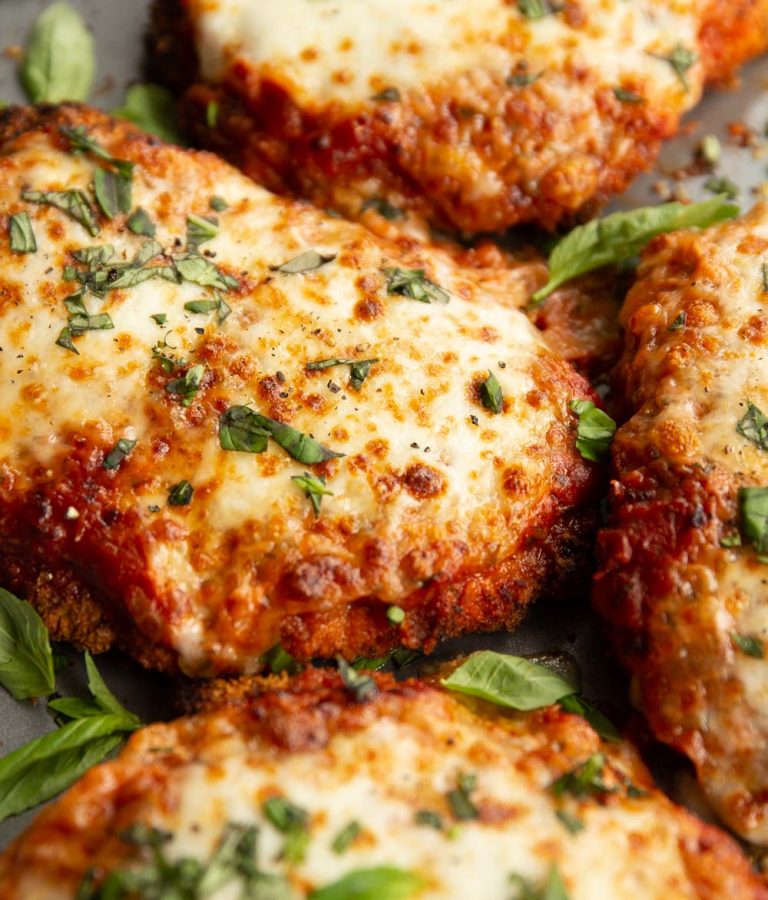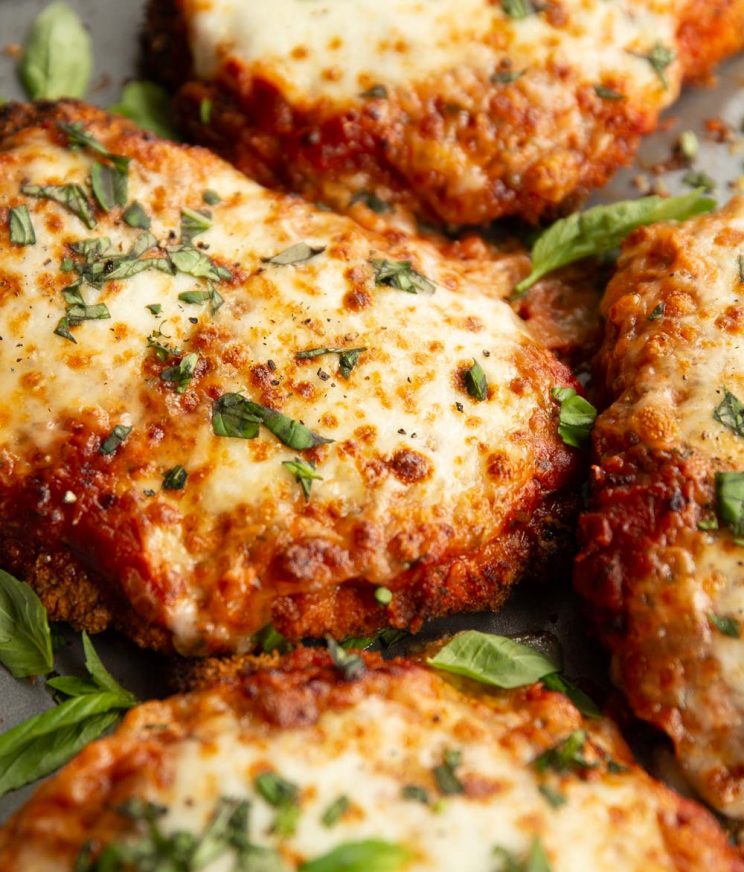 Chicken Parmesan Breadcrumbs
There's nothing worse than a soggy chicken parmesan, but since it's always at least half baked in the sauce, it's never going to be teeth-shatteringly crispy. To give ourselves the best chance of the chicken itself being crispy we want to build up a nice crust.
Panko Breadcrumbs
Panko breadcrumbs are great because they're big and airy. As such, once they're baked they come out nice and crispy. A little trick to making them extra crispy is to toast them in butter before you coat the chicken. You can do this on a tray in the oven or a pan. Since we're already going to be using a pan for the marinara sauce, it makes sense here to use a pan here for the breadcrumbs too.
Process shots: melt butter (photo 1), add Panko (photo 2), mix to coat then lightly fry until golden (photo 3).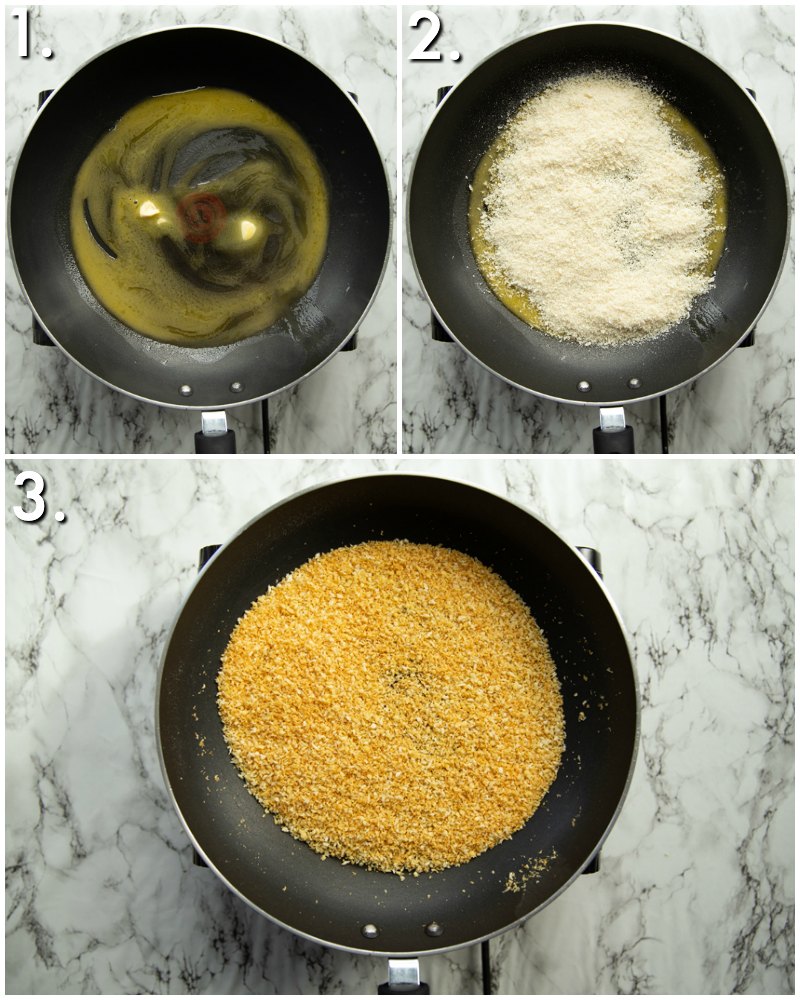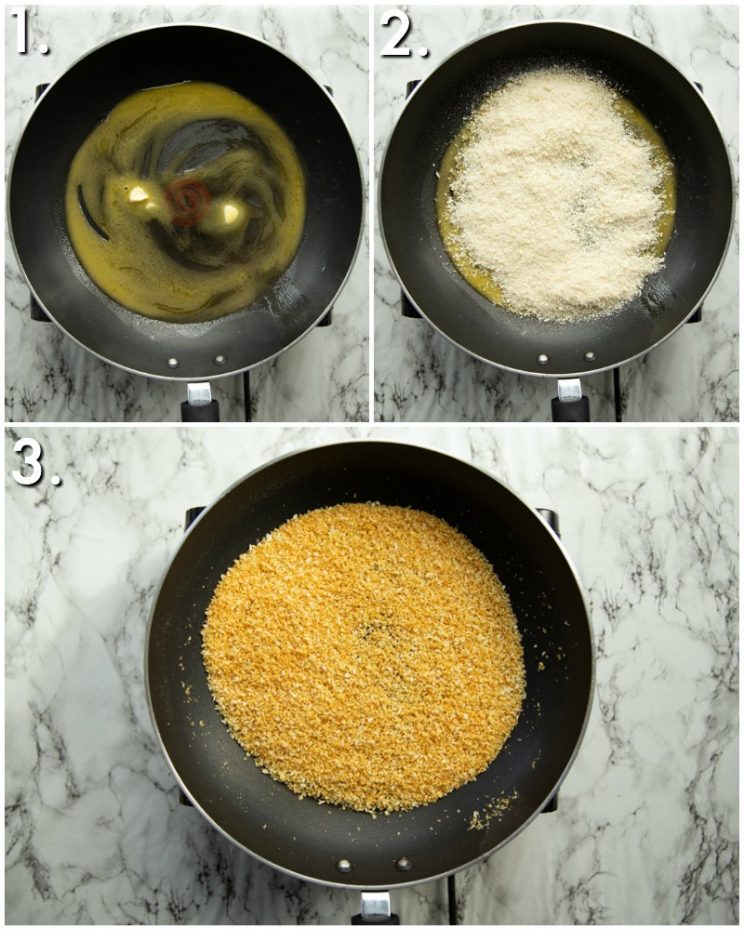 Marinara Sauce for Chicken Parmesan
A lot of chicken parmesan recipes call for store-bought marinara sauce, but it's way too easy and delicious not to make at home. Here's what you'll need:
Marinara Sauce Ingredients
Tomato Passata – The bulk of the sauce (see below).
Onion & Garlic – Creates a flavour base.
Oil – Extra virgin olive oil to fry the garlic/onion.
Herbs – The main herb is fresh basil, then I like to add a little dried oregano too, just to boost flavour.
Additions – Chilli flakes for a little heat, a pinch of sugar if needed if the tomatoes are a little sour.
Tomato Passata
This will make the base of the sauce. Tomato passata, which is essentially pureed & strained tomatoes, makes the perfect base for a marinara sauce because it's nice and smooth. Because you're going to be spreading the marinara sauce over the chicken you don't really want big chunks of tomatoes. As such, I usually steer clear of canned chopped or plum tomatoes. Not a deal breaker though if that's what you have, just make sure they're smoothed out as you cook the sauce. In all cases just make sure you use good quality tomatoes for a richer and slightly sweeter flavour.
Can I make the sauce ahead of time?
Yep! If you want to make the sauce in advance and just focus on the chicken, you can definitely do so. Just allow to completely cool and tightly store in the fridge until needed. Reheat then use as necessary.
Process shots: add onion to extra virgin olive oil (photo 1), fry then and garlic (photo 2), pour in passata and add basil, oregano and seasoning (photo 3), simmer until thickened (photo 4).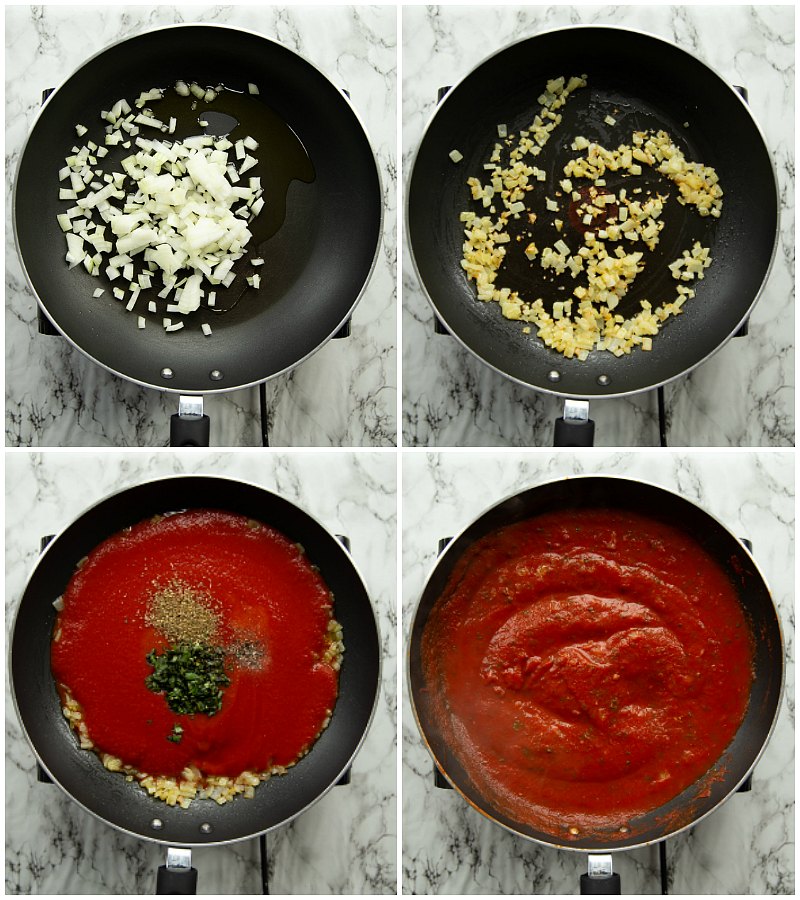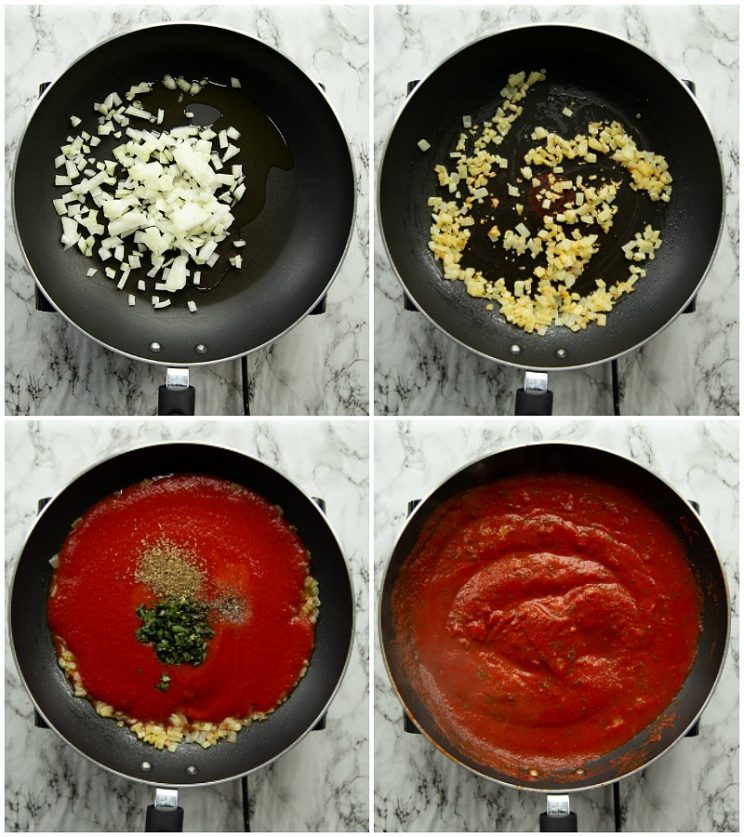 How to coat Chicken Parmesan
For chicken parmesan, you'll want to use chicken breast. From there it's best to either butterfly the breasts right through or pound the chicken flat. This will ensure the chicken cooks evenly and at a similar rate to which the breadcrumbs crisp up. I like to pound the chicken because this also tenderizes it.
How to pound chicken
You can do this with a mallet, rolling pin or heavy bottom pan. Anything like that. Just pop over some cling film and pinch around the edges so no juices escape. You'll want to pound the chicken nice and thin, just so it goes nice and crispy in the oven. You'll struggle to crisp up thick slabs of meat.
Dredge the chicken
Dredging is a little messy BUT you've only got 4 breasts here so it's not too bad here. Order of work is flour -> egg -> then finish in your crispy breadcrumbs mixed with parmesan.
Top Tip – Ensure you thoroughly coat the chicken at each stage, namely the last stage. You want as much of the chicken to be coated in breadcrumbs and parmesan as possible!
Process shots: lay cling film over chicken (photo 1), pound until even thickness (photo 2), remove cling film (photo 3), coat in flour (photo 4), coat in egg (photo 5), coat in breadcrumbs (photo 6).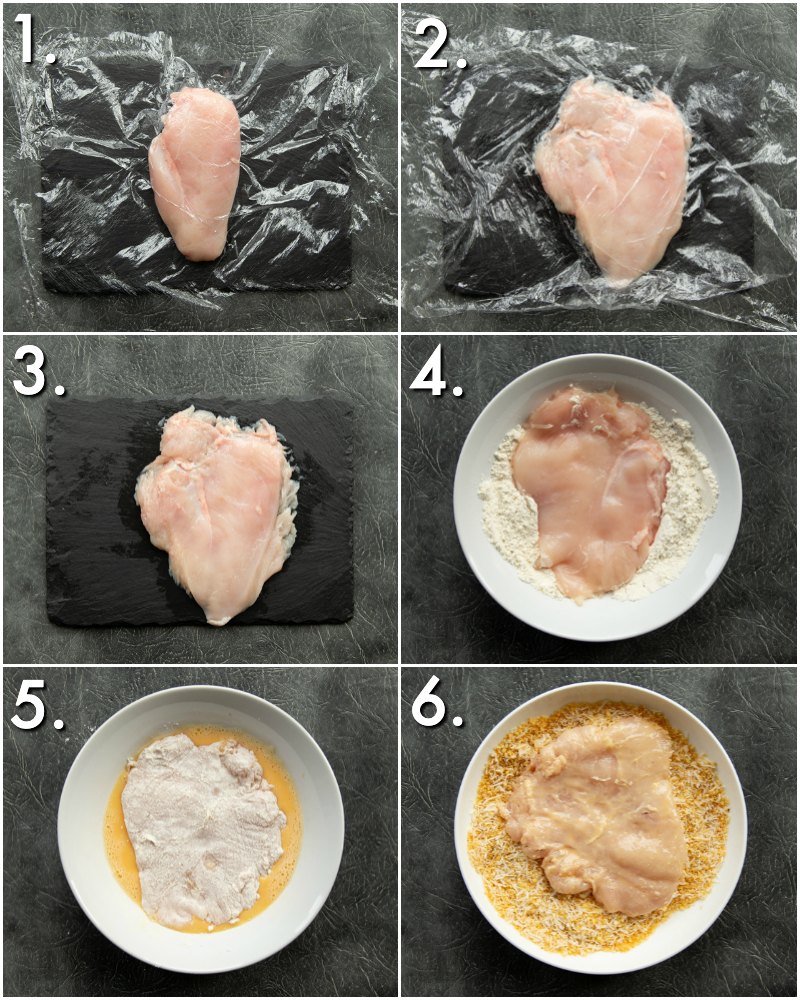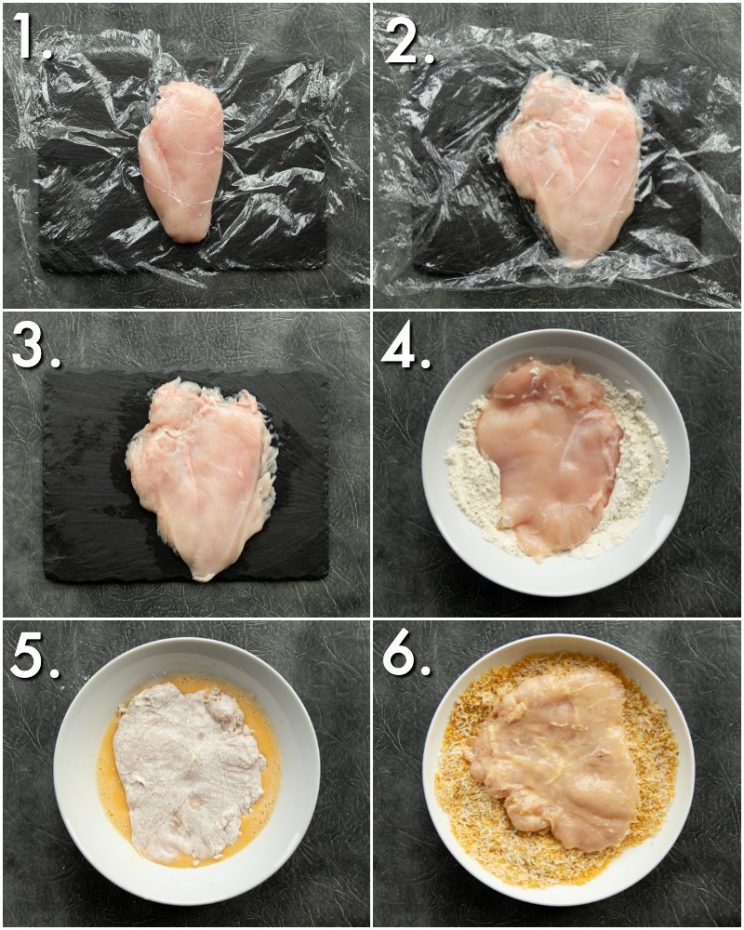 Baked Chicken Parmesan
Once you've dredged the chicken it's time to bake it. I highly recommend placing the chicken on a wire rack – this will allow the hot air to work its way around the chicken and help crisp the underneath too.
After baking the chicken, it's time to whack on the sauce and mozzarella. I also like a good pinch of parmesan because, well, chicken parmesan and all that. You won't need to bake again, just grill/broil to cook the top.
Process shots: add chicken to wire rack over tray (photo 1), bake (photo 2), remove (photo 3), add back on to tray without wire rack (photo 4), top with marinara sauce (photo 5), finish with mozzarella and parmesan (photo 6).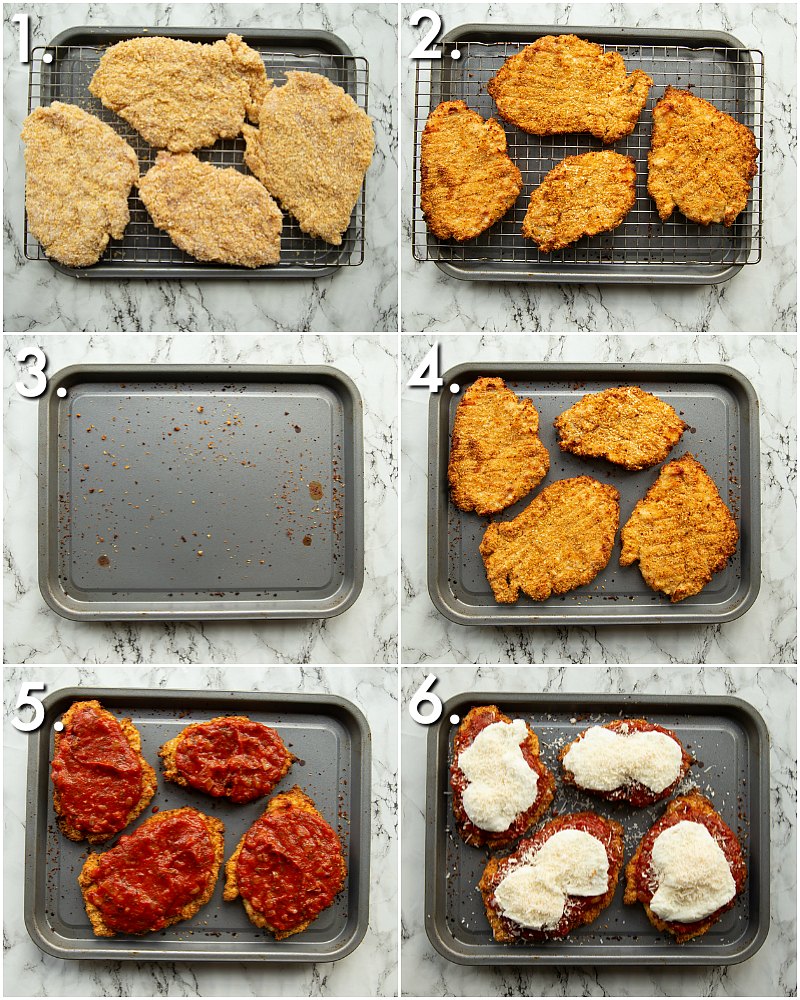 Chicken Parmesan FAQ
Can I fry chicken parmesan?
You can fry the chicken parmesan, and it will stay slightly crispier, it's just obviously a little more effort and a lot more oil. I've added a section in the notes of the recipe card on this.
Can I make chicken parmesan ahead of time?
I generally don't recommend making the entire thing in advance, just because the sauce seeps into the breading and it goes soggy, but you could do these steps in advance:
Toast Breadcrumbs
Pound Chicken
Marinara Sauce
Then just dredge and bake from there!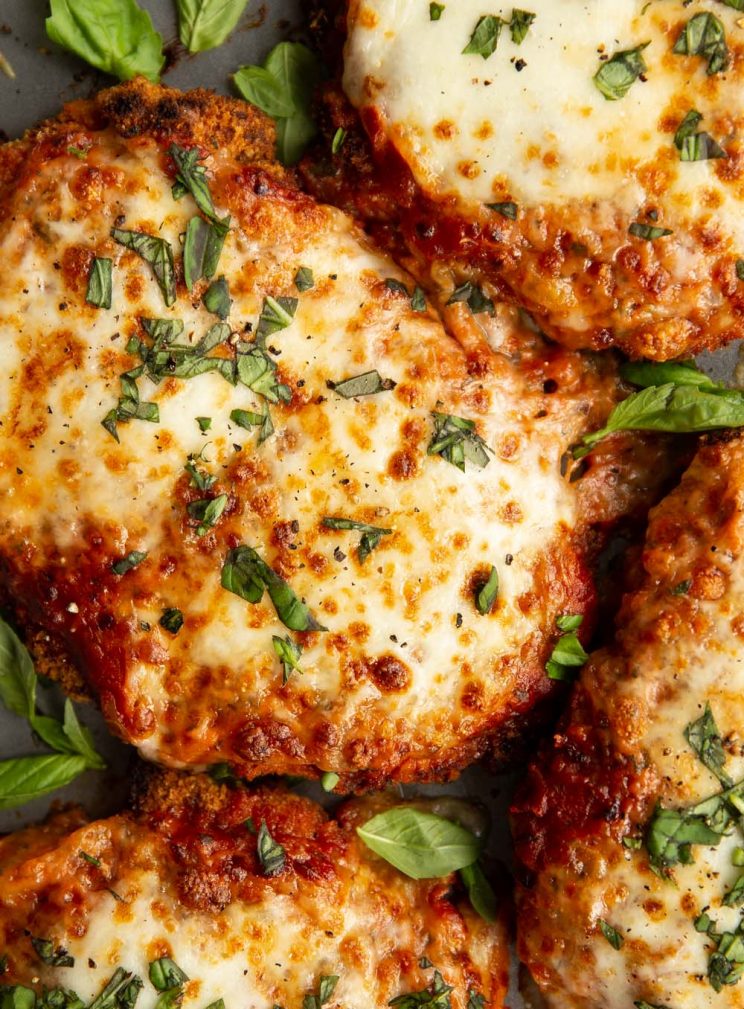 Serving Chicken Parmesan
I recommend serving it up fairly swiftly; the longer it sits the less crispy the chicken will be. From there give it all a good helping of fresh basil.
What to serve with chicken parmesan?
The traditional pairing is spaghetti, but it's also commonly served with Fries (or Sweet Potato Fries). If you want to add a little veg then go for some Roasted Broccolini or Garlic Green Beans.
Alrighty, let's tuck into the full recipe for this chicken parmesan shall we?!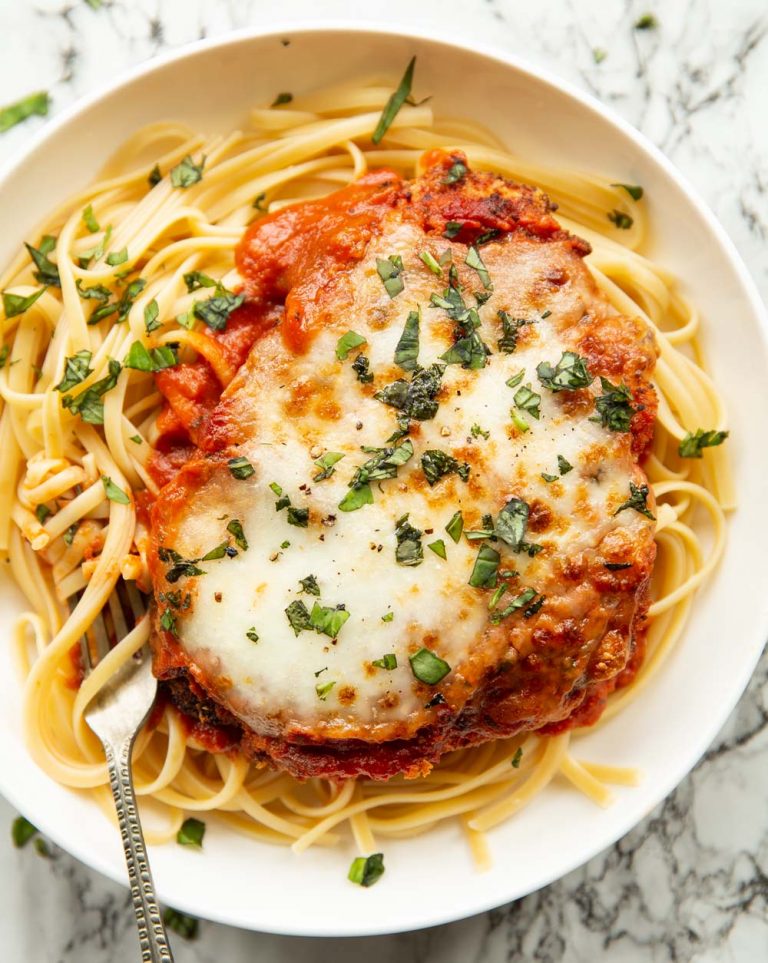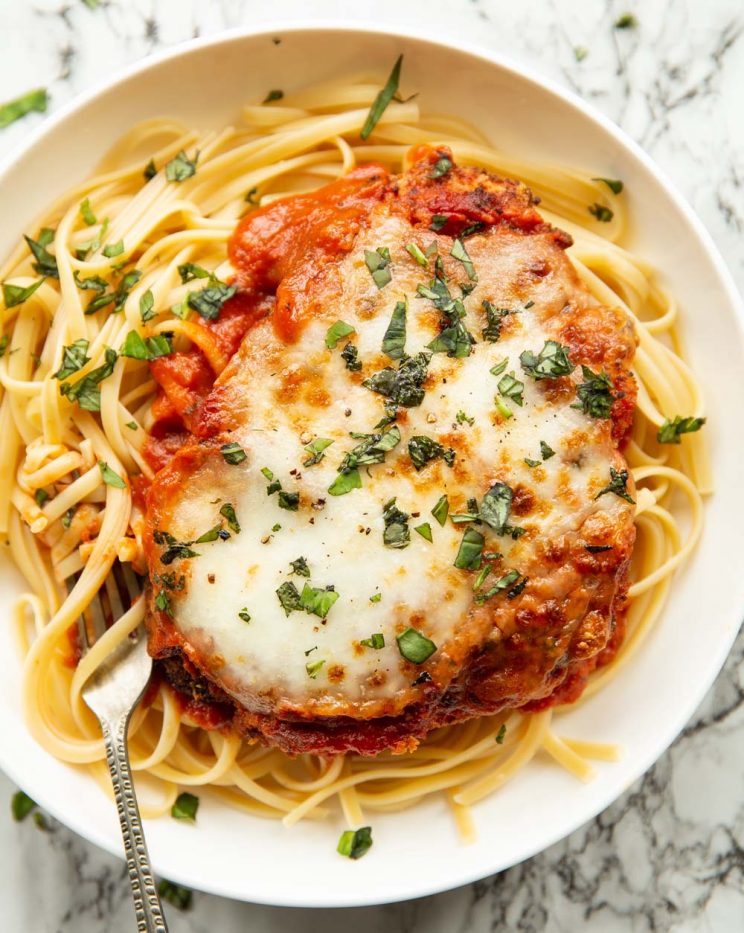 How to make Baked Chicken Parmesan

 (Full Recipe & Video)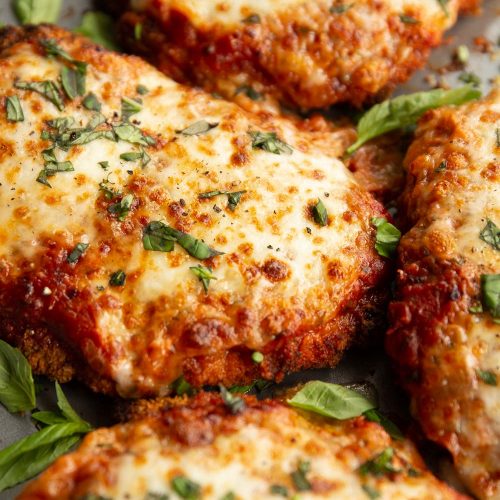 Baked Chicken Parmesan
This chicken parmesan is smothered in an easy marinara sauce, topped with fresh mozzarella and packed with plenty of fresh basil. It's also completely baked in the oven!
Print
Pin
Rate
Share by Text
Servings (click & slide):
4
Calories per serving:
700
kcal
Cost per serving:
£2.50 / $3
Equipment:
Large Pan & Wooden Spoon

Large Baking Tray & Wire Rack

3 Shallow Dishes (for dredging)

Cling Film & Rolling Pin or Mallet (for pounding chicken)

Sharp Knife & Chopping Board

Fine Cheese Grater

Spatula/Turner

Small Pot (for chicken seasoning)
Ingredients (check list):
Marinara Sauce
1x 25oz/700g

jar of

Tomato Passata (pureed/strained tomatoes in US - see notes)

6-8

large

Basil Leaves, finely diced (plus extra to serve)

2

cloves of

Garlic, minced/finely diced

1

medium

Onion, finely diced

1

tbsp

Extra Virgin Olive Oil

1/2

tsp

Dried Oregano
Salt & Black Pepper, to taste
Sugar (optional)
Chicken
4x 7oz/200g

Chicken Breasts, brought close to room temp

1 1/4cups / 75g

Panko Breadcrumbs (see notes)

2/3 cup / 50g

freshly grated

Parmesan, plus 4 pinches extra to top chicken

1/3 cup / 70g

Flour

8

wedges of

Fresh Mozzarella

(approx 7oz/200g)

2

medium

Eggs,

beaten

1

heaped tbsp

Butter

1

tsp EACH:

Salt, Garlic Powder

3/4

tsp

Dried Oregano

1/2

tsp

Black Pepper
Instructions:
Breadcrumbs: In a large pan over medium heat melt in 1 heaped tbsp butter. Add Panko breadcrumbs and coat in the butter. Continue to toast the breadcrumbs, using a wooden spoon to move them about frequently, until nice and golden. Pour into 1 of your shallow dishes and leave to cool.

Marinara Sauce: In that now empty pan, heat warm 1 tbsp extra virgin olive oil over medium heat. Add in onion and fry until it begins to soften and just begins to pick up colour. Add garlic and fry another 1-2mins. Pour in passata and shake the jar out with a splash of water. Add in basil, oregano and seasoning to taste. Depending on the quality of your tomatoes you may need to add a pinch of sugar to balance out the acidity. Leave on a gentle simmer for 20mins, or until nicely thickened.

Pound Chicken: Lay cling film over chicken breast and pinch around it (just so no juices escape). Pound until they're around 1/4-1/2" thick. You want them as thin as you can get them without the breast breaking apart. Slice off any stray pieces around the edges.

Coat Chicken: In a small pot combine 1 tsp salt & garlic powder, 3/4 tsp oregano and 1/2 tsp black pepper. Pour half of this into a shallow dish along with your flour, and the other half in a shallow dish with the toasted breadcrumbs and parmesan. One by one coat a breast in the seasoned flour, then into egg, then into the seasoned breadcrumb/parmesan mixture. Really make sure you completely coat the chicken at each stage, namely the last stage. Place on a lightly oiled wired rack above a baking tray. Repeat with remaining breasts.

Bake (see notes for frying): Bake in the oven at 425F/220C for 10-12mins until the chicken begins to crisp, take out and carefully flip. Rotate tray and place back in the oven for another 5-10mins or until the chicken is golden crispy. At this point it should just be cooked through.

Top Chicken: Take chicken off wire rack and place on the tray underneath. Spread over a good dollop of sauce, top with two wedges of mozzarella each, then sprinkle with parmesan. Place back under the grill and broil on high until the cheese goes golden and gooey.

Serve: sprinkle over fresh basil and serve over spaghetti or with chips/fries and side salad!
Notes:
a) Passata - Passata is readily available nearly everywhere in the UK, but if for whatever reason you don't have it you can just sub 2x 14oz/400g cans of chopped plum tomatoes. In all cases try and go for a good quality brand or it may taste slightly sour. If this is the case just add a few pinches of sugar to balance out the acidity in the sauce. The longer you simmer the deeper the flavour.
b) Panko - Panko breadcrumbs are great because they're big and airy, meaning when they're cooked they come out nice and crispy. Toasting them in butter means they'll turn out extra crispy (plus you get some of the gorgeous buttery flavour). I definitely recommend this step. You'll find Panko breadcrumbs in most stores, probably in the Asian section, but if you don't have them just sub regular dried breadcrumbs (try and find large breadcrumbs, not the dusty variety). I recommend weighing them (75g/2.6oz) because different sizes will produce difference cup sizes.
c) Frying - I prefer shallow frying, but you can get away with using 3-4tbsp oil. I recommend 1 cup veg oil (higher smoking point than olive oil) and heat up until a breadcrumb rapidly sizzles, approx 356F/180C. Fry chicken breasts 1-2 at a time for 3-4mins each side until golden and crispy. Place on baking tray, top with marinara etc etc.
d) Make Ahead - I don't recommend making the whole thing in advance, because the sauce makes the chicken soggy if left for a while, but you could do these steps in advance:
Toast Breadcrumbs (store in airtight container at room temp 1-2days)
Pound Chicken (tightly cover in the fridge overnight then bring to room temp before needed)
Marinara Sauce (allow to completely cool then tightly cover in the fridge for 4-5days)
e) Calories - per chicken parmesan. Slightly overestimate as not all the ingredients are picked up during dredging.
Your Private Notes:
Nutrition:
Nutrition Facts
Baked Chicken Parmesan
Amount Per Serving
Calories 700
Calories from Fat 273
% Daily Value*
Fat 30.29g47%
Polyunsaturated Fat 2.896g
Monounsaturated Fat 10.082g
Cholesterol 287mg96%
Sodium 1447mg60%
Potassium 1287mg37%
Carbohydrates 34.87g12%
Protein 69.59g139%
Vitamin A 2245IU45%
Vitamin C 26.6mg32%
Calcium 488mg49%
Iron 3.62mg20%
* Percent Daily Values are based on a 2000 calorie diet.
Nutrition is based on the absence of salt unless stated as a measurement in the ingredients. Cost is worked out based on ingredients bought from UK supermarkets, then divided by the number of servings. In both instances these values are just for guidance. Please check out my FAQ Page for more info.
---
If you're looking for another crispy breaded chicken recipe check out my Pizza Chicken Parmesan, Chicken Cordon Bleu and Crispy Oven Baked Chicken Tenders!
For more similar recipes check out these beauties:
Delicious Chicken Dinners
---
If you loved this Chicken Parmesan recipe then be sure to Pin it for later! Already made it or got a question? Give me a shout in the comments and pick up your free ecookbook along the way!