This Herb Roasted Spatchcock Chicken has minimal prep & cooks in just 45mins. Mouthwateringly tender & packed full of flavour, this truly is the BEST spatchcock chicken recipe!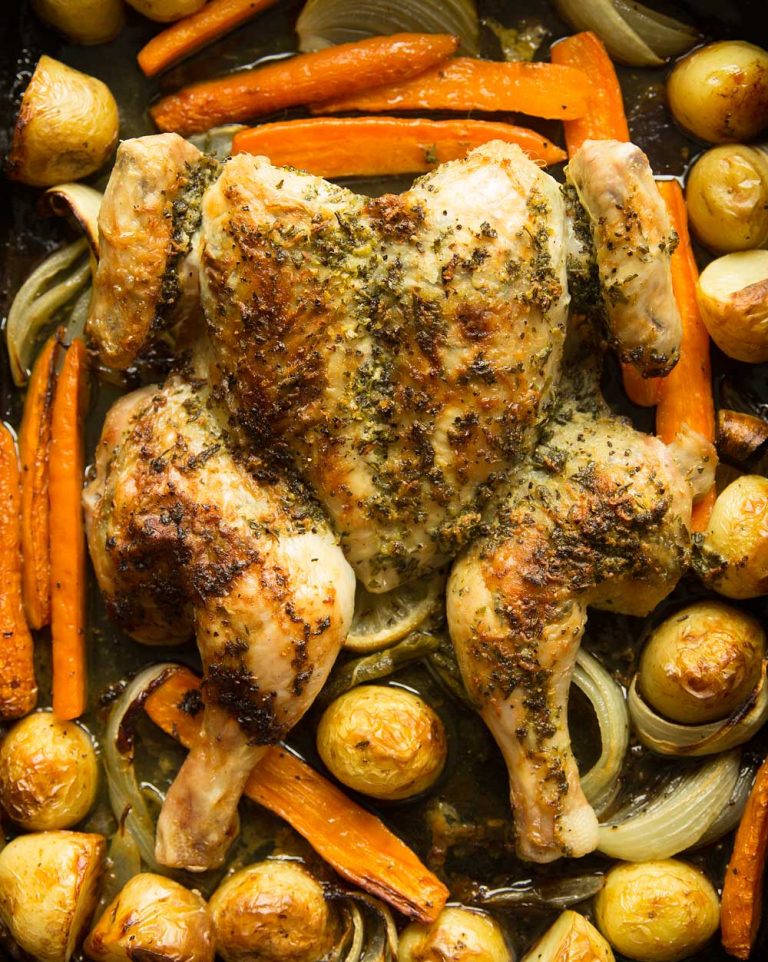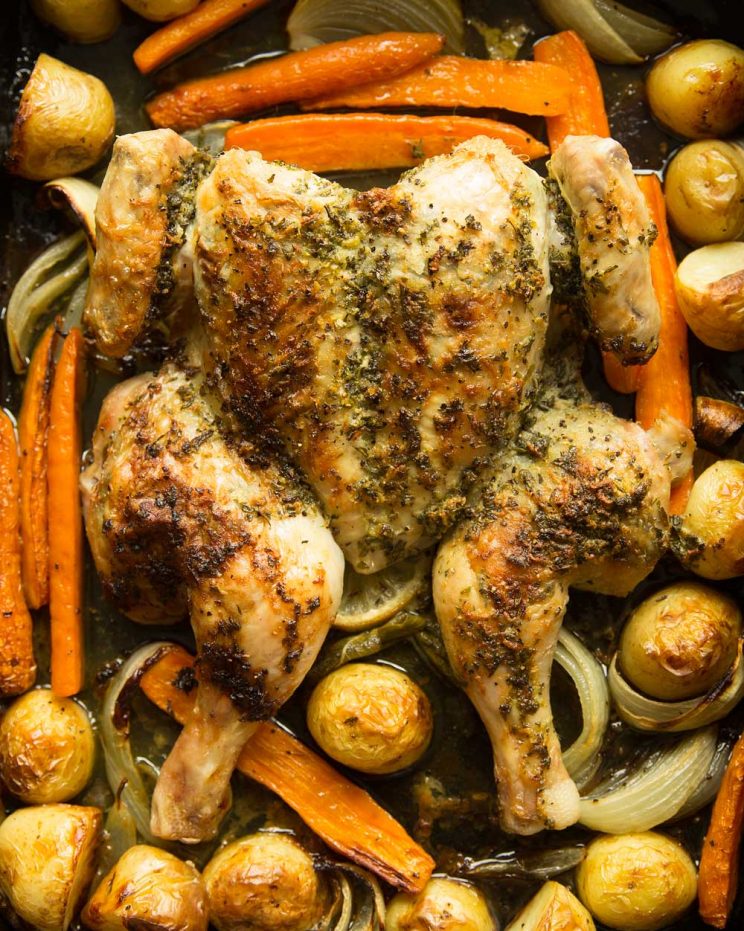 Spatchcock Chicken
Just incase you weren't sure – spatchcocking a chicken just means removing the backbone so you can lay it completely flat. It's also referred to as 'butterflying' chicken.
Whilst spatchcocking a chicken may seem like extra hassle, it actually saves you time and effort as opposed to roasting a whole chicken. Usually when I'm planning on cooking a whole chicken it's a Sunday job, Saturday at a stretch. But by spatchcocking the chicken you cut the cooking time dramatically, just bung it on a tray with some veg and you've got yourself the perfect weeknight din dins.
Why Spatchcock a Chicken?
Time – It takes just 45mins to cook.
Extra Juicy – Because the chicken is completely flat, the chicken cooks at an even rate so breasts stay nice and juicy.
Veg – Because it cooks so quickly, the veg you're cooking it with cooks at a nicer rate. I find that if you're cooking meat for 1hour+ the veg usually doesn't come out in the best way.
Okay hopefully I've sold you so far, let's talk flavour.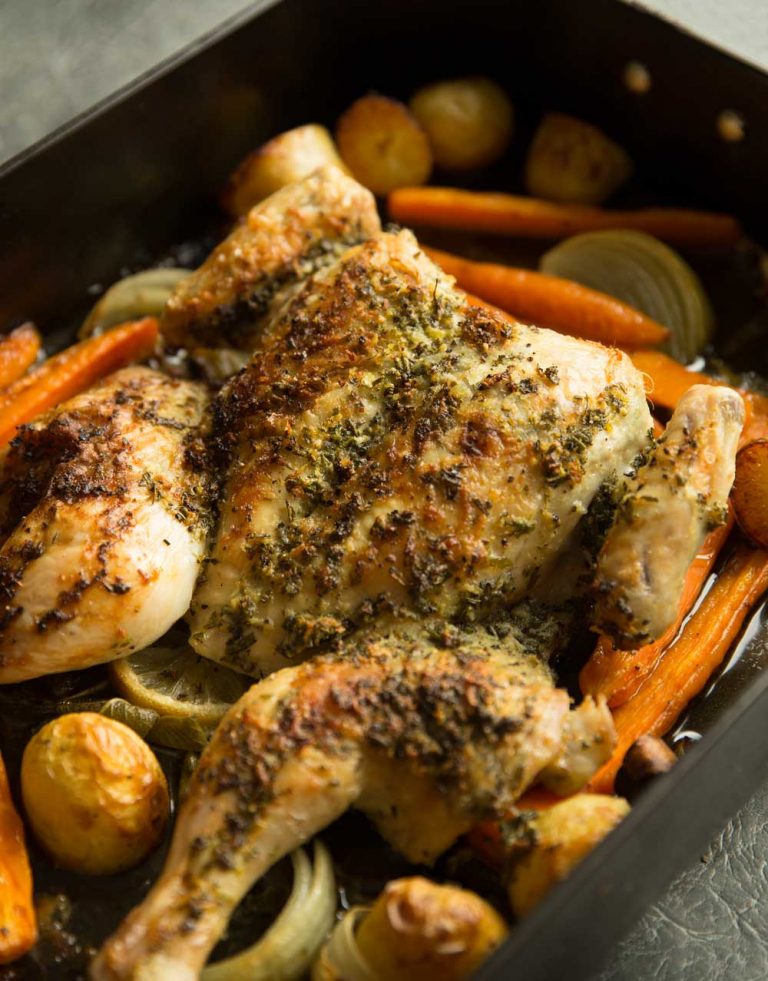 Garlic Herb Butter Roast Chicken
I know, sounds delicious right? It totally is. Not only does smearing your chicken in a garlic herb butter keep your chicken moist, but the FLAVOUR it adds. Oh the flavour 🤤
I have played around with different herb combos and different oil/butter ratios and here is what I consider to be the perfect combo:
Garlic Herb Butter Ingredients
Butter
Olive Oil
Garlic
Sage
Parsley
Rosemary
Lemon
Top Tip #1 – Ensure you're using fresh herbs for this recipe. As the chicken cooks so quickly, dried herbs won't have long enough to infuse.
Top Tip #2 – Only use the zest of the lemon. You want the chicken skin to be nice and crispy; using lemon juice will only add unwanted moisture to the skin and prevent it getting crispy.
How to make Garlic Herb Butter (quick summary)
Place your butter in a bowl and bring it to room temp (or microwave until soft enough to mash).
Add in all of your ingredients.
Mash with a fork until evenly incorporated. Keep at room temp.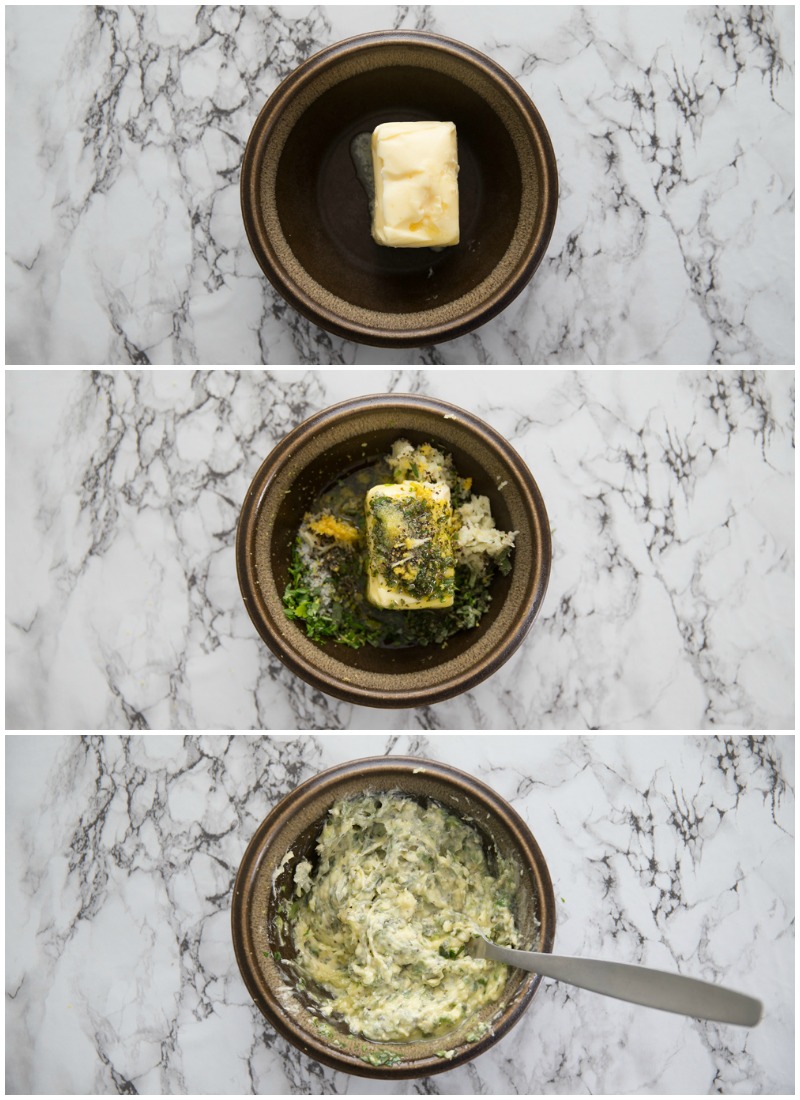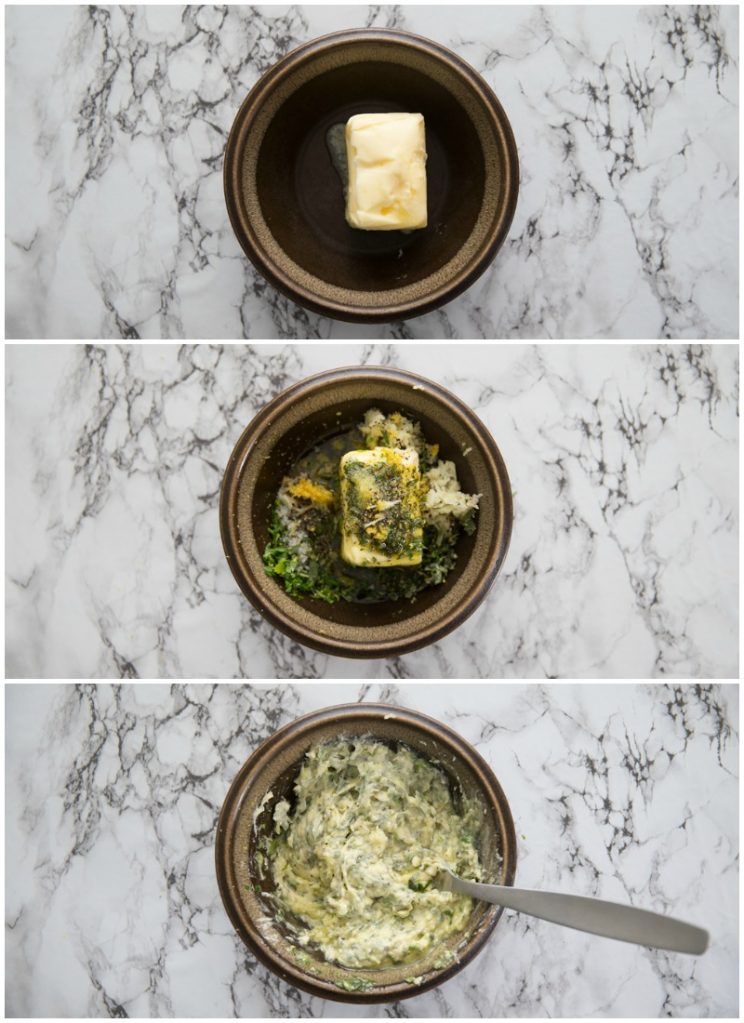 How to spatchcock a chicken
It's honestly so easy, so don't be scared. All you'll need is the following:
Kitchen Shears/Heavy Duty Scissors
Sharp Knife & Chopping Board
Paper towels.
I've added more detail in the recipe card (with video), but just for a quick intro:
How to Spatchcock a Chicken (quick summary)
Get your chicken out the fridge 30 minutes beforehand. Cut off any string holding it together.
Flip it over so it is breast side down. Grab some kitchen shears and cut through the ribs, directly either side of the backbone. Remove backbone and season.
Flip back over so it is breast side up and push down with the palm of your hands to completely flatten, then use a spoon to loosen up the skin.
Spread 2/3 of your butter under the skin and the final 1/3 on top. Give a final pinch of salt and pepper.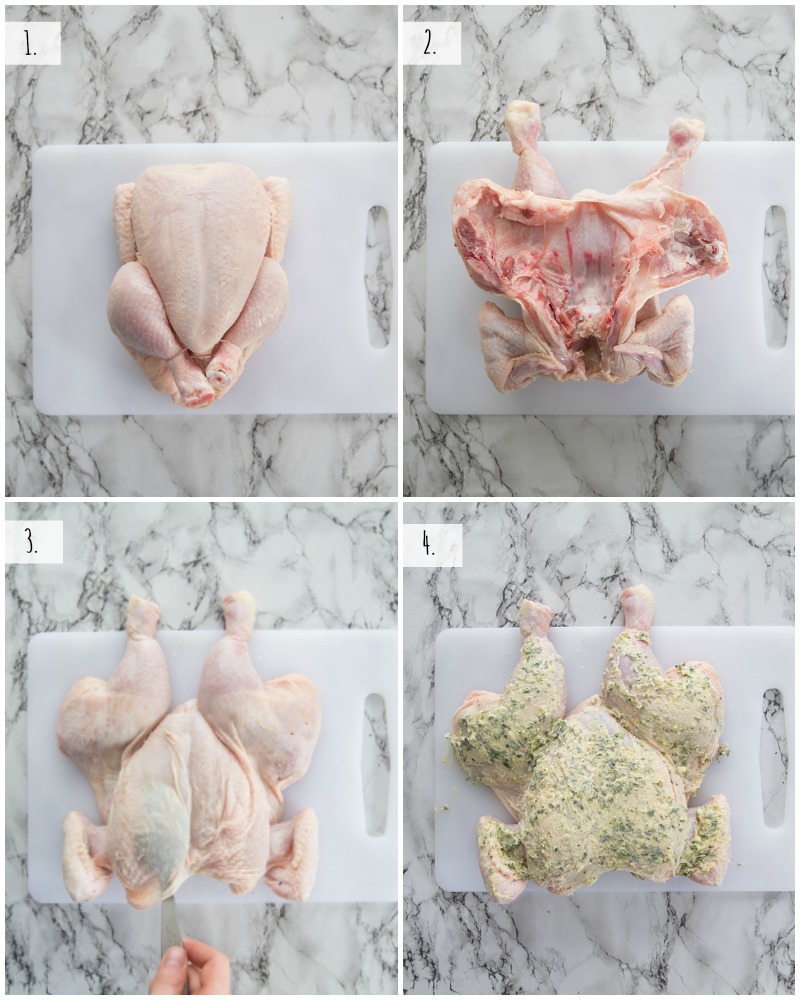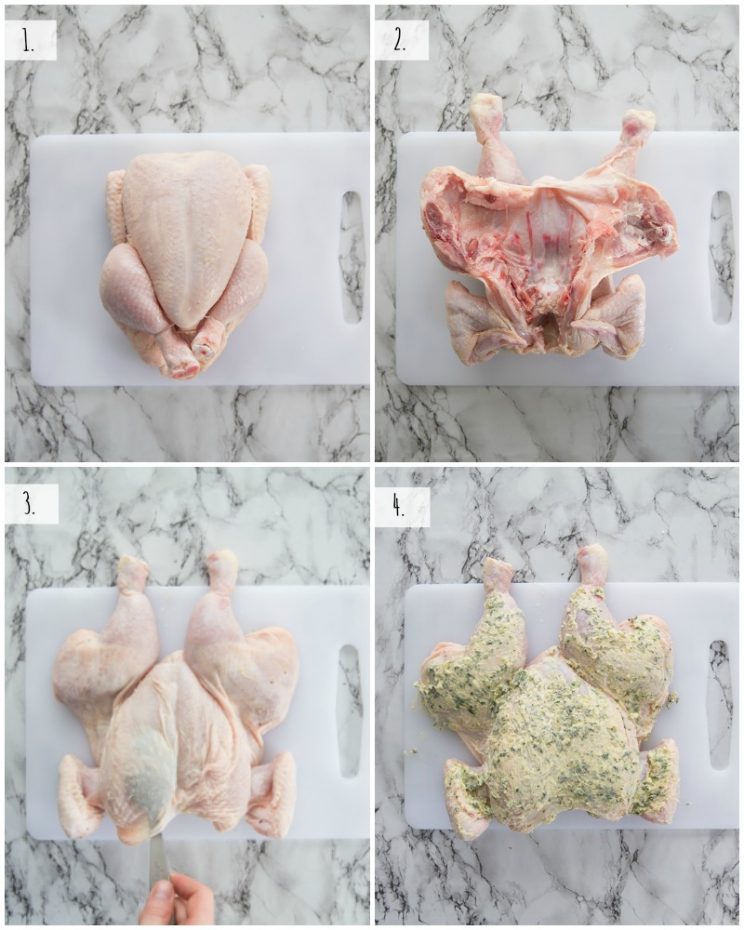 Tips for Spatchcock Chicken
Once you've removed the backbone, use a sharp knife to slice down the centre of the sternum. This will help flatten when you flip and push down.
Save the backbone to use in stocks at a later date.
Remove/trim any excess skin, mainly around the rear and neck area.
Pat the skin with a paper towel to make it as dry as possible. This will make the chicken easier to handle and also finish with a crisper skin.
Okay, so you've got your spatchcock chicken, you've smeared it in the most gorgeous herb butter in the world, now it's time to cook. For me I usually go with carrots, potato and onions, but you could use sprouts, parsnips or sweet potatoes. Anything that tickles your pickle really!
The main thing to make sure is your chicken is laying flat. The whole reason you've spatchcocked it is to ensure it cooks evenly, so before it enters the oven make sure the chicken is totally level. Use extra veg to prop up parts as needed.
How to cook spatchcock chicken (quick summary)
Place your veg in a tray with a good drizzle of olive oil and seasoning.
Make space for the chicken and place any leftover sage/rosemary in the centre with 2 thin lemon rounds on top.
Place chicken on top and roast undisturbed for 45mins until golden, juicy and delicious.
Top Tip #3 – Once the chicken is cooked, make sure you let it rest for at least 10 mins. Make sure you don't cover it whilst resting, this will cause the steam to make the skin go soggy.
Spatchcock Chicken and Gravy
Whatever you do, do NOT waste the juices left in the pan. There's so much flavour in those juices, it's almost criminal not to put it to good use. Just whack your tray over medium heat and stir in some flour to form a paste. Then slowly whisk in some chicken stock and voila! The easiest most delicious gravy is yours for the keeping.
And breathe.. We made it. I've just poured my spatchcock brain out to you and now you've got the tools you need to master the recipe.
Hey, whilst you're here why not check out my other recipes?
Easy Chicken Dinner Recipes
Alrighty, let's tuck into this spatchcock chicken recipe shall we?!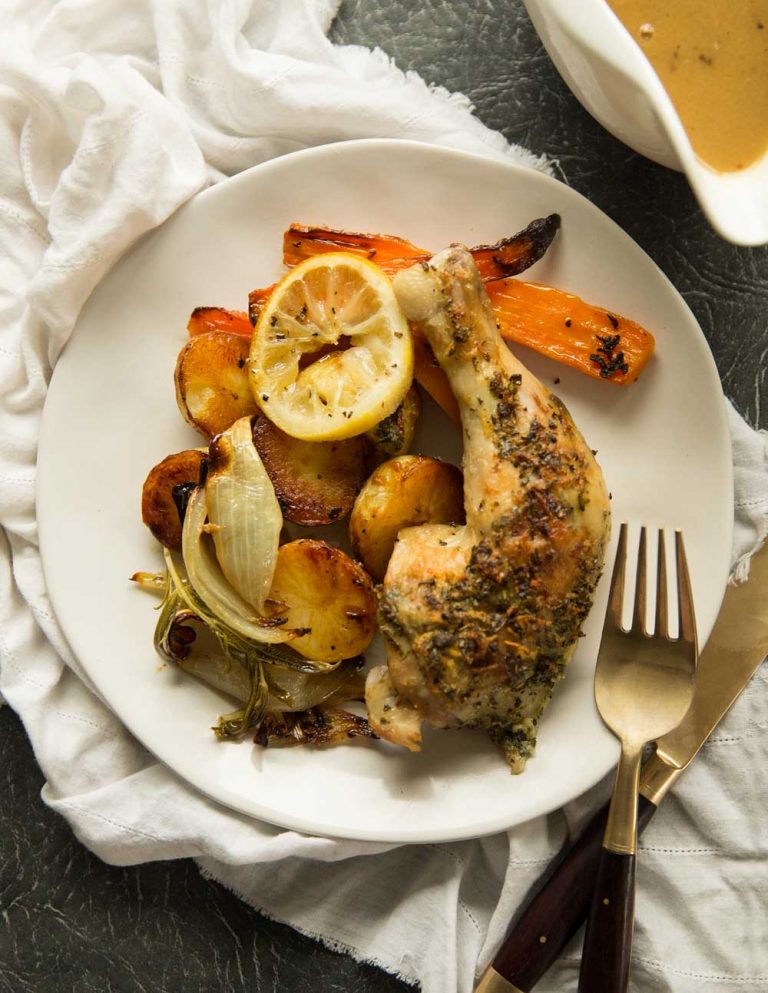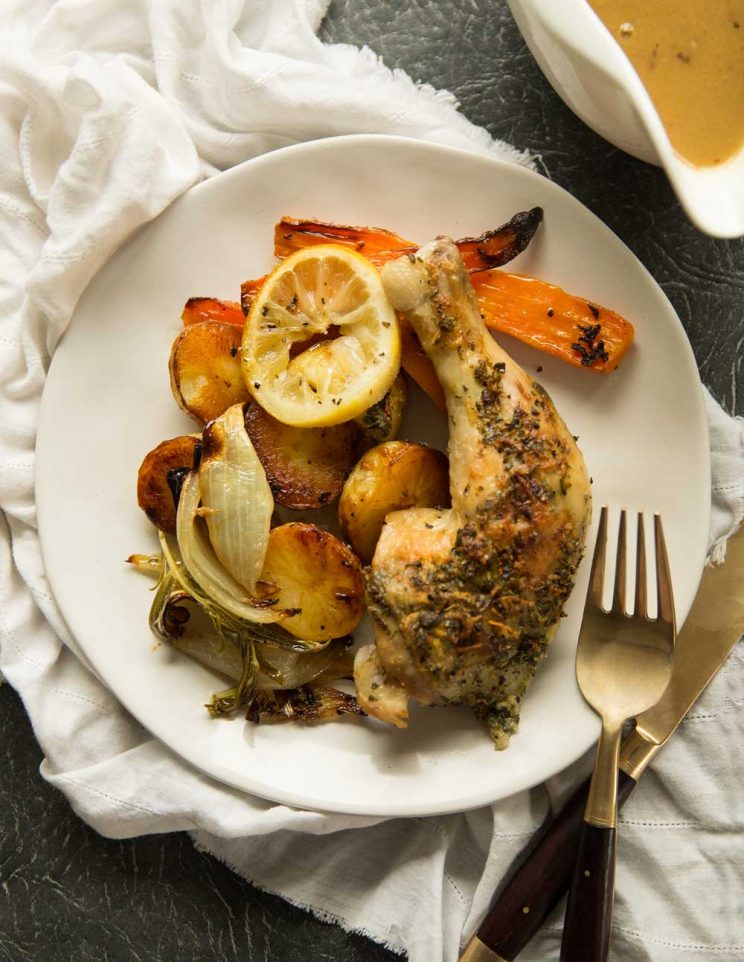 How to make a Herb Roasted Spatchcock Chicken (Full Recipe & Video)
Herb Roasted Spatchcock Chicken
This Herb Roasted Spatchcock Chicken has minimal prep & cooks in just 45mins. Mouthwateringly tender & packed full of flavour, this truly is the BEST spatchcock chicken recipe!
Print
Pin
Rate
Share by Text
Servings (click & slide):
4
Calories per serving:
804
kcal
Cost per serving:
£3 / $4
Equipment:
Large Roasting Tray

Heavy Duty Scissors/Kitchen Shears

Sharp Knife & Chopping Board

Paper Towels

Small Bowl (for garlic herb butter)

Spatula
Ingredients (check list):
3.3lb/1.5kg - 4lb/1.8kg

Whole Chicken
Garlic Herb Butter
4

tbsp

Unsalted Butter, at room temp

3

cloves of

Garlic, grated/minced

1

tbsp

Fresh Sage, finely diced

1

tbsp

Fresh Rosemary, finely diced

1

tbsp

Fresh Parsley, finely diced

1

tbsp

Olive Oil

1

small

Lemon (zest only)

1

tsp

Salt

1/2

tsp

Black Pepper
Tray Bake
8-12

Baby Potatoes, halved

6-8

medium

Carrots, scrubbed & halved

1

large

Onion, sliced
2 sprigs of leftover Sage/Rosemary + 2 thin rounds of Lemon
Salt & Pepper
Olive Oil
Homemade Gravy
2

tbsp

Plain Flour

2 cups / 500ml

Chicken Stock
Salt & Black Pepper, to taste
Instructions:
Take chicken out the fridge at least 30mins before you start.

Combine all of your herb butter ingredients and place to one side.

In a large tray, combine your carrots, onion and potatoes in a good drizzle of olive oil and a pinch of salt and pepper. Create space for your chicken, then lay any leftover sage/rosemary with two rounds of lemon.

Pre heat oven to 220c/425f.

Take your chicken and flip over so it is breast side down. Using a pair of kitchen shears cut through the ribs directly either side of the back bone. You can either start at the neck or the butt, just go nice and close to the back bone so you don't remove too much of the chicken. Completely remove backbone (you can use this another time for stock) and pull open up the chicken.

Open up the rib cage and slice along the sternum. This will help the breast bone pop out (not crucial, but does help. See video if you're not sure where this is). Season the inside with a pinch of salt and pepper.

Flip the chicken over and push down on the breasts to fully flatten (you should hear it crack a couple of time). If you haven't already, tuck the wings underneath (not on top of breasts). Pat dry with a paper towel (important for crispy skin) then use a spoon to carefully loosen the skin from the meat. Spoon in 2/3 of your butter then spread the rest on top. Try and spread the mixture out as evenly as possible, whilst the butter will melt into the chicken and disperse, the herbs will stay put. Cover as much chicken as possible!

Finish with an extra pinch of salt and pepper, then place on top of the herbs/lemon on the tray. It's important to make sure your chicken is as level as possible so it cooks completely evenly. Use some extra veg to prop up parts if it is not even.

Place in the oven for 45mins undisturbed, or until the internal temperature is 75c/165f with the juices running clear when pierced at the join between the drumstick and the body. Then let it rest for at least 10-15 minutes. Letting it rest will allow the meat to retain the juices, if you cut straight in you'll lose that juiciness. Do not cover, it will trap the steam and make the skin soggy.
Homemade Gravy
Place tray with leftover juices on a medium heat and stir in flour to create a paste. Slowly pour in chicken stock and stir until thickened. Check for seasoning and adjust accordingly.
Notes:
a) Lemon - Firstly, make sure it's a small lemon, if you've only got a large/medium one only use half the zest or it'll end up too lemony. Secondly just make sure you only put 2 thin slices underneath. You've spatchcocked the chicken to make it completely flat and even, so you don't want a small mound underneath making it uneven again. Also, too much lemon and it'll spoil the veg! b) Even Spreading - As stated in the recipe, it's important to distribute the butter evenly (especially on top). If the herbs aren't spread out they'll clump together and burn. A tiny bit of char on top is nice, but too much and it'll throw off the flavour. c) Tray Bake - If you've got a larger tray feel free to load up on more veg (or different veg), this is just what I could fit and what I personally enjoy with chicken. d) Timings - based up using a 1.5kg/3.3lb chicken, so just be extra vigilant if you're using a slightly heavier chicken. e) Calories - Based on using 1.5kg/3.3lb chicken, 1 tsp olive oil coating the veg and 4 people eating the whole thing, including the homemade gravy. Hope you're hungry 🙂
Your Private Notes:
Nutrition:
Nutrition Facts
Herb Roasted Spatchcock Chicken
Amount Per Serving
Calories 804
Calories from Fat 241
% Daily Value*
Fat 26.81g41%
Polyunsaturated Fat 3.683g
Monounsaturated Fat 9.429g
Cholesterol 274mg91%
Sodium 954mg40%
Potassium 2233mg64%
Carbohydrates 56.19g19%
Protein 82.79g166%
Vitamin A 39600IU792%
Vitamin C 63.5mg77%
Calcium 130mg13%
Iron 6.5mg36%
* Percent Daily Values are based on a 2000 calorie diet.
Nutrition is based on the absence of salt unless stated as a measurement in the ingredients. Cost is worked out based on ingredients bought from UK supermarkets, then divided by the number of servings. In both instances these values are just for guidance. Please check out my FAQ Page for more info.
---
If you loved this Spatchcock Chicken Recipe then be sure to Pin it for later! Already made it or got a burning question? Give me a shout in the comments below and pick up your free ecookbook along the way!