This Veggie Lasagne is loaded with a delicious vegetable pasta sauce, a smooth and creamy spinach ricotta layer and copious amounts of cheese!
I know this isn't your regular lasagne, but trust me when I say you won't miss the meat. And that's coming from a bloke who runs a blog called Don't Go Bacon My Heart 😂. I've had a few vegetarian lasagnes in my time, but this comes out on top. Am I allowed to say that?! Too late. Follow me…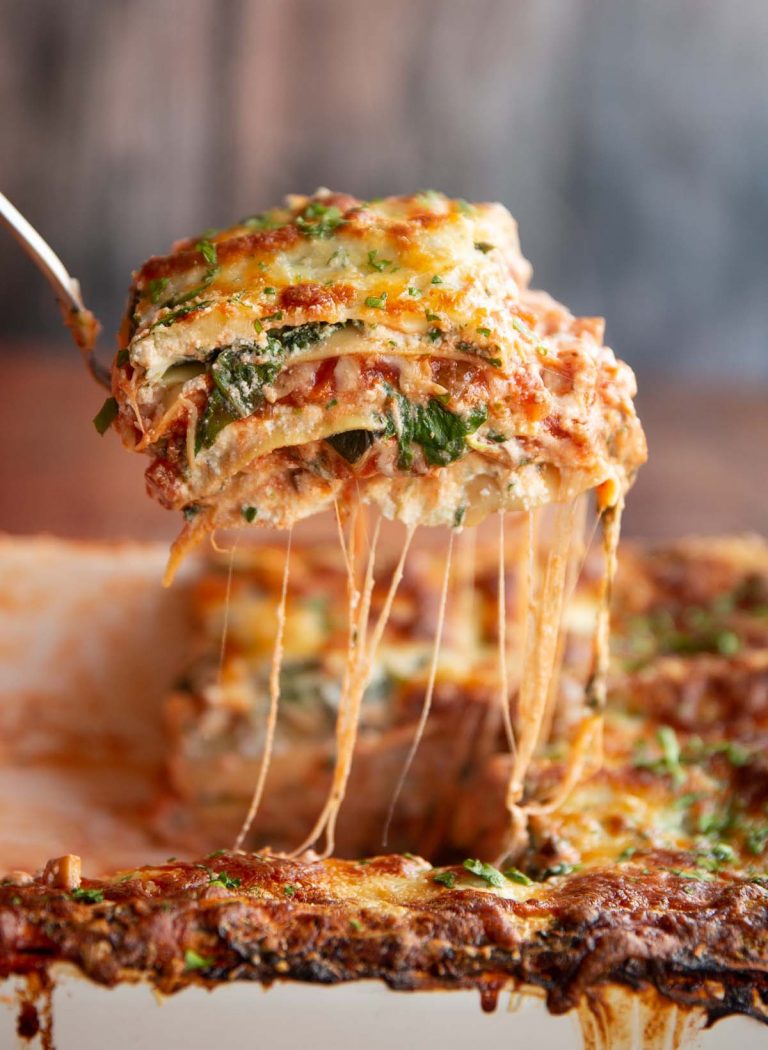 Spinach Ricotta Lasagne
The spinach and ricotta layer is quite prominent in this lasagne. It adds a gorgeous creamy flavour & texture and balances out the rich, tomatoey veggie sauce so beautifully. I'm usually an ambassador of béchamel sauce in a lasagne, but we've already thrown the rulebook out the window so here we are. You'll usually see recipes for spinach ricotta lasagnes OR vegetable lasagnes, but here we're gonna combine the two. Here's what you'll need for the spinach ricotta layer:
Spinach Ricotta Ingredients
Spinach – Go for frozen spinach and thaw it. It gives a more intense flavour. Plus it's less prep, which is always welcome in a lasagne recipe where there's a fair bit of prep.
Ricotta – Opt for whole milk full fat ricotta for a bolder flavour.
Mascarpone – I like to sub some of the ricotta for mascarpone. It breaks up the flavour slightly and makes the layer go lusciously creamy. Highly recommend adding this!
Parmesan – This is where the bulk of the flavour comes from. Ricotta has a fairly subtle flavour, as does mascarpone. Parmesan adds a good punch of flavour to bring the layer to life.
Egg – Helps keep the layer intact and prevents it from spilling out the lasagne.
Seasoning – Nutmeg compliments the ricotta really nicely. Apart from that just a heavy helping of salt and pepper!
To make the layer I combine everything bar the spinach with a hand mixer, just until it's nice and creamy. I then fold in the spinach (just so it doesn't get caught up in the mixer). If you don't have a hand mixer just beat the egg separately then stir it in.
Can I make this part ahead of time?
Yep! Just tightly cover in the fridge the day before. This is a great way to get ahead of prepping the lasagne.
Process shots: add everything bar spinach to a large mixing bowl (photo 1), combine with hand mixer (photo 2), remove hand mixer (photo 3), add spinach (photo 4), fold in with spatula (photo 5), place to one side until needed (photo 6).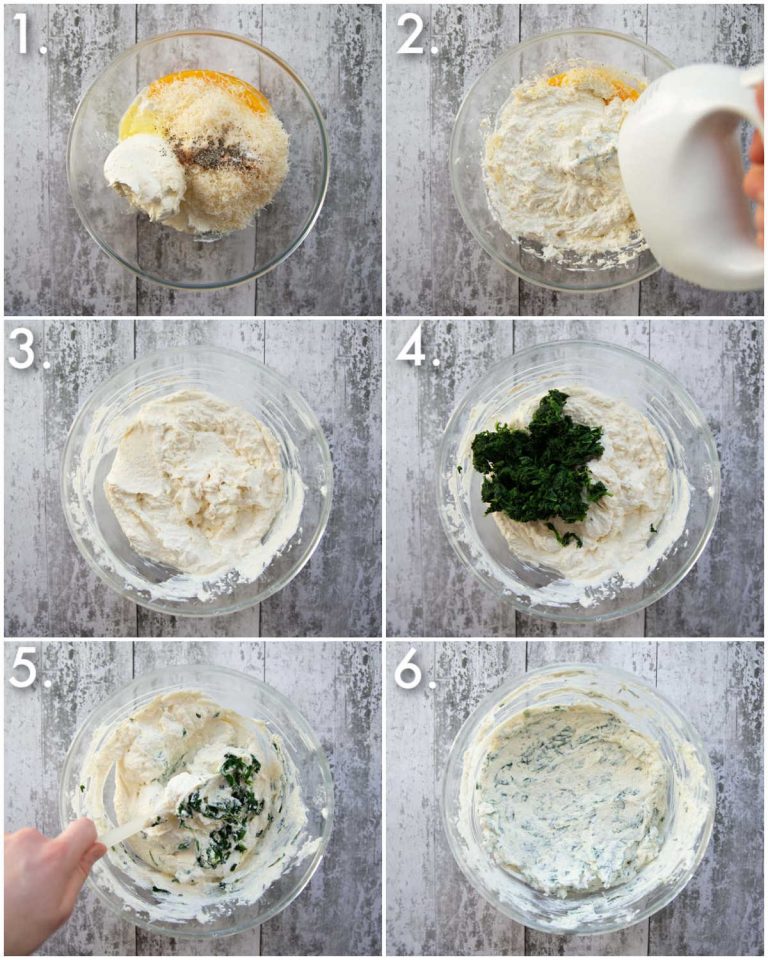 Vegetable Pasta Sauce
To counteract the creaminess of the spinach ricotta layer I like a tomatoey layer. To create this layer you'll want to use tomato passata (pureed strained tomatoes) and a heap load of finely diced veggies.
Best vegetables for a vegetable lasagne?
In reality there's a huge range of veggies that go great in a lasagne. The one thing I highly recommend is using carrot, celery and onion to create a Soffritto. This builds a base flavour for the veggie sauce. From there here's what I usually go for:
Mushrooms
Red Pepper
Aubergiene/Eggplant
Courgette/Zucchini
Baby sweetcorn, broccoli, butternut squash & sweet potato all go well too. In all cases though I recommend finely dicing the veg. Not only will this create a ragu-like texture, but it'll also allow you to sweat down the veg properly as they fry. This is important to remove as much moisture as possible, which in turn prevents the lasagne from coming out watery.
Can I make this part ahead of time?
You sure can! You can even freeze it, then thaw in the fridge and use as needed.
Process shots: add veggies to large pot with oil (photo 1), fry until soft/browned then remove (photo 2), add carrot, onion, celery, garlic (photo 3), fry then add in other veggies (photo 4), pour in passata and water (photo 5), add herbs and seasoning and simmer until thickened (photo 6).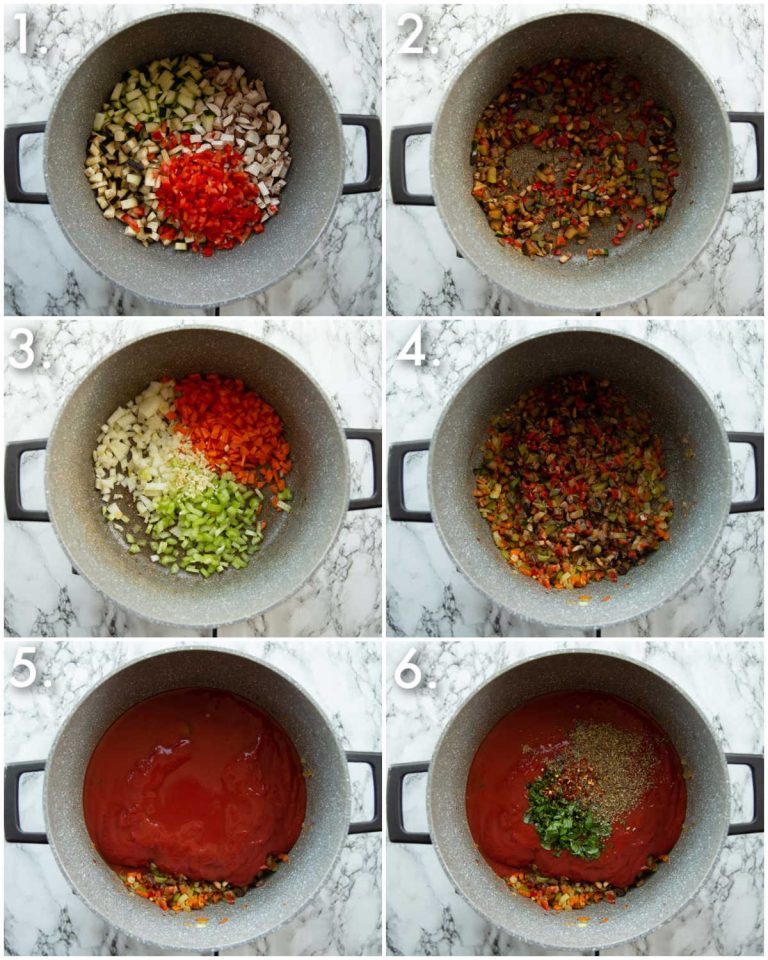 Vegetable Lasagne
Alongside the veggie sauce and spinach ricotta, to make the whole lasagne all you need is lasagne sheets and mozzarella (and some parmesan to finish). I always go for fresh lasagne sheets because I prefer the texture and the lasagne stays intact better. You can use dried just check the packet instructions to see if they need soaking or not.
Can I prepare this ahead of time?
Yup! Just make sure you let the sauce cool down, or it'll start cooking the pasta and make it go mushy when it bakes. You can tightly store in the fridge or freezer (thaw in fridge before baking).
How do you keep vegetable lasagna from being watery?
If you've ever tried your hand at making a veggie lasagne before you may have noticed it came out slightly watery. Which isn't surprising as veg is packed with so much water. However to prevent this happening I recommend the following:
Spinach – Ensure you squeeze as much moisture from the spinach as possible once it's thawed, otherwise it'll release into the lasagne as it cooks.
Frying – Really ensure you fry the veg until it's softened/lightly browned. Get as much moisture out as possible.
Sauce – Make sure you thicken the sauce to reduce down as much water as possible.
Resting – Allow the lasagne to rest for 10mins before serving. This helps it retain its shape and soak up the final bit of moisture before you slice.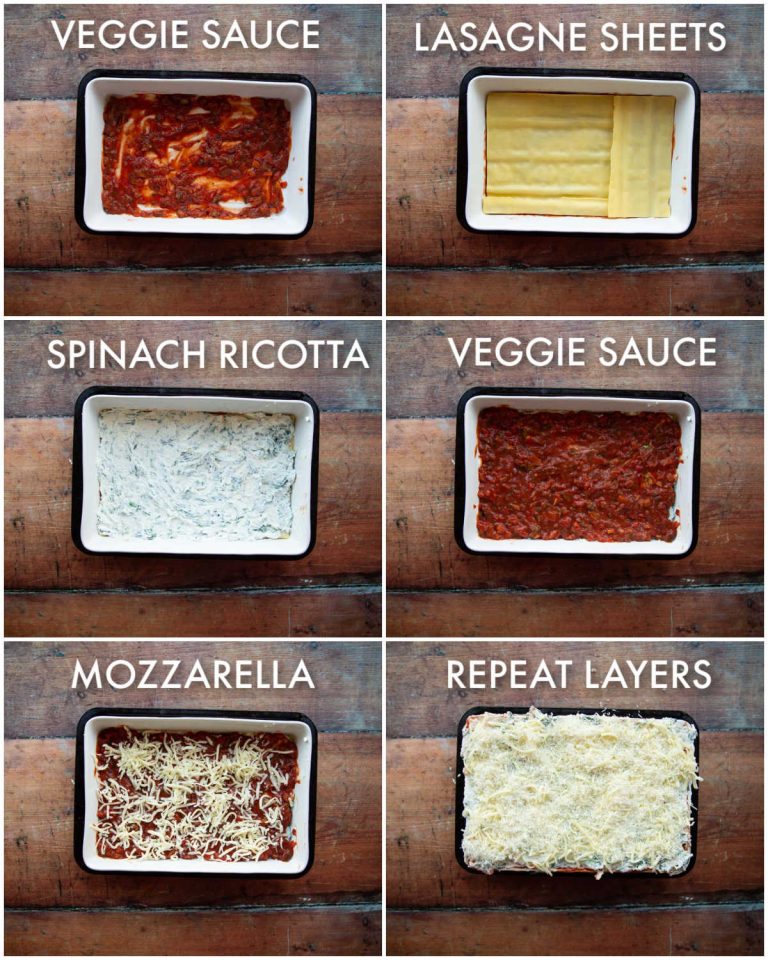 Serving Vegetable Lasagne
What's a lasagne without garlic bread? (or cheesy garlic bread or cheesy pesto garlic bread for that matter).
Can I save leftovers?
Yes – store in the fridge for 2-3days or freezer and reheat in the oven at the same temp until piping hot through the centre (if freezing thaw in fridge over night then bake).
Alrighty, let's tuck into the full recipe for this vegetable lasagne shall we?!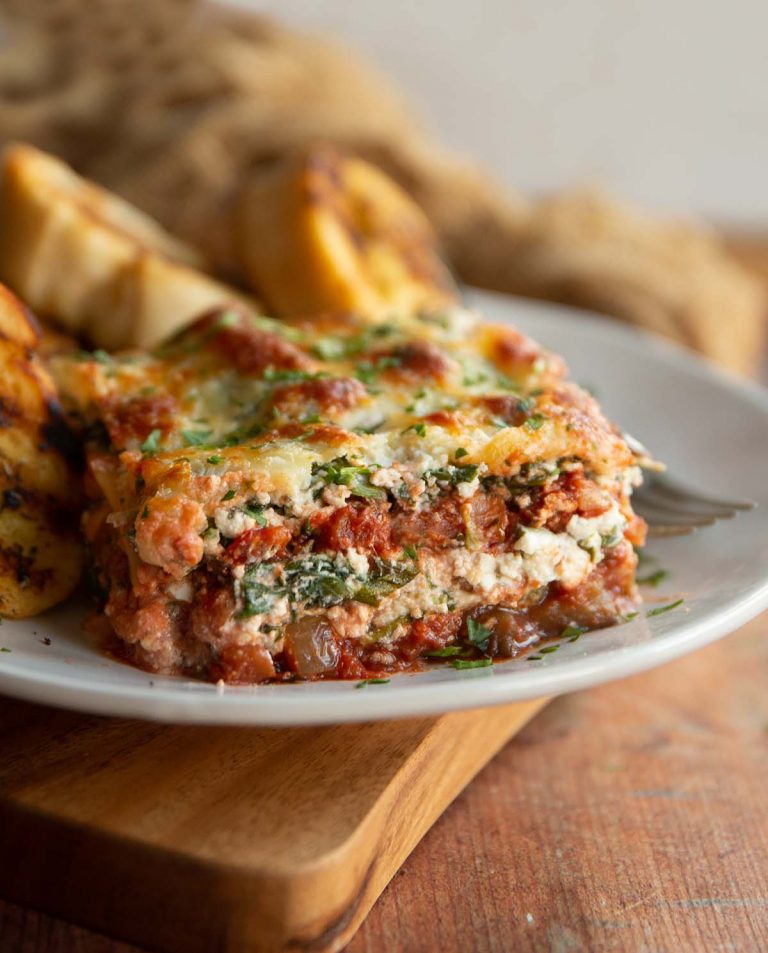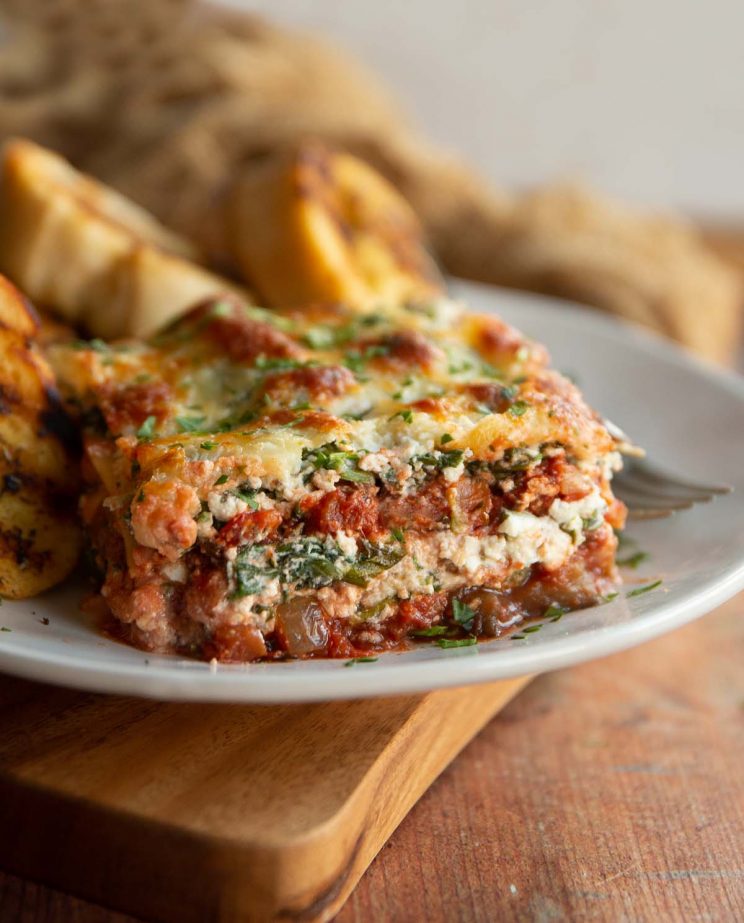 How to make Vegetable Lasagne

 (Full Recipe & Video)
Epic Vegetable Lasagne
This Veggie Lasagne is loaded with a delicious vegetable pasta sauce, a smooth and creamy spinach ricotta layer and copious amounts of cheese!
Print
Pin
Rate
Share by Text
Servings (click & slide):
8
Calories per serving:
606
kcal
Cost per serving:
£3 / $4
Equipment:
8x12" Baking Dish (or similar size)

Large Mixing Bowl & Hand Mixer (for spinach ricotta)

Large Pot & Wooden Spoon (for veggie sauce)

Fine Cheese Grater (for parmesan)

Serving Spoon

Spatula

Sharp Knife & Chopping Board
Ingredients (check list):
Spinach Ricotta
3x 9oz/250g

tubs of

Ricotta

1x 9oz/250g

tub of

Mascarpone

10.5oz / 300g

Frozen Spinach, thawed (weighed whilst frozen - see notes)

1 cup / 80g

freshly grated

Parmesan

1

Egg

1/2

tsp

Salt

1/4

tsp

Black Pepper

1/8

tsp

Ground Nutmeg
Veggie Sauce
4 cups / 1kg

Tomato Passata (pureed/strained tomatoes in US)

4 cups

finely diced

Veggies, here I used mushrooms, red pepper, courgette/zucchini & aubergine/eggplant (see notes)

2

ribs of

Celery, finely diced

2

small/medium

Carrots, finely diced

1

large

White Onion, finely diced

3

cloves of

Garlic, finely diced

1

small bunch of

Fresh Basil, finely diced

2

tsp

Dried Oregano

1/2

tsp EACH

Salt, Sugar, Chilli Flakes, or to taste

1/4

tsp

Black Pepper
Olive Oil, as needed
Lasagne
12oz / 350g

Fresh Lasagne Sheets (see notes)

3 cups / 300g

Mozzarella, shredded

1/2 cup / 40g

freshly grated

Parmesan
Instructions:
Veggies: Add a drizzle of oil to a large pot over medium heat and add mushrooms, courgette/zucchini, aubergine/eggplant and red pepper. Fry until soft right through and starting to char, then remove to a side bowl. Add a drizzle more oil then add carrot, celery, onion and garlic. Continue frying until they soften/begin to brown then add back in your fried veggies and mix everything together.

Veggie Sauce: Pour in tomato passata, swill out the jar/cartons with 1 cup/250ml water and pour that in too. Add basil and oregano, then add sugar, salt, chilli flakes and pepper (all to taste). Allow the sauce to simmer on low for around 20-25mins, or until it turns nice and thick. If it's too watery just continue simmering for another 5 or so mins (see video for ideal texture).

Spinach Ricotta: Meanwhile in a large mixing bowl add ricotta, mascarpone, egg, parmesan, salt, pepper and nutmeg. Combine with a hand mixer until smooth, then fold in thawed spinach with a spatula until evenly incorporated.

Lasagne: In an 8x12" baking dish (or similar size) add a couple of spoonfuls of veggie sauce to the base of the dish. This is so the pasta doesn't stick to the bottom. From there your layers will go as follows: Pasta Sheets, Veggie Sauce, Spinach Ricotta, Mozzarella. The last layer will be Pasta sheets, then Spinach Ricotta, then Mozzarella and Parmesan to top. That's 4 layers of pasta, 4 layers of Veggie Sauce (including very bottom layer), 4 layers of Spinach Ricotta and 4 layers of Mozzarella.

Bake & Serve: Pop in the oven at 350F/180C for 30-40mins or until crispy and deep golden on top. Allow to rest for 10mins before serving (this is important or it will be too liquidy). Serve up and enjoy!
Quick 1 min demo!
Notes:
a) Spinach - I find frozen spinach has a slightly more intense flavour than fresh spinach. Plus you skip the step of having to cook and chop the fresh spinach, which is always welcomed in a recipe like lasagne where there's already lots of steps. You can thaw the spinach either in the fridge overnight, or at room temp. Or, you can thaw in the microwave. Make sure you squeeze as much moisture out as possible, or it'll release into the lasagne as it bakes and mess with the texture. Roughly chop once thawed if it's not already pre-chopped. b) Veggies - You can use different veggies if you like, just make sure you keep the carrot, onion & celery for the base flavour (Soffritto). 1 cup finely diced veg is roughly 3.5-4oz/100-120g. Butternut squash, sweet potato, baby corn & broccoli all work well here. In all cases though it's important to properly sweat down the veg and remove as much moisture as possible. If the veg is still undercooked by the time you stack the lasagne it'll release moisture as the lasagne bakes and leave it watery. Finely dicing all the veg helps with this (and also gives you a ragu kind of feel to mimic a 'proper' lasagne). c) Lasagne Sheets - I always go fresh (find in fresh pasta section in supermarket). I prefer the texture and the lasagne stays intact better (not so wavy). If you've got dried then check the packet to see if you need to cook before hand. If you don't need to cook them then don't reduce the veggie sauce so much (the dried sheets will suck up more liquid than fresh). d) Can I prep this ahead of time? - Yep, just make sure you cool the veggie sauce before stacking or it'll start cooking the pasta and turn it soggy once the lasagne has baked. Prepare and tightly store in the fridge for 2-3days or freezer for a month. Preferably bring close to room temp before baking or add on another 10mins or so to baking (otherwise the centre won't cook through properly). e) Calories - assuming 1.5 tbsp olive oil used. Whole recipe divided by 8, calories for 1 portion:
Your Private Notes:
Nutrition:
Nutrition Facts
Epic Vegetable Lasagne
Amount Per Serving
Calories 606
Calories from Fat 360
% Daily Value*
Fat 39.96g61%
Saturated Fat 22.506g
113%
Polyunsaturated Fat 2.057g
Monounsaturated Fat 12.192g
Cholesterol 160mg53%
Sodium 1159mg48%
Potassium 779mg22%
Carbohydrates 30.32g10%
Protein 33.81g68%
Vitamin A 9223IU184%
Vitamin C 36.2mg44%
Calcium 710mg71%
Iron 3.44mg19%
* Percent Daily Values are based on a 2000 calorie diet.
Nutrition is based on the absence of salt unless stated as a measurement in the ingredients. Cost is worked out based on ingredients bought from UK supermarkets, then divided by the number of servings. In both instances these values are just for guidance. Please check out my FAQ Page for more info.
---
For more veggie loaded recipes check out my Veggie Pasta Bake or Roasted Veggie Soup!
For more similar recipes check out these beauties:
Delicious Lasagne Recipes
---