Here I'll share with you the easiest and most delicious way to make a classic Chicken and Mushroom Puff Pastry Pie!
This recipe is an absolute classic and is comfort food at its finest. For a pie recipe, it's not actually got a huge number of ingredients, but they all come together to create something so delicious. Follow me…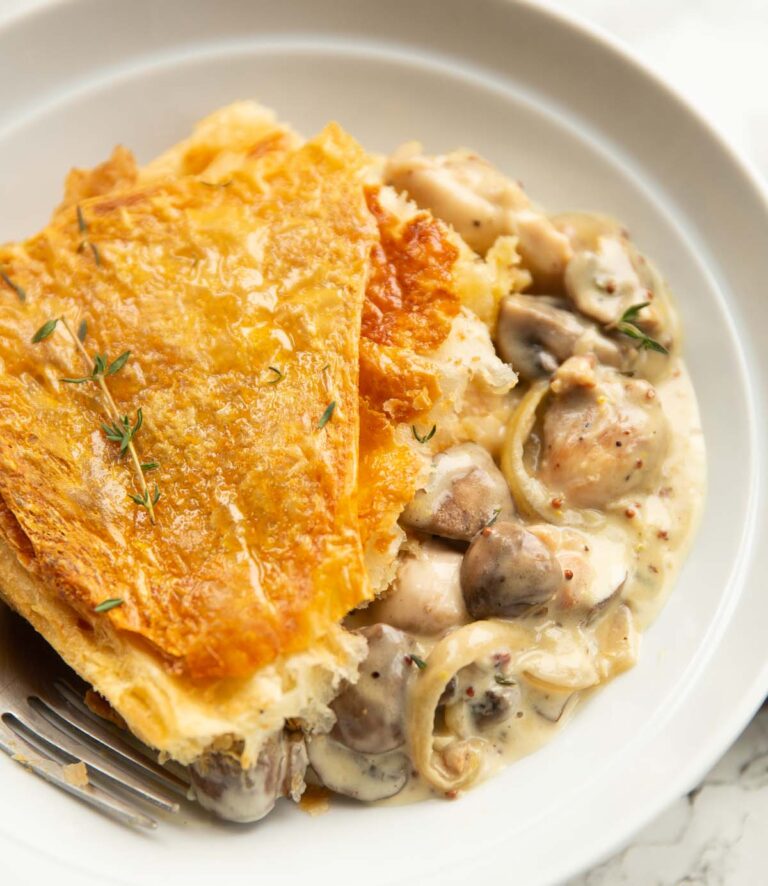 Crispy Chicken Skin
One thing I often do when making any form of chicken pie is use skin-on thighs. This is because you can remove the skin and roast it until crispy, which makes the perfect accompaniment to the pie – both it terms of flavour and texture!
To do this, all you need is salt. Because there's so much fat in the skin, you don't need any oil to get it crispy!
To make the crispy skin, just lay it flat on a tray with baking paper on top, then pop another tray on top to stop it from curling up. From there, just bake, then pat dry and rest with a good pinch of salt. The skin will crisp as it cools; the salt helps to draw out the final bit of moisture.
Can I just use skinless thighs instead?
You can indeed! Boneless, skinless thighs are the easier option, you just lose out on the bonus chicken skin.
Process shots: remove skin from thigh (photos 1&2), lay on tray (photo 3), add baking paper and tray (photo 4), bake (photo 5), cool (photo 6).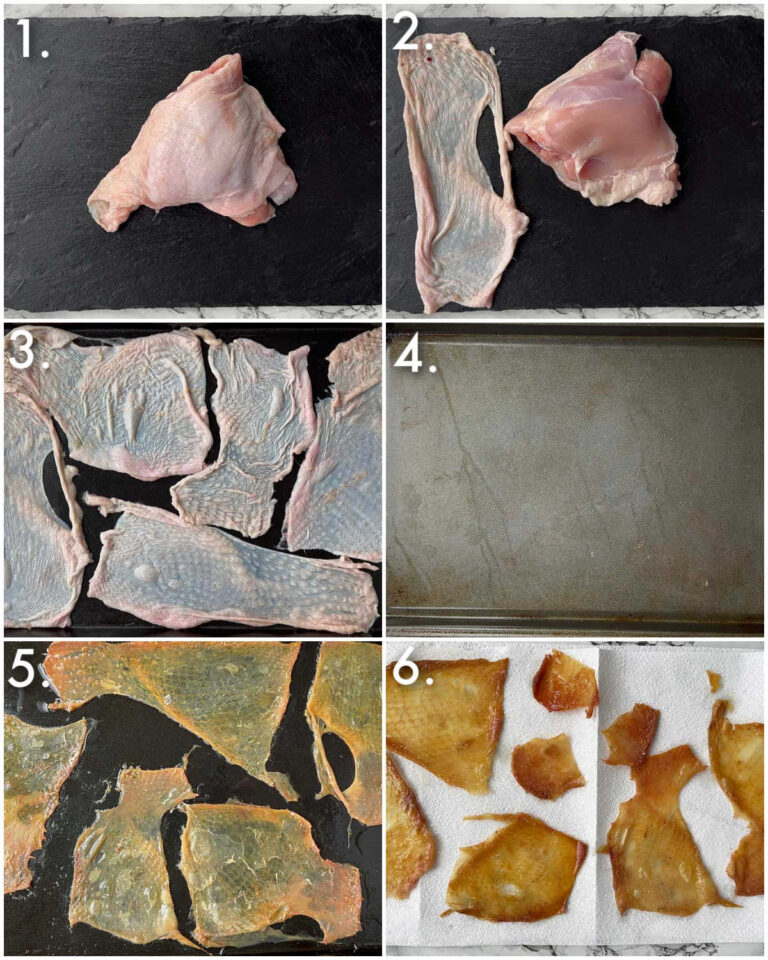 Chicken and Mushroom Pie Filling
For the pie filling, there's not a huge long list of ingredients. Which is surprising, because it tastes like there is!
Chicken Mushroom Pie Filling Ingredients
Smoked Bacon Lardons – these add heaps of flavour and compliment the chicken delightfully.
Chicken Thigh – just remove the bone if there is one, then dice into bite-sized pieces.
Onion & Garlic – the flavour base of dreams.
Mushrooms – diced into chunks, just so they hold their own against the larger pieces of chicken.
Flour & Butter – to create a roux.
Chicken Stock & Cream – to create the sauce.
Thyme – adds a lovely burst of flavour that compliments all of the other ingredients really nicely.
Mustard – I love adding a dollop of wholegrain mustard to cut through the rich, salty sauce.
No oil needed
You actually don't need any oil for this recipe at all. You start the bacon in a dry pan and gently render down the fat. You can then use that to fry the chicken, then use the chicken fat to fry the onion. This way you can utilise all of the fat and keep all that gorgeous flavour!
Simmering is essential
Once you've built up the filling, simmer it for 10 minutes or so. This will not only begin marrying the flavours together, but it'll also thicken the sauce (this is important as it won't thicken much underneath the pastry in the oven).
Process shots: fry bacon (photo 1), fry chicken (photo 2), fry onion, mushroom & garlic (photo 3), melt butter, stir in flour then stir in stock, cream, thyme and mustard (photo 4), stir in chicken and bacon (photo 5), simmer (photo 6).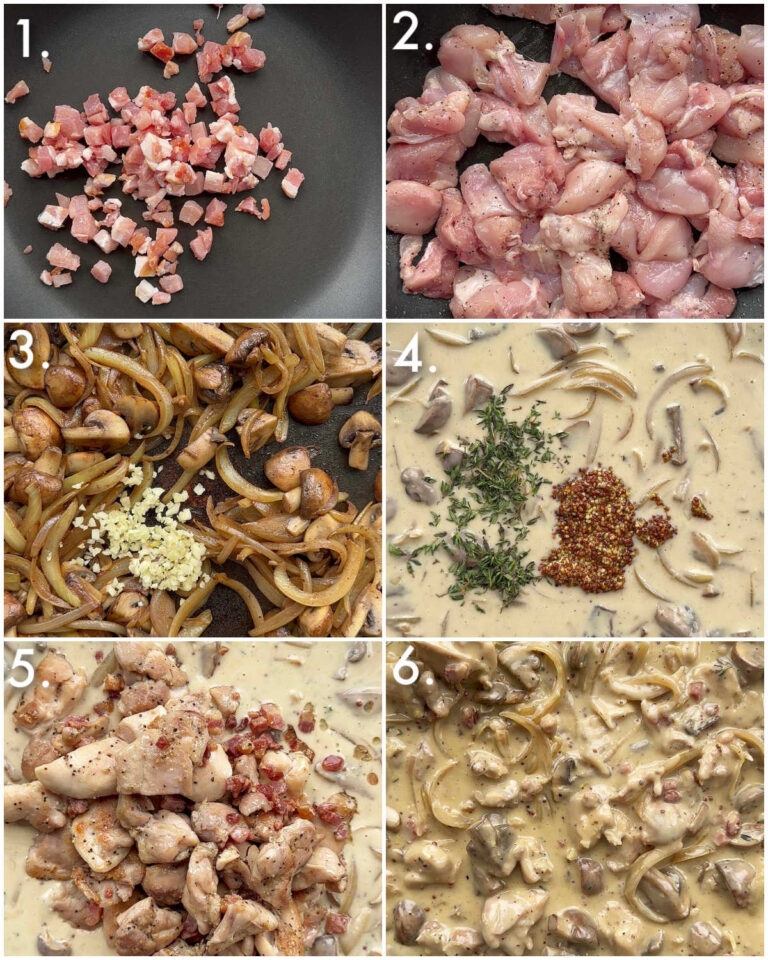 Chicken and Mushroom Puff Pastry Pie
Once you've simmered the filling, add it to a baking dish and let it cool. Cooling the filling prevents it from steaming the pastry, which makes it hard to work with AND reduces the chance of it getting crispy in the oven.
For the topping, we're going in with a sheet of puff pastry. I'm sure there's someone reading this right now screaming THAT'S NOT A PIE, but for this recipe, I prefer the pastry just on top 🤷‍♂️
Once the pastry is on, crimp around the edge with a fork to secure it, then brush with egg wash and slice a few steam holes.
Process shots: add filling to dish (photo 1), add pastry (photo 2), crimp outside, brush with egg then slice steam holes (photo 3), bake (photo 4).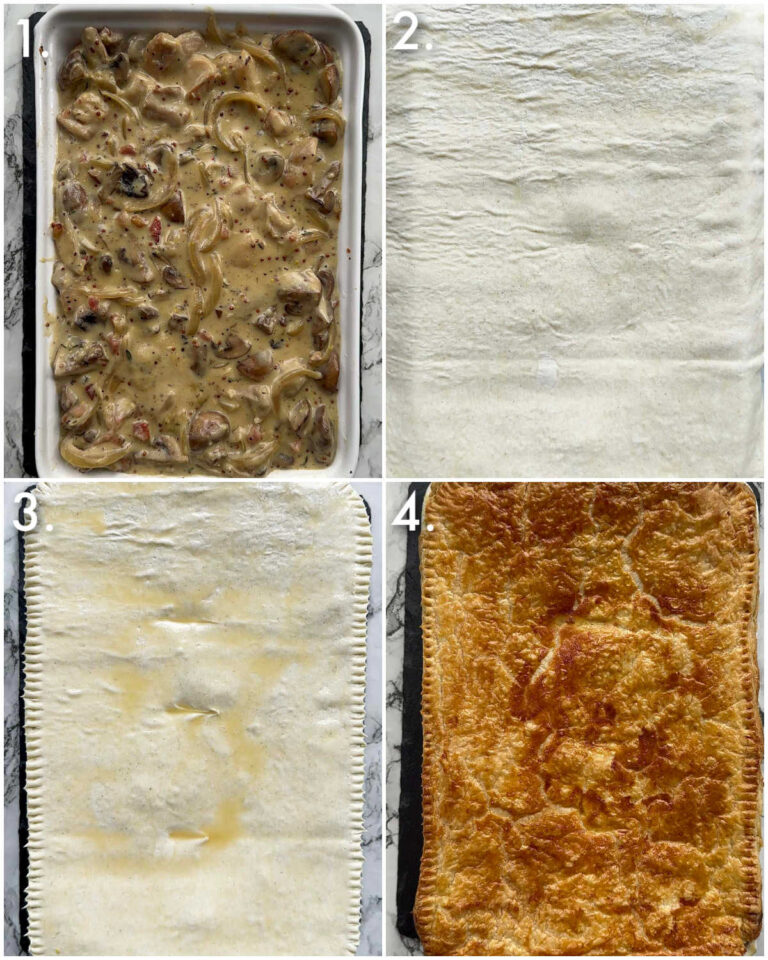 Chicken and Mushroom Pie FAQ
Can I use chicken breast instead of thighs?
I highly recommend using chicken thighs as they are far less susceptible to overcooking. You could use breast, but just be aware it won't come out as tender.
Can I use dried thyme instead of fresh?
Fresh is best, but you could sub 1/4-1/2 dried if you'd prefer.
What kind of mushrooms should I use?
I use chestnut mushrooms, but in reality, you can use any type you fancy!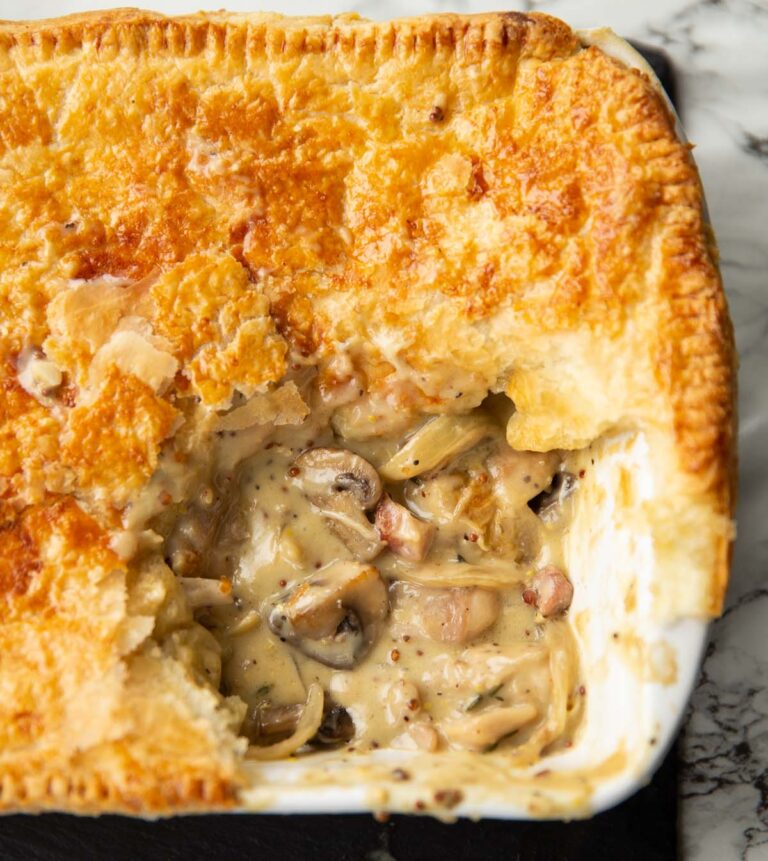 Serving Chicken and Mushroom Pie
Once the pie is out of the oven I recommend letting it sit for 5 or so minutes, just to help the filling form shape a little. I serve this by itself, but you could certainly add a Side Dish if you'd like!
Alrighty, let's tuck into the full recipe for this chicken and mushroom pie shall we?!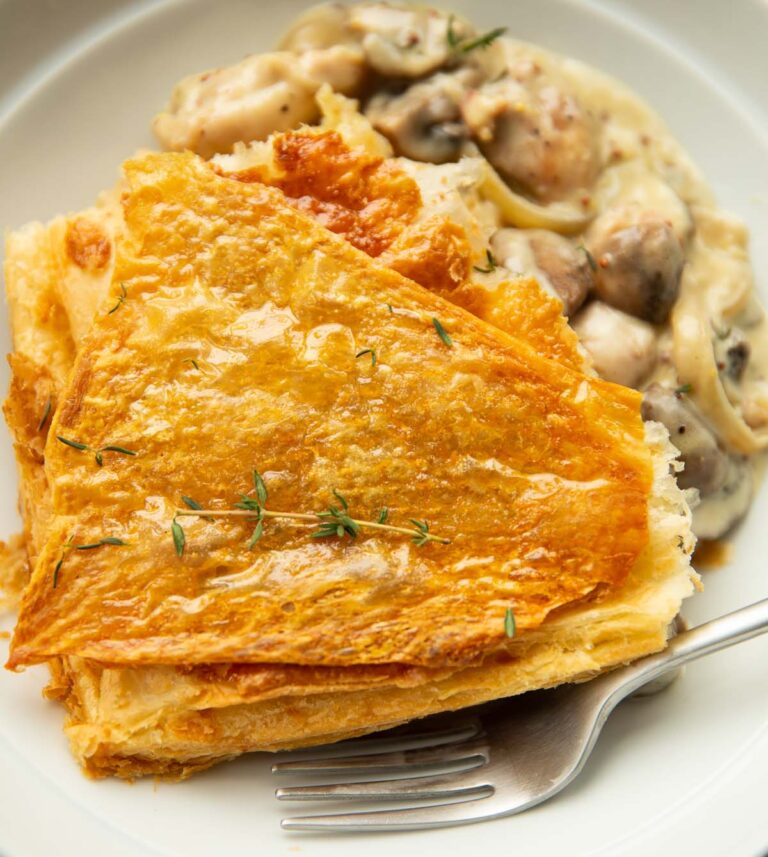 How to make Chicken and Mushroom Pie (Full Recipe & Video)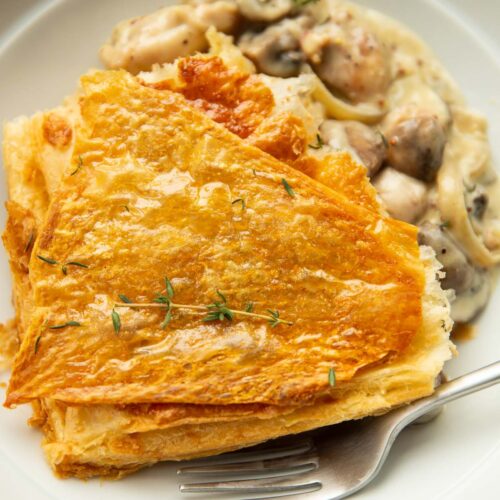 Classic Chicken and Mushroom Pie
Here I'll share with you the easiest and most delicious way to make a classic Chicken and Mushroom Puff Pastry Pie!
Print
Pin
Rate
Servings (click & slide):
4
- 5
Calories per serving:
982
kcal
Cost per serving:
£3 / $4
Equipment:
Sharp Knife & Chopping Board

2 Large Baking Trays, Baking Paper & Kitchen Roll

(optional - for crispy chicken skin)

Large Pan & Wooden Spoon

25cm x 17cm / 10" x 6.5" Baking Dish

(or similar size)
Ingredients (check list):
100g / 3.5oz

Smoked Bacon Lardons, diced (see notes)

1kg / 2lb

skin-on bone-in

Chicken Thigh, or 640g/1.4lb boneless skinless thighs (see notes)

1/2

tsp EACH:

Salt, Black Pepper

1

medium

White Onion, thinly sliced

300g / 10.5oz

Chestnut Mushrooms, quartered

2

cloves of

Garlic, finely diced

3

tbsp EACH:

Unsalted Butter, Flour

480ml / 2 cups

Chicken Stock

80ml / 1/3 cup

Double/Heavy Cream, at room temp

1

tbsp

Wholegrain Mustard

1

tsp

Fresh Thyme Leaves, finely diced

1x

320g/11oz sheet of

Puff Pastry

1

Egg, beaten
Instructions:
If using skin-on thighs: Preheat oven to 180C/350F. Use your hands to remove the skin and lay it flat on a large baking tray. Sprinkle with a pinch of salt, then place baking paper on top. Place another baking tray on top (this will prevent the skin from curling up). Bake in the oven for 20-25mins or until golden and crisp. Remove and pat with kitchen roll to soak excess fat and finish with another pinch of salt. The skin will crisp as it cools. Meanwhile, carefully cut out of the bone from the thighs.

Dice the chicken and season all over with salt and pepper.

Add the bacon to a large pan over medium heat and fry until crisp with the fat rendered. Remove and place in the baking dish, leaving the fat behind. Raise heat slightly to medium-high.

Space the chicken out in the pan and fry until golden on each side. Don't worry too much about cooking it right through, just a few minutes each side to lightly brown. Remove it from the pan and place in the baking dish with the bacon, leaving the excess fat behind.

Lower heat to medium, then add the onion and fry for a couple of minutes until it begins to soften. Add the mushrooms and continue frying until the onions are soft & golden and the mushrooms have built up a golden crust. Add the garlic and fry for 30-60 seconds more.

Melt in the butter then stir in the flour to form a roux. Gradually pour in the stock and cream, stirring as you go to prevent lumps forming. Stir in the mustard, thyme, chicken and bacon and bring to a gentle simmer. Reduce heat slightly and simmer for 10 minutes to thicken the sauce, stirring occasionally.

Once thickened, adjust seasoning if desired then pour everything into the baking dish and leave to cool for 15 minutes. Meanwhile, preheat the oven to 200C/400F.

Once the filling has cooled, brush around the rim of the dish with egg wash. Place the puff pastry over the top and crimp around the outside to 'glue' it to the dish. Trim excess pastry, then brush with egg wash. Slice a few steam holes, then place in the oven for 20mins, or until deep golden and crisp. Leave for 5 or so mins to cool, then serve up with the crispy chicken skin and enjoy!
Quick 1 min demo!
Notes:
a) Chicken - You can definitely just use boneless skinless thighs if you'd prefer, just skip the first step. Thigh is much better than breast because it's less susceptible to overcooking. You might find that breast, especially after frying it, simmering it and baking it, isn't as tender as thigh.  b) Chicken skin - Timings will vary slightly so just be vigilant. It almost certainly won't be done before 20 minutes (unless your oven runs hot), but feel free to bake a little longer if needed. It will crisp as it cools, just ensure you pat away the excess oil and season with salt to draw out the final bit of moisture as it rests. If you find it's not quite crisp even after it cools, just pop it back in the oven for 5 or so mins to finish the job! c) Smoked Bacon Lardons - These are great because they're nice and thick. You could sub bacon if you'd prefer, and you can go for unsmoked as well (although you lose out on bonus flavour!). d) Mushrooms - In reality you can use any type of mushroom. You'll find that when they first hit the pan they dry it out. After a few mins they'll start to release moisture, then once that evaporates they'll start to brown. e) Oil - You'll see here that I don't use any oil. You should have enough leftover bacon fat to fry the chicken, then enough leftover chicken fat to fry the onion. However if you feel you need to add a dash more oil at any time please do! f) Calories - Whole recipe divided by 5.
Your Private Notes:
Nutrition:
Nutrition Facts
Classic Chicken and Mushroom Pie
Amount Per Serving
Calories 982
Calories from Fat 664
% Daily Value*
Fat 73.77g113%
Saturated Fat 21.956g
110%
Polyunsaturated Fat 9.475g
Monounsaturated Fat 30.123g
Cholesterol 225mg75%
Sodium 813mg34%
Potassium 721mg21%
Carbohydrates 42.89g14%
Protein 38.79g78%
Vitamin A 623IU12%
Vitamin C 3.6mg4%
Calcium 52mg5%
Iron 3.77mg21%
* Percent Daily Values are based on a 2000 calorie diet.
Nutrition is based on the absence of salt unless stated as a measurement in the ingredients. Cost is worked out based on ingredients bought from UK supermarkets, then divided by the number of servings. In both instances these values are just for guidance. Please check out my FAQ Page for more info.
---
For more chicken and mushroom recipes check out my Creamy Garlic Mushroom Chicken, Chicken and Mushroom Pasta and my Chicken Schnitzel with Mushroom Gravy!
For more similar recipes check out these beauties:
Delicious Pie Recipes
---