These Sausage Stuffing Balls are ultra soft and bursting with flavour. They're easy to make and perfect with a roast dinner!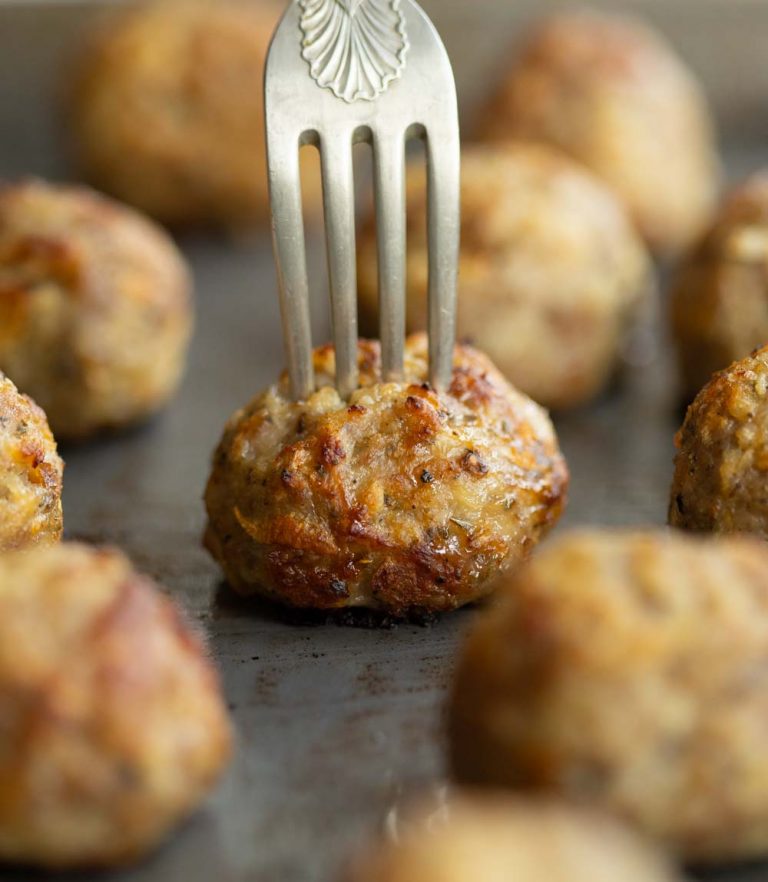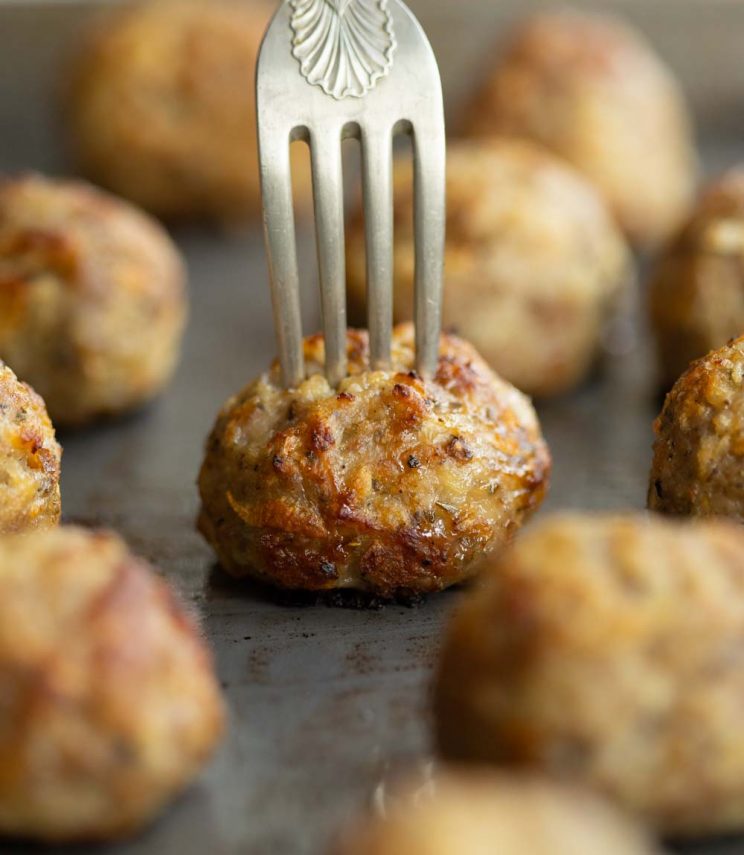 Stuffing Balls
Let's be real, if there isn't stuffing at on your roast dinner spread, what you're eating is not a roast dinner. There's a few 'non-negotiables' for me when it comes to a roast and stuffing is one of them.
Alrighty, that's my food snobbery out the way, let's come down to earth. Mum if you're reading this I'm sorry for exposing you, but growing up our version of stuffing was the stuff straight from the packet. You know the one, tastes kind of like carpet 🤣 We did progress on to the Aunt Bessies sausage meat stuffing balls, but that's where it stopped. Anywho, my point is even at its worst, stuffing is still incredible (yes I like the taste of carpet). Through the years I've tweaked my stuffing recipe and today it's time to release it to the world. Hello sausage stuffing balls!
What's the difference between stuffing balls and meatballs?
Most stuffing ball recipes actually don't use meat, but I couldn't help myself. Here's the main two distinctions between these stuffing balls and regular sausage meatballs:
Bread – A lot of meatball recipes do use breadcrumbs, but these stuffing balls use much more than you usually would. Stuffing in general is quite bread heavy, and these stuffing balls mimic that same texture.
Apple – The stuffing balls have grated apple through them, which adds a gorgeous bit of sweetness. Pork and apple is a match made in heaven and these balls celebrate just that!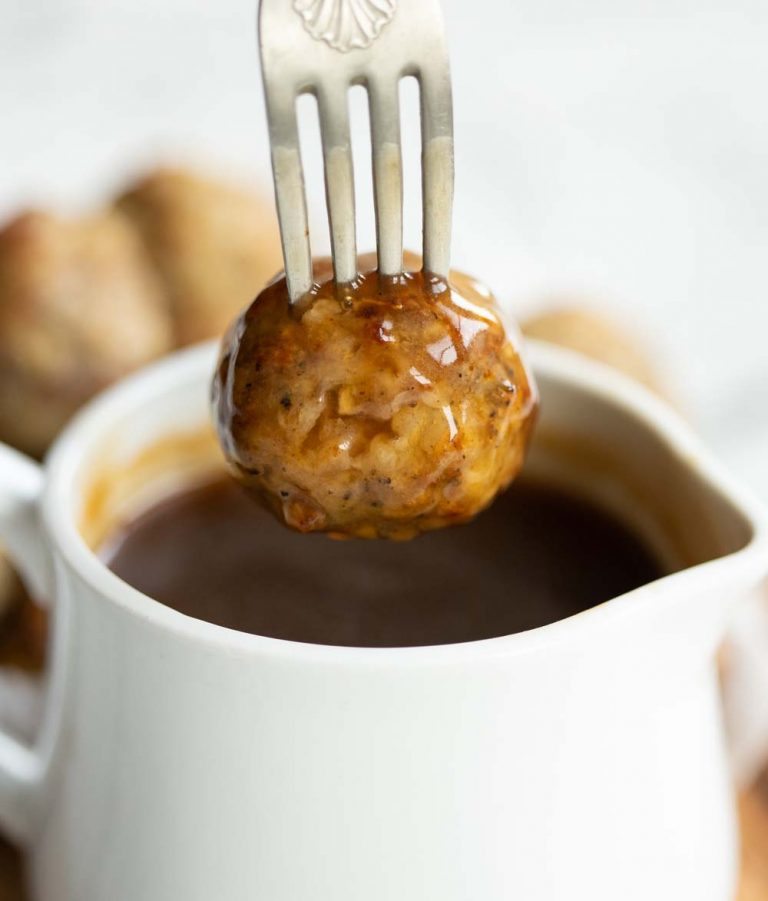 Sage & Onion Sausage Stuffing
The main flavouring in these stuffing balls is sage and onion. Mainly because that's the classic stuffing flavour, but equally because it goes so beautifully with sausage too. Alongside the sage and onion, I love adding a pinch of nutmeg. This isn't a deal breaker, but it does add a very subtle background flavour. A festive spark if you will!
What type of breadcrumbs to use?
You'll want to use fresh breadcrumbs for this recipe. This gives a far softer texture as opposed to dried or Panko breadcrumbs. To make the breadcrumbs just pulse bread slices in a food processor, or dice them into cubes as small as you can.
Soaking the breadcrumbs
Contrary to popular belief, bread actually makes the sausage balls softer & juicier, because it soaks up and clings onto the moisture released by the stuffing. A vital step to help along with this is soaking the breadcrumbs in grated onion & apple before you mix in the meat. Kind of like a panade.
Process shots: add grated garlic, onion & apple and breadcrumbs to a bowl (photo 1), mash with a fork and allow bread to soak up moisture (photo 2), add in sausage meat, sage, nutmeg and seasoning (photo 3), combine then begin scooping out meat (photo 4).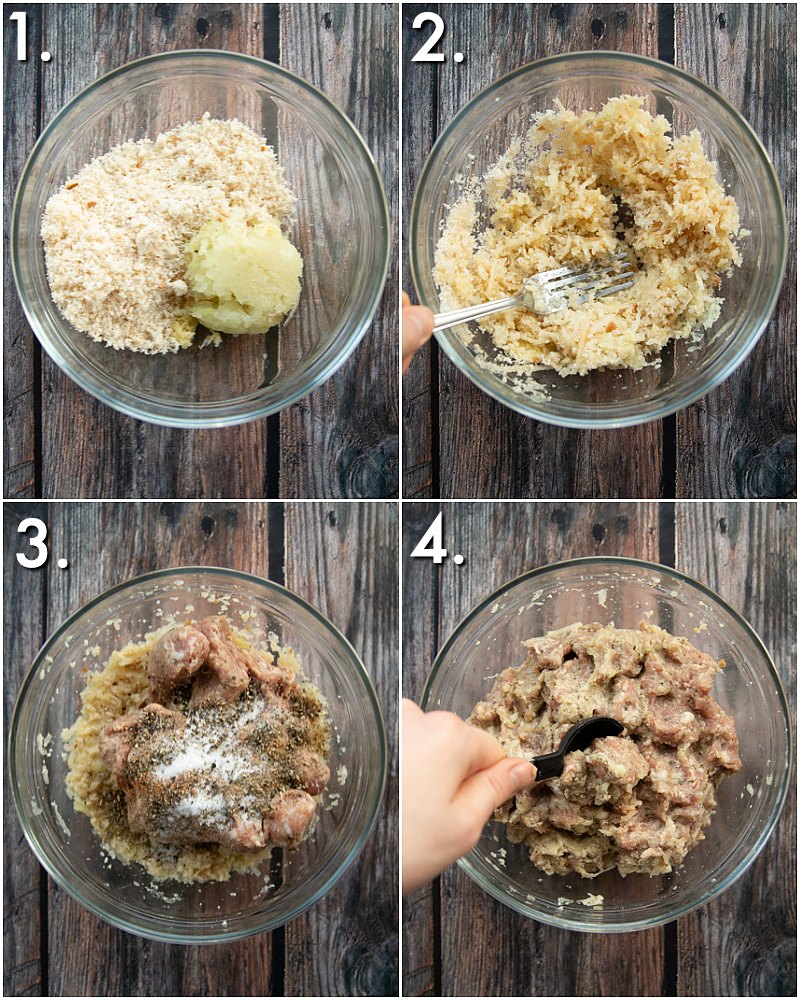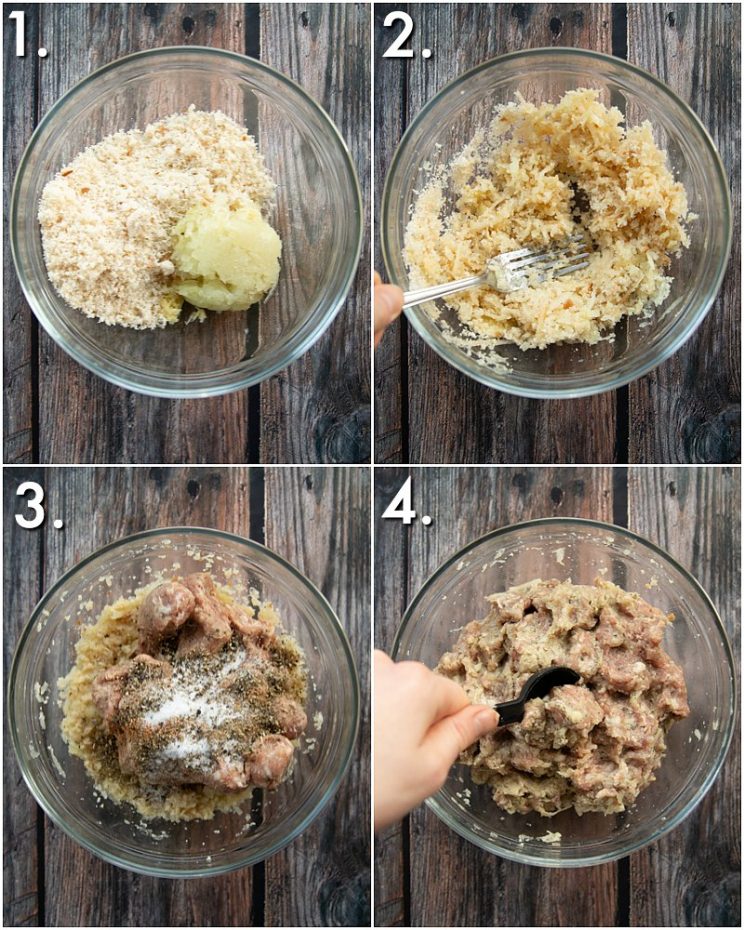 Baked Sausage Stuffing Balls
The quickest and easiest method to making the stuffing balls is individually scooping out all the meat, then rolling one by one from there (see photo below). The best cooking method by far is oven baking. This gives you the perfect ratio of browning on the outside, whilst leaving the stuffing balls ultra soft in the centre.
Can I pan fry these?
Because of the high bread content I don't recommend pan frying these as you run the risk of them sticking to the pan.
Can I prep these ahead of time?
Yep! Just make up until the point of baking and tightly cover in the fridge or freezer (more on this in the recipe card).
Can I fully make these ahead of time?
You can, but they do tend to dry out slightly as they rest/reheat. Don't waste leftovers though, you can store in the fridge/freezer and reheat (more on this in the recipe card).
Process shots: place chunks of meat on chopping board (photo 1), roll into balls (photo 2), transfer to baking tray (photo 3), spray with oil then bake (photo 4).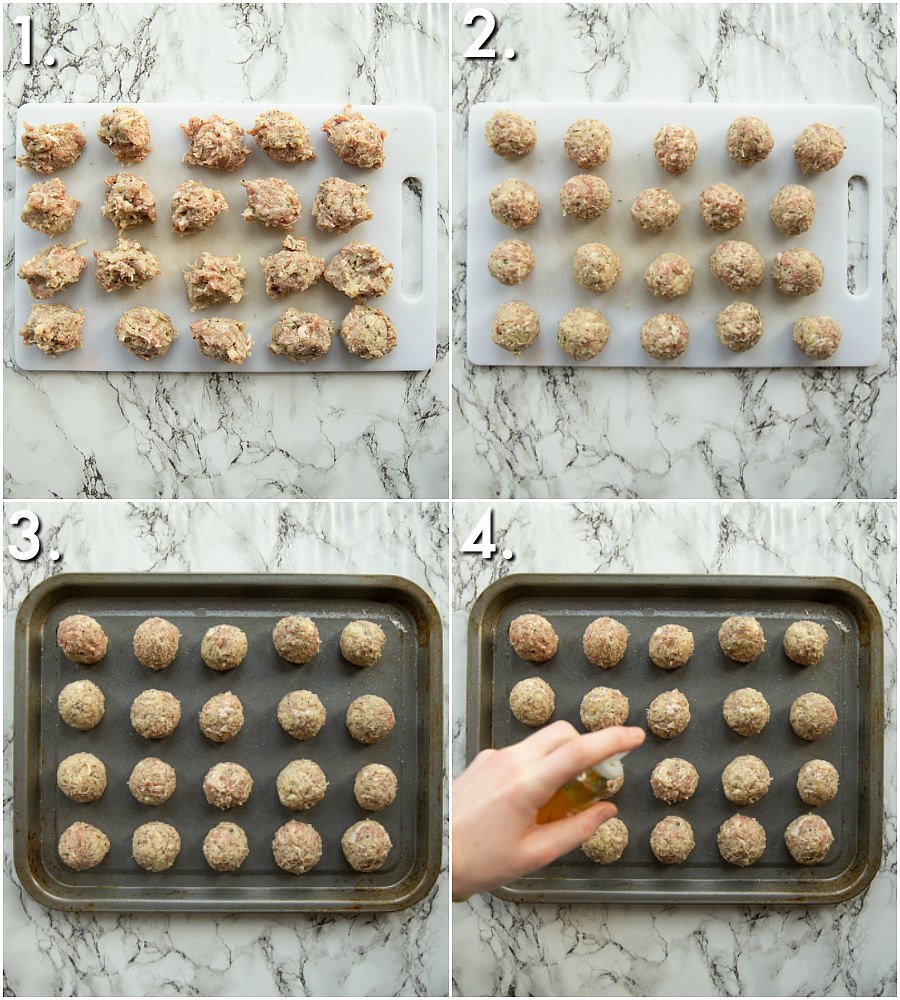 Serving Sausage Stuffing Balls
As I mentioned earlier, I usually serve these as part of a roast dinner spread. You could however stick some toothpicks in them and serve as an appetizer. I recommend a side dip of cranberry sauce or gravy!
For more festive goodness check out my Cranberry, Sage & Turkey Meatballs!
For more similar recipes check out these beauties too:
Roast Dinner Recipes
Alrighty, let's tuck into the full recipe for these sausage stuffing meatballs shall we?!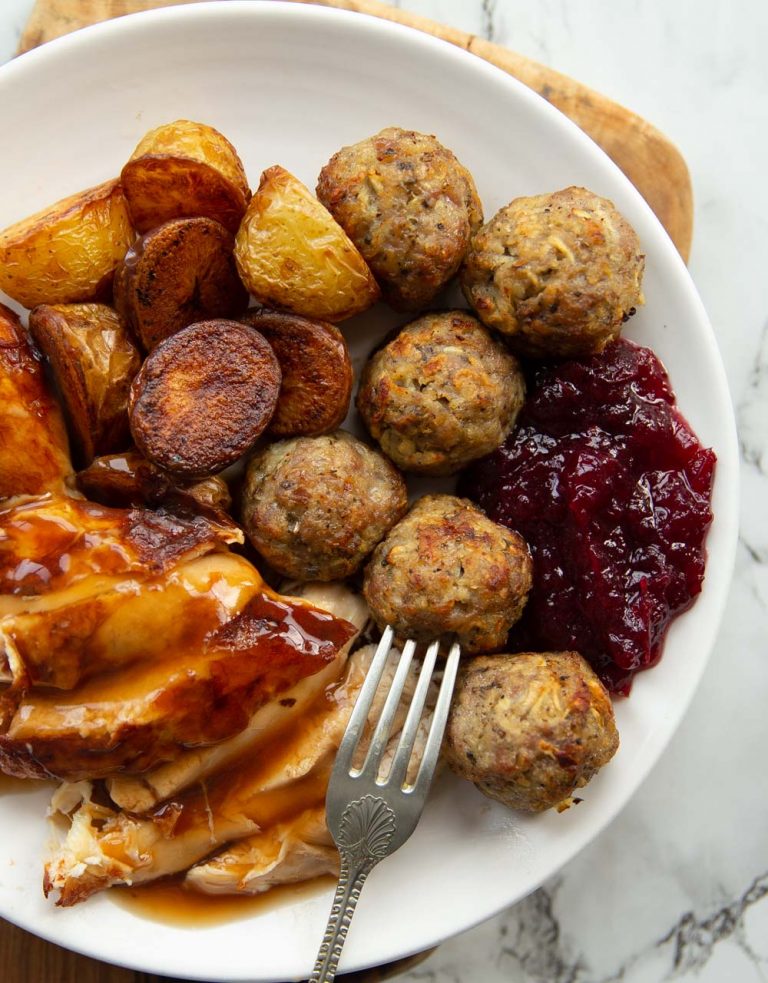 How to make Sausage Stuffing Balls

 (Full Recipe & Video)
Sausage Stuffing Balls
These Sausage Stuffing Balls are ultra soft and bursting with flavour. They're easy to make and perfect with a roast dinner!
Print
Pin
Rate
Share by Text
Servings (click & slide):
20
stuffing balls
Calories per serving:
92
kcal
Cost per serving:
50c / 50p
Equipment:
Large Mixing Bowl

Large Greaseproof Baking Tray

Sharp Knife & Chopping Board

Box Grater

Peeler (for apple)

1 tbsp Measuring Spoon
Ingredients (check list):
1lb / 500g

Sausage Meat (see notes)

45g / 1.5oz

Soft White Bread (see notes)

1

medium

Red/Sweet Apple, peeled, cored & grated

1

medium

White Onion, peeled & grated

1

medium clove of

Garlic, peeled & finely grated/minced

2

tsp

Dried Sage

1/8

tsp

Ground Nutmeg (see notes)

1/2

tsp

Salt

1/4-1/2

tsp

Black Pepper
Oil Spray, as needed
Instructions:
Preheat the oven to 200C/400F.

Bread: Pulse the bread in a food processor until it forms into a crumb-like texture. In a large mixing bowl add the breadcrumbs, grated apple, onion & garlic. Use a fork to mash everything and allow the bread to absorb the moisture.

Balls: Add the sausage meat, sage, nutmeg and salt & pepper. Give it all a good mix until everything is evenly combined. Use a 1tbsp measuring spoon to scoop out the meat and spread out on a greaseproof baking tray (or use baking/parchment paper). Once you've scooped out all the meat, roll the chunks of meat into balls.

Bake: Give them a good spray of oil then bake in the oven for 20mins or until golden and piping hot through the centre.
Quick 1 min demo!
Notes:
a) Sausage Meat - You'll find sausage meat in most supermarkets, but if you can't, just squeeze the meat from some 'neutral flavoured' sausages (i.e not herby or specially spiced sausages).  b) Baking tray - The sugar from the apple will caramelise on the tray and can become sticky, so it's important you're using a good greaseproof tray (or grease it yourself with oil). Or use baking paper. c) Breadcrumbs - Easiest to pulse slices of bread in a food processor to make the crumbs. If you don't have a food processor just slice the crusts off the bread and dice into cubes as small as you can. From there, just make sure the cubes soak up as much moisture as possible from the apple/onion before combining with the sausage. d) Nutmeg - This adds a nice festive flavour. It is quite faint, but I do recommend using it if you've got it on hand. If you've not then don't worry, I wouldn't go out specifically to get it. e) Can I pan fry these? - Because of the high bread content I don't recommend frying these. The bread tends to stick to the pan.  f) Can I prepare these ahead of time? - You can fully prep them and tightly cover in the fridge overnight, then spray with oil and bake as instructed (add a few more mins if baking straight from the fridge). You can also freeze them. I recommend freezing them on a tray then transferring to a ziplock bag after a few hours, just to ensure they don't stick together. From there thaw in the fridge then bake. g) Can I fully make these ahead of time? - You can, but they do dry out as they rest/reheat. Once baked, just allow to completely cool then tightly cover in the fridge for 2-3days or freeze for a month. Reheat in the oven at 180C/356F until piping hot through the centre again (thaw in fridge first if freezing). h) Calories - per stuffing ball (20 in total).
Your Private Notes:
Nutrition:
Nutrition Facts
Sausage Stuffing Balls
Amount Per Serving
Calories 92
Calories from Fat 65
% Daily Value*
Fat 7.22g11%
Polyunsaturated Fat 0.958g
Monounsaturated Fat 3.269g
Cholesterol 17mg6%
Sodium 235mg10%
Potassium 80mg2%
Carbohydrates 3.16g1%
Protein 3.54g7%
Vitamin A 10IU0%
Vitamin C 1.3mg2%
Calcium 11mg1%
Iron 0.4mg2%
* Percent Daily Values are based on a 2000 calorie diet.
Nutrition is based on the absence of salt unless stated as a measurement in the ingredients. Cost is worked out based on ingredients bought from UK supermarkets, then divided by the number of servings. In both instances these values are just for guidance. Please check out my FAQ Page for more info.
---
If you loved this Sausage Stuffing Balls Recipe then be sure to Pin it for later! Already made it or got a question? Give me a shout in the comments and pick up your free ecookbook along the way!