A few incredibly simple but crucial steps to making soft & juicy homemade meatballs. Once you try this recipe you'll never make them any other way!

There really is nothing more disappointing in life than biting into a meatball and it being tough and dry. It's just absolute devastation across the board. If I'm having spaghetti and meatballs it's usually for dinner, which means I've been looking forward to it all day, then to be served with a dry meatball? Oh hell no, not for me, not ever.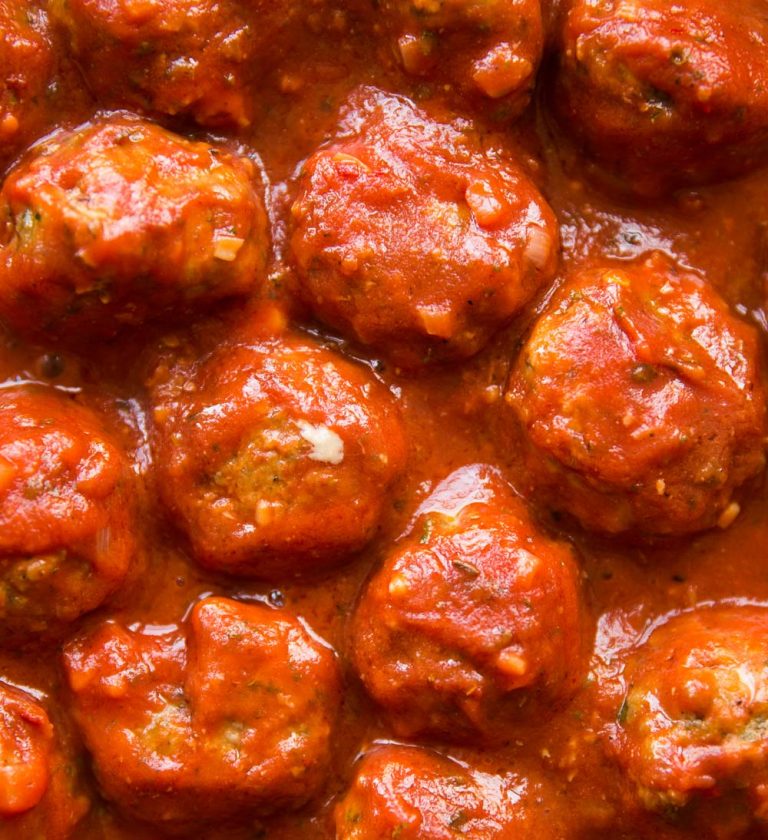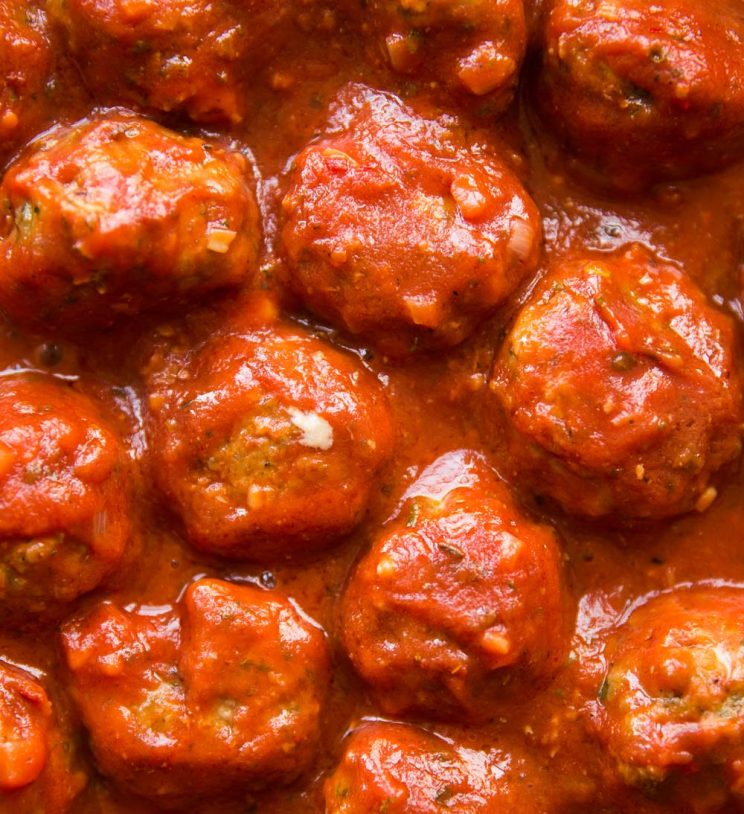 Admittedly in the early days of my cooking I saw myself as a meatball connoisseur, because I could make meatballs that weren't dry. But in hindsight, they may not have been dry, but they certainly weren't gorgeously soft and juicy either. Thus in recent times I've made it my mission to master the art of melt in your mouth meatballs (gosh, that was a mouthful) ((excuse the pun)).
When I tell you this is one of my go-to recipes to impress I truly mean it. Not only because it's absolutely delicious, but because it's foolproof. Works every time.
So, without further ado, here are my top tips for the BEST homemade meatballs.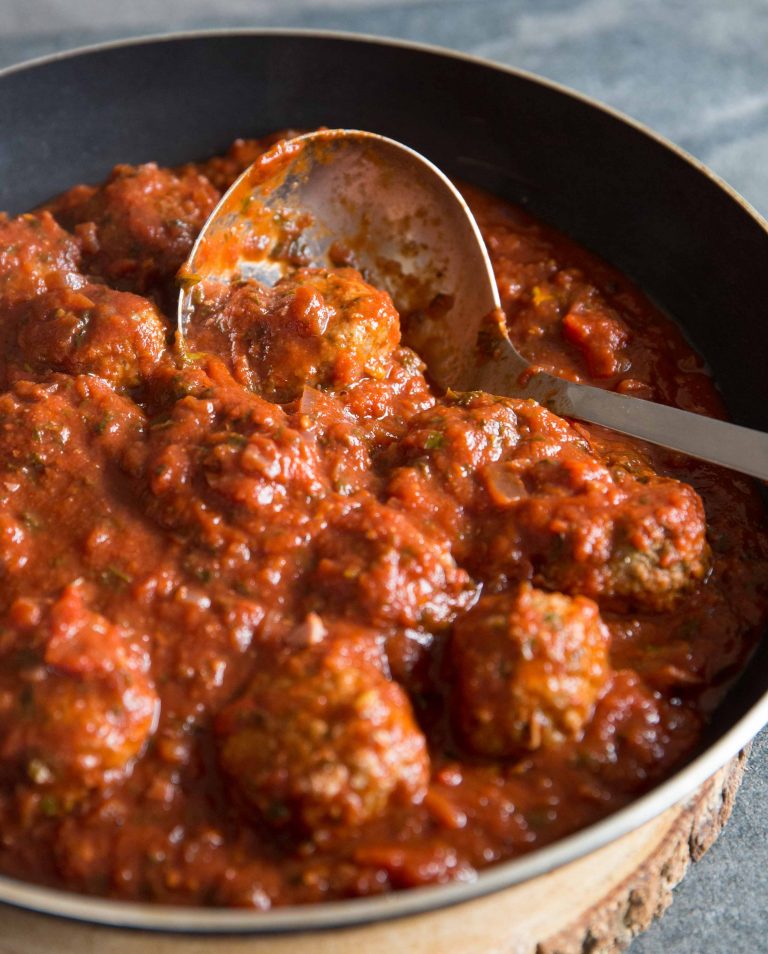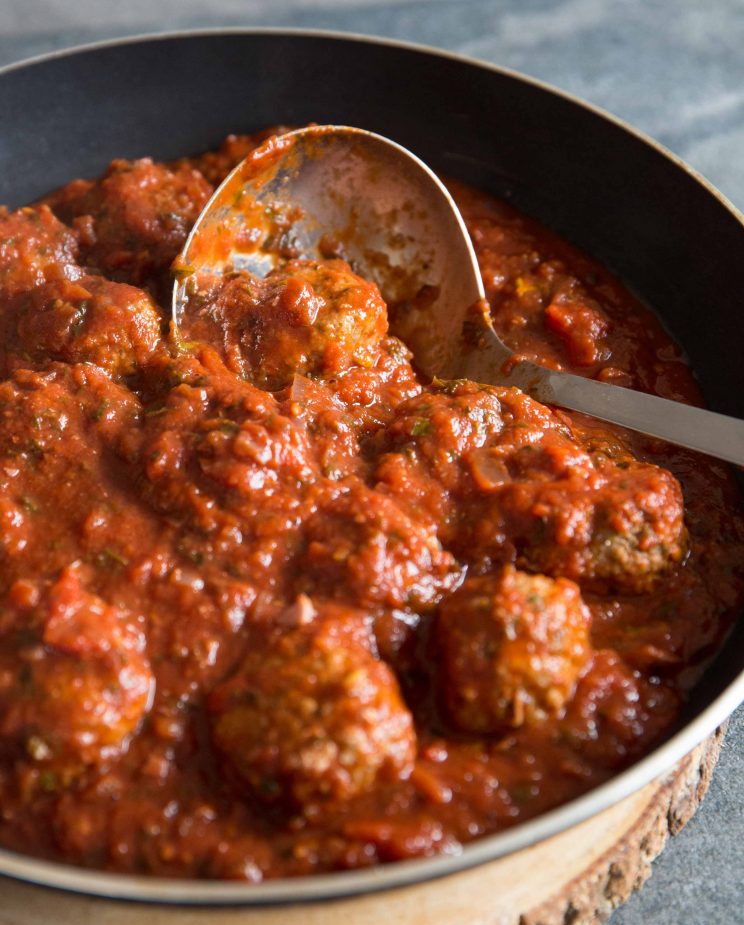 1. Use a Panade
What is a Panade?
A panade is essentially a mixture of starch and liquid that you add to meat to keep it moist. Here, and in many other authentic meatball recipes, the panade is usually made up of milk and bread (not to be confused with breadcrumbs).
How does a Panade work?
By allowing the pieces of bread to soak up the milk, it locks in moisture and keeps the meatballs juicy throughout the cooking process. This will keep your meatballs much juicier than just using regular breadcrumbs. Using breadcrumbs results in far denser meatballs in comparison to using small pieces of bread – this is something I've tried and tested.
How to make a Panade for Meatballs?
Soak milk, grated onion and garlic, Worcestershire sauce and cubed bread.
After around 5 mins, mash with a fork.
Add in all your other meatball ingredients apart from your meat.
Stir to combine.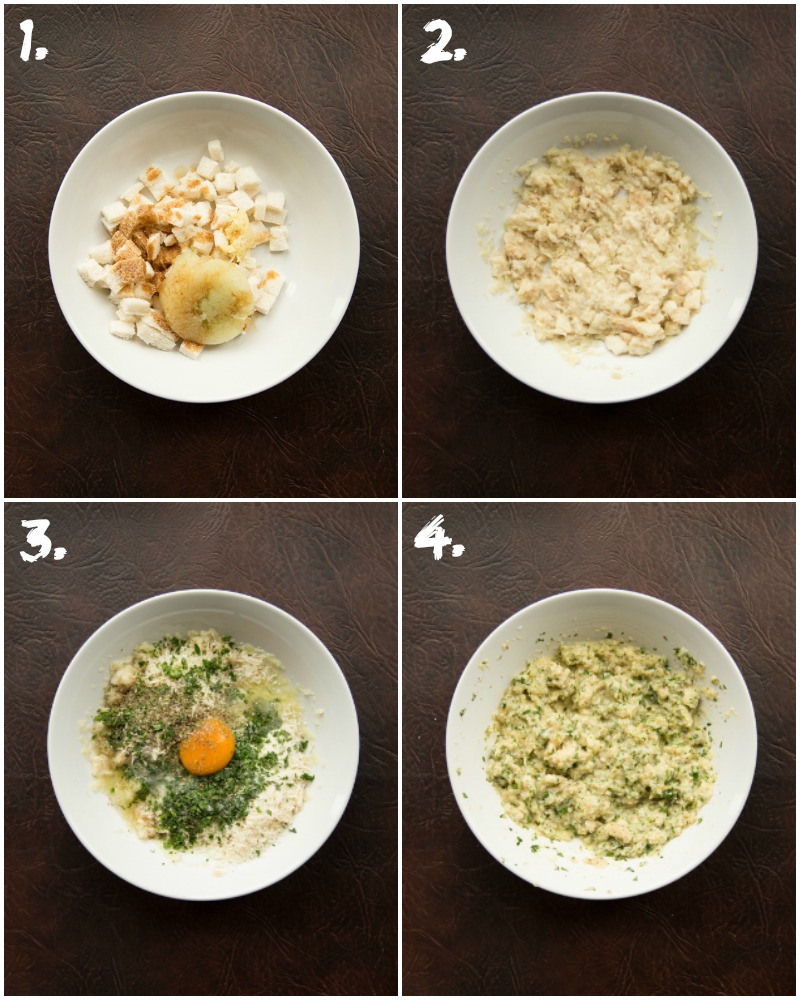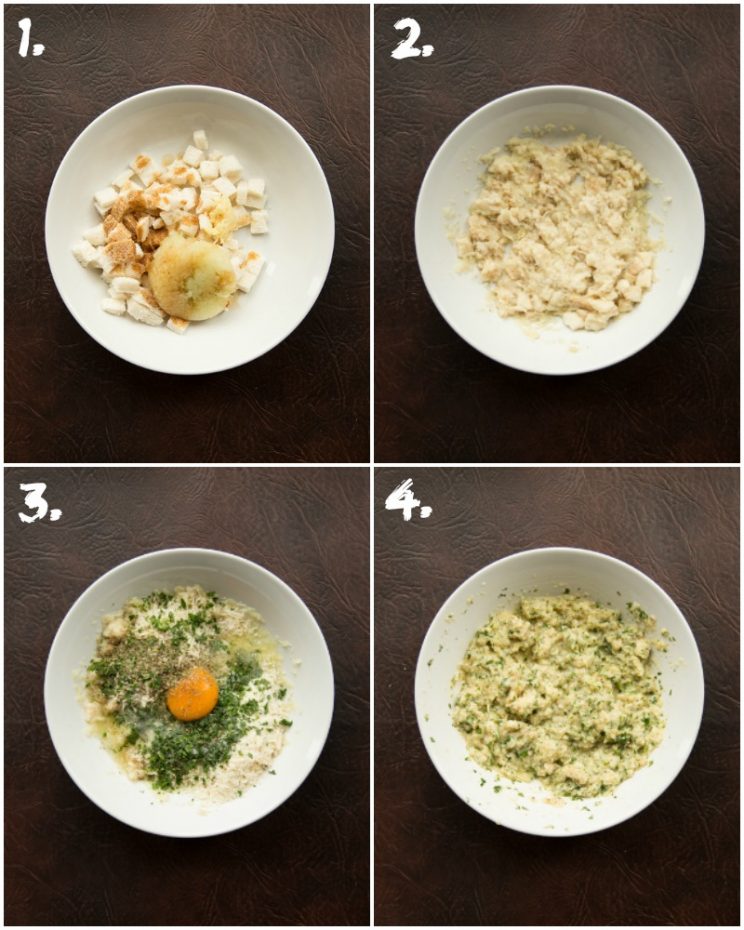 2. Treat your meat right
Beef and Pork Meatballs
A combination of pork and beef works perfect. Many traditional Italian meatball recipes include veal, but honestly, using 2 different ground meats is already at my limit of convenience, so trying hunt down veal is just not the life for me. I find that a straight 50/50 ratio produces delicious meatballs. I have toyed around with different ratios in the past, but can't really taste a huge difference and again – convenience.
Non lean Meatballs
It's also important to use non-lean meat for homemade meatballs to help keep them lubricated throughout the cooking process. I've popped down a bit more about this in the recipe notes, but as a ballpark figure you want it definitely 15%+.
Feather fingers!
The final thing with the meat is don't overwork it. You'll see in the photos above I've already mixed together all the ingredients bar the meat. This is merely to reduce the amount of mixing you have to do to get an even spread of ingredients. Overworked ground meat simply results in a really solid, dense and dry meatball, which is certainly not what we want.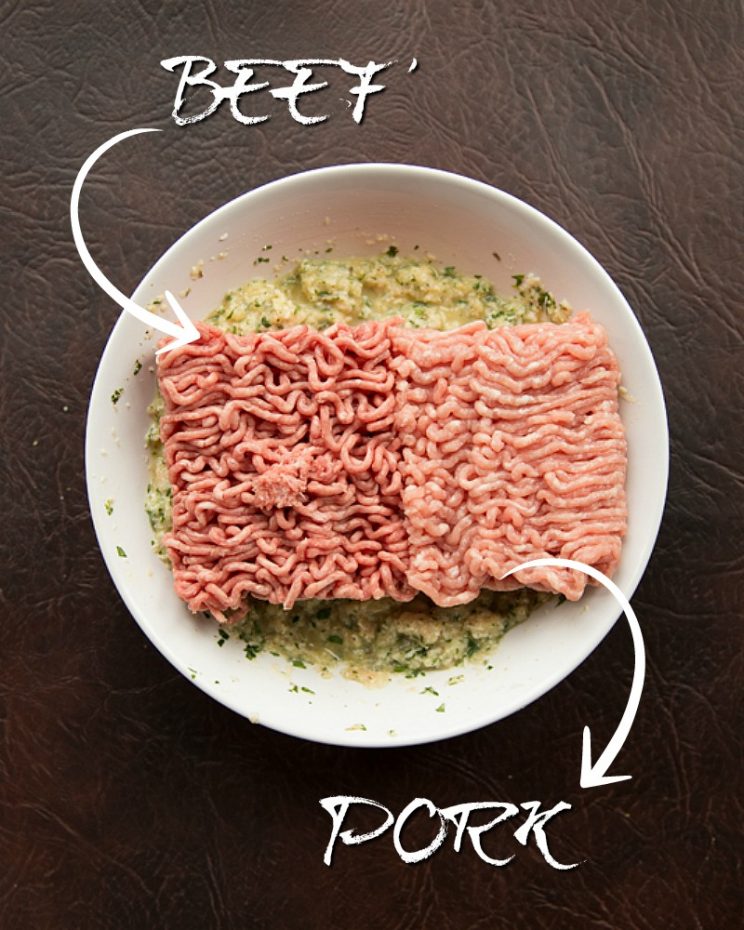 3. How To Cook Meatballs
For the softest meatballs the best method is to poach in the sauce. However the limitation with that is there's nowhere near as much flavour in comparison to a meatball that's been browned. So, here are 3 alternative cooking options for homemade meatballs, from my least favourite to favourite method.
a) Baked Meatballs
Baked meatballs are great because they require the least amount of effort. However, it's difficult to get a really good browning on them. By the time they're properly browned on the outside, they're totally cooked through the centre, which isn't what we want. In fact, what we want to do is only have them browned on the outside (for flavour), then to have them finish cooking by poaching in the sauce (so they stay soft in the centre).
b) Fried Meatballs
With frying you can do exactly that. Fry them over medium-high heat to get a good browning on the outside, then have them finish poaching in the sauce. The only limitations with frying however is 1. it's difficult the keep the meatballs in uniform shape and 2. you'll probably have to work in batch because they won't all fit in the pan. This is still a great method though, just not quite as good as…
c) Grilled Meatballs (best method)
Grilling/broiling the meatballs means you can get a good colour on the outside, allow them to finish cooking in the sauce AND allow you to cook them all at the same time. Winner!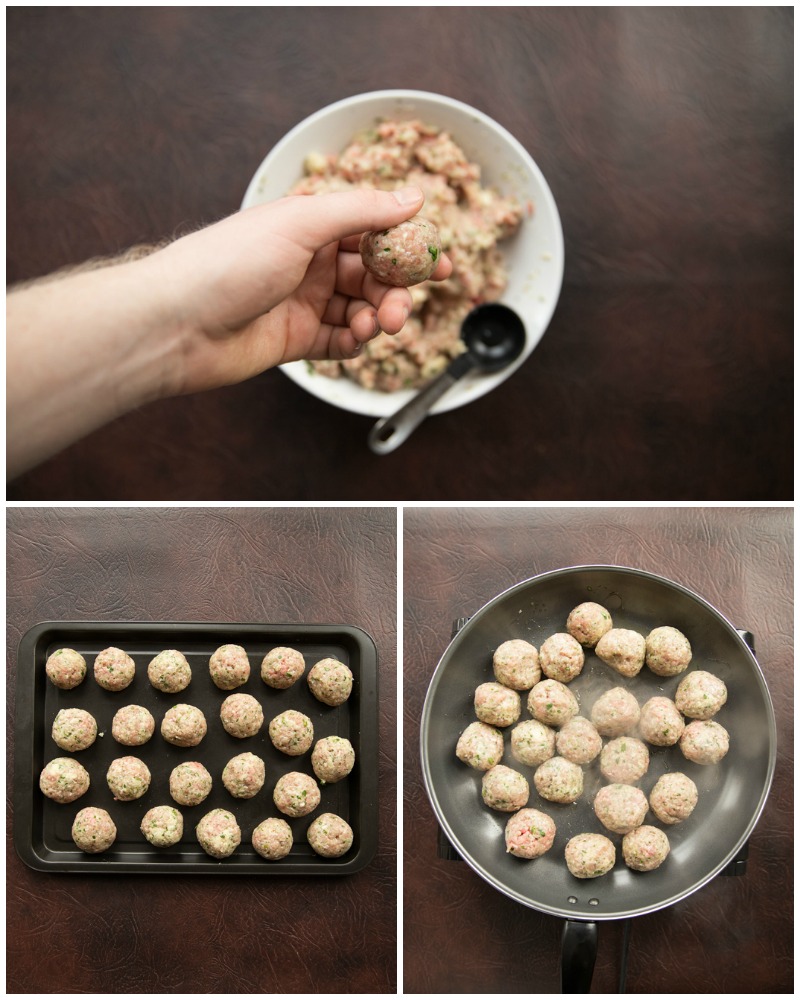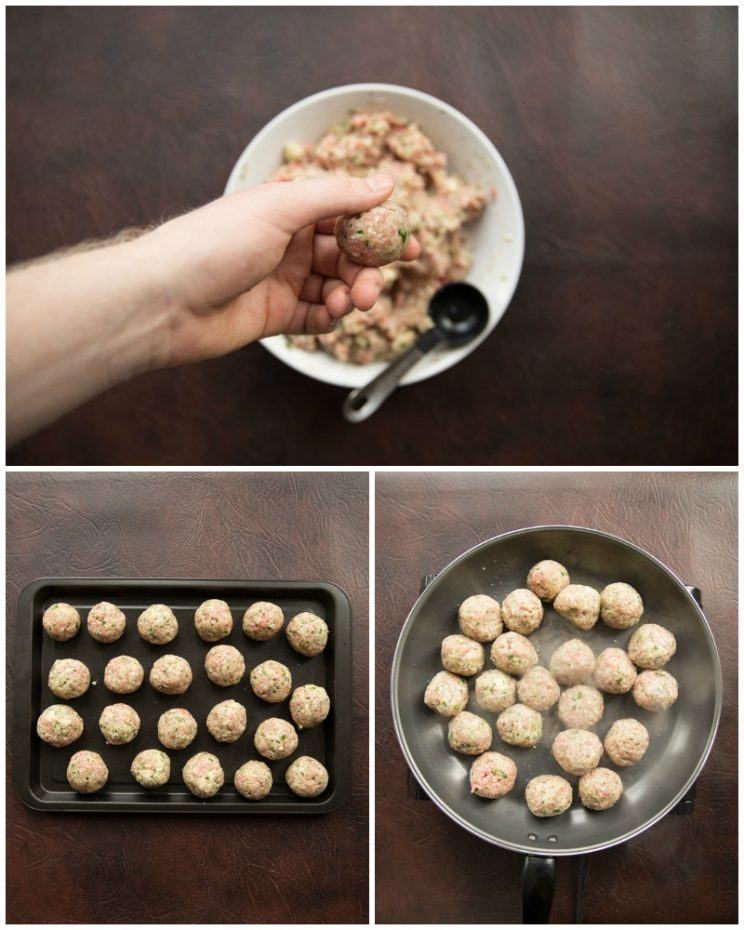 And breathe.. You've made it.
For this recipe I've paired them with some spaghetti and meatball sauce. Because is there anything more delicious than spaghetti and meatballs!?
Now the hard part – trying to actually share the meatballs. Like, is that even a thing? I honestly wouldn't know because I ate that entire skillet of meatballs to myself. True story.
Oh quick side note – you know these are truly melt in your mouth meatballs when you eat them after an hour of filming/photographing and they're stone cold but STILL juicy. Literally can't remember the last time I had a hot meal..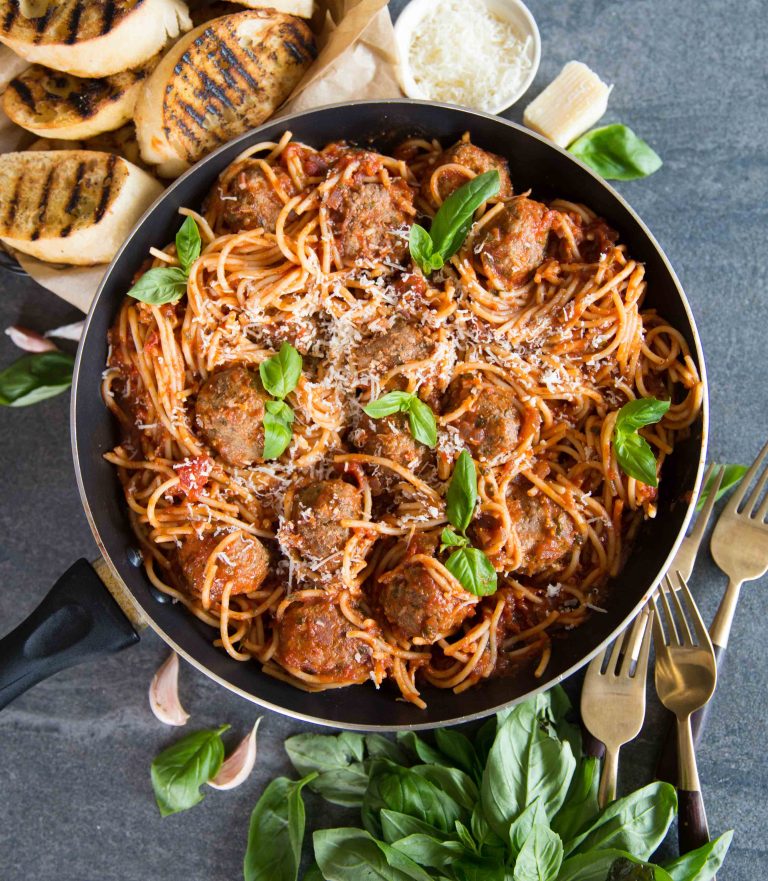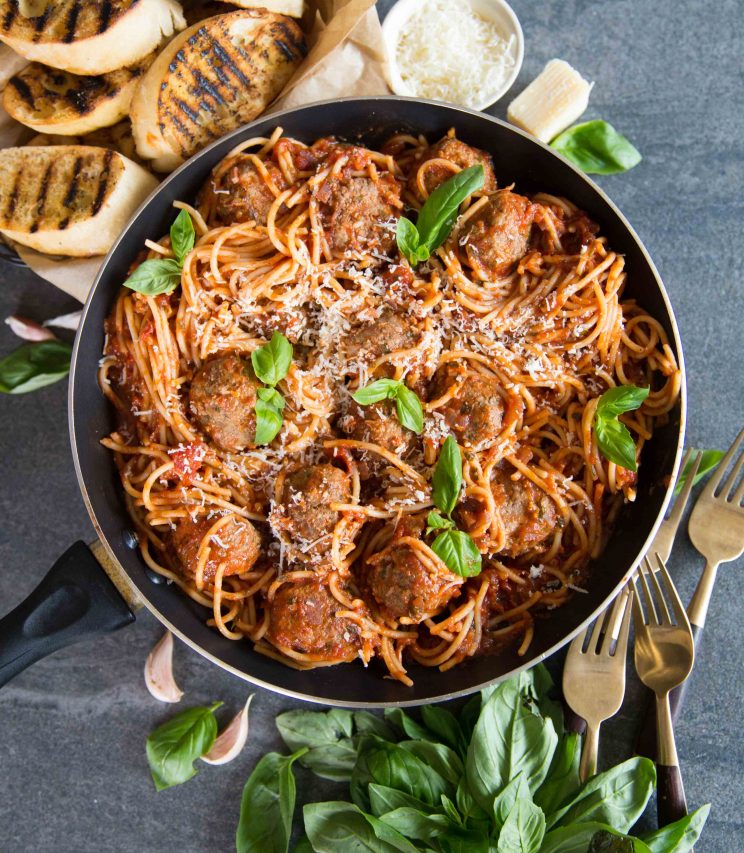 Join the foodie family! – Get awesome recipes sent straight to your inbox by signing up to my Weekly Mailing List (where you'll receive your FREE ECOOKBOOK) and stay in touch on Instagram, Facebook and Pinterest! 🧡
How To Make Homemade Meatballs

(Full Recipe & Video)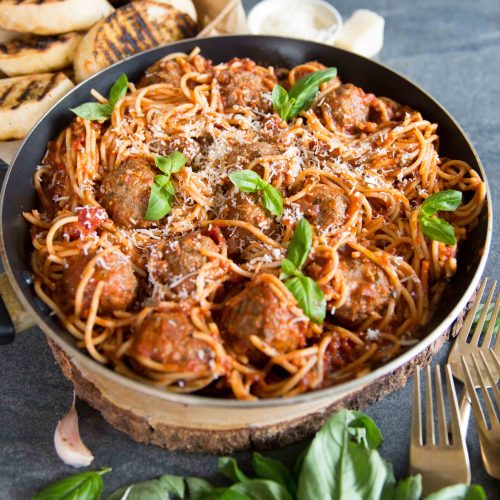 Homemade Meatballs
A few incredibly simple but crucial steps to making soft & juicy homemade meatballs. Once you try this recipe you'll never make them any other way! (makes approx 20 meatballs)
Print
Pin
Rate
Servings (click & slide):
4
Ingredients (check list):
Meatballs
9oz / 250g

Ground Beef (15%+ fat)

9oz / 250g

Ground Pork (15%+ fat)

2

thin slices

Plain White Bread, sliced into small cubes (crusts removed)

1/4 cup / 60ml

Milk (whole, skimmed, semi-skimmed)

1/4

cup

Fresh Parsley, finely diced (approx 1 handful un-chopped)

1/2 cup / 35g

Parmesan, finely grated

1

medium

White Onion, grated

2

cloves

Garlic, minced (or finely grated)

1

tsp

Worcestershire Sauce

1/2

tsp

Dried Oregano

1

Egg

3/4

tsp

Salt

1/4

tsp

Black Pepper
Sauce
1

can

(14oz/400g) Chopped Tomatoes

1

carton

(14oz/400g) Tomato Passata

1/2 cup / 125ml

Red Wine

1/4

cup

Fresh Basil (approx 1 handful un-chopped)

1/4

cup

Fresh Parsley (approx 1 handful un-chopped)

1

medium

White Onion, finely diced

2

cloves

Garlic, finely diced

Olive Oil, for frying

Salt & Pepper, to taste
To Serve
12.3oz / 350g

Spaghetti

extra Parmesan

extra Basil Leaves
Instructions:
Begin by combining your Bread, Milk, Worcestershire Sauce, Garlic and Onion in a suitably sized bowl and allow to soak for a few minutes.

Add in your Parsley, Parmesan, Egg, Oregano, Salt and Pepper and stir until combined. Add in your Pork and Beef and combine with your hands. Don't overwork the meat, only combine until all the ingredients are evenly spread.

Spray or lightly coat an oven tray with Oil, take a tbsp of each mixture and evenly distribute across the tray. Wet your hands and roll each dollop into balls.

Broil under the grill on high for around 6-10 minutes or until golden brown on the outside. Flip once half way and shake a couple of times to ensure an even coverage.

In a suitably sized pot or pan, brown of your Onions and Garlic in a drizzle of Olive Oil, then add your Wine and simmer for a few minutes to burn off some of the alcohol. Stir in your Chopped Tomatoes, Tomato Passata, Basil, Parsley, Salt & Pepper.

Add in your Meatballs and allow to simmer until the sauce thickens and the Meatballs are piping hot through the centre. (15-20mins)

Meanwhile, pop your Spaghetti in salted boiling water and cook according the packet instruction. Drain when finished.

Serve by mixing in your Spaghetti or plonking the Meatballs on top. Either way, sprinkle some extra Parmesan and Basil to serve!
Quick 1 min demo!
Notes:
a) Meat Fat - You don't want to use lean meat for this recipe. Using non-lean meat will help lubricate the meat and keep the meatballs from drying out. I usually use 20% fat of both meats.
b) Bread - I usually use plain white bread, but feel free to use other types as preferred. However I would stay away from seeded/wholegrain types of bread as the seeds don't blend well in the meatballs.
c) Seasoning the Meatballs - I find that 3/4 tsp of Salt works perfectly, however every palette is different. What I always recommend when making sausages, burgers, meatballs etc is to fry up a tiny bit of your mixture before shaping them. That way your can tweak the seasoning before it's too late!
d) Broiling - You don't need to cook the meatballs all the way through, they will finish cooking in the sauce. This is just to ensure they brown on the outside. Also, if you are struggling the shape the balls, a short stint (no longer than 10mins) in the freezer should help firm up the meat.
e) Calories - Based on 20% fat meat, whole milk, 15g extra parmesan to sprinkle and 1 tbsp of olive oil to fry, divided by 4 people.
Nutrition:
Nutrition Facts
Homemade Meatballs
Amount Per Serving
Calories 622
Calories from Fat 281
% Daily Value*
Fat 31.27g48%
Monounsaturated Fat 14.77g
Cholesterol 273mg91%
Sodium 430mg18%
Potassium 990mg28%
Carbohydrates 45.56g15%
Protein 46.68g93%
Vitamin A 3700IU74%
Vitamin C 36.3mg44%
Calcium 290mg29%
Iron 6.7mg37%
* Percent Daily Values are based on a 2000 calorie diet.
Nutrition is based on the absence of salt unless stated as a measurement in the ingredients. Cost is worked out based on ingredients bought from UK supermarkets, then divided by the number of servings. In both instances these values are just for guidance. Please check out my FAQ Page for more info.
---
For another hearty meal for the family, check out my Perfect Spaghetti Bolognese!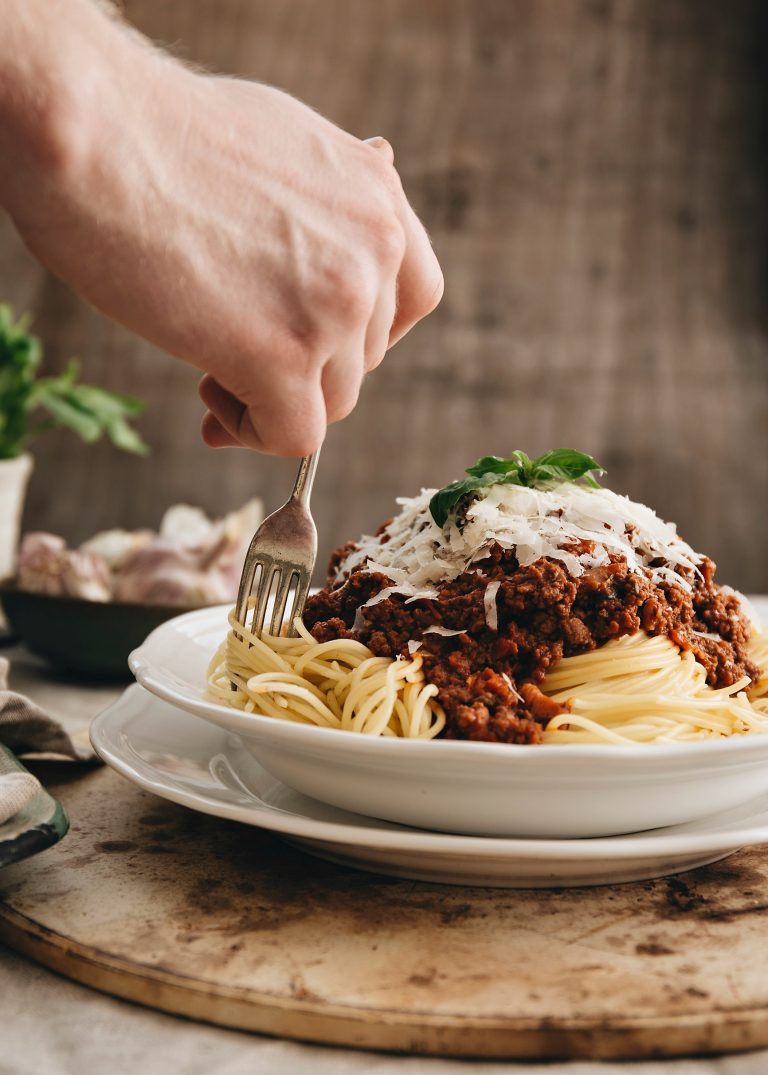 If you loved this Homemade Meatball Recipe be sure to Pin it for later! Already made it? Let me know how you got on in the comments and pick up your free ecookbook on the way!