This Japanese Fried Chicken is ultra crispy on the outside and insanely juicy on the inside. Better still, it couldn't be more simple to make!
Ahhhhh the joys of having a Japanese sister in law… I won't pretend like I'm an expert in Japanese cuisine all of a sudden 😂  If you've been a reader of mine for a while you'll know my intense obsession with fried chicken. When I caught wind my dear sister in law was withholding a fried chicken recipe, I kindly asked (begged) for all the secrets. What we have here is a Japanese fried chicken recipe with traditional roots, slightly tweaked for convenience. You're gonna love it. Follow me…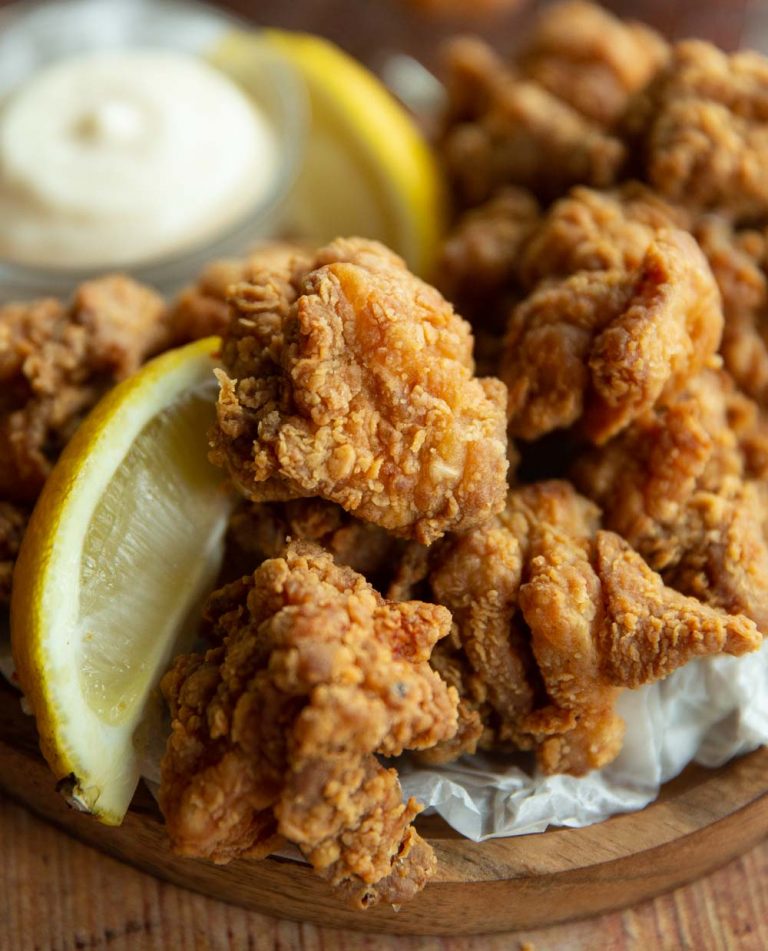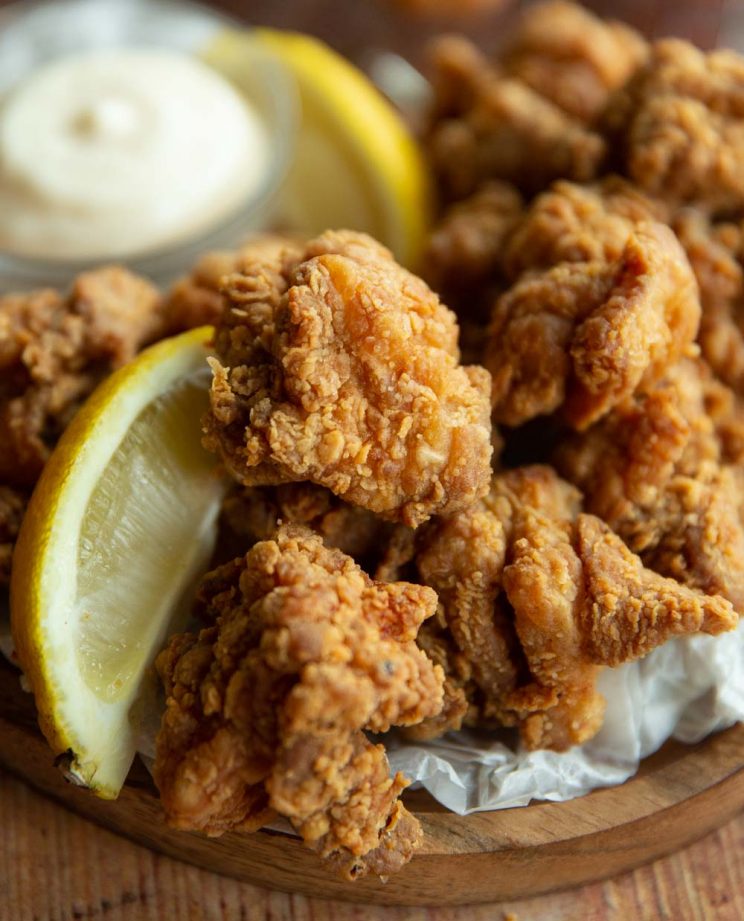 Karaage Chicken
What is Karaage Chicken?
Karaage chicken is essentially a Japanese cooking technique where meat (usually chicken) is deep fried. The meat is traditionally fried in potato starch, but cornstarch and flour are also sometimes used (like here).
What's the difference between Chicken Katsu and Karaage?
Chicken Katsu is more commonly shallow fried and coated in breadcrumbs, where Karaage is coated in starch/flour and deep fried. Katsu chicken is usually breast, whereas Karaage chicken uses chicken thigh. If you're looking for a Katsu recipe check out my Katsu Chicken Sushi Sandwiches (shameless plug 😉)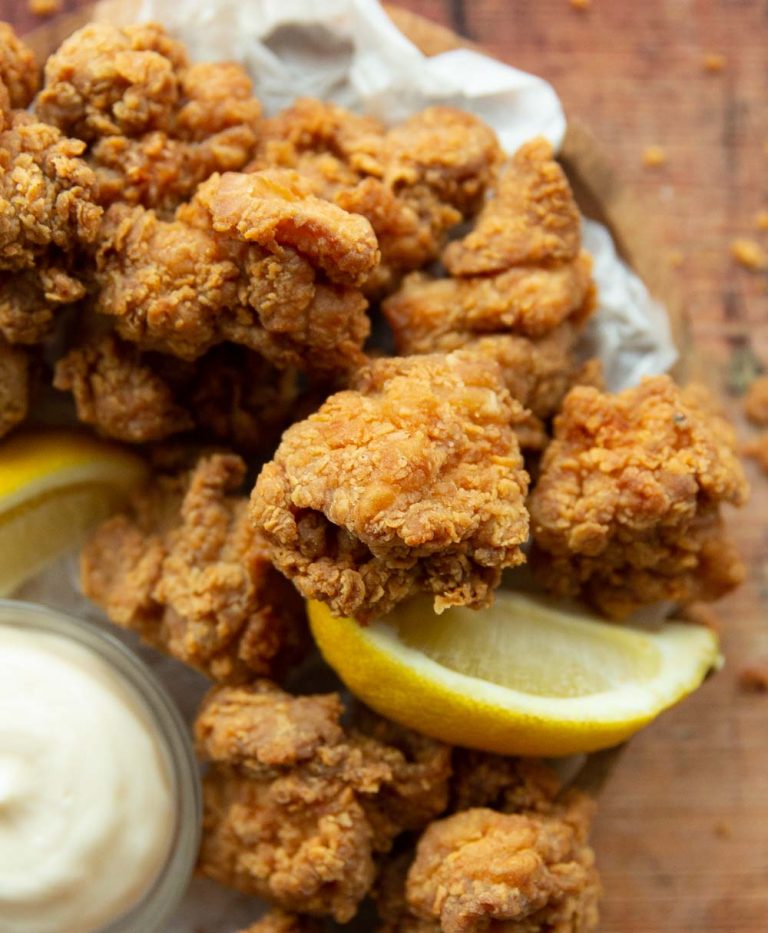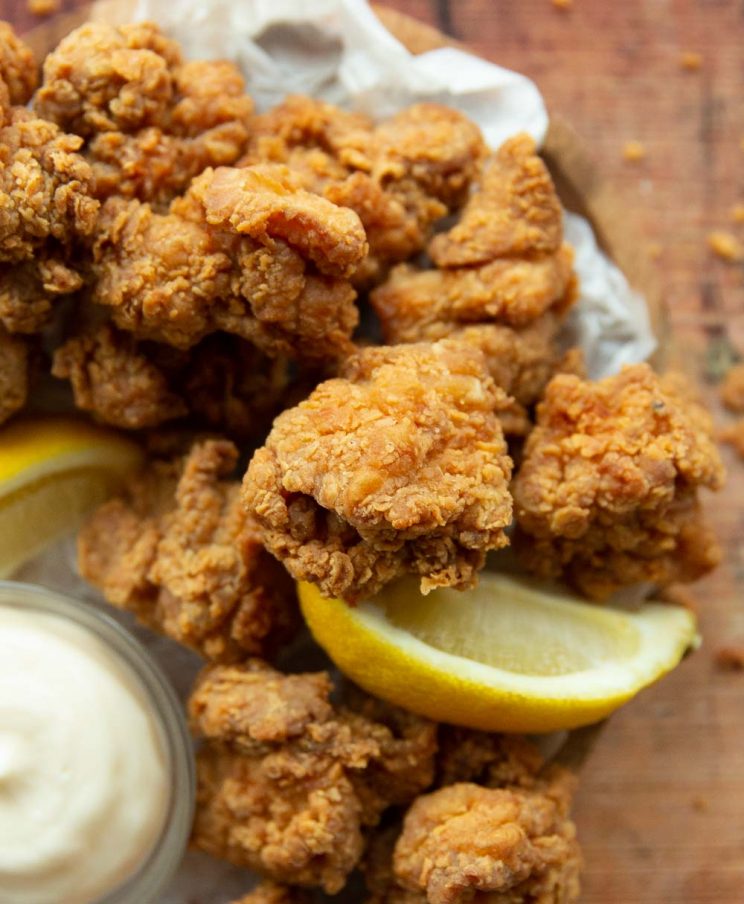 Japanese Chicken Marinade
All good fried chicken recipes start with a good marinade, and this is no exception. For this recipe you'll want to dice chicken thighs into bite sized pieces. I recommend keeping the skin on (adds gorgeous flavour and goes beautifully crisp once fried) but it's not a deal breaker.
Japanese Fried Chicken Marinade
Soy Sauce – All purpose or light soy sauce works best here. This gives the base flavour of the marinade and adds a saltiness to the chicken.
Sake – This is a Japanese rice wine, which will add a touch of flavour to the marinade, but will also help tenderize the chicken. Can omit if you can't find it.
Ginger & Garlic – Both fresh and both minced/grated. Preferably use a paste if you can.
Mayonnaise – Sounds odd, but it will add flavour, help emulsify the fats and also help tenderize the chicken. Use Kewpie (Japanese brand) if you can!
Sesame Oil – Important, don't omit this. It adds a gorgeous nutty flavour to the chicken.
Can I use Chicken Breast?
I don't recommend breast for this recipe. We'll be double frying the chicken (more on this in a sec) and chicken breast will dry out too much. Thigh is more tender and can take higher heat for longer.
How long to marinate for?
Minimum of 30mins, up to overnight.
Process shots: add chicken to mixing bowl (photo 1), add marinade (photo 2), stir to combine (photo 3), cover and marinate (photo 4).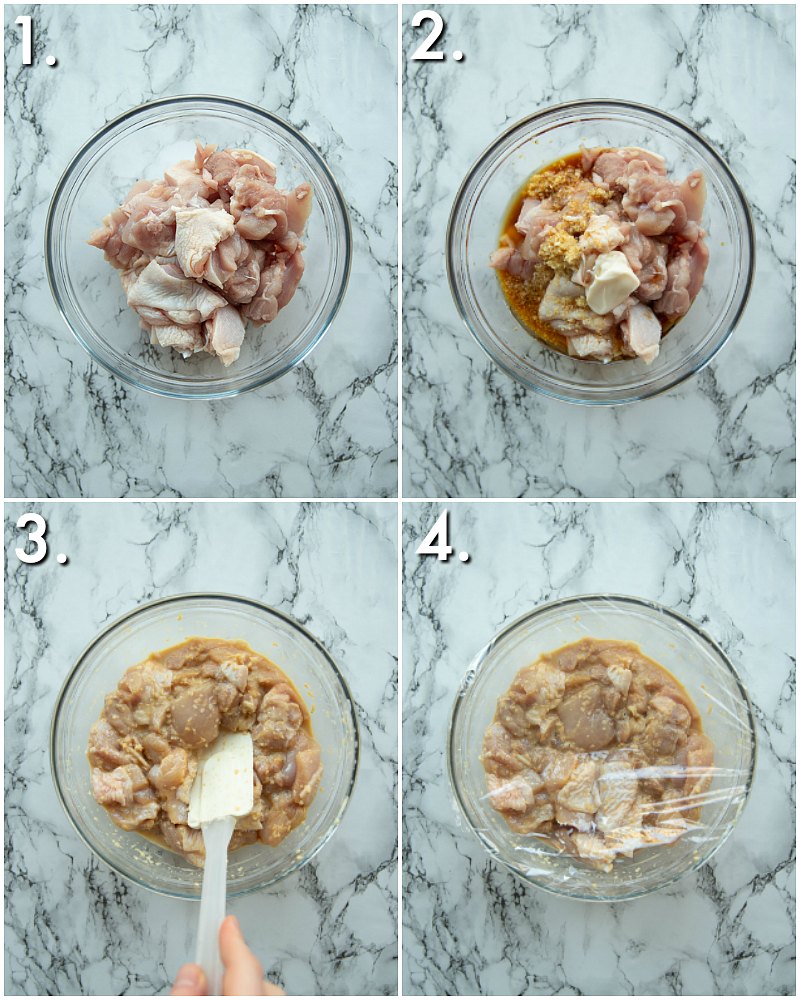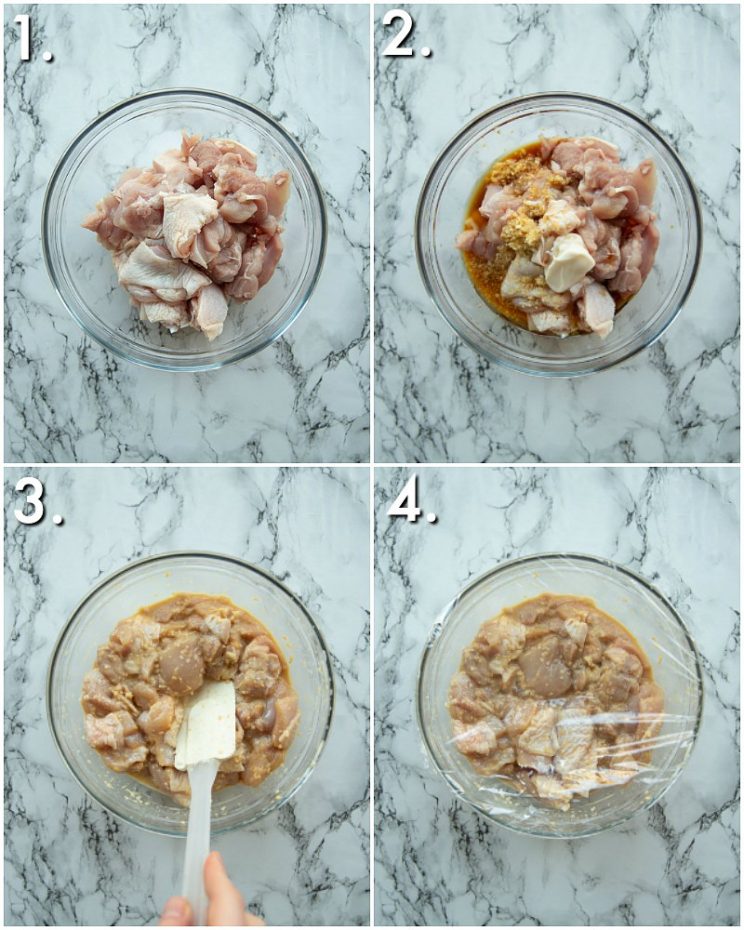 How to make Japanese Fried Chicken
Once you've marinated the chicken it's just a case of dredging through egg and flour/cornstarch. It's important to really work the flour mix into the chicken to create those crusty/craggy bits. Those are the bits that go extra crispy once fried.
Double Deep Fried
The KEY to getting the chicken ultra crispy is to double deep fry it. The first round will cook the chicken through and crisp it up around 80%. You'll then leave it to dry out slightly and pop it back in the oil at a smoking hot temp to flash fry it. This second frying is what takes the crispiness up 10 notches.
What Oil to use?
You'll want to use an oil with a high smoking point, such as vegetable, sunflower or peanut oil. Oils with low smoking points such as olive oil are not suitable, they'll just smoke out the kitchen!
Process shots: dip chicken into egg (photo 1), dredge through flour mix (photo 2), fry in batches (photo 3), rest on wire rack (photo 4), deep fry again (photo 5), drain again (photo 6).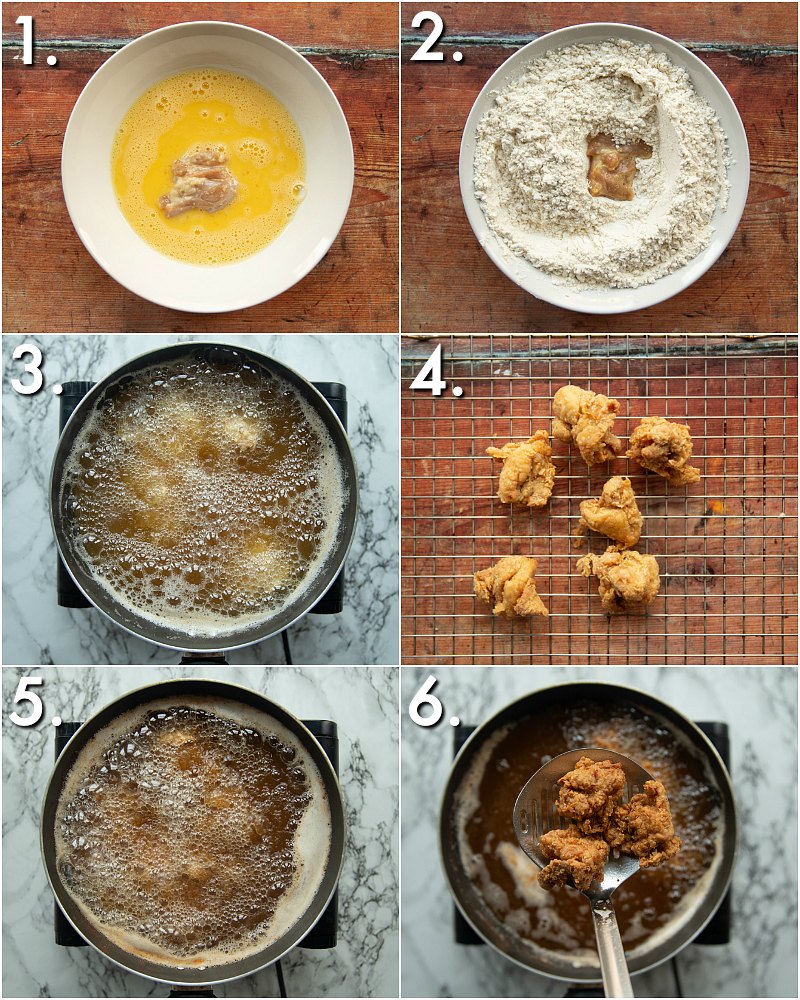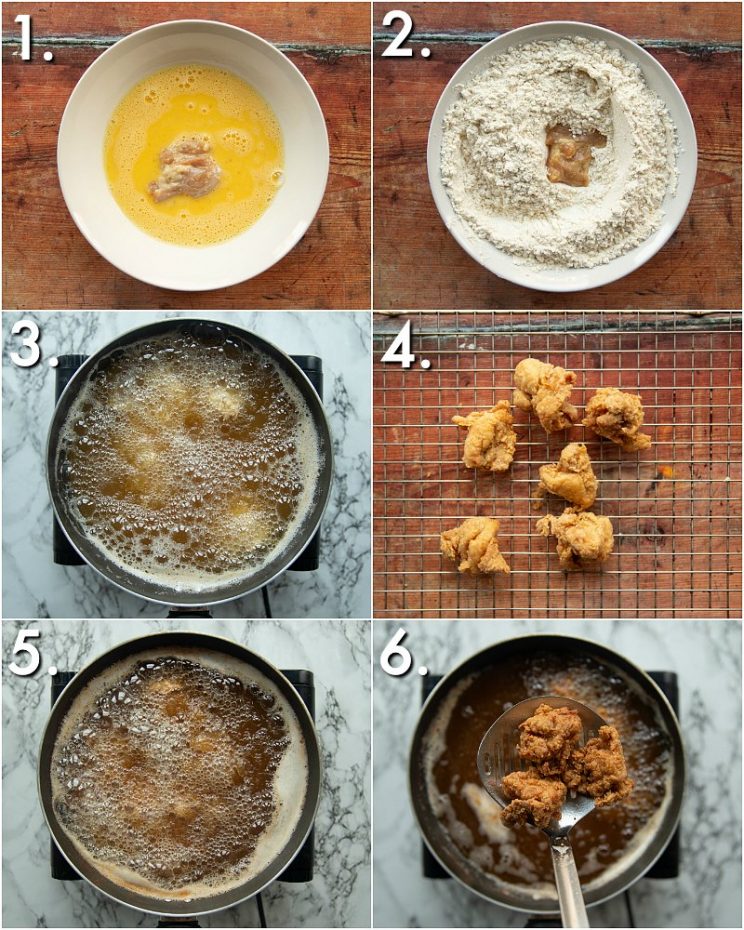 Serving Kaarage Chicken
Once you've deep fried the second time, serve up right away!
What to serve with Kaarage Chicken?
I usually just serve with lemon wedges and mayo (Kewpie). But check out all my Sides and Delicious Dips for inspo!
For another trip around the fried chicken world check out my Thai Fried Chicken!
For more similar recipes check out these beauties:
Fried Chicken Recipes
Alrighty, let's tuck into the full recipe for this Japanese fried chicken shall we?!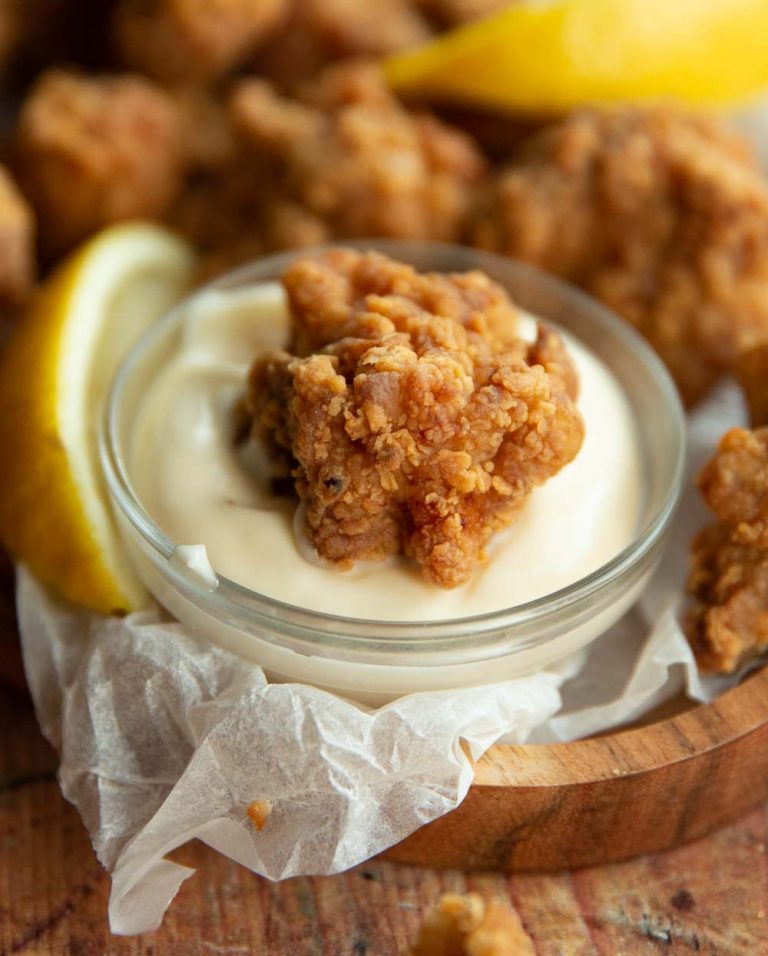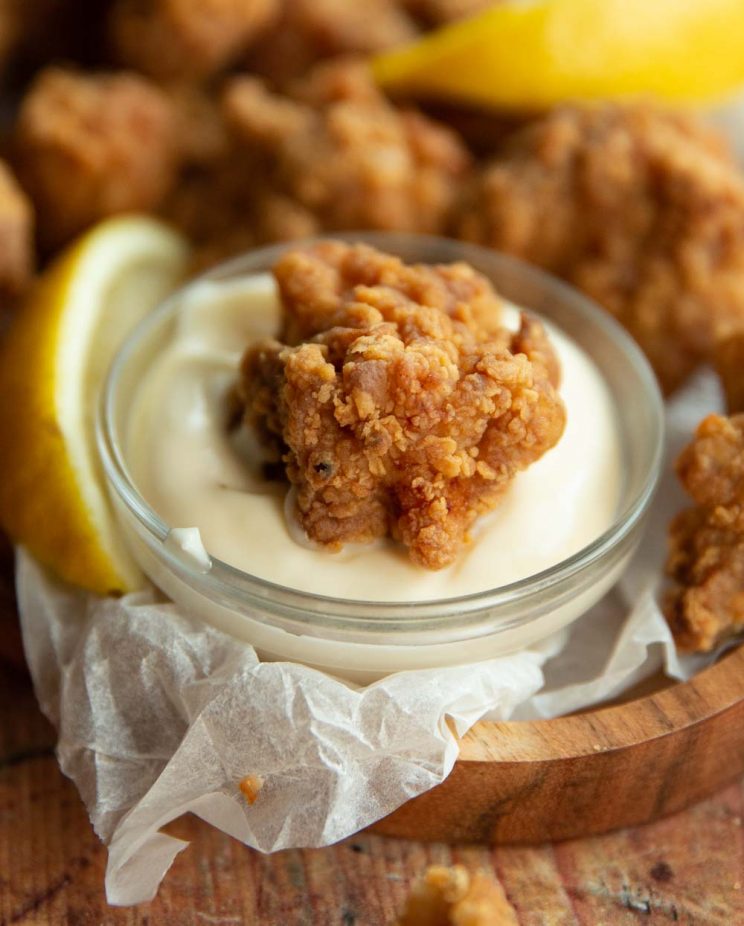 How to make Karaage Fried Chicken

(Full Recipe & Video)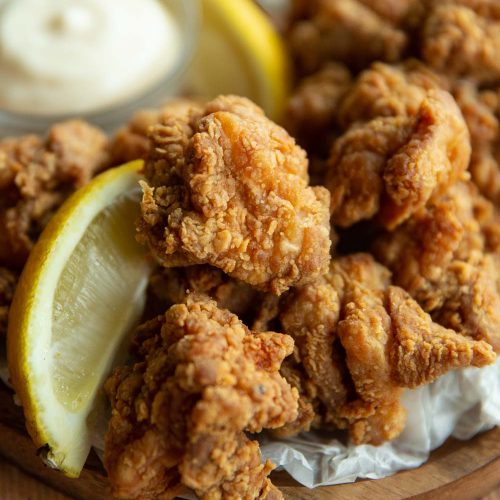 Japanese Fried Chicken (Karaage Chicken)
This Japanese Fried Chicken is ultra crispy on the outside and insanely juicy on the inside. Better still, it couldn't be more simple to make!
Print
Pin
Rate
Share by Text
Servings (click & slide):
4
Calories per serving:
752
kcal
Cost per serving:
£2.50 / $3
Equipment:
Medium Sized Mixing Bowl, Spatula & Cling Film (for marinating)

Large Deep Pot & Slotted Spoon (for deep frying)

2 Shallow Bowls (for dredging)

Sharp Knife & Chopping Board

Wire Rack & Paper Towels

Kitchen Thermometer
Ingredients (check list):
1lb / 500g

(approx 4)

Boneless Skin On Chicken Thighs (can use skinless thighs if that's what you have)

3-4 cups / 750ml-1litre

Vegetable, Peanut or Sunflower Oil (for deep frying)

1 1/2 cups / 225g

Plain Flour (see notes)

1/2 cup / 75g

Cornflour/Cornstarch

2

Eggs, beaten

2

tbsp

All Purpose Soy Sauce

1

tbsp

Sake (can leave out if you can't find it)

2

tsp

Garlic, minced

2

tsp

Ginger, minced/finely grated

2

tsp

Mayonnaise, preferably Kewpie (Japanese brand)

2

tsp

Sesame Oil
Salt & White Pepper, to taste
Instructions:
Marinate: Dice chicken into large bite sized pieces and place in a mixing bowl or large zip lock bag. Add in soy sauce, garlic, ginger, sake, mayo and sesame oil. Give it a good mix then cover with cling film (or zip the bag shut) and marinate in the fridge for a minimum of 30mins (up to overnight).

Dredge: Line up two bowls - the first with beaten egg and the second with flour, cornflour/cornstarch and a few hefty pinches of salt and pepper. Take a piece of chicken, coat in egg then place in the flour. Coat it in the flour, ensuring you really get in every crack and crevice of the chicken. Place on rack then repeat.

1st Fry: Heat up oil in a suitably sized pot/pan to 160C/320F. In batches of 4-5 gently lower the chicken into the oil and fry for 3-4mins until they start to turn a pale golden colour. The first fry is to cook the chicken through and get it to around 80% crispiness. Remove and place on wired rack with paper towels underneath and repeat with remaining chicken.

2nd Fry: This works best if you've let the chicken dry out for 5-10mins. Increase oil temp to 190C/375F-200C/390F and place half of the chicken in and flash fry for 1min 30 seconds, or until the batter turns a deeper golden and the chicken is visibly more crispy. Remove and place back on rack, bring oil back up to temp and repeat with second batch.

Serve: Serve up right away with your dip of choice and lemon wedges (optional)
Notes:
a) Chicken - I usually end up buying skin on chicken thighs and cutting out the bone. To save the hassle you can use skinless thighs, but you will miss out on the gorgeous crispy skin! Chicken breast is not suitable for this recipe, it'll dry out too much on the second fry.
b) Flour - A lot of traditional recipes use potato starch to coat the chicken, but it's quite tricky to find in the UK. As such I've found a combo of flour and cornflour/cornstarch gives you a super crispy coating.
c) Sake - This is a Japanese rice wine, which will add a touch of flavour to the marinade, but will also help tenderize the chicken. You can actually find this in the Asian section of some supermarkets, but if you don't have it just leave it out. Not a deal breaker.
d) Batches - Important to fry the chicken in batches the first time round otherwise you risk it a) sticking together b) lowering the temp of the oil too much. The oil temp will drop slightly, just try maintain it best you. The second flash fry can be done in much larger batches.
e) To Serve - Check out all my Delicious Dips for inspiration!
f) Calories - Overestimate as it assumes all the marinade, flour and cornflour/cornstarch is consumed. Based on 1 tsp oil soaked up per chicken pieces (approx 20 in total)
Your Private Notes:
Nutrition:
Nutrition Facts
Japanese Fried Chicken (Karaage Chicken)
Amount Per Serving
Calories 752
Calories from Fat 423
% Daily Value*
Fat 46.98g72%
Polyunsaturated Fat 9.076g
Monounsaturated Fat 25.739g
Cholesterol 193mg64%
Sodium 401mg17%
Potassium 350mg10%
Carbohydrates 52.11g17%
Protein 27.3g55%
Vitamin A 208IU4%
Vitamin C 0.5mg1%
Calcium 34mg3%
Iron 3.54mg20%
* Percent Daily Values are based on a 2000 calorie diet.
Nutrition is based on the absence of salt unless stated as a measurement in the ingredients. Cost is worked out based on ingredients bought from UK supermarkets, then divided by the number of servings. In both instances these values are just for guidance. Please check out my FAQ Page for more info.
---
If you loved this Karaage Chicken Recipe then be sure to Pin it for later! Already made it or got a question? Give me a shout in the comments and pick up your free ecookbook along the way!