This Thai Fried Chicken takes the same incredible flavours and texture of Hat Yai Fried Chicken and brings them into the comfort of your own home!
If you love Thai street food, fried chicken or just darn tasty food you are in for one heck of a treat today! Follow me…
Thai Fried Chicken
What is Thai Fried Chicken?
Thai fried chicken is also known as 'Hat Yai fried chicken' due to its roots in the southern city of Thailand. This chicken is a popular street food dish across Thailand. It has a gorgeous colour, where the sugar in the recipe comes to the surface and caramelizes in the oil. Its flavour is unique, offering a really deep garlicy, salty flavour.
Is this recipe authentic?
I'm very fortunate to have Thai family, so the base of this recipe was kindly been passed down to me. I've just tweaked a few things here and there to make it approachable without an Asian supermarket. Having eaten copious amounts of fried chicken in Thailand I'd say this recipe is on the money! (I mean, if I do say so myself 🤣)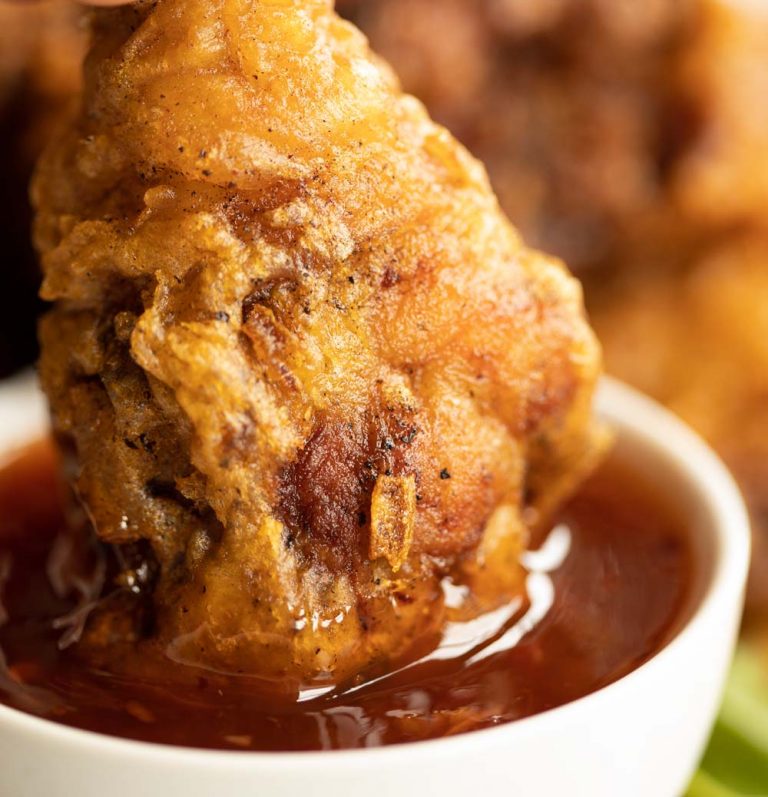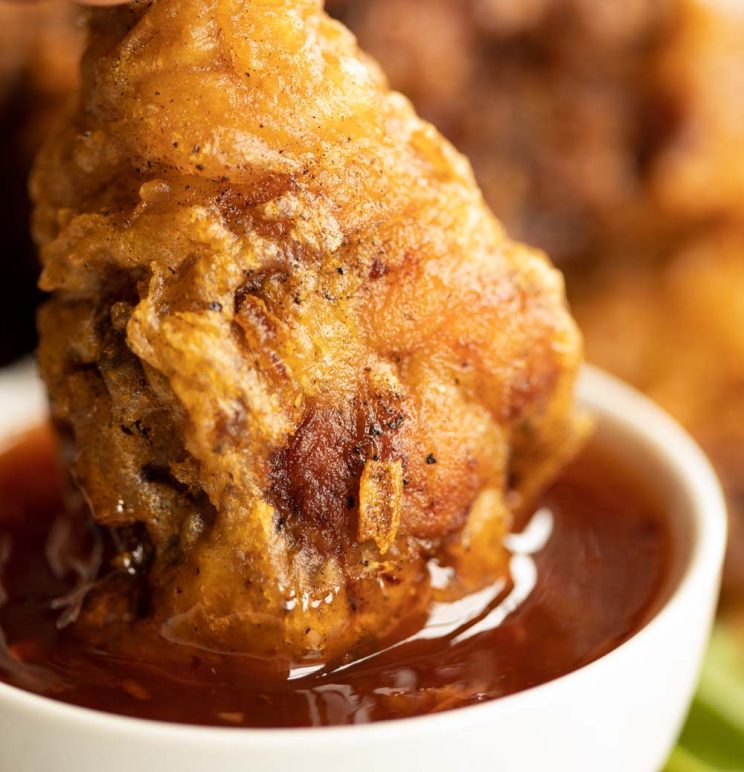 How to Prepare Thai Fried Chicken
For this recipe you'll want to use bone in skin on chicken. Bone in meat tends to be more tender and juicy, whilst skin on offers you extra flavour and a gorgeous crispy casing. I've mostly experienced chicken thighs in my travels through Thailand, but you can really use any cut you like. Here I use thighs and drumsticks.
Thai Fried Chicken Marinade
For the marinade you only need a few simple ingredients. It's best made in a pestle and mortar, but if you don't own one you can finely dice then mash the ingredients with the side of your knife until a paste forms. Here's what you'l need:
Coriander/Cilantro Root – If you want to get large coriander roots you'll have to head to an Asian supermarket. Here I just use the tiny roots that come with store bought coriander, along with some of the coriander stem. Both of these have a much more intense flavour than the coriander leaves.
White & Black Pepper – These offer different flavours so make sure you use both.
Garlic – and lots of it! 5 cloves to be exact.
Salt – Helps grind everything into a paste.
Sugar – Gives that gorgeous deep golden colour once the chicken has fried.
How long to marinate for?
I recommend a minimum of 4 hours, but the longer the better. You'll find best results overnight, but even just an hour will work wonders. In all cases make sure you really rub the marinade into the chicken.
Process shots: add marinade ingredients to pestle and mortar (photo 1), grind into a paste (photo 2), add to large bowl (photo 3), add soy sauce and oyster sauce (photo 4), add chicken (photo 5), combine and marinate (photo 6).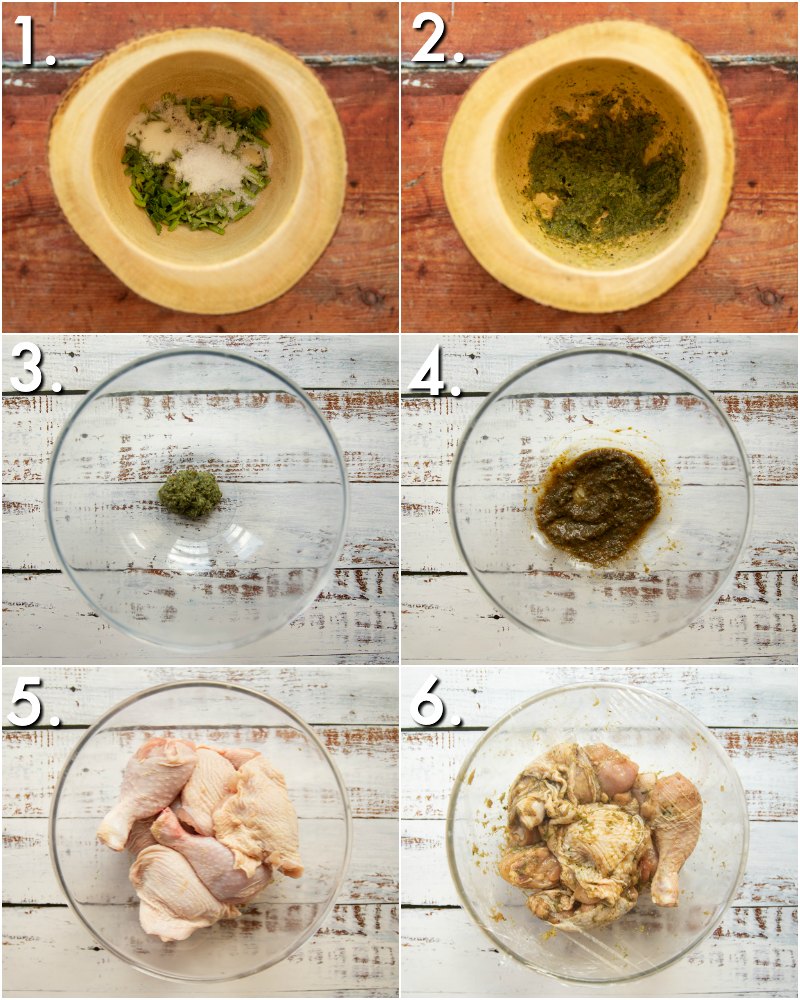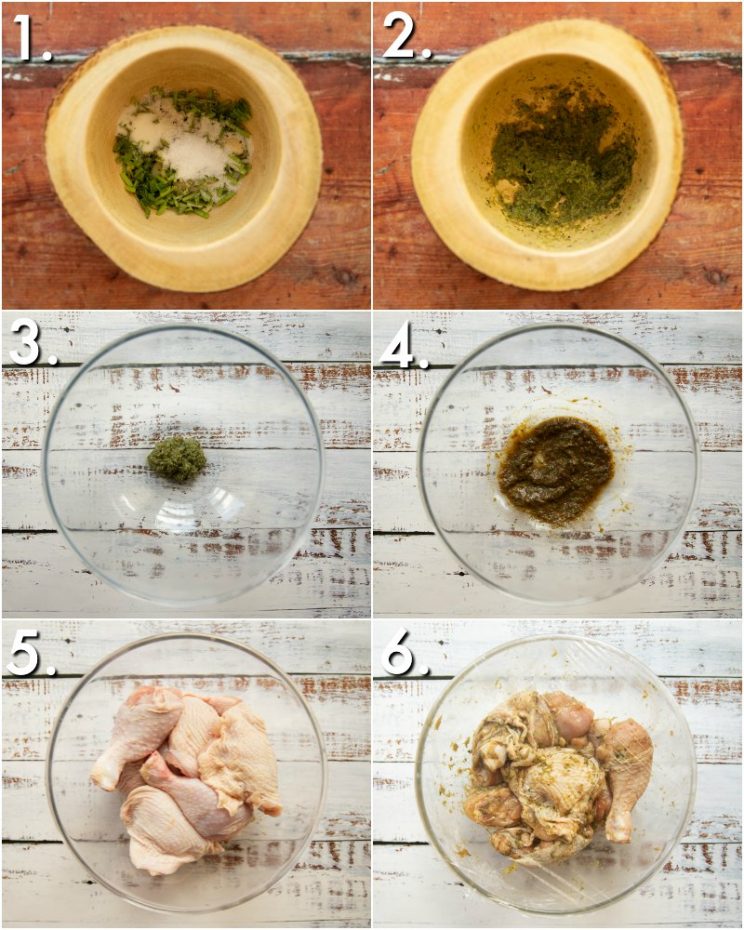 Crispy Fried Shallots
A traditional way to serve Hat Yai fried chicken is to sprinkle over crispy shallots. Now, you can buy these pre-made BUT they are incredibly easy to make at home. There's just two tips I recommend:
Moisture – You want to remove as much moisture from the shallots as possible to ensure they go nice and crispy. To do this I recommend just pressing them between two sheets of paper towel.
Low and Slow – Whilst you might believe that cranking up the heat will get you crispy onions, the opposite is actually true. You want the heat fairly low in order to slowly draw out as much moisture as possible. Plus, shallots go from perfect to burnt VERY quickly.
You can either fry the onions before or after you fry the chicken. The advantage of doing it before is you'll then get all that gorgeous flavour in the pan ready for the chicken. The disadvantage is they aren't quite as crispy as they'll sit there for a little while as the chicken cooks.
Process shots:  add shallots to paper towel (photo 1), press out moisture (photo 2), add to oil (photo 3), deep fry until golden and crispy (photo 4).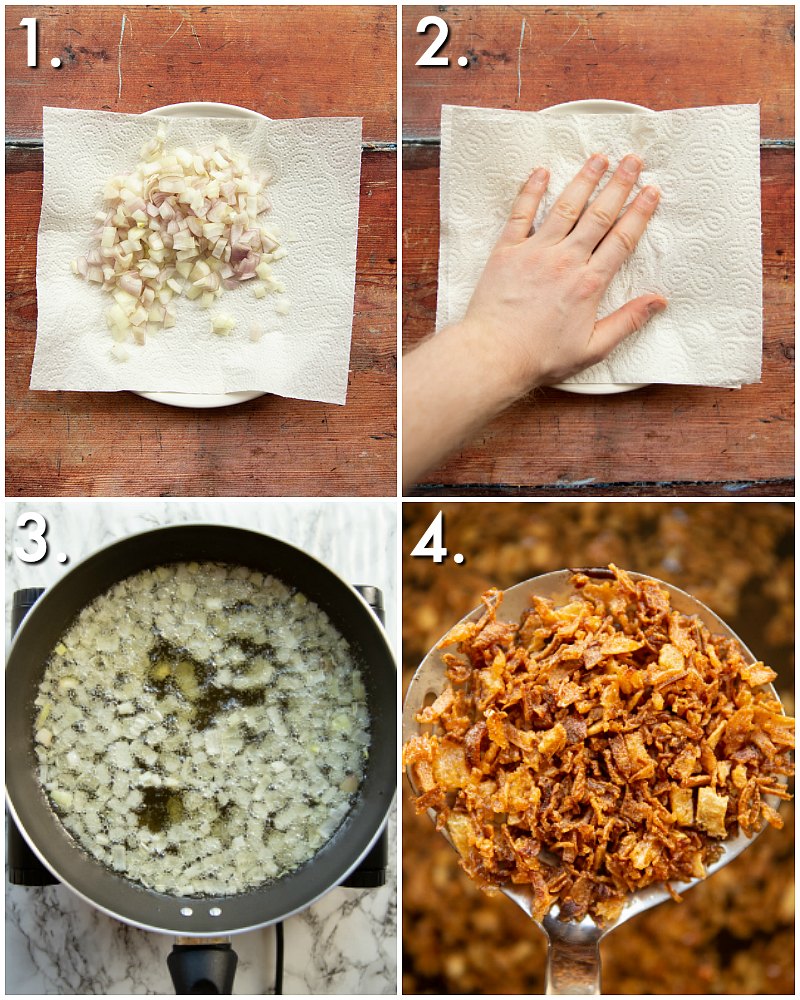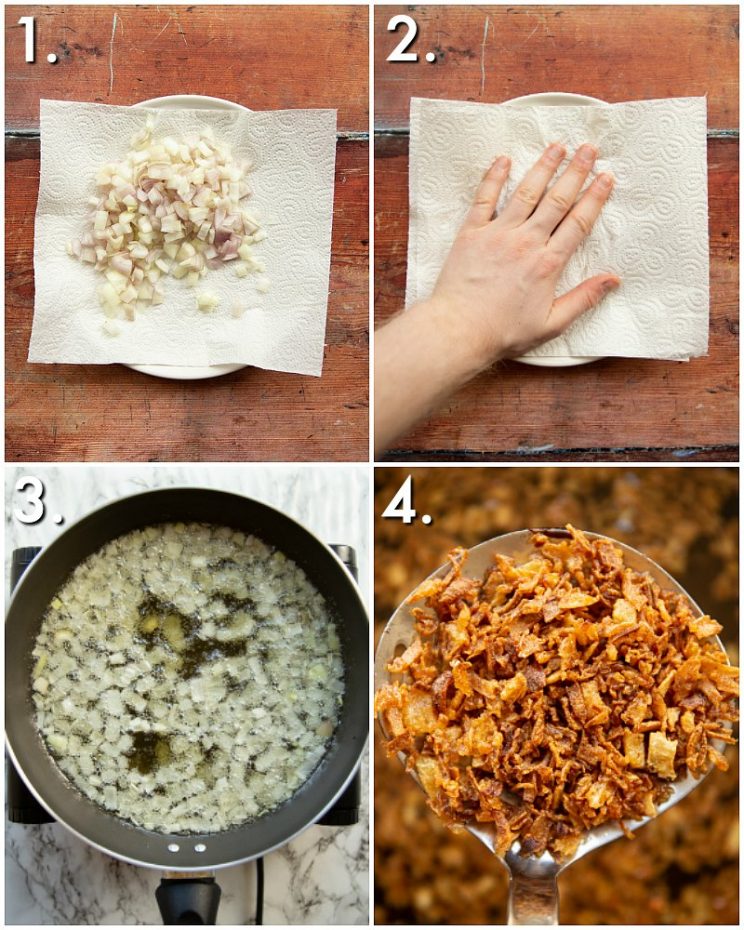 Thai Fried Chicken Batter Mix
When it comes to the crispy batter, a lot of recipes use rice flour. I actually find the best flour to be Tempura flour. Tempura flour is loaded with a few extra goodies (baking powder, cornflour) that results in extra crispiness. I have also made this recipe with regular plain/all purpose flour and it still works great.
Soda Water
The secret ingredient in the batter is soda water. This ensures the batter contains lots of tiny little air bubbles, which gives it that flaky/airy finish. One rule – you must make sure your soda water is COLD. This will cause more of a reaction when the batter hits the hot oil and will result in more tiny bubbles i.e extra crispiness.
Top Tip – An easy way to make sure your batter stays cold is to pop a couple of ice cubes in the batter!
Process shots: add tempura flour to bowl (photo 1), pour in soda water (photo 2), dredge chicken (photo 3), add to hot oil (photo 4), deep fry until golden and crispy (photo 5).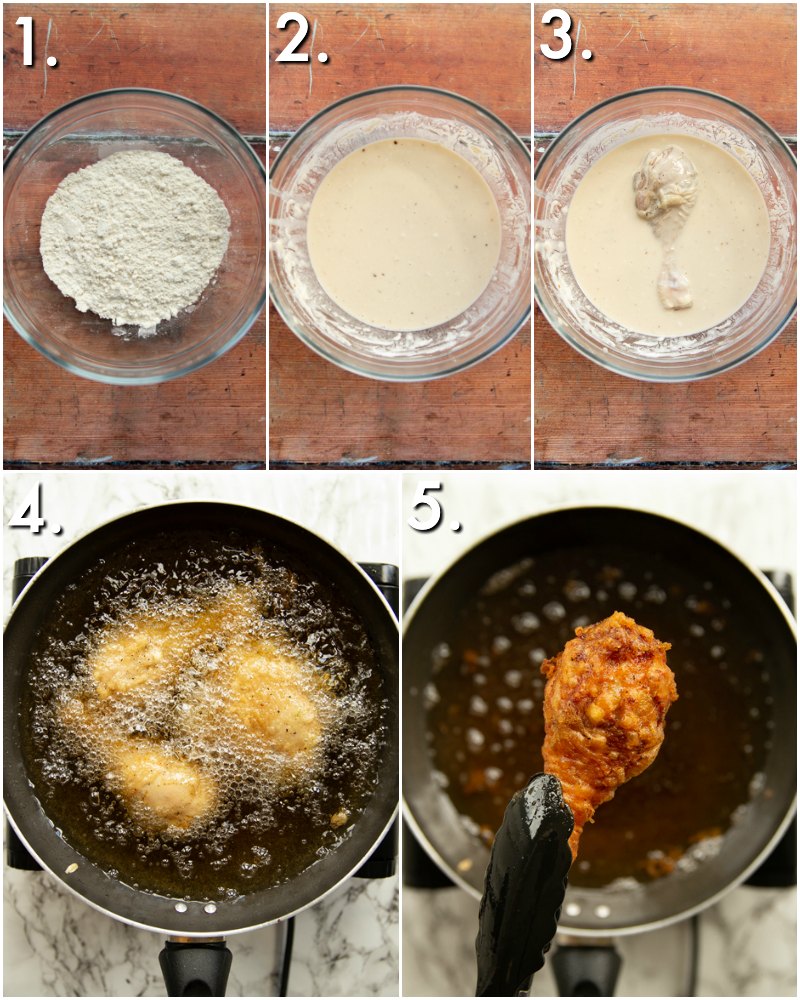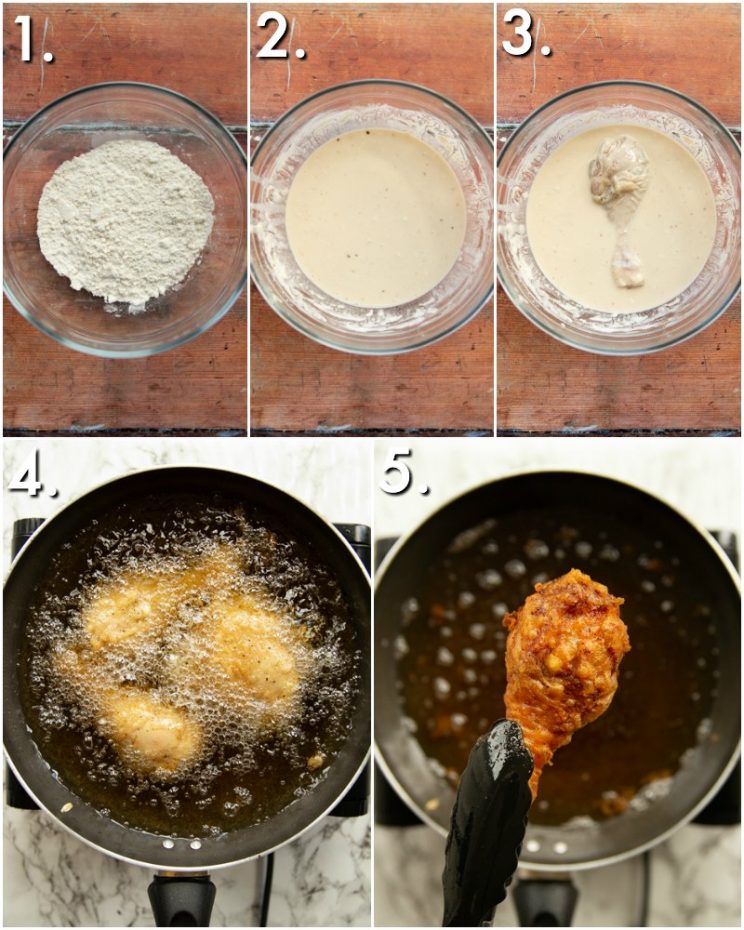 Fry in batches!
Really important to make sure you fry the chicken in batches of 3-4. This will not only ensure the chicken doesn't stick together, but it'll also ensure the oil temp doesn't drop too much.
Once you've fried the chicken lay it on a cooling rack with paper towels underneath to catch excess oil. You can also add a pinch of salt, which will help draw out the final bit of moisture from the batter.
What to serve with Thai Fried Chicken?
Crispy shallots go straight over the top. Alongside that I highly recommend a dip – here I've used Thai Sweet Chilli Sauce. Alongside this if I want to make it into more of a meal I'll add sticky rice.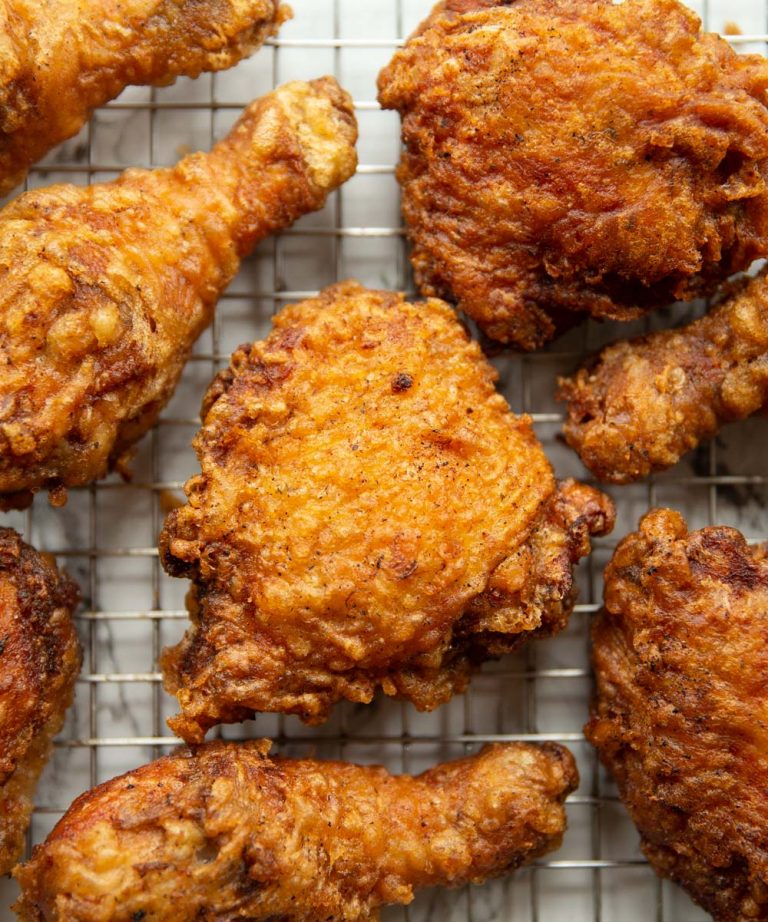 And there we have it! All my top tips for perfect Thai fried chicken.
For more awesome Thai recipes check out my Thai Spring Rolls and Chicken Thai Green Curry!
For more similar recipes make sure you check out these beauties:
Fried Chicken Recipes
Alrighty, let's tuck into the full recipe for this Thai fried chicken shall we?!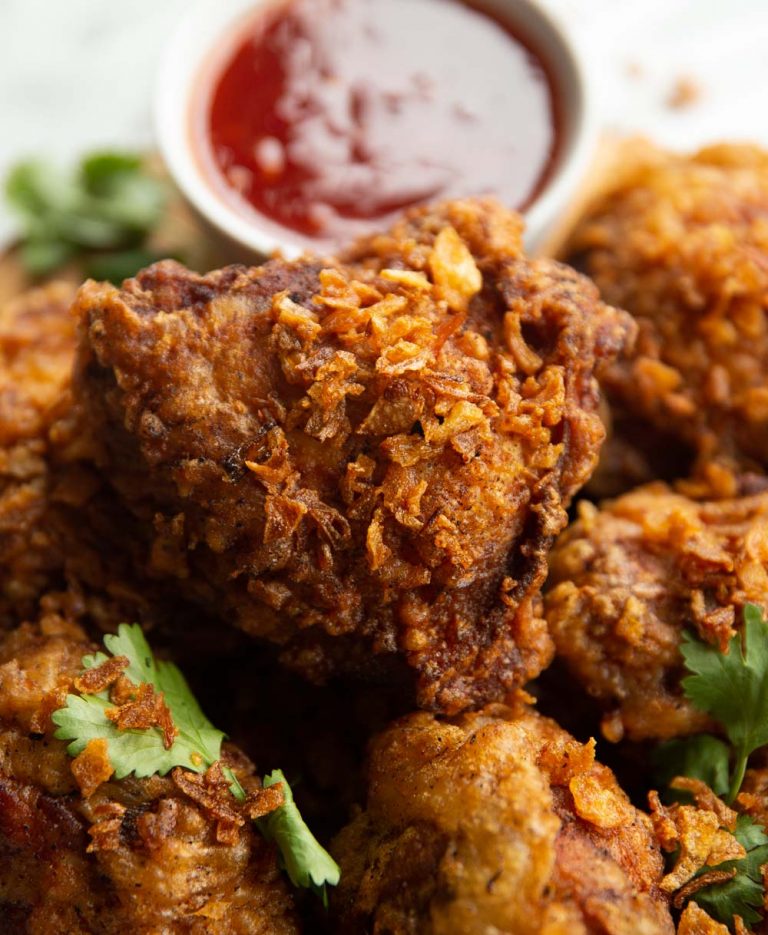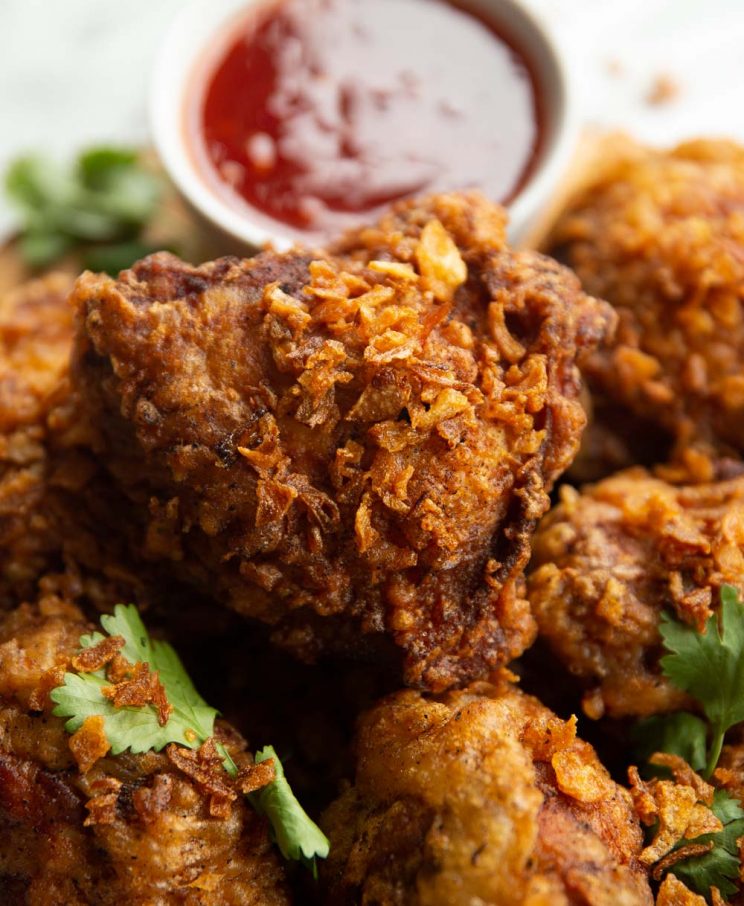 How to make Thai Fried Chicken

 (Full Recipe & Video)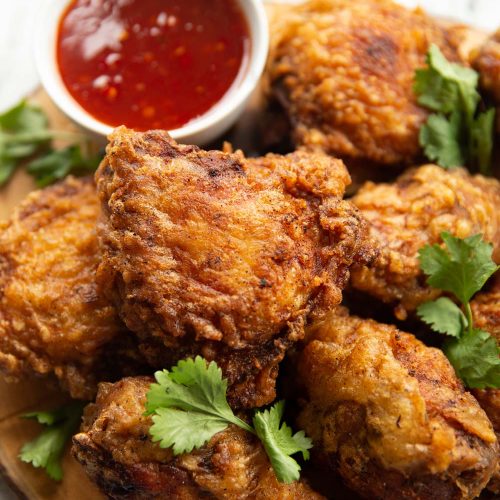 Thai Fried Chicken
This Thai Fried Chicken takes the same incredible flavours and texture of Hat Yai Fried Chicken and brings them into the comfort of your own home!
Print
Pin
Rate
Share by Text
Servings (click & slide):
4
Calories per serving:
910
kcal
Cost per serving:
£3 / $4
Equipment:
Large Pot & Slotted Spoon (for deep frying)

Pestle & Mortar (see notes for sub)

Large Mixing Bowl & Cling Film (for marinating)

Medium Mixing Bowl (for dredging)

Sharp Knife & Chopping Board

Paper Towels

Kitchen Thermometer

Cooling Rack
Ingredients (check list):
Marinade
2.5lb / 1.2kg

bone in skin on Chicken Pieces, patted dry with paper towels (drumsticks and thighs work best)

5

cloves of

Garlic, peeled

1/4 cup

roughly chopped

Coriander/Cilantro Roots & Stems, washed as necessary (see notes)

1

tbsp

Light Soy Sauce

2

tsp

Oyster Sauce

1

tsp

Sugar

1/2

tsp EACH:

Salt, White Pepper, Black Pepper
Batter
1 cup / 128g

Tempura Batter (see notes)

3/4 cup / 180ml

COLD

Soda Water

1

tsp

Chicken Boullion Powder/Oxo Cube

1-2

Ice Cubes (optional)

3-4 cups / 750ml-1litre

Vegetable Oil, for deep frying
To Serve
4

Shallots, finely & evenly diced (to make crispy shallots)
Sticky Rice
Thai Sweet Chilli Sauce
Instructions:
In a pestle and mortar add 5 cloves of garlic, 1/4cup roughly diced coriander/cilantro roots & stems, 1 tsp sugar and 1/2 tsp salt, white & black pepper. Grind into a smooth paste.

Scoop into a large mixing bowl and stir in 1 tbsp soy sauce and 2 tsp oyster sauce. Add in chicken pieces and coat with your hands. Really rub the marinade into the meat. Pop cling film over the top and place in the fridge. I recommend a minimum of 4 hours, but marinate for as long as you have time for (best results over night).

Meanwhile, place your diced shallots between two paper towels. Firmly press down with your hands to squeeze out as much moisture as possible. Place to one side.

Heat up oil in a large pot to 120C/250F and add in your shallots. Make sure the heat does not creep any higher, you want to fry them fairly low and slow to bring out as much moisture as possible, so they turn out extra crispy. Fry until they start turning from a light golden colour, to a slightly deeper brown. These go from perfect to burnt VERY quickly. Once cooked remove and lay on paper towels.

Heat up oil to 175C/350F. In a medium sized mixing bowl mix together tempura batter and chicken powder. Pour in COLD soda water and stir until the lumps smooth out. You want the consistency like heavy/double cream. Take a piece of chicken and coat in the batter, then carefully lower into the oil. You'll need to do this in batches of 3-4. I usually pop an ice cube in the batter to keep it cold. The colder it is the crispier the chicken will be.

The temp will drop to around 165C/330F, and that's fine, just keep it on that heat. Depending on the size of the chicken pieces it'll take around 5-8mins on each side. Once cooked rest on cooling rack with paper towels underneath. You want the chicken to be brown and crispy on the outside, with the centre piping hot (internal temp 165F/75C - take into consideration it continues cooking slightly once out the oil). See notes if at all weary.

Season the chicken with a final pinch of salt (optional) and serve with crispy shallots on top with sweet chilli sauce on the side. Enjoy!
Notes:
a) Coriander/Cilantro Roots - Traditionally you'd use coriander root, but it's sometimes tricky to get your hands on these (unless you got to an Asian supermarket). As such I recommend you buy a plant pot of coriander/cilantro (growing in soil) so you can pull out the coriander, wash the ends and snip them off. The roots will be much smaller than traditional coriander roots, that's why I use some of the stem as well. Both of these have much more flavour than the leaves. b) Tempura Batter - Tempura Batter is best for an ultra crispy coating on the chicken. Other traditional recipes use Rice Flour, but I find sometimes find this to be too dusty/flakey. If you can't find rice or tempura flour, I have made this with regular all purpose/plain flour and it still works great! c) How long to fry chicken? - This will be dependent on the size of the chicken pieces, but you're looking for a min of 10mins. In general just make sure the oil temp stays around 165C/330F and you don't add in more than 3-4 pieces at a time. You're looking for the centre to be piping hot and for the juices to run clear. As mentioned, the chicken will continue cooking as it rests, so just take that into consideration. d) Can I make the marinade without a Pestle and Mortar? - If you don't have a pestle and mortar I recommend very finely dicing the ingredients, then use the side of the blade of your knife to rub it into the salt until a paste forms. e) Do I have to make Fried Shallots? - Nope! You can leave these out if you wish. Or, dare I say, you can buy store-bought fried onions! But you didn't hear that from me... f) Calories - very difficult to work out but this is a slight over estimate, assuming 16 tsp oil is soaked up and all the batter in used. Assumed the recipe is divided by 4 people. No sides or shallots, just the chicken.
Your Private Notes:
Nutrition:
Nutrition Facts
Thai Fried Chicken
Amount Per Serving
Calories 910
Calories from Fat 556
% Daily Value*
Fat 61.78g95%
Polyunsaturated Fat 12.049g
Monounsaturated Fat 30.837g
Cholesterol 213mg71%
Sodium 634mg26%
Potassium 608mg17%
Carbohydrates 28.51g10%
Protein 56.69g113%
Vitamin A 467IU9%
Vitamin C 6mg7%
Calcium 51mg5%
Iron 4.25mg24%
* Percent Daily Values are based on a 2000 calorie diet.
Nutrition is based on the absence of salt unless stated as a measurement in the ingredients. Cost is worked out based on ingredients bought from UK supermarkets, then divided by the number of servings. In both instances these values are just for guidance. Please check out my FAQ Page for more info.
---
If you loved this Thai Fried Chicken Recipe then be sure to Pin it for later! Already made it or got a question? Give me a shout in the comments and pick up your free ecookbook along the way!