These Croissants are stuffed with melted cheese, creamy scrambled eggs and juicy fried mushrooms. Perfect for a weekend breakfast!
I don't know about you, but when I think of 'croissants' my mind usually goes straight to sweet. But, these beauties work just as well (if not better IMO) in a savoury context. Breakfast croissants are incredibly versatile, but today I'll show you exactly how I like mine. Follow me…
Egg Croissants
An absolute must in a breakfast croissant is egg, and my favourite way to cook eggs for croissants is scrambled. You get that gorgeous creamy texture contained inside a light and crispy croissant.
Now, everyone has their own way of making scrambled eggs, and each to their own. But what I will say, is if you haven't tried scrambled eggs that are cooked low 'n' slow to produce a creamy, rich and luxurious finish, you are missing out. Here's my tips for what I deem to be the perfect scrambled eggs:
Low 'n' Slow – Gone are the days of cooking scrambled eggs in a couple of minutes. The aim of the game with cooking eggs low and slow is to very gently cook the eggs over 10-15mins. You want to create a custardy texture and fry until they're only just cooked through, which allows them to finish cooking outside the pan. Like I said, this will result in a really velvety texture, as opposed to dry scrambled eggs. Cooking them low and slow also develops the flavours of the eggs and brings out their natural richness. It's worth the wait – promise!
Long Curds – Don't frantically stir the eggs, this will result in lots of small dry pieces of egg. You want to create long, velvety strips of egg. Using a spatula massively helps with this!
Butter – All you need is eggs, a pinch of salt and some butter to fry. No milk or cream needed. The butter will not only help the eggs not stick to the pan, but will also add to the natural richness of the eggs.
How many eggs are in a serving of scrambled eggs?
If i'm having scrambled eggs and only scrambled eggs (or eggs on toast) I'll do 3 eggs per person. But here you're adding a couple more ingredients inside the croissant, so I reduce down to 2.5 per person (5 in total).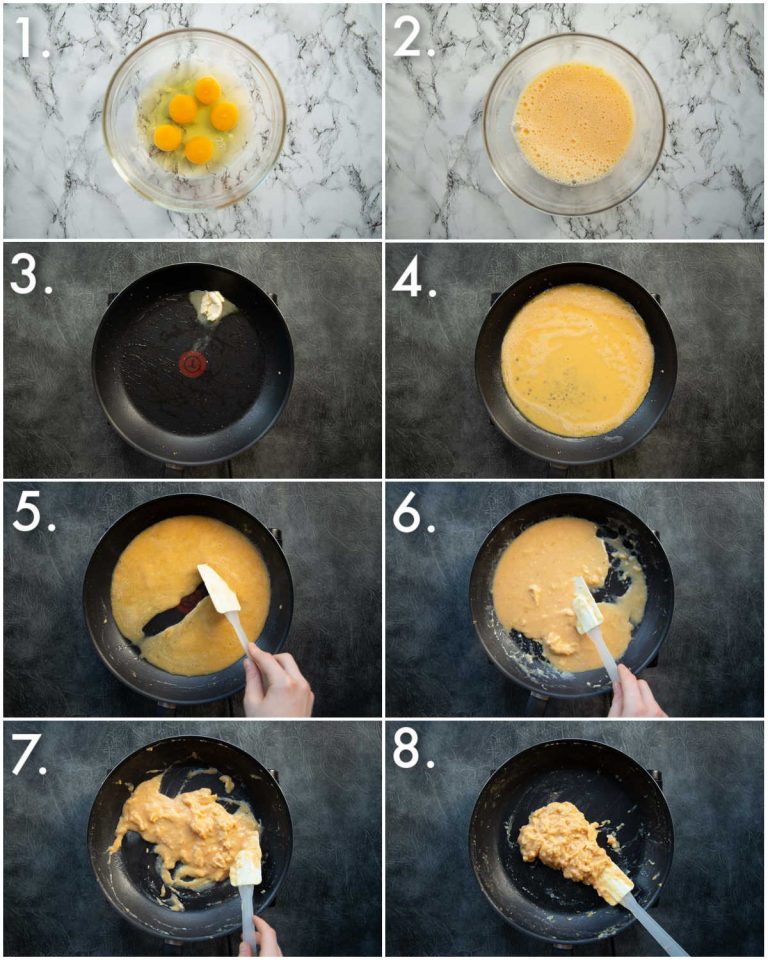 Mushroom Croissant
Alongside the scrambled eggs I love adding in some fried mushrooms. Something a bit different and they add a gorgeous punch of flavour too. Just like the scrambled eggs, pan frying mushrooms is pretty foolproof. BUT, there are a few simple tips that can really enhance your mushrooms!
Tips for pan frying mushrooms
Overcrowding – putting too many mushrooms in the pan at once will cause the mushrooms to steam instead of fry. You want to space them out as best you can so they have room to fry.
Leave to fry – don't continue stirring as they fry. Just plonk them in, spread them out and leave them to brown on one side. Then flip and brown the other side. You want to make sure each side has a good amount of time with direct contact on the pan, just so they caramelize properly.
Seasoning – adding salt to the mushrooms will draw out moisture, so do it after they've browned. You'll find that adding salt right at the beginning will draw out too much water from the mushrooms and cause them to steam instead of fry.
To fry the mushrooms all you need is a bit of butter and some garlic. Mushrooms and garlic are a marriage that should never be split and butter makes everything better!
Process shots: melt butter (photo 1), add mushrooms and fry (photo 2), flip and add garlic and s&p (photo 3), fry then remove (photo 4).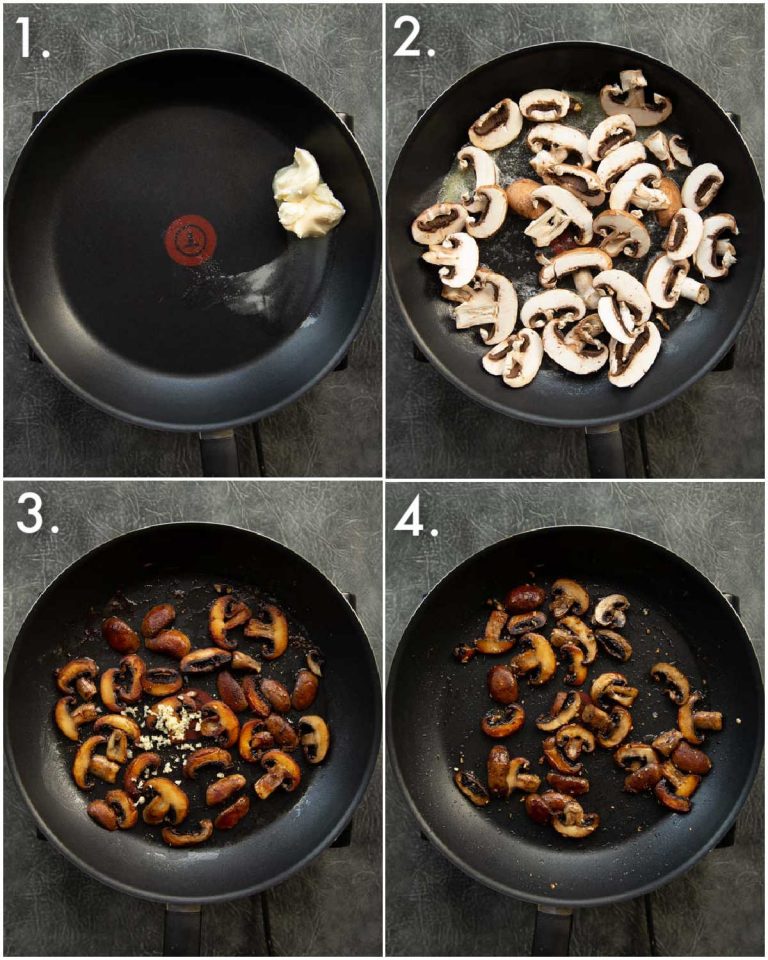 Breakfast Croissant Sandwich
Soft and creamy scrambled egg ✅
Perfectly pan fried mushrooms ✅
Now let's talk sandwich. Beside the croissant itself, the only other thing you'll need is cheese. I recommend either a Swiss style cheese (goes perfectly with mushrooms) or a cheddar, which will pack in more flavour.
What else could I add to a breakfast croissant?
For me it's perfect as it is, but the other obvious breakfast additions to add could be bacon, ham or sausage! If you're not a fan of mushrooms you can sub with any of those. Scrambled egg not negotiable 😛
Process shots: slice open croissants (photo 1), add cheese and bake (photo 2), place on chopping board (photo 3), top with scrambled eggs (photo 4), add mushrooms (photo 5), fold over (photo 6).
Serving Breakfast Croissants
These are perfect for if you want to put in a bit more time and effort into your breaky. For me that's usually the weekend. They're quite hearty as they are put you could serve with some hash browns if you wanna go wild!
For another easy and delicious croissant recipe that's PERFECT for breakfast/brunch, check out my Blackberry, Bacon & Brie Filled Croissants!
For more similar recipes check out these beauties too:
Fun Breakfast Recipes
Alrighty, let's tuck into the full recipe for this breakfast croissant shall we?!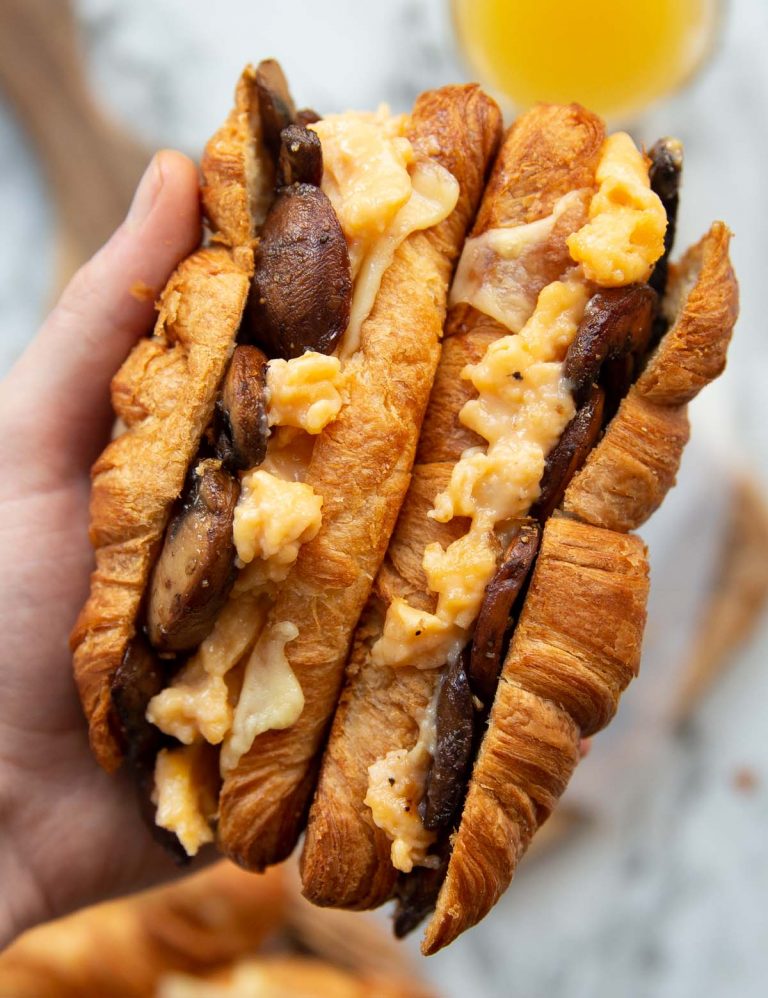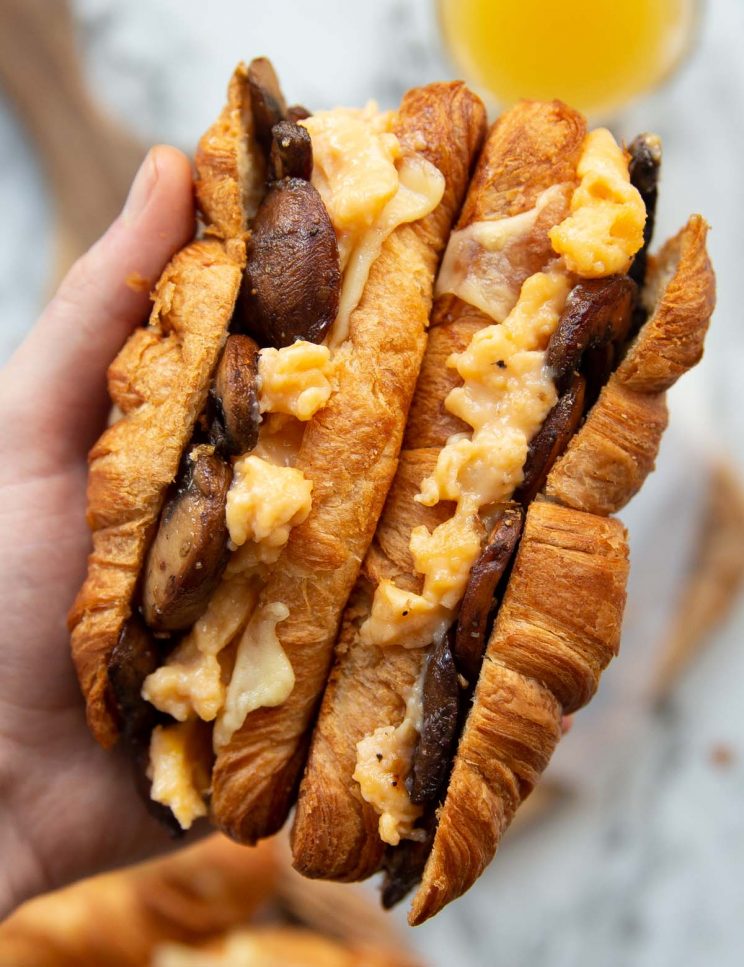 How to make Breakfast Croissants

 (Full Recipe & Video)
Breakfast Croissants
These Croissants are stuffed with melted cheese, creamy scrambled eggs and juicy fried mushrooms. Perfect for a weekend breakfast!
Print
Pin
Rate
Share by Text
Servings (click & slide):
2
croissants
Calories per serving:
674
kcal
Cost per serving:
£2.50 / $3
Equipment:
Large Non-Stick Frying Pan & Spatula

Medium Sized Mixing Bowl & Whisk

Sharp Knife & Chopping Board

Spatula (for scrambled eggs)

Baking Tray (for cheese & croissants)
Ingredients (check list):
2

large

Croissants, sliced through the centre but still attached

5

Eggs

5.3oz / 150g

Mushrooms, of choice (sliced)

3

tbsp

Butter

2

large slices of

Cheddar or Swiss Cheese

1

small clove of

Garlic, finely diced/minced
Salt & Pepper, to taste
Instructions:
In a medium sized mixing bowl add 5 eggs with a pinch of salt and beat until smooth. Place to one side.

In a large frying pan over medium heat melt in 2 tbsp butter. Add mushrooms and spread them out as best you can (important so they don't steam). Leave to fry until golden on one side, then flip over and continue frying. When they've got a couple of mins left until the other side is browned add in minced garlic and a pinch of salt and pepper. Continue frying then remove and place to one side.

Turn heat to low and melt in 1 tbsp butter. Pour in beaten egg and gently stir to keep the eggs from catching on the pan. After around 5mins or so the eggs should start to turn into a thick custardy texture, with smaller curds forming. Keep on low heat.

Stir in a circular motion to form larger curds. Don't dice the egg up into tiny pieces, you want nice long curds. When the eggs have formed into large soft curds, but still slightly runny, take them off the heat. They will continue cooking as they rest. This process can take anywhere between 10-15mins if you keep it low and slow!

Meanwhile open croissants up and lay on a baking tray. Add cheese to one side and pop in the oven at 180C/350F until the cheese melts (5mins or so). Add scrambled egg, top with mushrooms then close the croissants. Enjoy!
Notes:
a) Cheese - Swiss goes notoriously well with mushrooms, but cheddar will pack in more flavour. You could use grated if that's all you have. 1/4cup/25g per croissant should suffice.  b) Other fillings/Can I sub the mushrooms? - If you want to add some more fillings or sub the mushrooms with something bacon, ham or sausage all go well! c) Calories - Per croissant:
Your Private Notes:
Nutrition:
Nutrition Facts
Breakfast Croissants
Amount Per Serving
Calories 674
Calories from Fat 412
% Daily Value*
Fat 45.77g70%
Saturated Fat 23.229g
116%
Polyunsaturated Fat 4.654g
Monounsaturated Fat 14.09g
Cholesterol 498mg166%
Sodium 677mg28%
Potassium 521mg15%
Carbohydrates 35.6g12%
Protein 29.82g60%
Vitamin A 1786IU36%
Vitamin C 2.2mg3%
Calcium 301mg30%
Iron 4.04mg22%
* Percent Daily Values are based on a 2000 calorie diet.
Nutrition is based on the absence of salt unless stated as a measurement in the ingredients. Cost is worked out based on ingredients bought from UK supermarkets, then divided by the number of servings. In both instances these values are just for guidance. Please check out my FAQ Page for more info.
---
If you loved this Breakfast Croissant recipe then be sure to Pin it for later! Already made it or got a question? Give me a shout in the comments and pick up your free ecookbook along the way!