Making your own fresh homemade pesto couldn't be more simple. Here I'll show you exactly how to make basil pesto in the tastiest way possible – Hungry now? Jump to Recipe

So grab that jar of store bought jar of pesto and throw it out the window. Hmm, actually just use the rest of it before someone gets hurt, but after that you'll never have to buy a premade jar again! *victory dance*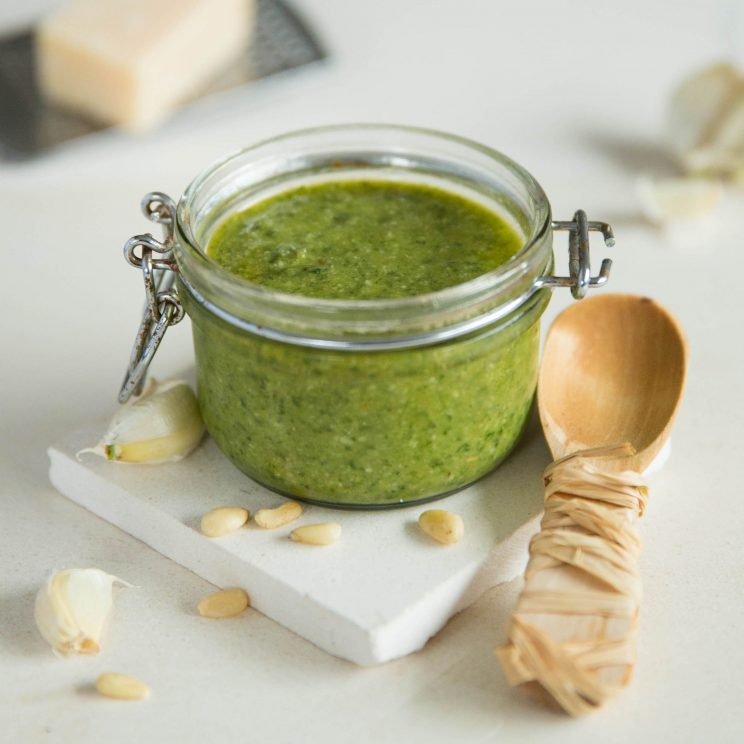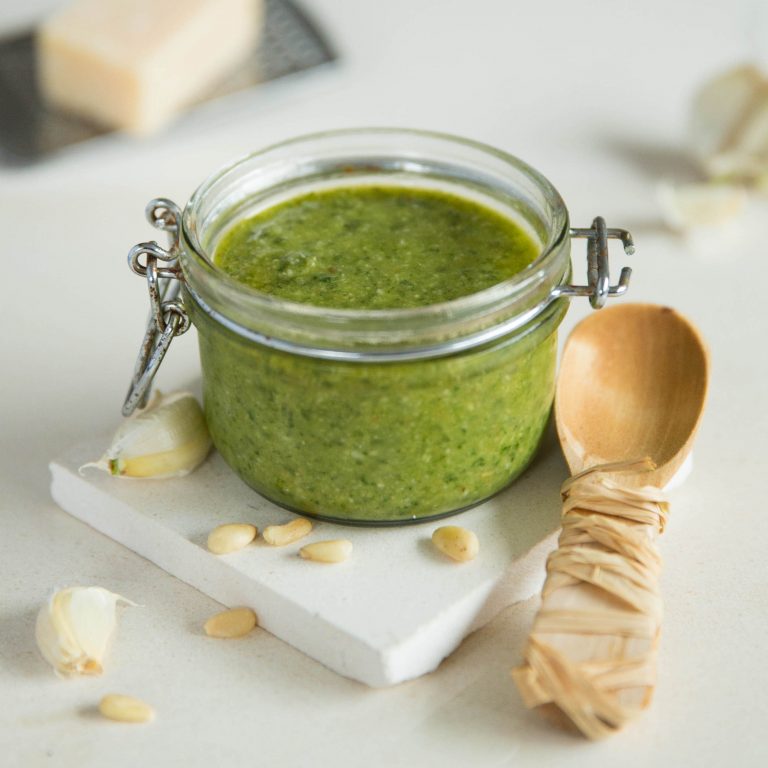 Basil pesto is an absolute staple in my house for a couple of different reasons. Firstly, it's so freaking easy to make. As someone who prides their blog on easy-to-make recipes, quick 5 ingredients recipes like pesto make me extremely happy! The second reason is it's versatility. For real, this stuff goes with literally anything. Just whip up a batch of it, store it in the fridge and put it on every meal you make after that. Versatility and storage are two things we'll talk about in a sec. But first things first.
How to make Basil Pesto – Ingredients
Fresh Basil
Extra Virgin Olive Oil
Garlic
Parmesan
Pine nuts
Lemon (optional)
This combination of ingredients truly is something special. The texture too, ugh, so silky with a nice little bite to it.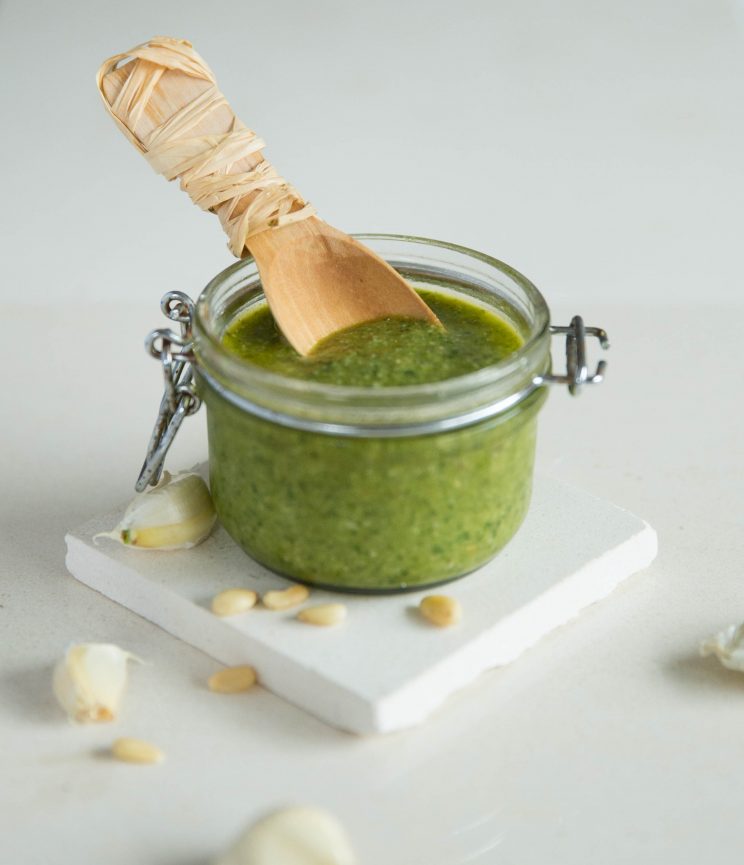 Just before we tuck into the recipe, here I've gathered a few tips to help you have the best pesto experience possible. Any I've forgotten? Just give me a shout in the comments.
Top 5 FAQs about Basil Pesto
What can I use instead of Pinenuts in pesto?
Pine nuts have a gorgeous sweet and almost buttery taste to them, they really are perfect for pesto. But as we all know, they're bloomin' expensive. If you're looking to substitute because of this reason, almonds, pistachios and walnuts have all been known to work well. Cashews also have a subtle taste to them so they could also work well. If you're looking to substitute for allergy reasons, sunflower seeds work, however they may turn your pesto slightly grey.
Blender or Pestle and Mortar to make pesto?
Preference goes to Pestle and Mortar. A blender with simply cut the ingredients into teeny weeny pieces, where a pestle and mortar will crush them, breaking down the cell walls and releasing the flavours. HOWEVER, you will still get tasty pesto in a blender.
If using a Pestle and Mortar – start by crushing garlic with salt, this will form a paste. Then begin adding in your basil as much as you can at a time. Follow with your nuts and parmesan and crush to desired texture. Finish by mixing in your oil around 1 tbsp at a time to emulsify.
If using a blender – mix your garlic with nuts to form the nutty texture. Add cheese and basil and blend until desired texture. Slowly pour in your oil as it's blending to help emulsify better. A great trip is to rest some ice in the blender before hand, this will stop the basil from over heating and burning when blending.
With both methods, texture and flavour is all about preference. Taste test throughout and adjust accordingly.
What recipes can I use pesto in?
So many different recipes! Here's a few of my favs: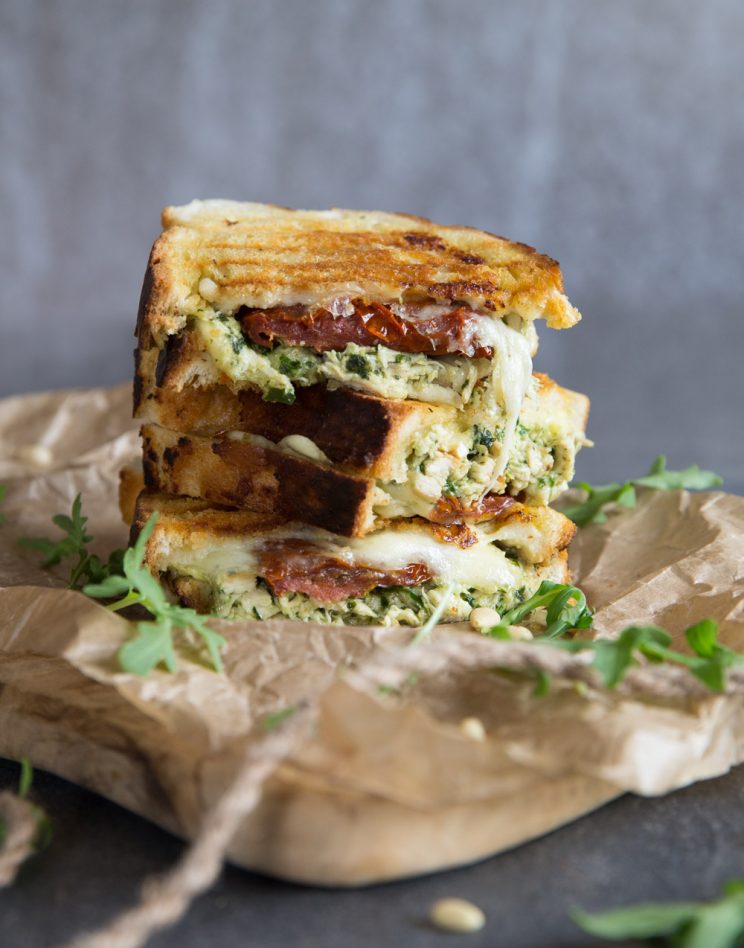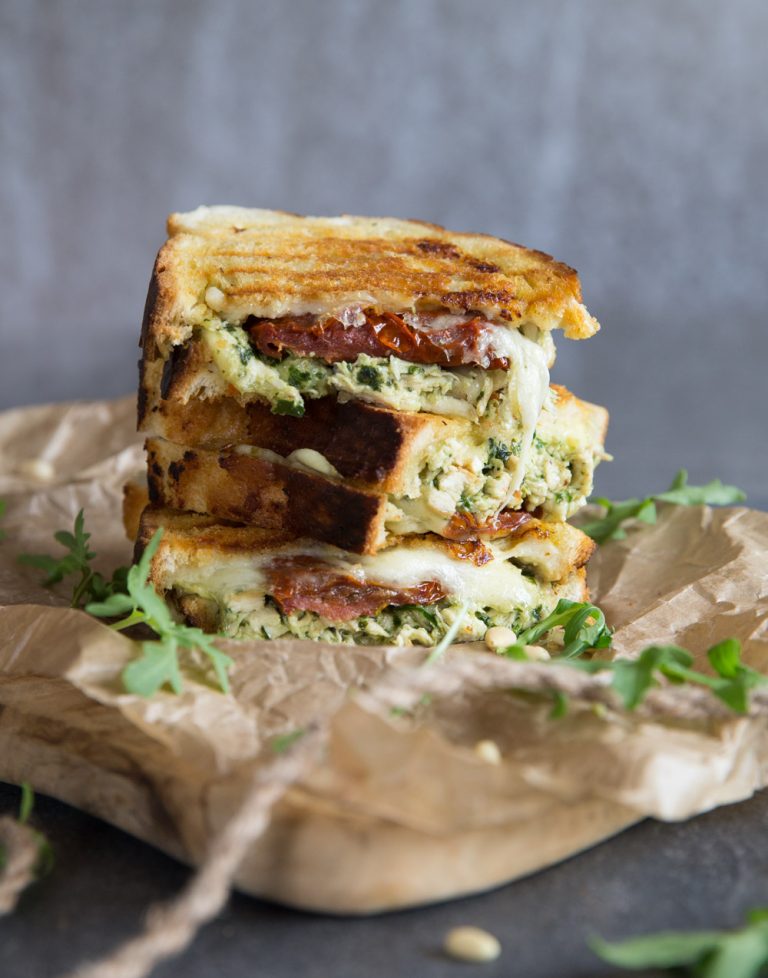 Also:
Pesto Pizza with Fresh Tomatoes and Mozzarella
Roasted Pesto Bacon Potatoes
Turkey Pesto Burger
Can you make pesto Vegan/Vegetarian?
You can buy vegetarian parmesan (make sure there's no animal rennet in it) or use any other hard cheese. For a vegan option use nutritional yeast.
How long can I store pesto for?
A much discussed topic, I'm personally slightly more on the chilled side of things, if it's not growing legs and smells okay jobs a good'n. However for best practice place in a tightly sealed jar with a layer of oil on top of the pesto. Every time you use the pesto top up the oil to help from oxidising. This will last at least a week, if not longer. You can also freeze pesto, they go quite neatly in ice trays to pop out when you need them. If you are freezing I recommend adding the cheese afterwards, the taste of it will change if it's frozen.
Either way, use your senses. Check the smell, if there's any mold and if it's changed dramatically changed colour. Then taste test.
---
Alrighty! Let's crack on with the recipe shall we? Let me know your fav pesto recipes, would love to hear them!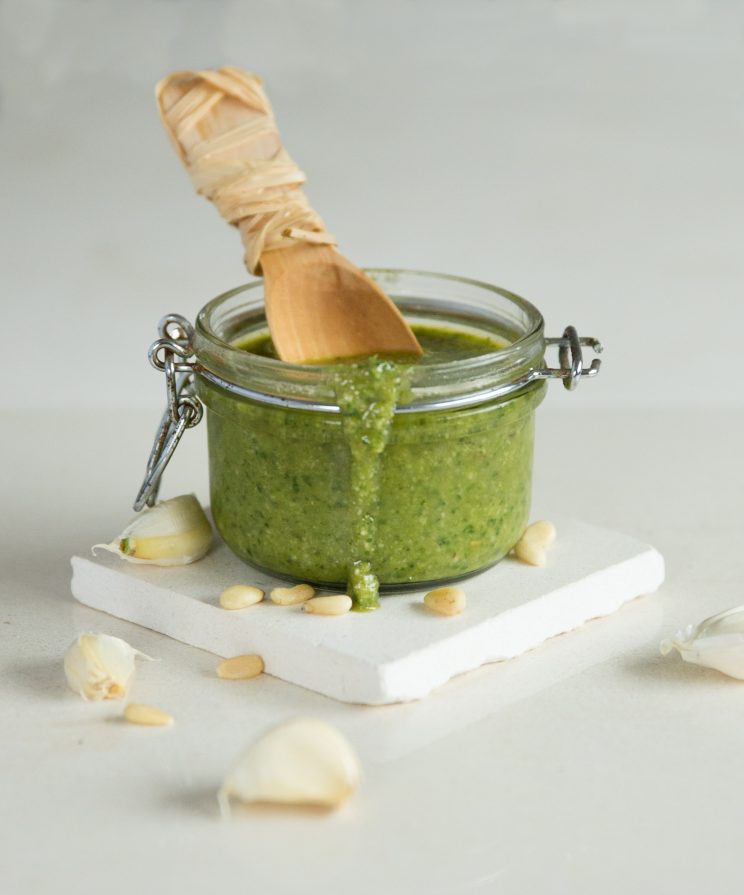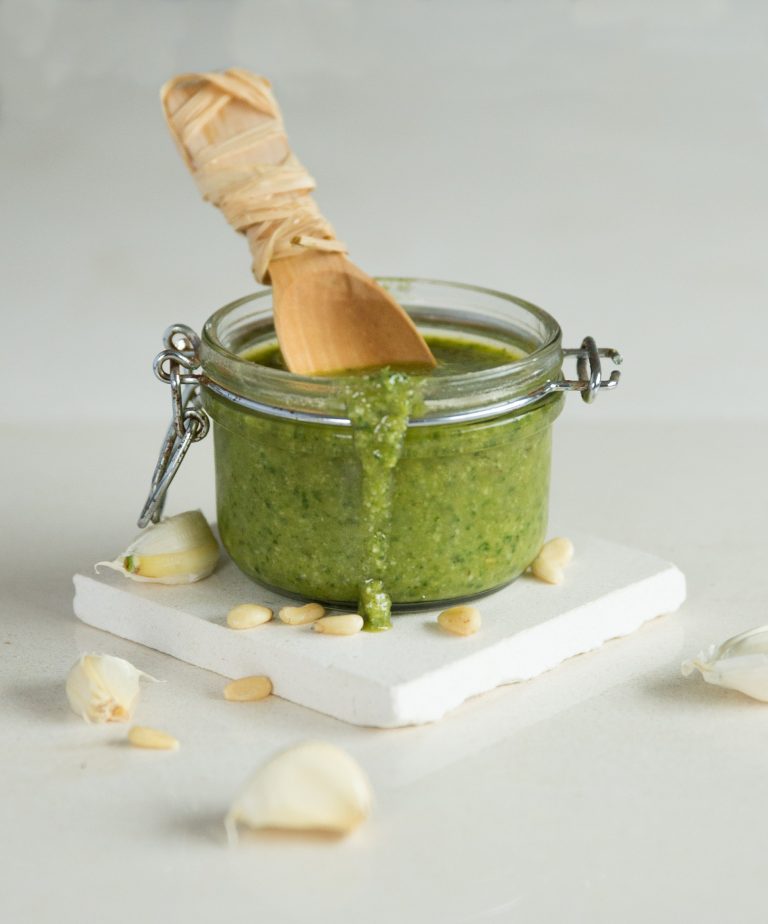 Join the foodie family! – Get awesome recipes sent straight to your inbox by signing up to my Weekly Mailing List (where you'll receive your FREE ECOOKBOOK) and stay in touch on Instagram, Facebook and Pinterest! 🧡
How to make Homemade Basil Pesto

(Full Recipe)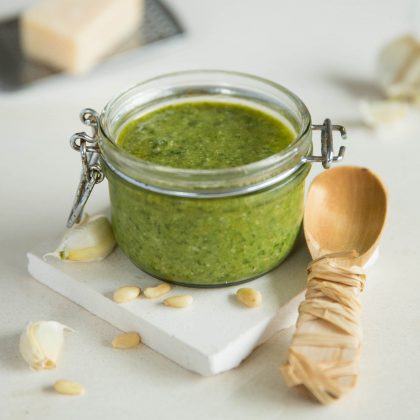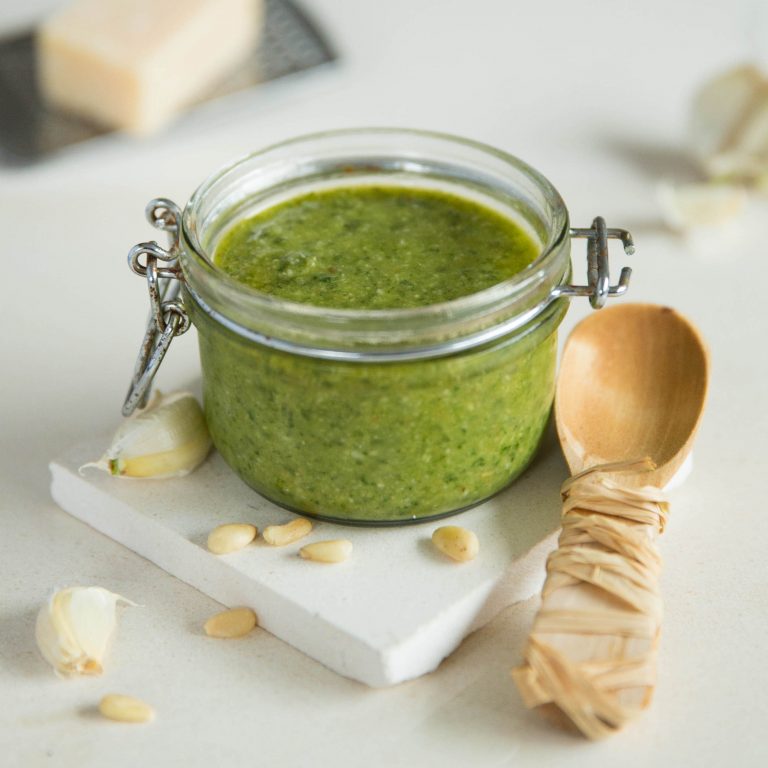 How to make Basil Pesto
'Making your own homemade fresh pesto couldn't be more simple. Here I'll show you exactly how to make basil pesto in the tastiest way possible'
Ingredients
2

big handfuls

Fresh Basil (approx 2 packed cups worth)

1/2 - 1/3

cup

(100-150ml) Extra Virgin Olive Oil

1/2

cup

(35g) Parmesan

2

cloves

garlic, peeled

4

tbsp

Pine nuts (toasted if prefered)

1/2

Lemon

(optional)
Method
If you are toasting your pine nuts, place in a pan over low-medium heat with no oil and shake occasionally until golden brown. Pine nuts will go from toasted to burnt extremely quickly so just be vigilant.
Pestle and Mortar
Begin by crushing your garlic with a pinch of salt to form a paste. Adding in your basil as much as you can at once and blend. Then add your pine nuts and cheese. After add in your oil around 1 tbsp at a time. Test for seasoning.
Blender
Adding your garlic and pine nuts and blend until desired texture. Add your basil and cheese, blend and slowly add in your oil. Test for seasoning.
Recipe Notes
a) If you're using lemon juice add in at the end and give it final blend.
b) A great tip when if you're using the blender is to rest some ice in there before you use it to keep it cool. This will stop your basil from getting too hot and burning when you're blending it.
c) For a vegetarian option using vegetarian parmesan or any other hard cheese. For vegan use nutritional yeast.
d) Store in a tightly sealed jar in the fridge with a layer of olive oil on top. Each time you use it, pour off the oil and replace when you put it back in. This will last at least a week, anything after that just be vigilant with your senses before using it. Freeze for up to a month, however add the cheese AFTER if you plan on freezing.
e) Pesto is all about preference, so taste test throughout and adjust accordingly, unfortunately there is no 'one size fits all' for how to make basil pesto. By hey, this recipe comes pretty close I'd say 🙂
f) Calories based on the above recipe using 100ml olive oil and divided by 4 servings.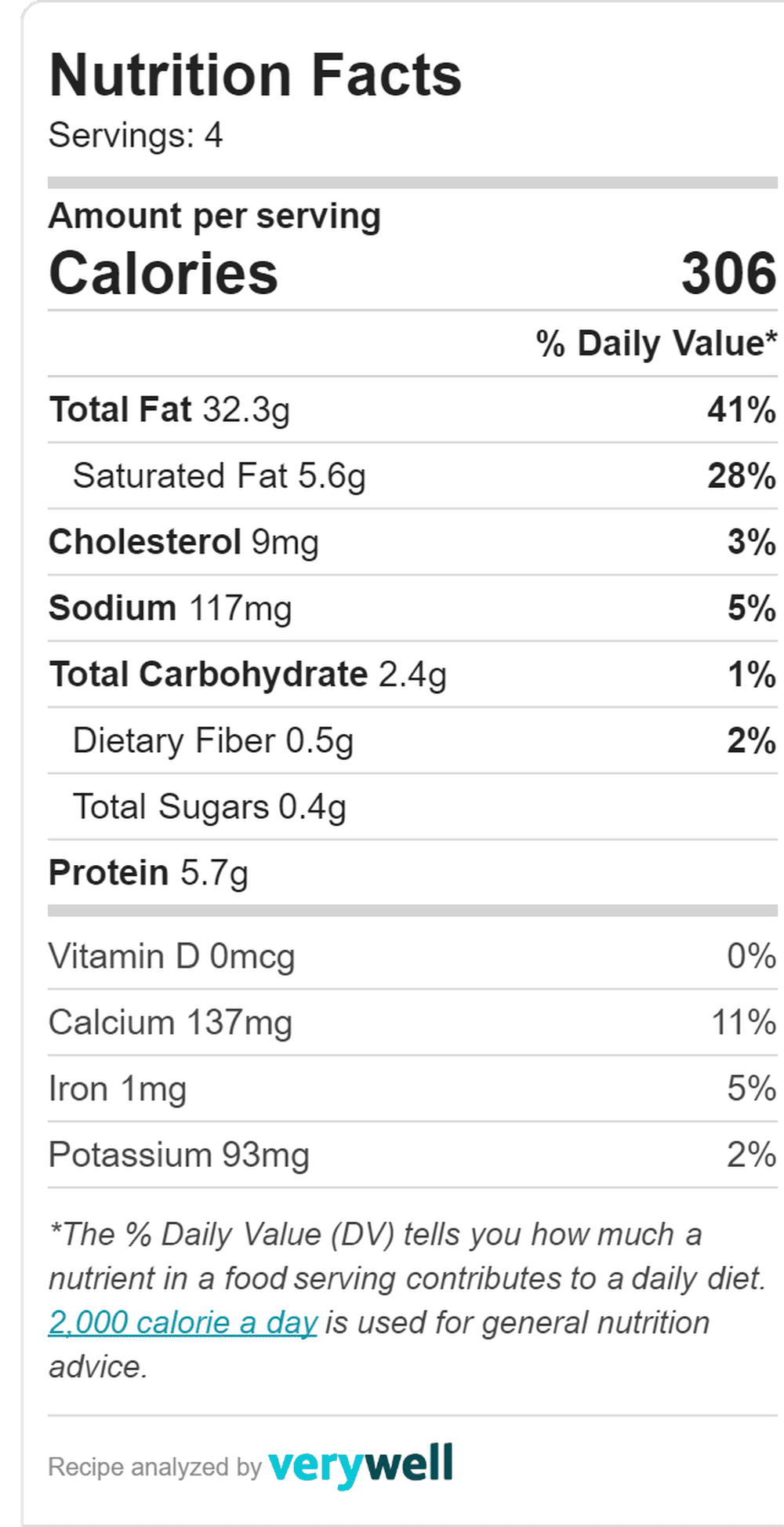 Nutrition Facts
How to make Basil Pesto
Amount Per Serving
Calories 306
* Percent Daily Values are based on a 2000 calorie diet.
---
Put your Homemade Basil Pesto to good use with these Cheesy Pesto Rice Stuffed Tomatoes!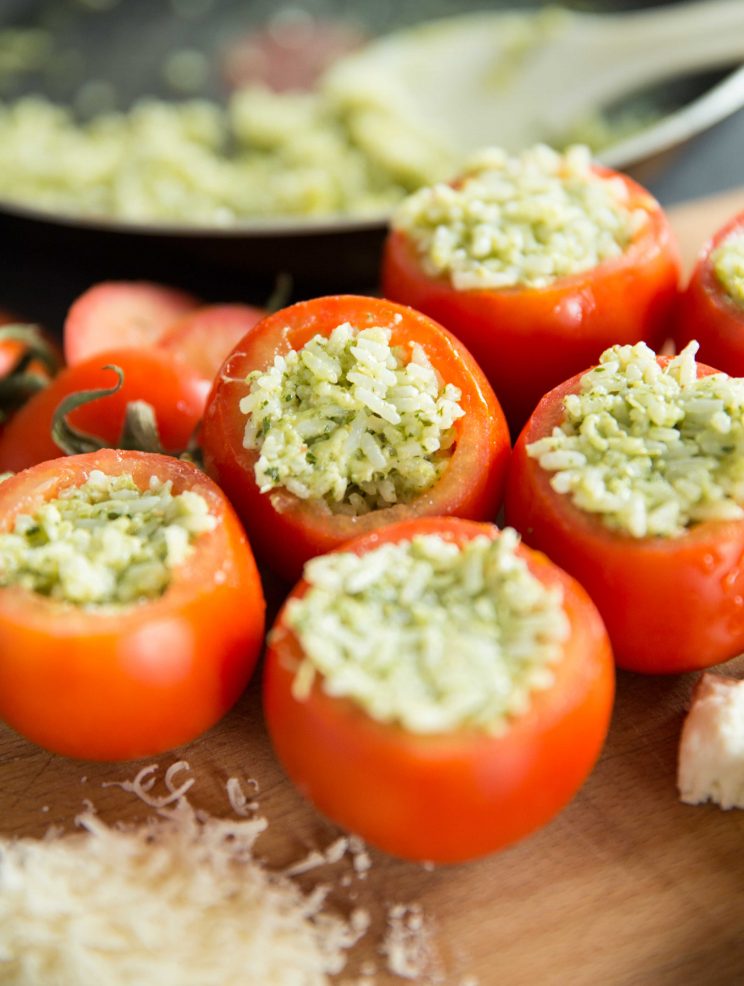 If you loved this Homemade Pesto Recipe then be sure to pin it for later! Already made it or got a burning question? Give me a shout in the comments below and pick up your free ecookbook along the way!