Making your own fresh homemade pesto couldn't be more simple. Here I'll show you exactly how to make basil pesto in the tastiest way possible!

So grab that jar of store bought pesto and throw it out the window. Hmm, actually just use the rest of it before someone gets hurt, but after that you'll never have to buy a pre made jar again! *victory dance*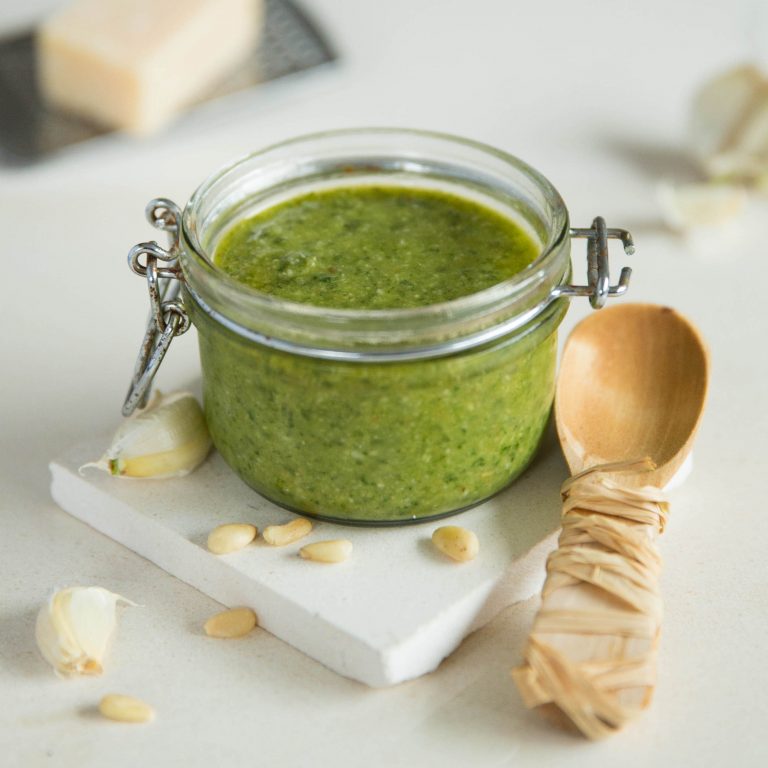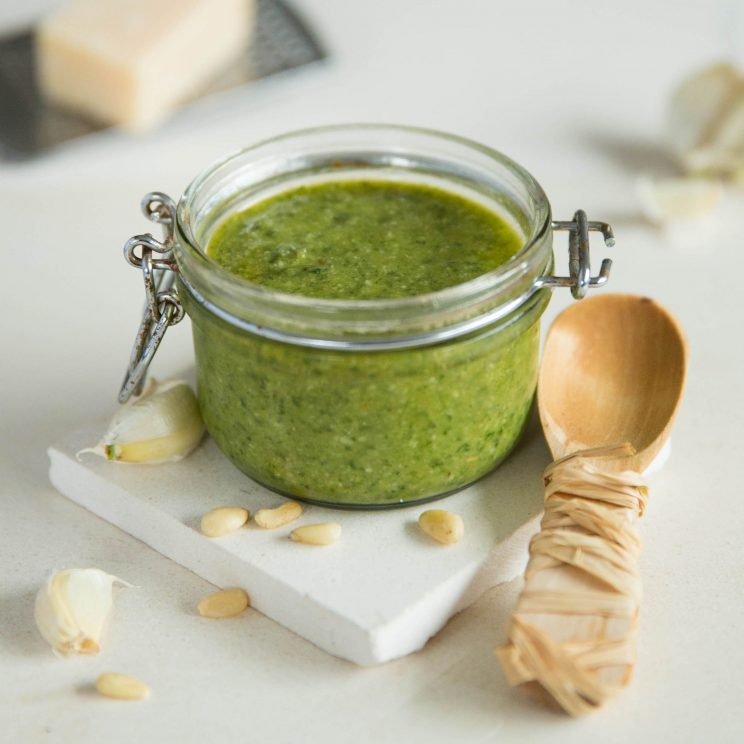 Homemade Basil Pesto
Basil pesto is an absolute staple in my house for a couple of different reasons. Firstly, it's so freaking easy to make. As someone who prides their blog on easy-to-make recipes, quick 5 ingredients recipes like pesto make me extremely happy! The second reason is it's versatility. For real, this stuff goes with literally anything. Just whip up a batch of it, store it in the fridge and put it on every meal you make after that. Versatility and storage are two things we'll talk about in a sec. But first things first.
Basil Pesto Ingredients
Fresh Basil – Always fresh, and lots of it!
Extra Virgin Olive Oil – Ensure it is extra virgin, not just regular olive oil.
Garlic – A small clove adds a nice background kick of flavour.
Parmesan – Freshly grated, not the powdered stuff!
Pine Nuts – Optionally toasted. These give the pesto texture.
Lemon (optional)
This combination of ingredients truly is something special. The texture too, ugh, so silky with a nice little bite to it.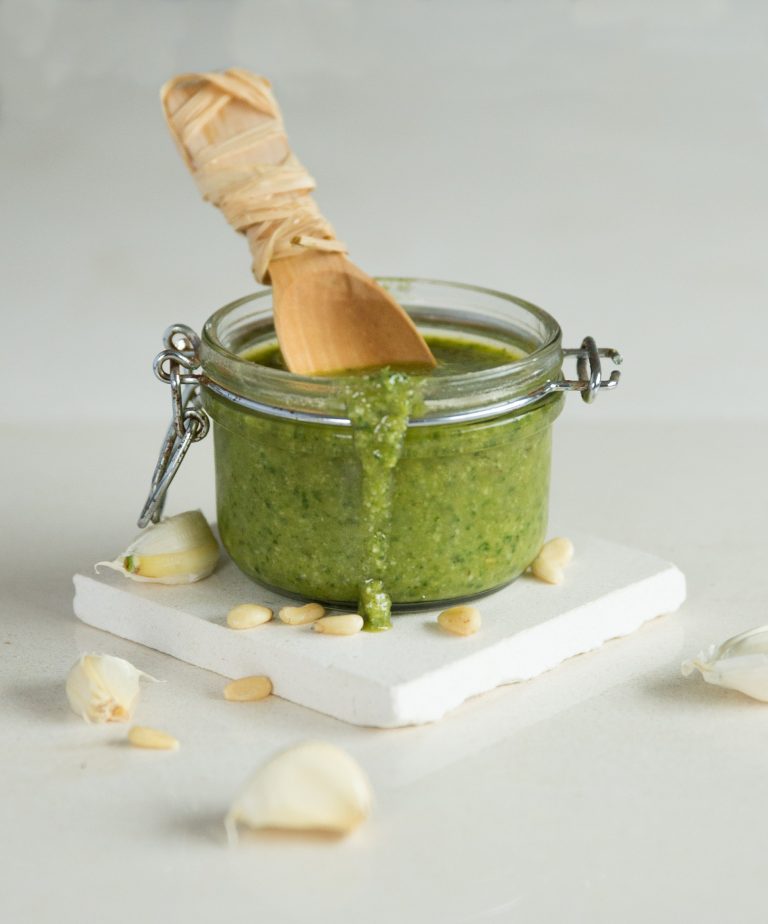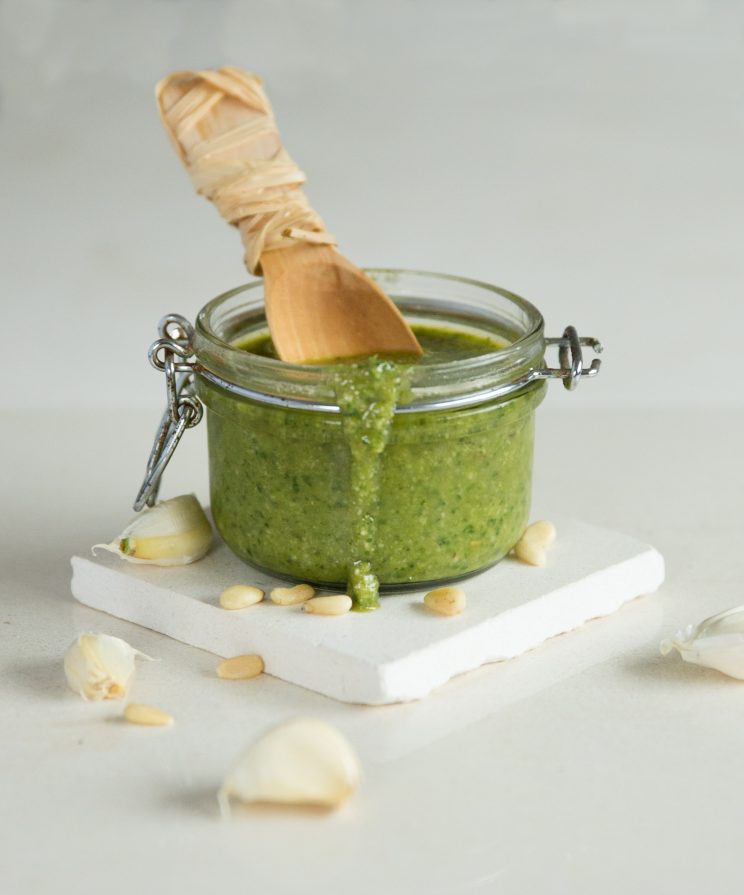 What can I use instead of Pine Nuts in pesto?
Pine nuts have a gorgeous sweet and almost buttery taste to them, they really are perfect for pesto. But as we all know, they're bloomin' expensive. If you're looking to substitute because of this reason, almonds, pistachios and walnuts have all been known to work well. Cashews also have a subtle taste to them so they could also work well. If you're looking to substitute for allergy reasons, sunflower seeds work, however they may turn your pesto slightly grey.
What part of Basil do you use for pesto?
I use all of it, apart from any aggressively large stalks. A bit of stalk won't hurt, but the leaves are where it's at. Discard any yellow or black parts of the basil. I also never wash my basil unless it visibly needs it, as I find it washes away flavour. Basil doesn't store particularly well so just give it a gentle rinse just before using it if you want to give it a wash.
Can I substitute Extra Virgin Olive Oil in Pesto?
Some recipes do suggest subbing other oils such as vegetable, canola or avocado, but honestly it just won't taste like classic pesto. I don't even recommend using olive oil as you lose that refined pesto taste. Extra virgin olive oil all the way (IMO)!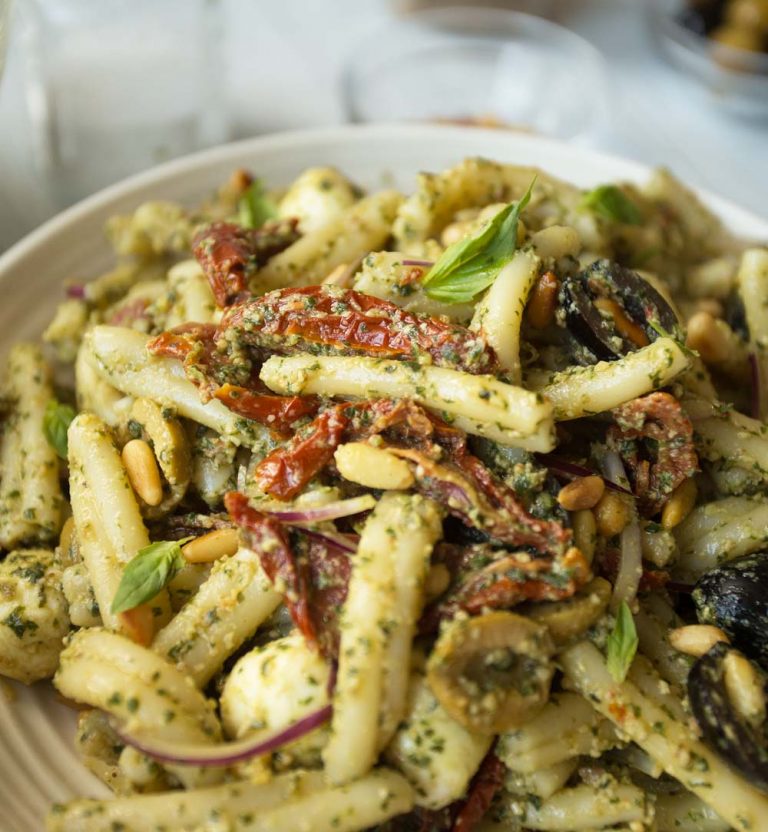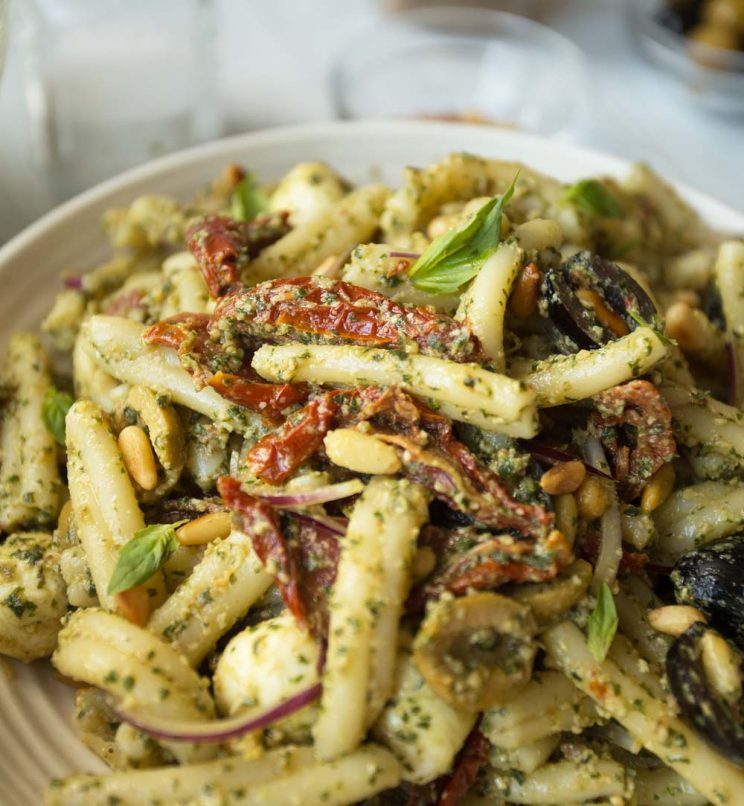 How to make Basil Pesto
Making basil pesto is so quick and easy, just one question most people ask:
Blender or Pestle and Mortar to make pesto?
My personal preference goes to Pestle and Mortar. A blender with simply cut the ingredients into teeny weeny pieces, where a pestle and mortar will crush them, breaking down the cell walls and releasing the flavours. HOWEVER, you will still get tasty pesto in a blender.
How to make pesto with a Pestle and Mortar
If using a Pestle and Mortar – start by crushing garlic with salt, this will form a paste. Then begin adding in your basil as much as you can at a time. Follow with your nuts and parmesan and crush to desired texture. Finish by mixing in your oil around 1 tbsp at a time to emulsify.
How to make pesto in a Food Processor
If using a blender – mix your garlic with nuts to form the nutty texture. Add cheese and basil and blend until desired texture. Slowly pour in your oil as it's blending to help emulsify better. A great tip is to rest some ice in the blender before hand, this will stop the basil from over heating and burning when blending.
Alternatively you can add all the ingredients in the food processor at once and gradually pour in the oil. The above method just gives you more control over the texture with the pine nuts and ensures you don't get any large bits of garlic.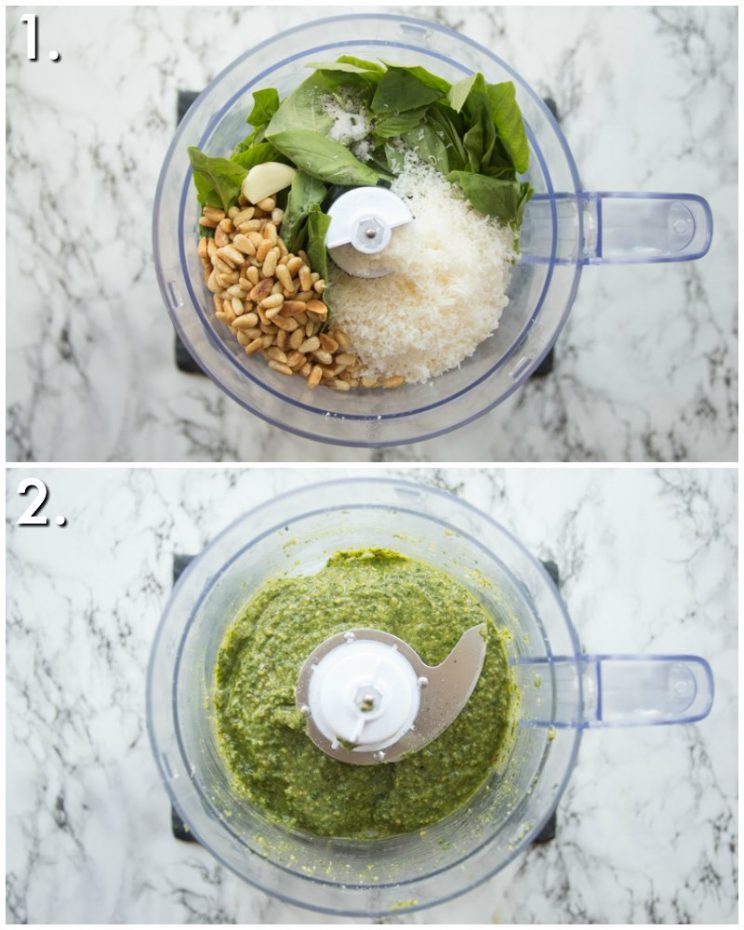 Can you make Pesto Vegetarian?
You can buy vegetarian parmesan (make sure there's no animal rennet in it) or use any other hard cheese. For a vegan option use nutritional yeast.
How long can I store pesto for?
A much discussed topic, I'm personally slightly more on the chilled side of things, if it's not growing legs and smells okay jobs a good'n. However for best practice place in a tightly sealed jar with a layer of oil on top of the pesto. Every time you use the pesto top up the oil to help from oxidising. This will last at least a week, if not longer. You can also freeze pesto, they go quite neatly in ice trays to pop out when you need them. If you are freezing I recommend adding the cheese afterwards, the taste of it will change if it's frozen.
Either way, use your senses. Check the smell, if there's any mould and if it's changed dramatically changed colour. Then taste test.
How to use basil pesto
Basil pesto is incredibly versatile! Here's a few of my favourite ways of using it:
Recipes using basil pesto
Alrighty, let's tuck into the recipe for this homemade basil pesto shall we?!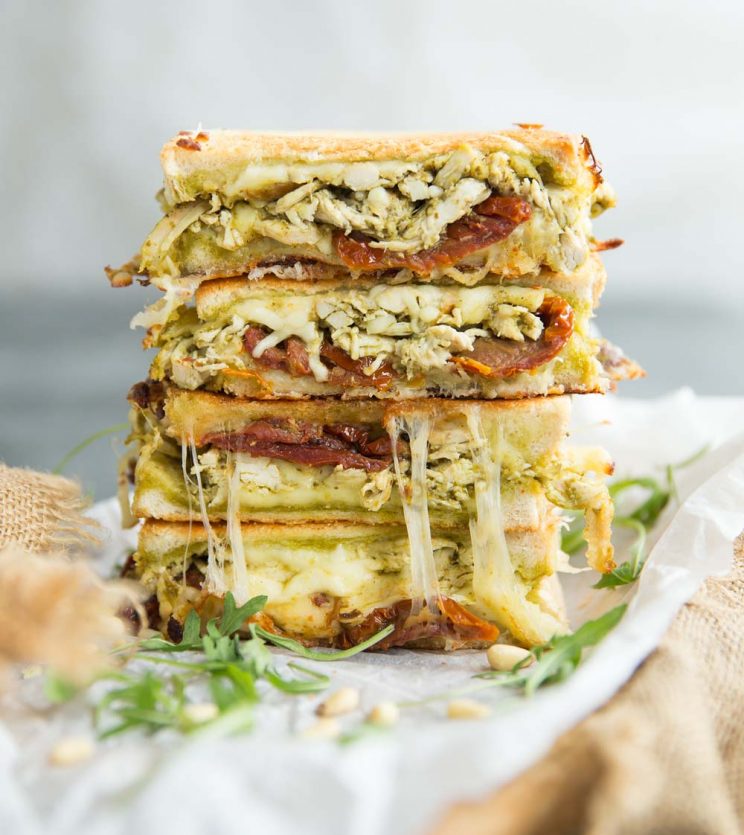 How to make Homemade Basil Pesto

(Full Recipe & Video)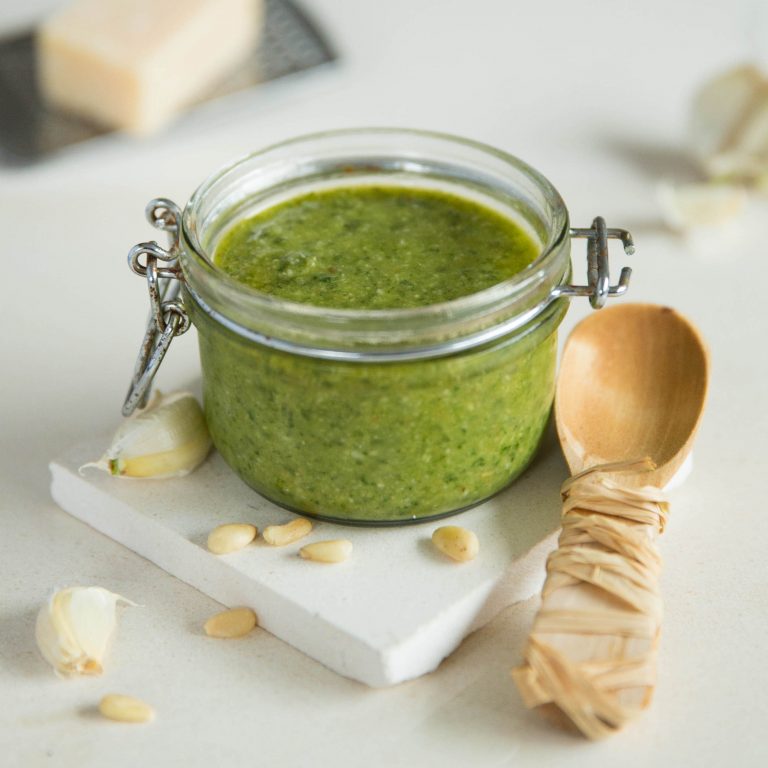 How to make Basil Pesto
Making your own homemade fresh pesto couldn't be more simple. Here I'll show you exactly how to make basil pesto in the tastiest way possible!
Print
Pin
Rate
Servings (click & slide):
1
cup
Calories per serving:
306
kcal
Cost per serving:
£2 / $3
Equipment:
Food Processor (or Pestle and Mortar)

Fine Cheese Grater

Spatula
Ingredients (check list):
2

big handfuls

Fresh Basil (approx 2 packed cups worth - 60g/2.1oz)

1/2 cup / 120ml

Extra Virgin Olive Oil, or as needed

1/2 cup / 40g

Parmesan

1

small clove

Garlic, peeled

4

tbsp

Pine Nuts (toasted if preferred)

1/2

Lemon, juice only (optional)

1/4

tsp

Salt, or to taste

1/8

tsp

Black Pepper, or to taste
Instructions:
If you are toasting pine nuts, place 4 tbsp in a pan over low-medium heat with no oil and shake occasionally until golden brown. Pine nuts will go from toasted to burnt extremely quickly so just be vigilant.
Pestle and Mortar
Begin by crushing 1 small clove garlic with a pinch of salt to form a paste. Gradually add in 2.1oz/60g basil and smash/grind to blend. Then add your pine nuts and 1/2cup/40g parmesan. After, add in your oil around 1 tbsp at a time. Test for seasoning.
Blender
Add 1 small clove garlic and 4 tbsp pine nuts and blend until desired texture. Add 2.1oz/60g basil and 1/2cup/40g parmesan, blend and slowly add in your oil. Test for seasoning. Alternatively this can all be added at once and results will still be similar. This method just ensures there's no large chunks of garlic and the pine nuts and pulsed to preference.
Notes:
a) Pesto with Lemon - If you're using lemon juice add in at the end and give it final blend. Start off with a squeeze and adjust to preference.
b) Pesto in the food processor - A great tip when if you're using the blender is to rest some ice in there before you use it to keep it cool. This will stop your basil from getting too hot and burning when you're blending it.
c) Vegetarian Pesto - For a vegetarian option using vegetarian parmesan or any other hard cheese. For vegan use nutritional yeast.
d) How to store Pesto - Store in a tightly sealed jar in the fridge with a layer of olive oil on top. Each time you use it, pour off the oil and replace when you put it back in. This will last at least a week, anything after that just be vigilant with your senses before using it. Freeze for up to a month, however add the cheese AFTER if you plan on freezing.
e) Video - is my Pesto Pasta Salad recipe.
f) Calories - based on the above recipe using 100ml olive oil and divided by 4 servings.
Your Private Notes:
Nutrition:
Nutrition Facts
How to make Basil Pesto
Amount Per Serving
Calories 306
Calories from Fat 291
% Daily Value*
Fat 32.3g50%
Cholesterol 9mg3%
Sodium 117mg5%
Potassium 93mg3%
Carbohydrates 2.4g1%
Protein 5.7g11%
Calcium 110mg11%
Iron 0.9mg5%
* Percent Daily Values are based on a 2000 calorie diet.
Nutrition is based on the absence of salt unless stated as a measurement in the ingredients. Cost is worked out based on ingredients bought from UK supermarkets, then divided by the number of servings. In both instances these values are just for guidance. Please check out my FAQ Page for more info.
---
Hey, whilst you're here why not check out my other recipes?
Deliciously different pesto recipes
---
If you loved this Homemade Pesto Recipe then be sure to pin it for later! Already made it or got a burning question? Give me a shout in the comments below and pick up your free ecookbook along the way!