This Spicy Mac and Cheese is loaded with Fresh Jalapeños, 3 different types of Cheese and plenty of Crispy Bacon!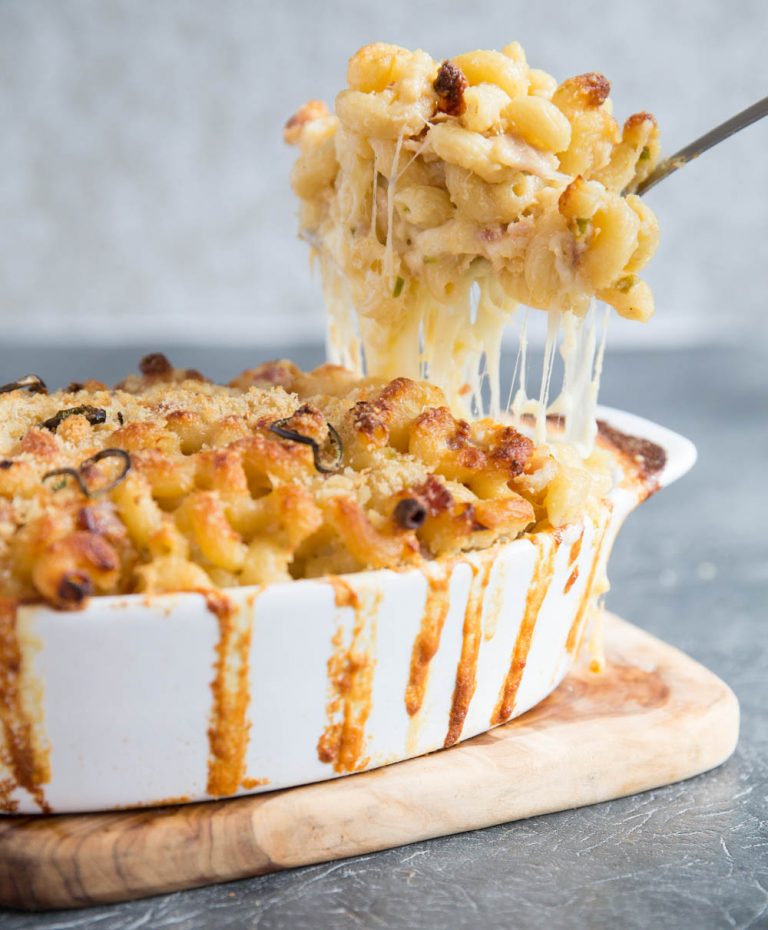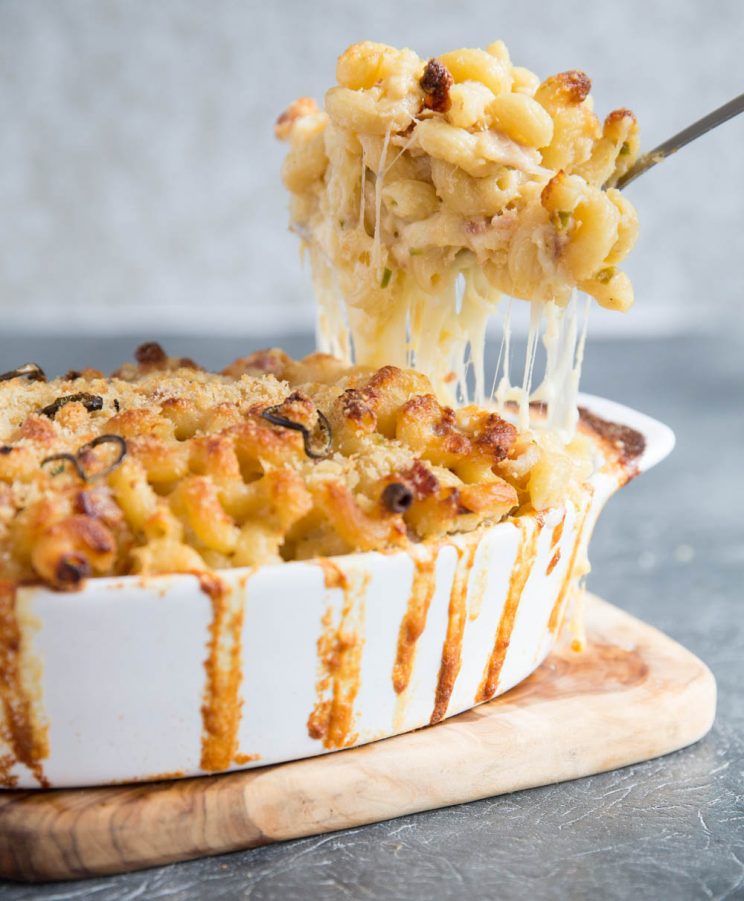 Spicy Mac and Cheese
I don't know about you, but I douse pretty much anything edible in hot sauce, mac and cheese FULLY included. So creating a spicy mac and cheese makes complete sense to me. Having said, that I was conscious not to just chuck in some hot sauce or chilli flakes and be done with it. In such case, I've added a range of spicy ingredients which together actually add a delicious flavour to the dish.
What makes this Spicy Mac and Cheese 'Spicy'?
Fresh Jalapeño
Mustard
Hot Sauce
Cayenne Pepper
None of the above used just for the sake of it, but actually to create a really deep and complex spicy flavour. All measurements are adjustable, so fear not if you only like a mild spice. With the same token it's an easy recipe to ramp up the spice too, so feel free to do so!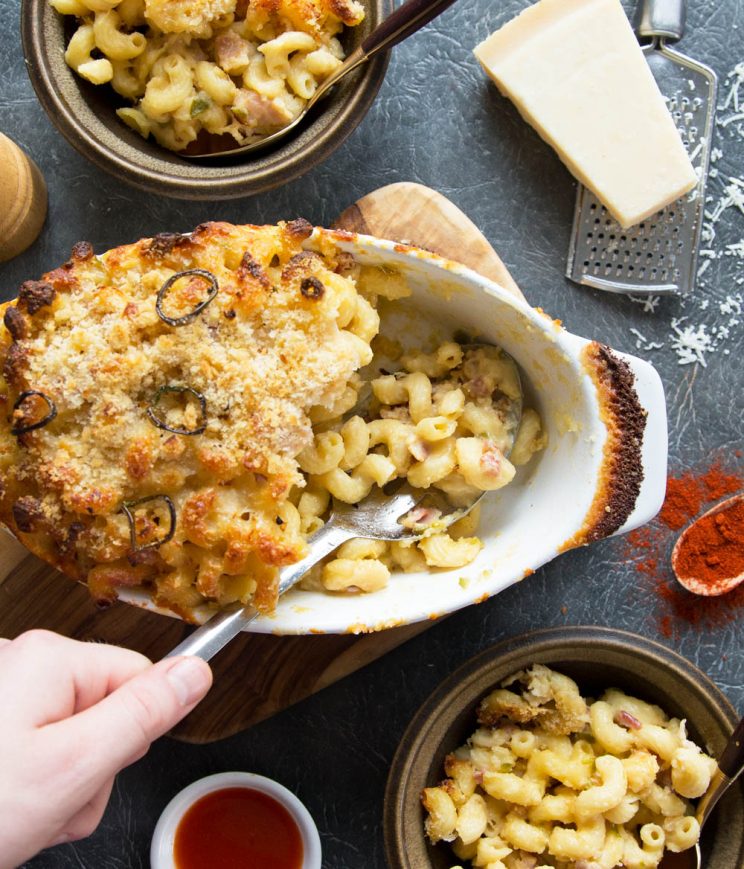 Jalapeño Mac and Cheese
The jalapeños are a key ingredient in this spicy mac and cheese, not only for their obvious spice, but also for their gorgeous flavour. Jalapeños are notorious for working well with cheese and this recipe is no exception.
Fresh versus Jarred Jalapeño
My vote is for fresh if you can! I find you sometimes get a mild taste of the brine from the jarred jalapeños. They are also quite soft in the jar already and can go mushy after baked. Having said that, if you find 'firmer' pickled jalapeños and pat off as much brine as possible you'll be fine!
Can I use other Chillis?
I tend to stick with jalapeños for the flavour and fact they're not too spicy. However, if you're good with your chillis, and know and love a particular variety, you can sub if you want.
In terms of the other ingredients for jalapeño mac and cheese, you'll need a 3 cheese combo of cheddar, mozzarella and parmesan. Some bacon, because is a mac and cheese a mac and cheese without bacon?! And alongside the spices we discussed, some onion/garlic powder for extra flavour and your mac and cheese staples (milk, flour, pasta, etc).
How to make Spicy Jalapeño Mac and Cheese (quick summary)
Fry bacon until crisp, then add jalapeños and fry until soft.
Melt in butter, then stir in flour until a paste forms.
Slowly whisk in milk, then add your spices.
Turn off heat and add your cheese.
Add your pasta.
Combine until fully coated.
Top Tip #1
– Ensure your
milk is at room temp
to ensure the sauce doesn't clump up.
Top Tip #2 – Make sure you only boil your pasta until al dente. You want it still a bit hard or it'll go mushy in the oven.
Baked Mac and Cheese
For me a mac and cheese ain't a mac and cheese unless it's baked. I don't know why but it always makes me a little sad when I see mac and cheese in a pan then served up straight away. Baking it in the oven enhances those cheesy flavours so much. PLUS, you get a gorgeous crispy top.
Baked Mac and Cheese Topping
Layer 1 – Parmesan
Layer 2 – Breadcrumbs
Layer 3 – Jalapeno
Layer 4 – Oil Spray
Then simply pop it in the oven until golden and bubbly.
If you've sliced your jalapeño really thin then you might want to chuck them on half way through, just to prevent them from burning to a crisp.
From there the smell in your kitchen is going to be an absolute blessing! Trust me, you're going to fall in love with this recipe 😋
If you're looking for more recipes using fresh jalapeños then definitely check out my Crispy Baked Jalapeño Poppers and Jalapeño Popper Loaded Potatoes! If you're looking for more mac and cheese goodness then give these recipes a ganders:
Best Mac and Cheese Variations
Alrighty, let's tuck into the full recipe shall we?!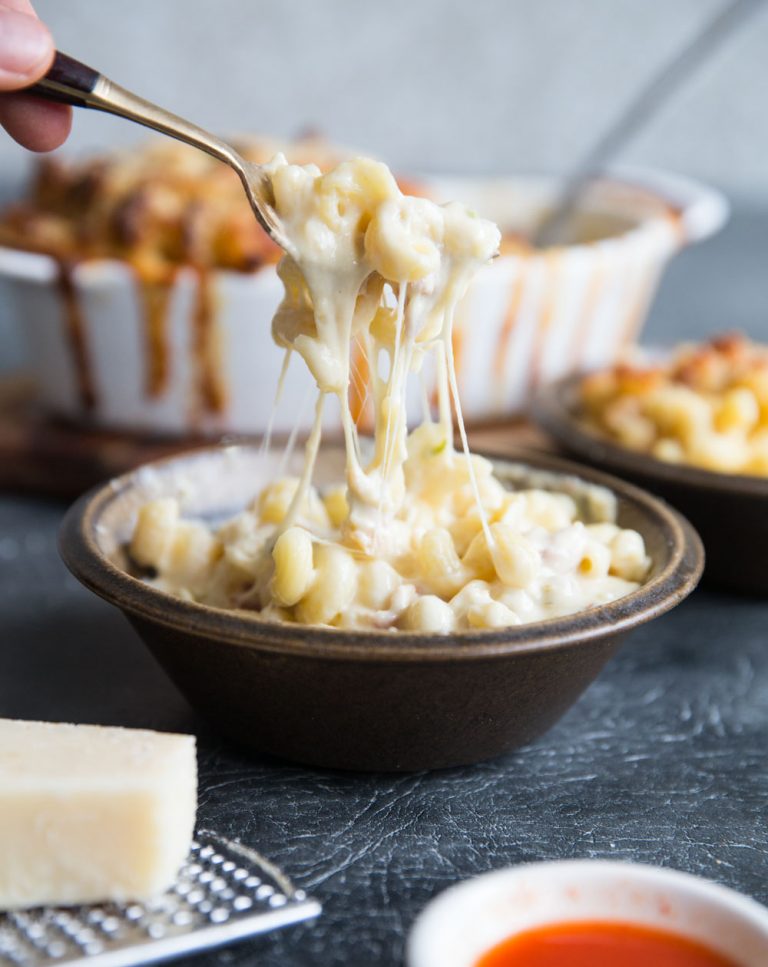 How to make Spicy Jalapeño Mac and Cheese

 (Full Recipe & Video)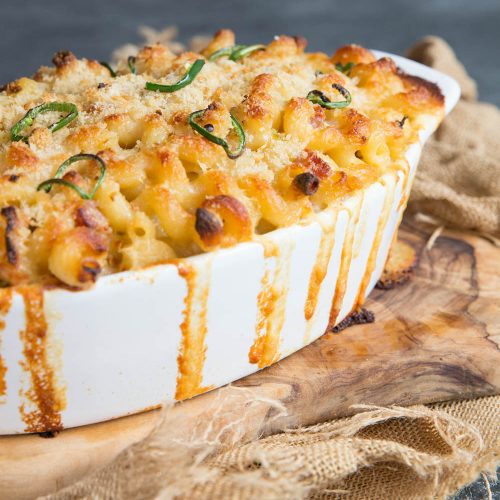 Spicy Jalapeño Mac and Cheese
This Spicy Mac and Cheese is loaded with Fresh Jalapeños, 3 different types of Cheese and plenty of Crispy Bacon!
Print
Pin
Rate
Servings (click & slide):
6
Calories per serving:
759
kcal
Cost per serving:
£3 / $4
Equipment:
Suitably Sized Baking Dish (9"x13" works great)

Large Deep Pan (for combining mac and cheese)

Large Pot (for boiling pasta) & Colander

Jug (for milk)

Whisk

Wooden Spoon

Cheese Grater

Sharp Knife & Chopping Board
Ingredients (check list):
14oz / 400g

Elbow Pasta (or other short cut pasta)

9oz / 250g

Streaky Bacon, diced

4

Fresh Jalapeños, deseeded (3 finely diced & 1 sliced into rounds)

4 cups / 1 litre

Milk, at room temp

2 cups / 200g

Cheddar, grated

2 cups / 200g

Mozzarella, shredded

1 cup / 80g

Parmesan, grated (save half for top)

1/2 cup / 30g

Panko Breadcrumbs

3

heaped tbsp

Flour

3

tbsp

Unsalted Butter

1

tbsp

Dijon mustard

1

tsp

Garlic Powder

1

tsp

Hot Sauce, or to preference

1/2

tsp

Onion Powder

1/4

tsp

Cayenne Pepper, or to preference
Salt & Black Pepper, to taste
Oil Spray, as needed
Instructions:
Fry 9oz/250g bacon in a large deep pan over medium heat until your desired texture. Add 3 diced and deseeded jalapeños and fry for a couple of minutes until soft. Drain away excess fat if necessary, then melt in 3 tbsp butter.

Stir in 3 heaped tbsp flour until a paste forms, then very gradually stir in 4cups/1litre milk until lump free. Add 1 tbsp mustard, 1/2 tsp onion powder, 1 tsp garlic powder, 1/4 tsp cayenne and 1 tsp hot sauce, then allow to bubble until thickened, stirring occasionally. Adjust spice as necessary (more hot sauce and/or cayenne pepper). Important to thicken sauce before adding cheese (step 4), don't add cheese to thicken sauce, will loose flavour and will produce a grainy texture.

Meanwhile, preheat oven to 200C/390F and cook 14oz/400g pasta in salted boiling water until al dente (take a few mins off the packet instruction, you want it still quite hard).

Once thickened, turn off heat and stir in 2cups/200g cheddar & mozzarella and 1/2cup/40g parmesan (save other half to top). Taste for seasoning. Stir in your pasta and transfer to a baking dish. It might seem overly stringy/saucy but will smooth out in the oven.

Top with the rest of your parmesan, 1/2cup/30g breadcrumbs, then the rest of your jalapeño. Finish with by spraying with oil then pop in the oven for 20-25mins or until golden a bubbly.
Notes:
a) How spicy is this Mac and Cheese? - Really difficult to say as everyone has different spice thresholds. As it is, with the measurements given, I'd put it at a 'medium'. But it's all down to preference and completely in your control. If you find it spicy enough already with just the jalapeños then you can omit the hot sauce and cayenne pepper. With the same token feel free to increase the amount of hot sauce/cayenne pepper. Personally I tent to use around a tbsp of hot sauce and drizzle over more when serving. b) Can I use pickled/jarred Jalapeños? - I actually tend not to for two reasons: first if they're already quite soft and tend to go a little mushy when baked. Second is sometimes some of the vinegary taste lingers around in the sauce. It's not a total deal breaker if you've only got jarred jalapeños but do try and find fresh if you can!  c) Can I use other chillis? - Flavour wise jalapeños are definitely best to take on cheesy flavours. Also difficult to know how spicy certain chillis are going to be. But if you're confident with you chilli picking then go for it! d) Baking Jalapeños - If you've sliced them particularly thin to go on top then consider popping them on half way through, just to prevent them from burning to a crisp. e) Consistency - I like my mac and cheese quite saucy, especially because it thins out whilst baking. However if you like a 'thicker' mac and cheese consider using 3 cups of milk, but do take into consideration it gets soaked up quite significantly in the oven.  f) Calories - based on the above measurements divided by 6 people.
Your Private Notes:
Nutrition:
Nutrition Facts
Spicy Jalapeño Mac and Cheese
Amount Per Serving
Calories 759
Calories from Fat 421
% Daily Value*
Fat 46.83g72%
Polyunsaturated Fat 3.783g
Monounsaturated Fat 15.344g
Cholesterol 158mg53%
Sodium 1871mg78%
Potassium 649mg19%
Carbohydrates 35.58g12%
Protein 48.59g97%
Vitamin A 3100IU62%
Vitamin C 57.8mg70%
Calcium 900mg90%
Iron 2.3mg13%
* Percent Daily Values are based on a 2000 calorie diet.
Nutrition is based on the absence of salt unless stated as a measurement in the ingredients. Cost is worked out based on ingredients bought from UK supermarkets, then divided by the number of servings. In both instances these values are just for guidance. Please check out my FAQ Page for more info.
---
Got leftovers? Check out my Mini Leftover Mac and Cheese Quesadillas!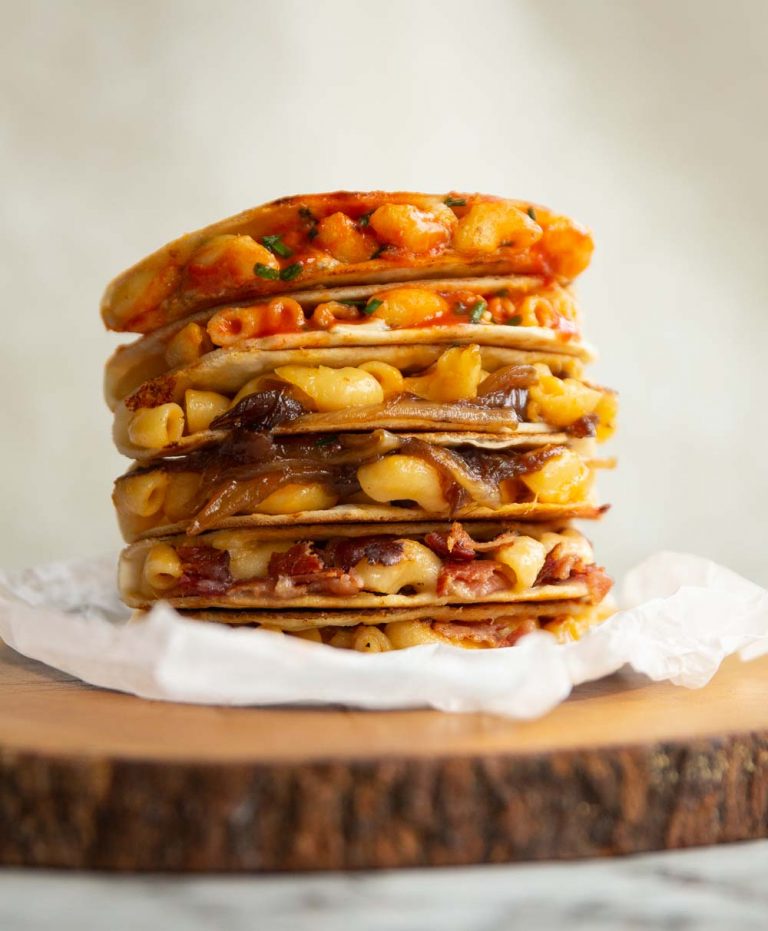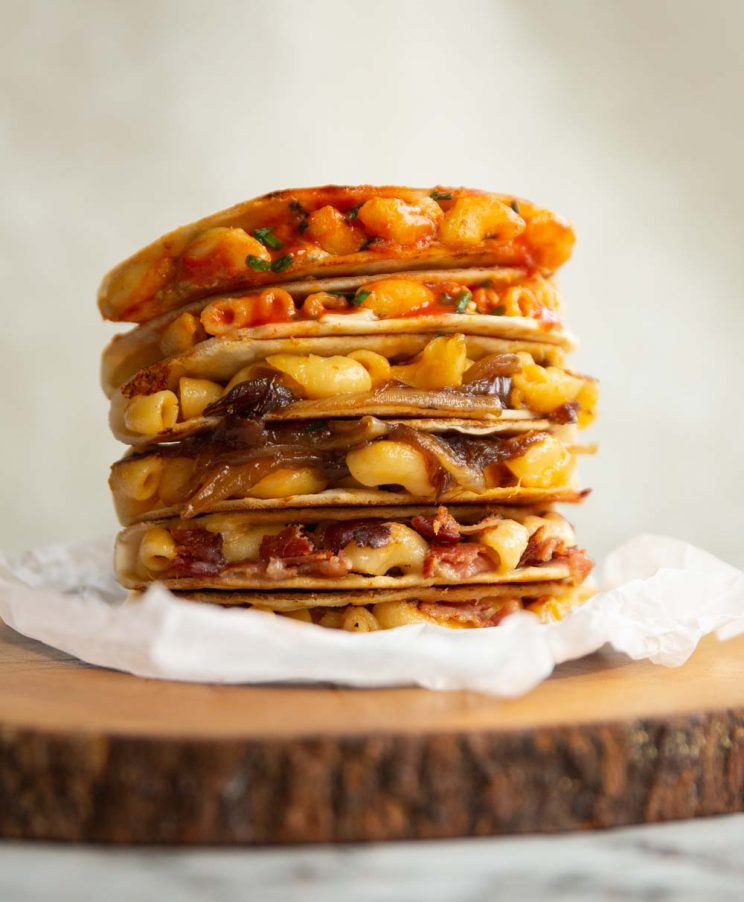 If you loved this Spicy Mac and Cheese recipe then be sure to Pin it for later! Already made it or got a burning question? Give me a shout in the comments below and pick up your free ecookbook along the way!