---
'If there's one recipe you need this Halloween it's the Puking Pumpkin. Cause really, who doesn't want a pumpkin throwing up guacamole all over Halloween?'
Seen enough? Jump to Recipe
Folks, It's that time of the year again when we start making extremely questionable recipes in the name of Halloween. The puking pumpkin is no exception to that. It's kinda beautiful though right? I mean as beautiful as a barfing pumpkin can be.
The puking pumpkin is an absolute must have this Halloween. With how easy it is to make and how spooky it looks you'd be crazy not to try it!
With all jokes and puke aside, the recipe as whole is actually really tasty.
This guacamole is one I've been making for yonks. Always a go-to for me when I've got guests round, never fails. I mean I don't usually serve it as a substitute for vomit but close your eyes and it's all the same right??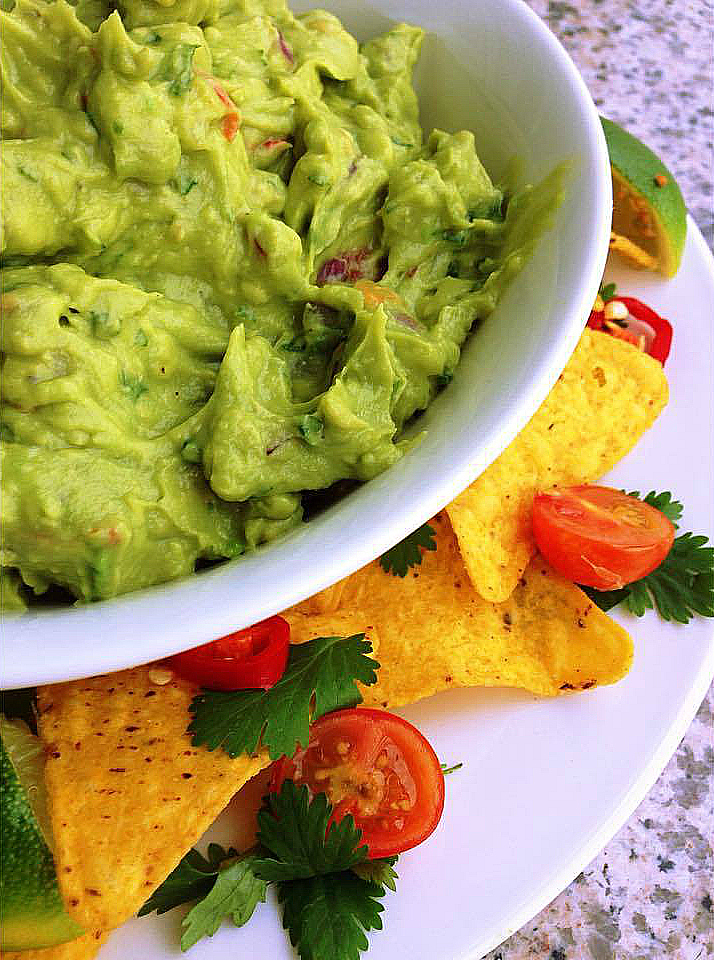 This recipe is super fun to play around with. Grab a pumpkin, a couple avocados and you're well on your way.
An affordable and most importantly delicious centerpiece within your array of Halloween food.
---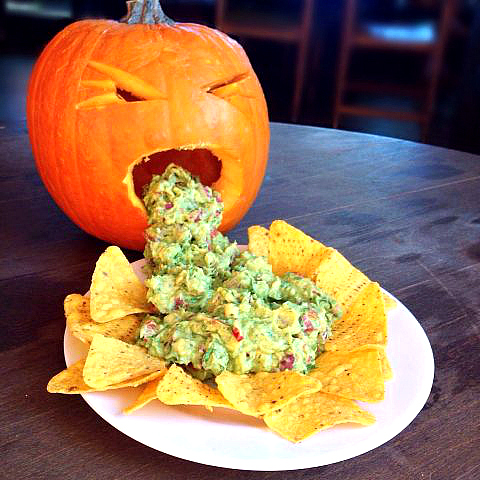 The Puking Pumpkin
Ingredients
1

Pumpkin

2

Ripe

but not bruised Avocados

1/2

Large Red Onion

finely diced

8-10

Cherry Tomatoes

finely diced

Big handful of Fresh Coriander

finely diced.

Juice of 1 Lime

1

Clove

of Garlic

minced

1

Fresh Red Chilli

de-seeded & finely chopped

Splash of Extra Virgin Olive Oil

Salt & Pepper

to taste

Tortilla chips to serve
Method
Cut out a small circle at the tip of the Pumpkin, big enough to comfortably fit your hand in. Using a spoon,  scoop out all the center of the Pumpkin. Cut out eyes and a mouth in any style you fancy, preferably resulting in the Pumpkin looking unwell!

De-stone the Avocados and scoop out the center into a bowl. Mush slightly with a fork, ensuring a smooth but still chunky texture. Add the Onion, Tomatoes, Coriander, Lime Juice, Garlic, Salt & Pepper, Olive Oil and Chilli. Mix further until desired texture. Taste for further seasoning.

Place the Pumpkin with the mouth facing the plate and scoop Guac coming out of it, vomit style. Add chips and tuck in!
---
Pin for later!
---
For my Homemade Baked Tortilla Chips recipe just click the photo below!
---
Cheers guys, this has been 'The Puking Pumpkin' Comment, share, do whatever you fancy but for crying out loud don't go bacon my heart. See you soon 🙂