Spam Fritters are an absolute British classic. Here I show you how to make them at home in the easiest and most delicious way possible!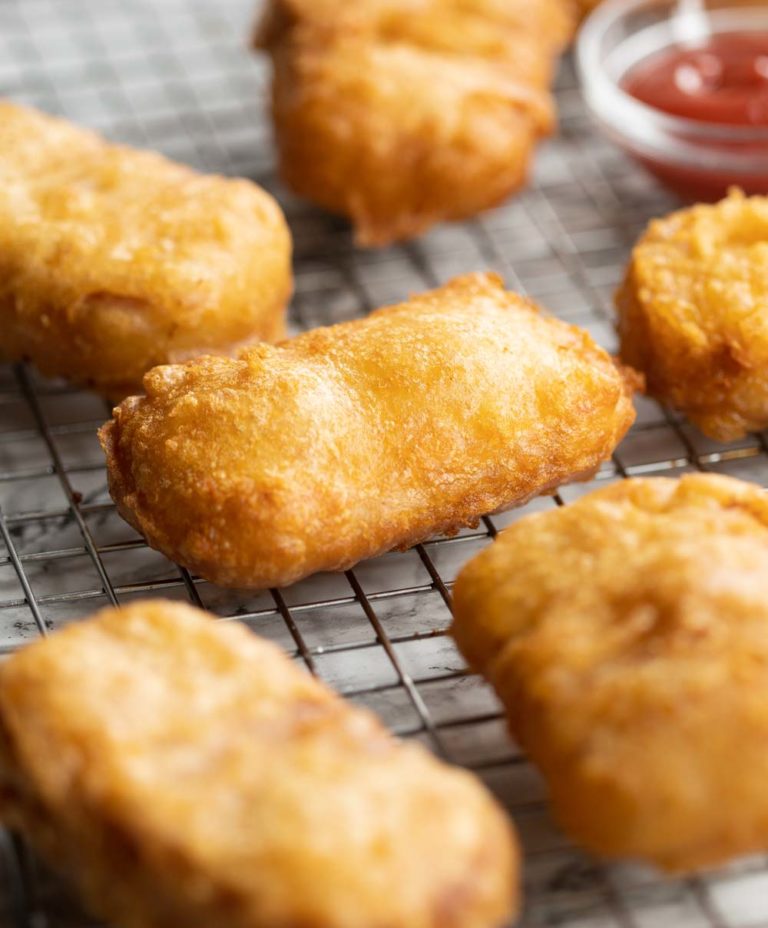 Homemade Spam Fritters
Anyone else's childhood just come streaming back to them? You know, the spam fritters you either got from the chippy, or, dare I say, the ones you got from the store to oven bake?? C'mon we've all been there 😂
For those of you completely lost right now and wondering how and why you ended up here, let's just clear a few things up really quickly.
What is Spam?
Spam is a canned meat mainly consisting of pork and ham. It's fairly universally distributed but also fairly controversial (love it or hate it kinda deal #teamlove)
What are Spam Fritters?
Spam fritters are essentially slices of spam deep fried in a batter. Word has it these came about in WW2 when there was a shortage of fish in Britain, so we decided to replace it with Spam. As you do.
Today I'm going to show you just how easy it is to make your own Spam fritters. Here's exactly how I like mine: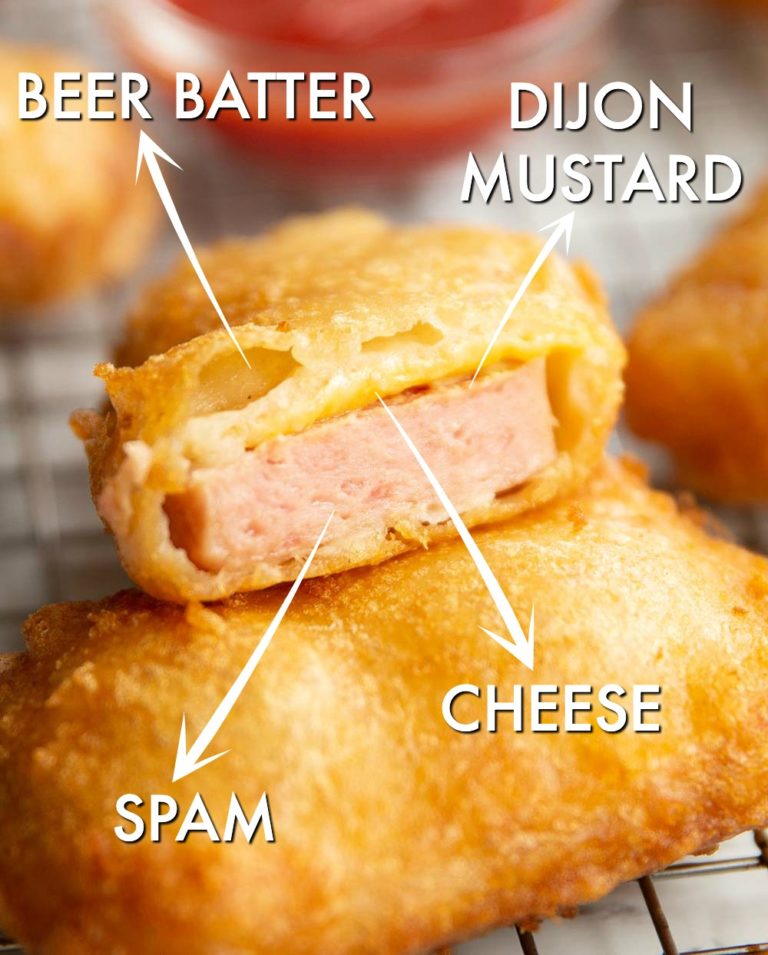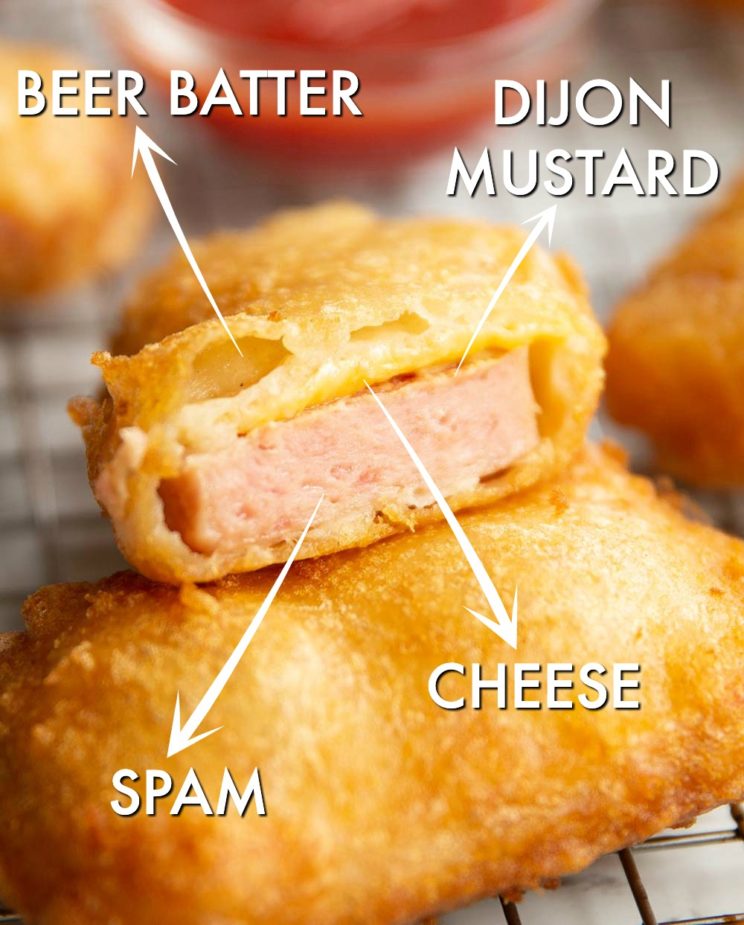 Now, the cheese and mustard is negotiable, but the beer batter is not. We'll talk more about the batter in just a sec, but first let's talk Spam.
For this recipe you'll just need the one can of Spam, which will give you 8 fritters. It's important to get the Spam out in once piece (just follow the can instructions) don't scrape around with knife.
Rest it on it's side and slice into 8 even wedges. If you're using mustard just a thin slather on top then press down the cheese.
What is the best cheese to use?
Cheddar or Swiss work great. In all cases just make sure it's sliced to the exact size of the fritters.
Can I make them without cheese and mustard?
Absolutely! Classic Spam fritters don't have either and still taste delicious. I'm just extra.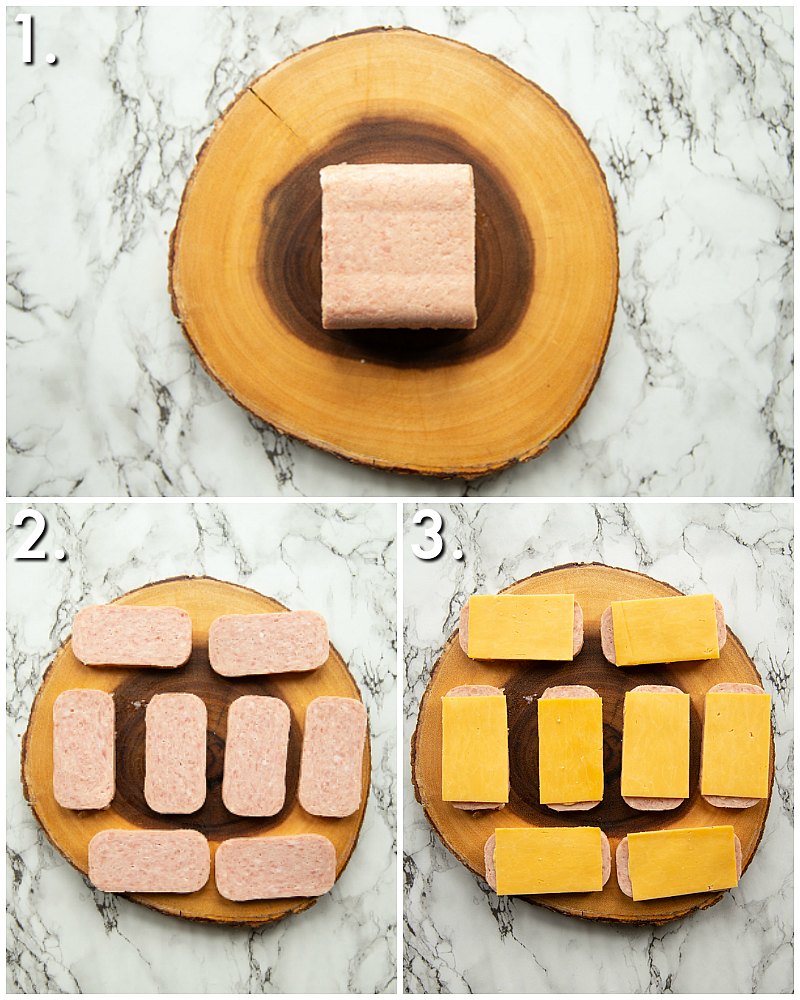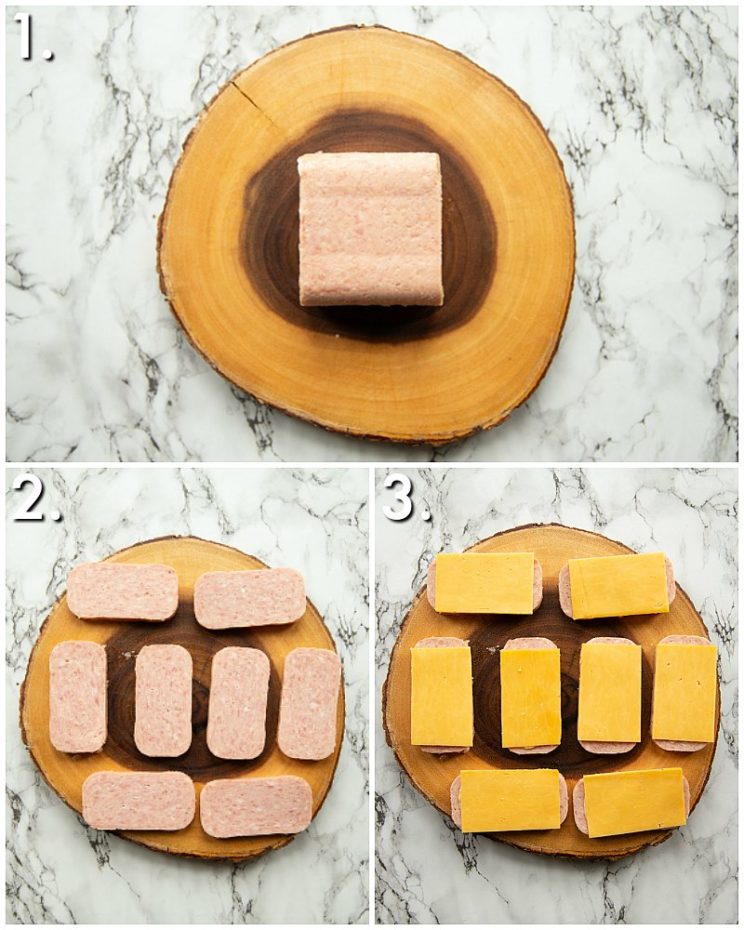 Beer Batter
Using beer in the batter is perfect for a couple of different reasons. Firstly, it contains foaming agents which make the batter nice and bubbly (the more air bubbles, the crisper the batter). The second reason is it adds a richer flavour in comparison to milk or water.
Baking Powder
Alongside plain flour, seasoning and beer, I always add a tsp of baking powder. The baking powder causes a chemical reaction in the hot oil which produces tiny air bubbles in the batter, and as I just mentioned, the more of those tiny air bubbles the crispier the batter. Think of it like tiny holes in honeycomb.
Beer Batter Tip #1 – Make sure you don't overwork the batter or you'll burst all the bubbles and the batter won't be quite as crispy. Some small lumps in the batter are fine.
Beer Batter Tip #2 – Work quick! You want the batter nice and bubbly/frothy when it hits the oil. The longer you leave it the flatter it goes.
How to make batter for fritters (quick summary)
Combine flour, white pepper, salt and baking powder.
Dredging all your fritters.
Pour in beer and mix.
Dredge each fritter in the beer batter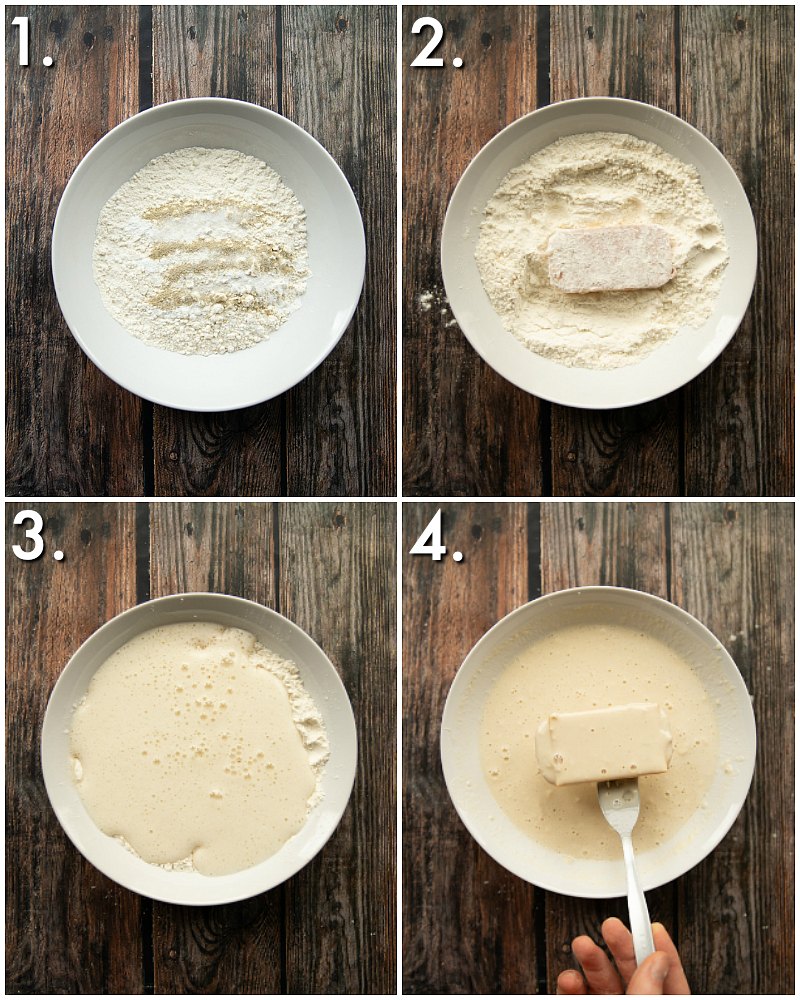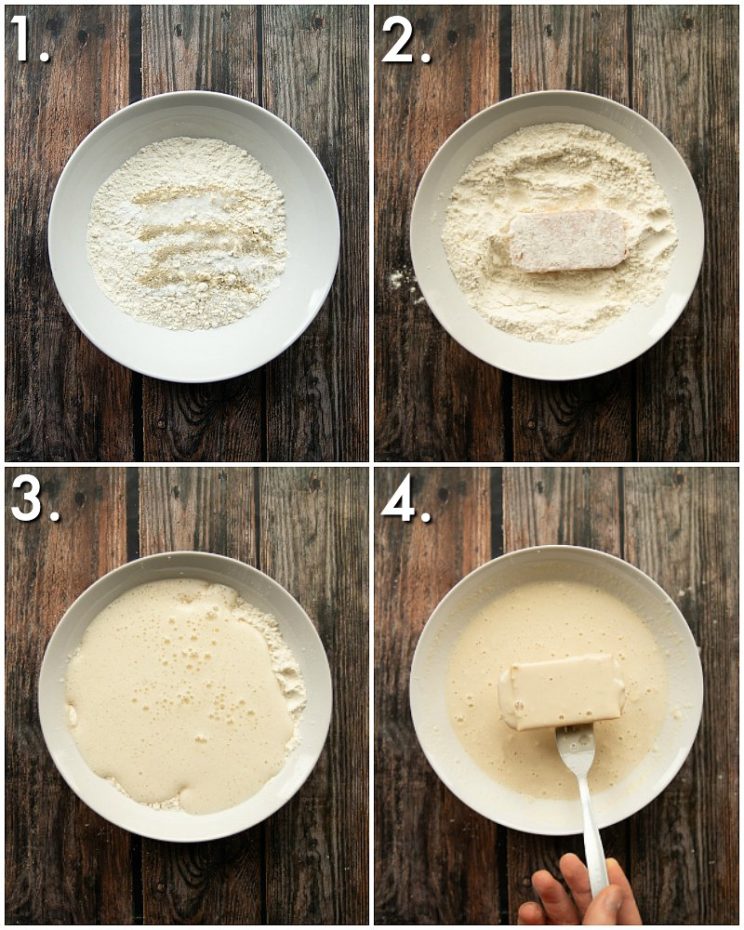 Deep Fried Spam Fritters
I've seen similar recipes to this shallow fry the fritters, but deep frying is a far superior method. You get a far more uniformed batter and it's much crispier.
If you're not confident deep frying then these are the perfect introduction. Because the Spam is already cooked, at the very least you won't get food poisoning if you stuff it up 😂But all jokes aside deep frying is incredibly easy, especially with this recipe.
Tips for deep frying Spam
Oil: Important to use an oil with a high smoking point such as sunflower, vegetable or rapeseed. Do not use olive oil.
Heat: You'll need to get the temp up to 180C/356F before adding the fritters. If the oil isn't hot enough they'll absorb too much oil and come out soggy.
Batches: Work in batches of 3-4 so a) they don't stick together and b) it doesn't lower the temp too much. If you're not overly confident then start with just one.
After a couple of minutes each side they'll hopefully look something a little like this: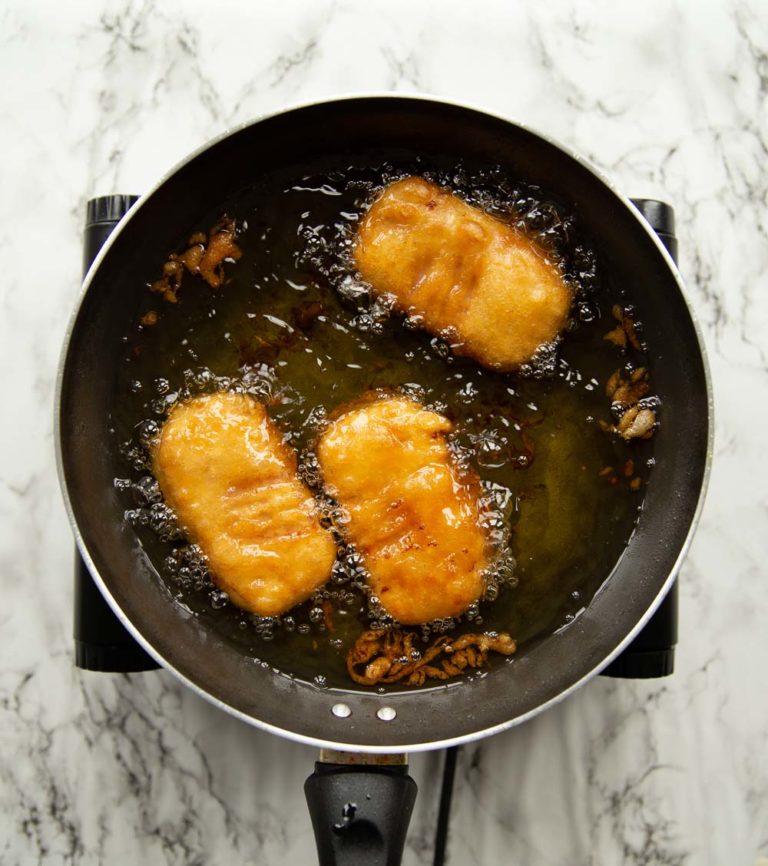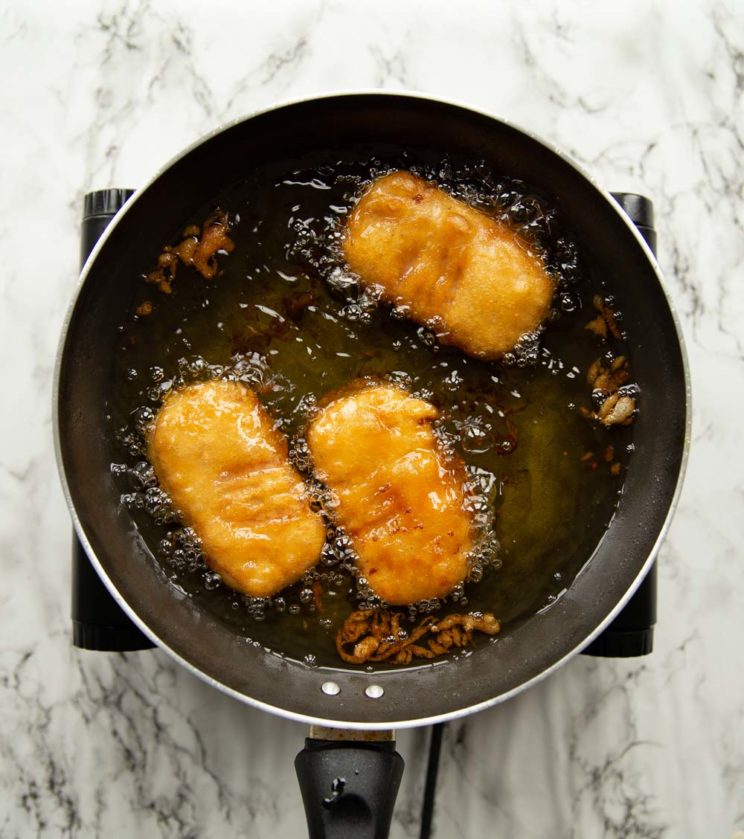 Serving Spam Fritters
Once they're done in the oil, pop them on a wire rack with paper towels UNDERNEATH (I find they go soggy as they cool if placed directly on paper towels). Allow them to cool then tuck in!
Traditionally Spam fritters are either served at the chippy, or with chips and beans/peas. Here I've just served them as some finger food with a good helping of ketchup!
If you're looking for a similar beer battered recipe then check out my Beer Battered Onion Rings!
But for now, let's tuck into the full Spam Fritters recipe shall we?!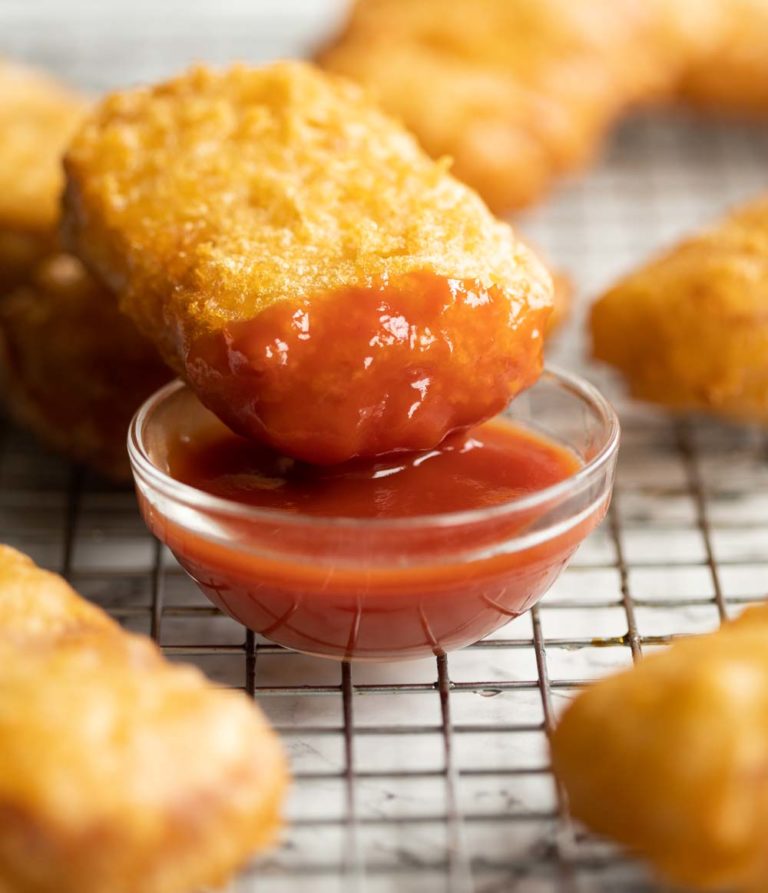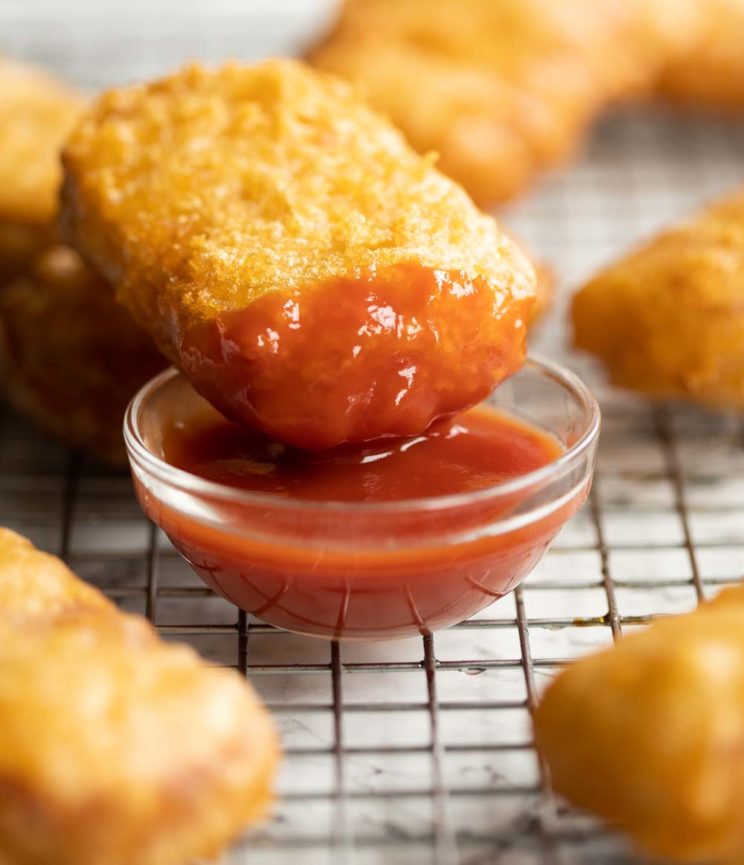 How to make Spam Fritters (Full Recipe & Video)
Spam Fritters
Spam Fritters are an absolute British classic. Here I show you how to make them at home in the easiest and most delicious way possible! I recommend skimming through the recipe notes before getting started!
Print
Pin
Rate
Share by Text
Servings (click & slide):
8
fritters
Calories per serving:
229
kcal
Cost per serving:
£1.50 / $2
Equipment:
1 Large Pot/Deep Pan, for deep frying

Medium Sized Dish & Whisk (for batter)

Sharp Knife & Chopping Board

Wire/Cooling Rack

Kitchen Tongs

Paper Towels

Cooking Thermometer
Ingredients (check list):
1x 12oz/350g

can of

Spam

1 cup / 150g

Plain/All Purpose Flour

1 cup / 240ml

COLD Beer (see notes)

1

tsp

Baking Powder

1/4

tsp each:

White Pepper, Salt
Oil, for deep frying (see notes)
Optional
4

squares of

Cheese, halved/sliced to the size of one fritter (Cheddar or Swiss work great)
Dijon Mustard, as needed
Instructions:
Remove spam from tin (follow instructions on can, make sure it comes out whole). Place on chopping board and slice into 8 equal sized wedges. I find this easiest by halving (2), halving those halves (4), then halving each of those (8).

Lay each wedge flat and very lightly spread with dijon mustard (not too much, just enough for the cheese to stick ~1/2tsp). Lay each slice of cheese on top and firmly press down so it sticks to the spam.

Combine flour in a bowl with baking powder, white pepper and salt. Making sure the cheese stays intact, carefully (but thoroughly) coat each fritter in flour.

At this point pour 3-4cups/750ml-1litre oil in a deep pan and heat it to 180C/356F.

Once all the fritters are coated in the flour pour in the COLD beer. Use a whisk to stir (don't over beat or the bubbles with burst, some small lumps are fine). If you go OTT with the beer and it's too thin just mix in a few pinches more flour, vice versa with the flour. Again, you want the batter as airy and cold as possible so don't beat the hell out of it. It should be somewhat thin, but thick enough to coat the back of a spoon.

Use a fork to lower the fritters into the batter, allow them to fully coat, then carefully transfer into the hot oil. Work in batches of 3-4. You want to work fairly quickly as you want the batter to be as cold and bubbly as possible.

Once the fritters are in the oil the temp will drop, so try and keep it at a steady 180C/356F (increase heat as needed). Allow them to fry for a couple of minutes, then flip and continue cooking until golden. Remove one by one and place on a wire rack with paper towels UNDERNEATH (don't place straight on paper towels or they'll go soggy). Repeat with second batch.
Notes:
a) Beer - Really important the beer is left unopened in the fridge until the last minute. You want it nice and cold and bubbly so it makes the most crispy/airy batter. In terms of what beer to use I usually go for Fosters or Heineken but any lager beer will work. Beer works best as it gives a richer flavour and the alcohol burns off quick (so crispier batter) but a neutral flavoured soda water can sub at a push. b) Oil - You need to use an oil with a high smoking point. Sunflower, vegetable and rapeseed all work well and are great for their neutral flavours. Peanut oil is great, but obvious injects a mild peanut flavour. Do not use olive oil. c) Batter - Really important to not over mix the batter, you don't want to beat the bubbles out. Because it's a rough and ready batter, it's easily adjustable, so if you go slightly OTT with the beer you can easily mix in more flour to thicken.  d) Tips for Deep Frying - If you're not confident with deep frying I recommend just testing with one in the first instance, then increase from there (up to 4 in the pan). Important to make sure the oil reaches temp before adding the fritters AND that it maintains, otherwise the fritters will absorb too much oil and they'll be oily/soggy. e) Classic Spam Fritters - Classic spam fritters of course don't use mustard/cheese, so feel free to make these without and continue the recipe as stated. f) Calories - Difficult to calculate how much oil is soaked up and how much batter is used, but nutrition based on using all the batter and 1/2tsp oil soaked up per fritter. No cheese or mustard.
Your Private Notes:
Nutrition:
Nutrition Facts
Spam Fritters
Amount Per Serving
Calories 229
Calories from Fat 129
% Daily Value*
Fat 14.32g22%
Polyunsaturated Fat 1.672g
Monounsaturated Fat 7.642g
Cholesterol 31mg10%
Sodium 601mg25%
Potassium 190mg5%
Carbohydrates 14.91g5%
Protein 7.59g15%
Vitamin C 0.4mg0%
Calcium 37mg4%
Iron 1.19mg7%
* Percent Daily Values are based on a 2000 calorie diet.
Nutrition is based on the absence of salt unless stated as a measurement in the ingredients. Cost is worked out based on ingredients bought from UK supermarkets, then divided by the number of servings. In both instances these values are just for guidance. Please check out my FAQ Page for more info.
---
If you loved this Spam Fritters Recipe then be sure to pin it for later! Already made them or got a question? Give me a shout in the comments below and pick up your free ecookbook along the way!