This Penne Alla Vodka is rich, creamy and outrageously delicious. Better still, it's so quick and easy to make!
Penne Alla Vodka is an absolute classic. There's a few different ways to make it, but today I'll show you how I make mine. Which coincidently is of course what I deem to be the best way to make penne alla vodka 😋 Follow me…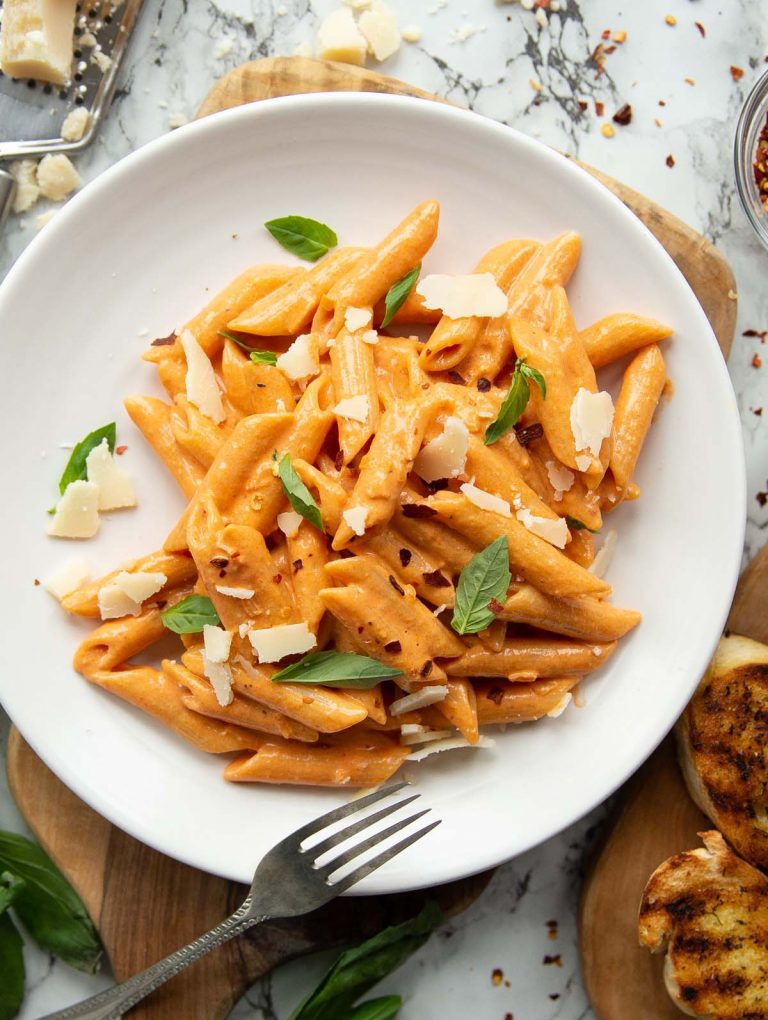 Penne Alla Vodka Ingredients
The great thing about penne alla vodka is you don't need many ingredients, and those that you do need are very simple, store-cupboard ingredients. Having said that, because they are simple ingredients it's important to bring out the best in them.
Best Pasta to use?
As the name suggests, Penne is most traditional here. Although you can use any short-cut pasta. Rigatoni is another classic option.
Best Vodka to use?
For this recipe it won't make a huge difference. Here you'll be simmering the vodka long enough for the alcohol to burn off, so the flavour of the vodka doesn't play a huge roll. Some recipes stir the vodka through right at the end so the taste of the vodka plays a much bigger role. My go-to's are usually Smirnoff or Absolute Vodka, however I have used cheaper brands in the past and the difference is minimal.
Tomato Paste vs Canned Tomatoes
Some recipes use tomato paste (tomato puree in UK) and others used canned tomatoes, usually skinned plum tomatoes. I am personally team tomato paste all the way. I find you get a much richer and more intense flavour in comparison to canned tomatoes. The sauce is also much more smooth, velvety and thick.
Herbs in Vodka Sauce
Beside some fresh basil to finish, I do not add herbs to vodka sauce. I don't think it needs it. If you're crazy for basil you could stir some through the sauce, or at a stretch you could add fresh parsley because it's quite subtle. But as for thyme, rosemary, oregano etc I don't recommend it. They'll just be distracting.
Chilli Flakes in Vodka Sauce
I highly recommend adding some chilli/red pepper flakes. They add a gorgeous background heat that mimics what the vodka would bring if it hadn't been reduced down.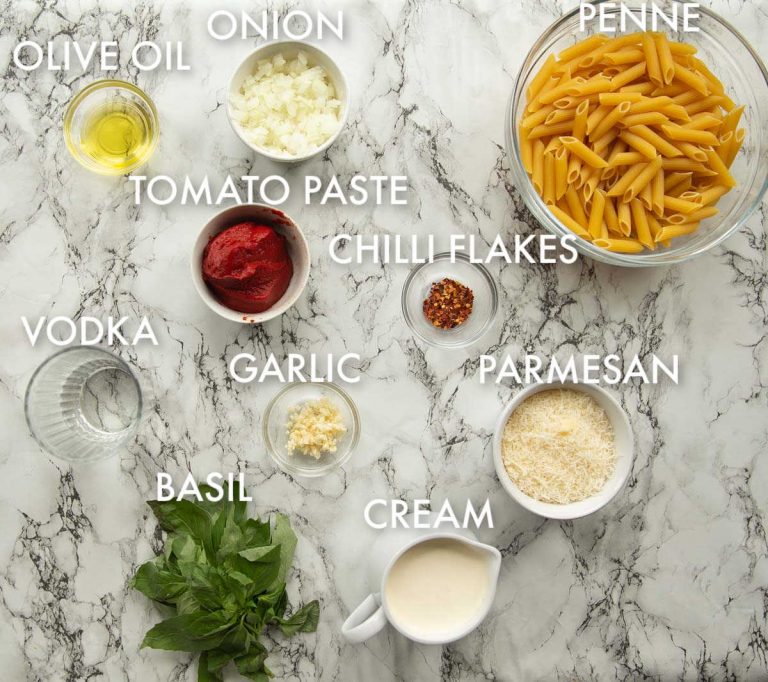 How to make Penne Alla Vodka
Penne alla vodka is ridiculously easy to make and relatively quick too! There's just a few tips and tricks to help bring out the best in the sauce.
Fry the Tomato Paste
It's important to fry off the tomato paste when you add it to the pan. Tomato paste has quite a pungent, almost acidic taste when it's raw. When you fry it you caramelize the tomato and turn it slightly sweet. This is important to balance out the acidity of the vodka.
Room Temp Cream
Cream makes up a good bulk of the vodka sauce. It's important to bring your cream to room temp before you pour it into the pan or you risk it splitting when it hits the heat.
Starchy Pasta Water
Before you drain the pasta you'll want to keep the starchy water it cooks in. This will help emulsify the fats in the sauce and turn the texture thick and silky. It's a crucial ingredient so don't forget it!
Process shots: fry onion in olive oil (photo 1), add garlic and chilli flakes (photo 2), add tomato paste (photo 3), fry (photo 4), pour in vodka and simmer (photo 5), stir in cream (photo 6),  stir in parmesan (photo 7), stir in pasta and pasta water (photo 8).
Penne Alla Vodka FAQ
What does the vodka do in penne alla vodka?
Vodka actually compliments and enhances the flavour of tomatoes. Think of a bloody mary cocktail! It also helps emulsify and thicken the sauce, alongside helping to cut through the richness of the cream and cheese.
Does penne alla vodka taste like vodka?
It depends when you add it. I add mine early on so much of the alcohol is burnt off. What you're left with is a very subtle flavour, without the throat burning sensation. Some recipes stir it through right at the end, leaving the vodka flavour more prominent. In both cases though the flavour is subtle.
How do I tone down the vodka taste in vodka sauce?
If you've got an overwhelming taste of vodka you've probably added too much and/or added it too late. In such case just continue simmering the sauce to reduce down the alcohol. The longer you simmer the less powerful the vodka will be.
Why is my vodka sauce bitter?
One reason might be you've added too much vodka and/or too late, to which I suggest the above (continue simmering). Another reason is the flavours haven't been balanced properly. You need to fry the tomato paste to release its sweetness, alongside gently sweating down the onions to sweeten them too. Parmesan is also important to add saltiness to the dish.
What can I add to vodka sauce?
I find it perfect as it is, but a lot of recipes add in pancetta or prosciutto. Some fresh parsley could work well too!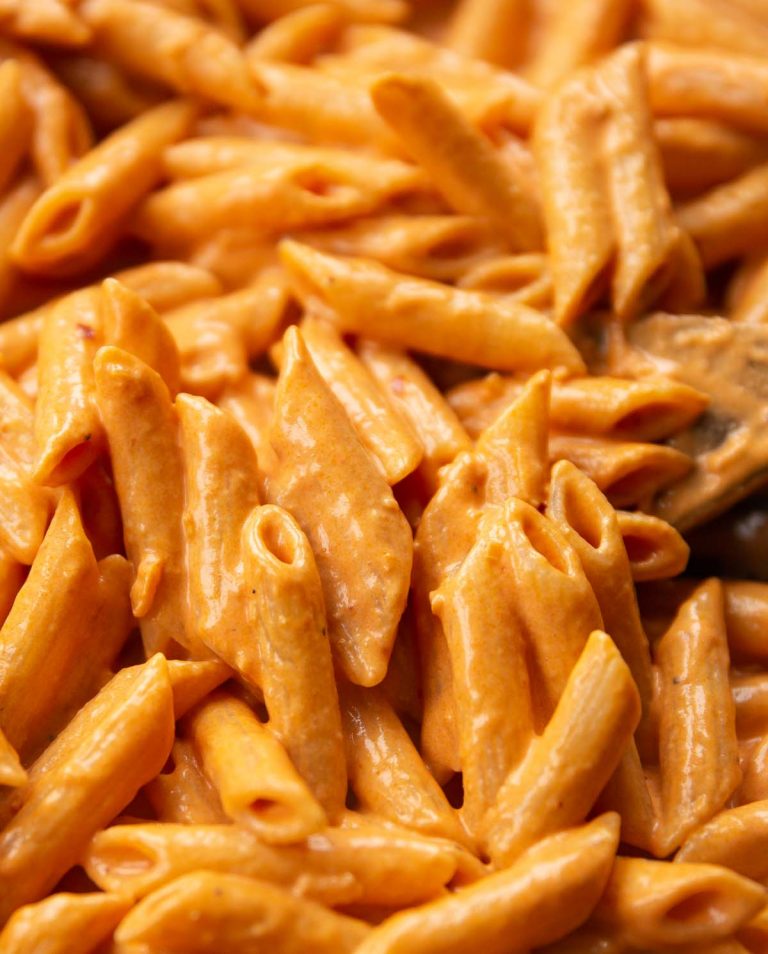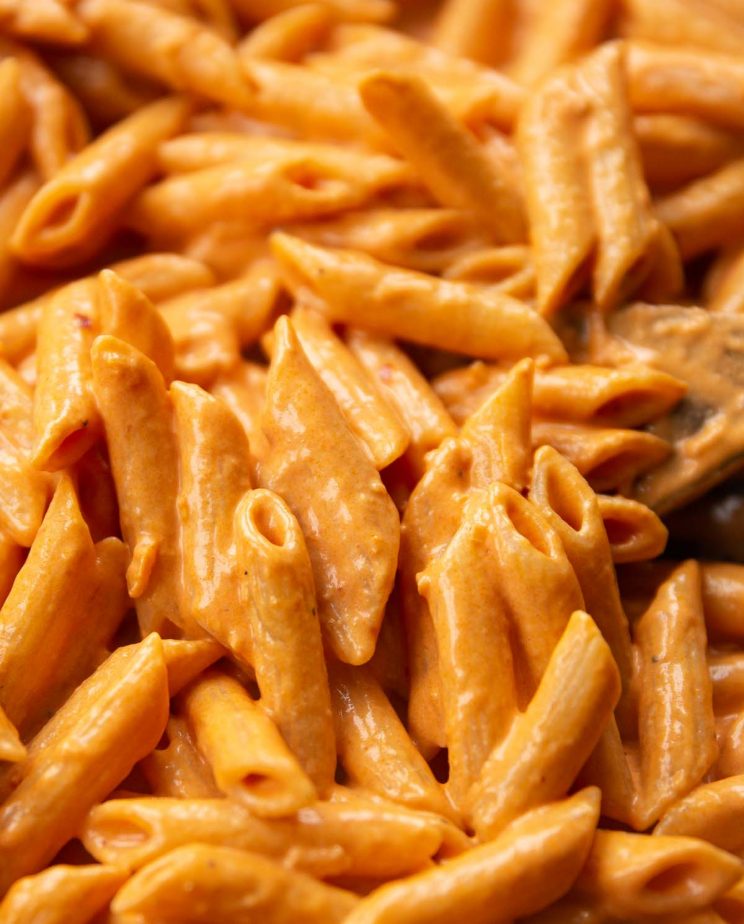 Serving Penne Alla Vodka
Once it's out the pan you can sprinkle over your fresh basil. If you love spice you can add some more chilli flakes and if you want some extra parmesan throw that on too! If you want some extra on the side whip up some garlic bread (or cheesy garlic bread!)
For more similar recipes check out these beauties:
Delicious Pasta Recipes
Alrighty, let's tuck into the full recipe for this penne alla vodka shall we?!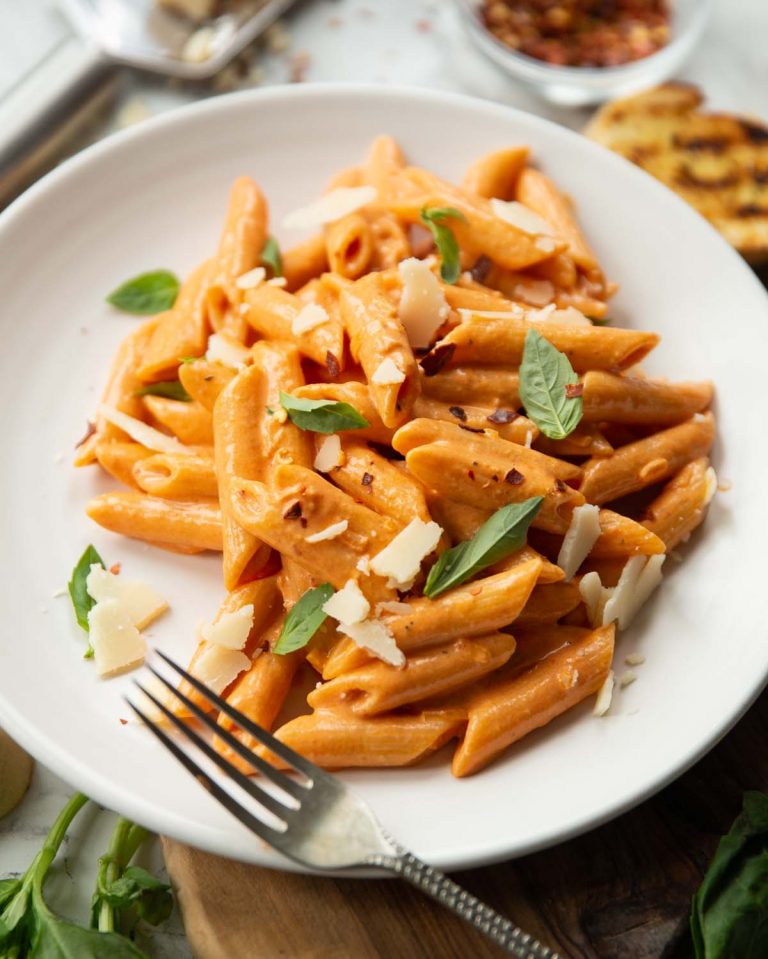 How to make Penne Alla Vodka

 (Full Recipe & Video)
Penne Alla Vodka
This Penne Alla Vodka is rich, creamy and outrageously delicious. Better still, it's so quick and easy to make!
Print
Pin
Rate
Share by Text
Servings (click & slide):
4
Calories per serving:
770
kcal
Cost per serving:
£3 / $4
Equipment:
Large Frying Pan & Wooden Spoon

Large Pot & Colander

Sharp Knife & Chopping Board

Fine Cheese Grater
Ingredients (check list):
14oz / 400g

Penne (can sub Rigatoni)

4oz / heaping 1/3cup / 120g

Good Quality Tomato Puree (Tomato Paste in US)

1 1/4 cup / 300ml

Heavy/Double Cream, at room temp

3/4 cup / 60g

freshly grated

Parmesan

1/2 cup / 120ml

Vodka (see notes)

1

small

White Onion, very finely diced (see notes)

3

cloves of

Garlic,

minced/finely diced

1

tbsp

Olive Oil

1/4 - 1/2

tsp

Chilli Flakes

small

Fresh Basil Leaves, to serve (or large torn leaves)
Instructions:
Add 1 tbsp olive oil and the diced onion to a large pan over low-medium heat. Gently fry to sweat down the onion until it begins to soften (important to go fairly low and slow to sweeten the onions). Add in the garlic and fry for another minute or so, then add chilli flakes and fry for a further minute.

Turn the heat up to medium and add the tomato puree. Stir and fry for a few mins until it starts catching on the pan. It's important to fry the paste so it caramelizes and sweetens. Pour in the vodka and deglaze the pan with your wooden spoon. Allow to bubble away for 5mins to burn off the alcohol. The pungent smell of alcohol should fade away and the paste should re-thicken close to what it was before.

At this point pop the pasta to heavily salted water and cook until al dente. Once cooked, drain the pasta over a bowl or saucepan to collect all of the starchy water it's cooked in.

Meanwhile, pour the cream into the pan and stir until it incorporates with the paste. Allow to gently simmer for 5 or so mins until the sauce begins to thicken. Sprinkle in parmesan and stir until it melts, then check for seasoning/spice and adjust if needed. The sauce should be fairly thick at this point.

Add the drained pasta along with 1/2cup/120ml of the starchy pasta water. Turn the heat to low and stir until the sauce clings nicely to the pasta. If you need to add more pasta water to thin the sauce out do so, if you go slightly overboard just simmer and stir until the sauce reduces and thickens.

Serve with small or torn basil leaves!
Quick 1 min demo!
Notes:
a) Vodka - Back in the day I'd have told you there's a huge difference in quality/price of vodka, but nowadays I'm fairly clueless. The most recent time I made this was with a super cheap brand and it still tasted delicious. Most (if not all) of the alcohol burns off so the taste is fairly mellow in all cases. Grab something nice if you can but certainly don't break the bank! i) How do I tone down the vodka taste in vodka sauce? If you've got an overwhelming taste of vodka you just haven't burnt off enough of the alcohol. In such case just continue simmering the sauce to reduce down the alcohol. The longer you simmer the less powerful the vodka will be. Use your starchy pasta water if you need to thin out the sauce in order to do this. b) Onion - You mainly want the flavour of the onion, not so much the texture. Hence why I recommend dicing it as finely as you can. It's also important to slowly sweat down the onions to bring out their natural sweetness. This helps balance out the acidity of the tomato/vodka. c) Starchy Water - This is a crucial ingredient, so don't skip it. It's important to make sure your pasta water is heavily seasoned so you don't dilute the flavour of the sauce. I also recommend not overfilling the pot with water. The more water there is the less starchy it'll be. It's the starch that helps emulsify the fats in the sauce and create a silky/creamy texture. d) Leftovers - Keep leftovers tightly sealed in the fridge for 3-4 days. KEEP YOUR STARCHY PASTA WATER. To reheat just simmer over low heat, using your pasta water to thin it out as needed. e) Additions - I tend not to add herbs to the sauce, I find it distracting. Fresh basil at the end works nicely, but if you love basil you could simmer some in the sauce too. If you want to add meat I recommend pancetta, prosciutto or bacon. About 5oz/150g should suffice. Fry with the onions to render down the fat until nice and crispy. f) Calories - whole recipe divided by 4. Calories for one portion.
Your Private Notes:
Nutrition:
Nutrition Facts
Penne Alla Vodka
Amount Per Serving
Calories 770
Calories from Fat 296
% Daily Value*
Fat 32.85g51%
Polyunsaturated Fat 2.405g
Monounsaturated Fat 10.719g
Cholesterol 98mg33%
Sodium 382mg16%
Potassium 707mg20%
Carbohydrates 91.59g31%
Protein 15.62g31%
Vitamin A 1659IU33%
Vitamin C 9.3mg11%
Calcium 223mg22%
Iron 2mg11%
* Percent Daily Values are based on a 2000 calorie diet.
Nutrition is based on the absence of salt unless stated as a measurement in the ingredients. Cost is worked out based on ingredients bought from UK supermarkets, then divided by the number of servings. In both instances these values are just for guidance. Please check out my FAQ Page for more info.
---
If you loved this Penne Alla Vodka recipe then be sure to Pin it for later! Already made it or got a question? Give me a shout in the comments and pick up your free ecookbook along the way!