This four cheese pasta is luxuriously smooth and silky, ultra cheesy and utterly delicious. Better still, it only takes 15mins to make!
Four cheese pasta, quattro formaggi pasta, a food coma waiting to happen, whatever you want to call this, can we all rejoice in the fact that it's one of the tastiest pasta recipes around? Okay good. 4 cheese pasta is a classic in many Italian restaurants and here I'll show you how unbelievably easy it is to make at home. Follow me…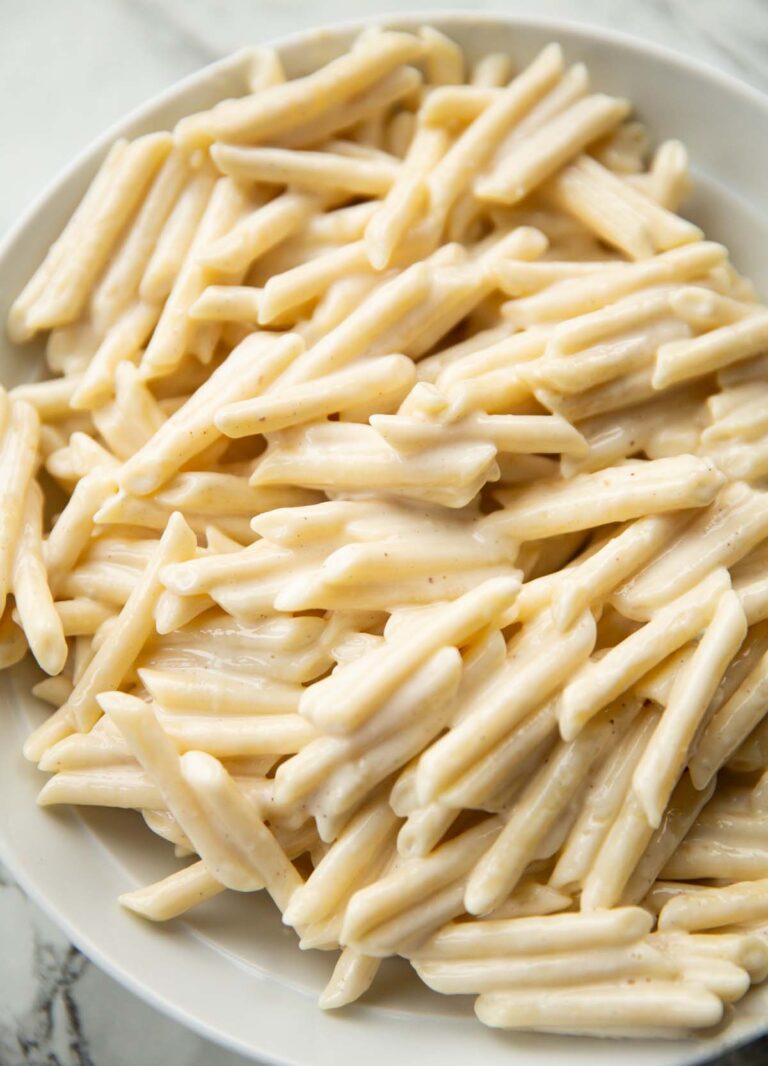 Four Cheese Pasta Sauce
The sauce itself is incredibly simple. I tend to split it into the following three categories:
1. Base
The base of the sauce is a straight 50/50 split of milk and cream. No need for a roux, or any other thickening agent, the cheese will lightly thicken the sauce.
2. Cheese
Realistically what we all came here for. I've tried to keep the cheese selection as traditional as possible, whilst still using cheeses you'll easily find at the store. Here's what I deem to be the ultimate 4 cheese sauce:
Taleggio – Fairly mellow but makes a great base to build flavours and also helps create a smooth and creamy sauce.
Gorgonzola – Even if you don't like blue cheese I highly recommend adding this. Gorgonzola is much milder and creamier than other, harder blue cheeses. It gives a gorgeous background flavour, but won't overpower the sauce.
Gruyere – Adds a nice sweet and nutty flavour.
Parmigiano Reggiano – Is it even legal to make a pasta sauce without this?!
You can make some substitutions, I've added a few options in the recipe card.
3. Seasoning
The sauce really speaks for itself to be honest, so you don't need to go overboard with the seasoning. But alongside salt and pepper, I highly recommend adding nutmeg. It really compliments the sauce and enhances those nutty tones from some of the cheeses.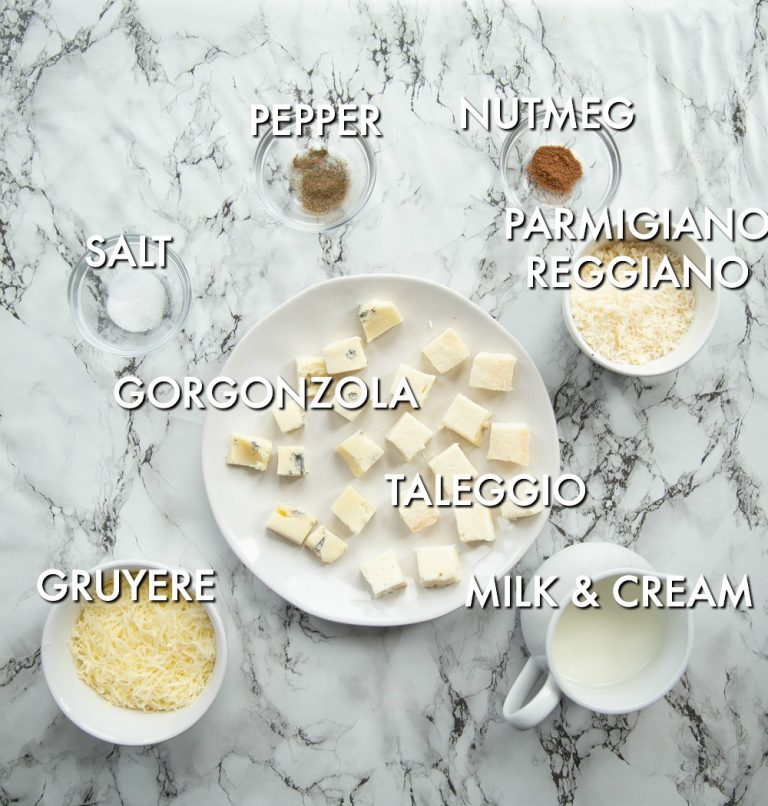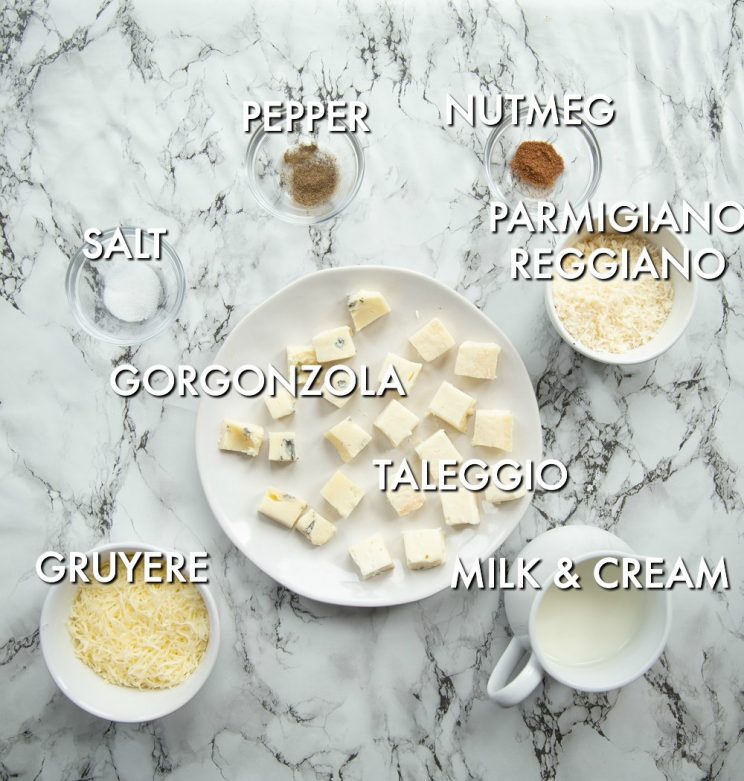 How to make 4 Cheese Pasta
Again, a very simple process. To thicken the milk and cream, you'll want to begin by adding Taleggio and Gorgonzola. These melt into the sauce nicely and begin thickening it. After that just stir through your grated cheeses and add seasoning. Plonk in pasta and jobs a good'n.
Sauce Consistency
This isn't the type of recipe where the pasta is drowning in the sauce. The sauce is light and silky, it should just wrap around the pasta nicely. If the sauce is still thin once the pasta is added, just gently simmer until it attaches to the pasta.
Starchy Pasta Water
With the same token, if you over-reduce the sauce, I'd always keep a cup of the water your pasta cooked in, just in case. The starch molecules help emulsify the fats in the sauce and not only help thicken it but also turn it nice and glossy.
What's the best pasta to use?
Here I use Mezzi Rigatoni (half rigatoni), but in theory, you can use any shortcut pasta you like!
Process shots: combine milk and cream (photo 1), melt in semi-soft cheeses (photo 2), add grated cheese (photo 3), add seasoning (photo 4), stir in pasta (photo 5).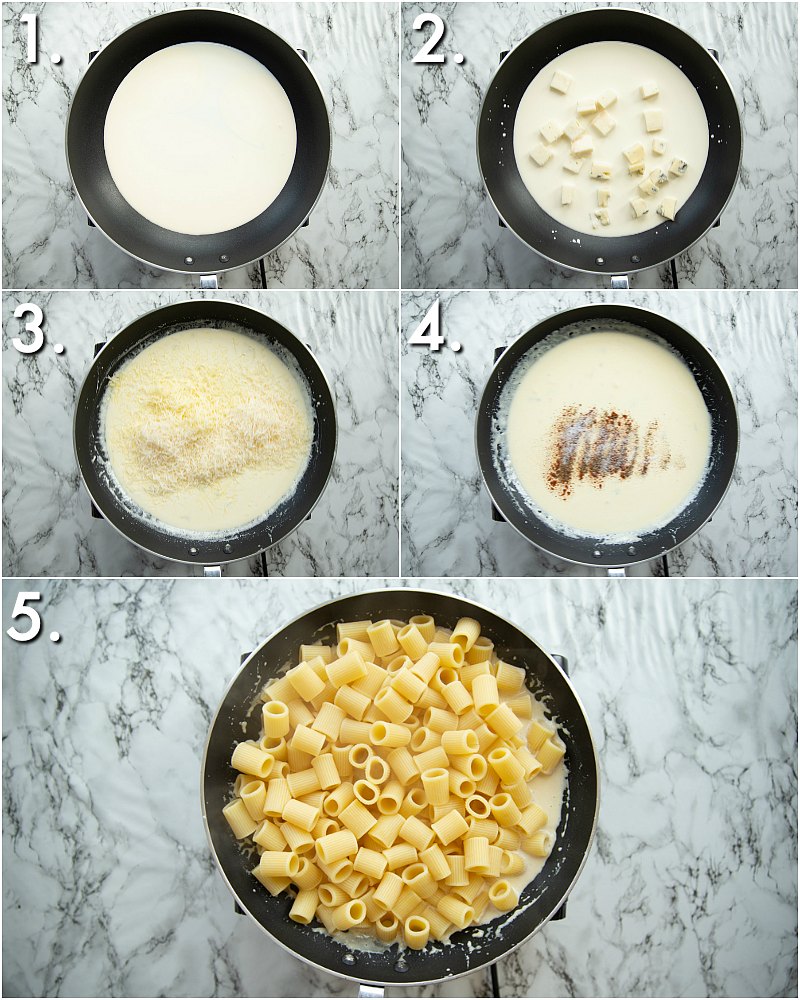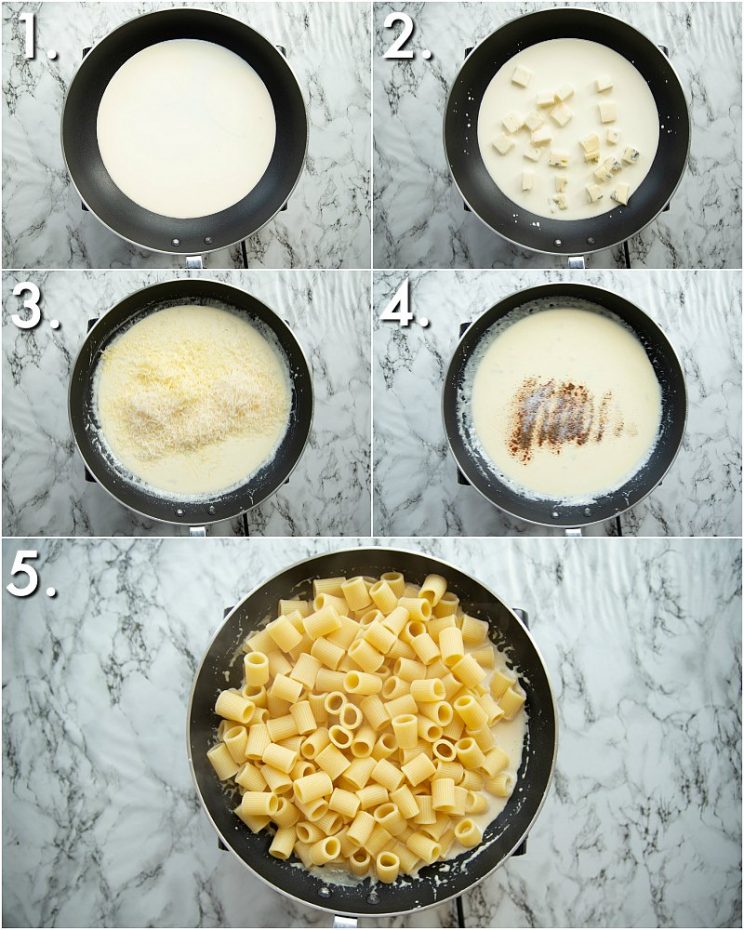 Can I reheat this?
You can, just don't stick it in the microwave. It'll dry up and go grainy. I recommend popping it back in the pan over low heat with a splash of milk, just to retain it's original sauciness.
And there we have it! All my top tips and tricks for the best four cheese pasta.
If you're looking for another quick and easy cheese pasta recipe then make sure you check out my Cream Cheese Pasta!
For more similar recipes give these beauties a ganders too:
Alrighty, let's tuck into the full recipe for this four cheese pasta shall we!?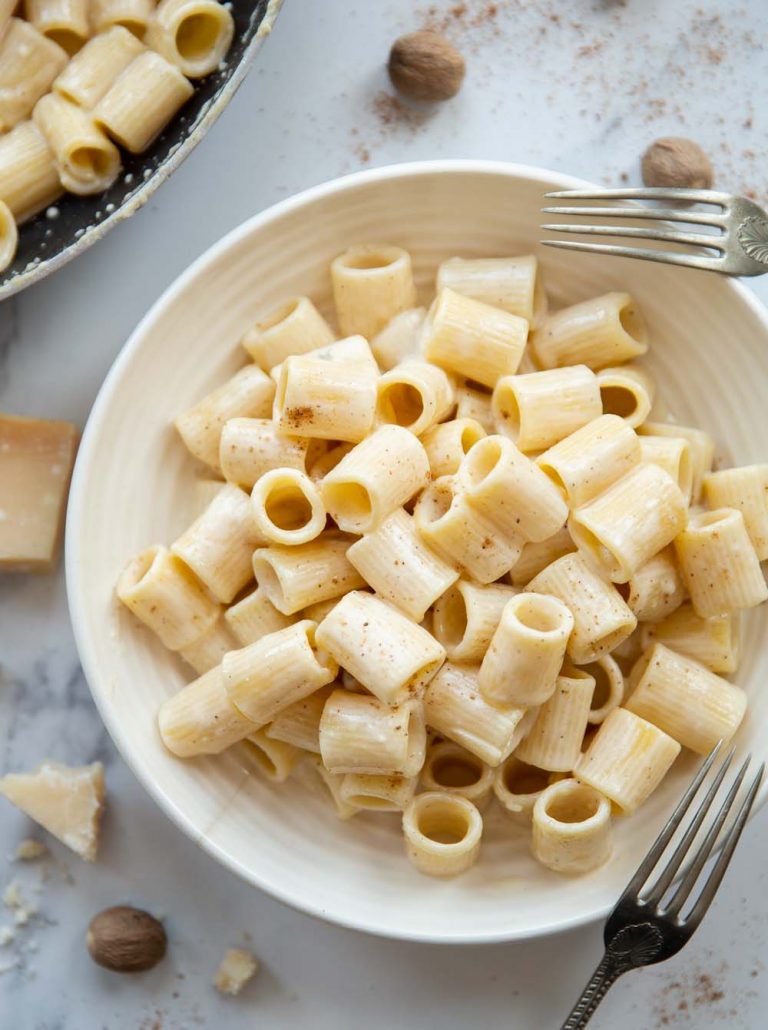 How to make Four Cheese Pasta

 (Full Recipe & Video)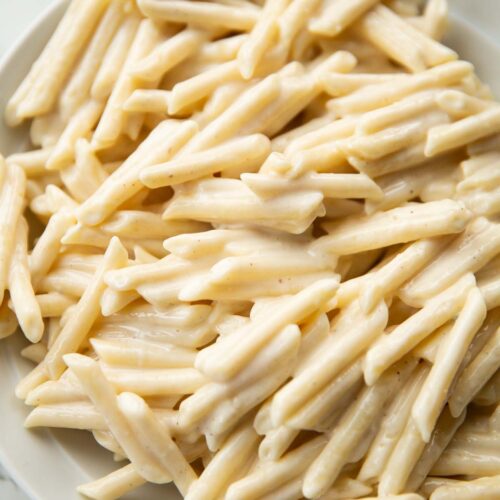 Four Cheese Pasta
This four cheese pasta is luxuriously smooth and silky, ultra cheesy and utterly delicious. Better still, it only takes 15mins to make!
Print
Pin
Rate
Share by Text
Servings (click & slide):
4
Calories per serving:
695
kcal
Cost per serving:
£2 / $2.50
Equipment:
Large Deep Frying Pan & Wooden Spoon

Large Pot & Colander

Fine Cheese Grater

Jug (for milk/cream)
Ingredients (check list):
400g / 14oz

Short Cut Pasta

120ml / 1/2 cup

Whole Milk

120ml / 1/2 cup

Double/Heavy Cream

80g / 3oz

Taleggio, rind removed and roughly diced (see notes)

50g / 1.75oz

Gorgonzola, roughly diced

50g / 1.75oz

Gruyere, finely grated

40g / 1/2 cup

freshly grated

Parmigiano Reggiano,

1/4

tsp EACH

Nutmeg, Salt, White Pepper or to taste (sub black pepper)
Instructions:
Add the pasta to salted boiling water and cook to the package instructions minus around 2 mins (should still be a teeny bit hard). Just before draining, retain a cup of the starchy pasta water.

In a large deep pan over low-medium heat stir together milk and cream until combined. As the cream begins to warm, add the Taleggio and Gorgonzola and stir until they blend into the sauce. Keeping the heat on low-medium, and without the sauce coming to a rapid simmer, keep gently stirring for 4-5 minutes until the sauce begins to thicken.

Turn the heat to very low, stir in the Gruyere and Parmigiano until they blend with the sauce, then season with nutmeg, salt and pepper. I typically do 1/4 tsp of each, but work to taste.

Add in the pasta alongside around 1/3 cup of the starchy pasta water. Stir and toss the pasta in the sauce for a couple of minutes until the sauce thickens into a silky sauce that clings to the pasta. It should no longer be watery, instead a light, silky/glossy sauce. The pasta should be perfectly al dente. Keep stirring until you reach this consistency (see video for reference). If it over-thickens or the pasta needs a little more cooking, just stir in more starchy pasta water as needed.
Quick 1 min demo!
Notes:
a) Low Heat - you want to keep the heat on a low-medium, no higher. If at all the sauce starts rapidly bubbling just turn down the heat. The sauce will thicken and come together, just make sure it's thickened before you add in the grated cheese.
b) Cheese Subs - You can sub different cheeses, I recommend keeping to similar textures and flavours though. Here are some similar options:
Taleggio - Fontina or Brie.
Gorgonzola - Any other mild blue cheese i.e. Dolcelatte (even if you don't like blue cheese I recommend adding this, it's a small amount so quite mellow, but still packs a good amount of flavour).
Gruyere - Comté.
Parmigiano Reggiano - Pecorino Romano or Parmesan.
c) Can this be reheated? - I don't recommend reheating leftovers in the microwave, it'll dry up and go grainy. Just reheat on low heat with a splash of milk in the pan to regain its sauciness.
d) Calories - based on using whole milk, no extra cheese to top and divided by 4.
Your Private Notes:
Nutrition:
Nutrition Facts
Four Cheese Pasta
Amount Per Serving
Calories 695
Calories from Fat 280
% Daily Value*
Fat 31.09g48%
Polyunsaturated Fat 2.058g
Monounsaturated Fat 8.792g
Cholesterol 99mg33%
Sodium 764mg32%
Potassium 451mg13%
Carbohydrates 83.18g28%
Protein 23.38g47%
Vitamin A 1114IU22%
Vitamin C 0.2mg0%
Calcium 404mg40%
Iron 1.17mg7%
* Percent Daily Values are based on a 2000 calorie diet.
Nutrition is based on the absence of salt unless stated as a measurement in the ingredients. Cost is worked out based on ingredients bought from UK supermarkets, then divided by the number of servings. In both instances these values are just for guidance. Please check out my FAQ Page for more info.
---