Looking for an easy cheese ball recipe? Look no further than the Ultimate Cream Cheese and Onion Ball! Stuffed with caramelized onions and coated in crispy fried onions, this cheese and onion ball is sure to get the party started! – Hungry now? Jump to Recipe
I mean realistically if you're not serving a cream cheese ball the size of your face at your next gathering, is it even worth having!? A simple cheese board is totally a thing of the past. Face-sized cheese balls are the way forward. This is life now. 🙂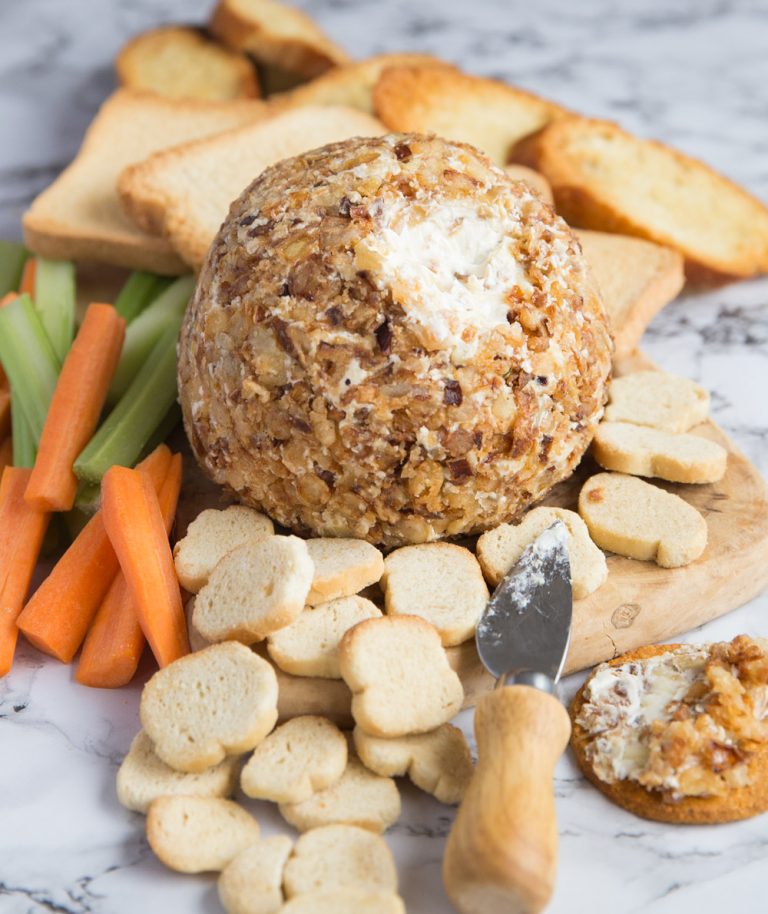 This is my go-to recipe for BBQ's, gatherings and dinner parties. I usually serve a few different varieties (which I will get round to uploading, promise) but this is my favourite. Guests love it every time.
So what the heck is in this cheese ball?
Good question.
Cream Cheese and Onion Ball Ingredients
Cream Cheese
Cheddar Cheese
Caramelized Onions
Crispy Fried Onions
Sounds good right? Let's talk caramelizing onions. After all, they are the star of the show in this recipe!
If you're making your own caramelized onions it's crucial to get them truly caramelized. Rushing the process or cutting corners will result in an overpowering onion taste when combined with the other ingredients. You want them nicely sweet and sticky for this cheese ball recipe.
Homemade Caramelized Onions Ingredients
Onions (white or red)
Butter
Brown Sugar
Balsamic Vinegar
Fresh Thyme
Salt and Pepper
You can in fact caramelize onions with just a knob of butter or olive oil, but with these few additions the flavour really goes through the roof.
How to make Caramelized Onions
Melt a knob of butter in a non-stick pan and add diced onions. Sautee for a few minutes over medium heat, then add your salt, pepper and thyme.
Reduce heat to low and gently fry for around 20-25 mins until golden.
Add balsamic vinegar and sugar, stir, then fry for another 25-30mins or until a dark caramel colour.
For a detailed tutorial on the best way to caramelize onions check out my caramelized onions recipe! But for now, let's talk cream cheese ball.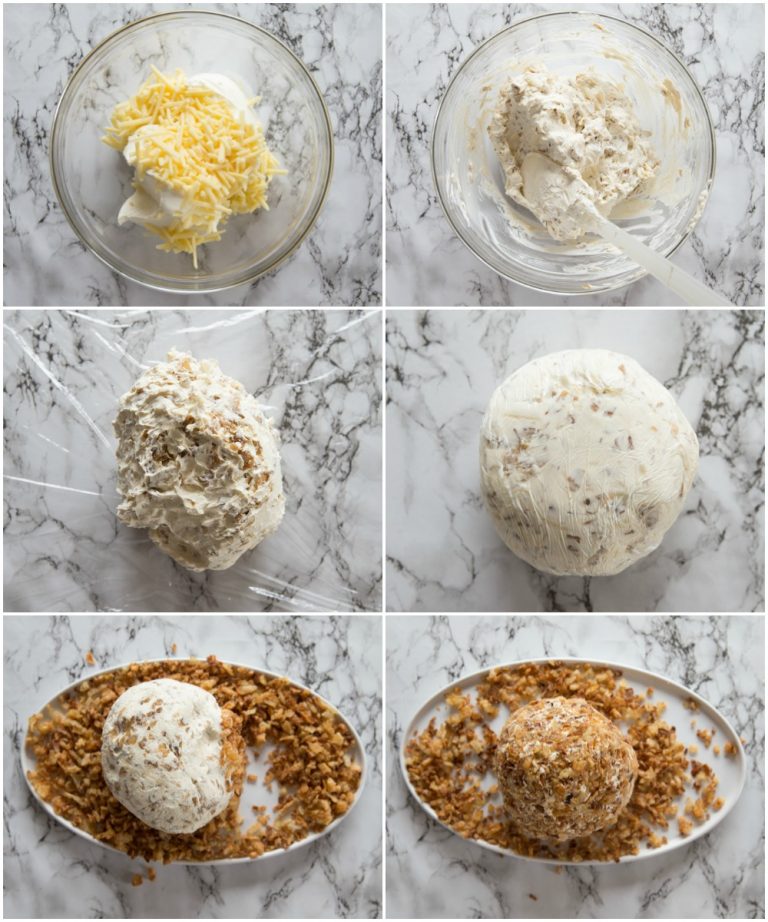 How to make a Cream Cheese Ball
Combine your fillings with your cream cheese in a suitably sized bowl.
Empty onto a sheet of cling film and mould into a ball shape.
Pop in the fridge until ready to serve (or at least 60mins until it firms up)
Roll your bowl into your casing of choice. Serve immediately with your nibbles of choice!
Now somebody give me something to tackle this darn thing with!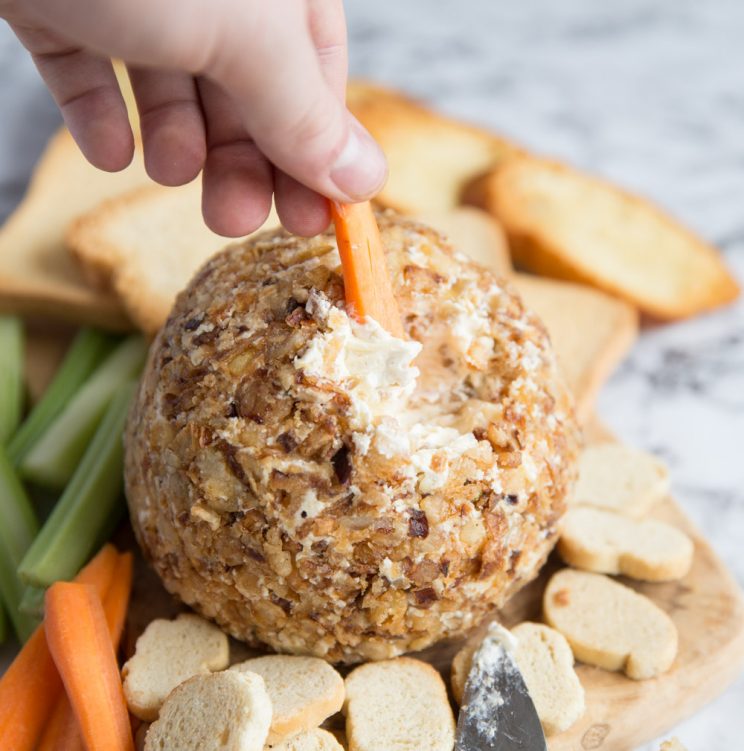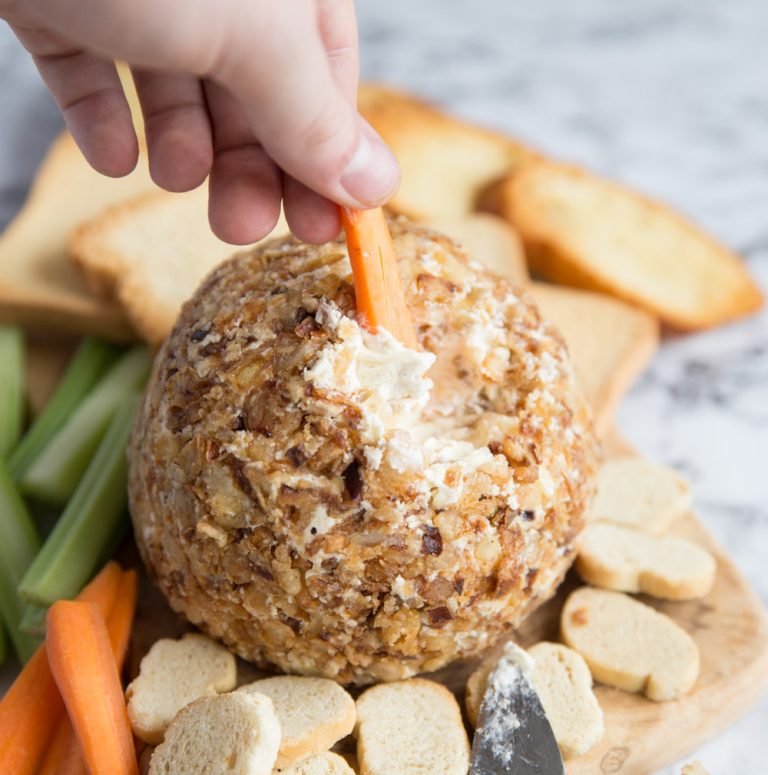 Much better.
As you can see making a cheese ball recipe is pretty straight forward. Here's just a few tips to make sure it's perfect!
Tips for the best Cream Cheese Ball
Try and stay away from wet ingredients, it'll turn your cheese ball sloppy and keep in from forming into a ball shape.
Give it a stint in the fridge before you serve to help firm up.
Pick a casing ingredient with a contrasting texture i.e nuts/crisps and add them after the stint in the fridge. Rolling the cheese ball in your outer layer just before serving will ensure the outside doesn't go soft.
Biscuit anyone?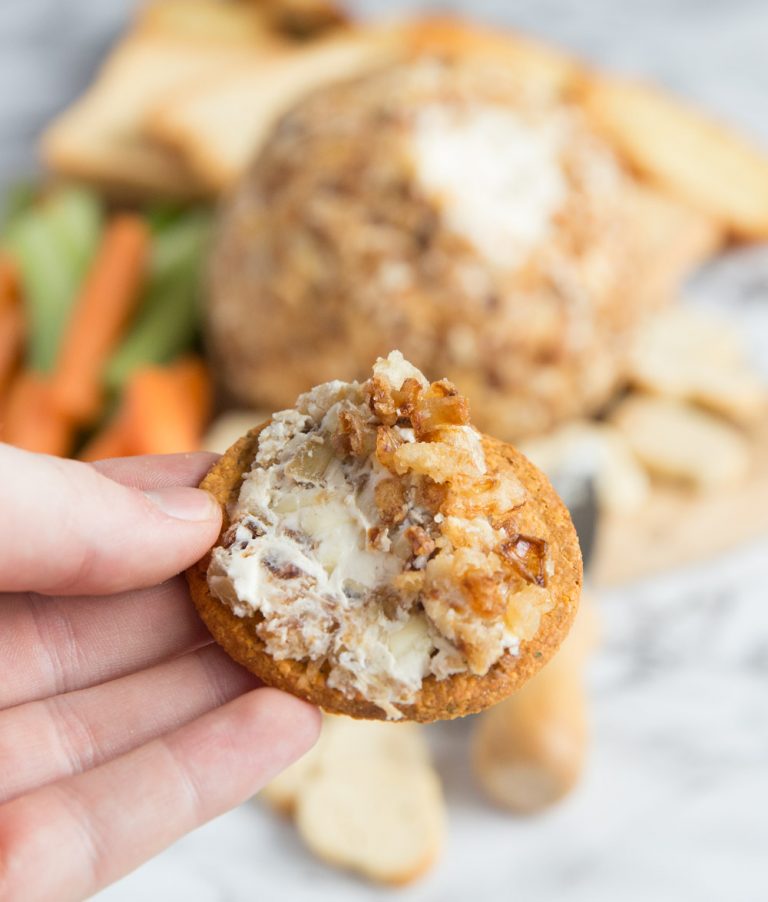 Join the foodie family! – Get awesome recipes sent straight to your inbox by signing up to my Weekly Mailing List (where you'll receive your FREE ECOOKBOOK) and stay in touch on Instagram, Facebook and Pinterest! 🧡
How to make a Cheese Ball (Full Recipe & Video)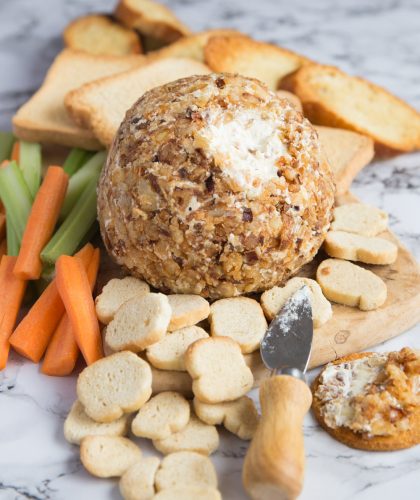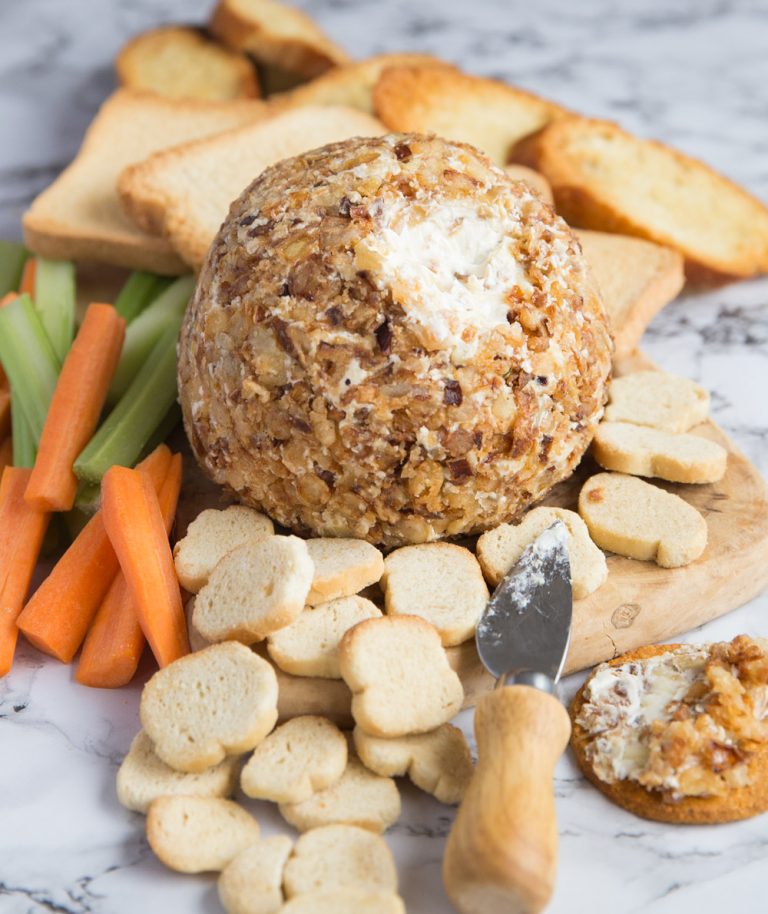 The Ultimate Cream Cheese and Onion Ball
Looking for an easy cheese ball recipe? Look no further than the Ultimate Cream Cheese and Onion Ball! Stuffed with caramelized onions and coated in crispy fried onions, this cheese and onion ball is sure to get the party started!
Course:
Appetizer, Starter
Keyword:
Easy Cheese Ball Recipe
Ingredients
500g / 1.1lbs

Cream Cheese

500g / 1.1lbs

Onion, finely diced

160g / 2 cups

Fried Onions (store bought or homemade)

100g / 1 cup

Cheddar Cheese, grated

1

tbsp

Butter

1

tbsp

Brown Sugar

1

tbsp

Balsamic Vinegar

few sprigs of

Fresh Thyme

Salt & Black Pepper
Method
How to caramelize onions: Melt your butter over medium heat in a suitably sized non-stick pan and mix in your onion. Once softened, add your salt, pepper and thyme. Turn to low heat and stir occasionally ensuring an even cook for all the slices. After around 20-25 mins they will begin turning brown and releasing sugar. At this point add in your brown sugar and balsamic vinegar. Keep on low heat. Cook for a further 25-30mins, stirring occasionally until dark brown and sticky.

Take off heat and leave to cool. Once cool, combine with your cream cheese and cheddar. Taste for seasoning.

Drop cheese mixture onto a large sheet of cling film and form into a ball. Pop in the fridge until needed (at least 60 mins to firm up).

Before serving, roll in your crispy onions and ensure a full coverage. Serve with nibbles of choice!
Watch how to make it!
Recipe Notes
a) How to caramelize onions - For a more thorough tutorial check out my caramelized onions recipe. It's really important to fully caramelize them to ensure they end up sweet and sticky. If you rush the process the onion taste is going to end up way too overpowering.
b) Amount of caramelized onions - The above recipe will produce around 1 cup of caramelized onions. Feel free to double to recipe for a sweeter onion flavour!
c) Coating just before serving - Because you want the crispy onions to stay crispy, don't coat them and let it sit in the fridge, they'll go soft. Wait until you're ready to serve and then coat the cheese ball.
d) Homemade crispy fried onions - If you want to make your own then finely dice 2 heaping cups worth of onions and pat with a paper towel to extract as much moisture as possible. Evenly coat in seasoned flower (shake off excess in a sift) and shallow fry until golden and crispy. Drain excess fat on a paper towel and you're good to go!
e) Serving and calories - it's pretty difficult to say how many people this will feed, but my estimate is comfortably 10. Calories based per serving (1/10th).
Nutrition Facts
The Ultimate Cream Cheese and Onion Ball
Amount Per Serving
Calories 253
Calories from Fat 167
% Daily Value*
Total Fat 18.54g 29%
Saturated Fat 11.436g
57%
Polyunsaturated Fat 0.709g
Monounsaturated Fat 5.108g
Cholesterol 57mg 19%
Sodium 296mg 12%
Potassium 308mg 9%
Total Carbohydrates 15.71g 5%
Protein 7.41g 15%
* Percent Daily Values are based on a 2000 calorie diet.
---
For another easy cheese ball recipe check out my Fried Cheese Balls!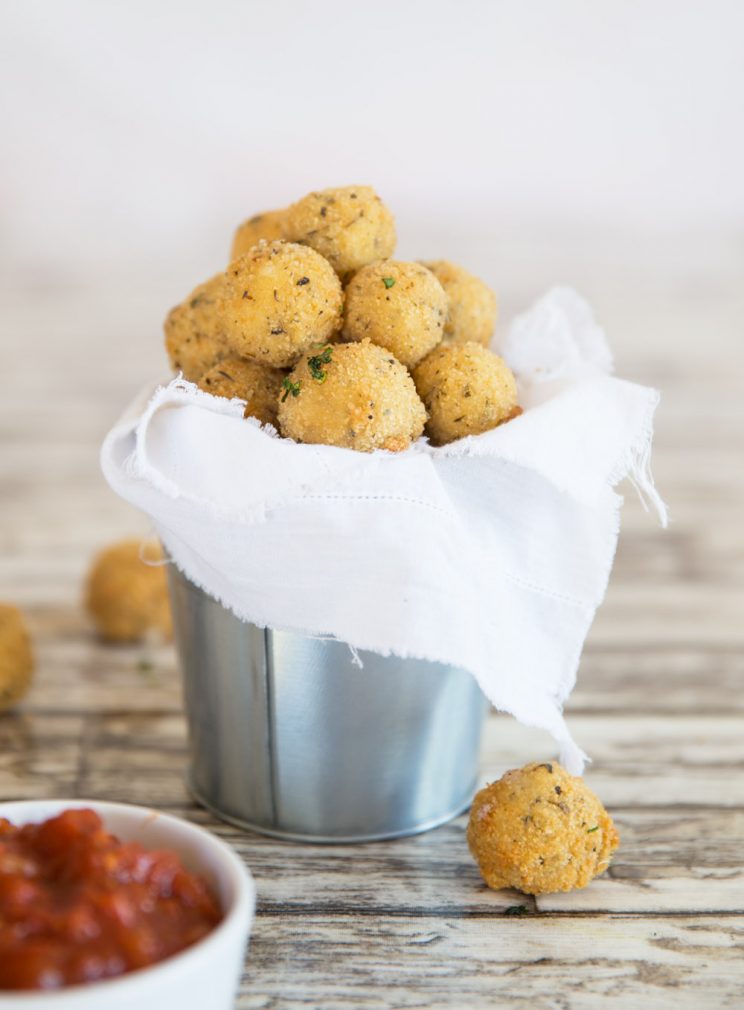 If you plan on making this onion and Cream Cheese Ball then be sure to Pin it for later! Already made it or got a burning question? Give me a shout in the comments below and pick up your free ecookbook along the way!