This Dr Pepper Pulled Pork is sweet, saucy, tender, juicy and all round DELICIOUS!
Forget what you knew about pulled pork, because this is about to be your new go-to pulled pork recipe. Follow me…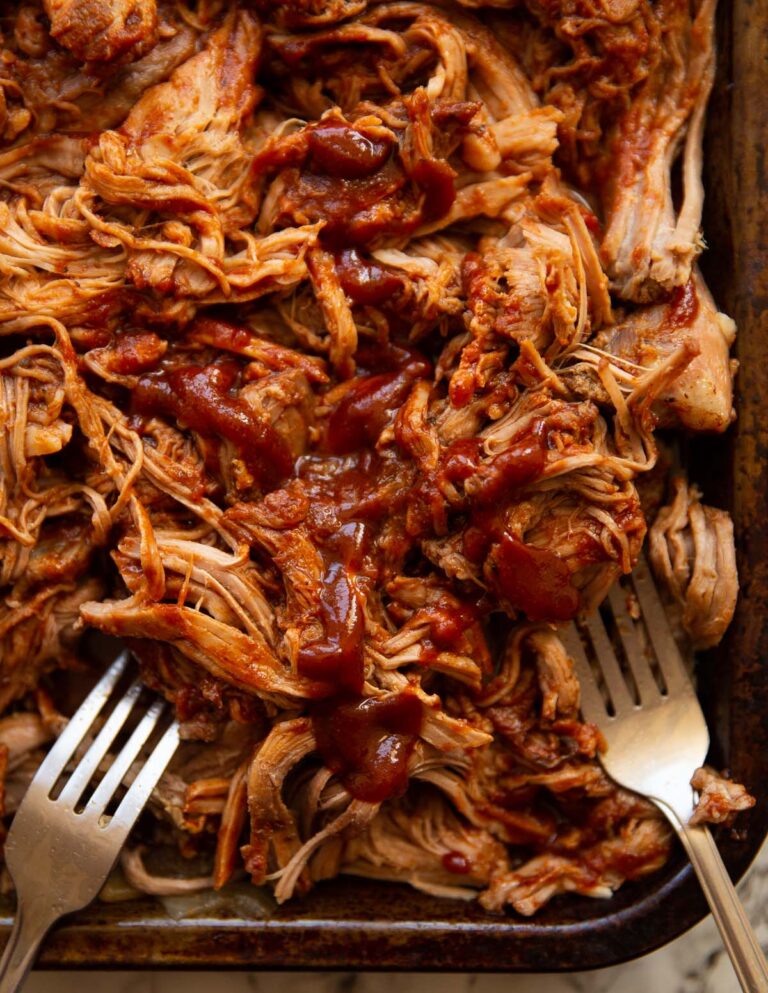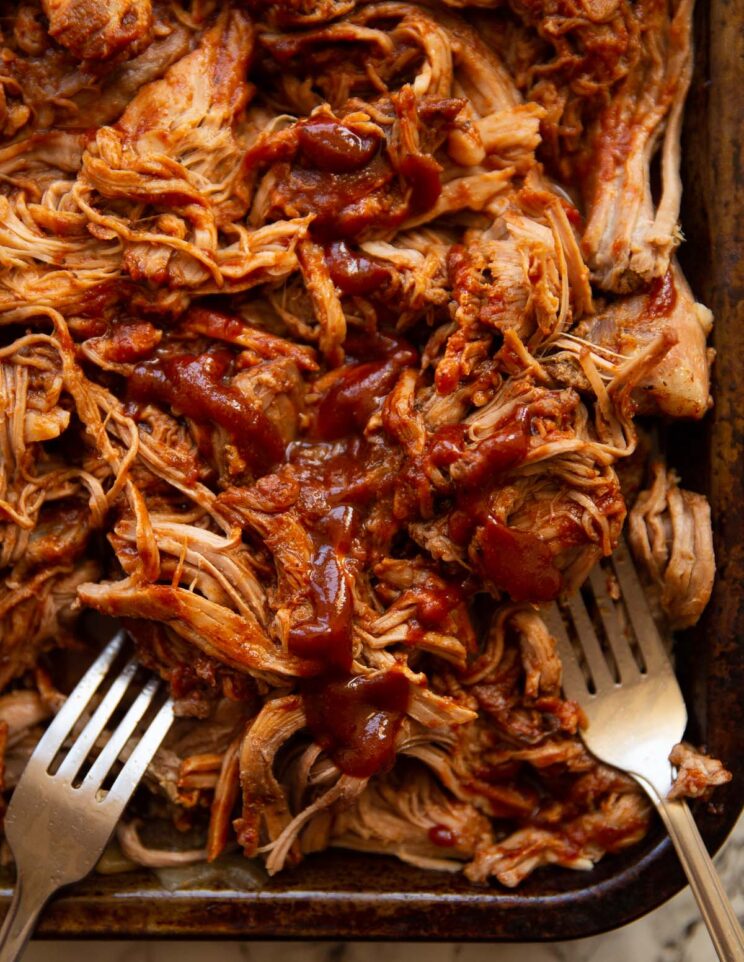 Dr Pepper Pulled Pork
Using Dr Pepper to make pulled pork isn't just a novelty, it's actually a really key ingredient. Not only does it help keep the pork moist, but it also injects a gorgeous sweet flavour.
Does this pulled pork ACTUALLY taste of Dr Pepper?
The flavour is very faint after cooking, but when you mix in the BBQ sauce you'll definitely taste it. Most of the flavour will come from the sauce though.
Pulled Pork Ingredients
Pork – You'll want to use pork shoulder (pork butt). I prefer bone out with the top layer of fat removed. You'll likely find this cut of meat in the supermarket, but definitely at the butchers.
Dr Pepper – This offers a faint sweetness and helps keep the pork moist as it cooks.
Onion – This infuses into the liquid. I also like to mix in the onion as you shred the pork. They'll be ultra soft and will add a good hit of flavour. Also means they don't go to waste!
Seasoning – To coat the pork. Here I use a simple mix of paprika, garlic powder, salt and black pepper.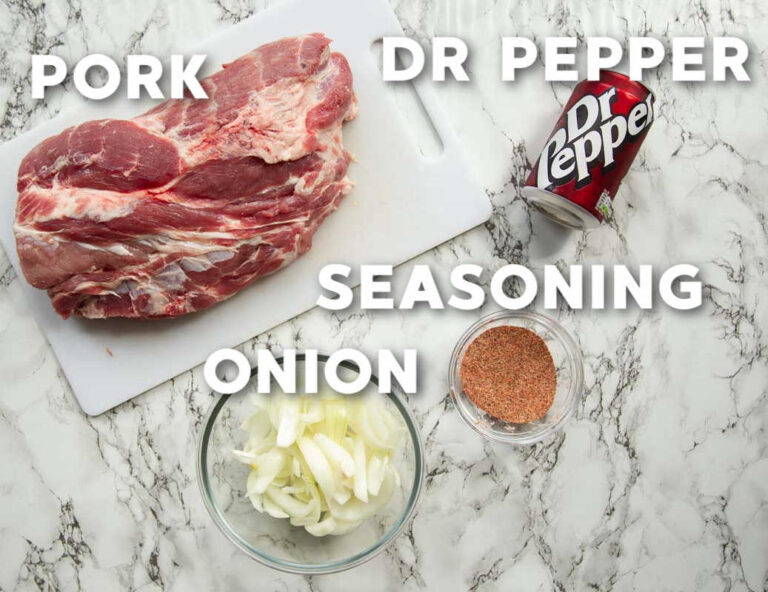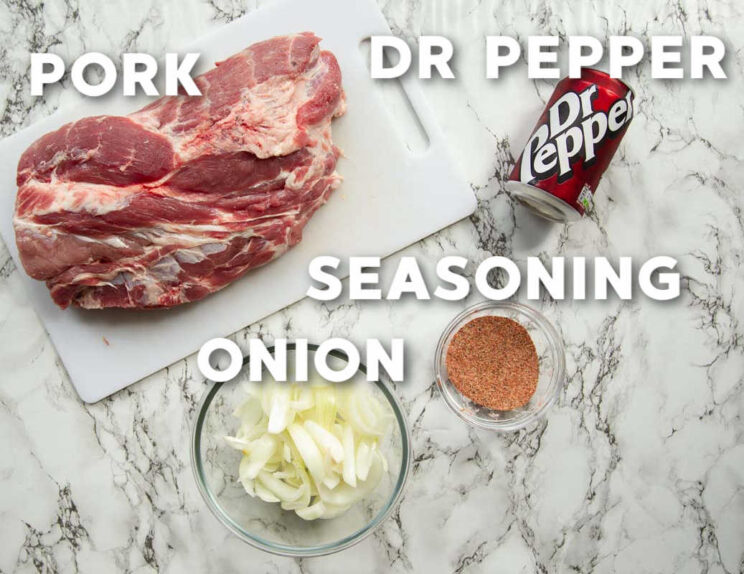 Slow Cooker Pulled Pork
How long to slow cook pulled pork?
On a low setting you'll want to slow cook it for 10 hours. You can get away with 8-9, but honestly the longer the better.
Is it better to cook pulled pork on high or low?
I personally prefer the low setting. It's incredibly difficult to overcook the meat on low, whereas high can be a little too much, especially if it's a very thick cut of pork or if you let it over-run a little.
Do you need to sear pork shoulder before slow cooking?
I've tested both searing and non-searing, and to be honest the outcome is very similar. The flavour is about the same, the only difference is you get more crispy bits on the pork if searing before hand.
Process shots: add pork to chopping board (photo 1), rub in seasoning (photo 2), add onions and dr pepper to slow cooker (photo 3), add pork then pour over more dr pepper (photo 4), add lid and slow cook (photo 5), take off lid and remove (photo 6).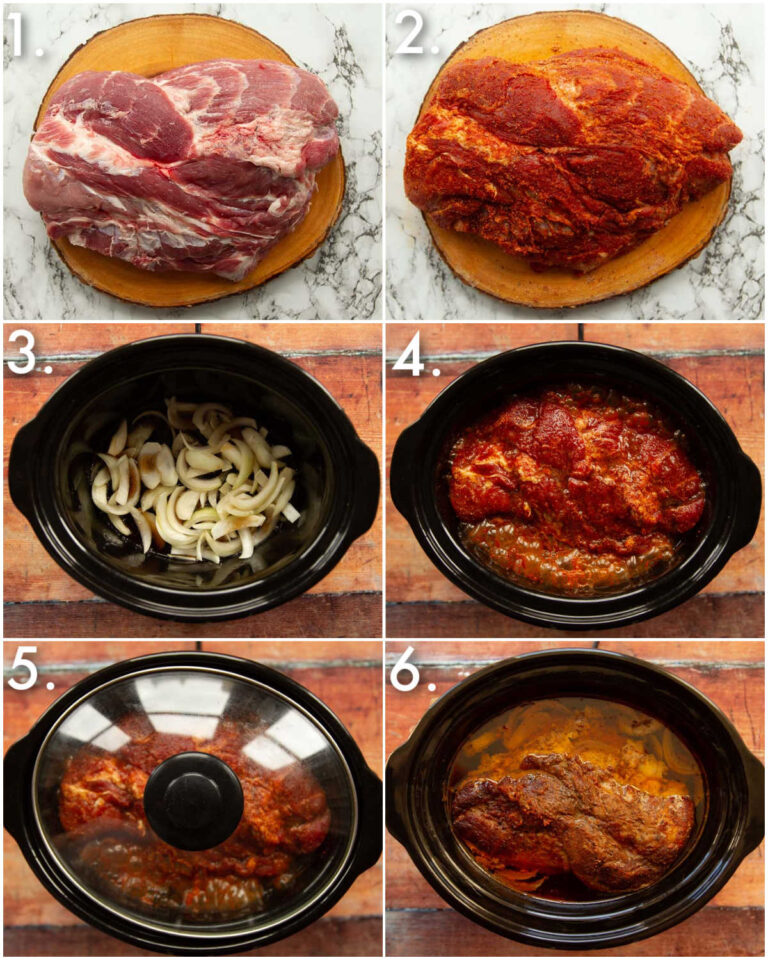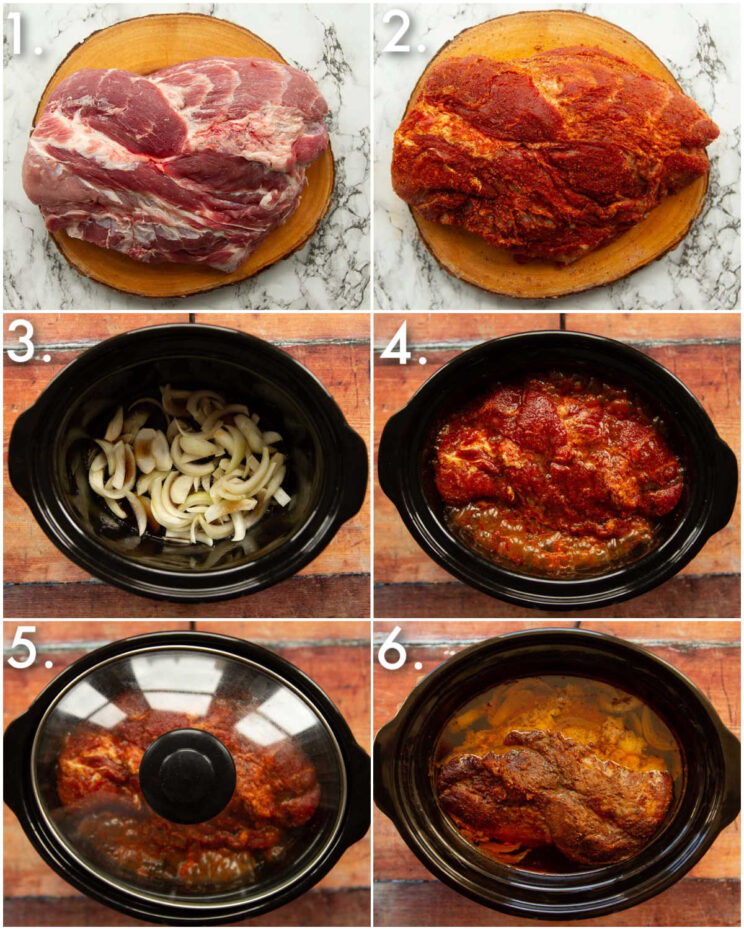 Dr Pepper BBQ Sauce
Whilst the pork is slow cooking, you can get cracking on the BBQ sauce. Whilst the purpose of slow cooking it is to inject flavour, it's main purpose is tenderizing (and obviously cooking) the pork. The sauce is what wraps it in a gorgeous sweet, tangy flavour.
Sure you could use store-bought BBQ sauce, but it's so easy to make it at home it'd be rude not to! Plus, more Dr Pepper 😛 Here's how I like my BBQ sauce:
Sweet – The sweet aspect of the sauce comes from the Dr Pepper, alongside brown sugar and ketchup.
Tangy – The ketchup will add some tanginess, but the bulk of the tang comes from apple cider vinegar.
Spicy – I love adding a dash of hot sauce, alongside some mustard powder too.
Smoky – Smoked paprika offers most of this, but the Worcestershire sauce will also add a touch of smokiness.
Alongside these ingredients, I like to add tomato paste to add a depth of flavour and some onion/garlic powder to add more of a rounded flavour.
Can I make this ahead of time?
Yep! Just allow to completely cool then tightly store in the fridge for around 2 weeks. I recommend warming again before stirring through the pork though.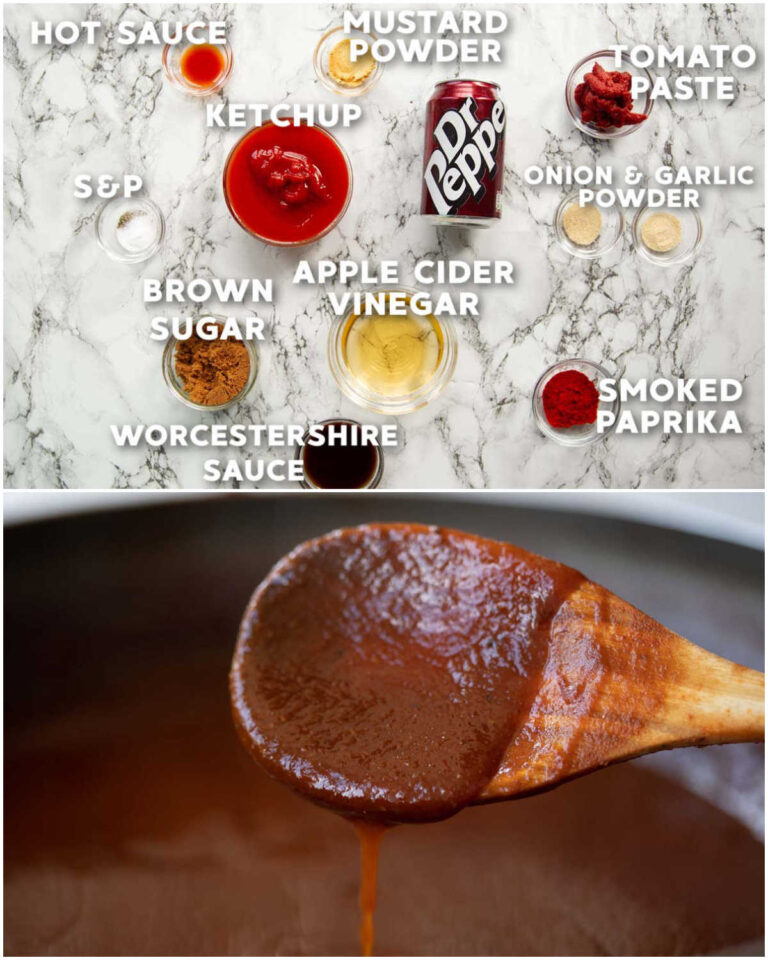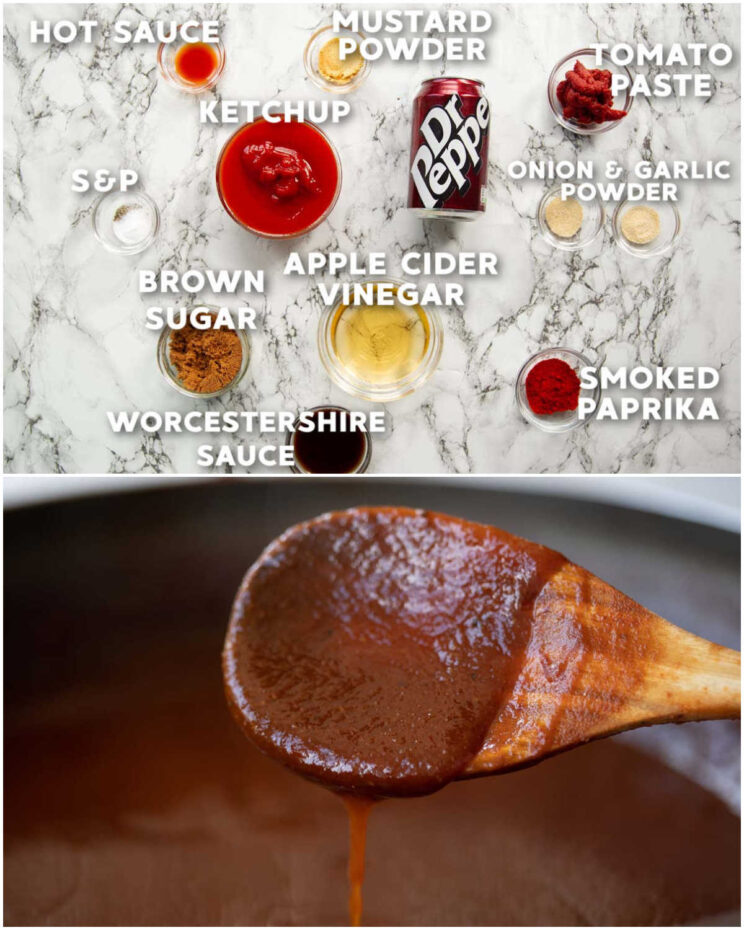 BBQ Sauce Pulled Pork
Once the pulled pork is ridiculously tender (should very easily shred with two forks), you'll want to whack it on a large curved baking tray. From there, just gently shred then incorporate the BBQ sauce.
Although this sounds like strange advice, I recommend not over-shredding the pork. At least not in the first instance anyway. I don't know about you, but have you ever had pulled pork that's been shredded into oblivion and ends up being tough and dry? Yep, we've all been there! Start off conservatively and shred further with the sauce if needed.
I also like to sneak in some of the slow cooker juices, alongside some of those ridiculously soft onions!
Can I make pulled pork ahead of time?
I find it's best served fresh, just because it's at its most tender. But you can store leftovers in the fridge for 2-3days (or in the freezer).
Process shots: shred pork (photo 1), pour over BBQ sauce (photo 2), toss to combine (photo 3).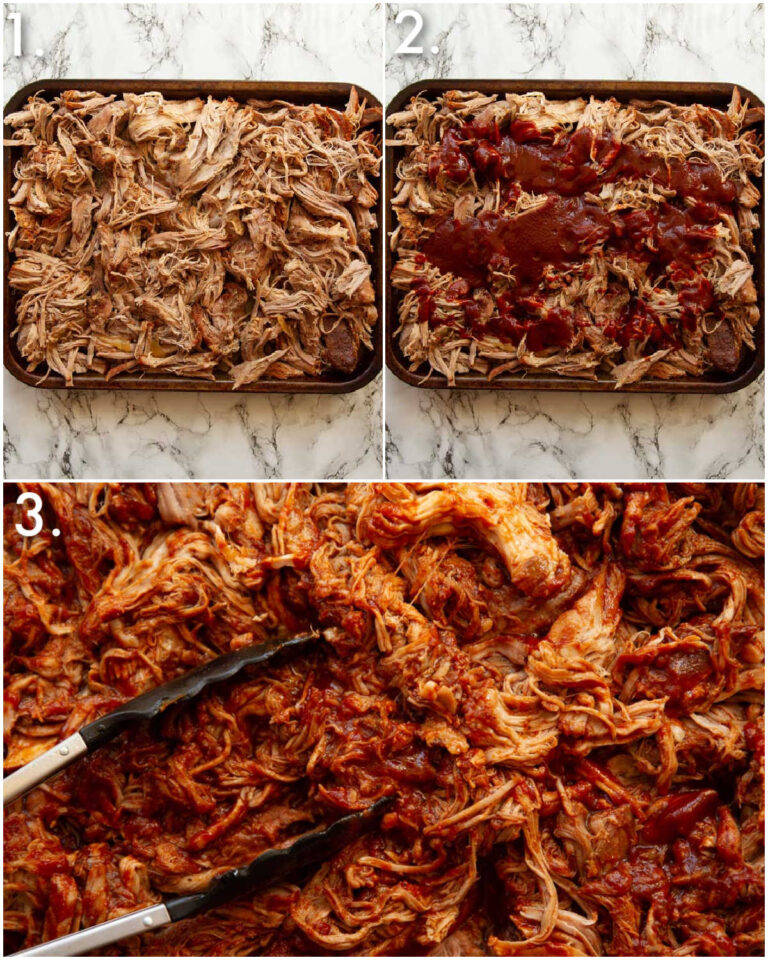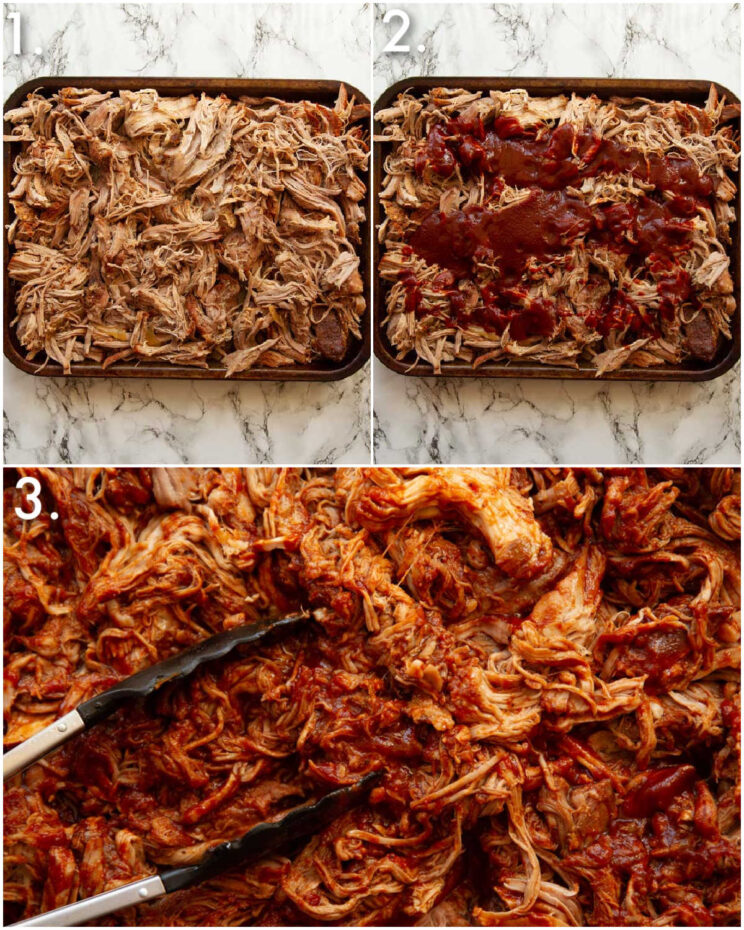 Serving Pulled Pork
If you haven't eaten the entire thing straight off the tray by this point, there's a variety of different ways you can serve pulled pork. My 3 favourite ways are:
Pulled Pork Sandwiches with Coleslaw
On top of Mac and Cheese
Pulled Pork Nachos!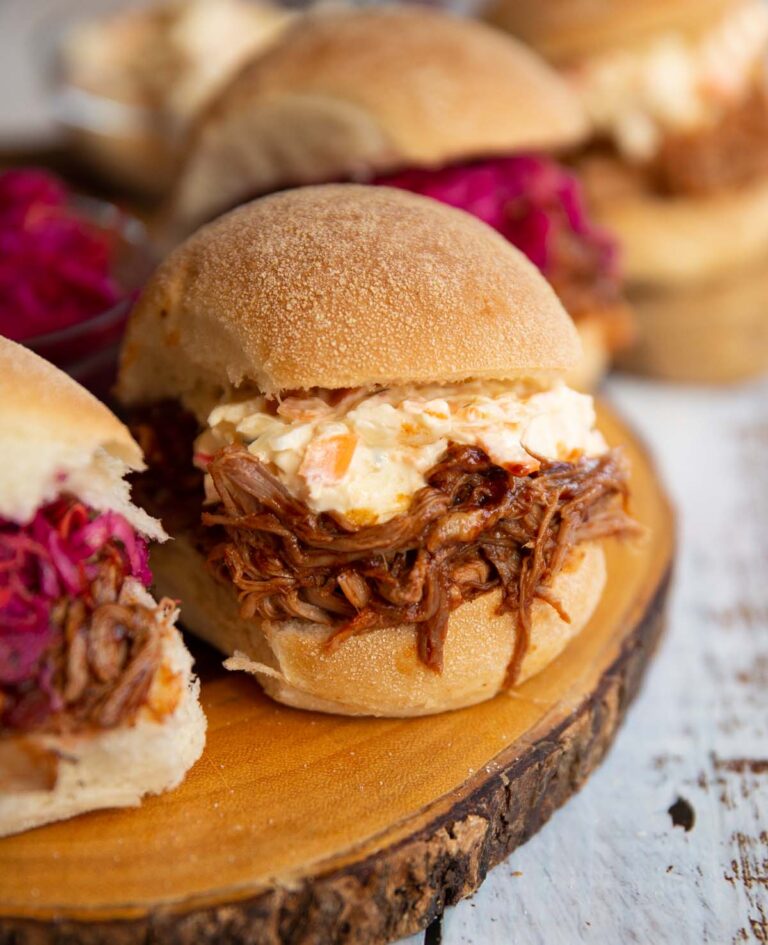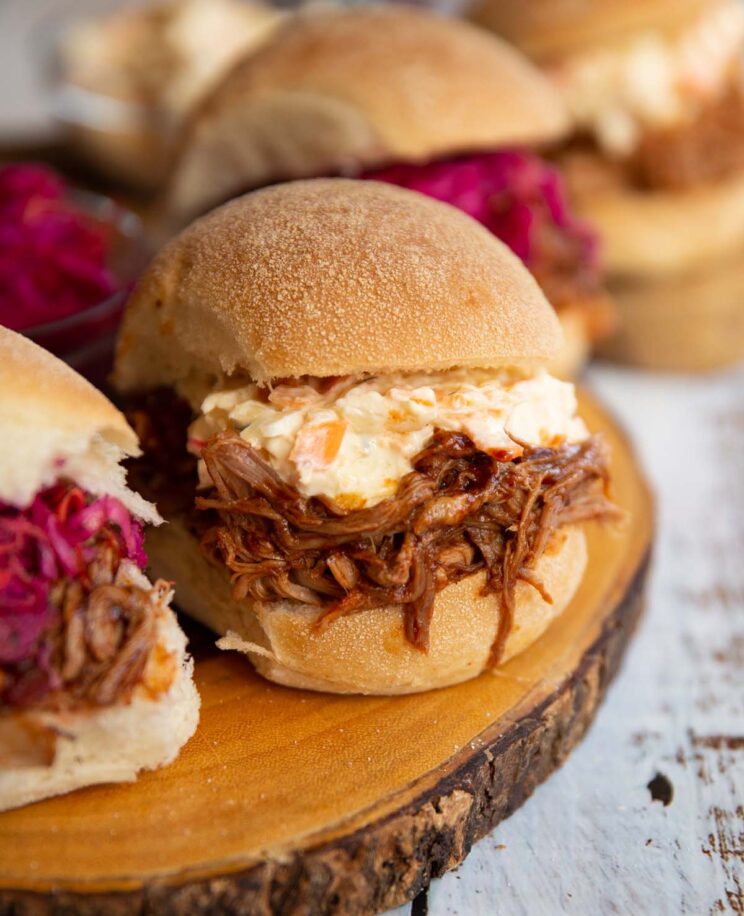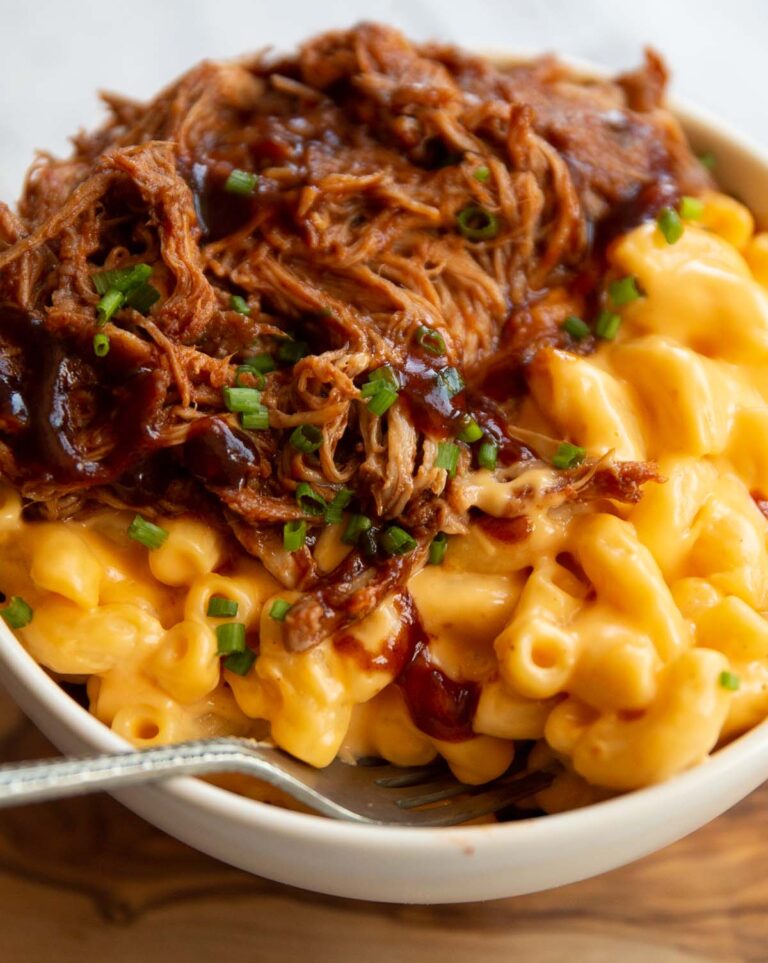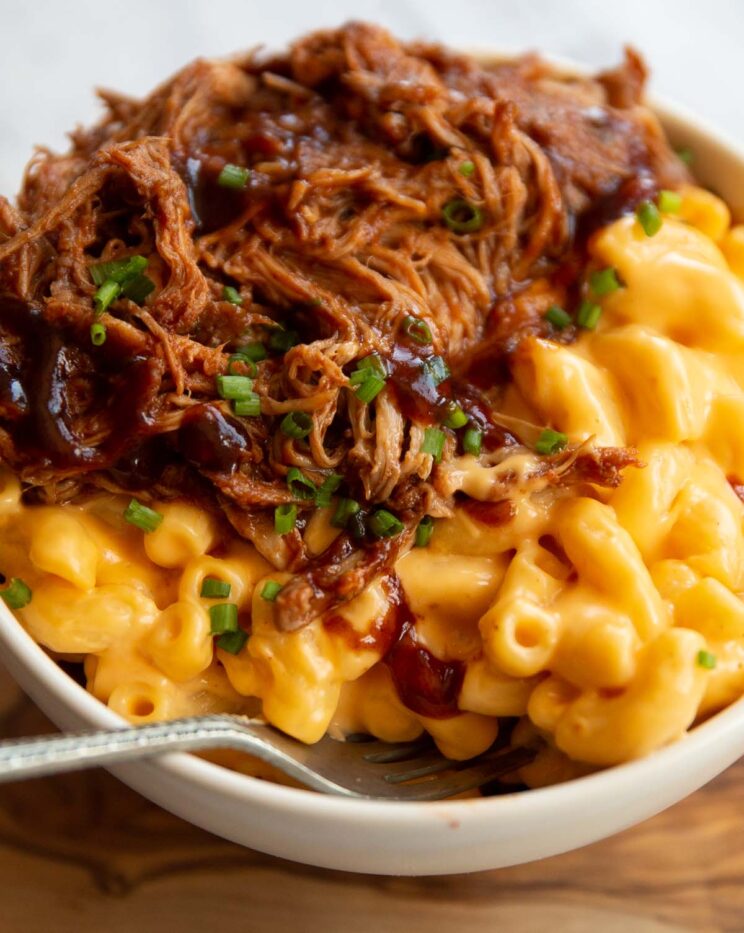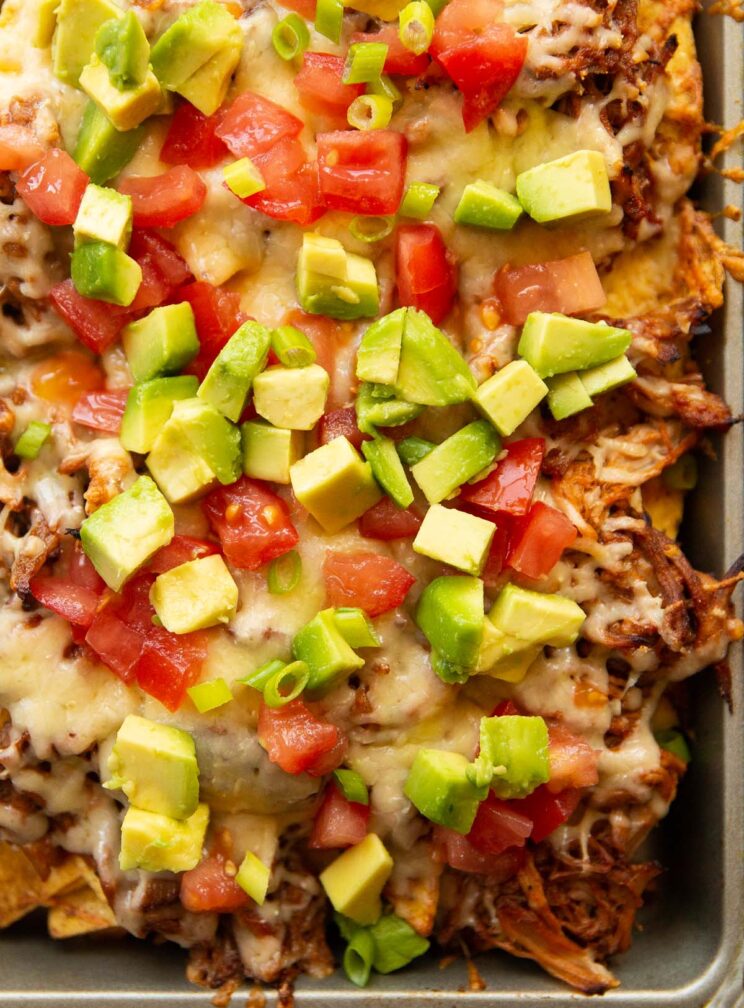 After another funky slow cooked pork recipe? Check out my Slow Cooker Cola Ham!
For more delicious slow cooker recipes check out these beauties:
How to make Dr Pepper Pulled Pork

 (Full Recipe & Video)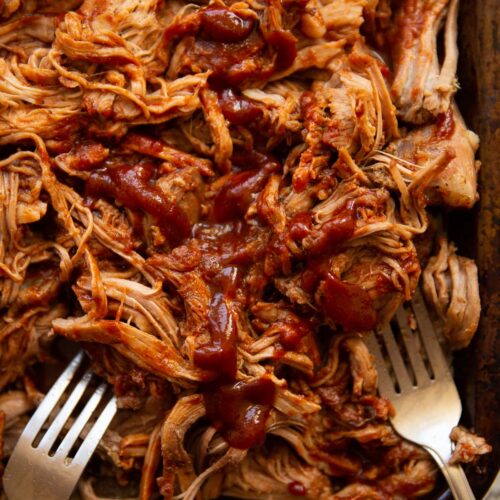 Dr Pepper Pulled Pork
This Dr Pepper Pulled Pork is sweet, saucy, tender, juicy and all round DELICIOUS!
Print
Pin
Rate
Share by Text
Servings (click & slide):
10
Calories per serving:
348
kcal
Cost per serving:
£3 / $4
Equipment:
Slow Cooker (for cooking pork)

Large Curved Tray (for shredding pork)

Large Pot or Deep Pan with Whisk (for BBQ Sauce)

Sharp Knife & Chopping Board (for slicing onion)

Tongs & Wooden Spoon
Ingredients (check list):
Pulled Pork
3-4lb / 1.5-2kg

Pork Shoulder (see notes)

1x

12oz / 330ml can of

Dr Pepper (not diet!)

1

medium

Onion,

sliced

2

tsp EACH:

Paprika, Salt

1

tsp EACH:

Garlic Powder, Black Pepper
Dr Pepper BBQ Sauce
1x

12oz / 330ml can of

Dr Pepper (not diet!)

1 cup / 240g

Ketchup

1/4 cup

EACH:

Dark Brown Sugar, Apple Cider Vinegar

2 tbsp

EACH:

Worcestershire Sauce, Tomato Paste (Tomato Puree in UK)

2

tsp

Smoked Paprika

1

tsp

Mustard Powder

1/2

tsp EACH:

Onion Powder, Garlic Powder, Salt, Black Pepper

1/2

tsp

Hot Sauce, or to taste (optional)
Instructions:
Prep Pork: Coat the pork all over in seasoning. Use your hands to rub the seasoning into the meat.

Cook Pork: Add onion slices to the bottom of a slow cooker then pour in half a can of Dr Pepper. Add pork on top then pour over the rest of the Dr Pepper. Pop the lid on and slow cook on low for 10 hours.

BBQ Sauce: Add all of the ingredients to a pot/deep pan and whisk to combine. Bring to a gentle simmer and stir occasionally until thickened (approx 20-30mins). It will thicken, just keep gently simmering and stirring. Don't crank up the heat or it'll burn the sugar. Taste for seasoning and adjust accordingly (i.e. more sugar for sweeter, more hot sauce for spicier etc).

Shred: Use tongs to remove pork from slow cooker and add to a large curved tray. Add the onions and a splash of the cooking juice for extra flavour (optional). Roughly shred with two forks. Don't over shred in the first instance or it'll go tough and dry.

Sauce: Pour over BBQ sauce then use tongs to combine, shredding a little more if needed.

Serve: Add to burger buns with coleslaw, on top of mac and cheese or in nachos (see notes).
Quick 1 min demo!
Notes:
a) Pork - Pork shoulder aka pork butt is the best cut of meat for slow cooking. You should find it in the store, but if not just pop to your local butchers. Sometimes they already have it pre-packaged, sometimes labeled as 'pork for pulled pork' or something similar. I prefer a slightly smaller size (3lb/1.5kg) because you get more sauce to meat ratio, but the difference is minimal. If you're at all concerned about having too little sauce just make it in batch (use servings toggle at the top of the recipe card to double sauce).
b) Make Ahead BBQ Sauce - To get ahead of the game you can make this in advance. Just allow to completely cool and tightly store in the fridge for up to 2 weeks. Just warm it up in a pot again before pouring over the pork. Use some of the slow cooker juices to loosen up if needed.
c) Can I make this ahead of time? - I prefer this as fresh as possible, just so the pork is at its most tender. But you can store leftovers tightly covered in the fridge for 3 days. Can also freeze it. I recommend reheating in the microwave, adding a splash more sauce if needed to keep it juicy! (thaw in fridge first if frozen).
d) Serving - Sandwiches in burger buns with coleslaw is the classic way. You can also plonk it on top of some mac and cheese. You can also make nachos, but I don't recommend making it purely for this reason as it does dry out in the oven, so just use leftovers. Just stack tortilla chips with pulled pork then cheese and bake at 180C/350F until the cheese melts. Top with avocado, tomato, onion and a drizzle of bbq sauce (or your favourite toppings).
e) Calories - whole recipe divided by 10 without sides:
Your Private Notes:
Nutrition:
Nutrition Facts
Dr Pepper Pulled Pork
Amount Per Serving
Calories 348
Calories from Fat 104
% Daily Value*
Fat 11.54g18%
Polyunsaturated Fat 1.299g
Monounsaturated Fat 4.993g
Cholesterol 120mg40%
Sodium 948mg40%
Potassium 818mg23%
Carbohydrates 21.32g7%
Protein 38.06g76%
Vitamin A 436IU9%
Vitamin C 8.8mg11%
Calcium 42mg4%
Iron 2.81mg16%
* Percent Daily Values are based on a 2000 calorie diet.
Nutrition is based on the absence of salt unless stated as a measurement in the ingredients. Cost is worked out based on ingredients bought from UK supermarkets, then divided by the number of servings. In both instances these values are just for guidance. Please check out my FAQ Page for more info.
---
If you loved this Pulled Pork Recipe then be sure to Pin it for later! Already made it or got a question? Give me a shout in the comments and pick up your free ecookbook along the way!