Cooking ham in coca cola may seem odd, but after trying this recipe you won't make ham any other way. It's sweet, sticky, juicy and DELICIOUS!
Coca Cola Ham
If you think about it, cola ham totally makes sense. Most ham recipes use a sugary glaze, because pork takes on sweetness (like brown sugar or honey) insanely well. For the longest time I used to boil ham in water before roasting. But as of recently I've switched to cola and haven't looked back. By boiling ham in cola you lightly infuse it with a sweet flavour. It offers an added layer of flavour you miss out on if using water. The coke itself takes on other spices really well too, which we'll get into in just a sec.
What does gammon cooked in Coke taste like?
In all honesty you don't get an overwhelming taste of Coke once this is cooked. It's more about the hint of sweetness it brings.
Can I use Diet Coke?
I HIGHLY recommend using full sugar cola. As I said, this is more about the sugar than it is the actual flavour of cola. Diet coke has a much more acidic taste to it which would through off the balance of flavours.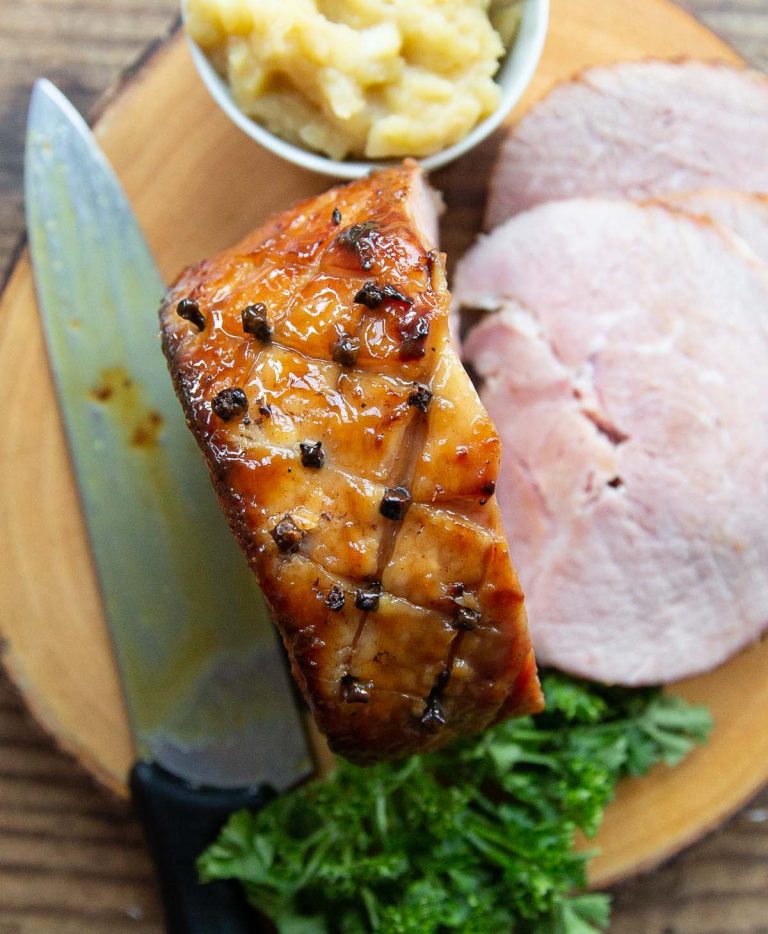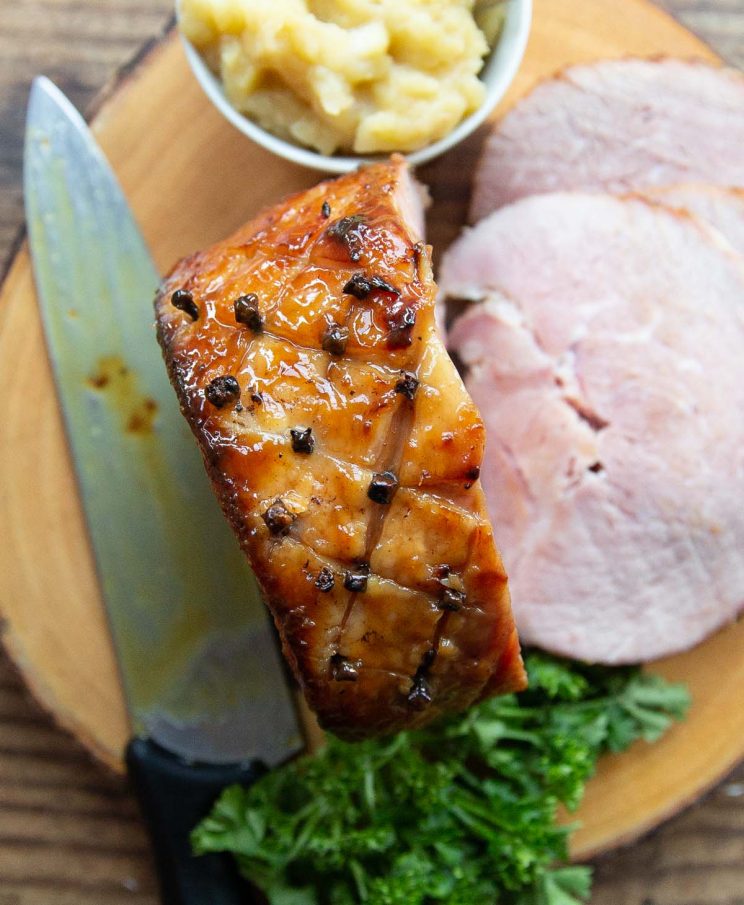 Slow Cooker Cola Ham
Gammon vs Ham
Just to clear things up quickly, here in the UK an uncooked ham is called a Gammon, then named a Ham once cooked. My understanding that a ham is a ham in the US, which makes much more sense 🤣
When it comes to cooking gammon the 3 easiest methods are either: roasting, boiling then roasting or slow cooking then roasting. My preference is to slow cook then roast. I find the ham comes out the juicest and most tender with an initial slow cook. It also gives time for the cola and spices to work their way into the surface of the meat.
Can I boil cola ham?
You can boil then roast. This is my second favourite method (more on this in the recipe card). I don't recommend just roasting cola ham as the cola doesn't cling particularly well to the ham, even if you baste throughout.
Process shots: add gammon to slow cooker (photo 1), pour in coke (photo 2), top up with water if needed (photo 3), add onion, carrot, cinnamon, star anise and peppercorns (photo 4), put lid on (photo 5), slow cook (photo 6).
How to Roast Ham
Once you've slow cooked the gammon (now ham) it will be completely cooked through, and it will have picked up some flavour, but we want more. Now it's time to roast.
First things you'll want to do is score the fat. This serves two purposes: first is it will allow the glaze to infuse the fat and work its way to the meat. Second is it will prevent the ham from bending/shrinking. Just like pork chops, when ham cooks the fat shrinks and tends to bend the meat. Scoring in a diamond shape will help prevent this.
Do you have to put cloves on ham?
Short answer is no, but it does inject flavour and adds a nice garnish. I tend to add them here, simply because the flavour pairs nicely with the cola.
Process shots: score fat with sharp knife (photo 1), stud with cloves (photo 2).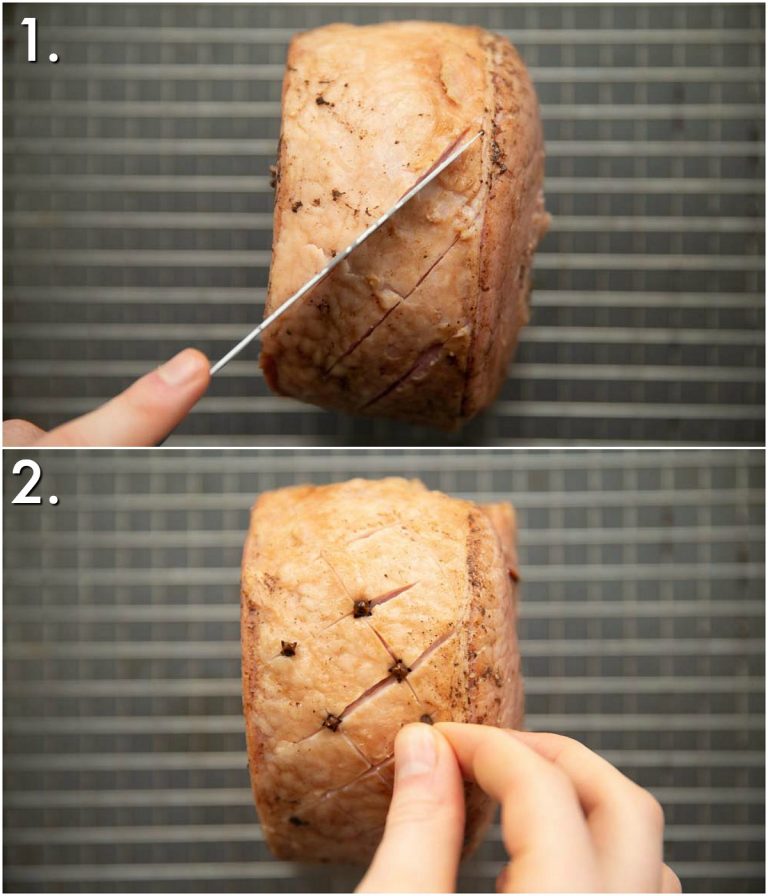 Cola Ham Glaze
Alrighty, let's talk glaze. This is largely made up of brown sugar and honey, but I also like to add in a little cola, just to add a hint of flavour that'll round everything off nicely. Alongside this I like to add dijon mustard. Mainly because honey and mustard is one heck of a combo, but also because it adds a gentle background heat which cuts through the sweetness of the glaze.
To make the glaze just simply simmer everything in a pot until the sugar dissolves and a glaze starts to form.
From there grab a brush and slather it over the ham, saving a bit to reglaze half way through roasting.
Process shots: make glaze (photo 1), brush over ham (photo 2), fully coat ham then roast (photo 3).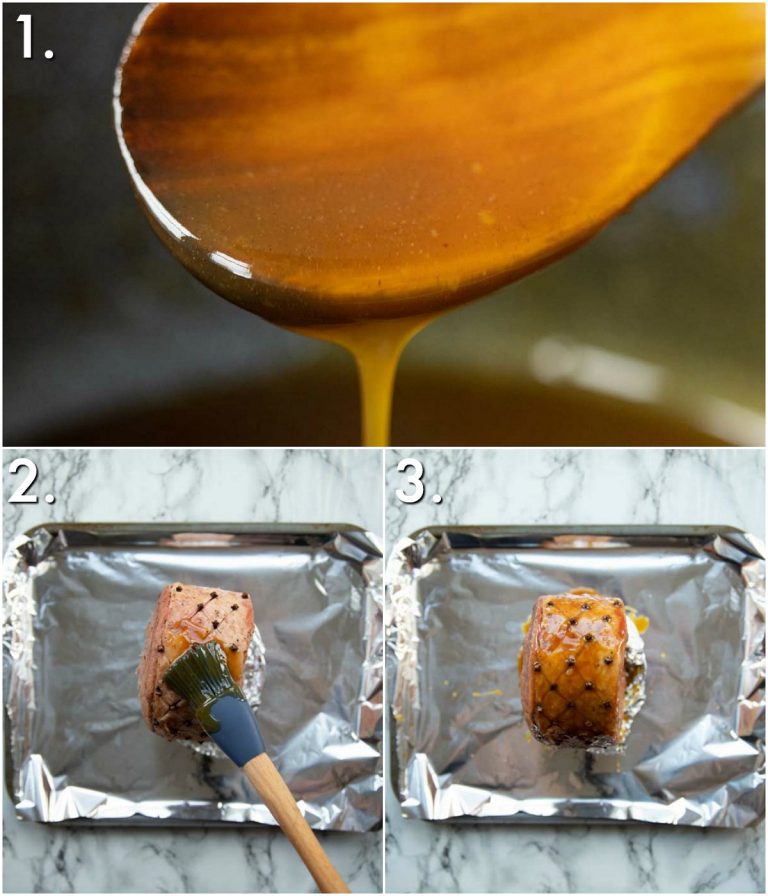 Serving Cola Ham
Once it's out the oven it's crucial to let the ham rest. I usually let it rest for around 15mins. This gives chance for the meat to rest and retain its juices. It'll still be piping hot in the middle, don't worry!
From there, if you've got the patience you can remove the cloves. I tend to just slice it up and let people remove their own. Up to you.
How long does leftover ham last in fridge?
It'll last 2-3days tightly sealed in the fridge, longer at your discretion. Perfect to add to my Cream Cheese Pasta or in my English Muffin Breakfast Sandwiches!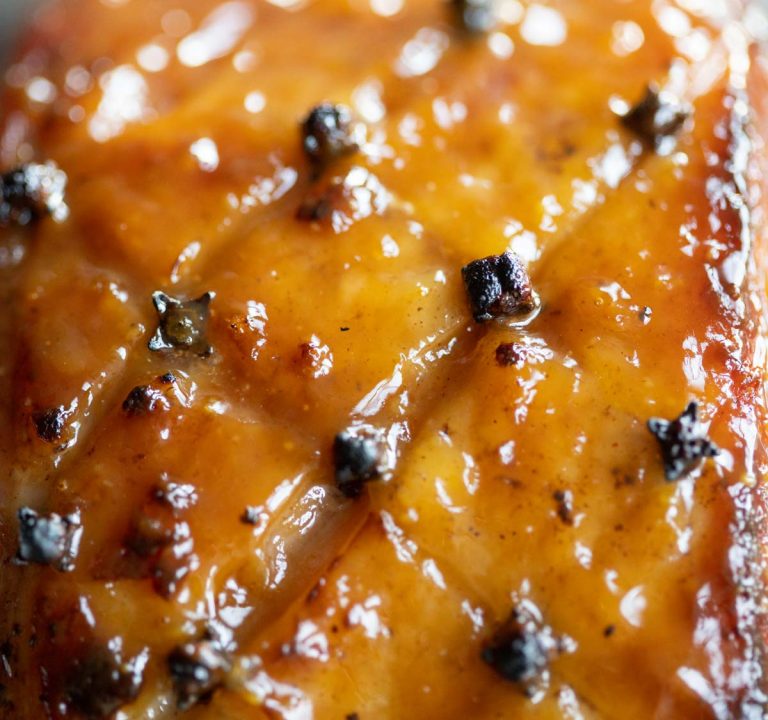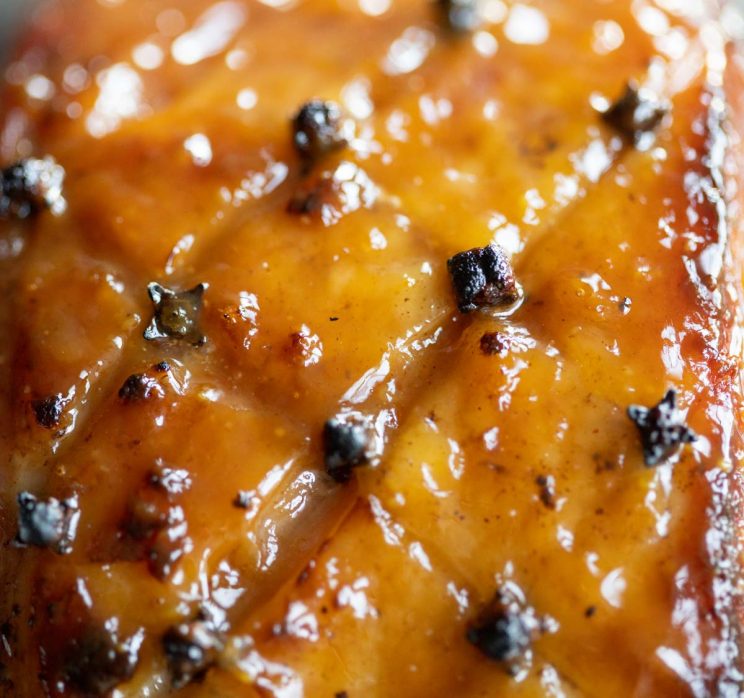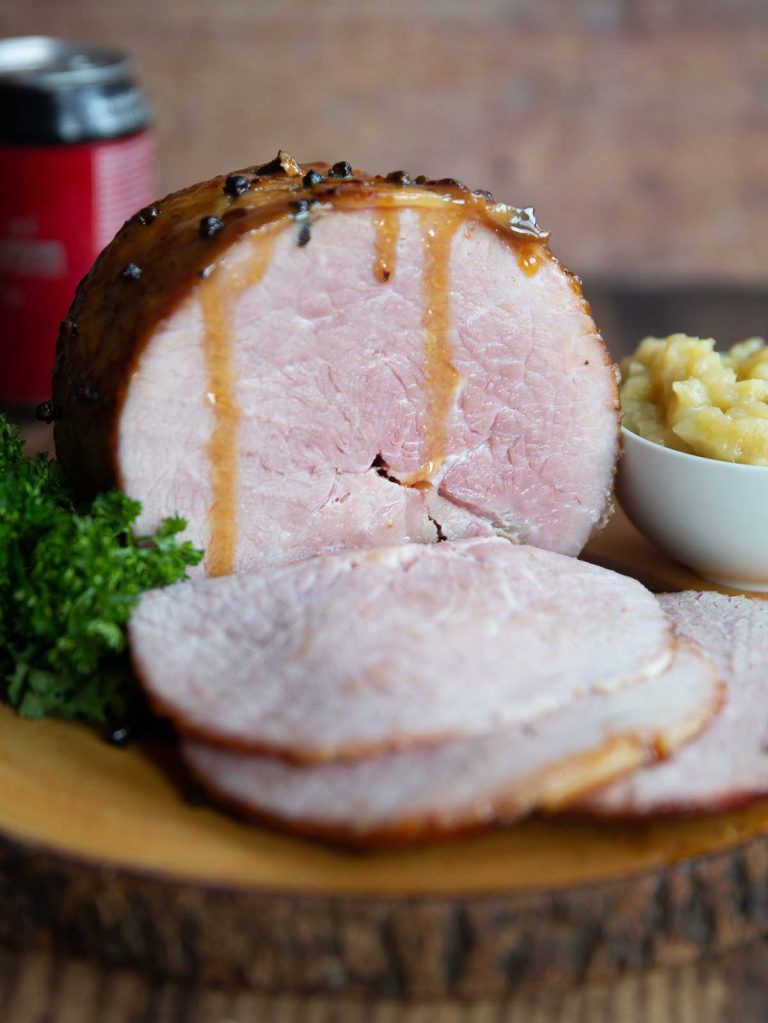 For another roast dinner centrepiece check out my Herb Roasted Spatchcock Chicken!
Alrighty, let's tuck into the full recipe for the cola ham shall we?!
How to make Coca cola Ham

 (Full Recipe & Video)
Coca Cola Ham
Cooking ham in coca cola may seem odd, but after trying this recipe you won't make ham any other way. It's sweet, sticky, juicy and DELICIOUS!
Print
Pin
Rate
Share by Text
Servings (click & slide):
6
Calories per serving:
425
kcal
Cost per serving:
£2 / $2.50
Equipment:
Slow Cooker or Large Pot with Lid (see notes)

Baking Tray & Aluminium Foil

Small Pot & Wooden Spoon

Sharp Knife & Chopping Board

Cooling Rack

Tongs
Ingredients (check list):
Cola Ham
3lb / 1.4kg

Boneless Gammon Joint (smoked or unsmoked, skin on or off - see notes)

50 fl oz / 1.5litres / 2.6 pints

Coca Cola (NOT diet or zero, must be full sugar)

1

medium

Onion, quartered

1

medium

Carrot, quartered

2

Star Anise

1 3" stick or 1/2 tsp

Cinnamon

1/2

tbsp

Black Peppercorns
Glaze
1/3 cup / 65g

Brown Sugar

1/4 cup / 50g

Honey

1/4 cup / 60ml

Coca Cola (save before adding to ham to cook)

3

tbsp

Dijon Mustard

handful of

Cloves
Instructions:
Add gammon to slow cooker and pour over cola until just about covered, saving 1/4cup/60ml. Top up with water if needed. Add in onion, carrot, star anise, cinnamon and peppercorns. Place on the lid and cook on high for 4 hours.

Meanwhile, in a small pot over low-medium heat combine sugar, mustard, honey and leftover cola. Simmer for 5mins until the sugar dissolves and it starts to thicken, stirring frequently. It will continue to thicken as it rests.

Remove ham from slow cooker and place on a wire rack above a tray or plate (to catch juices). Make sure it's fat side up. Once cool enough to handle, score the fat in a criss-cross style to create large diamonds. Be careful not to slice into the ham. Stud a clove at the tip of each diamond.

Place ham on a foiled baking tray. Scrunch up some foil to prop the ham up so it doesn't fall over if you need to. Brush around 2/3 of your glaze all over the ham.

Place in the oven at 200C/390F for 15mins, take out and reglaze with leftover glaze then pop back in the oven for another 10mins or so until it starts to caramelize and lightly char.

Allow the ham to rest for 10-15mins (important) then slice up. Can remove cloves before slicing if you wish!
Notes:
a) Safe Temp for Gammon - The centre should reach 145F/62C after slow cooking, as it's cooked from raw. The oven time is mostly to caramelize the outside, but will continue cooking the meat. b) Skin on Ham - If your joint has skin on, leave it on to slow cook then carefully slice off after, leaving as much fat on the ham as possible. c) Can I make this on the stove instead of the slow cooker? - You can simmer the gammon on the stove in all of the ingredients used above. You'll want to do it for approx 20mins per pound (40mins per kg). So for a 3lb/1.4kg gammon it'll take 60mins (add 15-20mins if simmering straight from fridge). Refer to above recommend internal temp. d) Leftovers - Perfect for ham sandwiches! Just allow the ham to completely cool then tightly cover in the fridge. I usually keep it for 2-3days, but work to your discretion. e) Calories - shared between 6. Overestimate as assumes all the cola is consumed.
Your Private Notes:
Nutrition:
Nutrition Facts
Coca Cola Ham
Amount Per Serving
Calories 425
Calories from Fat 76
% Daily Value*
Fat 8.39g13%
Polyunsaturated Fat 1.091g
Monounsaturated Fat 3.876g
Cholesterol 85mg28%
Sodium 2166mg90%
Potassium 612mg17%
Carbohydrates 53.25g18%
Protein 35.58g71%
Vitamin A 1742IU35%
Vitamin C 2.2mg3%
Calcium 46mg5%
Iron 2.31mg13%
* Percent Daily Values are based on a 2000 calorie diet.
Nutrition is based on the absence of salt unless stated as a measurement in the ingredients. Cost is worked out based on ingredients bought from UK supermarkets, then divided by the number of servings. In both instances these values are just for guidance. Please check out my FAQ Page for more info.
---
If you loved this Coca Cola Ham recipe then be sure to Pin it for later! Already made it or got a question? Give me a shout in the comments and pick up your free ecookbook along the way!