This Chicken Tikka Masala style curry is made in the slow cooker for extra depth of flavour and ultra tender chicken!
As one of my most loved and most popular recipes, I had to include this in my Debut Cookbook 'Comfy'!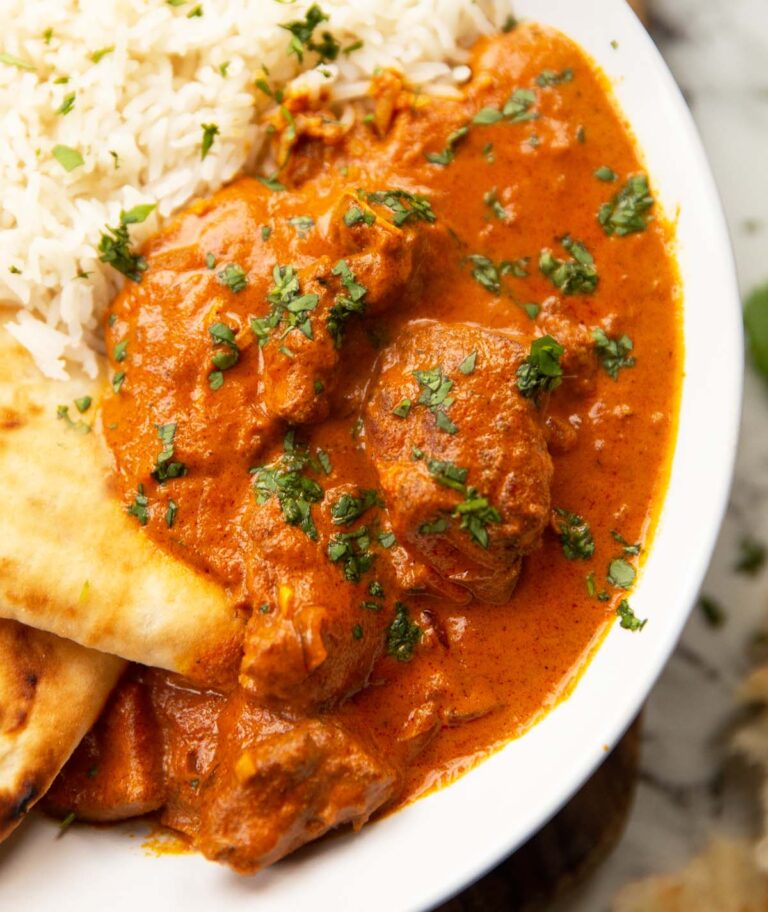 EASY Slow Cooker Chicken Curry!
Firstly, and most importantly, you don't need special or expensive ingredients to whip a made-from-scratch curry. Everything (spices included) is accessible in all supermarkets/grocery stores. Better still, the flavour will rival any restaurant curry.
Why make curry in the Slow Cooker?
Making the curry in the slow cooker not only intensifies the flavour but also tenderises the chicken into mouthwatering goodness. This is an easy and delicious way to feed four and the perfect flavoursome fakeaway.
Now, let's talk chicken.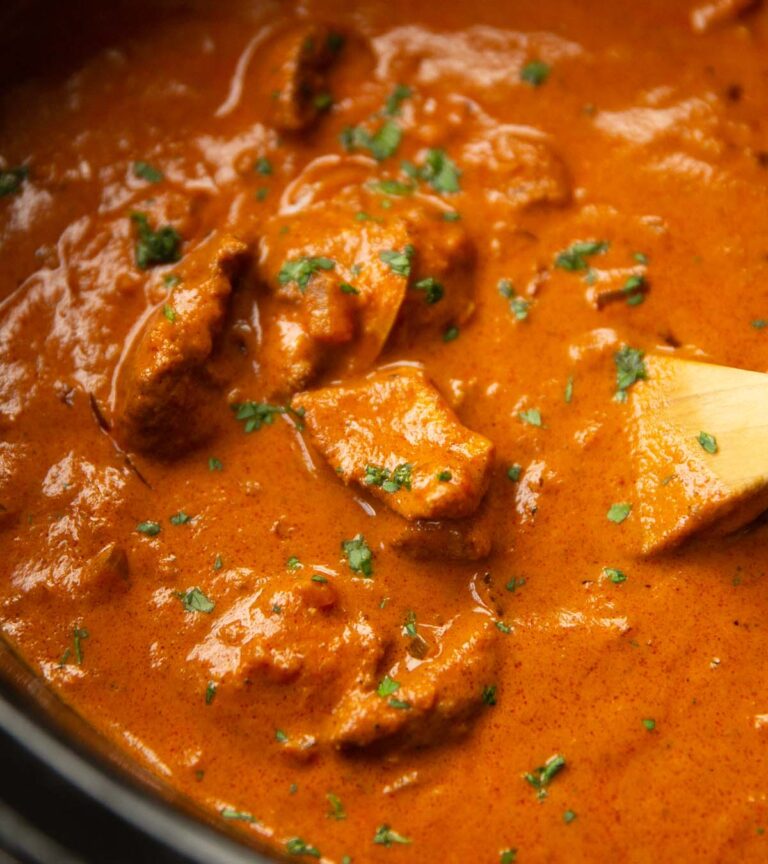 Chicken Thigh Curry
Using chicken thighs in a curry, especially a slow-cooked curry, is great for 2 reasons:
Thighs are fattier and more flavoursome than breasts.
Thighs are usually more tender than breasts, so they turn out EXTRA tender after a stint in the slow cooker.
Can I use chicken breast instead?
You can, although chicken breast does have more tendencies to dry out, so just be vigilant. In all cases, you'll need boneless/skinless chicken.
One of the most important steps in this recipe ironically starts in the pan, not the slow cooker. The first step is browning the chicken over high heat. Again, two reasons for this. First is we want to mimic chicken 'tikka', which involves lightly charring the chicken for an authentic flavour. The second is we want to lock in the spices as best as we can before slow cooking.
You're NOT looking to cook the chicken in the first instance, you merely want to brown it for the above reasons. Simply dice chicken (photo 1), coat in half your spice mix (photo 2), fry in veg oil over HIGH heat (photo 3) flip, brown then remove (photo 4).
Top Tip – Ensure you use an oil with a neutral flavour and high smoking point, like vegetable oil. Olive oil isn't great for high-heat frying.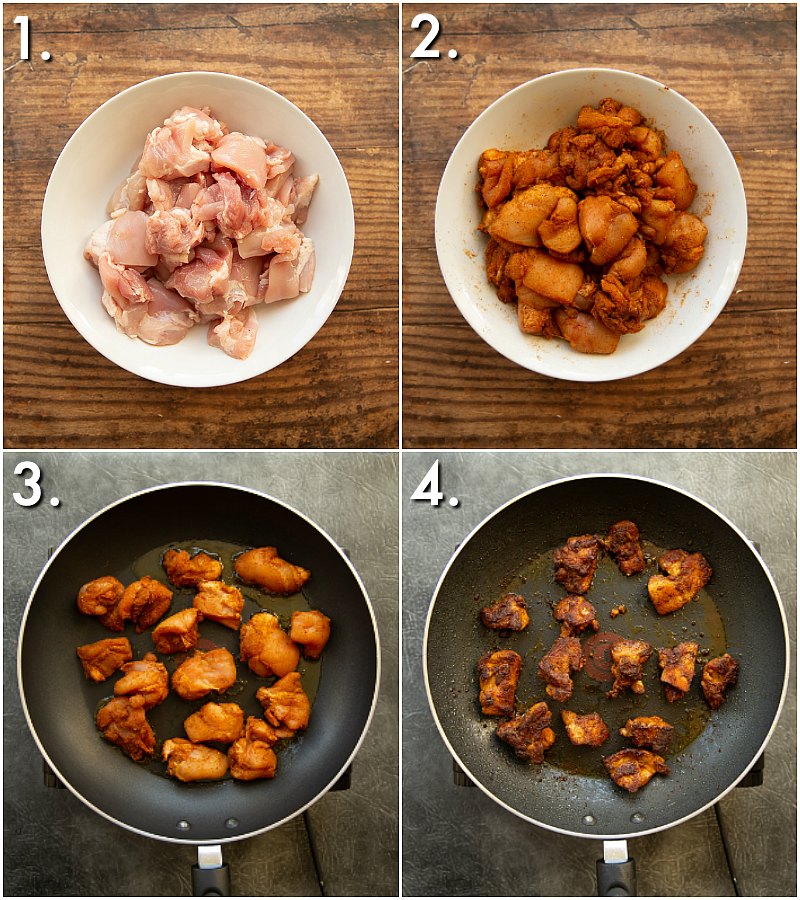 Right, chicken in the slow cooker, in goes butter, onion, garlic and ginger to the pan. Same with the chicken, frying beforehand caramelizes and transforms the flavour of the onion/garlic/ginger. This is an optional step, but I also sometimes like to quickly fry off some tomato puree too for the same reason.
Another reason is that onion is packed with water, and if you don't fry it off and throw it straight in the slow cooker, you can sometimes end up with a slightly watery curry because the water doesn't escape in the slow cooker.
Process shots: fry onion in butter (photo 1), fry garlic and ginger (photo 2), add tomato puree (photo 3), fry (photo 4).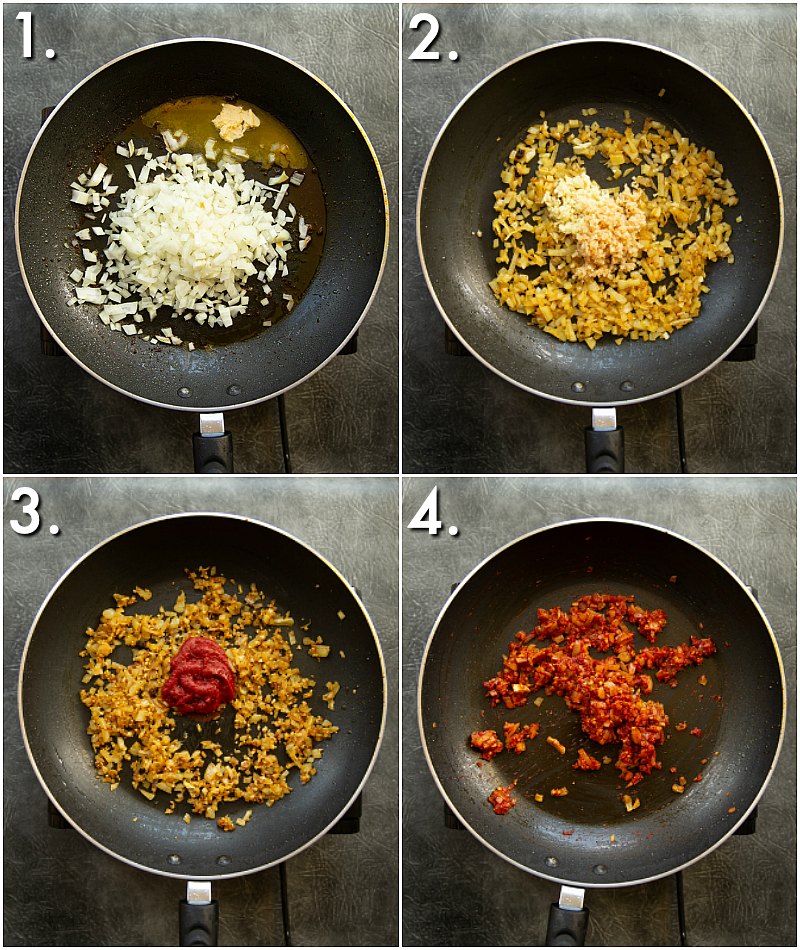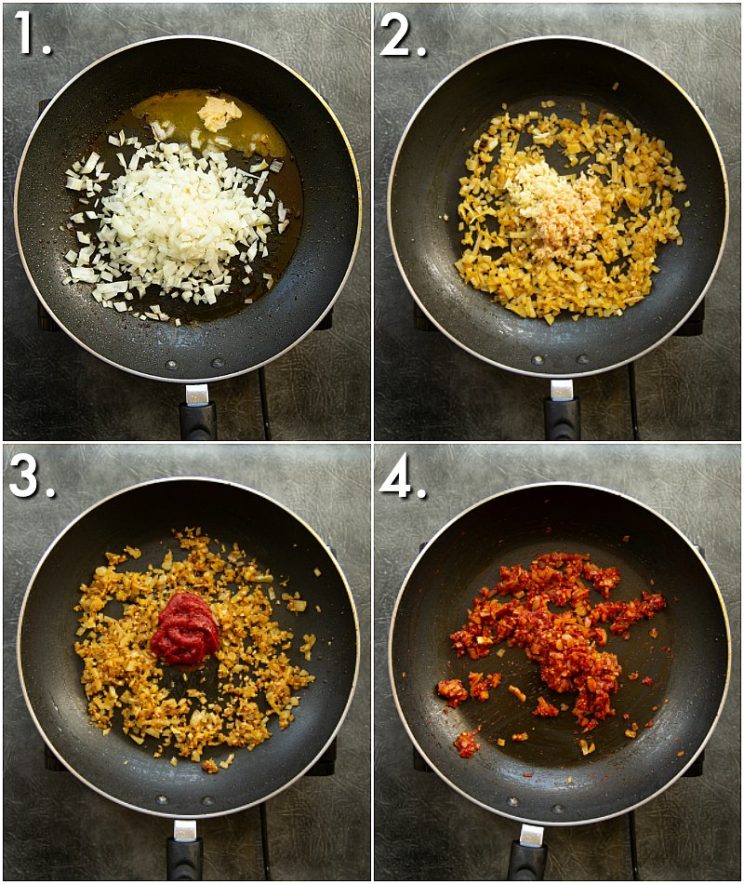 Slow Cooked Chicken Curry
Whilst the frying steps take away slightly from the whole 'slow cooker' kinda deal, I do not recommend skipping them. Because you're cooking on high heat and not focused on cooking the chicken through it's a fairly quick step.
How long to slow cook the curry?
I've tested around with this a fair bit and found the sweet spot to be either HIGH 3-4hours or LOW 5-6hours. Anything less you don't quite get the same tenderisation of the chicken, any more and the chicken chunks tend to turn to mush and the sauce reduces too much.
Can this be made on the stove instead?
Of course I recommend the slow cooker, but you can make this on the stove without the slow cooker, of which I have added some notes on in the recipe card below.
How spicy is this curry?
As written, it does come out fairly spicy (I'd say maybe 7/10). I use hot chilli powder, but if you're at all weary of spice you can switch to mild.
How to make chicken curry in the slow cooker (quick summary)
Add chicken, onion, garlic, ginger & puree to slow cooker with passata, water, leftover spices and sugar.
Give it a good stir, pop lid on and cook.
Allow to cool slightly then add cream.
Stir and serve.
Serving Slow Cooker Curry
It's important to let the curry cool a little before you stir in the cream, just so it doesn't curdle. Also important the cream is room temp for the same reason. To serve I usually go with the classics (rice, naan/flatbreads etc) with a sprinkle of coriander/cilantro. If you find the curry a little spicy you can also serve with a dollop of yogurt to cool it down!
Alrighty, let's tuck into this full chicken curry recipe shall we?!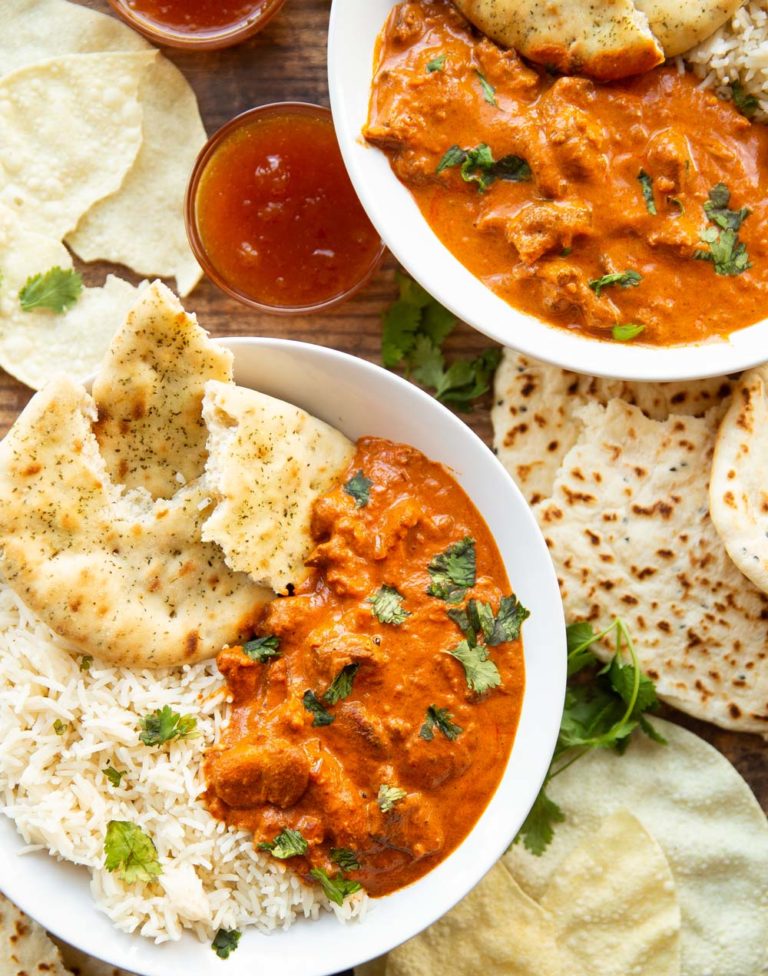 How to make Slow Cooker Chicken Curry

 (Full Recipe & Video)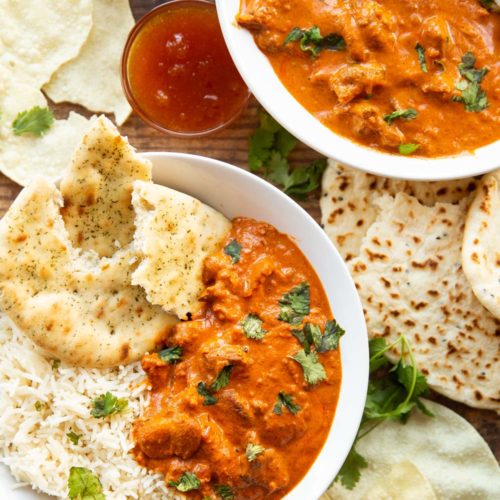 Slow Cooker Chicken Curry
This Chicken Tikka Masala style curry is made in the slow cooker for extra depth of flavour & ultra tender chicken! Slow cooker times either 3-4hours on HIGH or 5-6hours on LOW.
Print
Pin
Rate
Share by Text
Servings (click & slide):
4
Calories per serving:
408
kcal
Cost per serving:
£3.50 / $4
Equipment:
Slow Cooker

Frying Pan & Wooden Spoon

Sharp Knife & Chopping Board

Small Bowl

(to mix spices)

Medium Bowl & Tongs

(to combine chicken with spices)
Ingredients (check list):
Chicken Curry
1.2lbs / 600g

Boneless Skinless Chicken Thighs, sliced into large bite-sized pieces (I typically divide 1 thigh into 4).

2 cups / 500g

Tomato Passata (Pureed/Sieved Tomatoes in US)

1/2 cup / 120ml

Double/Heavy Cream, at room temp

1/2 cup / 120ml

Water

1

medium/large

White Onion, finely diced

4

cloves of

Garlic, finely diced/minced

2

tbsp

Tomato Puree (Tomato Paste in US)

2

tbsp

Unsalted Butter

1

tbsp finely diced

Ginger

3

tsp

Sugar
Vegetable Oil, as needed (see notes)
Spice Mix
4

tsp

Garam Masala (see notes)

3

tsp

Chilli Powder (see notes)

2

tsp EACH:

Ground Coriander, Cumin, Paprika, Turmeric

1.5

tsp

Salt
To serve
Cilantro/Coriander, roughly diced
Naan Bread
Rice
Instructions:
In a small bowl, combine 4 tsp garam masala, 3 tsp chilli powder, 2 tsp ground coriander, cumin, paprika and turmeric and 1.5 tsp salt. In a medium bowl, combine the diced chicken with half the spices (save the rest of the spices for later).

Heat up around 1 tbsp veg oil in a pan over high heat. Once it just begins to smoke, space out your chicken (work in 2 batches if needed). Leave to fry until it begins to char, then flip and char the second side. You're not looking to cook the chicken at this point, this is purely to lock in the spices and caramelize the outside (a little char = extra and authentic flavour).

Remove chicken from pan and place into slow cooker. Lower heat to medium and add 2 tbsp butter. Add onion and fry until it begins to soften, then add ginger and garlic and fry for a minute or so longer. Scrape everything into the slow cooker.

Into the slow cooker pour in passata, water, tomato puree, your remaining spices and sugar. Give it a good stir then pop on the lid and cook on HIGH for 3-4hours or LOW for 5-6hours.

Remove the lid and flick the cooker to 'warm'. Allow the curry to cool slightly, or at least stop rapidly bubbling then gently stir in the cream. It's important the cream is at room temp and the curry cools slightly or the cream may curdle. Don't be too vigorous when stirring otherwise the chicken will break apart.

Serve with coriander/cilantro, rice and naan!
Quick 1 min demo!
Notes:
a) Chicken - Chicken thigh is more flavoursome and tender than breast, but you can sub with breast if that's what you have. I'd recommend working to the quicker times (3 hours high or 5 hours low) because breast is more susceptible to overcooking. In both cases, you'll want large bite-sized pieces. Smaller pieces tend to break apart much easier, leaving you with more stringy bits of chicken. Which isn't a huge deal, it's just nicer to have chunks of chicken. b) Oil - Indian cooking tends to include a lot of oil and butter, so don't skimp out on the oil when frying. Important to use an oil with a neutral flavour and a high smoking point, so I don't recommend olive oil. Can also use ghee (clarified butter). c) Garam masala - You'll find this in almost all supermarkets/grocery stores in the spice section. It's a key spice so don't sub! d) Chilli Powder / Spice Level - I typically use 'hot' chilli powder. 3 tsp gives a good kick of spice, but if you're at all wary either start out with 1 tsp and adjust at the end or switch to 'mild' chilli powder. If you've gone overboard with the spice then serve the curry with yoghurt or some form of dairy to tone down the spice. e) Do I have to fry the chicken/onion before adding to slow cooker? - Frying the chicken not only locks in the spices but also adds a huge amount of flavour (light charring). Because you're cooking on high heat and only focused on charring it doesn't add much time to the process, so highly recommend doing it. Frying the onion/garlic/ginger helps lock in the butter. f) Can I make this on the stove without a slow cooker? - To make on stove continue to step 2 (remove chicken and place in a bowl). Carry on with step 3 (fry onion/garlic/ginger) and toast the leftover spices for a minute before stirring in the tomato puree. Pour in water and passata, then simmer sauce (preferably with lid on for 10-15mins, stirring occasionally). Pour in cream and sugar, then add back in chicken. Simmer until chicken is cooked through. Thin out with water if needed. g) Calories - divided by 4 with no sides, using 1 tbsp veg oil to fry.
Your Private Notes:
Nutrition:
Nutrition Facts
Slow Cooker Chicken Curry
Amount Per Serving
Calories 408
Calories from Fat 224
% Daily Value*
Fat 24.89g38%
Polyunsaturated Fat 3.985g
Monounsaturated Fat 7.333g
Cholesterol 189mg63%
Sodium 1046mg44%
Potassium 766mg22%
Carbohydrates 14.23g5%
Protein 32.2g64%
Vitamin A 1191IU24%
Vitamin C 89.7mg109%
Calcium 66mg7%
Iron 2.12mg12%
* Percent Daily Values are based on a 2000 calorie diet.
Nutrition is based on the absence of salt unless stated as a measurement in the ingredients. Cost is worked out based on ingredients bought from UK supermarkets, then divided by the number of servings. In both instances these values are just for guidance. Please check out my FAQ Page for more info.
---
Want to speed things up? Why not check out my Chicken Curry in a Hurry!
For more easy and delicious curry recipes check out these beauties:
Easy Curry Recipes
---