Coronation Chicken is an absolute British classic. This recipe takes a cold sandwich filler and turns it into a dreamy creamy coronation chicken style curry. Super quick and easy, this dish is sure to be on the table for your next family dinner!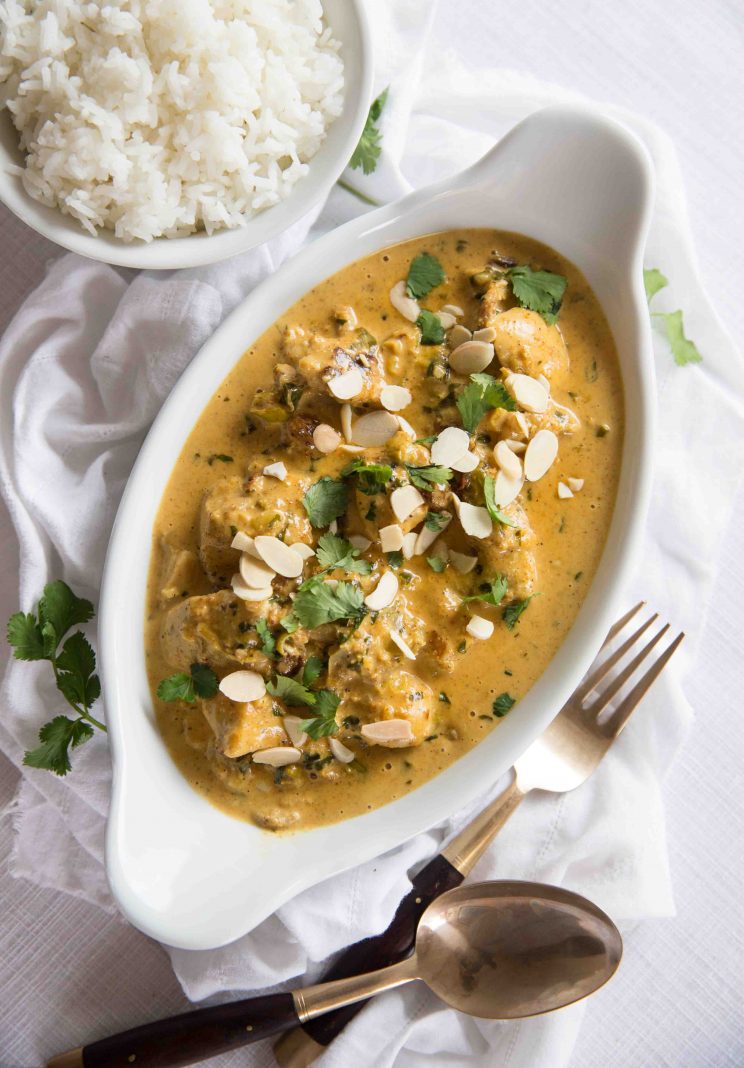 Coronation Chicken
Coronation chicken is literally my child hood in a dish. You know those sandwich filler packs you get from the supermarkets? With some thick, chunky tiger bread? Yup, that's the reason I've never had a six pack! But more positively that's what has inspired this easy coronation chicken recipe I'm sharing will you today!
For those of you who are thinking 'what is coronation chicken and why is this boy talking about sandwiches' I'd be happy to clear things up.
What is Coronation Chicken?
Coronation chicken is traditionally a cold dish, often made with leftover chicken in a mayonnaise based dressing. The most common ingredients in such dressing alongside the mayo, is curry powder and some sort of fruity aspect, such as mango or sultanas. It's insanely delicious, trust me.
Hot Coronation Chicken
As you can already tell, I've eaten enough coronation chicken to last me a lifetime, so it was time to take things to the next level. I've kept the same traditional flavours of coronation chicken, just altered the texture into a dreamy creamy curry that's perfect to serve hot over rice for dinner.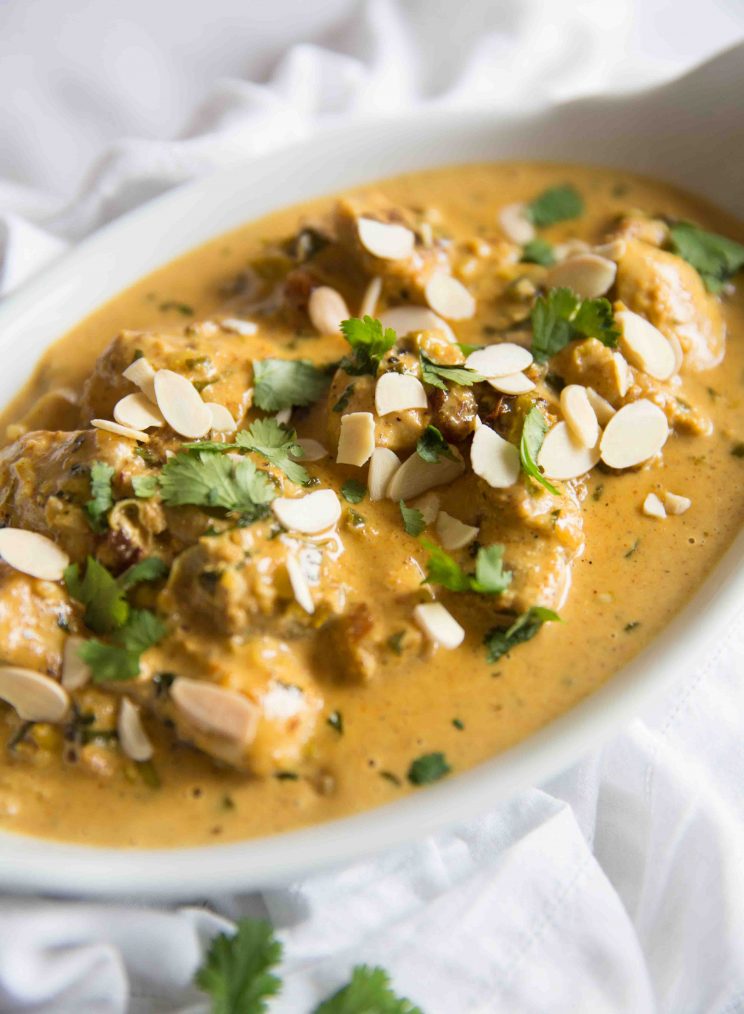 Coronation Chicken Marinade
All good curries start with a marinade and this is no exception. The marinade serves 2 purposes:
Tenderizes the chicken.
Injects flavour into the chicken.
For this recipe we're going with boneless skinless chicken thighs. Chicken thigh tends to be more flavoursome than breast. It's also more difficult to overcook and tends to be slightly softer and more tender. You can however sub chicken breast if that's what you've got on hand.
The marinade is incredibly simple and consists of plain yogurt, garlic & ginger and curry powder.
How long to marinate for?
A minimum of 1 hour, up until overnight. Even 30mins will work a treat! So as long as you have time for.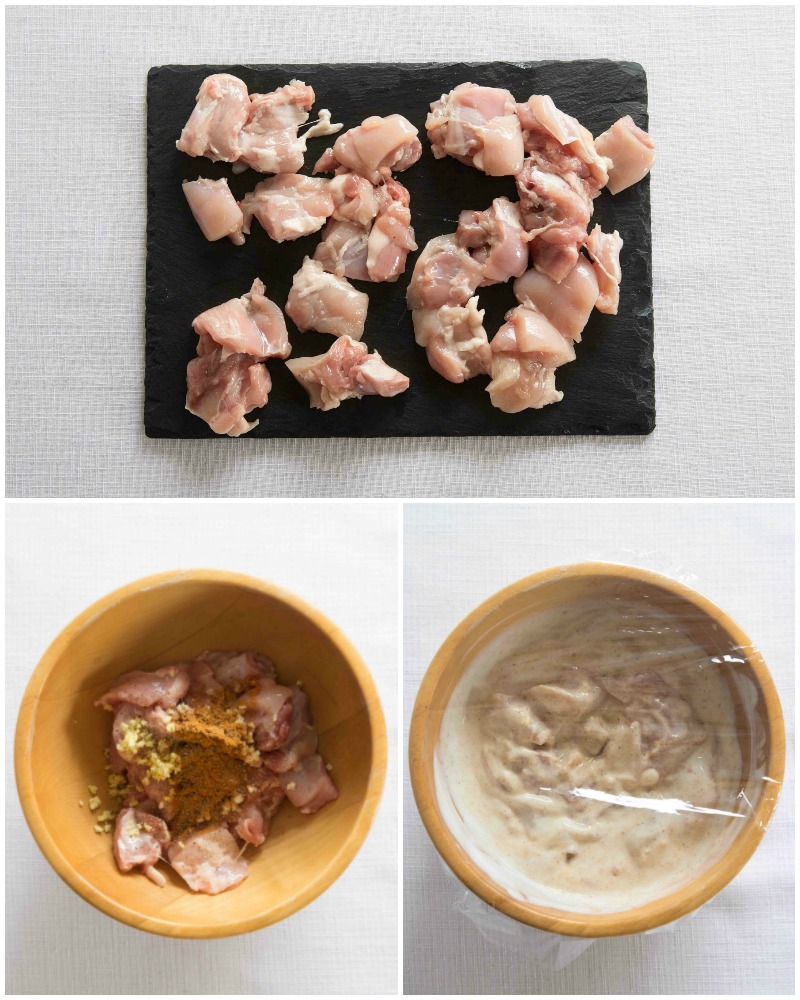 Coronation Chicken Curry
Once you've marinated the chicken it's on to the curry. As far as 'curry in a hurry' goes this is pretty darn close from here on out. Here's what you'll need:
Curry Powder
Green/Spring Onion & Coriander/Cilantro
Sultanas & Mango Chutney
Giner & Garlic
Chicken Stock & Heavy Cream
Yogurt
Top Tip #1 – Ensure you char the chicken a little, this will add an extra layer of flavour. Make sure you give the chicken room to fry, work in batches if you need to.
Top Tip #2 – Toast the curry powder to bring out the best of it's flavour! Just a minute of two before you pour in the liquids will do the trick.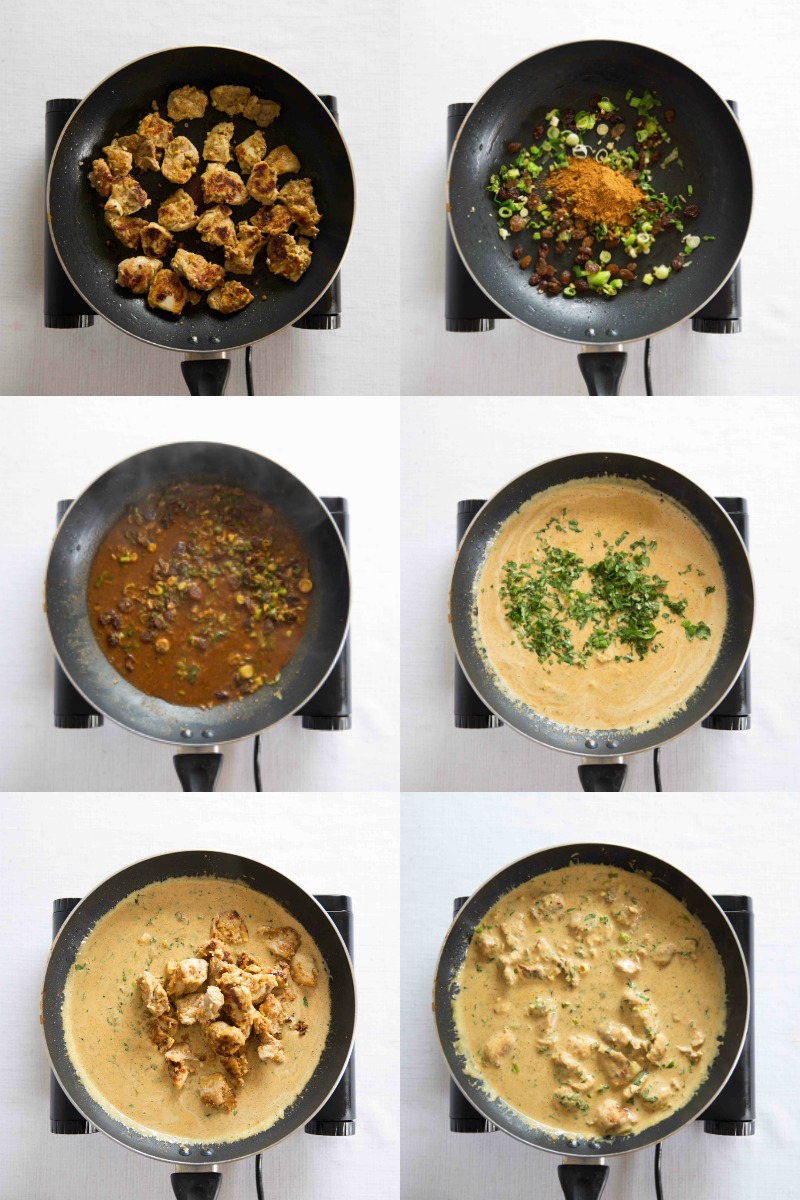 Serving Coronation Chicken Curry
When it comes to serving, as I mentioned earlier it goes fantastically with rice.
I have addressed this in the recipe notes, but I'll say it again – don't forget the toasted flaked almonds. I know, look how pretentious I've become! Pre-food blogger Chris wouldn't even know what an almond was, let alone one that's been toasted and flaked! But all jokes aside they compliment this dish beautifully. Not only do they add a nice little crunch, but the flavour blends so well with the other ingredients. So unless you have an allergy, they're definitely a must 🙂
If you're looking for the cold (classic) sandwich filler coronation chicken check out my Coronation Chicken Recipe!
If you like the sound of this curry then definitely check out my Slow Cooker Chicken Curry (Tikka Masala Style)!
Alrighty, let's tuck into the full recipe for this coronation chicken shall we?!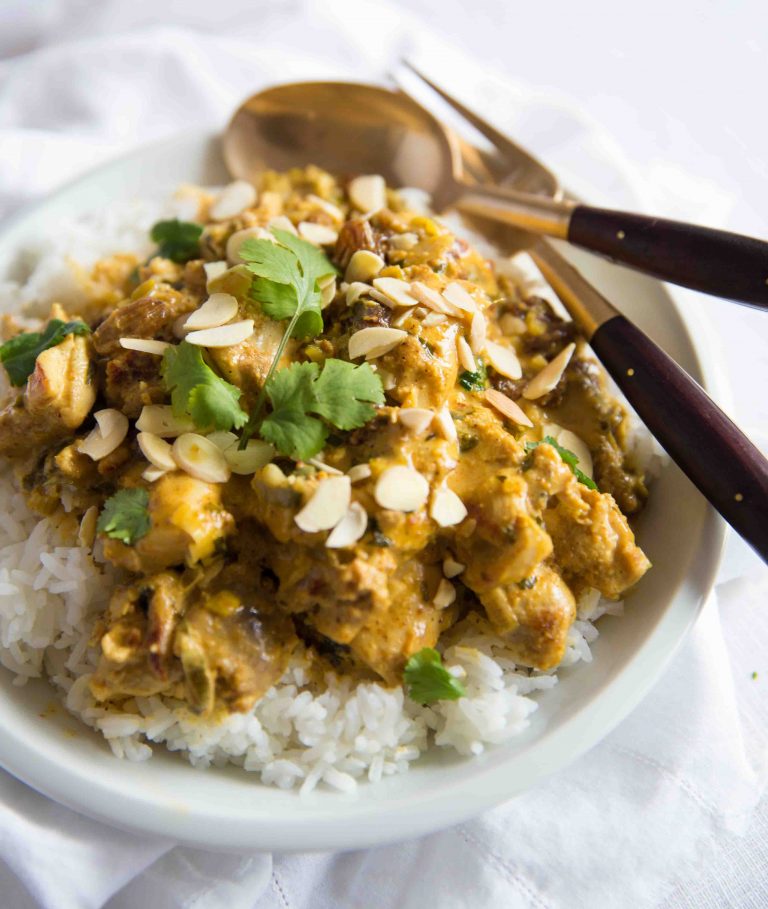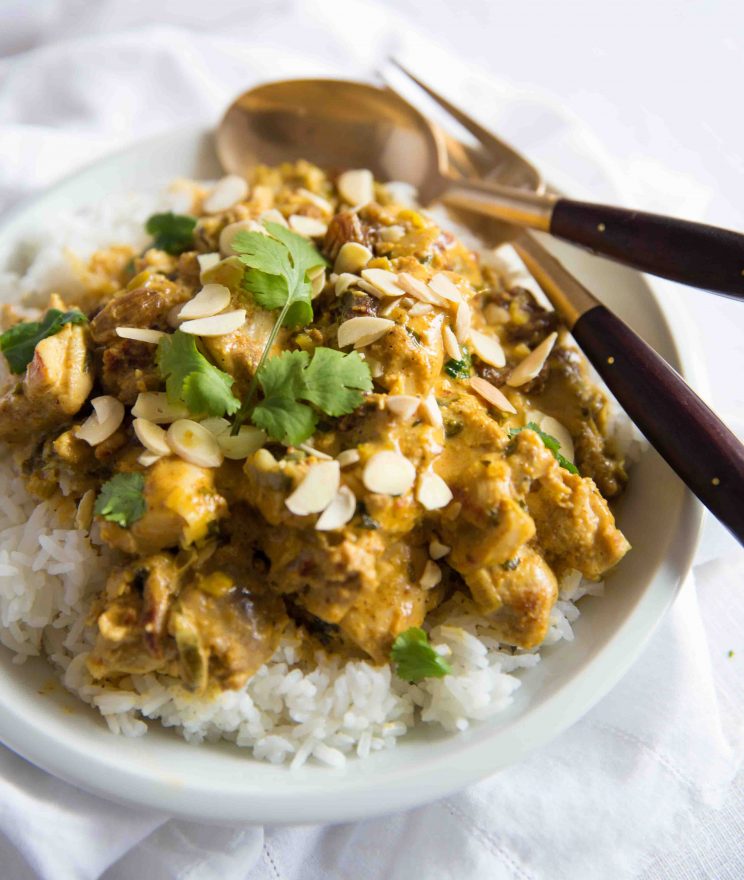 How to make Coronation Chicken Curry

(Full Recipe & Video)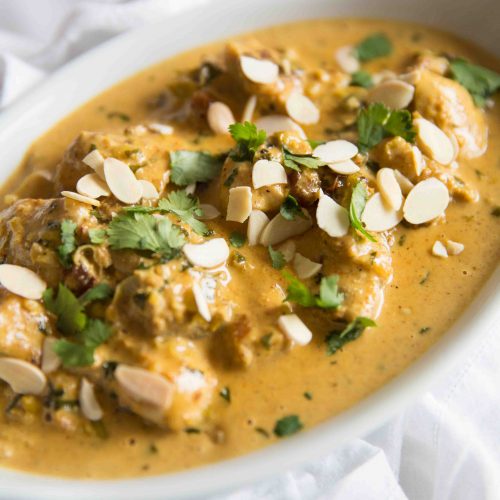 Coronation Chicken Curry
Coronation Chicken is an absolute British classic. This recipe takes a cold sandwich filler and turns it into a dreamy creamy coronation chicken style curry. Super quick and easy, this dish is sure to be on the table for your next family dinner!
Print
Pin
Rate
Servings (click & slide):
4
Calories per serving:
488
kcal
Cost per serving:
£2 / $2.50
Equipment:
Medium Mixing Bowl & Cling Film (for marinade)

Sharp Knife & Chopping Board

Large Deep Frying Pan & Wooden Spoon

Serving Spoon & Bowl
Ingredients (check list):
1.2lb / 600g

Boneless Skinless Chicken Thighs, diced in to bite sized chunks
Marinade
1 cup / 250ml

Unsweetened Plain Yogurt

1

tsp

Ginger, minced

1

tsp

Garlic, minced

1

tsp

Curry Powder

1

tsp

Salt

1/2

tsp

Black Pepper
Sauce
1 cup / 250ml

Heavy Cream, at room temp

1/2 cup / 125ml

Chicken Stock

1/4

cup

Mango Chutney

1/4

cup

Sultanas

1/4

cup

Fresh Coriander/Cilantro, finely diced (save some to serve)

2

Green/Spring Onions, diced

2

tbsp

Unsweetened Plain Yogurt

1

tbsp

Curry Powder

1

tsp

Ginger, minced

1

tsp

Garlic, minced

squeeze of

Lemon Juice, to taste
Salt & Black Pepper, to taste
Oil for frying (vegetable, canola)
To serve
Rice
Toasted Flaked Almonds
Coriander/Cilantro
Instructions:
In a suitably sized bowl, add diced chicken, 1 tsp minced garlic & ginger, 1 tsp salt and 1/2 tsp black pepper, mix, then combine with 1cup/250ml yogurt. Cover and leave in the fridge for 1-12 hours. Take out of the fridge 30mins before using (important - frying cold chicken will cause it to seize up and go chewy).

Heat up 1 tbsp oil in a suitably sized pan over high heat. One by one add the chicken pieces (shake off a bit of the marinade before adding in) fry in batches if you need to. Once nicely charred on one side (a little char = extra flavour) flip and continue frying until just cooked through. Take chicken out and place to one side.

Lower heat to medium, adding more oil as necessary, and chuck in 1 tsp garlic & ginger, 1/4 cup sultanas and 2 diced green onion. Fry for a few minutes until soft. then stir in 1 tbsp curry powder and toast for a minute or so.

Pour in 1/2cup/125ml chicken stock, then stir in 1cup/250ml cream, 1/4 cup mango chutney and coriander/cilantro. Bring to a simmer and add your chicken.

Allow to simmer, stirring occasionally, until the sauce thickens and the chicken is hot all the way through. Stir through 2 tbsp yogurt, then taste test for seasoning and adjust with salt, pepper and a squeeze of lemon juice as necessary.

Serve over rice with toasted flaked almonds and coriander/cilantro over the top.
Quick 1 min demo!
Notes:
a) Marinating - Even if you're in a rush/forgot to set a marinade in the fridge, still do try and marinate the chicken, even if just for 20/30 mins. If you're only marinating this long just leave at room temp. Chicken needs to be at or close to room temp before frying. b) Chicken Breast - Feel free to sub for chicken breast. I use chicken thighs as they tend to be slightly more tender and have more flavour to them, so if you are using chicken breast I'd definitely recommend marinating. c) Frying - It's important to ensure the oil is hot, hence the use of vegetable/canola oil (much higher smoking point than olive oil). You just want the chicken to take on colour, so don't panic if it's not cooked all the way through. It will continue cooking when resting and added back into the sauce. I find it easiest to add and remove with a pair of tongs. d) Flaked Almonds - Try not to think of these as just garnish, they add a nice crunch to the dish and combine beautifully with the other ingredients. Of course you can leave them out for allergy reasons, it will still be delish! e) Leftovers - I've just polished some off about 5 minutes ago straight from the fridge between two slices of bread. Also reheats perfectly! f) Calories - Based on the following: 1 tbsp vegetable oil, without rice and without the yogurt. Marinades are really difficult to calculate as there's no way to tell how much remains on the chicken. However, plain yogurt is relatively low fat/low cal so shouldn't alter the calories too much!
Nutrition:
Nutrition Facts
Coronation Chicken Curry
Amount Per Serving
Calories 488
Calories from Fat 293
% Daily Value*
Fat 32.5g50%
Monounsaturated Fat 11.1g
Cholesterol 242mg81%
Sodium 358mg15%
Potassium 651mg19%
Carbohydrates 14.1g5%
Protein 37.6g75%
Vitamin A 3550IU71%
Vitamin C 71.8mg87%
Calcium 70mg7%
Iron 1.8mg10%
* Percent Daily Values are based on a 2000 calorie diet.
Nutrition is based on the absence of salt unless stated as a measurement in the ingredients. Cost is worked out based on ingredients bought from UK supermarkets, then divided by the number of servings. In both instances these values are just for guidance. Please check out my FAQ Page for more info.
---
If you loved this Coronation Chicken Recipe be sure to Pin it for later! Already made it or got a question? Let me know in the comments below and pick up your free ecookbook along the way!