These homemade flatbreads are quick, easy and only require 3 main ingredients. No yeast required!
As one of my most loved and most popular recipes, I had to include this in my Debut Cookbook 'Comfy'!
If you're anything like me, the word 'bread' fills you with joy and fear at the same time. To eat? Gimme all the bread. To bake? Absolutely not. If you've been a reader of mine for a while you know we don't bake around here 🤣. These flatbreads however are incredibly easy to make. No yeast, but you still get that awesome, chewy & fluffy texture. Follow me…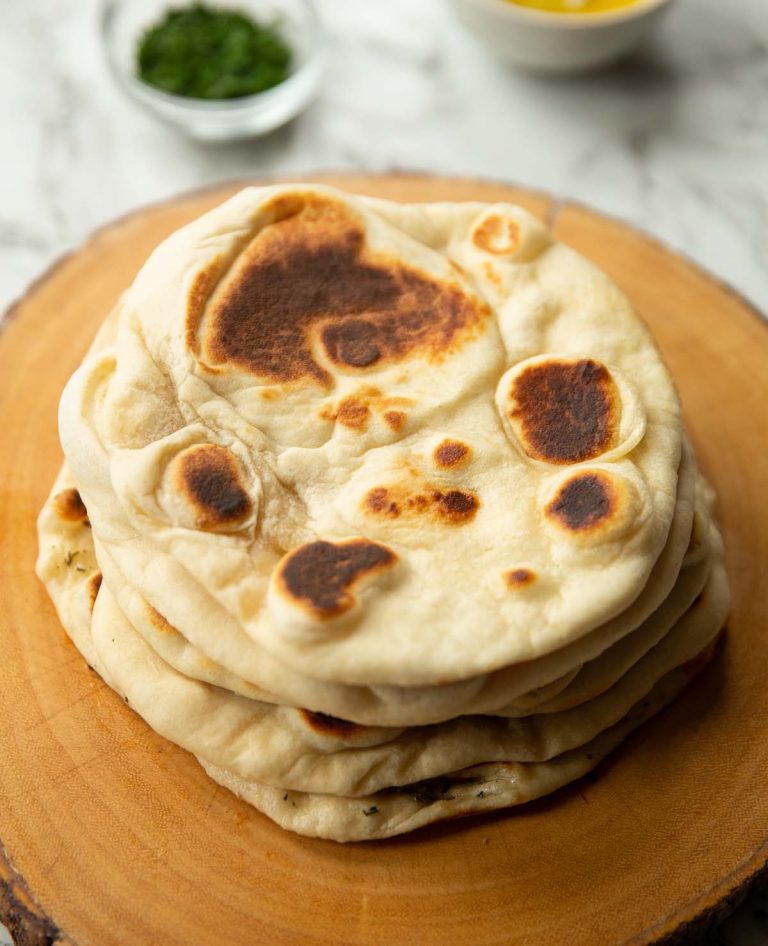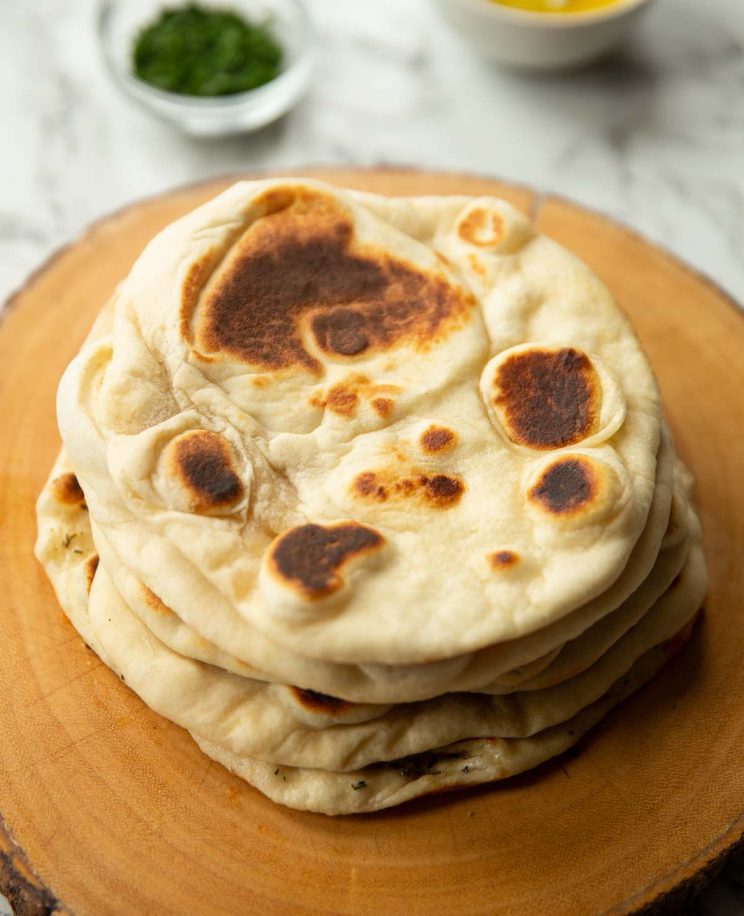 Yogurt Flatbread Ingredients
Flour – Just regular plain/all purpose flour does the trick.
Baking Powder – This helps the flatbread puff up and go nice & fluffy.
Yogurt – Plain/Natural yogurt. Make sure it's unsweetened and unflavoured.
Salt – Fine grained, not sea salt.
To prepare the flatbreads it's easy stuff right from the get go. The bulk of the dough is flour & yogurt, and you need equal weight of both.
You're looking for the dough to be slightly tacky, but not so much it sticks to your fingers. It's incredibly easy to adjust the flour/yogurt to alter the consistency if needed.
Process shots: whisk flour, salt, baking powder & make a well (photo 1), add yogurt (photo 2), roughly combine with spatula (photo 3), form a ball with your hands (photo 4).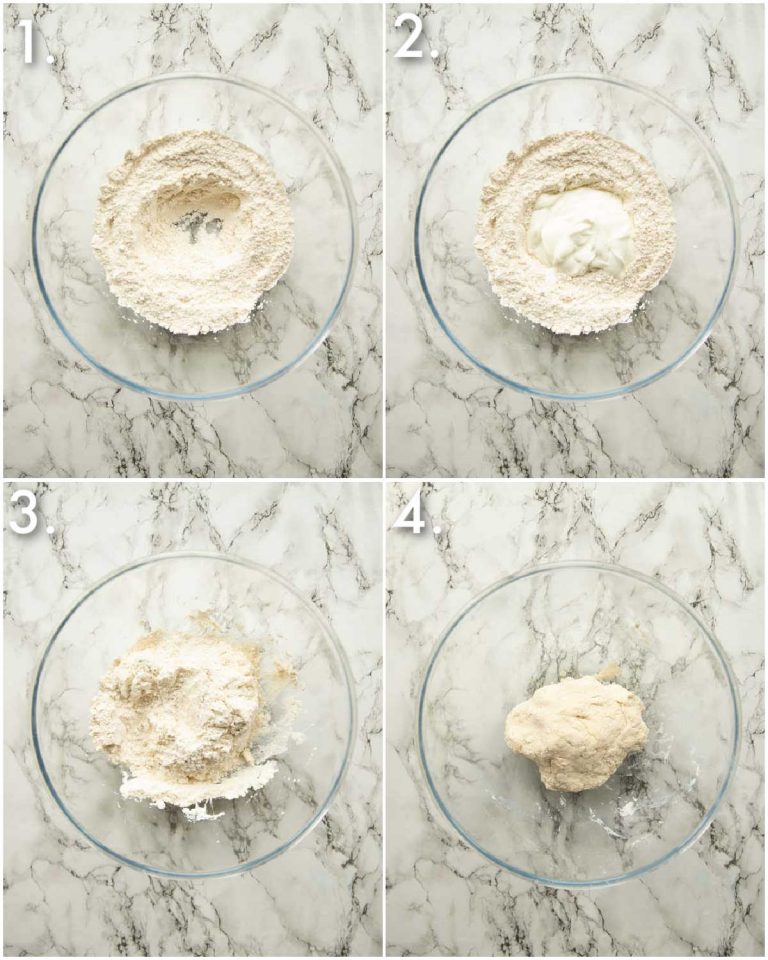 Making Flatbreads
When it comes to making the flatbreads I'd say kneading is necessary, but proofing is optional (since there's no yeast). Kneading the dough for a few mins will smooth out the dough, which is necessary to help keep the bread from cracking. I also like to let it rest for 20mins or so, just to help the dough relax/rise slightly. You can skip the 'proofing' and the difference in outcome is minimal, but they'll just be slightly less puffy.
How do you roll out flatbread?
All you need is a flat surface, a pinch of flour and a rolling pin! You'll most likely need to add in flour as you rolling it out, but start off conservatively or the dough will dry out and begin to crack. Just divide the dough into 4 slice roll into circles.
Do you need oil to cook flatbreads?
Nope! I do like to very lightly brush both sides with olive oil. I find it crisps them up very slightly, but you can add them straight into a pan completely dry and they'll come out great.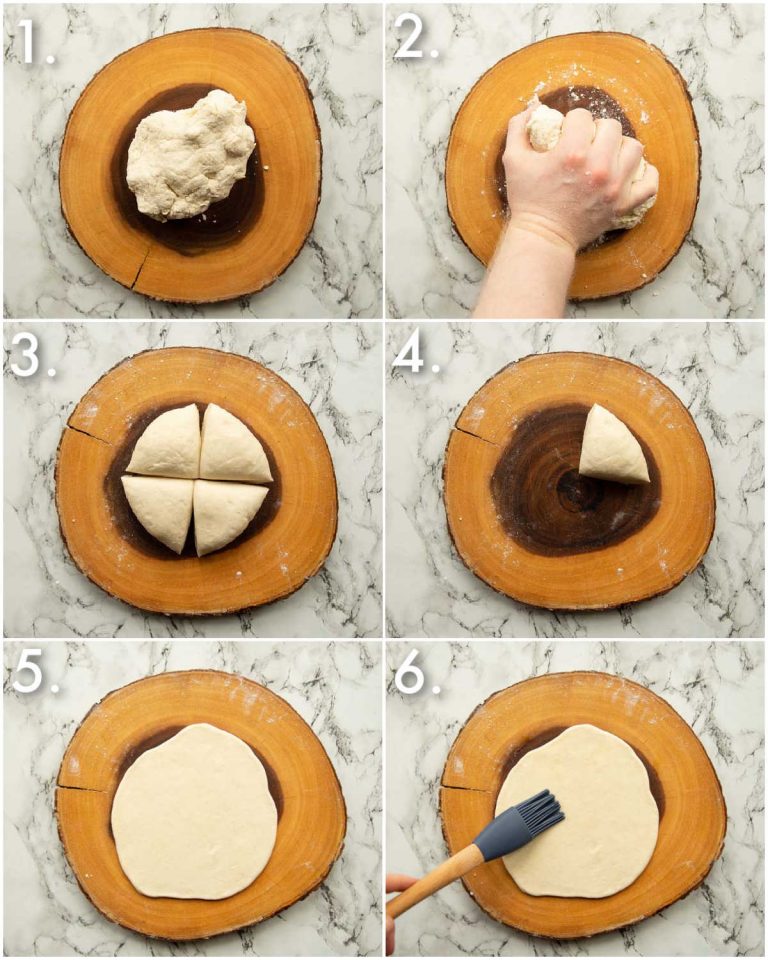 Pan Fried Flatbread
To cook the flatbreads you'll want to pan fry them.
Personally I like my flatbreads similar to naan bread i.e. a little thick, a little chewy, nicely charred and slightly firmer than regular flatbreads. In order to achieve this you'll want the heat fairly high. If you want more pliable, less charred flatbreads, a low/medium heat is more suitable.
In both cases it's only a matter of minutes per side. You know you've made a cracking dough when you see the air bubbles forming as the flatbread cooks!
Garlic Flatbreads
You can serve them as they are, but more often than not I like to slather mine in garlic butter. For the garlic butter you'll need:
Melted Butter – I usually go unsalted and add salt to taste but regular butter (or even ghee if you have it) works great.
Garlic – Minced/grated. 1 clove will go a long way, especially because it's raw/minced!
Herbs (optional) – I usually go for parsley, because it's the most 'neutral' kind of herb and classically goes with garlic butter (i.e. garlic bread). However rosemary works very nicely, as does coriander/cilantro.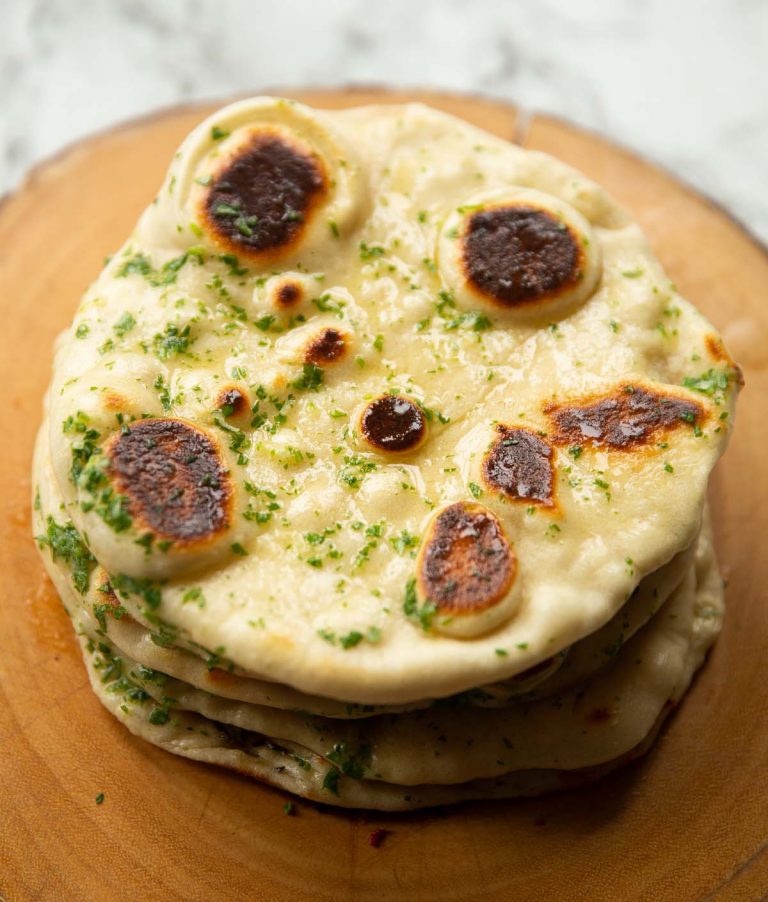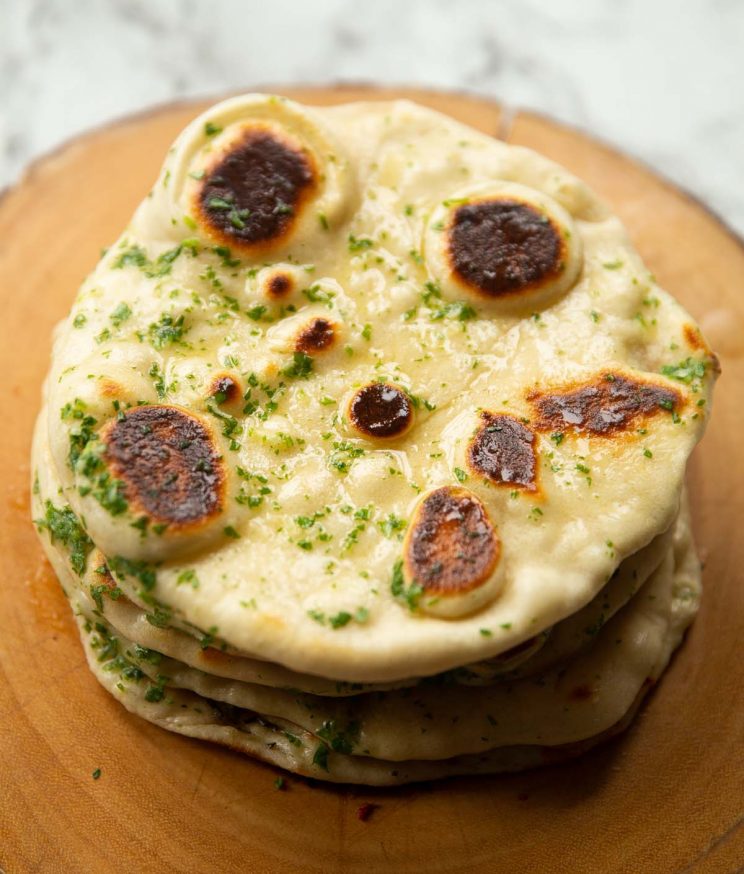 Serving Flatbreads
I honestly serve these with just about everything. They go perfectly with curry (namely chicken curry in a hurry) and great with dips (namely hummus). I've even got a recipe for flatbread pizzas!
How to store flatbread
You can store the dough in the fridge once divided and rolled out (with baking paper in between). You can also cook & cool them and store at room temp for a couple of days. Can also be frozen, just defrost at room temp or bake/fry to heat up again. In all cases though they're best made fresh and leave off the garlic butter until serving if you're using it!
Alrighty, let's tuck into the full recipe for these flatbreads shall we?!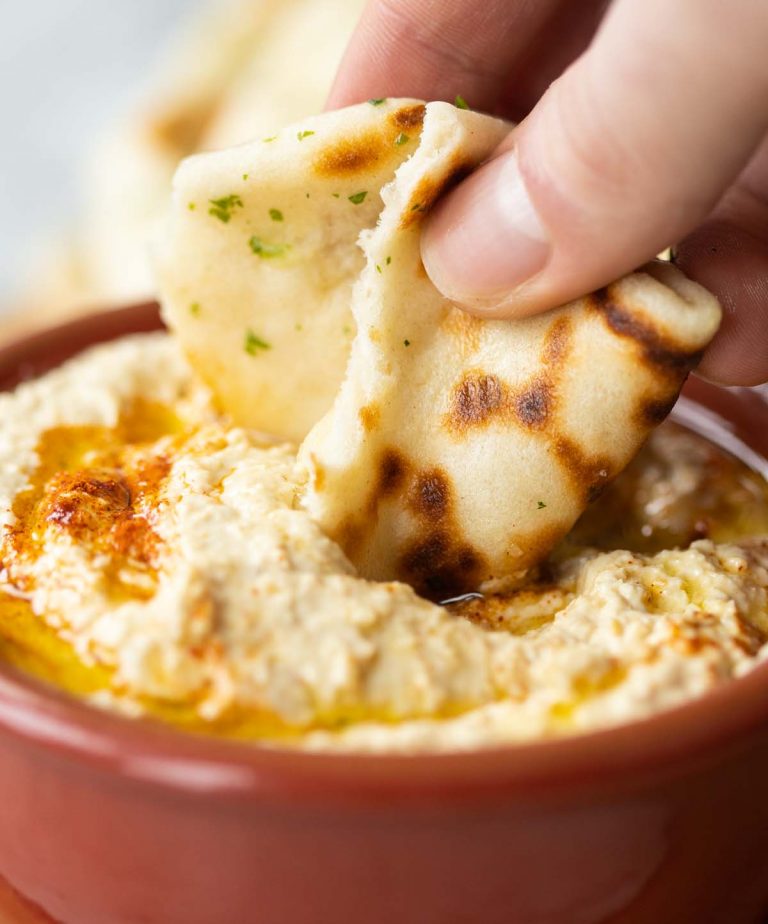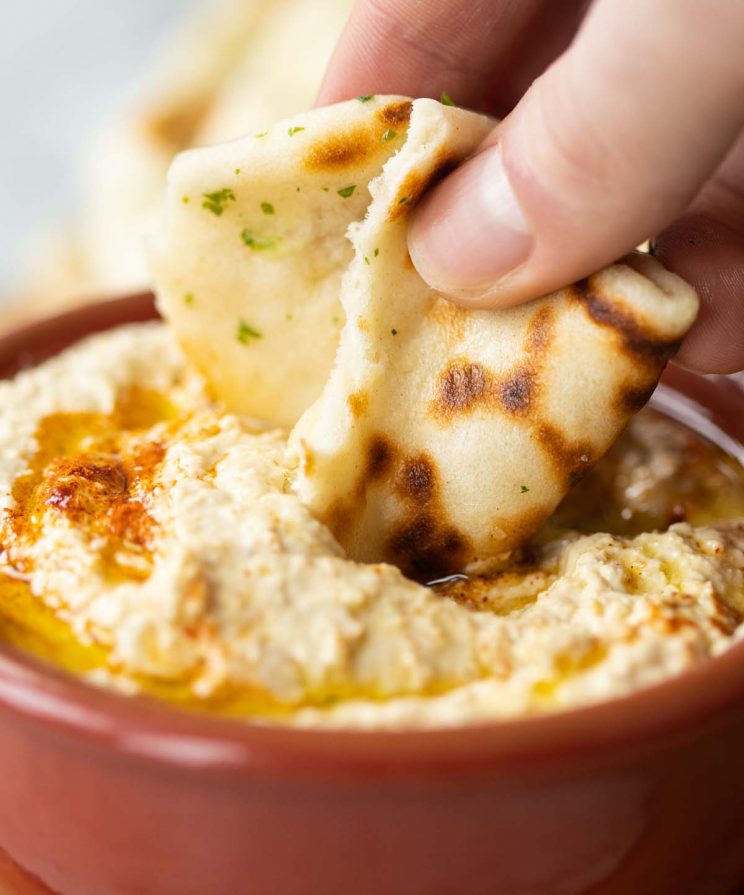 How to make Flatbreads

 (Full Recipe & Video)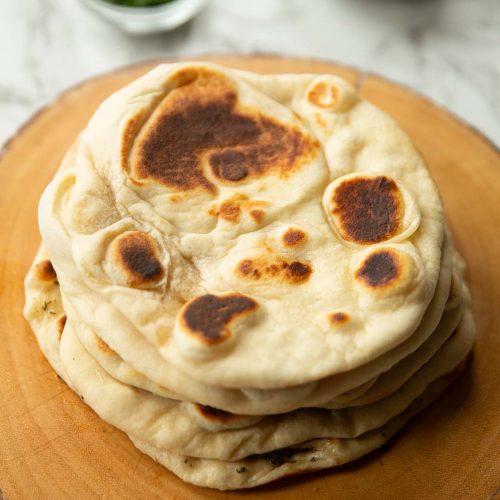 The Easiest Flatbreads in the World!
These homemade flatbreads are quick, easy and only require 3 main ingredients. No yeast required!
Print
Pin
Rate
Share by Text
Servings (click & slide):
4
flatbreads
Calories per serving:
289
kcal
Cost per serving:
£1 / $1
Equipment:
Large Mixing bowl & Whisk

Frying Pan & Tongs

Rolling Pin

Brush (for oil)

Sharp Knife & Chopping Board

Spatula
Ingredients (check list):
7oz / 200g / 1 tightly packed cup

Plain/All Purpose Flour

6.3oz / 180g / 3/4cup

Plain Natural Yogurt (unsweetened)

1 1/2

tsp

Baking Powder (not baking soda!)

1/2

tsp

Salt

8

tsp

Olive Oil (optional)
Instructions:
Whisk together flour, baking powder and salt in a large mixing bowl. Make a well in the centre then pour in the yoghurt. Roughly combine with a spatula until it starts coming together, then form a ball with your hands. The texture should be very slightly tacky, but not so much it sticks to your fingers. The perfect consistency will take all the dough off the edges of the bowl. If you need to add more flour work in a pinch at a time.

Dust some flour on a flat surface and knead for a few minutes until nice and smooth/lump-free, adding more flour as you go. The kneading process will dry out the dough so don't add too much or it'll throw off the consistency and cause the flatbreads to crack/come out hard.

Use a sharp knife to divide into 4, then roll into circles around 8" wide. Brush one side of each of them with olive oil (just enough to lightly coat the surface, around 1 tsp per side should suffice).

Heat a pan over high heat and add a flatbread oil-side-down when the pan just about begins to smoke. Brush the top of the flatbread with oil. Allow the dough to puff up and lightly char for about 60-90 seconds. Flip and leave to lightly char on the other side, another 60-90 seconds. Remove from pan and repeat (see notes for garlic butter).
Quick 1 min demo!
Notes:
a) Yoghurt - You can also use Greek Yogurt for this. In all cases just make sure it's plain and not flavoured (vanilla etc). If at any point you run out of yoghurt but the dough is still dry, you can add a dash of water. b) Flatbread Texture - I like mine almost like a naan, so a little crispier/firmer and to have some char (extra flavour!). Hence frying at high heat. You can make softer/flimsier flatbreads, just cook at slightly lower heat for a little longer. This won't be the last time you make this recipe so just have a play around with the heat to find perfect texture for you! c) Make Ahead/Storage - You can make the dough, roll into rounds and stack (with baking paper in between) in the fridge for a couple of days. Or, you can completely cook them, allow them to cool, then cover and store at room temp for a couple of days. Can also be frozen, just defrost at room temp or bake at 180C/356F for a few mins until heated through if you want to serve hot. d) Garlic Butter - To make the garlic butter combine 2 tbsp/30g/1oz butter with 1 minced clove of garlic (trust me a little goes a long way). You can also add 2 tsp fresh herbs - parsley, coriander/cilantro and rosemary all work perfectly. Just brush this over once they're cooked. e) Calories - per flatbread (4 in total).
Your Private Notes:
Nutrition:
Nutrition Facts
The Easiest Flatbreads in the World!
Amount Per Serving
Calories 289
Calories from Fat 87
% Daily Value*
Fat 9.68g15%
Polyunsaturated Fat 1.158g
Monounsaturated Fat 6.636g
Cholesterol 2mg1%
Sodium 310mg13%
Potassium 123mg4%
Carbohydrates 39.66g13%
Protein 10.18g20%
Vitamin A 2IU0%
Calcium 62mg6%
Iron 2.39mg13%
* Percent Daily Values are based on a 2000 calorie diet.
Nutrition is based on the absence of salt unless stated as a measurement in the ingredients. Cost is worked out based on ingredients bought from UK supermarkets, then divided by the number of servings. In both instances these values are just for guidance. Please check out my FAQ Page for more info.
---
If you loved this Flatbread Recipe then be sure to Pin it for later! Already made it or got a question? Give me a shout in the comments and pick up your free ecookbook along the way!