This Chipotle Roasted Chicken is loaded with flavour! It's spatchcocked and served as part of a tray bake to make the perfect family dinner.
This is perfect to feed 4, great for dinner or even to roast ahead of time and use the chicken in sandwiches and wraps. If you love a your roast chicken with crispy skin, juicy meat and a good punch of flavour you're in luck. Follow me…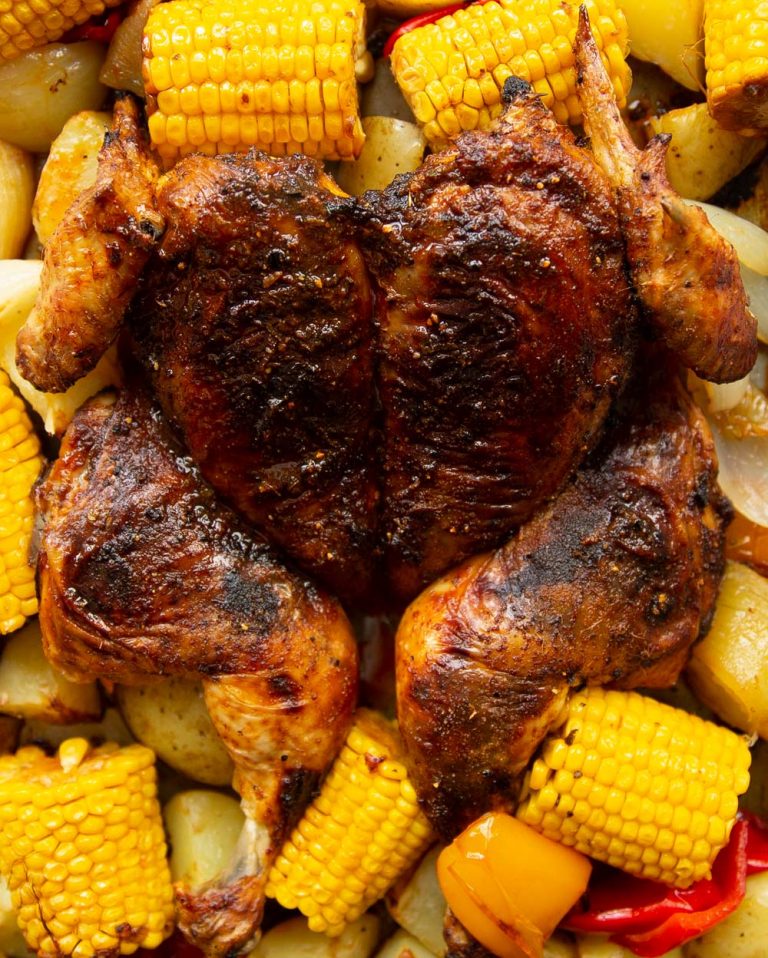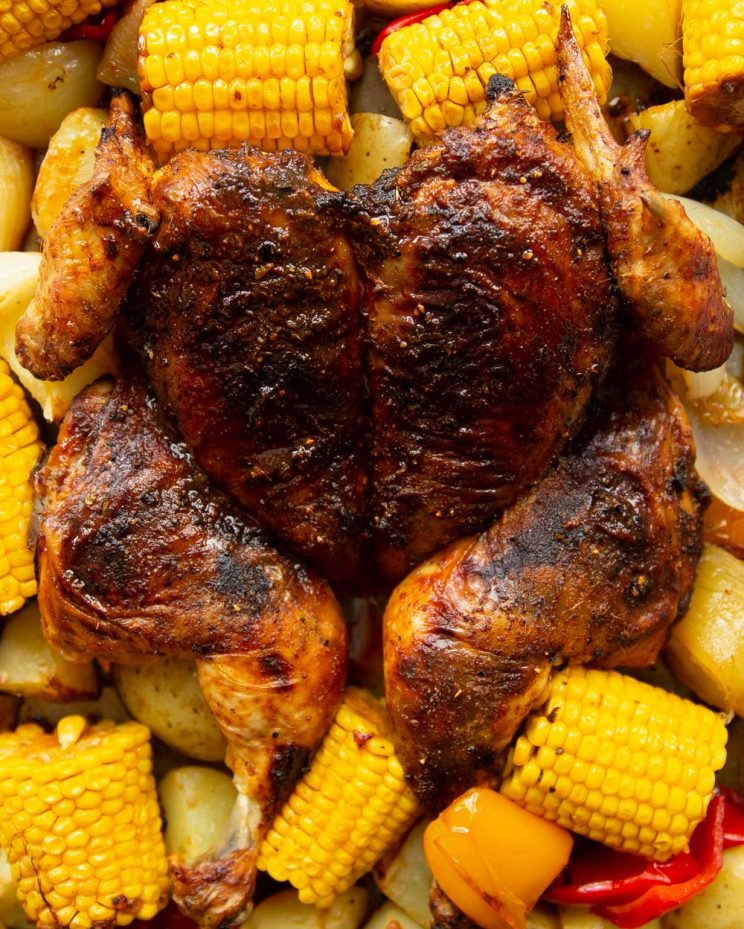 Chipotle Chicken
Chipotle and chicken are a match made in heaven and we are here today to celebrate that fact. The warm spicy flavours of the chipotle wrap around the chicken beautifully. The chipotle also chars nicely in the oven to really enhances those gorgeous smoky tones.
Chicken
For this recipe you'll want one whole medium sized chicken. Around 3.3lb/1.5kg works perfectly. We'll get into the prep of the chicken in just a sec, but right off the bat it's important to make sure you get the chicken out the fridge at least 30mins before needed. Roasting a chicken straight from the fridge will not only cause it to cook unevenly, but also runs the risk of the meat seizing up and going chewy. Room temp meat cooks the best in most circumstances.
Chipotle
Here I actually use a chipotle paste. Chipotle pastes are great because they're condensed and packed with flavour. They also include other seasonings alongside the chipotle which is great too.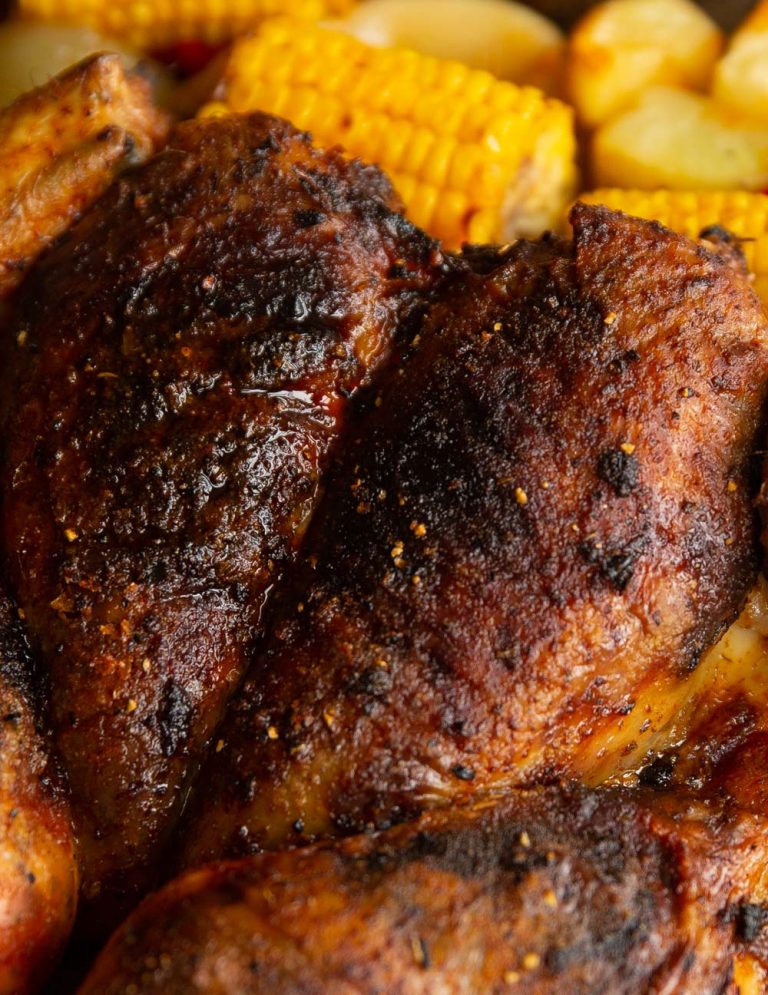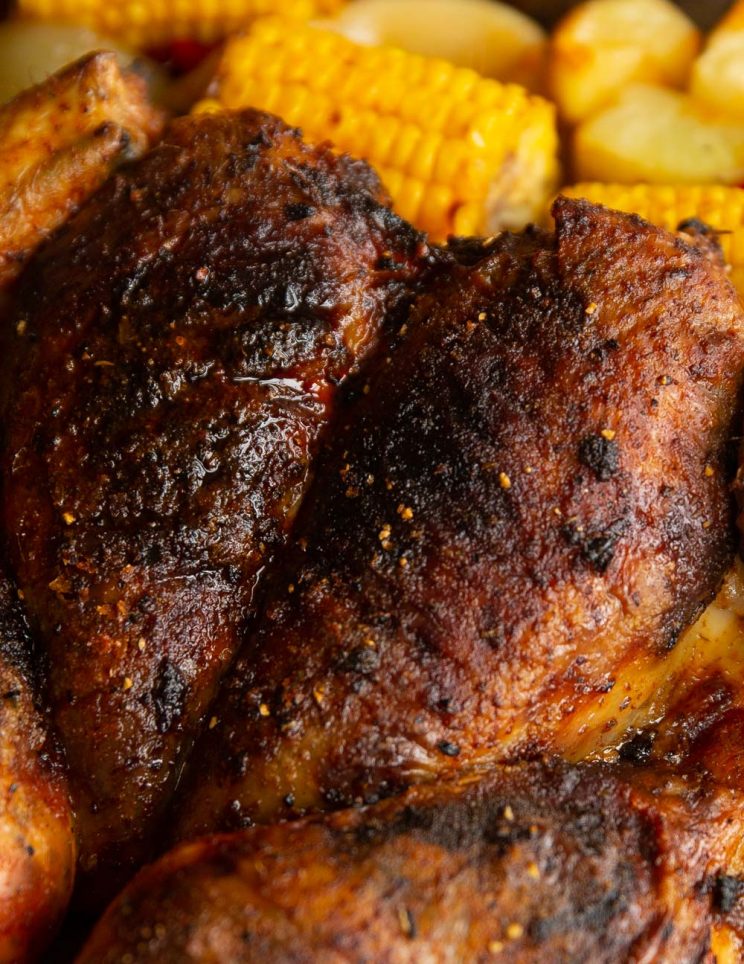 Chipotle Marinade
Alongside the chipotle paste we want to mix in a few other goodies before we slather it over the chicken. Here's what you'll need:
Lime Zest – Chipotle and lime is a gorgeous combo. Make sure you're using only the zest, lime juice will add excess moisture and prevent the skin from crisping up.
Brown Sugar – This balances out the spice of the chipotle and also caramelizes the chicken as it roasts.
Cumin, Smoked Paprika, Oregano – All gorgeous spices that go well with chipotle.
Olive Oil – Helps create a marinade/paste and ensures the chicken doesn't dry out.
Garlic – Fresh grated cloves work best here.
Do I have to marinate the chicken?
In short – no. BUT marinating the chicken will help tenderize the meat and inject flavour into the surface of the meat. 2 hours+ is great, but even 1 hour will work wonders.
If you want to make the marinade/paste ahead of time you can totally do that too, just cover and store in the fridge until needed.
Spatchcock Chicken
I'm going to go on record and say the single best thing you can do to improve your roast chicken is to spatchcock it.
Why spatchcock a chicken?
Two main reasons: First is that it will cook the chicken more evenly. Because it cooks more evenly the meat also comes out much more tender. Second reason is that it cooks much quicker too.
Remove the backbone
The main task of spatchcocking a chicken is removing the backbone. It's insanely quick and easy to do. Just grab a pair of kitchen shears and cut as close as you can to the back bone both sides. You can start from either end. You can also save the back bone to use in broths and stocks.
Top Tip – Ensure you pat the chicken dry with paper towels. This will not only make the chicken easier to handle, but will also remove moisture and help the skin crisp up when it roasts.
Process shots: lay chicken on chopping board (photo 1), pat dry (photo 2), flip breast side down (photo 3), cut along one side of the back bone (photo 4), cut along the other side until it detaches (photo 5), remove (photo 6).
Flatten the chicken
Once you've removed the backbone you'll want to flatten the chicken. The best way to do this is to flip the chicken and push down on the breasts with the palm of your hand. You should hear a couple of cracks. I also like to take this opportunity to trim off any excess skin lurking about as well.
Coating the chicken
When it comes to coating the chicken in that gorgeous chipotle marinade, I actually prefer to spread most of it underneath the skin. I find this keeps the chicken nice and juicy whilst allowing the skin the crisp up. To spread the marinade just loosen up the skin with a spoon, spread most underneath the skin the rub some on top too.
Process shots: open up chicken (photo 7), flip and push down breasts (photo 8), loosen skin with spoon (photo 9), rub marinade underneath and on top of chicken (photo 10).
Chipotle Chicken Tray Bake
When it comes to the tray bake aspect, you can in reality use any veg you want, but here's the usual victims for me:
Peppers
Onion
Corn on the Cob*
Potatoes
*The corn on the cob is great because you can make a 'podium' for the chicken to rest on as it roasts. This helps the hot air circulate the chicken and crisp it up nicely.
Process shots: add veg to tray (photo 1), drizzle with oil and season with s&p and create platform for chicken (photo 2), place chicken on top (photo 3).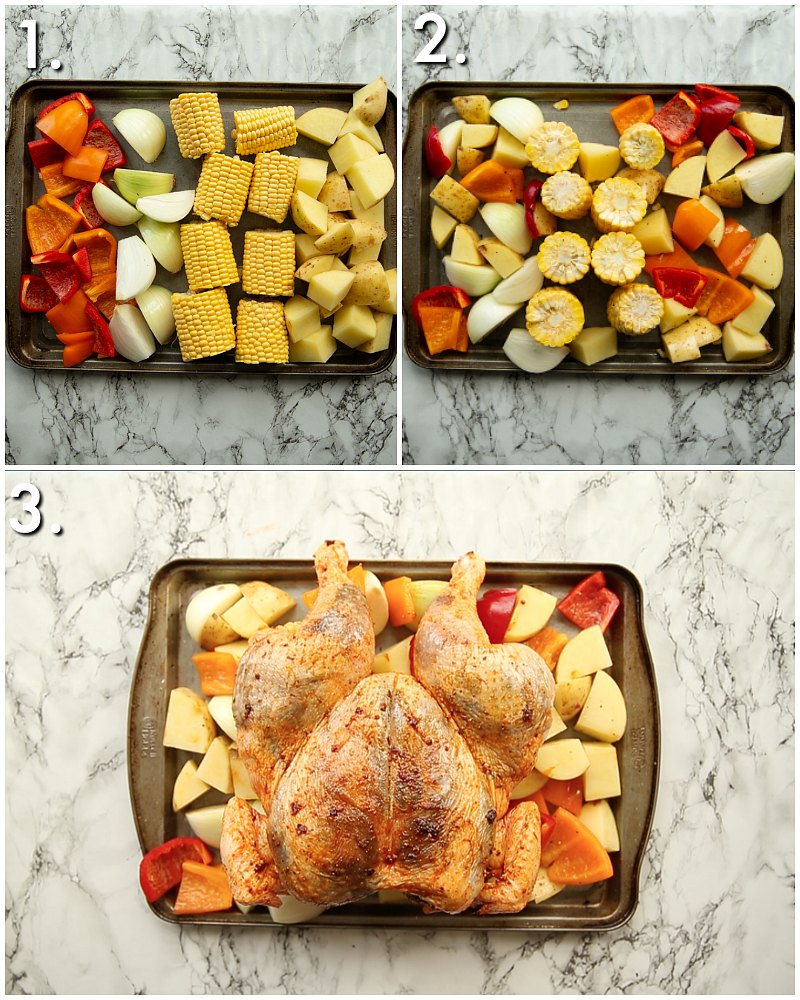 How long to roast a spatchcock chicken?
Like I mentioned earlier, one of the great things about roasting a spatchcock chicken is that it's quick. It only takes 45mins!
Rest the chicken
Once you've roasted the chicken it's crucial to allow it to rest. This will allow it to retain its juices and stay extra juicy. If you slice into it straight away the juices will pour out and you'll be left with a sad chicken. And nobody likes a sad chicken.
Don't waste the flavour!
You may notice there's some light char stuck to the pan once you remove the veg and chicken. This, alongside the rest of the liquid in the pan, is gorgeous flavour you don't want to waste. Just add a splash of chicken stock and use a plastic spatula to scrape away at all the deliciousness.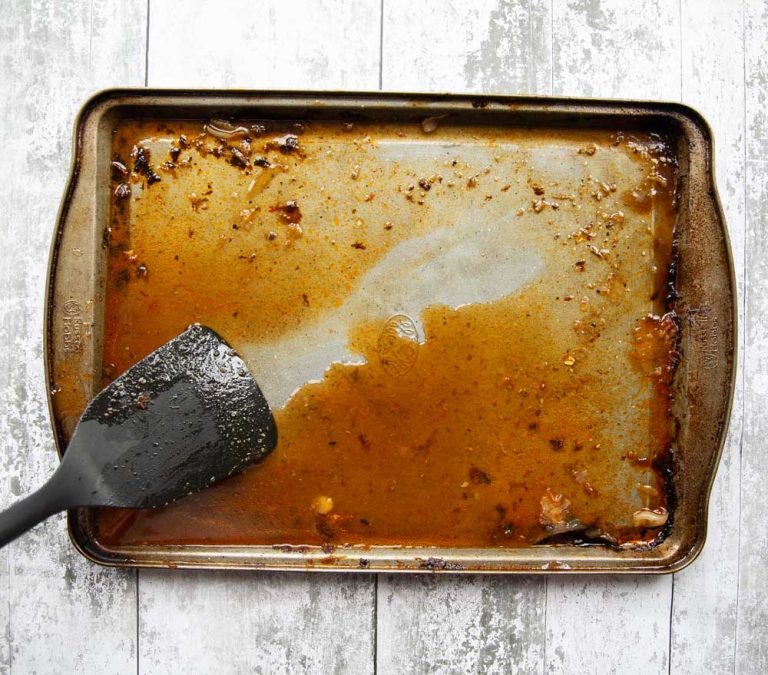 Serving Chipotle Chicken
You can really serve this however you fancy. I like to keep the legs whole, remove the wings then slice the breast into strips. Any leftovers are great in a sandwich or wrap the next day! Bit of mayo, pinch of lettuce, jobs a good'n.
If you're after more chipotle recipes check out my Chipotle Chicken Taquitos and Chipotle Mac and Cheese!
For more similar recipes check out these beauties too:
One Tray Chicken Dinners
Alrighty, let's tuck into the full recipe for this chipotle roasted chicken shall we?!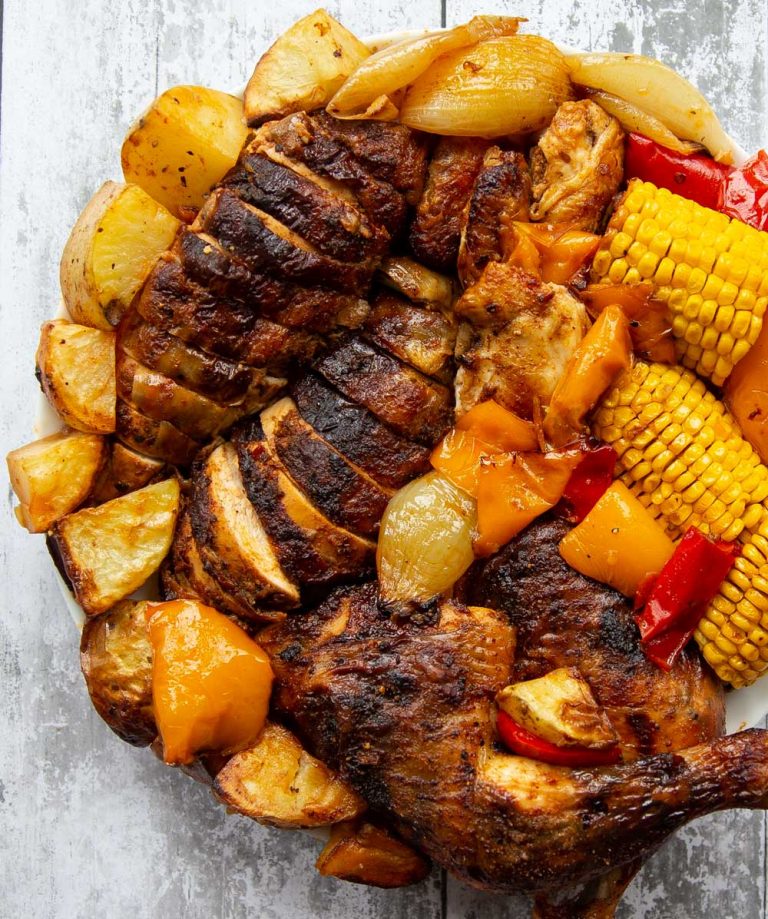 How to make Chipotle Roasted Chicken

(Full Recipe & Video)
Chipotle Roasted Chicken
This Chipotle Roasted Chicken is loaded with flavour! It's spatchcocked and served as part of a tray bake to make the perfect family dinner.
Print
Pin
Rate
Servings (click & slide):
4
Calories per serving:
756
kcal
Cost per serving:
£2.50 / $3
Equipment:
30cm x 45cm (12" x 18") Oven Tray

Heavy Duty Scissors/Kitchen Shears

Sharp Knife & Chopping Board

Paper Towels

Small Bowl (for Chipotle marinade)

Cling Film (optional - for marinating)

Plastic Spatula/Turner (for scraping tray)
Ingredients (check list):
Chipotle Chicken
3.3lb / 1.5kg

Whole Chicken (take out fridge 30mins before needed)

3

tbsp

Olive Oil

1

tbsp EACH:

Chipotle Paste, Brown Sugar

2

tsp

Smoked Paprika

1

tsp EACH:

Cumin, Oregano, Salt

2

cloves of

Garlic, finely grated/minced

1

Lime, zest only

1/2

tsp

Black Pepper
Tray Bake
4

small

Corn on the Cob, halved

2

large

Peppers, diced into large chunks

2

large

Baking Potatoes, diced into large chunks

2

large

Onions, quartered
Olive Oil, as needed
Salt & Black Pepper, as needed

splash of

Chicken Stock, to scrape flavour off tray
Instructions:
Marinade: In a small bowl combine chipotle paste, olive oil, sugar, lime zest, smoked paprika, cumin, oregano, garlic, salt and pepper.

Remove Back Bone: Pat chicken dry with paper towels. Flip the chicken breast side down and use a pair of kitchen shears cut through the ribs directly either side of the back bone. You can either start at the neck or the butt, just go nice and close to the back bone so you don't remove too much of the chicken. Completely remove backbone (you can use this another time for stock) and pull open up the chicken.

Flatten Chicken: Gently open up the rib cage and slice along the sternum. This will help the breast bone pop out (not crucial, but does help. See video below if you're not sure where this is). Season the inside with a pinch of salt and pepper. Trim off excess skin, then flip over and firmly push down the breasts to flatten the chicken. Tuck wings under chicken.

Coat Chicken: Grab a spoon and begin loosening the skin from the meat all across the breasts and legs. You can also loosen it around the wings too with a smaller spoon. Be firm, but still be careful not to rip the skin. Spread most of the marinade underneath the skin, ensuring you evenly distribute it and spread it to all parts of the chicken. Spread a dollop on top and any of the remaining oil that separated. Cover and marinate for as long as you have time for (preferably 2hours+). Bring close to room temp again before roasting.

Tray Bake: Combine peppers, potato, onions and corn on a large roasting tray with a drizzle of olive oil and a good pinch of salt and pepper. Stand up the corn on the cob halves in the centre to create a small platform for the chicken (see notes). Place chicken on corn, making sure the chicken is sturdy (so it won't fall during roasting) and also making sure it is completely level (so it cooks evenly).

Roast: Drizzle the chicken with a little more oil and coat with a good pinch of salt and pepper. Place in the oven at 425F/220C for 45mins. The internal temperature should be 75C/165F with the juices running clear when pierced at the join between the drumstick and the body.

Serve: Carefully transfer chicken to large plate or board and allow to rest for 15mins. This will ensure the chicken retains its juices. Remove veg from tray and drizzle a splash of hot chicken stock. Use a plastic spatula to scrape off all the gorgeous flavour. Dice up chicken as you wish and serve with veg and pan juices.
Notes:
a) Important Chicken Prep - Few important steps not to skip. You must make sure you don't roast the chicken right out the fridge, this will cause the meat to seize up and go chewy. It's important to pat the chicken dry. This will not only make it easier to handle but will also remove excess moisture, which would stop the chicken skin from going crispy. Lastly it's really important to flatten the chicken properly so it cooks evenly. b) Chicken Platform - Roasting the chicken slightly raised above the veg will help the hot air circulate the chicken and cook it more evenly. It also helps crisp up the chicken better. Alongside this the juices from the chicken drip down into the corn and keep it nice and juicy. c) Crisp Veg - After you've roasted the chicken and are leaving that to rest, you can pop the veg (minus the corn) back in the oven to crisp up some more if you want! d) Do I have to use corn? - Nope! I just find it goes really nicely with the recipe AND is perfect to stand chicken. You can sub for another other veg suitable for roasting and prop the chicken up with potatoes or something else sturdy. e) Calories - whole recipe shared between 4 people using 1/4 cup chicken stock to scrape tray, 1 tbsp olive oil to coat veg and 2 tsp oil to drizzle on chicken. 
Your Private Notes:
Nutrition:
Nutrition Facts
Chipotle Roasted Chicken
Amount Per Serving
Calories 756
Calories from Fat 226
% Daily Value*
Fat 25.12g39%
Polyunsaturated Fat 4.109g
Monounsaturated Fat 14.7g
Cholesterol 155mg52%
Sodium 808mg34%
Potassium 2059mg59%
Carbohydrates 78.39g26%
Protein 58.64g117%
Vitamin A 3557IU71%
Vitamin C 159.4mg193%
Calcium 84mg8%
Iron 5.68mg32%
* Percent Daily Values are based on a 2000 calorie diet.
Nutrition is based on the absence of salt unless stated as a measurement in the ingredients. Cost is worked out based on ingredients bought from UK supermarkets, then divided by the number of servings. In both instances these values are just for guidance. Please check out my FAQ Page for more info.
---
If you loved this Chipotle Chicken recipe then be sure to Pin it for later! Already made it or got a question? Give me a shout in the comments and pick up your free ecookbook along the way!