Here I'll show you how to bake and fry corn tortillas to turn them into crispy & delicious tostadas!
Anyone reading this in the UK will know the struggle of trying to find tostada shells. So today I'll show you just how easy it is to make your own. All you need is oil and salt! The only question is are you team baked or team fried? Follow me…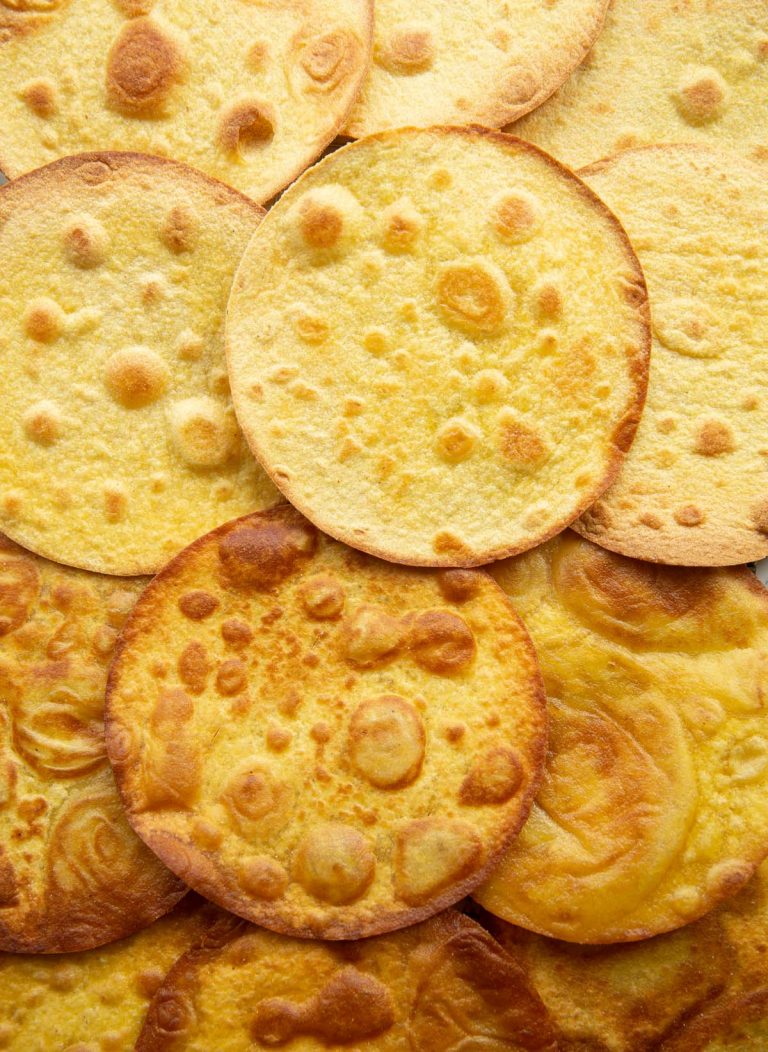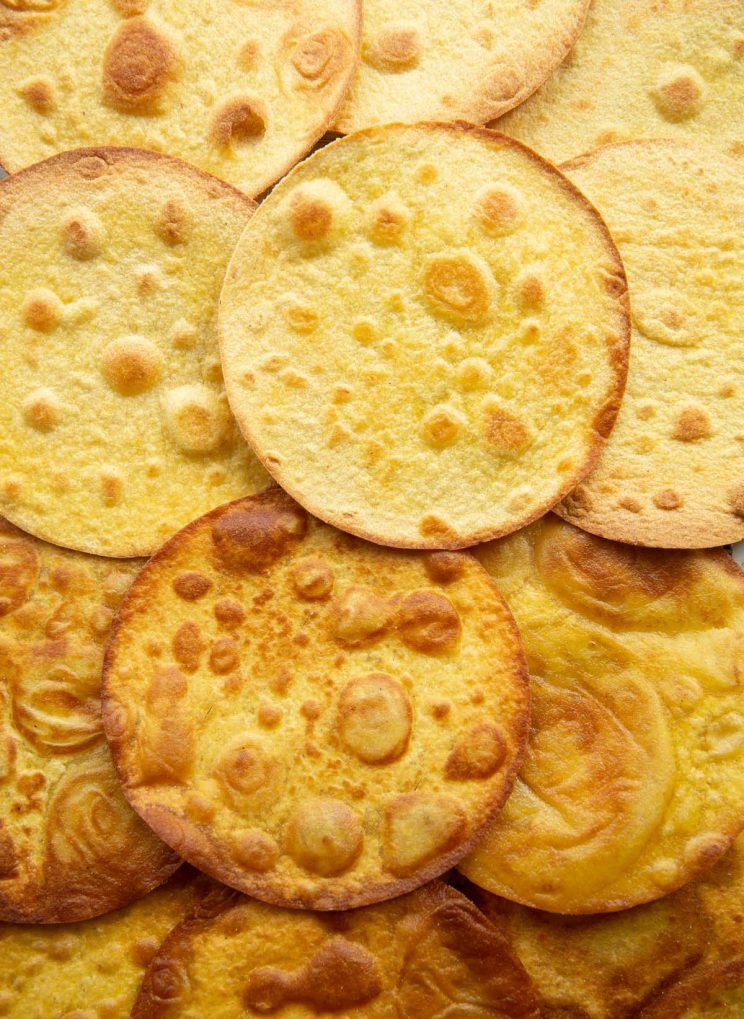 Tostada Shells
Before we jump into each method, there's a few similarities between the two that we'll get out the way first:
Corn Tortillas – Both methods use corn tortillas, around 6-7″ works best.
Knife – A nifty trick is stabbing the tortillas a few times with a sharp knife before you cook them. This helps prevent steam from gathering in the tortillas and not only helps them come out flatter, but also helps them come out crisper.
Vigilant – With both methods you need to be vigilant throughout cooking, as these go from perfect to burnt very quickly!
Cooling – In both methods you'll find the tostadas get crispier as they rest after being cooking.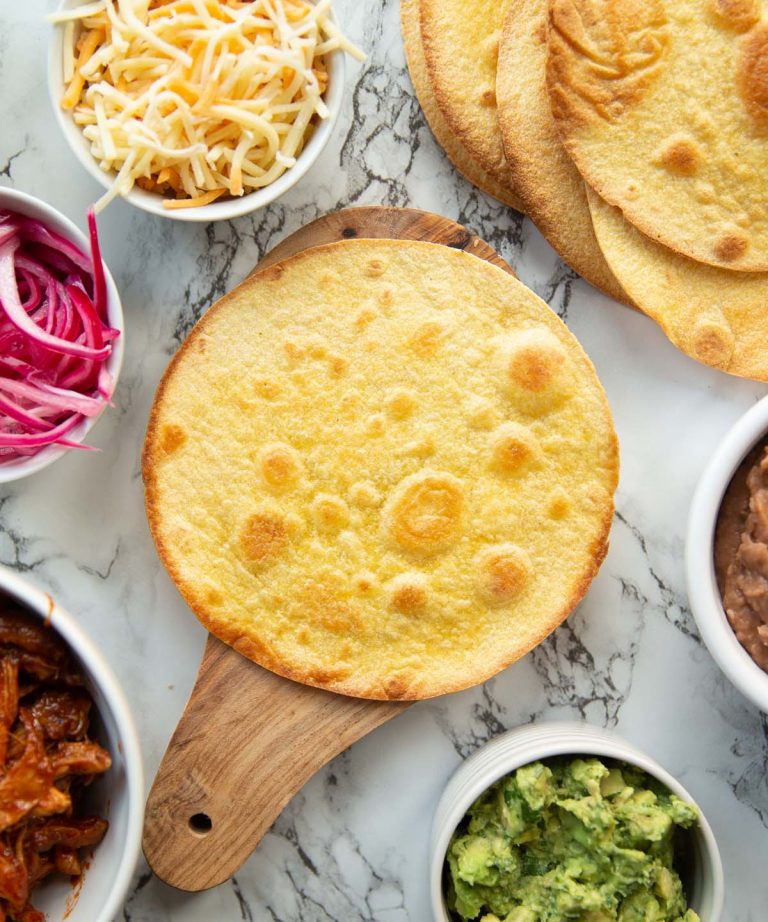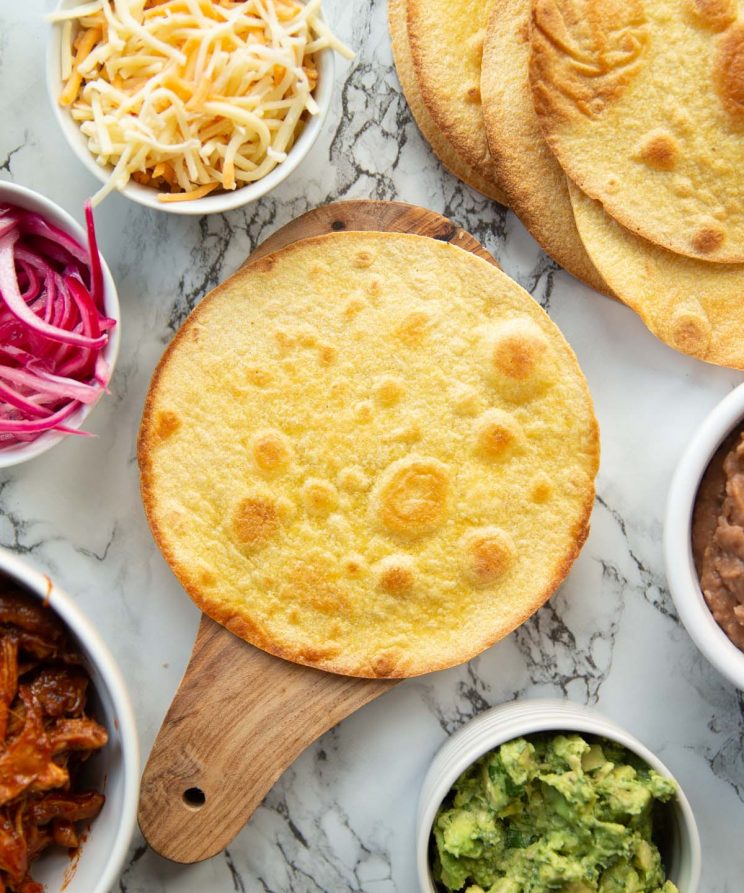 Baked Tostada Shells
To prepare for the baking method, you'll want to lightly brush the tortillas with oil and rub in a small pinch of salt. When baking it's important to spread them out on the tray, just so they don't overlap and steam on each other. It's also important to flip the tortillas and rotate the tray half way, just to ensure they cook evenly.
What Oil to use?
You'll want something with a neutral flavour. Something like vegetable oil works great.
Pros/Cons of baking
The pro is that you're not faffing around with hot oil. It's much easier as you don't need to actively cook them, just bung them in the oven. The con would be it's a little trickier to get an even texture throughout the tostada, as they tend to cook from the outside in. The difference is negligible though.
Another con is if you're wanting to make a lot of tostadas at once, you'll either have to use multiple trays or work in batches.
Process shots: stab tortilla a few times (photo 1), brush with oil and coat with salt (photo 2), spread out on baking tray and bake (photo 3), flip tortilla and rotate tray (photo 4), bake again (photo 5), rest on wire rack to cool (photo 6).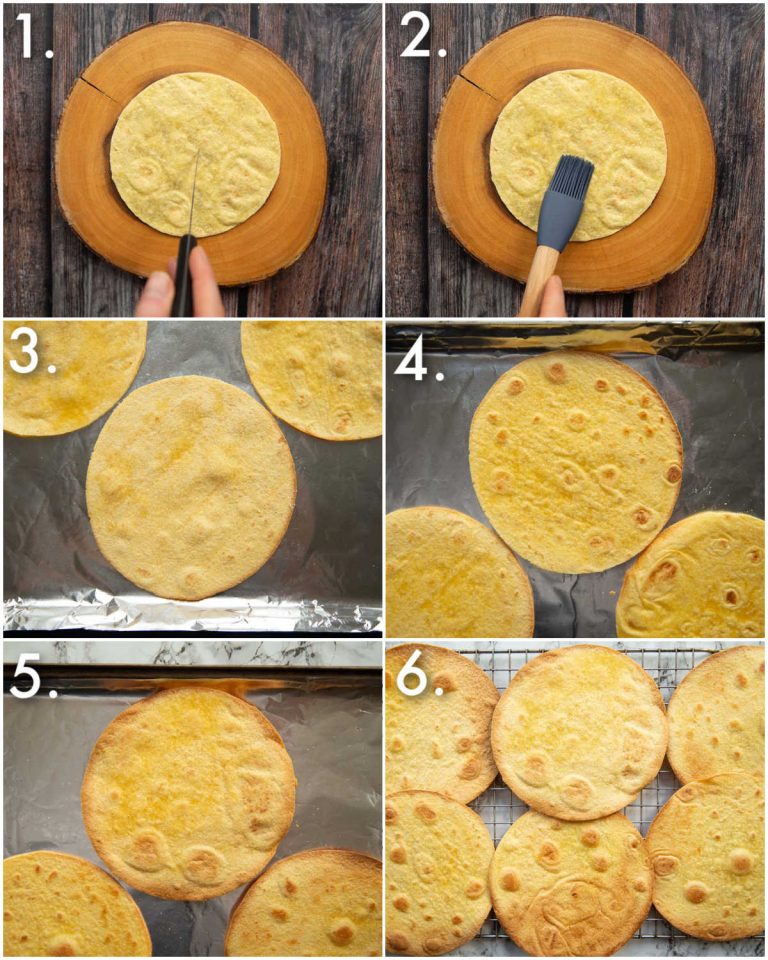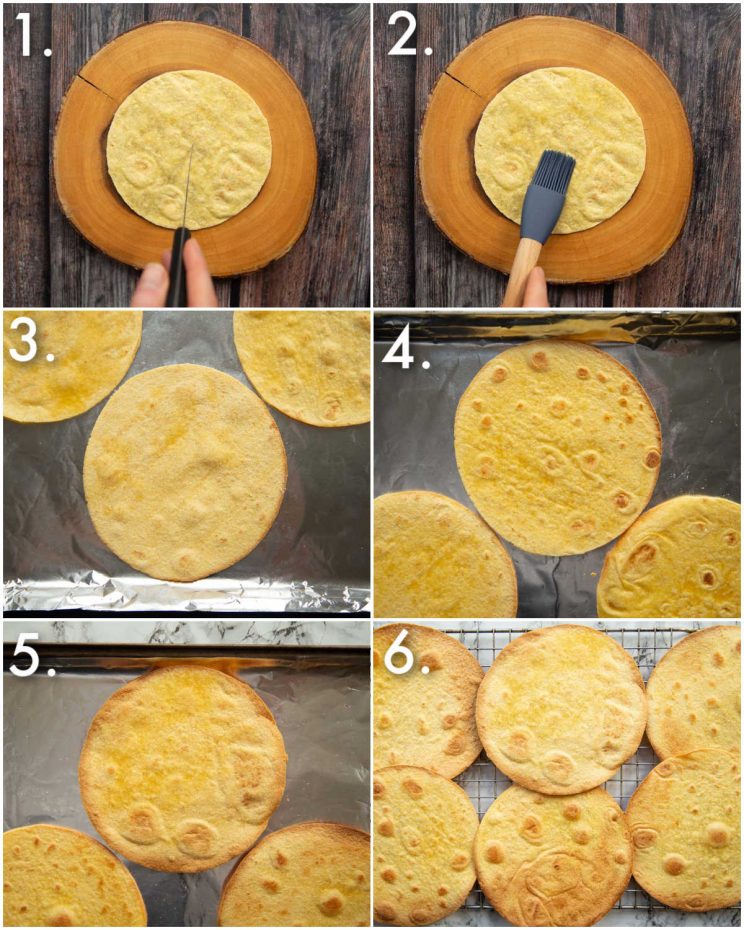 Fried Tostada Shells
I tend to stick with the baking method, but if I'm needing a lot cooked at once, I find you can bash them out whilst frying a lot quicker. I also tend to fry if I've got leftover oil that needs using.
The main thing with frying is making sure the oil is sizzling, but not smoking. Too low and the tortilla goes soggy, too high and it'll burn. You're aiming for around 170C/340F-180C/350F. It's also important to keep the tortilla submerged in the oil to ensure both sides cook at an even rate. I find this easiest using a slotted spatula (helps steam escape).
What Oil to use?
You want something with a high smoking point and neutral flavour. Again, vegetable oil works great here.
Pros/Cons of frying
The main pro is they're easy to batch cook. The con is that it's more hands on and obviously requires a lot more oil!
Process shots: slide tortilla into hot oil (photo 1), press down with spatula (photo 2), flip tortilla (photo 3), fry other side (photo 4) rest on wire rack then sprinkle with salt (photo 5).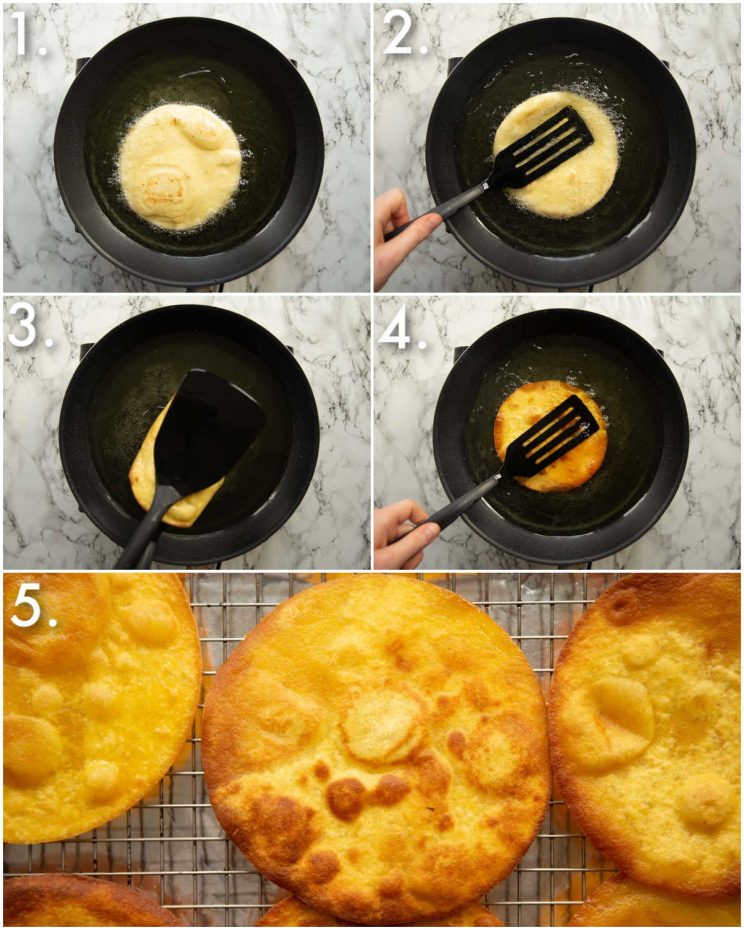 Want to put these tostada shells to use? Check out my Chicken Tostadas!
Looking for a similar recipe? Check out my Homemade Baked Tortilla Chips!
Alrighty, let's tuck into the full recipe for these homemade tostada shells shall we?!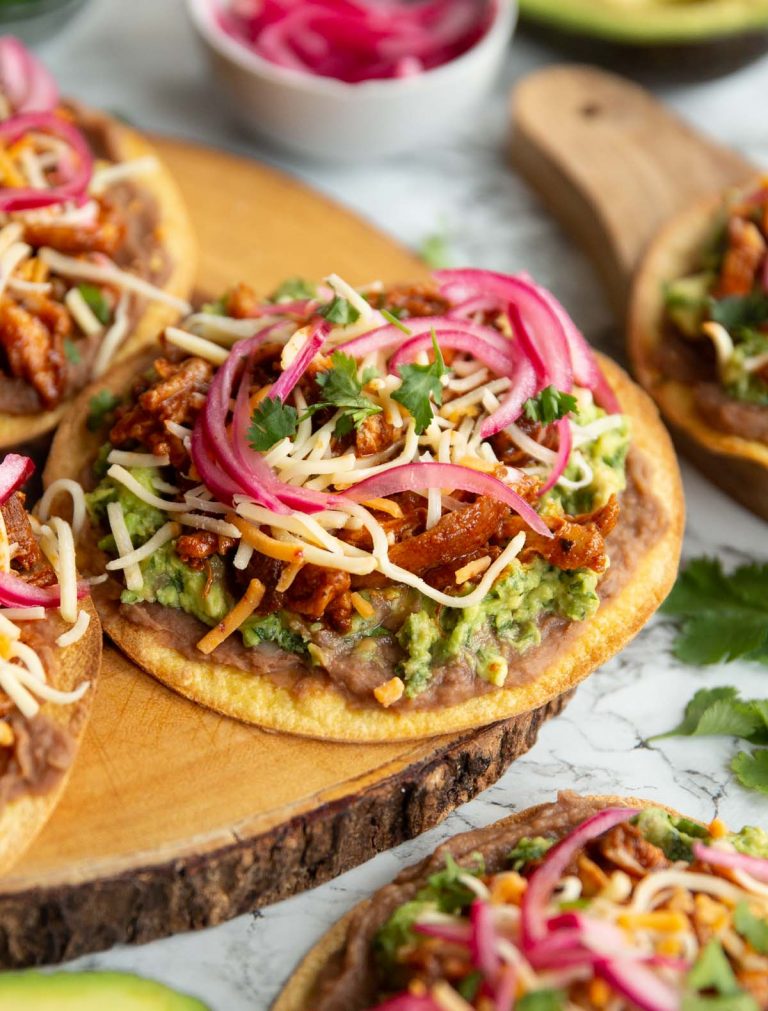 How to make Tostada Shells

 (Full Recipe & Video)
How to make Tostada Shells (Baked or Fried!)
Here I'll show you how to bake and fry corn tortillas to turn them into crispy & delicious tostadas!
Print
Pin
Rate
Servings (click & slide):
6
tostada shells
Calories per serving:
72
kcal
Cost per serving:
50p / 50c
Equipment:
Sharp Knife

Wire Rack

Tongs

1-2 Large Baking Trays & Brush (for baking)

Large Frying Pan & Two Spatulas (for frying)
Ingredients (check list):
6

Corn Tortillas (6-7")
Salt, as needed
Vegetable (1 cup/250ml for frying or 1-2 tbsp for baking)
Instructions:
Baking
Pre heat oven to 200C/390F.

Stab each tortilla a few times with a sharp knife. This will help steam escape as they cook. Lightly brush both sides with oil and sprinkle with a small pinch of salt.

Spread out on a baking tray (you'll probably get 3 per tray), then pop in the oven for 4-5mins or until they JUST start to brown. Keep on eye on them as they go from perfect to burnt very quickly. If you spot the outside browning quicker than the middle, take them out and lower temp to 180C/350C (all ovens can be different).

After 4-5mins take them out and use a spatula or fork to push down on any steam bubbles. Flip the tortillas, rotate the trays then pop back in the oven for another 4-5mins. Again, just be vigilant. Remove from oven and rest on a wire rack. They will crisp as they cool.
Frying
Stab tortillas a few times with a sharp knife.

Heat up enough oil to comfortably cover the base of your pan to around 1/4" high. Around 1 cup/250ml should suffice depending on the size of your pan. You want the oil sizzling but not smoking. If you have a thermometer aim for between 170C/340F - 180C/350F.

Use a pair of tongs to carefully slide the tortilla into the oil. Immediately grab your spatula and gently push down on the tortilla to flatten any bubbles and keep the tortilla under the oil.

After around 30-45 seconds (or until the bottom side starts to brown), use two spatulas to carefully flip the tortilla and fry for another 30-45 seconds. Remove tortilla and rest on wire rack. They'll crisp as they cool. Again, just be vigilant because these will burn quickly. Better to remove them from the oil early than to leave them too long and burn.

Sprinkle both sides of the tortilla with a light pinch of salt.
Quick 1 min demo!
Notes:
a) Can I use Flour Tortillas? - You can indeed. From personal experience they don't crisp up quite as well, but for all intents and purpose they work just fine!
b) My tortillas are still slightly rubbery, how do I crisp them up? - You might find with frying them that they don't come out perfectly crispy every time. Firstly I'll just emphasise that they do crisp as they cool (make sure it's a wire rack so you can circulate air around them to cool, and don't stack them on each other). If you're still not happy with the texture you can dry them out in the oven at 120C/250F until nice and crispy. 
c) Storage - Tostada shells are tricky to store as they retain a lot of moisture. However if you keep them at room temp in a zip lock bag (squeeze out as much air as possible) they'll be good for a couple of days. You can dry them out again in the oven if needed.
d) Reheating - Pop in the oven at 180C/350F for a couple of minutes until they crisp up again.
e) Tostada Recipe - Put these to use and make my Best Ever Chicken Tostadas!
f) Calories -  Per tostadas shell assuming 1 tbsp veg oil and 1/4 tsp salt in total.
Your Private Notes:
Nutrition:
Nutrition Facts
How to make Tostada Shells (Baked or Fried!)
Amount Per Serving
Calories 72
Calories from Fat 27
% Daily Value*
Fat 2.95g5%
Polyunsaturated Fat 0.377g
Monounsaturated Fat 0.424g
Sodium 108mg5%
Potassium 45mg1%
Carbohydrates 10.71g4%
Protein 1.37g3%
Calcium 19mg2%
Iron 0.3mg2%
* Percent Daily Values are based on a 2000 calorie diet.
Nutrition is based on the absence of salt unless stated as a measurement in the ingredients. Cost is worked out based on ingredients bought from UK supermarkets, then divided by the number of servings. In both instances these values are just for guidance. Please check out my FAQ Page for more info.
---
If you loved this Tostada Shells Recipe then be sure to Pin it for later! Already made it or got a question? Give me a shout in the comments and pick up your free ecookbook along the way!