This chicken and chorizo potato bake is super hearty and loaded with flavour. Better still – it's all cooked in one pan!
If this recipe doesn't embody everything that comfort food should be, I really don't know what does. Follow me…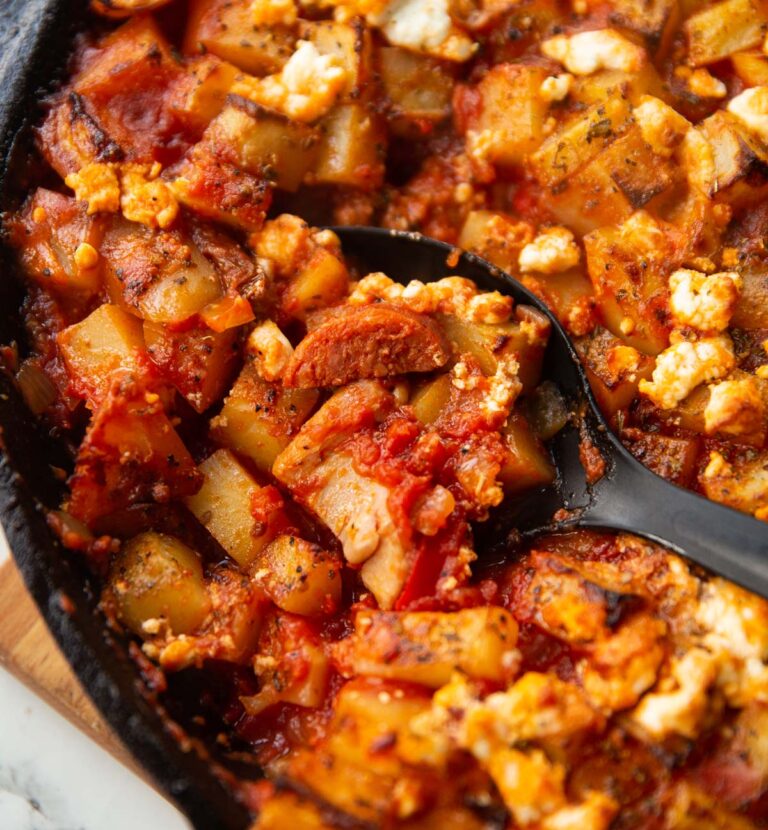 Potato Bake
Okay, quick back story. When I first started testing this recipe I was actually going for a 'chicken and chorizo pie' kinda deal. As some of you already know, just like my Chicken and Bacon Pie, I like a potato topping as opposed to the classic pastry! Mashed potato wasn't overly suited for this recipe, so instead, I ended up cubing the potatoes to scatter on top. The results were to die for.
Of course, by that point we had strayed way beyond pie territory, so 'bake' it is 😂
Do you need to parboil the potato?
Nope! The raw potato goes straight on top and cooks at the same time as the chicken and chorizo filling. It gets boiled from the bottom and roasted from the top – it's got no choice but to cook!
Process shots: peel potato (photo 1), dice into very small chunks (photos 2, 3 & 4).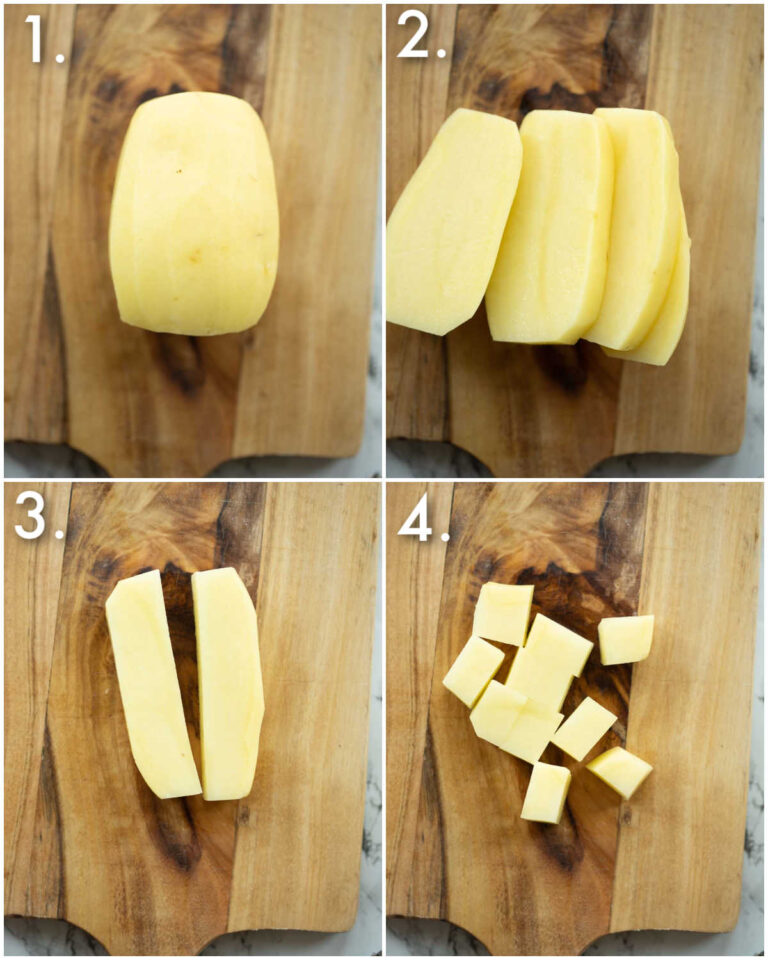 Chicken and Chorizo Bake
Pop the potatoes to one side for a sec and let's talk chicken and chorizo.
What cut of chicken to use?
You'll want to use boneless skinless chicken thighs and dice them into large bite-sized pieces. I do not recommend using chicken breast; it'll overcook and potentially come out dry once everything has baked. It's much more difficult to overcook thigh. Chicken thighs are also more fatty and flavoursome than chicken breast.
What kind of chorizo should I use?
In the UK we've not got easy access to much past Spanish cured chorizo, which is fine because it works perfectly in this recipe. However, if you have raw chorizo sausage that'll work just as well.
Process shots: fry chorizo then remove (photo 1), fry chicken then remove (photo 2), add onion, red pepper and garlic to leftover fat (photo 3), fry until soft (photo 4), add canned tomatoes, sun dried tomatoes and seasoning (photo 5), stir to combine (photo 6).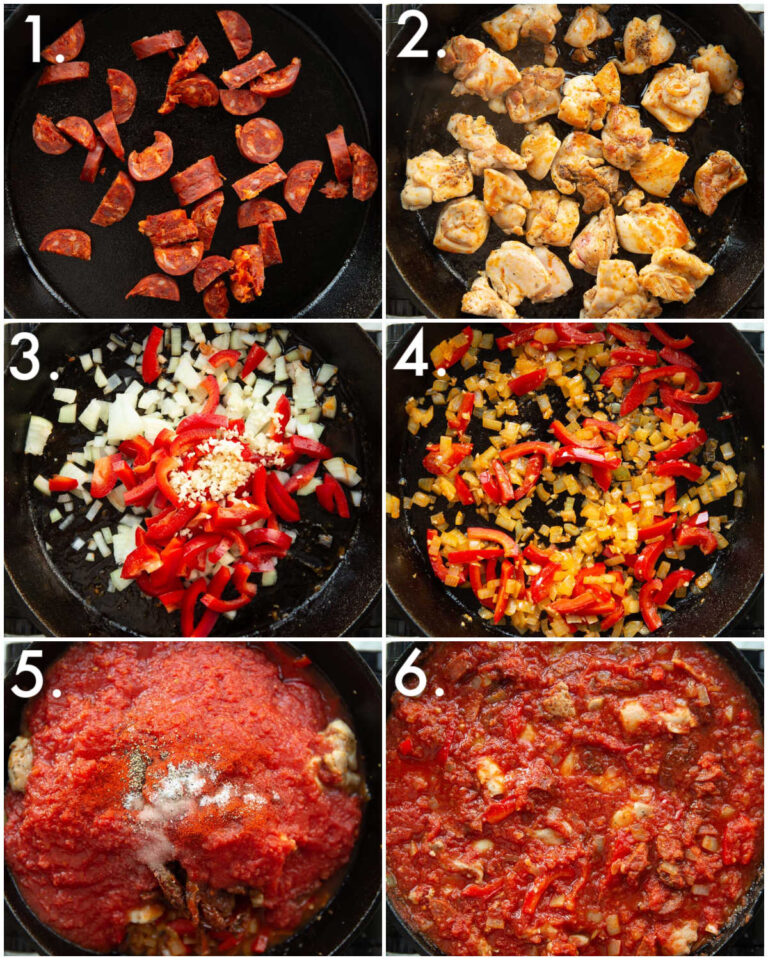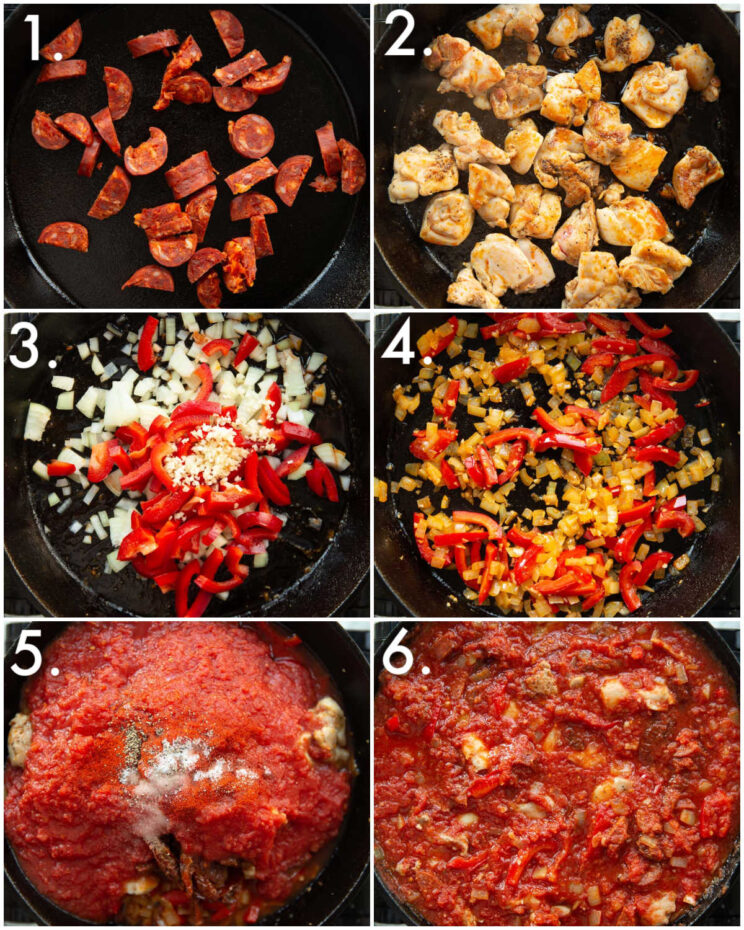 Chicken and Chorizo Potato Bake
Once you've levelled off the filling, you'll want to tightly place the cubed potatoes on top. Doesn't have to be perfect, just try and get the top as level as possible. From there, you'll want to season and spray with oil, then into the oven it goes.
The potatoes will soak in all that gorgeous fat and flavour as it rises to the top of the dish. They end up super soft on the bottom and perfectly crisp on top – a win-win situation!
What if I don't have an oven-safe pan?
No problem – just make the chicken and chorizo in a regular pan then transfer to a baking dish before topping with the potato and baking.
Feta and Oregano
To take this dish to the next level I love sprinkling over some oregano and crumbled feta towards the end of baking. The feta goes lovely and creamy as it bakes and finishes the whole thing off with a gorgeous hit of flavour!
Process shots: add potatoes (photo 1), season and spray with oil (photo 2), bake (photo 3), top with feta & oregano and bake again (photo 4).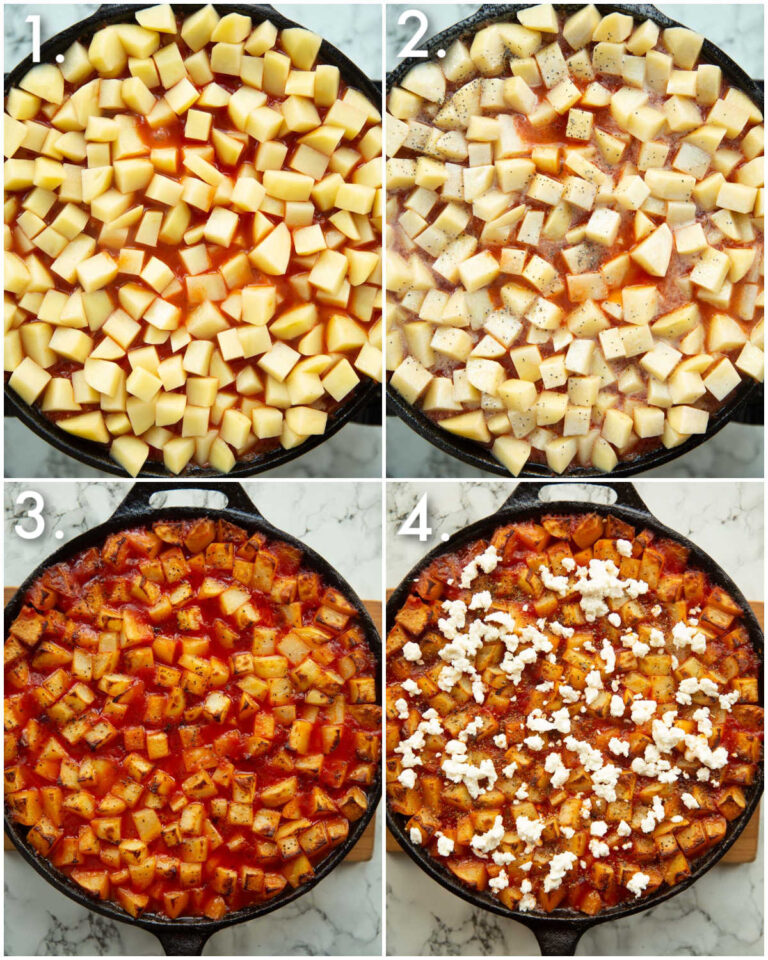 Serving Chicken and Chorizo Bake
The bake is ready when the potatoes are soft all the way through and the chicken and chorizo layer is no longer watery. I typically serve this up with a side of Broccolini if it's for more than 4 people.
For another potato bake recipe check out my Beef Chilli Hotpot!
Alrighty, let's tuck into the full recipe for this chicken and chorizo bake shall we?!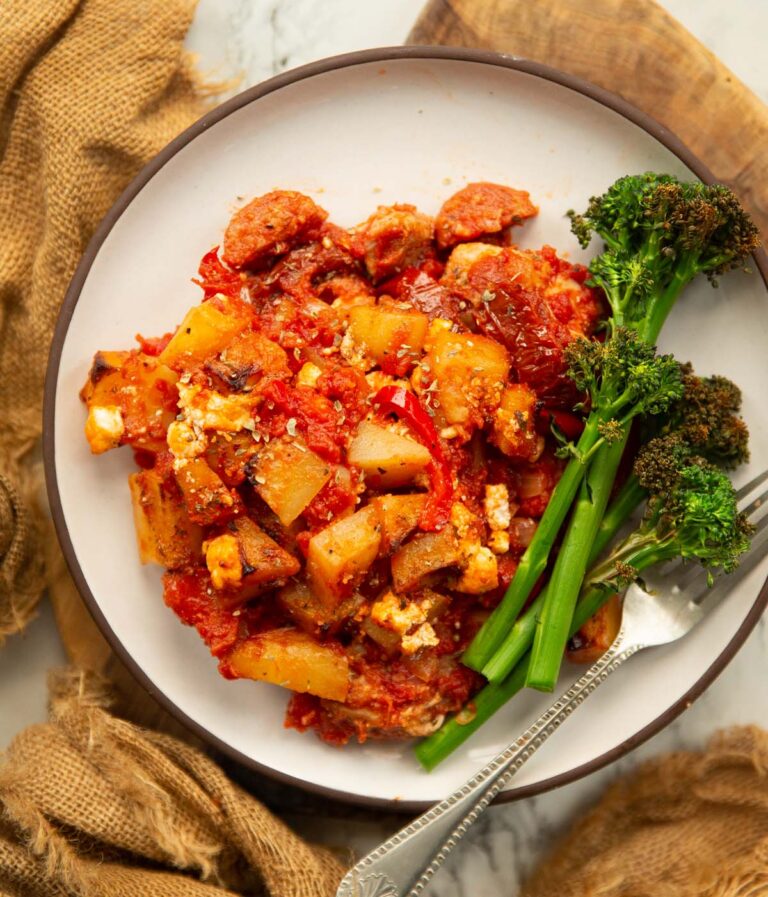 How to make Chicken and Chorizo Bake

 (Full Recipe & Video)
Chicken and Chorizo Potato Bake
This chicken and chorizo potato bake is super hearty and loaded with flavour. Better still - it's all cooked in one pan!
Print
Pin
Rate
Servings (click & slide):
4
Calories per serving:
590
kcal
Cost per serving:
£2.50 / $3
Equipment:
12" Oven-Safe Dish & Wooden Spoon

(or regular pan then transfer to similar-sized baking dish)

Sharp Knife & Chopping Board

Potato Peeler

Bowl

(to store cooked chorizo/chicken)

Serving Spoon
Ingredients (check list):
1.8lb / 800g

Potatoes (Maris Pipers/Russets)

1lb / 500g

Chicken Thighs, diced into bite-sized pieces

5oz / 150g

Chorizo, sliced into small half-moons

2x

14oz/400g cans of

Crushed Tomatoes

3/4 cup / 100g

Sun Dried Tomatoes, sliced

1

medium

Red Pepper, sliced

1

medium

White Onion, finely diced

3

cloves of

Garlic, finely diced

1

tsp

Smoked Paprika

1

tsp

Oregano

1/4

tsp

Sugar (see notes)
Salt & Pepper, as needed
Oil Spray, as needed

3.5oz / 100g

Feta, crumbled (optional)
Instructions:
Pre-heat oven to 350F/180C.

Peel and dice the potatoes into very small chunks approx 1/2" x 1/2" (1.3cm x 1.3cm)

Add the chorizo to a 12" oven-safe pan over low-medium heat. Fry until the fat begins to leak out and the chorizo crisps up a little on each side. Remove from the pan and leave the fat behind.

Season the chicken all over with 1/2 tsp salt and 1/4 tsp black pepper. Raise heat to medium-high and place the chicken into the pan. Fry both sides until the chicken turns golden and begins to form a crust. Don't worry too much about it cooking right through at this point. Remove from the pan, leaving the fat behind.

Lower heat slightly to medium and add in the onion, red pepper and garlic. Fry until it all begins to soften, then add the sun dried tomatoes alongside the chicken and chorizo. Pour in the tomatoes and swill out the cans with a splash of water (couple tbsp each can). Add in 1 tsp smoked paprika, alongside 1/4 tsp salt & sugar and 1/8 tsp (or to taste). Give it all a good stir then cut the heat.

Cover the top with the potatoes in an even layer, closing as many of the gaps as possible. Generously season the top with salt & pepper, then give it a good spray all over with oil.

Place in the oven for 35mins, then take it out and scatter over the feta & oregano. Gently push down any potatoes that are starting to char too quickly. Place back in the oven for 10mins until the potatoes are crispy on top and completely soft all the way through. The sauce underneath should have reduced so it's no longer watery.
Quick 1 min demo!
Notes:
a) Chicken - It's important to use chicken thigh, not chicken breast. 45mins is a fair time for the chicken to be cooking and chicken breast will dry out.
b) Chorizo - Most kinds of chorizo will do the job. I use cured Spanish chorizo, but you can use raw chorizo sausage if you'd prefer. 
c) Sugar - This is to balance out the acidity of the tomatoes. If you've got a good quality can of tomatoes you may not need this as they could be sweet enough. You can just taste-test to check.
d) Timings - I've made this recipe plenty of times and 45mins hits the sweet spot of cooking the potatoes right through whilst also reducing the sauce underneath. The only thing that can differ sometimes is how quickly the potatoes can begin to char. These are usually the ones that are poking out above the rest. If you notice the potatoes browning too quickly for whatever reason, just turn down the heat slightly.
e) Serving - This will offer 4 very big portions or 5 fair portions. I usually serve it with a side of Broccolini if I'm cooking this for 5.
f) Calories - Whole recipe divided by 4 WITH the feta and WITHOUT a side.
Your Private Notes:
Nutrition:
Nutrition Facts
Chicken and Chorizo Potato Bake
Amount Per Serving
Calories 590
Calories from Fat 220
% Daily Value*
Fat 24.49g38%
Polyunsaturated Fat 2.816g
Monounsaturated Fat 9.484g
Cholesterol 160mg53%
Sodium 925mg39%
Potassium 1947mg56%
Carbohydrates 52.17g17%
Protein 41.54g83%
Vitamin A 1833IU37%
Vitamin C 96.9mg117%
Calcium 219mg22%
Iron 5.14mg29%
* Percent Daily Values are based on a 2000 calorie diet.
Nutrition is based on the absence of salt unless stated as a measurement in the ingredients. Cost is worked out based on ingredients bought from UK supermarkets, then divided by the number of servings. In both instances these values are just for guidance. Please check out my FAQ Page for more info.
---
For more similar recipes check out these beauties:
Chicken and Chorizo Recipes
---