Crispy chicken served on a bed of garlic butter pasta – what's not to love!?
For me, Chicken Kiev has two key components – the garlic butter and the crispy breaded chicken. Here we're stirring a simple garlic butter sauce through pasta, then topping it with golden, crisp and juicy sliced chicken. Sound good? Follow me…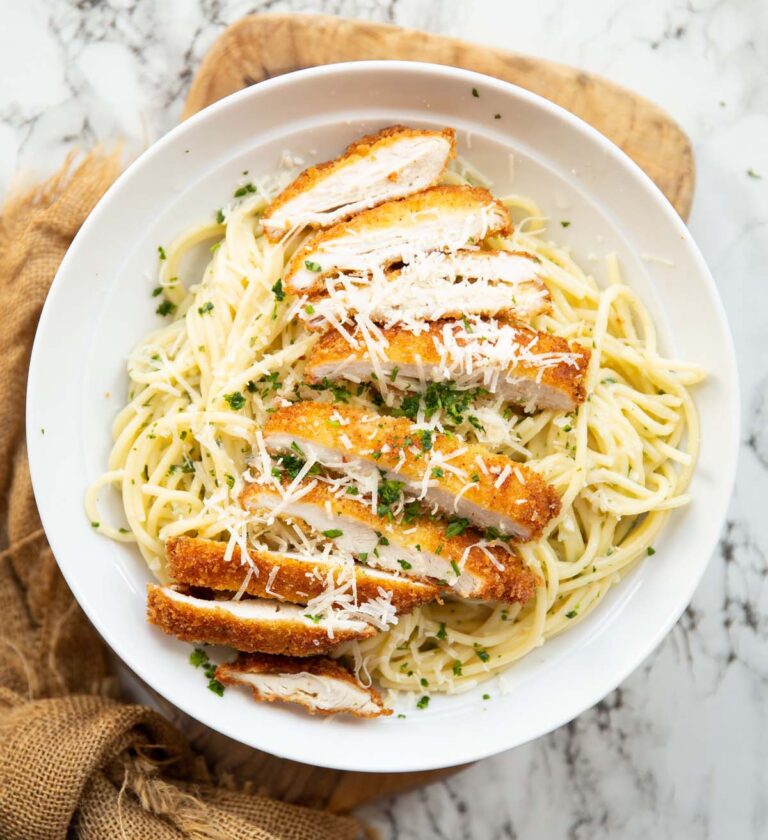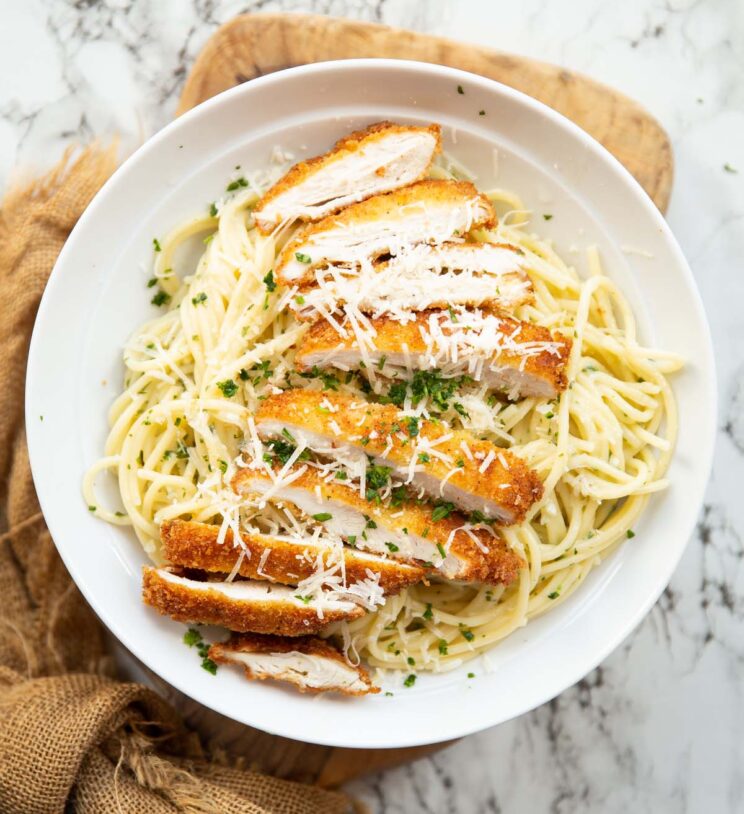 Crispy Chicken
I've wanted to put out a crispy chicken pasta recipe for quite some time now, and this Chicken Kiev pasta is the perfect excuse. We'll talk about the garlic butter sauce in just a sec, but first, let's talk about the chicken.
What cut of chicken to use?
Here we'll be using boneless, skinless chicken breasts. You could in theory use thighs, but breast is traditionally used in Chicken Kiev because it's easy to stuff. The main thing is using boneless meat, because chicken bones in pasta are far from ideal! I also recommend slicing the breasts through the centre, just so you end up with 4 even-sized, thinner breasts. This not only means they'll cook quicker, but they'll also cook more evenly.
Panko Breadcrumbs
Using Panko breadcrumbs is key to getting the chicken ultra-crispy. Panko breadcrumbs are awesome because they're big and airy, so they crisp up really well. You'll find Panko in the Asian section at most supermarkets.
Process shots: add chicken to chopping board (photo 1), slice in half through the centre (photo 2), dredge through seasoned flour (photo 3), then egg (photo 4), then seasoned Panko (photo 5).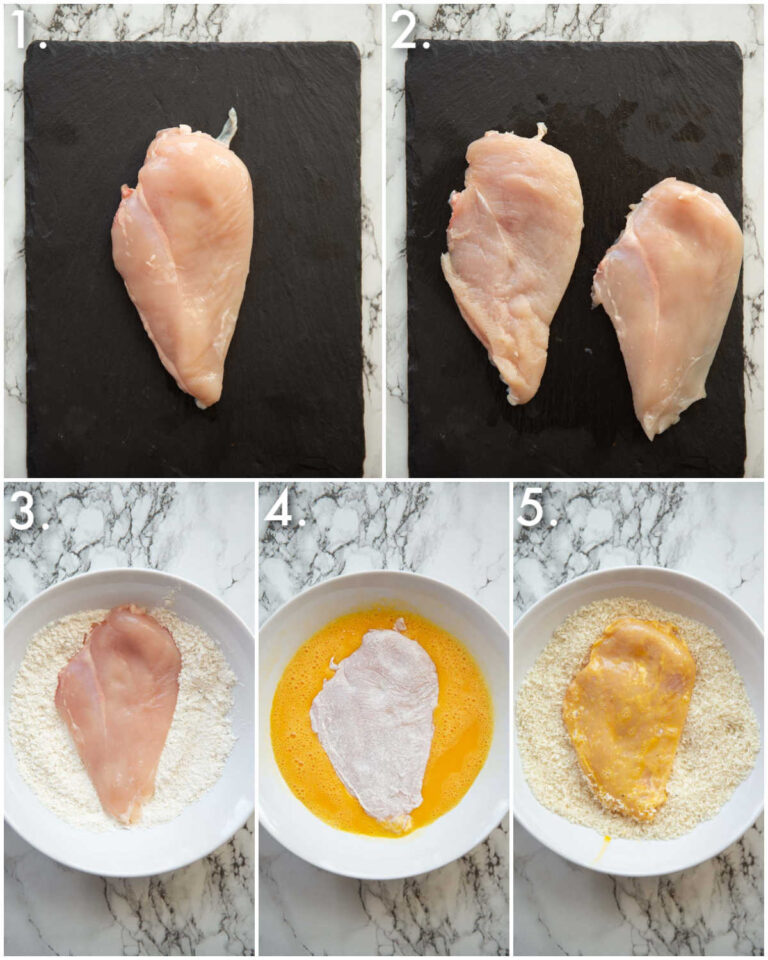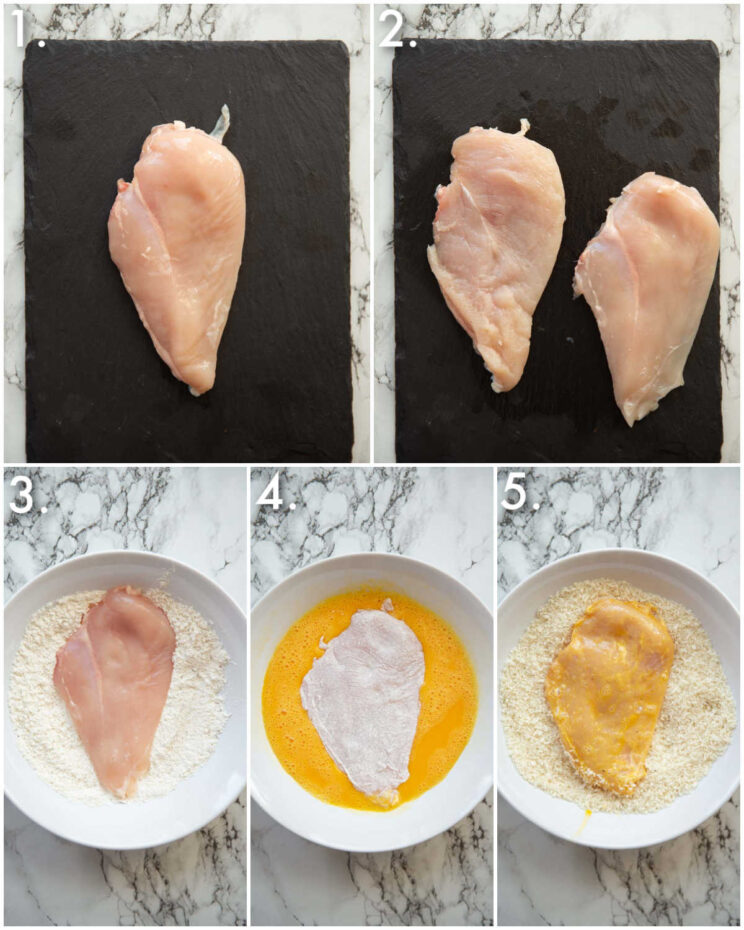 Crispy Fried Chicken
Once you've breaded the chicken we're going to shallow fry it. You don't need much oil because the chicken will be quite thin; just enough to comfortably cover the base of the pan. Once golden, crispy and cooked through the centre, place on a wire rack to drain off oil and discard the oil from the pan.
Process shots: in batches add chicken to hot oil (photo 1), fry (photo 2), place on wire rack (photo 3).
Garlic Butter Pasta
Alrighty, chicken done and dusted, let's talk pasta.
Garlic Butter Sauce Ingredients
Garlic – Must be fresh and finely diced. Keep a keen eye on it as it fries to ensure it doesn't brown, otherwise, it'll turn bitter.
Butter – Salted or unsalted, just be conscious of seasoning if you're using salted.
Parsley – A classic addition to garlic butter. Again, must be fresh!
Parmesan – Not so much of a classic ingredient in garlic butter, but it certainly is with pasta and pasta sauces in general. This gives the garlic sauce a punch of flavour.
Starchy Pasta Water
One final key ingredient in the sauce is the water your pasta is cooked in. This is an important ingredient as it helps create an emulsion with the butter. If you just toss the pasta in butter, it's going to dry up and go greasy. The starch in the pasta water helps create a slightly creamy sauce.
Process shots: melt butter (photo 1), fry garlic (photo 2), whisk in pasta water and parsley (photo 3), add parmesan (photo 4), stir until melted (photo 5), add pasta (photo 6).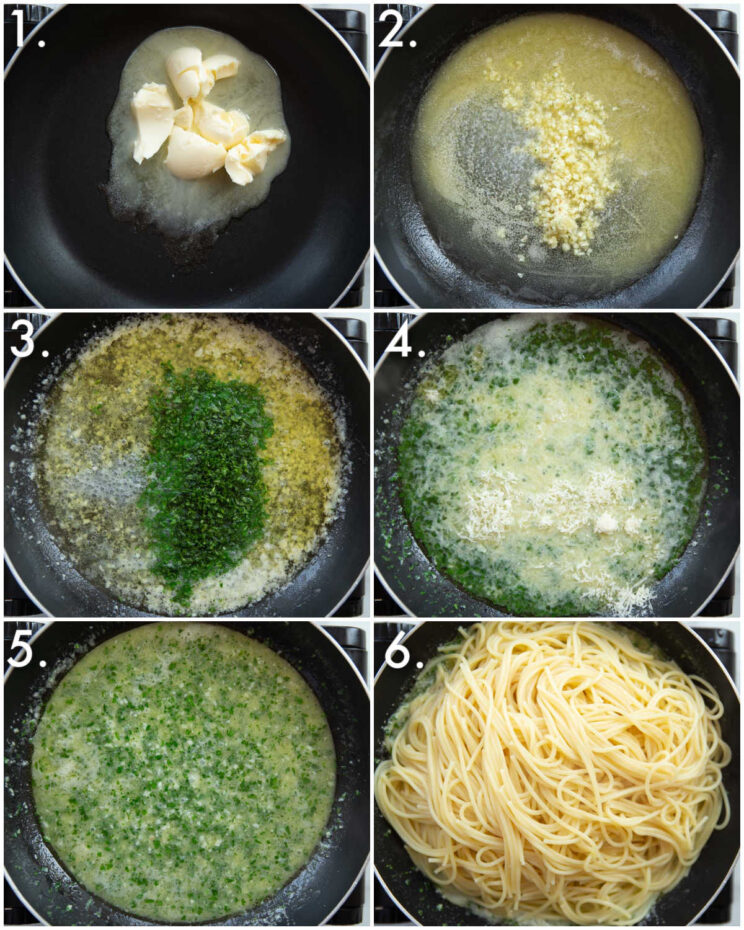 Chicken Kiev Pasta FAQ
What kind of pasta to use?
I love using spaghetti, but in reality you can use any long cut pasta. The longer noodles allow for the silky buttery sauce to wrap around them more easily. They also make a nice 'bed' to rest the sliced chicken on top.
Can I bake the chicken instead of frying it?
I recommend frying for optimum crispiness, but you can bake instead of fry if you'd prefer (more on this in the recipe card notes below).
Can I make this ahead of time?
I don't recommend making this ahead of time. Mainly because buttery pasta recipes never reheat well, but also because the chicken will lose crispness.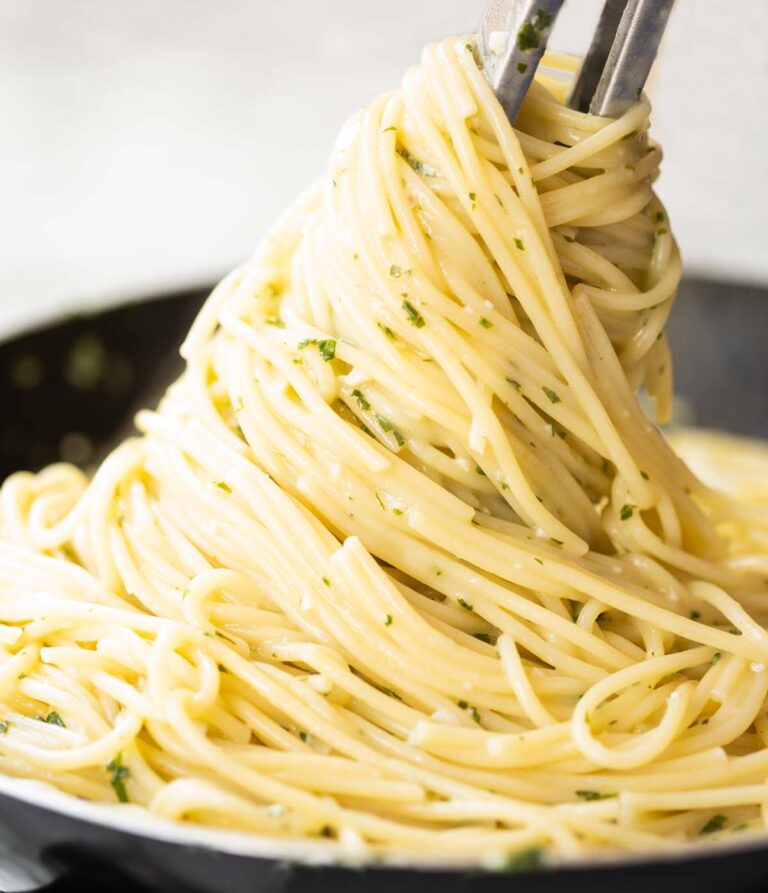 Serving Chicken Kiev Pasta
When it comes to serving, I like to serve individual portions of garlic butter pasta with a sliced crispy chicken breast each. From there, I usually top with leftover parsley and parmesan. I also like to serve with a lemon wedge, just to give people the option if they want it. The lemon juice will cut through the richness of the sauce; the flavour of lemon also goes perfectly with garlic, butter, parsley and chicken!
Alrighty, let's tuck into the full recipe for this Chicken Kiev pasta shall we?!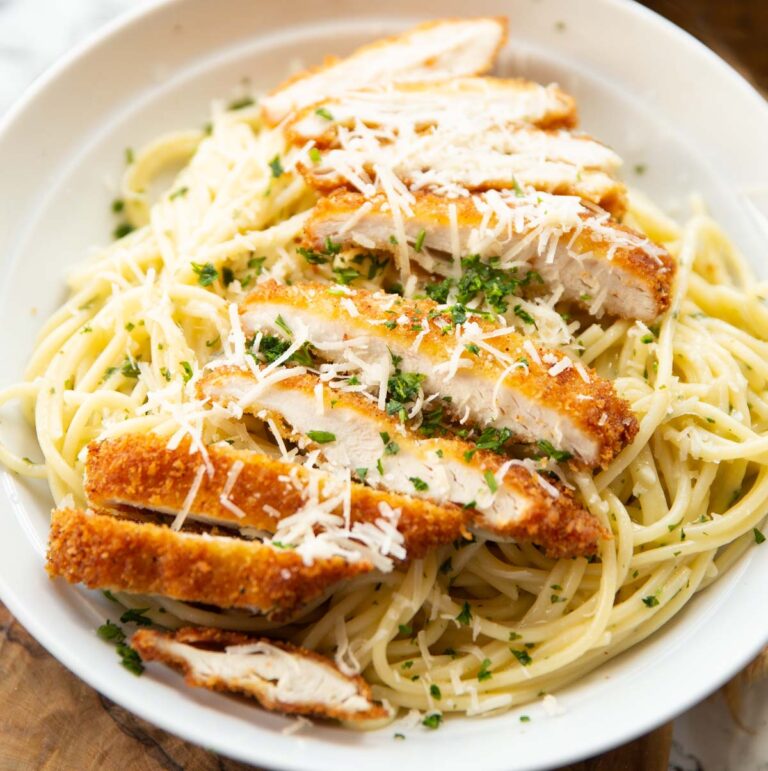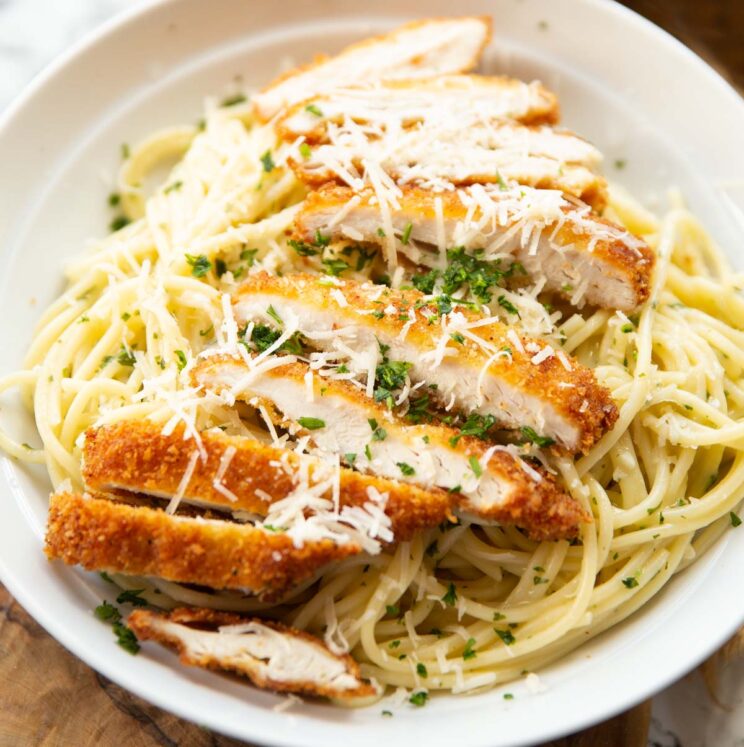 How to make Chicken Kiev Pasta

(Full Recipe & Video)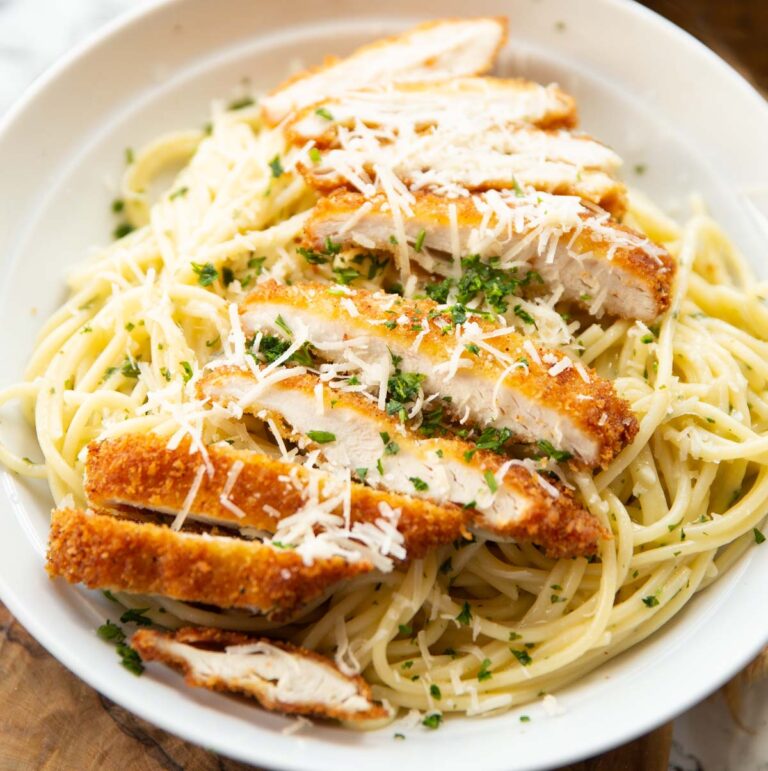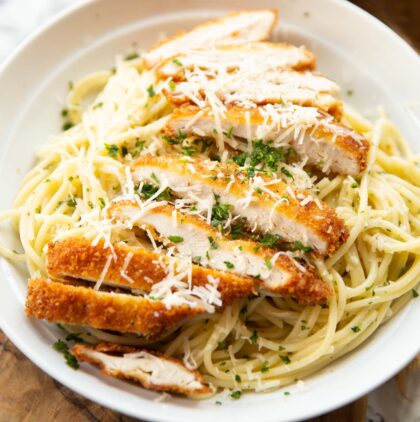 Chicken Kiev Pasta
Crispy chicken served on a bed of garlic butter pasta - what's not to love!?
Print
Pin
Rate
Share by Text
Servings (click & slide):
4
Calories per serving:
958
kcal
Cost per serving:
£3 / $4
Equipment:
3 Large Shallow Dishes

(for dredging chicken)

Large Pot

(for boiling pasta)

Wire Rack & Tray

(for resting chicken)

Large Deep Pan & Tongs

(for pasta/frying chicken)

Sharp Knife & Chopping Board

(for chopping parsley/chicken/garlic)

Small Pot

(for chicken seasoning)
Ingredients (check list):
Crispy Chicken
2x

7-9oz/200-250g

Chicken Breasts

1/4 cup / 35g

Flour

1 cup / 60g

Panko Breadcrumbs

2

Eggs, beaten

1

tsp

Salt

1/2

tsp EACH:

Black Pepper, Garlic Powder, Onion Powder (can sub onion powder for more garlic powder)

1 cup / 240ml

Vegetable Oil, or as needed
Garlic Butter Pasta
1lb / 500g

Spaghetti

3.5oz / 100g

Butter (see notes)

6

large cloves of

Garlic, very finely diced (don't use jarred garlic - must be fresh!)

1 small bunch

(approx 1oz/30g)

Fresh Parsley, very finely diced (save a pinch to serve)

1/2 cup / 40g

freshly grated

Parmesan, plus more to serve

4

Lemon Wedges, to serve
Instructions:
Seasoning: In a small pot combine 1 tsp salt with 1/2 tsp onion powder, garlic powder and black pepper.

Prep Chicken: Slice the chicken breasts right through the centre to make 4 even-sized breasts.

Dredge Chicken: Line up 3 bowls - the first is flour with half of the seasoning, the 2nd is two beaten eggs and the 3rd is Panko and the rest of your seasoning. Coat the chicken in the flour, then into the egg and finish with a coating of the Panko. Ensure the chicken is thoroughly coated at each stage, especially at the last stage.

Fry Chicken: Heat up enough oil to comfortably cover the base of a large deep pan over medium heat. You want the oil around 350F/180C (drop a few crumbs in to test if they rapidly bubble). Carefully place chicken in 2 breasts at a time and fry for 3-5mins on each side, or until golden on the outside and white through the centre. Place on a wire rack with a tray underneath to catch excess oil. Slice into thin strips just before serving.

Pasta: Once the chicken has fried, pop the spaghetti in heavily salted boiling water and cook until al dente. Scoop out 1/2 cup of starchy pasta water close to the end of cooking.

Garlic Butter Sauce: Start the sauce a few mins before the pasta is cooked. Discard oil from the pan, then melt in butter over medium heat. Add garlic and fry for 1-2min (make sure it doesn't brown) then whisk in 1/2 cup starchy pasta water until it turns cloudy. Add parsley and stir in parmesan until it melts.

Garlic Butter Pasta: Use your tongs to transfer the cooked spaghetti straight into the sauce and toss to combine. Continue tossing and adding more leftover pasta water as needed until the spaghetti is wrapped in a creamy, glossy sauce. Season to taste with salt and black pepper.

Serving: Serve individual portions with sliced crispy chicken on top, alongside leftover parsley and parmesan with a lemon wedge if desired!
Quick 1 min demo!
Notes:
a) Oil - Preferably use an oil with a high smoking point like vegetable or sunflower oil. If you've only got olive oil that'll work fine as you are only shallow frying. To discard the oil I usually pour it into a bowl or jug and allow it to completely cool, then pour it into a non-recyclable container and throw it in the bin.
b) Butter - I typically use unsalted butter, just to give you more control over the saltiness of the dish. Sometimes using salted butter alongside the parmesan and salty pasta water can result in the dish being a little salty. Not a deal-breaker though, just work to taste.
c) Can I bake the chicken? - Frying is definitely recommend, especially for more of a classic Chicken Kiev. You could bake the chicken instead though. Here's what I recommend:
Fry the Panko breadcrumbs over medium heat in 1 tbsp butter until golden, then leave to cool before mixing with seasoning.
Continue with recipe up until frying, then place breaded chicken on a wire rack above a baking tray. Spray with oil.
Bake in the oven at 425F/220C for 10-12mins until the chicken begins to crisp, take out and carefully flip. Rotate tray and place back in the oven for another 5-10mins or until the chicken is golden crispy. Timings will depend on thickness of chicken, so just be vigilant.
d) Starchy Pasta Water - This is an important ingredient as it helps create an emulsion with the butter. If you just toss the pasta in butter, it's going to dry up and go greasy. The starch in the pasta water helps create a slightly creamy sauce. Just make sure it's well seasoned otherwise it'll dilute the flavour.
e) Garlic - Chicken Kievs are supposed to be GARLICKY! 6 large cloves will give you a definite punch of garlic flavour, but nothing too overbearing. I have gone up to 8 cloves before, so go wild if you love garlic. In all cases just make sure you don't brown/burn the garlic otherwise it'll turn bitter. Keep a keen eye on it because it burns quickly!
f) Calories - Per serving assuming 2 tsp oil soaked up per chicken. 
Your Private Notes:
Nutrition:
Nutrition Facts
Chicken Kiev Pasta
Amount Per Serving
Calories 958
Calories from Fat 358
% Daily Value*
Fat 39.75g61%
Saturated Fat 23.752g
119%
Polyunsaturated Fat 2.85g
Monounsaturated Fat 8.945g
Cholesterol 219mg73%
Sodium 1128mg47%
Potassium 730mg21%
Carbohydrates 101.91g34%
Protein 46.45g93%
Vitamin A 1484IU30%
Vitamin C 10.8mg13%
Calcium 195mg20%
Iron 5.99mg33%
* Percent Daily Values are based on a 2000 calorie diet.
Nutrition is based on the absence of salt unless stated as a measurement in the ingredients. Cost is worked out based on ingredients bought from UK supermarkets, then divided by the number of servings. In both instances these values are just for guidance. Please check out my FAQ Page for more info.
---
After another Chicken Kiev recipe? Check out my Mini Chicken Kiev Balls!
Looking for more similar recipes? Check out these beauties:
Chicken Pasta Recipes
---
If you loved this Garlic Chicken Pasta Recipe then be sure to Pin it for later! Already made it or got a question? Give me a shout in the comments and pick up your free ecookbook along the way!