This brown butter sauce comes together in absolutely no time and pairs PERFECTLY with pumpkin ravioli!
I have absolutely no shame in using store-bought ravioli. Do people really have time to make their own pasta on a weeknight?! Plus, there are some good quality varieties out there too. As such, today I'm going to share with you the easiest sauce in the world to pair with shop-bought ravioli. Follow me…
Pumpkin Ravioli Sauce
At its heart, all you require for a good brown butter sauce is butter and preferably fresh sage. However, I like to add in a few other goodies too:
Pumpkin Ravioli Sauce Ingredients
Ravioli – Fresh works best. You can use other varieties/shapes (triangoli, mezzelune, girasoli etc). You could also sub different fillings other than pumpkin (see below).
Butter – I use salted, because I always end up adding more salt anyway. But you can use unsalted if you'd prefer.
Sage – Make sure it's fresh, not dried.
Pecans – These add a nice bit of texture and pair perfectly with the pumpkin flavour.
Garlic – This is optional, but I like to infuse the butter with a little garlic, just because butter and garlic are a match made in heaven. It's very subtle, but worth it if you've got a couple of cloves lying around.
Chilli – This is also optional, but I find that gently infusing the butter with spice helps balance out the sweetness of the pumpkin.
Parmesan – This was apparently camera shy when I took the photo below, but it's to serve grated over at the end!
Where can I find Pumpkin Ravioli?
In the UK you'll likely find a pumpkin variety of ravioli in Tesco or Waitrose, but you can also use a butternut squash variety, which I usually get from Sainsbury's or Morrisons.
Can I use a different filling?
Yep! A sage brown butter sauce will pair well with almost any ravioli, from lobster to spinach & ricotta. My second favourite to pair with this sauce is a mushroom filling, where I substitute pecans with walnuts.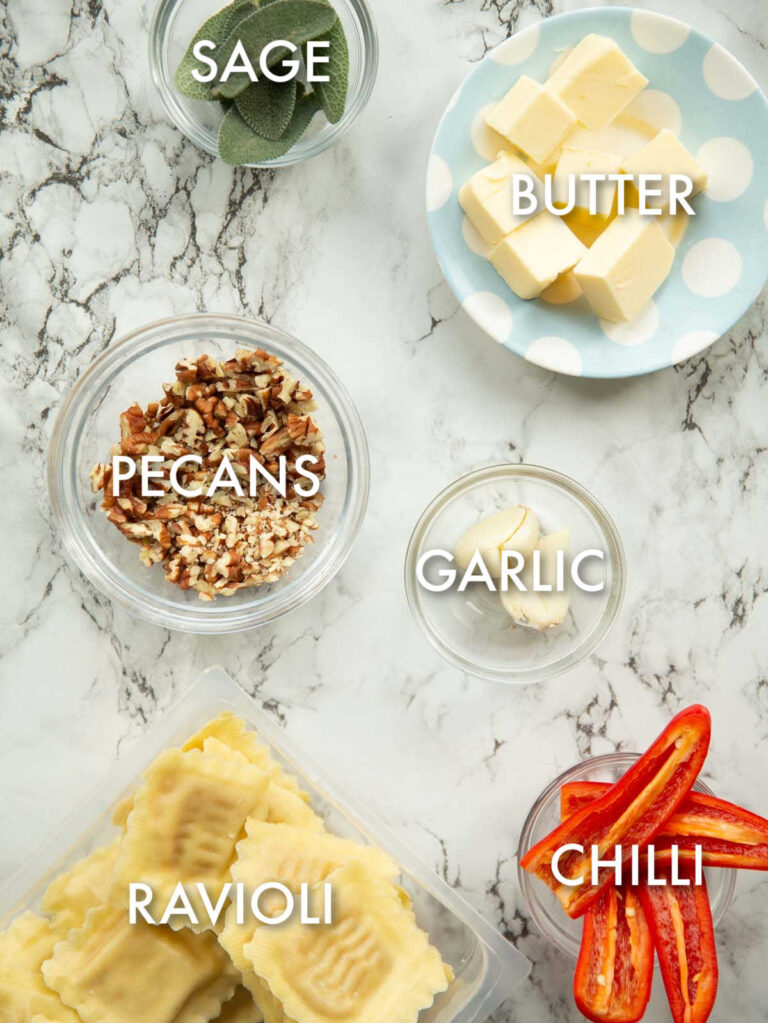 Brown Butter Ravioli Sauce
Toasting the Pecans
Definitely make sure you toast the nuts, it brings out the flavour. Just ensure you're using a dry pan and keep a keen eye on them to prevent them from burning. I tend to dice the pecans before toasting, but you can do it the other way around if you'd prefer; the difference is minimal.
Browning the Butter
Browning butter is an incredibly simple and fairly quick process. It's essentially just cooking the butter beyond melting it, to the point where it turns golden brown. As the butter browns, I like to infuse it with the garlic, chilli and sage.
When it comes to combining with the cooked ravioli, I recommend transferring it straight from the pot straight into the pan. This way, the small amount of excess water will turn the brown butter into a sauce that clings to the pasta.
Process shots: toast pecans then remove (photo 1), melt butter (photo 2), add sage, chilli and garlic (photo 3), brown butter (photo 4), remove sage, chilli and garlic (photo 5), toss in ravioli (photo 6).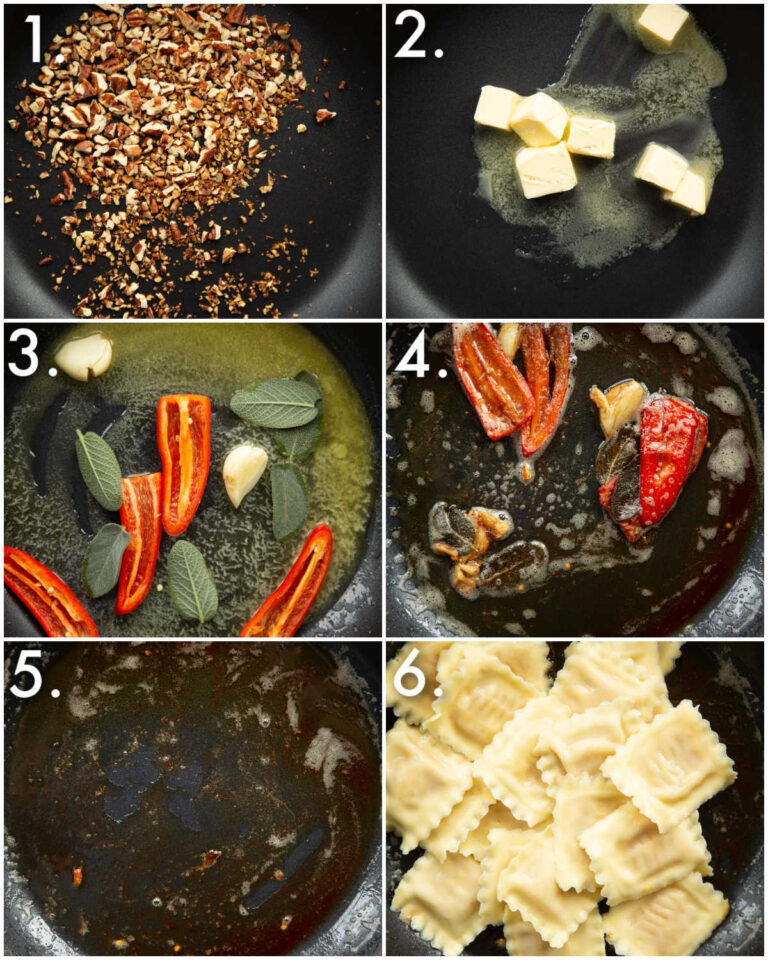 Brown Butter Sauce FAQ
Do I have to brown the butter?
In short – yes. By browning the butter you transform the flavour into something truly delectable. It gains a sweet and nutty flavour, that regular melted butter can't provide.
How do I prevent the butter from burning?
If you notice the nutty smell turning to a burnt smell, remove the pan from the heat immediately.
Ensure the milk solids that form (the little dots) stay deep golden and don't start to char.
Don't rush the process and crank up the heat higher than a medium.
If you've got a white/grey pan then use that, as you'll be able to see the butter more clearly. However, a black pan is just fine. I tend to use a silver spoon to check the colour now and then.
Can I make this ahead of time?
This is best made fresh, but luckily it comes together in less than 15mins!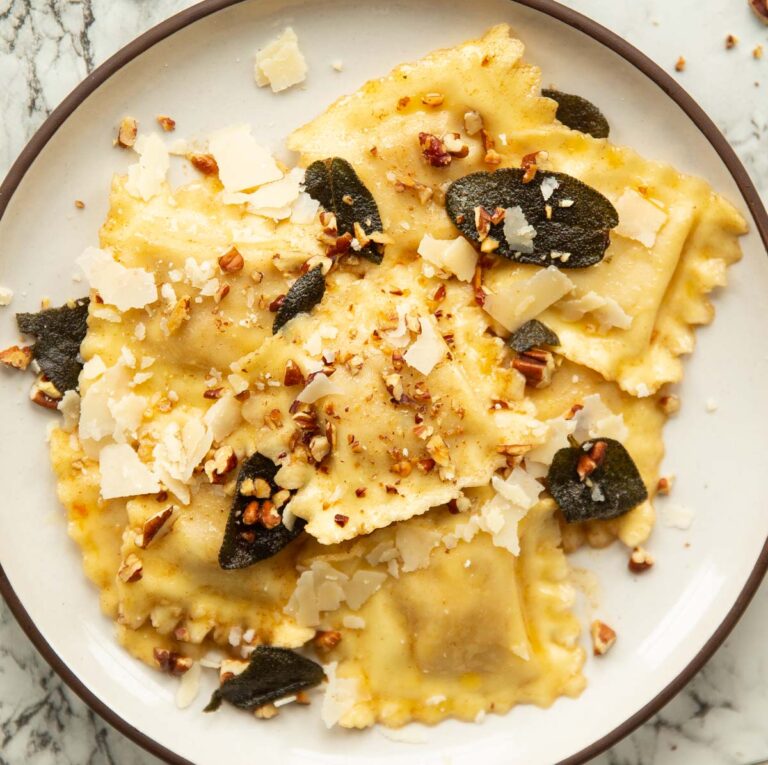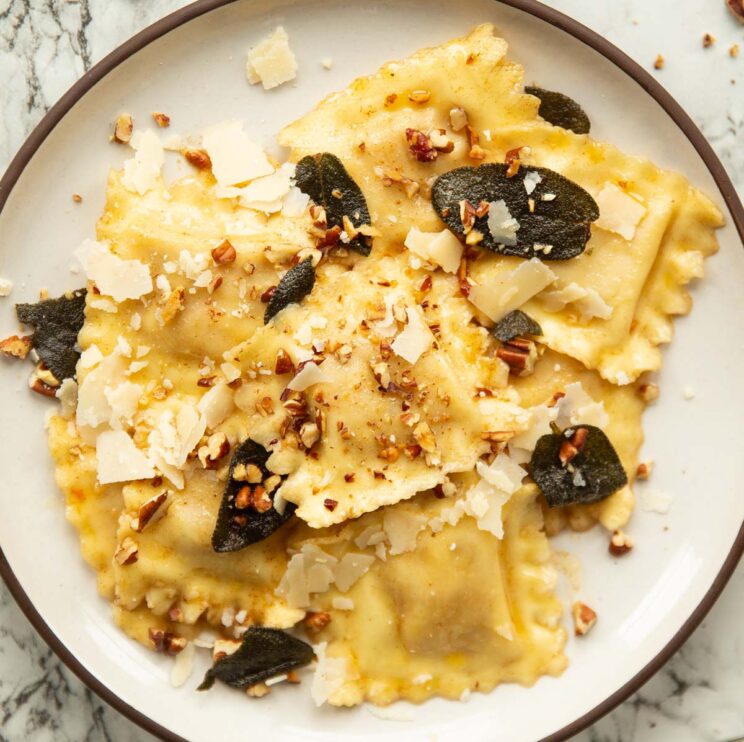 Serving Brown Butter Pumpkin Ravioli
As soon as the sauce forms you'll want to serve right away, just to keep everything nice and hot. From there, you'll want to sprinkle over the pecans, crispy sage leaves and plenty of parmesan! This recipe serves 2, so it's great for a Date Night Dinner.
If you're after more sauces to serve with ravioli, check out my Garlic Cream Sauce for Ravioli, Creamy Tuscan Ravioli and Rustic Tomato Sauce for Ravioli!
For another brown butter pasta sauce check out my Brown Butter Pasta with Butternut Squash!
Alrighty, let's tuck into the full recipe for this brown butter ravioli shall we?!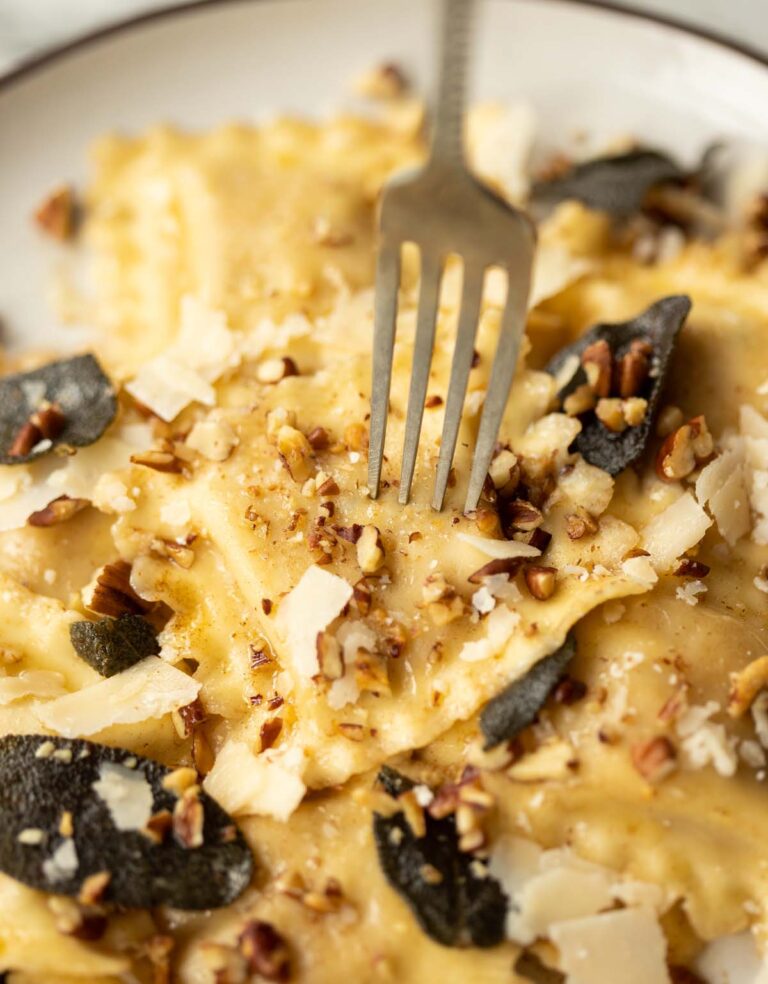 How to make Brown Butter Sauce for Ravioli

 (Full Recipe & Video)
Brown Butter Sauce for Pumpkin Ravioli
This brown butter sauce comes together in absolutely no time and pairs PERFECTLY with pumpkin ravioli!
Print
Pin
Rate
Share by Text
Servings (click & slide):
2
Calories per serving:
569
kcal
Cost per serving:
£3 / $4
Equipment:
Large Frying Pan & Wooden Spoon

Large Pot & Slotted Spoon

Sharp Knife & Chopping Board
Ingredients (check list):
9oz / 250g

Pumpkin Ravioli (see notes)

4 tbsp / 2oz / 60g

Butter (see notes)

1/4 cup / 25g

Pecans, finely/roughly diced (see notes)

6

Fresh Sage Leaves

2

cloves of

Garlic, peeled & lightly smashed (optional)

2

mild

Red Chillies, halved & de-seeded (optional)
Salt & Pepper, as needed
Parmesan, shaved or grated (to serve)
Instructions:
Add the pecans to a dry large pan over medium heat and toast until they begin to lightly char, shaking frequently. Remove from pan and wipe out any tiny crumbs if needed.

Melt 4 tbsp butter into the pan and add sage, chilli and garlic. As it begins to foam, keep gently stirring and swirling the pan. At this point add ravioli to salted boiling water and cook to packet instruction.

After a couple of mins you should begin to notice it turning from a lemony yellow to a light brown. After a few more minutes you will start to see tiny dark specks start to form on the surface of the pan, these are just the milk solids. Once you see the butter turning a deeper brown colour, it will release a nutty aroma. This is when your butter is properly browned. If at any point the nutty aroma smells more like burning, or the milk solids begin to turn black, turn off the heat.

Remove sage and keep to one side, then remove chilli & garlic and discard. Use a slotted spoon to transfer the cooked ravioli from the pot straight into the pan. Toss the ravioli in the sauce (the excess water should emulsify with the butter and cling to the ravioli). Season to taste with salt and pepper.

Serve up with the crispy sage leaves, toasted pecans and parmesan!
Quick 1 min demo!
Notes:
a) Where can I find pumpkin ravioli? - In the UK I have found varieties of pumpkin ravioli in Waitrose and Tesco before, but you will probably more likely find Butternut Squash ravioli, which is more or less the same. I know Sainsbury's and Morrisons both do Butternut Squash & Sage Ravioli, which works perfectly! b) Can I use a different ravioli? - A brown butter sauce will go pretty universally with most ravioli fillings, from lobster right through to spinach & ricotta. My second favourite to pair with this sauce is a mushroom filling, where I substitute pecans with walnuts. c) Butter - You can use unsalted butter if you'd prefer. This gives you more control over the saltiness of the dish and tends to foam up less, but regular salted butter is just fine if that's what you have on hand. Don't sub margarine!  d) Pecans - These pair perfectly with pumpkin/butternut. You could add a different variety of nuts though if you'd prefer. My second choice is pine nuts. e) Garlic/Chilli - These are both great additions to infuse the butter and add a gentle background flavour. The garlic obviously pairs amazingly with butter, whilst the chilli adds a touch of spice to balance out the sweet pumpkin filling. I typically use regular store-bought red chillies you find in the fresh herb section at the shops. 2 will give you a nice kick of spice (just make sure they're definitely de-seeded) so if you want to reduce just use one. In general, though, the sauce is just there to dress the ravioli, and brown butter + sage does that wonderfully, so you can omit the garlic and chilli if you'd prefer. f) Can I use dried sage? - Definitely use fresh sage for this recipe! Not only will it infuse the sauce more efficiently, but you also end up with crispy sage leaves which make an awesome finishing touch to the dish. g) Calories - Based on 1/4 cup parmesan to serve, then shared between two.
Your Private Notes:
Nutrition:
Nutrition Facts
Brown Butter Sauce for Pumpkin Ravioli
Amount Per Serving
Calories 569
Calories from Fat 396
% Daily Value*
Fat 43.98g68%
Saturated Fat 21.873g
109%
Polyunsaturated Fat 4.455g
Monounsaturated Fat 14.561g
Cholesterol 188mg63%
Sodium 1224mg51%
Potassium 187mg5%
Carbohydrates 29.47g10%
Protein 15.8g32%
Vitamin A 1190IU24%
Vitamin C 0.2mg0%
Calcium 249mg25%
Iron 2.47mg14%
* Percent Daily Values are based on a 2000 calorie diet.
Nutrition is based on the absence of salt unless stated as a measurement in the ingredients. Cost is worked out based on ingredients bought from UK supermarkets, then divided by the number of servings. In both instances these values are just for guidance. Please check out my FAQ Page for more info.
---
If you loved this Ravioli Sauce Recipe then be sure to Pin it for later! Already made it or got a question? Give me a shout in the comments and pick up your free ecookbook along the way!