Tender and juicy Cajun pork tenderloins drenched in a gorgeous honey butter sauce!
I really don't cook with pork tenderloin enough. It's so quick and easy to prepare and takes on a variety of different flavours so well. Today we're dousing it in a delicious cajun honey butter sauce! Follow me…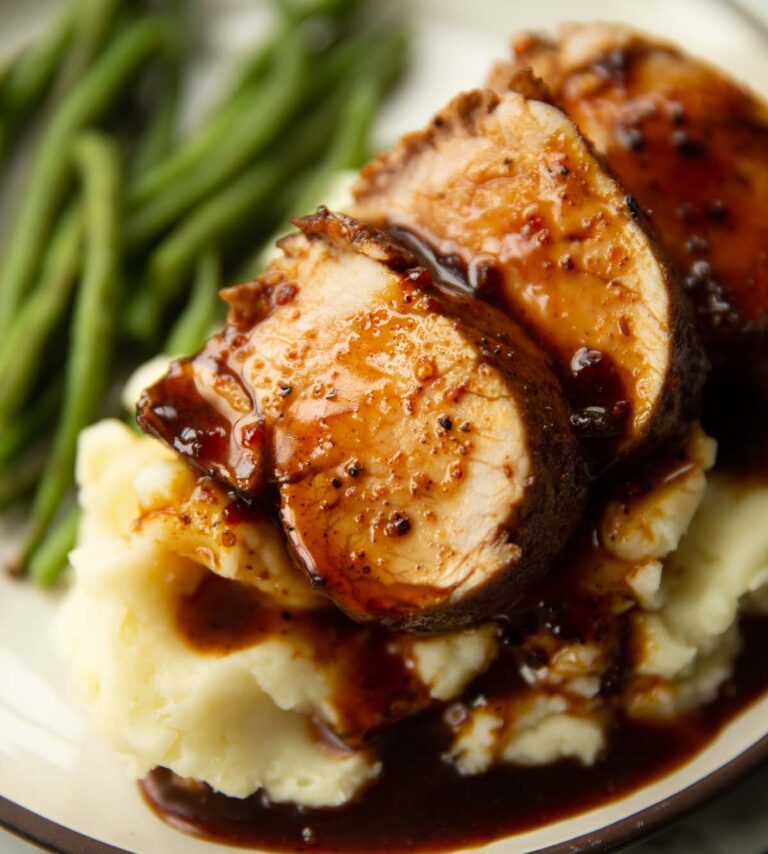 Cajun Pork Tenderloin
I know cajun seasoning isn't the first thing that comes to mind when preparing pork, but it truly works.
Preparing Pork Tenderloin
Room Temp – Make sure the pork comes close to room temp. This will relax the meat and help it cook through more evenly.
Patting Dry – I like to pat the pork dry with kitchen paper to remove excess moisture. This will help the pork caramelize more efficiently in the pan.
Trimming – I tend not to trim the tenderloin unless there are any aggressively large bits of fat.
Seasoning – Just make sure you season it and season it well! I usually end up using 2-2.5 TBSP of cajun seasoning. Really rub it into the meat to cover it as best you can.
Cooking Pork Tenderloin
When it comes to cooking the pork, I highly recommend pan-frying it then finishing it off in the oven. If you just fried the tenderloin it's going to be tough and chewy by the time the centre cooks, and if you just bake it you'll miss out on caramelizing the outside. By frying first, you get to colour the meat and also build up a flavour crust in the pan. Finishing in the oven allows you to cook through the centre to perfection, without the pork drying out.
Resting the Pork
Once the pork is cooked, it's important to let it rest on a plate to one side. If you slice it right away, the juices are going to pour out. Resting the meat allows it to retain its juices and stay nice and juicy.
Process shots: bring pork close to room temp (photo 1), pat dry (photo 2), add seasoning (photo 3), rub into meat (photo 4), add to hot oiled pan (photo 5), sear all over then roast in the oven (photo 6).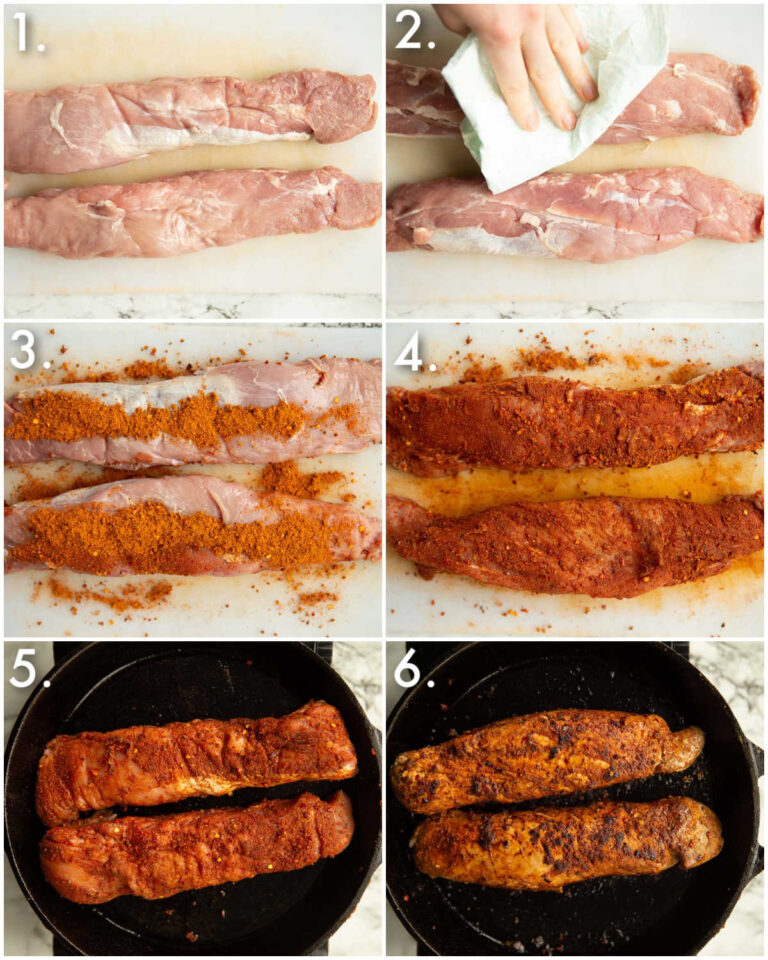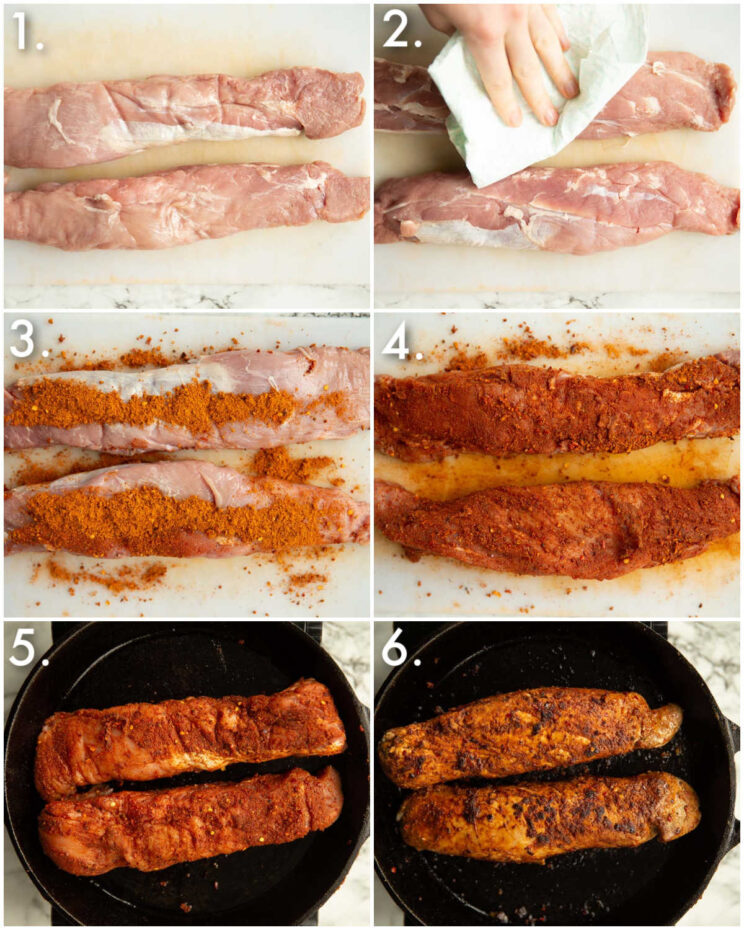 Honey Butter Pork Tenderloin
The pork itself has a kick of spice, so the sweet buttery sauce compliments it really nicely. Here's what you'll need:
Chicken Stock – This creates the base of the sauce and helps deglaze the pan.
Honey – Make sure it's runny honey.
Butter – I like using unsalted butter, just so you get more control over the saltiness of the sauce, but salted will work just fine.
Lime Juice – This helps balance out the flavours and cut through the rich/sweet flavour of the sauce. It also compliments the cajun seasoning really well.
One thing I also like to add to the sauce is the resting juices from the pork. As the meat rests, you'll see a small pool of juice form around it. This is free flavour, so don't waste it!
Process shots: remove and rest pork (photos 1&2), add sauce ingredients (photo 3), stir and simmer to thicken (photo 4), add pork (photo 5), coat in sauce (photo 6).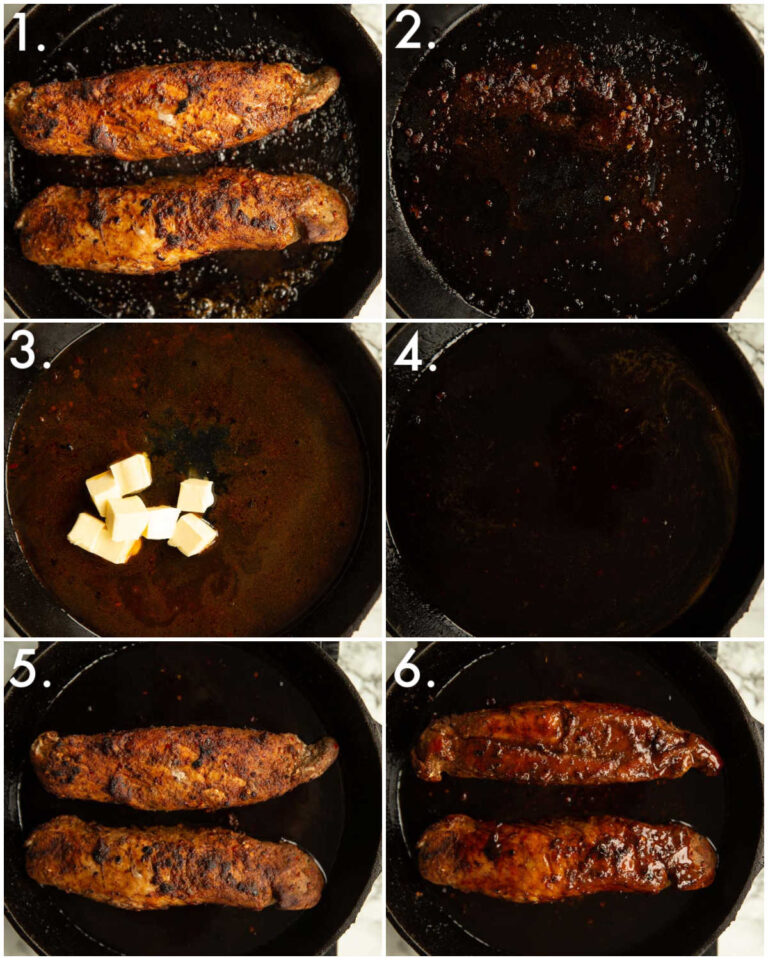 Cajun Honey Butter Pork Tenderloin FAQ
What is the safe internal temp of pork?
The safe internal temp of pork is now 145F/63C, which will result in the pork having a blush of pink. I highly recommend using a thermometer to cook the pork perfectly (more on this in the recipe card notes below).
How spicy is the pork?
This is completely dependent on the brand of cajun seasoning. In general, you shouldn't find it too spicy. I've tried a range of different cajun seasonings and they're never over-baringly spicy. The sweet buttery sauce also helps to balance out any spice too.
Can I make this ahead of time?
Unfortunately this needs to be made fresh. The pork will dry up if it's made ahead of time and will never be as juicy as it was once cooked and rested. You also need the flavour in the pan and juices from the pork to make the sauce, so this isn't suitable to make ahead of time either.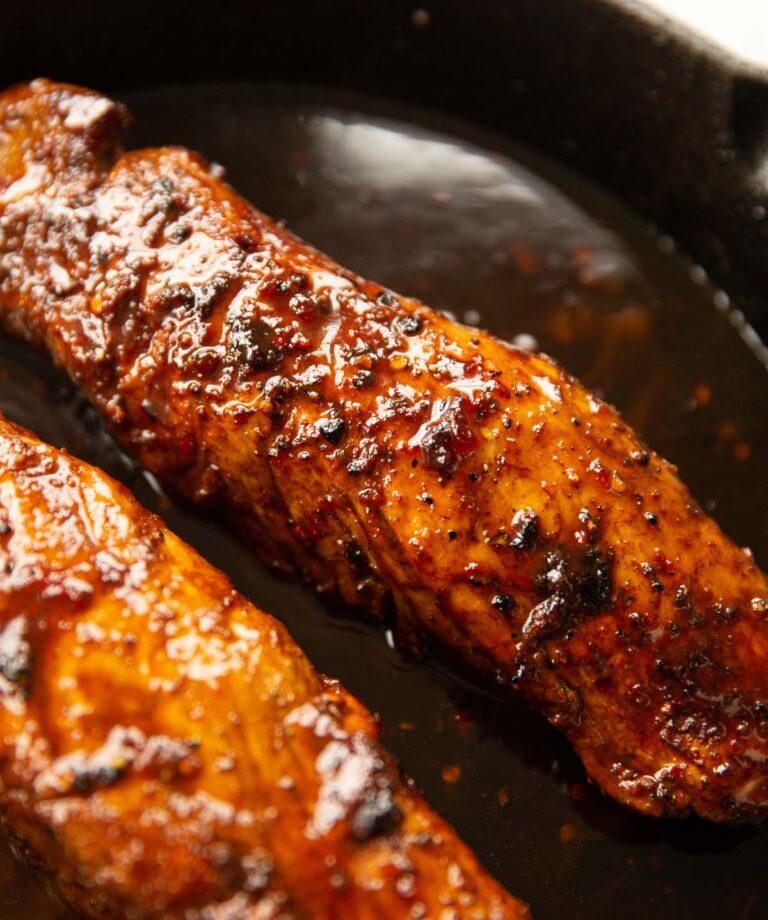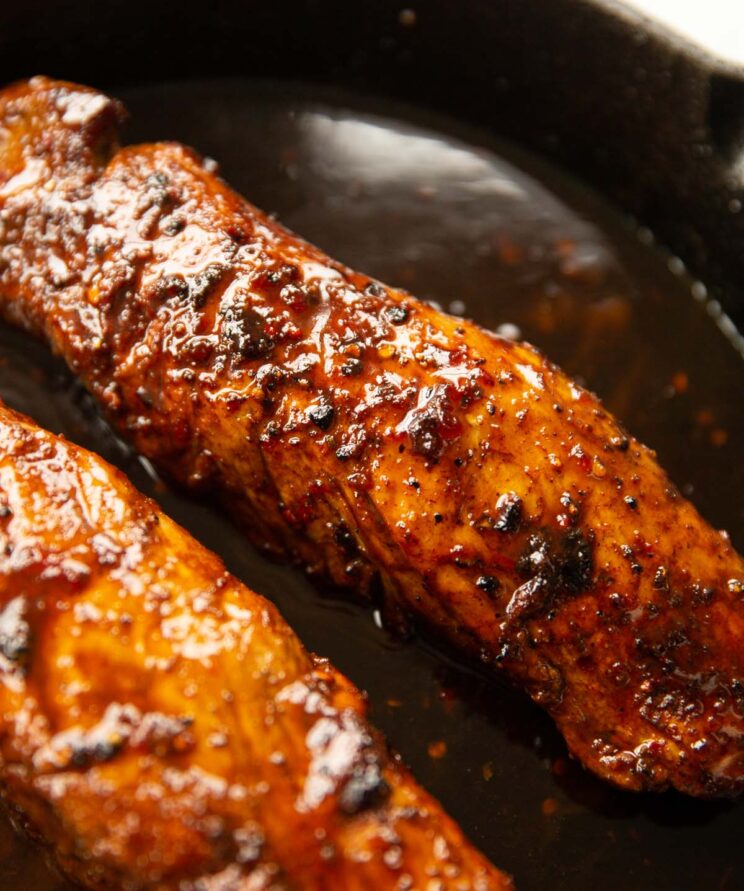 Serving Cajun Honey Butter Pork Tenderloin
After you've coated the pork in the sauce, I recommend slicing it into wedges (I like them around 3/4″ thick). From there, drizzle over more sauce like there's no tomorrow! I usually serve with Mash and Green Beans, but Roasted Potatoes and your fave veg will work just as well.
After another pork tenderloin recipe? Check out my Stuffed Pork Tenderloin and Creamy Mustard Pork Tenderloin!
For another honey butter recipe check out my Honey Butter Chicken!
Alrighty, let's tuck into the full recipe for this cajun honey butter pork tenderloin shall we?!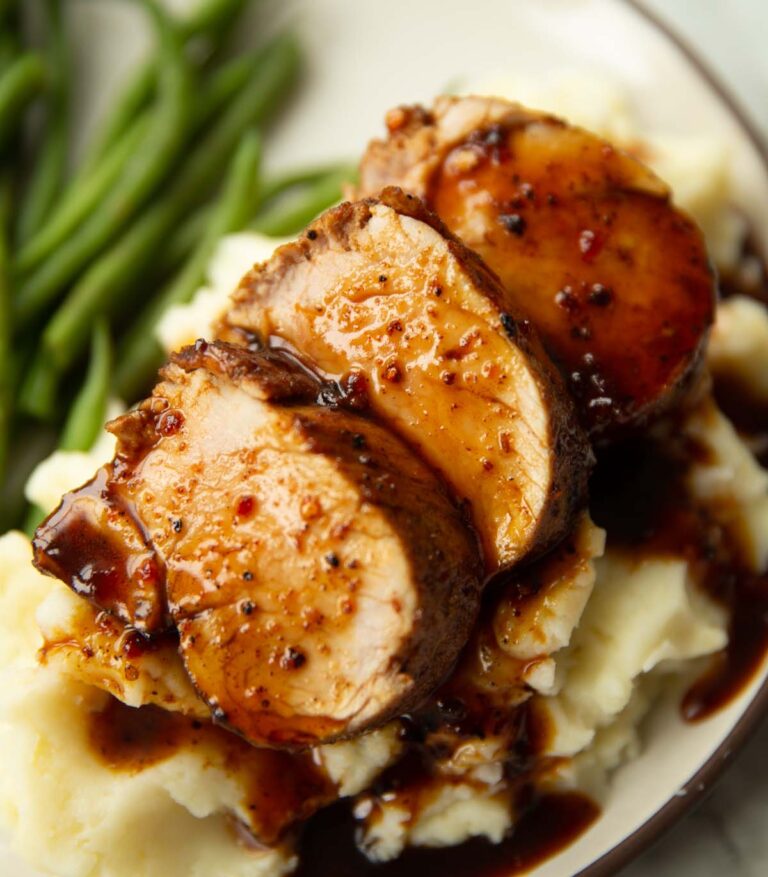 How to make Cajun Honey Butter Pork Tenderloin

(Full Recipe & Video)
Cajun Honey Butter Pork Tenderloin
Tender and juicy Cajun pork tenderloins drenched in a gorgeous honey butter sauce!
Print
Pin
Rate
Share by Text
Servings (click & slide):
4
Calories per serving:
522
kcal
Cost per serving:
£2.50 / $3
Equipment:
Large Heavy-Based Oven-Safe Pan & Tongs

Wooden Spoon

Large Plate

(for storing cooked pork tenderloin)

Sharp Knife & Chopping Board

(for slicing pork tenderloin)

Kitchen Paper

(to dry pork)
Ingredients (check list):
2x

500g/1lb

Pork Tenderloins, brought close to room temp (see notes)

2 - 2.5

tbsp

Cajun Seasoning

5 tbsp / 75g / 2.6oz

Unsalted Butter, diced into small cubes

120ml / 1/2 cup

Chicken Stock

80g / 1/4 cup

Honey

1/2

Lime, juice only
Olive Oil, as needed (1-2 tbsp)
Instructions:
Preheat the oven to 200C/390F.

Pat the tenderloins dry then season all over with Cajun seasoning. Rub it into the pork and fully coat it as best you can.

Heat a drizzle of oil in a large oven-safe pan over high heat. Sear the pork tenderloins all over until lightly charred (around 5mins total).

Transfer the pan to the oven and roast the pork for 12-14mins, or until the thickest part reaches 145F/63C. This will leave the pork with a blush of pink. Remove the tenderloins and place them on a large plate to one side to rest. Place the pan back over medium-high heat.

Pour in the chicken stock and simmer for 1 minute, using your wooden spoon to scrape off all the flavour from the pan. Add the lime juice, honey and butter and swiftly stir until the butter melts and emulsifies with the sauce. Continue simmering for another 5 minutes, or until the sauce thickens to a thin-honey consistency. It will thicken, just keep simmering and stirring away. Pour in the resting juices from the pork, then simmer for another minute until the sauce re-thickens.

Coat the tenderloins in the sauce then slice (I like around 3/4" portions). Drizzle over more sauce and enjoy!
Quick 1 min demo!
Notes:
a) Pork Tenderloins Preparation - Important to take the pork out of the fridge at least 15mins before needed. This will not only help the meat cook more evenly, but it'll also relax the meat and prevent it from seizing up in the pan. I typically don't trim the fat unless they're very large pieces.  
b) Cooking Pork Tenderloins - Safe internal temp of pork is now 145F/63C, which will look a touch pink. If you want it completely without pink, I recommend adding another couple of mins to the cooking time, to reach around 67-68C/152-154F. It's difficult to give exact timings as pork tenderloins always differ quite a lot in thickness and ovens will run slightly differently, so I recommend using a thermometer. In all cases, I'd stay on the side of caution and pull it out early to check, as you can always carry on cooking, but it's hard to revive overcooked pork!
c) Serving - Here I've served with Green Beans and Mashed Potatoes, but any sort of carb & veg combo will do the trick.
d) Calories - Assuming 1.5 tbsp olive oil used, no sides and shared between 4.
Your Private Notes:
Nutrition:
Nutrition Facts
Cajun Honey Butter Pork Tenderloin
Amount Per Serving
Calories 522
Calories from Fat 224
% Daily Value*
Fat 24.9g38%
Polyunsaturated Fat 1.993g
Monounsaturated Fat 9.414g
Cholesterol 201mg67%
Sodium 481mg20%
Potassium 1067mg30%
Carbohydrates 19.74g7%
Protein 52.82g106%
Vitamin A 626IU13%
Vitamin C 1.8mg2%
Calcium 19mg2%
Iron 2.92mg16%
* Percent Daily Values are based on a 2000 calorie diet.
Nutrition is based on the absence of salt unless stated as a measurement in the ingredients. Cost is worked out based on ingredients bought from UK supermarkets, then divided by the number of servings. In both instances these values are just for guidance. Please check out my FAQ Page for more info.