Forget everything you knew about Caprese salads and prepare yourself for a new twist on the classic. Paired with a Sweet Balsamic Glaze, this Stacked Tomato and Fried Mozzarella Salad is the most delicious starter you'll ever make!
You know those types of recipes that you just look at and think 'yeah, it looks pretty. But I bet it doesn't taste that pretty'.
This is not one of those recipes.
I repeat, this is not just a pretty face.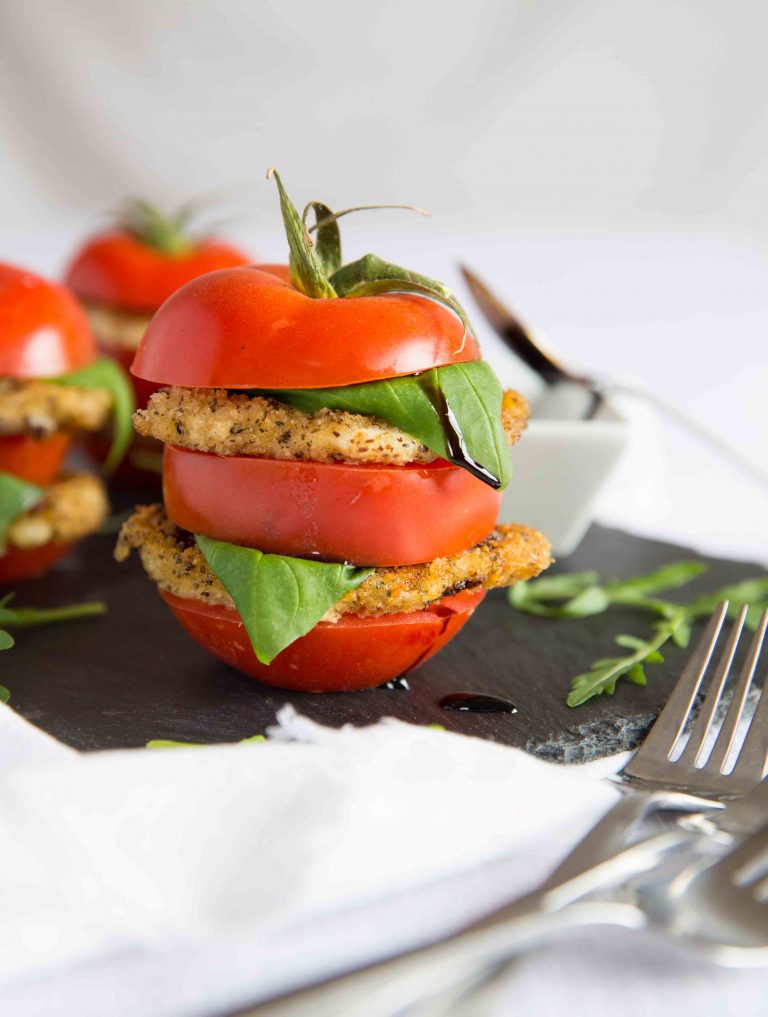 A Caprese salad truly is one of my all time favourite combos. Tomato, basil, mozzarella, balsamic. UGH. You can't beat it.
Lol just kidding you can totally beat it.
Oh hey, stacked tomato and fried mozzarella salad!
Cause really, life is so much better with fried mozzarella. We'll get to the fried mozzarella part in just a sec, but first let me tell you how easy this salad is to make. Grab yourself some tomatoes and slice into 3. Grab a couple of those fresh mozzarella balls you always see in the supermarket and slice into 4. Have some fresh basil and balsamic glaze on hand and it's time to fry up some cheese!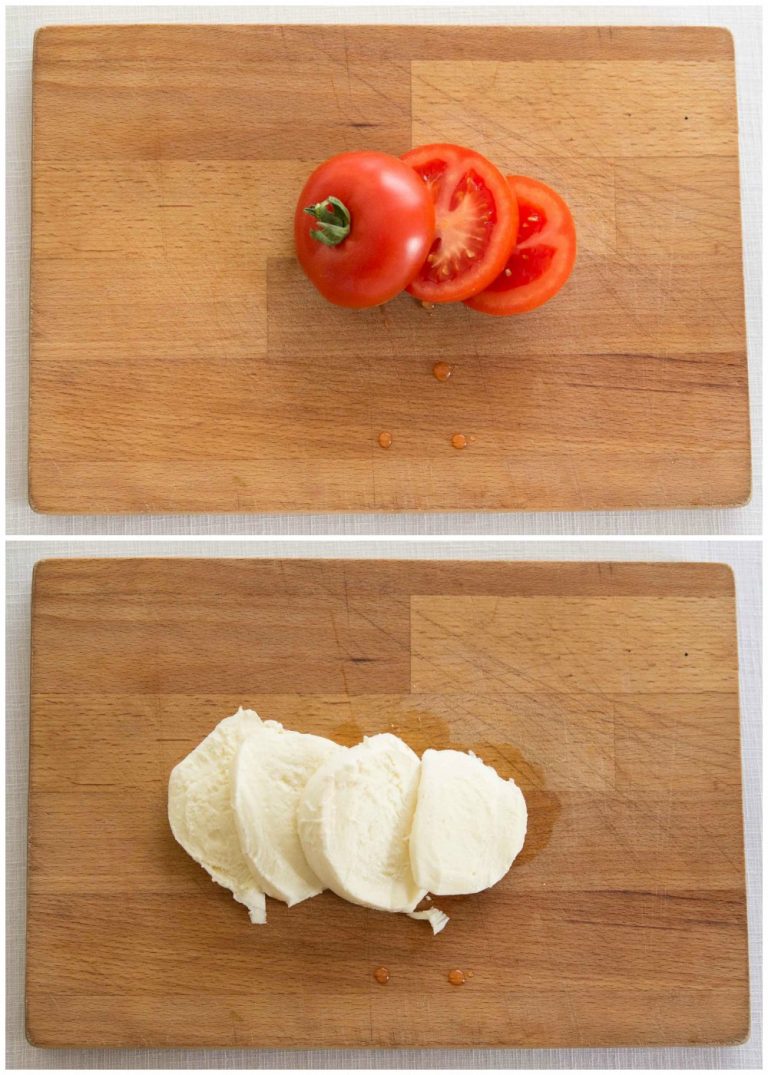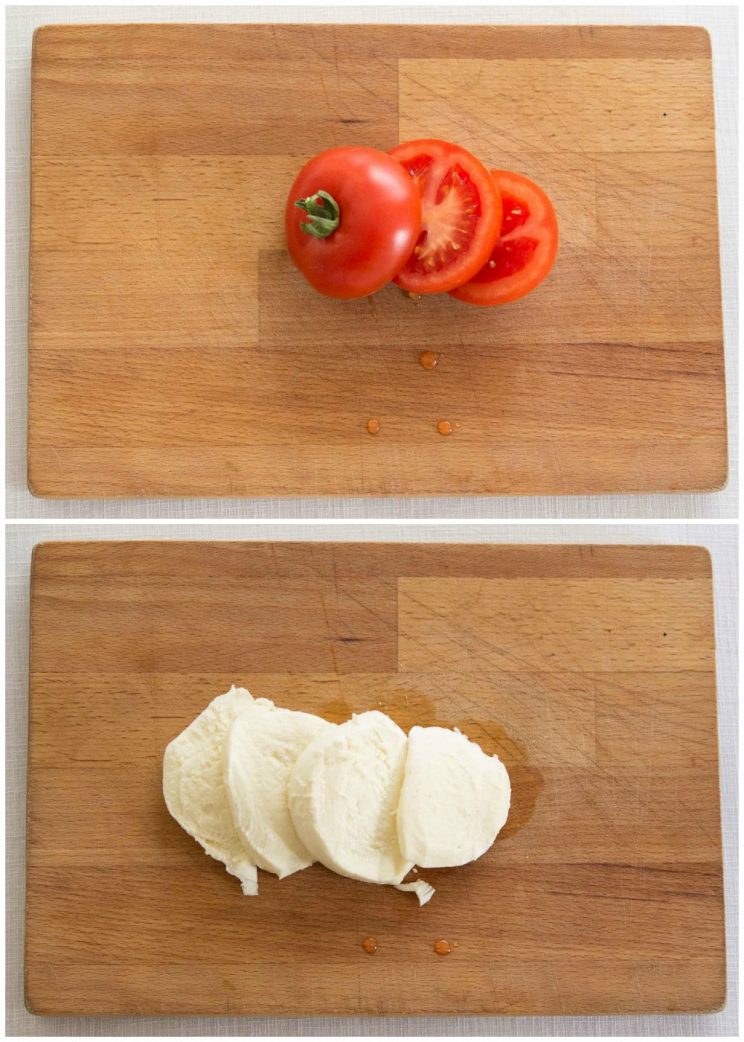 Tops tips for how to make fried mozzarella
Fresh is best – Those large mozzarella balls from the supermarket are perfect for this recipe. If you can find the mozzarella that isn't preserved in water, perfect. The less moisture the better when frying. However not to worry if you can't, just pat the slices dry after you've sliced!
Reducing mess – Set up your stations: one bowl of flour, followed by beaten egg and a splash of milk, ending with the breadcrumbs. The 'wet hand dry hand' method is great in this instance. Use your dominant hand and plonk the mozzarella in the flour (dry hand) and drop into the egg. Now coat and take out with the other hand (wet hand), plonk it into the breadcrumbs and finally coat with your dry hand. That's the theory anyway, much more difficult whilst trying to film and take photos too!
Oil – 3 tips regarding oil. Firstly, because of the shape of the mozzarella in this recipe, they don't need to be deep fried. Shallow frying works just perfectly. Second is the type of oil. You want to use an oil with a high smoking point e.g Canola/Vegetable oil. Olive oil with just burn and smoke out the kitchen. Third tip is to make sure it's piping hot. Frying the mozzarella over low heat will not only make the breadcrumbs dense and soggy, but it will also melt the centre into mush. A quick flash fry, just a couple of minutes each side will ensure the mozzarella just heats through, leaving the breadcrumbs still light and crispy.
Simple right?
And after that it's just a case of constructing your masterpiece.
Tomato, fried mozzarella, basil, balsamic glaze, repeat. My only recommendation at this point is to act as quick as you can. Firstly so the mozzarella stays nice and gooey, but secondly because the quicker you stack, the sooner you can eat.
If you manage to not eat all the fried mozzarella before it gets to the stacking stage, it should look a little something like this.
And there we have it folks! Stacking made easy and salads made funky with this gorgeous tomato and fried mozzarella combo! Perfect as a starter or delicious as a lunch, either way I'm confident you're gonna LOVE this recipe!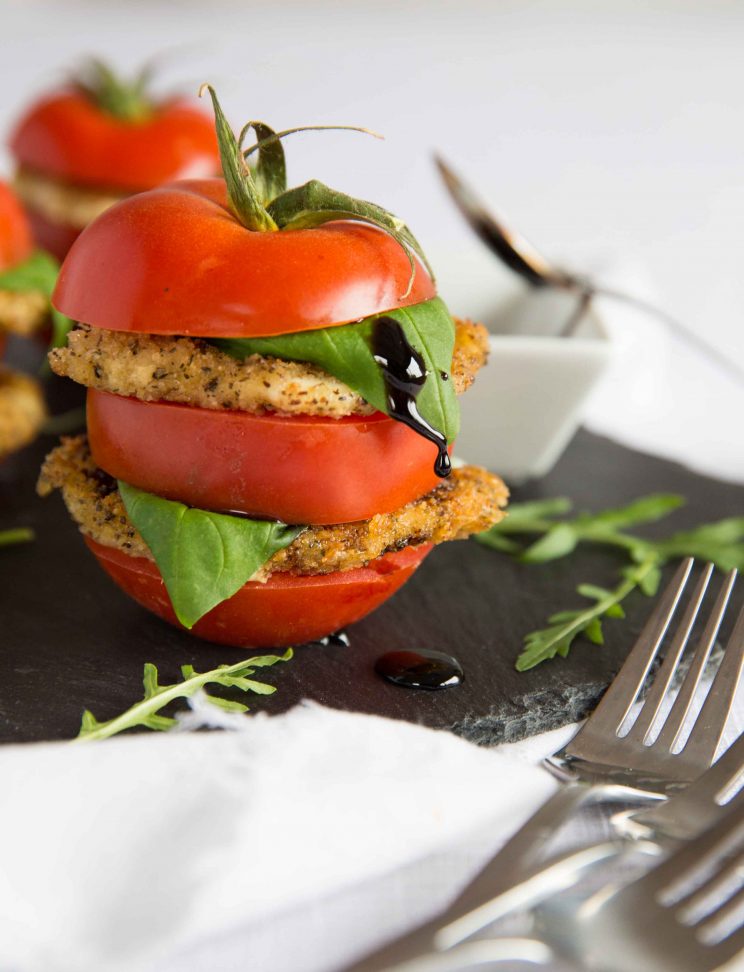 Join the foodie family! – Get awesome recipes sent straight to your inbox by signing up to my Weekly Mailing List (where you'll receive your FREE ECOOKBOOK) and stay in touch on Instagram, Facebook and Pinterest! 🧡
How to make a Stacked Tomato and Fried Mozzarella Salad

(Full Recipe & Video)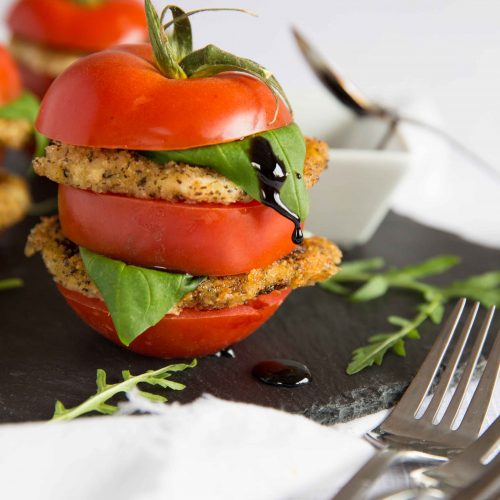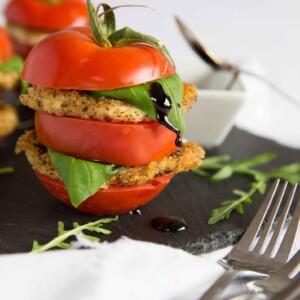 Stacked Tomato and Fried Mozzarella Salad
'Forget everything you knew about Caprese salads and prepare yourself for a new twist on the classic. Paired with a Sweet Balsamic Glaze, this Stacked Tomato and Fried Mozzarella salad is the most delicious starter you'll ever make!'
Print
Pin
Rate
Servings (click & slide):
4
stacks
Ingredients (check list):
4

Large Tomatoes

8

Fresh Basil Leaves

2 (5.3oz/150g)

Fresh Mozzarella Balls

1 cup / 100g

Italian Breadcrumbs

3

tbsp

Flour

1

Egg, beaten

splash

of Milk

1

tbsp

Balsamic Glaze

Salt & Pepper

to taste

Canola/Vegetable Oil for frying
Instructions:
Evenly slice your Tomatoes in to 3 and your Mozzarella balls into 4. Pat down Mozzarella with a paper towel if there is excess moisture.

Set up 3 bowls. First one with your Flour, second your beaten Egg & Milk and thirdly your Breadcrumbs. Dip your Mozzarella rounds into the Flour, next the Egg and then the Breadcrumbs.

Heat a few glugs of Oil, enough to cover the whole base of your pan and fry each Mozzarella slab on high for around 2 mins on each side, or until the Mozzarella begins to melt with a golden/brown coating. Place on paper towel to dry off excess oil.

Stack by topping Tomato with a pinch of Salt & Pepper, followed by Fried Mozzarella, then a Basil Leaf finished with a drizzle of Balsamic Glaze. Repeat to form your Tomato Stack.
Quick 1 min demo!
Notes:
a) Homemade Balsamic Glaze - Check out my Homemade Balsamic Glaze instead of getting store bought!
b) Italian Breadcrumbs - If you can't get your hands on any Italian Breadcrumbs then simply mix into 1 cup of regular breadcrumbs the following:
1/2 tsp dried basil
1/2 tsp dried parsley
1/4 tsp garlic powder
1/4 tsp onion powder
1/4 tsp oregano
salt & pepper to taste
If you don't have the individual herbs, mix in 1 tbsp of Italian Seasoning instead.
c) Coating - It is important to make sure the entire mozzarella slabs are coated before frying, so make sure you really cram as much breadcrumb on as possible. If there is still white showing, consider dipping back in the egg and then in the breadcrumbs again. 
d) Stacking - If you're struggling to get your stacks to stand firm, slice a slither of tomato off the bottom layer. Also, for somebody who could eat a tomato like an apple, the chunky centre slice is no bother for me. However, for less of the tomato, simply slice the centre chunk in two.
e) Calories - based on 3 tbsp of Olive Oil used for frying.
Nutrition:
Nutrition Facts
Stacked Tomato and Fried Mozzarella Salad
Amount Per Serving
Calories 254
Calories from Fat 133
% Daily Value*
Fat 14.79g23%
Polyunsaturated Fat 1.38g
Monounsaturated Fat 5.89g
Cholesterol 214mg71%
Sodium 309mg13%
Potassium 507mg14%
Carbohydrates 17.21g6%
Protein 13.87g28%
Vitamin A 4150IU83%
Vitamin C 27.2mg33%
Calcium 240mg24%
Iron 2mg11%
* Percent Daily Values are based on a 2000 calorie diet.
Nutrition is based on the absence of salt unless stated as a measurement in the ingredients. Cost is worked out based on ingredients bought from UK supermarkets, then divided by the number of servings. In both instances these values are just for guidance. Please check out my FAQ Page for more info.
---
Looking for more stuff to drizzle with Balsamic Glaze? Check out my Feta Bruschetta!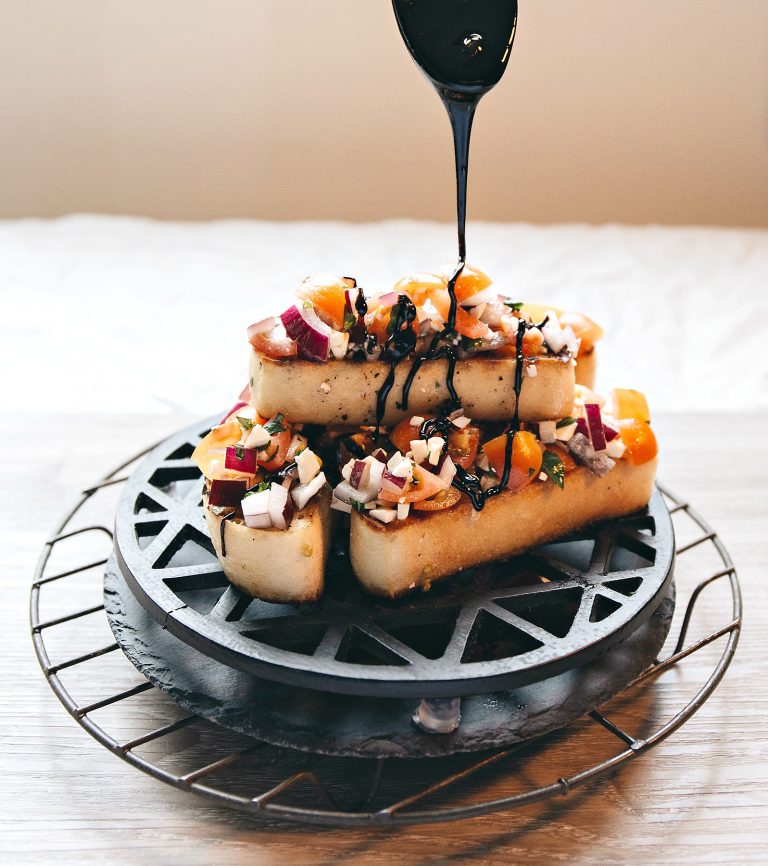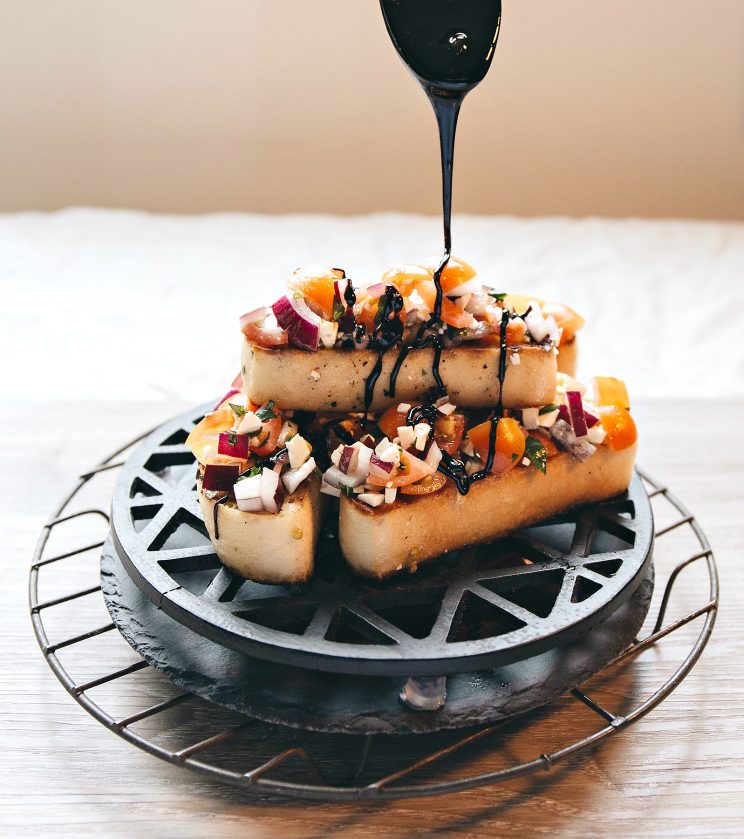 If you loved this Stacked Tomato and Fried Mozzarella Salad be sure to Pin it for later! Made the recipe? Let me know how you got on in the comments and pick up your free ecookbook along the way!