'Toasted Sesame Hummus is a deliciously smooth, nutty and tangy twist on the Classic Hummus. So affordable and super quick to make' – Hungry now?  Jump to Recipe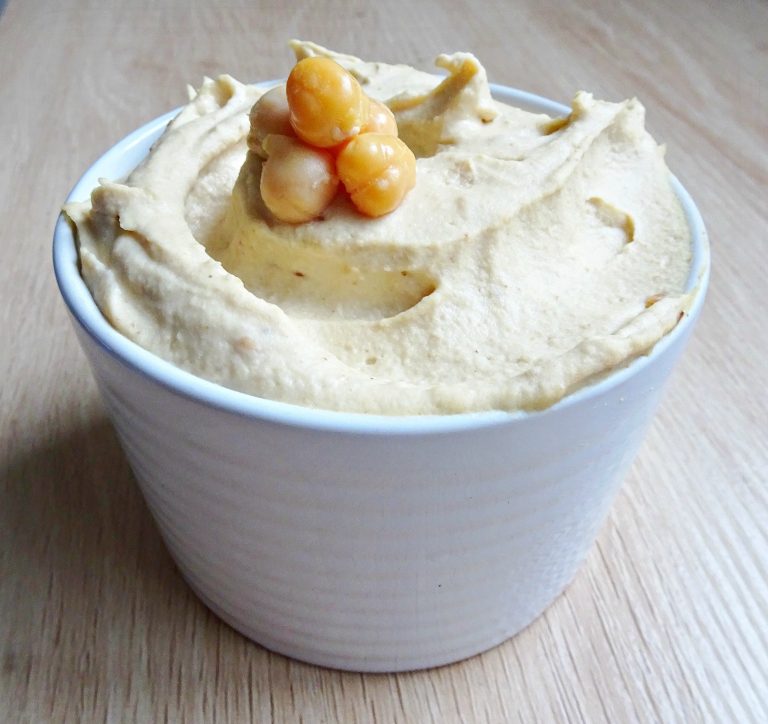 So I've been meaning to put out a Hummus recipe for a while now. But, well, it's everywhere! Hey I'm not complaining, I just mean I don't want to be 'that guy' that throws out a classic Hummus recipe that drowns into the deep oceans of the internet. I'm gonna have to jazz it up. So I thought to myself, firstly 'F*ck I love Hummus so much I'm going to spontaneously cry' but secondly 'how can I love it even more?' And here we are – Toasted Sesame Hummus.
The taste? Superb. However it did kinda look like a frothy coffee before I garnished.
Let's chuck some sesame on.
My favourite component of a classic Hummus is the Tahini; and the main component of Tahini is indeed sesame seeds. What I've essentially done here is just emphasized that component to bring a real nutty, smoky flavour to the hummus. Toasting the sesame seeds helps to bring out that nutty flavour and also reduces any bitterness from the seeds. The flavours in this recipe really bounce off each other to help bring you one heck of a hummus. All in all, I'd like to put this recipe forward as being spoon-worthy.
*reaches for spoon and eats like nobodies watching*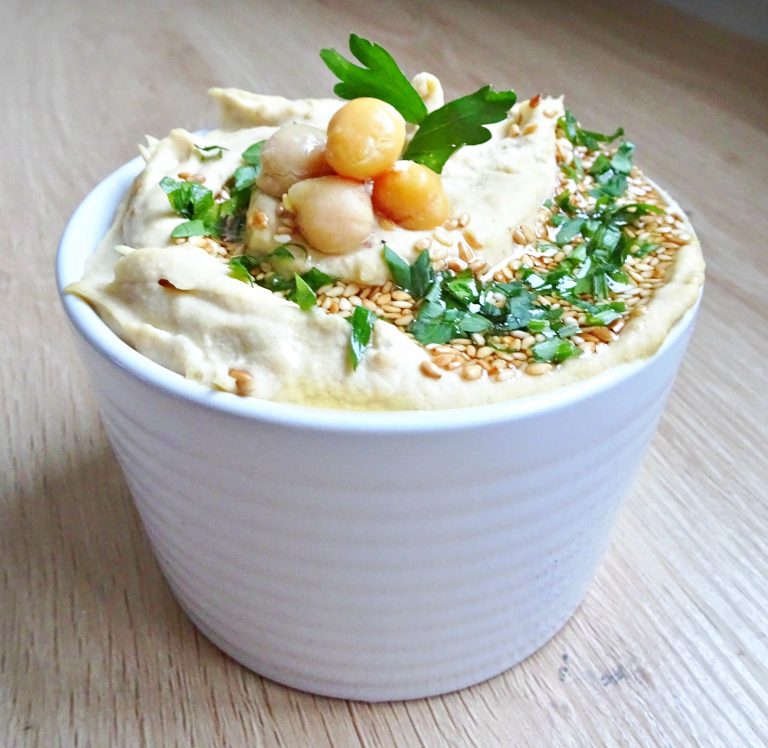 Okay side note – it is totally optional if you want to peel the chickpeas or not. Granted it will make the Hummus a little creamier and on the whole more silkier if you do, but it's not gonna ruin it if you want to chuck them straight in. Of course you can hand peel them, which will take a little time, OR you can give this article a quick read and see another method.
 Okay, back from the side note. Let's round things up before you get bored and I really do become 'that guy'. This recipe is so freaking easy and incredibly affordable. For the amount you get, the price/quantity trade off is amazing. Most importantly, it tastes so SO good. I'm truly excited to share this recipe with you guys. Pair with some homemade tortilla chips and you'll be on your way. So here you are, my Toasted Sesame Hummus. Enjoy!
---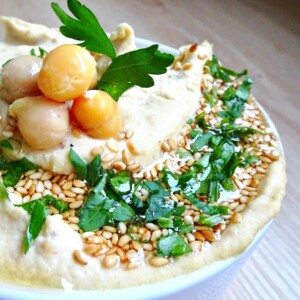 Toasted Sesame Hummus
' Toasted Sesame Hummus is a deliciously smooth, nutty and tangy twist on the Classic Hummus. So affordable and super quick to make '
Print
Pin
Rate
Ingredients
2

cans

2x 400g of Chickpeas, keep the brine/water of 1 can

2

tbsp

Tahini

2

tbsp

Sesame Seeds

4

tbsp

Olive Oil

2

cloves

of Garlic

1

heaped tsp of Ground Cumin

juice of 1 large Lemon

or more to taste

Salt & Pepper

to taste
Extras 'n' Optionals:
1

tsp

of Fresh Parsley

finely diced

1

tsp

Sesame Oil
Instructions
If you're removing the chickpea skins then start with that. If not then go straight ahead with lightly toasting the sesame seeds in a pan (no oil needed) over medium heat for around 1-2 mins. You want to make sure they turn a deep brown colour, but be sure not to overcook; there's a fine line between toasted and burnt.

Pop your chickpeas (bar 3-4 for garnish), chickpea brine, tahini, lemon juice, garlic, cumin, seasoning and 1 1/2 tbsp of your sesame seeds in a food processor. As you blend, slowly pour in your olive oil until the hummus becomes smooth and silky enough for your desired texture.

Taste test for any extra seasoning/lemon juice etc. If it's not silky enough then simply add some water and/or olive oil.

Top hummus with your 1/2 tbsp of sesame seeds, 3-4 chickpeas and a good drizzle of sesame oil. Oh and some parsley if you fancy. Photo below for inspiration.
Nutrition
Nutrition Facts
Toasted Sesame Hummus
Amount Per Serving
Calories 210
* Percent Daily Values are based on a 2000 calorie diet.
Nutrition is based on the absence of salt unless stated as a measurement in the ingredients. Cost is worked out based on ingredients bought from UK supermarkets, then divided by the number of servings. In both instances these values are just for guidance. Please check out my FAQ Page for more info.
---
For another delicious recipe to dive those Tortilla Chips in to, check out my Guacamole recipe!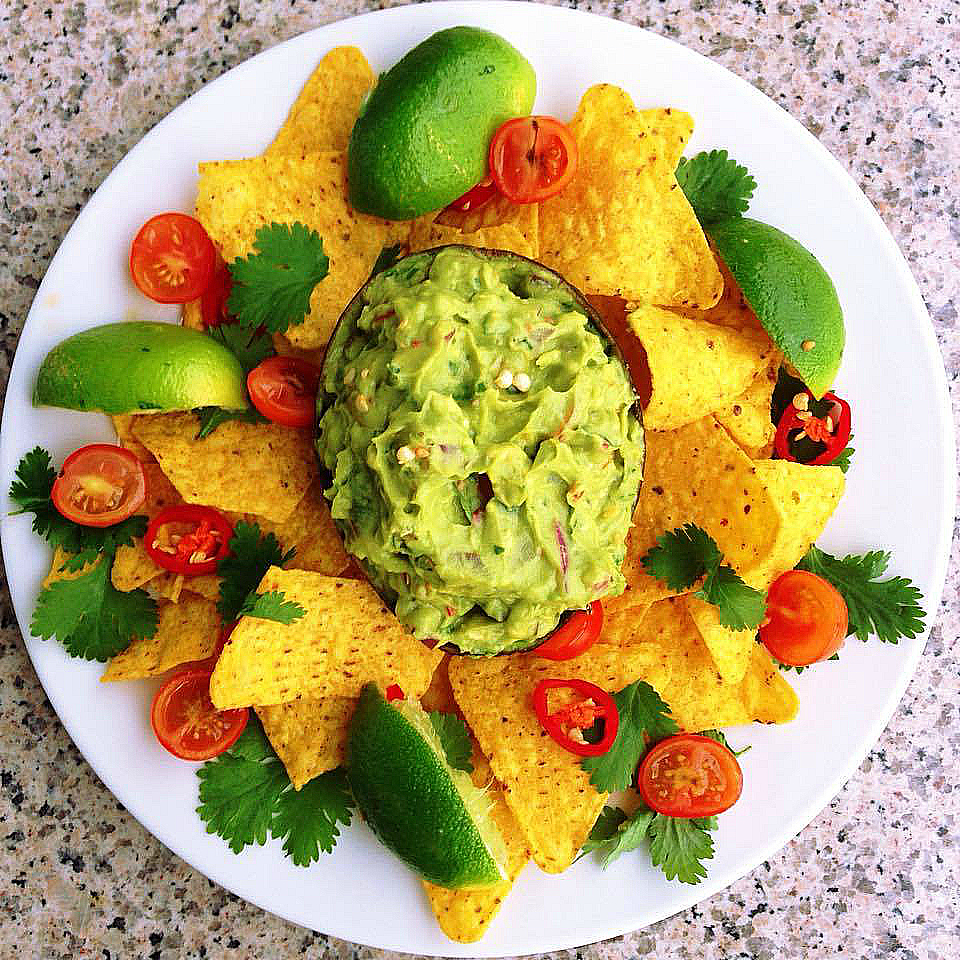 ---
---
Cheers guys, this has been ' Toasted Sesame Hummus '. Comment, share, do whatever you fancy but for crying out loud don't go bacon my heart. See you next time 🙂