This Spaghetti Bake is loaded with a rich and tender bolognese, stuffed with 3 different cheeses then baked until golden, gooey and delicious!
When casserole meets spaghetti bolognese meets lasagne. Perfect for leftovers but even better for a big hearty family dinner. Not had baked spaghetti before? Follow me…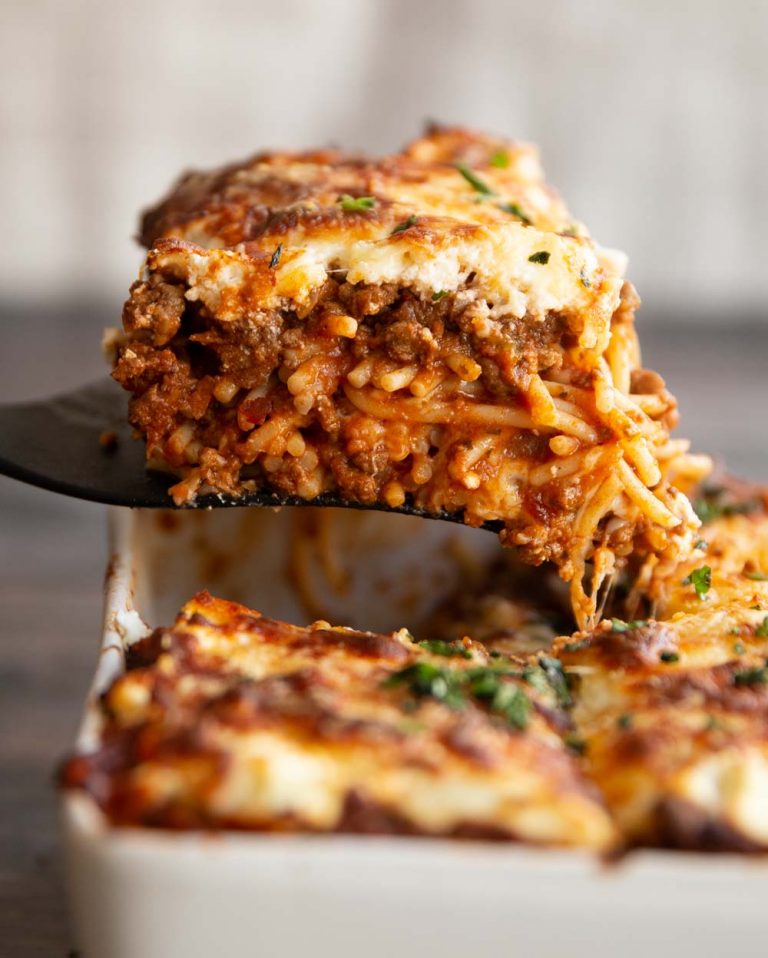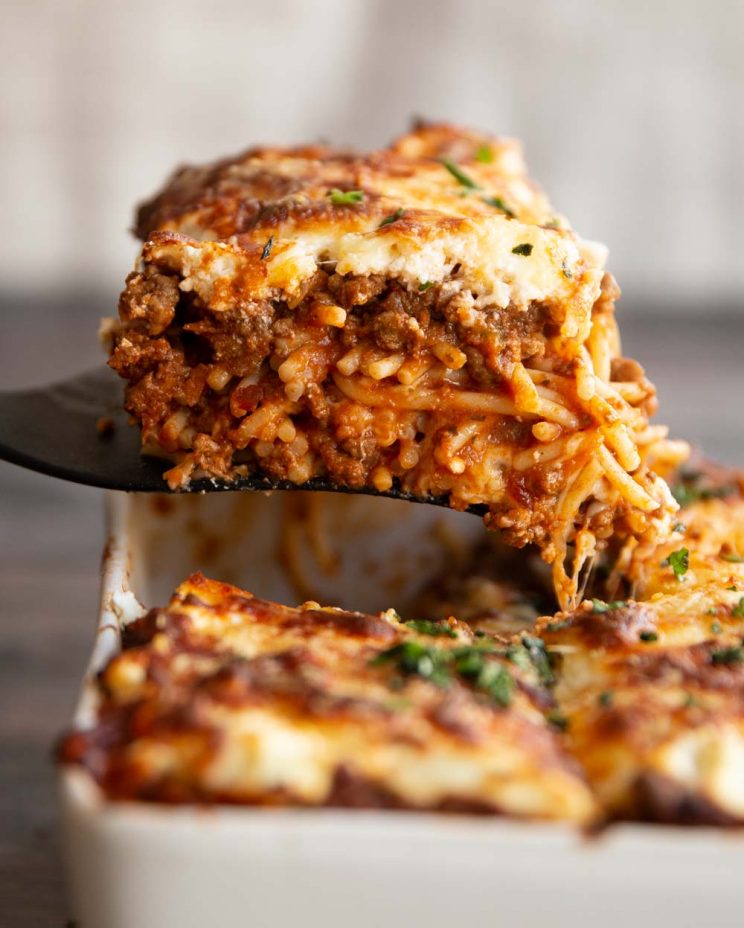 Spaghetti Sauce
The sauce itself is the heart and soul of the spaghetti bake, so it's important make it shine. This is very reminiscent of a spaghetti bolognese, just with a few tweaks. Principles of a good bolognese all the same though.
Red Wine
A good glug of red wine works wonders in a ragu. Deepens the flavours and works perfectly with the beef. Most, if not all of the alcohol will burn off, but if for whatever reason you don't add it, just sub more beef stock.
Time
Absolute key to a good meat sauce is simmer for a good 90mins. This will really marry the flavours together and tenderise the beef. Slight annoyance when all you want to do is dive straight in, but 100% worth it – promise!
Top Tip – You can make the bolognese in advance and store in the fridge or freezer until needed if you want to save on time the evening you make the spaghetti bake!
Process shots: Brown onion, garlic, celery, carrot (photo 1), brown beef (photo 2), add tomato puree & wine (photo 3), pour in beef stock, tomato passata & Worcestershire sauce (photo 4), add seasoning (photo 5), stir then simmer (photo 6).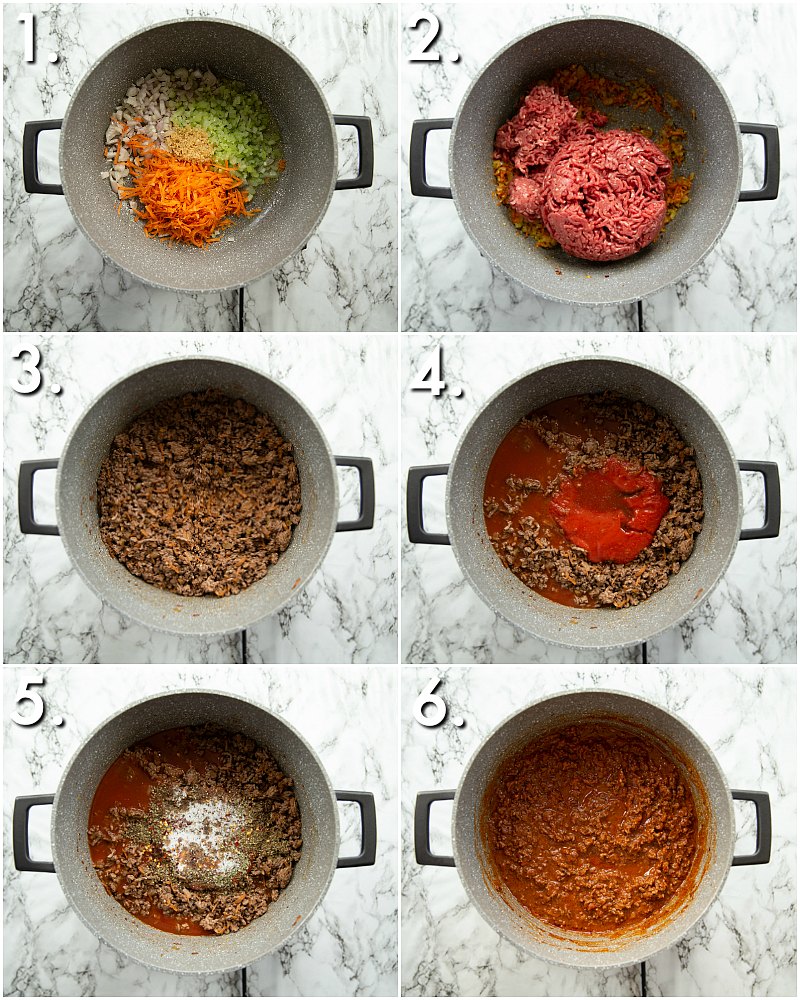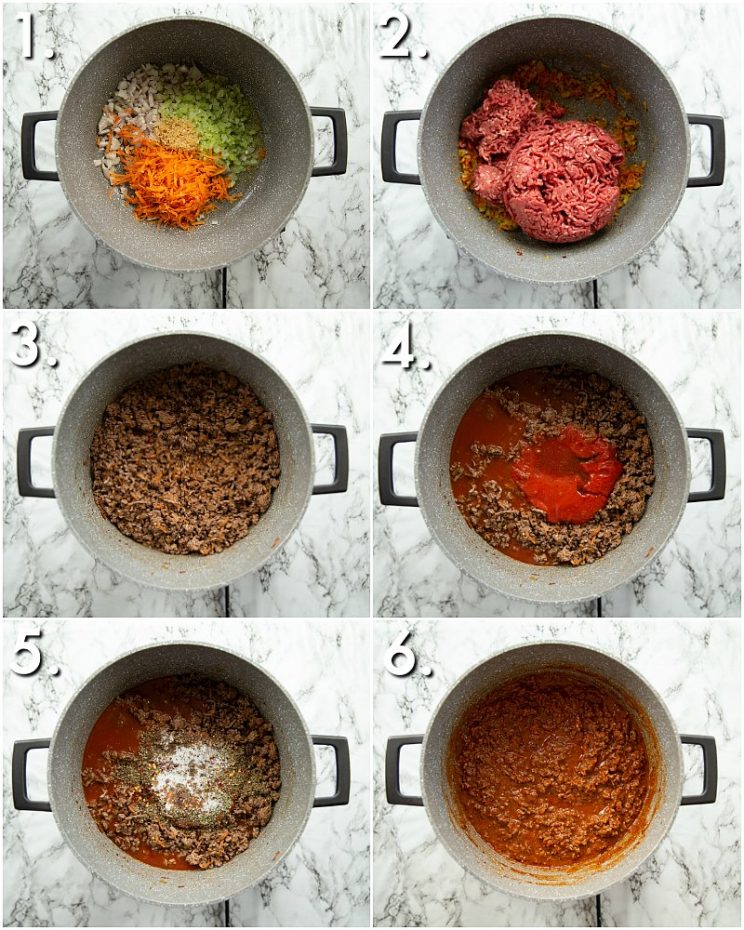 Alrighty, sauce done and dusted, let's talk spaghetti.
The number one tip for cooking the spaghetti is to make sure you only boil until the spaghetti is al dente. You want it to still have a bite to it, or when it bakes it'll bloat and go too soft. 2mins off the package instructions is usually a good place to start.
From there, drain and place back in the pot, then spoon in some of the ragu. This is mainly to ensure the spaghetti doesn't stick together or to the baking dish, we add most of it later. Follow me…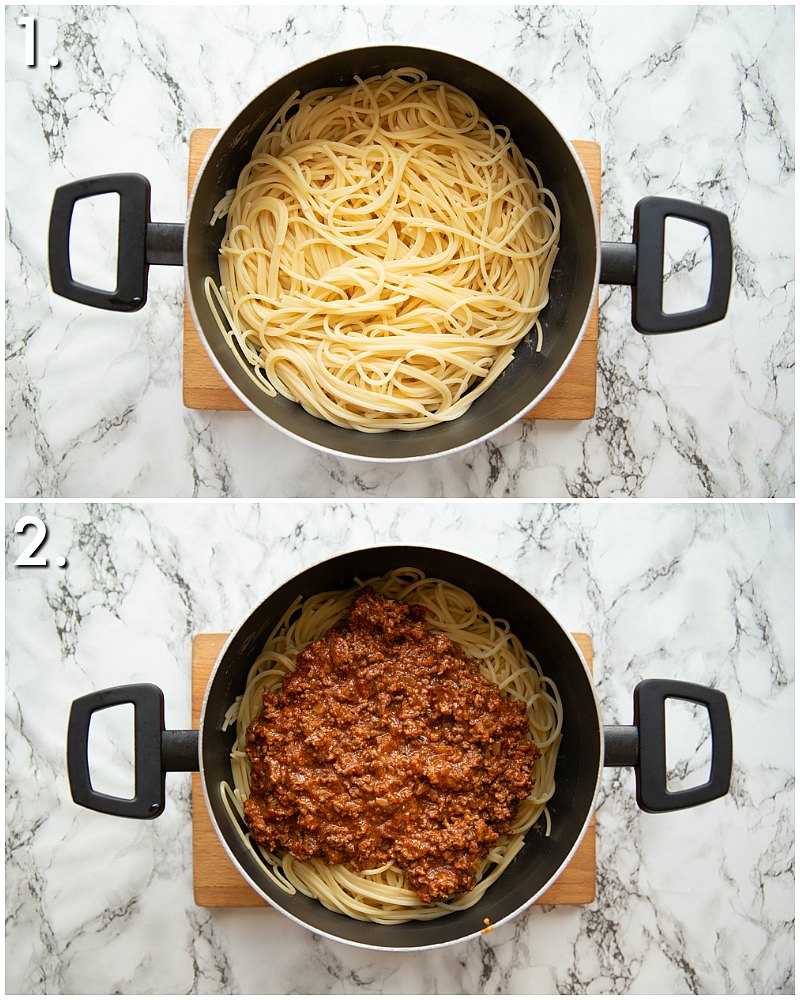 Baked Spaghetti
Okay, meat sauce and spaghetti ready, let's talk about the most important ingredient of them all – cheese. Three cheeses to be precise:
Mozzarella
This goes through the centre of the spaghetti bake and also on top. This is will offer a fairly mellow flavour, but will give you the epic cheese pull we all came here for. I have in the past replaced some of the mozzarella with Swiss/Cheddar and both work great.
Ricotta
This is to spread across the top to add a nice creamy layer. Again, fairly mellow in flavour but does add a different textured layer.
Parmesan
Most of this goes on top to add the final crispy layer, but some is actually stirred through the ragu (absolute game changer!).
Process shots: Add spaghetti & sauce (photo 1), top with mozzarella (photo 2), top with more spaghetti & sauce (photo 3), top with ricotta (photo 4), finish with mozzarella and parmesan (photo 5), bake (photo 6).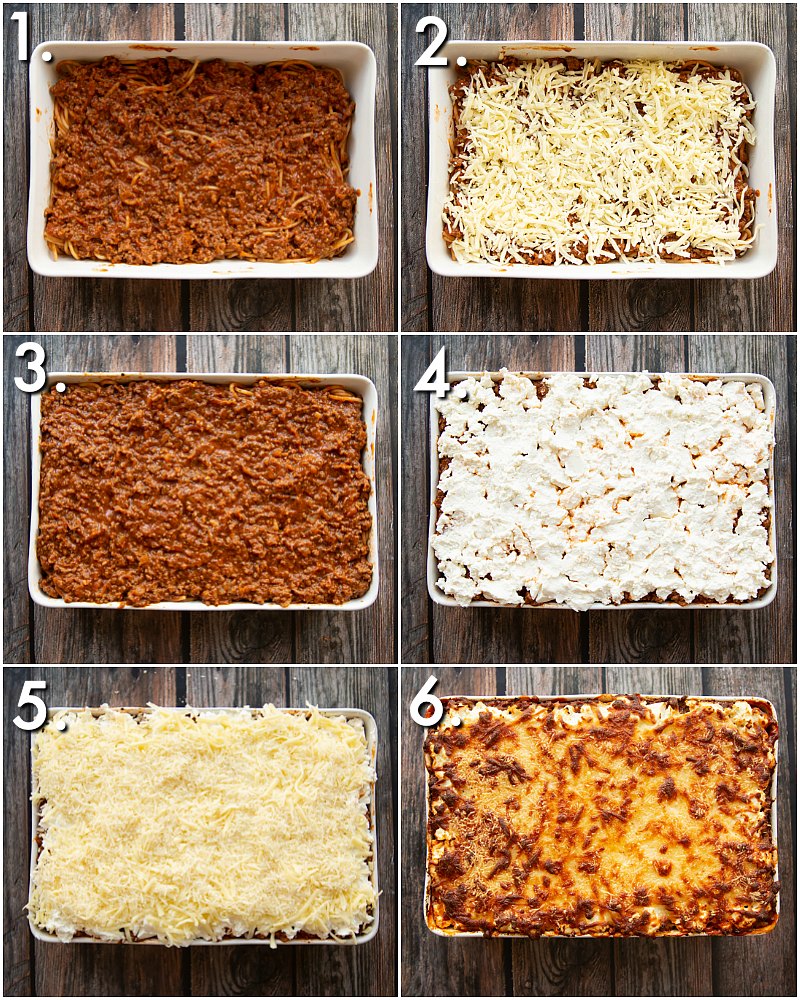 How to serve Baked Spaghetti
From there it's important to let it rest for a few mins, just to hold it's shape. Then I like to serve similar to a lasagne, where you slice the portions and use a spatula to serve.
What to serve with baked spaghetti?
In conclusion – bread of some sort 😂 To be fair though they are quite hearty portions so don't feel like you need a side.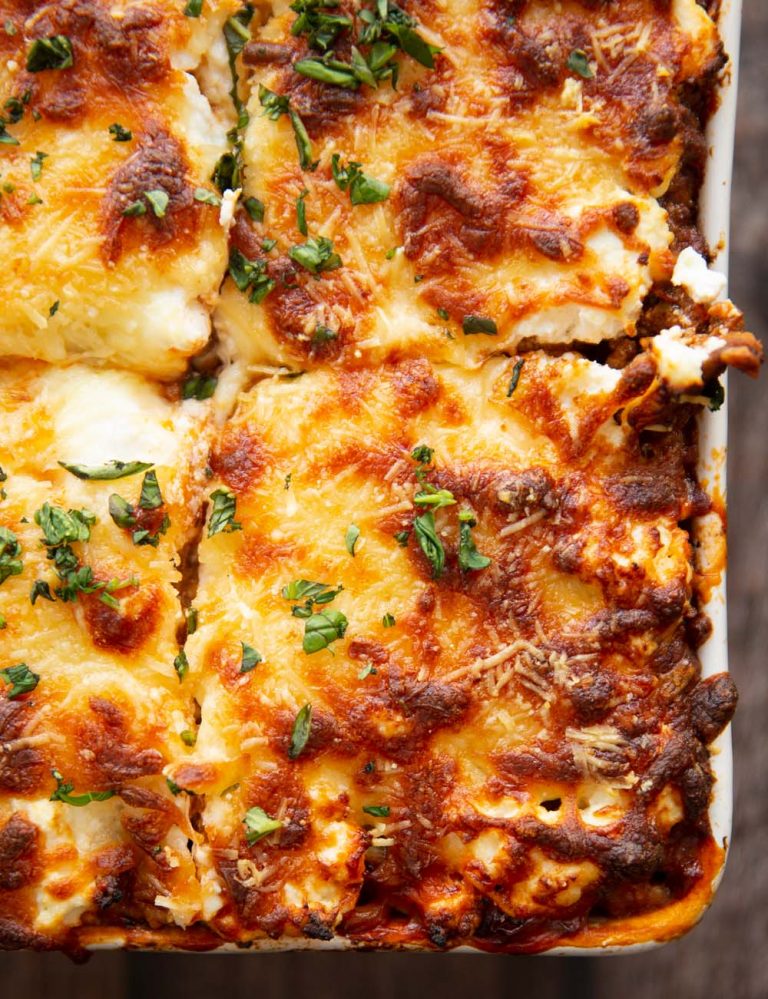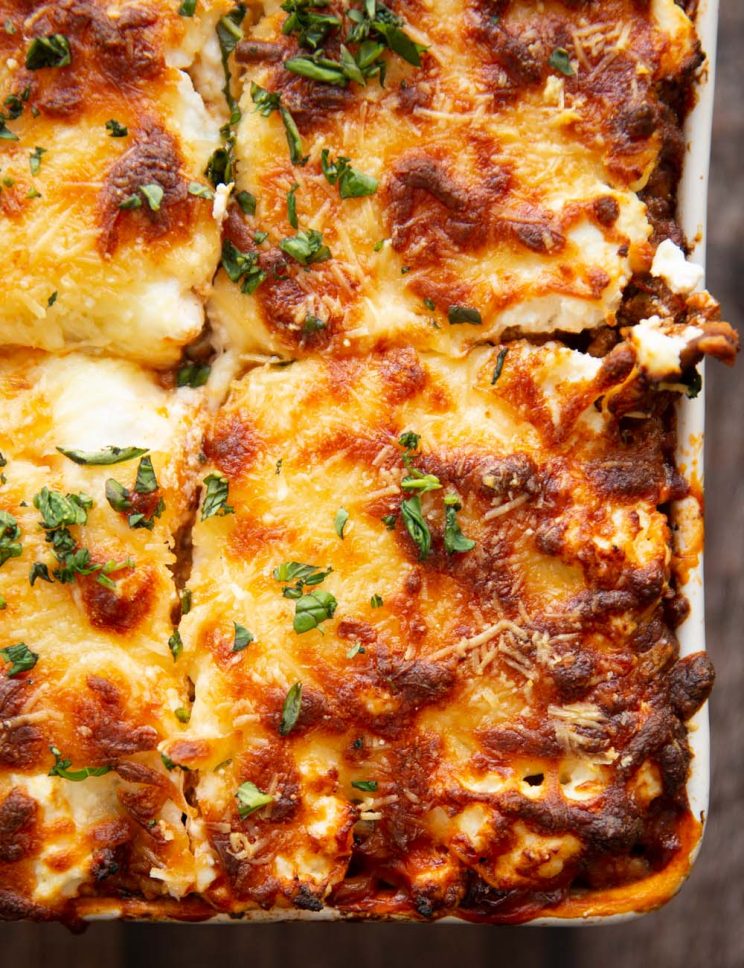 Can I prepare this in advance?
You can, it is however really important you don't fully cook the spaghetti as it does bloat as it rests. Allow to cool, then assemble, cover and pop in the fridge over night or freeze then thaw in the fridge.
Can I keep leftovers?
Yep! Just cool, cover and store in the fridge (2-3days, longer at your discretion) or freeze (then thaw and reheat in microwave).
If you like the sound of this spaghetti bake definitely make sure you check out my Homemade lasagne!
For more similar recipes check out these beauties too:
Family Comfort Food Recipes
Alrighty, let's tuck into the full recipe for this spaghetti bake shall we?!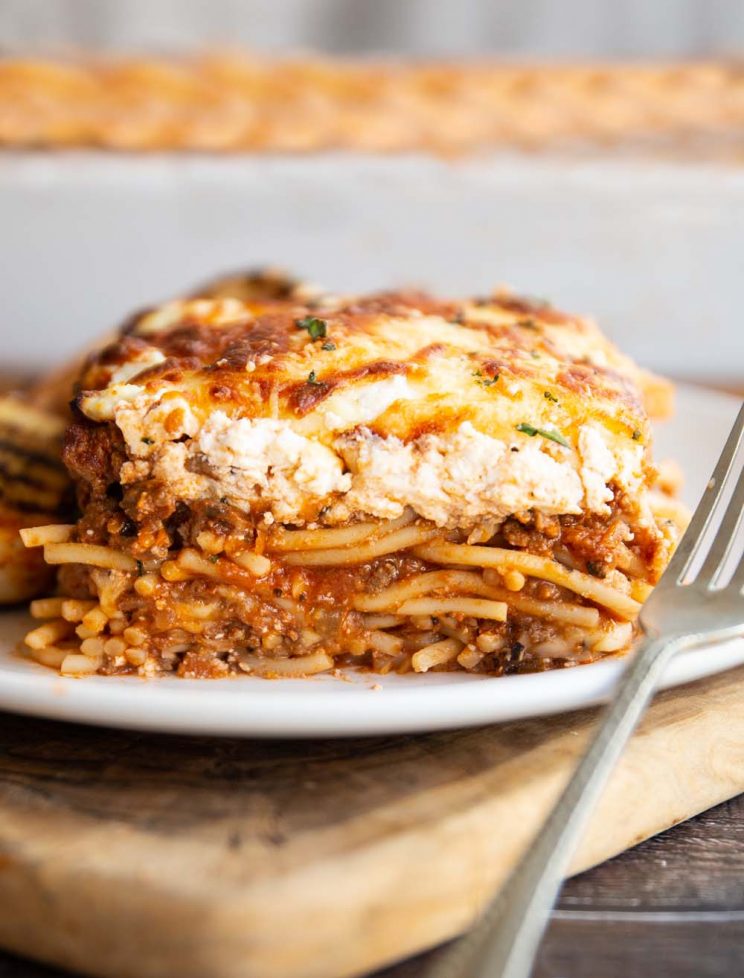 How to make Baked Spaghetti

(Full Recipe & Video)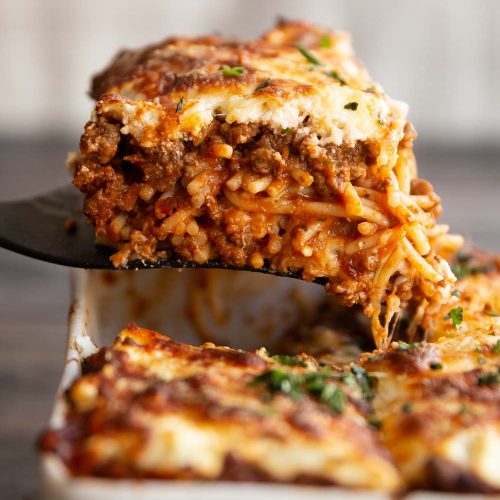 Spaghetti Bake
This Spaghetti Bake is loaded with a rich and tender bolognese, stuffed with 3 different cheeses then baked until golden, gooey and delicious!
Print
Pin
Rate
Servings (click & slide):
8
Calories per serving:
723
kcal
Cost per serving:
£2 / $2.50
Equipment:
Large Dutch Oven/Pot with Heavy Lid

Large Pot & Colander

Wooden Spoon, Ladle & Pasta Tongs

9" x 13" Baking Dish (or similar size)

Sharp Knife & Chopping Board

Grater

Spatula/Turner (for serving)
Ingredients (check list):
2lb / 1kg

Ground Beef (preferably 10-12% fat)

14oz / 400g

Dried Spaghetti

14oz / 400g

Ricotta

3 cups / 300g

Mozzarella, shredded (see notes)

1 cup / 80g

freshly grated Parmesan

3 cups / 750ml

Tomato Passata (Pureed/Sieved Tomatoes in US)

1 cup / 250ml

Dry Red Wine (see notes)

1 cup / 250ml

Beef Stock

2

Celery Stalks, finely diced

1

large

White Onion, finely diced

1

large

Carrot, grated on box grater or very finely diced

3

cloves of

Garlic, minced

2

tbsp

Tomato Puree (Tomato Paste in US)

1.5

tbsp

Worcestershire Sauce

1

tbsp

Dried Basil (or 1/4 cup finely diced Fresh Basil)

1

tbsp

Dried Parsley (or 1/4 cup finely diced Fresh Parsley)

1

tsp

Sugar, or to taste

1/2

tsp

Chilli Flakes, or to taste
Salt & Black Pepper, to taste
Olive Oil, as needed
Instructions:
In a large pot add carrot, onion, celery and garlic to a good drizzle of oil over medium-high heat. Fry until they begin to brown, then add in beef. Break up with a wooden spoon and continue frying until it begins to brown. Season with a pinch of salt and pepper, then continue frying until fully cooked through.

Add in tomato puree and fry off for a couple of minutes, then pour in wine. Deglaze the pan if needed, then allow to simmer and soak into the beef for 5mins. After, pour in tomato passata, beef stock and Worcestershire sauce. Add in basil, parsley, chilli flakes, sugar, salt and pepper, then give it a good stir.

Lower heat to a gentle simmer and pop on the lid. Allow to simmer for AT LEAST 1 hour 30mins, stirring very occasionally. This will give time for the flavours to develop and really tenderize beef. After, remove the lid and allow to simmer until the sauce thickens (see video below for consistency reference). Take off the heat, stir in 1/4cup / 20g parmesan, check for seasoning, then place to one side.

Meanwhile, pop your spaghetti in heavily salted boiling water and cook until al dente. Very important not to fully cook the spaghetti, you want it still a little hard or it'll come out too soft once baked. Drain when needed, then place back in the same pot. Stir in two ladles of meat sauce.

In a large baking dish add half your spaghetti, then half of what's left of the meat sauce, followed by half your mozzarella. Top mozzarella with the second half of your spaghetti and meat sauce. Finish with a layer of ricotta, the rest of your mozzarella and the rest of your parmesan. Try and make sure as much ricotta is covered by parmesan/mozzarella as possible.

Place in the oven at 200C/390F for 30mins, or until golden on top and bubbling round the sides. Leave to rest for a few mins, then slices into portions and serve up!
Notes:
a) Cheese - This spaghetti bake is alllll about the cheese, so don't skimp out on the measurements! The mozzarella adds the epic cheese pull, the ricotta adds a nice creamy layer and the parmesan adds gorgeous flavour/helps the top go crispy. I have used other cheeses (Swiss/Cheddar) which work great. b) Red Wine - Adds a nice depth of flavour to the bolognese. Most (if not all) of the alcohol will burn off, but if for whatever reason you don't want to add it just replace with more beef stock. c) Make Ahead - I always like to make this fresh as I find it comes out slightly drier if left to rest before baking. But, you can either prep the bolognese or the whole thing in advance. Really important you don't fully cook the spaghetti because it will bloat as it rests. I'd also recommend keeping the sauce slightly less thick for that same reason. Just allow bolognese to cool, then combine, stack everything then cover in the fridge overnight. Add another 10mins or so onto cooking time if cooking straight from fridge. Can also just make the bolognese ahead of time, just cool, cover and store in the fridge until needed (2-3days should be fine, longer at your discretion). d) Freezing - Can freeze before baking, just thaw in the fridge and bake as instructed. Or freeze portions after, thaw in fridge and reheat in microwave! In both instances ensure it's piping hot upon reheating.  e) Calories - Whole recipe divided by 8 people based on using 1 tbsp olive oil for frying and 10% beef.
Your Private Notes:
Nutrition:
Nutrition Facts
Spaghetti Bake
Amount Per Serving
Calories 723
Calories from Fat 300
% Daily Value*
Fat 33.31g51%
Polyunsaturated Fat 1.534g
Monounsaturated Fat 11.819g
Cholesterol 143mg48%
Sodium 674mg28%
Potassium 913mg26%
Carbohydrates 47.61g16%
Protein 50.45g101%
Vitamin A 2740IU55%
Vitamin C 10.8mg13%
Calcium 500mg50%
Iron 5.49mg31%
* Percent Daily Values are based on a 2000 calorie diet.
Nutrition is based on the absence of salt unless stated as a measurement in the ingredients. Cost is worked out based on ingredients bought from UK supermarkets, then divided by the number of servings. In both instances these values are just for guidance. Please check out my FAQ Page for more info.
---
If you loved this Baked Spaghetti Recipe then be sure to Pin it for later! Already made it or got a question? Give me a shout in the comments and pick up your free ecookbook along the way!