Roasted Garlic Sweet Potato Mash is the ultimate way to serve mashed potato. A soul-hugging balance of flavours which couldn't be easier to make! – Hungry now?  Jump to Recipe
I think it's safe to say if you've been following along with my recipes for a while now, you've realised my love for sweet potatoes is absolutely bonkers. It was only the other day I uploaded the Sweet Potato Breakfast Skillet and miraculously I still had 2kg of sweet potatoes lying about. Yes, I have a problem.
In this instance however it's not the sweet potatoes themselves that send my taste buds into a frenzy, but more the addition of roasted garlic and how they complement each other so beautifully.
Guys, if you've never roasted garlic before your life is about to change. Roasting actually gives a hugely different taste to raw or even fried garlic. It turns sweet and caramelized, with the usual pungent flavour of garlic turning very gentle and soft. What's better, it goes with literally everything, from soups and dips to chicken marinades and mac 'n' cheese. I even spread it on toast! But most importantly, we are gathered here today to discuss its role in roasted garlic sweet potato mash.
Roasting garlic couldn't be easier. From roasting enough garlic to kill off an army of vampires, I'm happy to show ya'll exactly how I feel is the best way to roast garlic.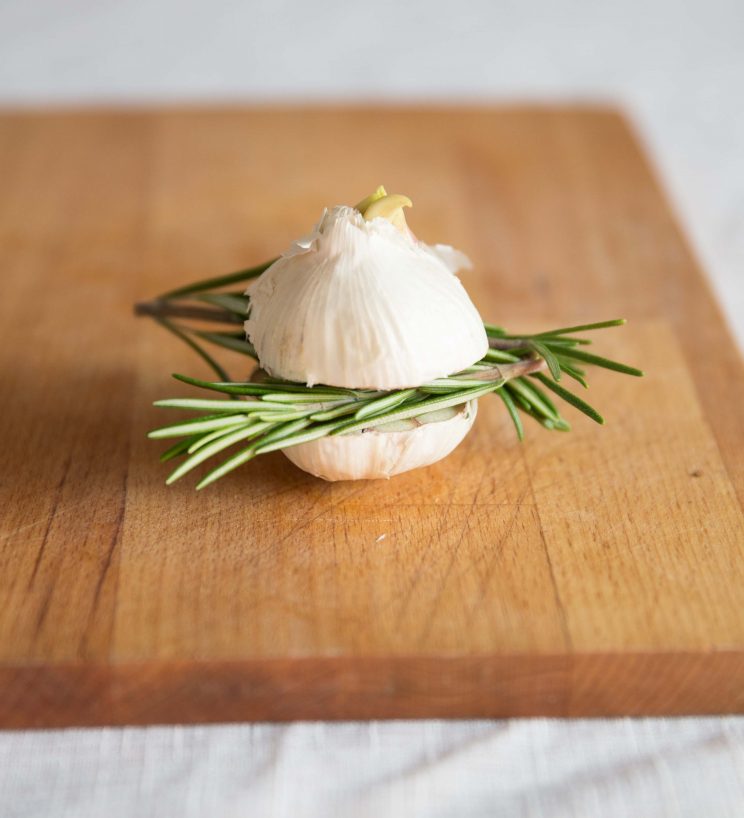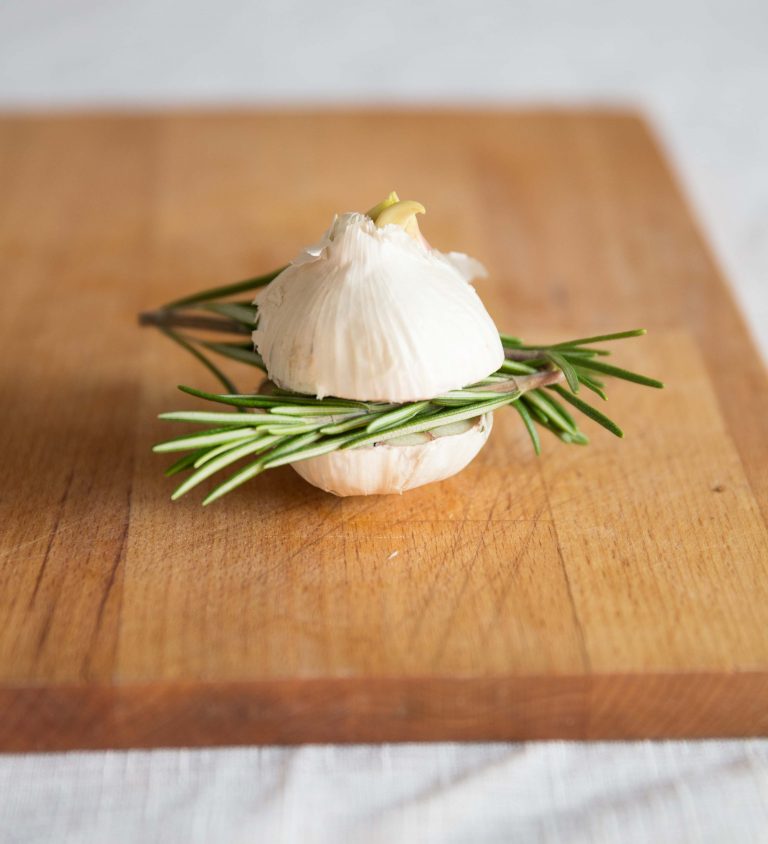 The answer is garlic-rosemary burger.
Simply slice a bulb of garlic through the center, add a drizzle of olive oil and chuck a sprig of rosemary inside. Wrap in foil and pop in the oven until soft and caramelized. The oil will simply protect the cloves from burning and produce a beautiful glaze. As the garlic roasts, that rosemary is going to infuse and take the flavour through the roof.
When you add that to the mashed sweet potato? UGH. So so good.
By this point your kitchen is going to smell absolutely freaking gorgeous. And of course I like to take things further by adding bacon, because everything's better with bacon.
Also you see that tiny pot, initially I planned to eat that. A fair size portion for one I'd say. Nope, face planted the large baking dish and didn't come up for air. *sighs* The power sweet potato has on me is borderline out of control. Anywho, let's tuck in to the recipe shall we?
Whether it's to accompany your sunday roast or a midweek dinner, roasted garlic sweet potato mash is here to take every meal from a 9 to a 10. The flavour combo of this dish is out of this world and your guests are sure to agree.
How to make Roasted Garlic Sweet Potato Mash

(Full Recipe & Video)
Roasted Garlic Sweet Potato Mash
'Roasted Garlic Sweet Potato Mash is the ultimate way to serve mashed potato. A soul-hugging balance of flavours which couldn't be easier to make!'
Ingredients
Roasted Garlic
2

small

Bulbs of Garlic

2

sprigs

Fresh Rosemary
Mash
4.4

lbs

(2kg) Sweet Potatoes, peeled & sliced into chunks

3

tbsp

Butter

2/3

cup

(150ml) Sour Cream

1/4-1/2

tsp

Ground Cinnamon

Salt & Pepper, to taste
Method
Preheat oven to 200c (390f).

Slice your Garlic Bulbs in half, drizzle with a little Olive Oil and place your Rosemary in the center - just like a mini garlic rosemary burger.

Wrap in foil and place in the oven for approx 35-40mins mins or until soft and caramelized.

Meanwhile, boil your Sweet Potatoes until easily sliced with a knife.

Mash in your Butter, Garlic, Cinnamon, Salt and Pepper.

Stir in your Sour Cream until smooth and creamy.

Serve with any additional toppings.
Recipe Notes
a) To remove the garlic simply squeeze the bulbs and it will slide out. Be careful the flaky skin doesn't fall into the mash.
b) Be generous with your salt and taste test throughout. Sweet potatoes as the name suggests are very sweet, so it's good to balance that out with a generous helping of salt.
c) To save time/effort, for a smooth consistency consider using a hand blender.
d) Save your rosemary from the roasted garlic, finely diced it and sprinkle over the mash so it doesn't go to waste 🙂
---
For more sweet potato goodness check out my Loaded Sweet Potatoes!
If you loved this Sweet Potato Mash recipe be sure to pin it for later! Already made it or got a question? Let me know in the comments below!