This Roasted Eggplant with Tahini Yogurt Sauce is absolutely bursting with flavour! Paired with Sumac, Pomegranate, Toasted Pine Nuts and Fresh Parsley, how could it not be?
First things first, for the sake of this post we're gonna go with 'eggplant' instead of 'aubergine'. Being from the UK myself, I was indeed more familiar with the term aubergine. However since world domination of the eggplant emoji, i've changed my ways. Anywho, let's tuck in shall we?
Eggplant is so underrated, due to the vicious rumours that are often spread about it. You know, that it's boring and bitter. Blasphemy I tell you! Eggplant is gorgeously flavoursome with a soft and silky texture. I won't except any other descriptions.
For me, it's always gotta be roasted. Not even sliced into circles or chunks, just cut straight through the centre. Can't beat it.
Well actually you can, you can roast it in sumac and pair it with the most delicious tahini yogurt sauce, but we'll get to that in a sec.
How To Roast Eggplant
Grab a knife and slice your eggplant in a crosshatch pattern. You want to go fairly deep but not all the way. Eggplants can often be incredibly thick, so it's important to open up the surface to allow the seasoning and oil to reach the insides.
Do you need to salt eggplant? – it's believed that salting eggplants prior to roasting and allowing them to rest for a while will draw out moisture, take away any bitterness and allow the oil to be more evenly distributed. That I do agree with. Eggplants nowadays are never really that bitter, but they are around 90% water so it is important to draw out moisture before cooking. I find that if I don't salt prior to roasting the eggplants produce too much water, which in turn begins to steam instead of roast them, reducing the chance of getting that gorgeous browned skin. Doesn't make a huge different, but it'll help.
What does make a huge difference is the ability to coat them in oil. Try evenly spreading oil over a non-salted eggplant and tell me it doesn't absorb it like a sponge.
Either way, squeeze out the moisture after 30 mins of salt-resting, pat dry, coat them in a good amount of oil and seasoning (here I use sumac) and chuck them in the oven at 390f/200c until soft and silky.
Easy as that!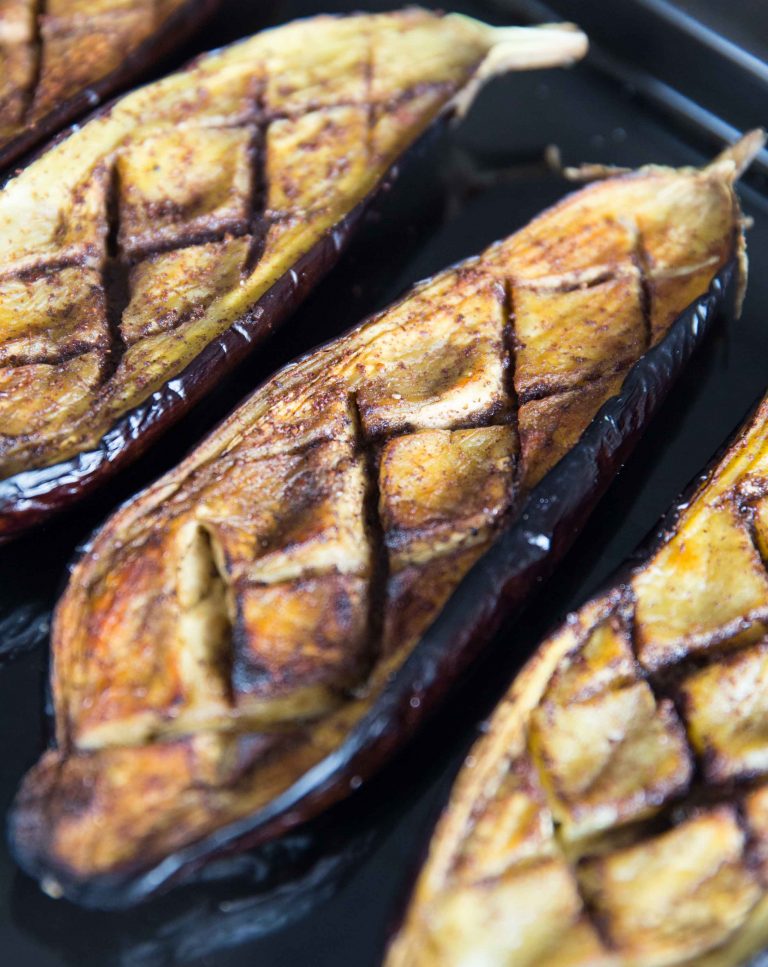 "So, what's this 'sumac' you've been banging on about then?"
Good question. For those of you not familiar with sumac, it's a gorgeous spice often used in Mediterranean and Middle Eastern cooking. It's got a beautiful tangy, lemony taste to it. Sumac goes hand in hand with not only the roasted eggplant itself, but the other ingredients I use to garnish as well.
One of those garnishes being the tahini yogurt sauce. Oh my. This stuff is genuinely liquid gold. I usually have to make a double batch because half of it's gone by the time it's ready to serve. It's seriously so easy to make as well.
It's like, why would you not make this and drizzle it over literally everything?
All in all this roasted eggplant recipe is to die for. Not just a pretty face, it's an absolute explosion of flavour too. So easy to make and even easier to fall in love with!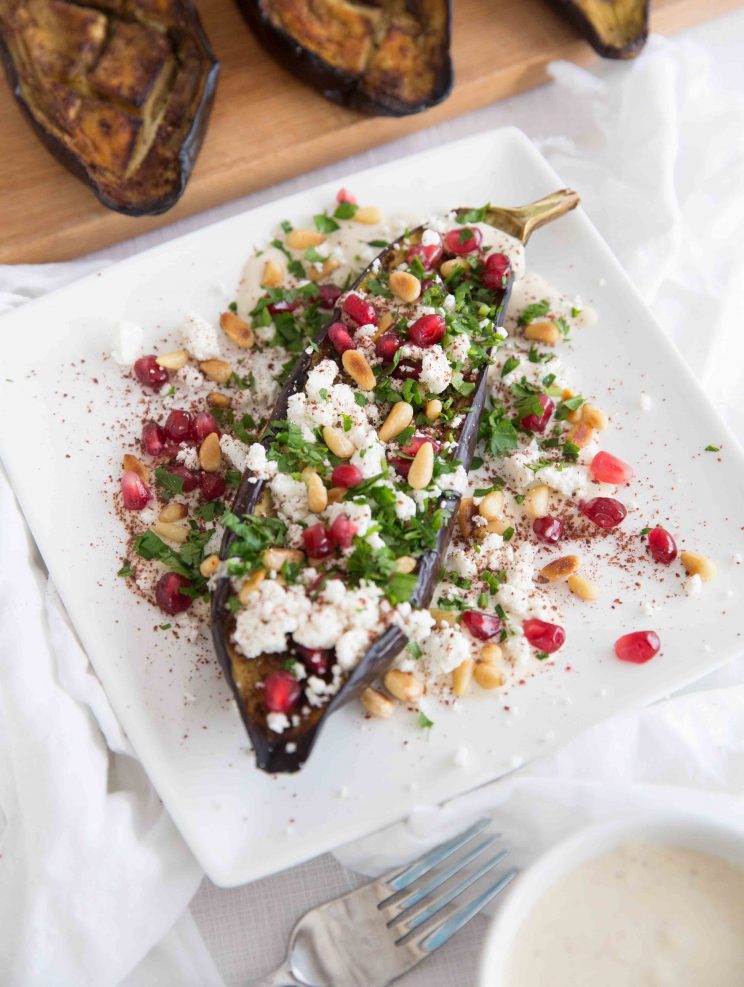 Join the foodie family! – Get awesome recipes sent straight to your inbox by signing up to my Weekly Mailing List (where you'll receive your FREE ECOOKBOOK) and stay in touch on Instagram, Facebook and Pinterest! 🧡
How to make Roasted Eggplant with Tahini Yogurt Sauce (Full Recipe & Video)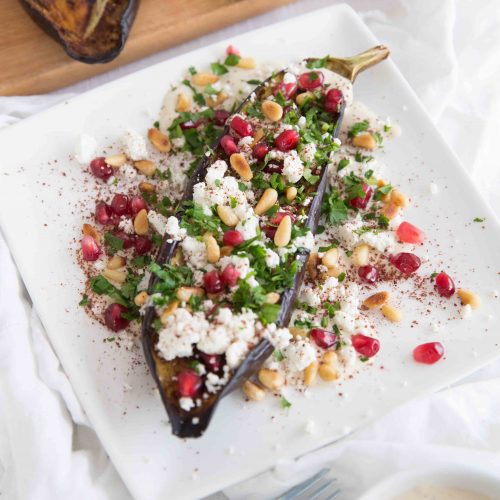 Roasted Eggplant with Tahini Yogurt Sauce
This Roasted Eggplant with Tahini Yogurt Sauce is absolutely bursting with flavour! Paired with Sumac, Pomegranate, Toasted Pine Nuts and Fresh Parsley, how could it not be?!
Print
Pin
Rate
Share by Text
Servings (click & slide):
4
Calories per serving:
311
kcal
Ingredients (check list):
2

Eggplants (Aubergines)

2-3

tbsp

Olive Oil

1

tsp

Sumac

1/3 cup /50g

Feta, crumbled

1/4

cup

Pine Nuts, toasted (small handfuls worth)

1/4

cup

Pomegranate Seeds (small handfuls worth)

1

tbsp

Fresh Parsley, finely chopped

Salt & Black Pepper
Tahini Yogurt Sauce
3

tbsp

Plain Yogurt

2

tbsp

Tahini

1/2

small

Lemon

1/4

tsp

Garlic Powder (or 1 minced clove of fresh garlic)

drizzle of

Extra Virgin Olive Oil (approx 1 tsp worth)

pinch

of Sumac

Salt & Black Pepper, to taste

Cold Water as needed
Instructions:
Evenly slice your eggplants length ways, then slice a crosshatch pattern through the flesh, making sure you don't slice all the way through. Slices should be about 1" apart.

Grab a good pinch of Salt and rub into the eggplants, making sure you get in between the slices. Rest for 25-30mins then squeeze out the excess moisture that is produced. Pat dry with paper towel.

In a small bowl, combine your Olive Oil, Sumac and a pinch of Black Pepper, then brush over your Eggplants. Again, making sure you get between the slices.

Pop in the oven at 390f/200c for a good 30-40mins until silky soft in the centre.

Meanwhile, in a suitably sized bowl, combine all of the ingredients for the Tahini Yogurt Sauce, thinning out with water until desired texture. Now is the time to toast your Pine Nuts if you haven't already.

Top your Eggplants Tahini Yogurt Sauce, Pomegranate, Pine Nuts, Feta and Parsley. Serve hot.
Notes:
a) Depth of slicing - You want to go deep, so all the seasoning and oil can reach as much of the flesh as possible. However it's important you don't go right through, else your eggplant will fall apart in the oven.
b) Skin - You can certainly eat the skins of eggplant! I usually don't and just use them as boats to scoop out the centre. However if you do plan on eating the skins then oil and seasoning accordingly.
c) Timings - I always feel like a cop out saying 'cooking times will vary' but this is definitely applicable to this recipe. Eggplants come in all different shapes, sizes and ages, all of which will effect the time they take to cook. The finished product should have a caramel tinted colour, with the insides being soft and silky. Just be vigilant past 30 mins. Don't be concerned if they take longer than stated too.
d) Salting - I have stated the benefits of salting in the blog post. If you chose not to pre-salt to save time, that's absolutely fine, just make sure you definitely use a brush to coat the eggplants with oil. This will give you a more even coverage. Also, as the eggplants will release more water during the cooking process, consider tipping out some of water produced half way through. This will help stop the eggplants from steaming instead of roasting.
Your Private Notes:
Nutrition:
Nutrition Facts
Roasted Eggplant with Tahini Yogurt Sauce
Amount Per Serving
Calories 311
Calories from Fat 208
% Daily Value*
Fat 23.11g36%
Polyunsaturated Fat 5.96g
Monounsaturated Fat 10.83g
Cholesterol 13mg4%
Sodium 134mg6%
Potassium 790mg23%
Carbohydrates 23.76g8%
Protein 7.65g15%
Vitamin A 450IU9%
Vitamin C 12.4mg15%
Calcium 140mg14%
Iron 2mg11%
* Percent Daily Values are based on a 2000 calorie diet.
Nutrition is based on the absence of salt unless stated as a measurement in the ingredients. Cost is worked out based on ingredients bought from UK supermarkets, then divided by the number of servings. In both instances these values are just for guidance. Please check out my FAQ Page for more info.
---
For more pomegranate goodness, check out my Loaded Sweet Potatoes!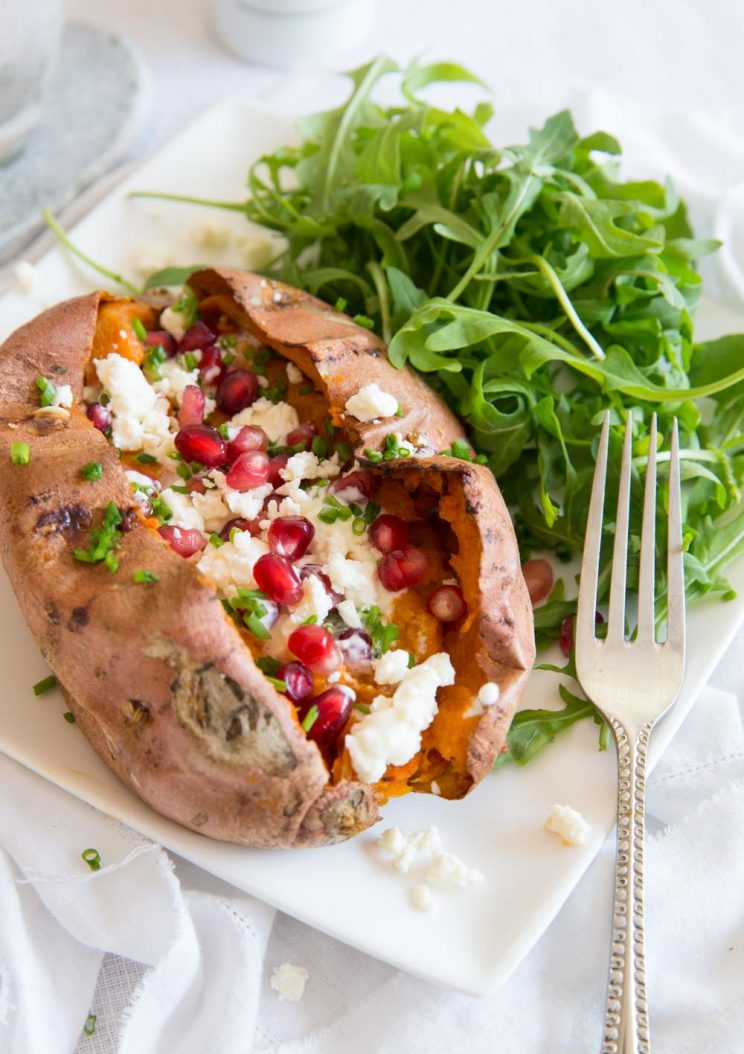 If you loved this Roasted Eggplant with Tahini Recipe be sure to Pin it for later! Already made it or got a question? Let me know in the comments and pick up your free ecookbook along the way!