'The ultimate 10 minute Pesto Pasta with Asparagus and Sun Dried Tomato – the quickest and most delicious homemade meal your taste buds are gonna LOVE' Hungry now? Jump to Recipe
Are you ready for the 10 minute pesto pasta challenge? Yep, homemade pesto and all. For real, pop your pasta in boiling water and by the time it's finished you're ready to go.
A quick toast of the pine nuts, no more than 1 minute to chuck everything in the processor to blend and a speedy fry of the asparagus and sun dried tomato just to soften them. Easy as that. The time/taste trade off for this neat little dish is truly is amazing.
This recipe is actually inspired by a combination of a few dishes I've been devouring lately. The pesto inspired by Avocado, Rocket Pesto Pasta and the Sun Dried Tomato aspect comes from one of my fav quick fix dinners Penne Alfredo with Bacon and Sundried Tomato.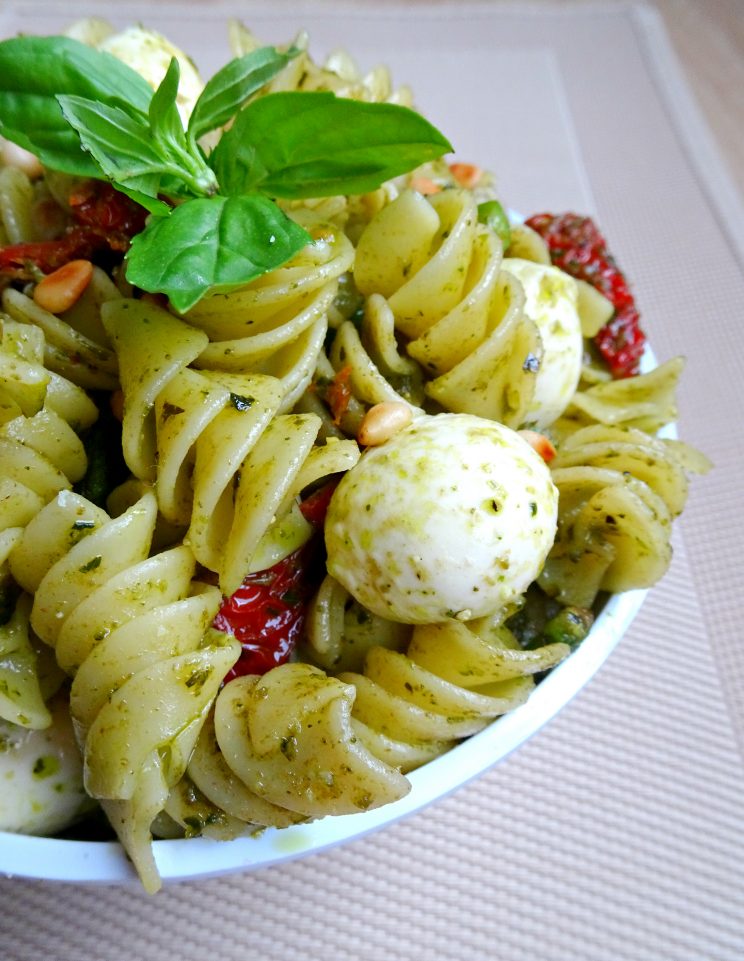 The dish as a whole has some beautiful flavours and some even more gorgeous textures. I love throwing in some bocconcini for a smooth creamy touch and mixing some toasted pine nuts for a nice little crunch. The tender asparagus, the silky pesto, UGH so tasty.
The quantities below are gonna give you a pretty big batch. Fantastic opportunity to feed 4+ or even chuck in the fridge for tomorrow's lunch. You could even cut the pasta, use half the pesto and drizzle the rest over a caprese salad or a nice chunky chicken breast. That reminds me, Tomato and Fried Mozzarella Stack anyone? Okay, so many pesto dreams too little time.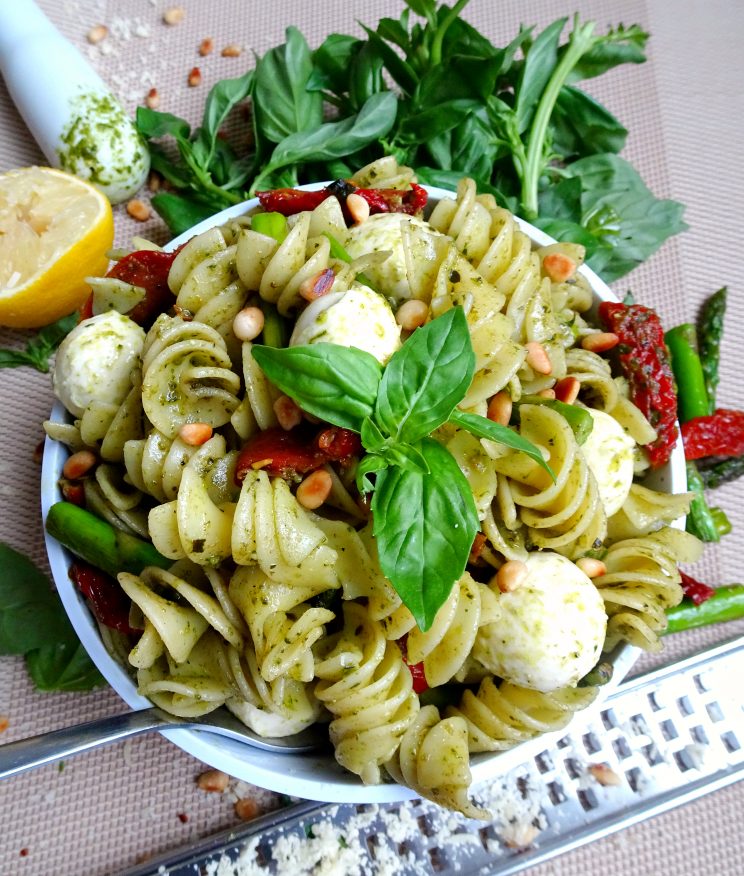 For those tired from work, those who love a quick dinner and for those who simply love everything pesto – this recipe is for you. A beautifully hearty dish that is just BURSTING with flavour.
Okay, let's tuck into the recipe shall we? Let me know how you get on folks and I'll catch you on the next post. Your time, starts, NOW!
---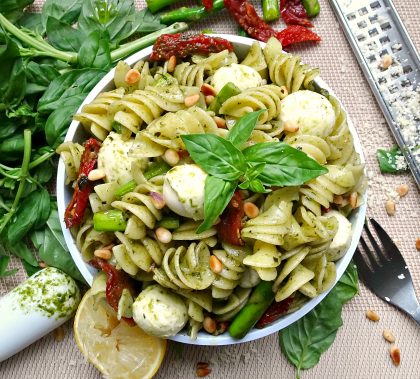 The Ultimate 10 Minute Pesto Pasta with Asparagus and Sundried Tomato
The ultimate 10 minute Pesto Pasta with Asparagus and Sun Dried Tomato - the quickest and most delicious homemade meal your taste buds are gonna LOVE
Course:
Lunch, Main Course, Salad
Cuisine:
Italian, Quick Meal
Ingredients
12.2

oz

(350g) Pasta

1

cup

(250g) Pesto

1

Bunch on Asparagus

sliced into 1/4 (woody tip removed)

10-12

Sun Dried Tomatoes

sliced

5.5

oz

(150g) Cherry Bocconcini Balls

1

tbsp

Pinenuts (toasted, if desired)

Extra sprinkle of Parmesan

Salt & Black Pepper

to taste

Olive Oil, for frying
Method
Pop your Pasta in salted boiling water and cook until al dente (9-10 mins)

If toasting your pine nuts, lightly fry over low-medium heat until golden brown, shaking the pan occasionally. Pine nuts go from toasted to burnt extremely quickly so just be vigilant. No oil required at this point.

Add a dash of oil to a pan and begin fry your Asparagus. When it just begins to char, add your Sun Dried Tomatoes and fry for a further minute or so just to soften.

By this point your Pasta will be cooked. Drain and empty into the pan with your Asparagus and Sun Dried Tomatoes. Stir in your Pesto, leftover Pine nuts and Bocconcini Balls. Serve with a sprinkle of Parmesan.
Recipe Notes
a) Check out my Homemade Basil Pesto Recipe.
b) Save 1/2 of pasta water to thin out the sauce if needed.
c) I like to stir in a tbsp or so of the Sun Dried Tomato oil right at the end to really enhance those beautiful flavours.
---
For another pasta dinner dish under 20mins check out my Fettuccine Carbonara (no cream)
---
---
Cheers guys, this has been 'The Ultimate 10 Minute Pesto Pasta with Asparagus and Sundried Tomato' Comment, share, do whatever you fancy but for crying out loud don't go bacon my heart. See you next time 🙂