'The ultimate after school snack or tasty party platter, these Mini Cheese and Chive Pinwheels are super easy and incredibly moreish'
I would say that I cooked a batch of these cheese and chive pinwheels because we had friends over or were attending a party, but I can't lie to ya'll. Me and my other half just fancied something easy and cheesy and well, accidently made 24 cheese and chive pinwheels. Look, it's an easy mistake to make. I just get slightly carried away sometimes.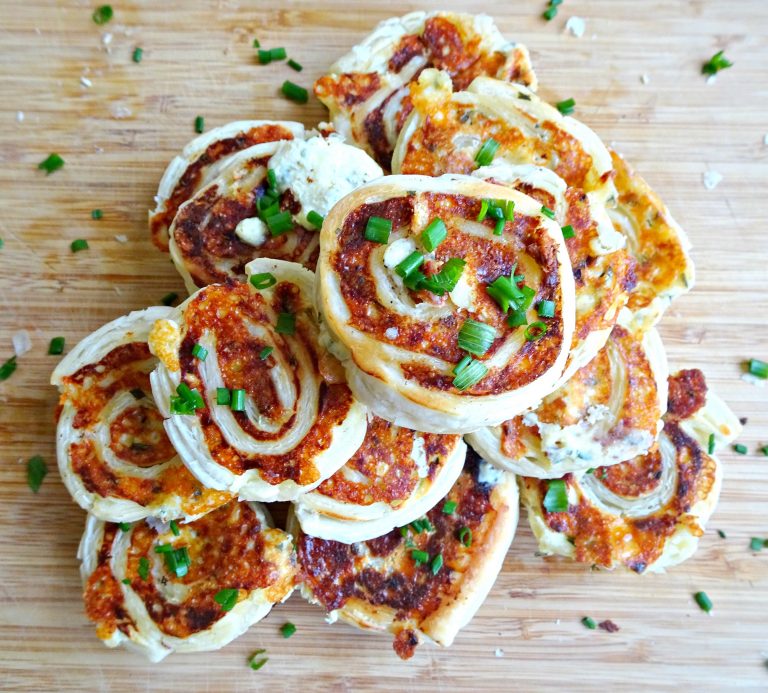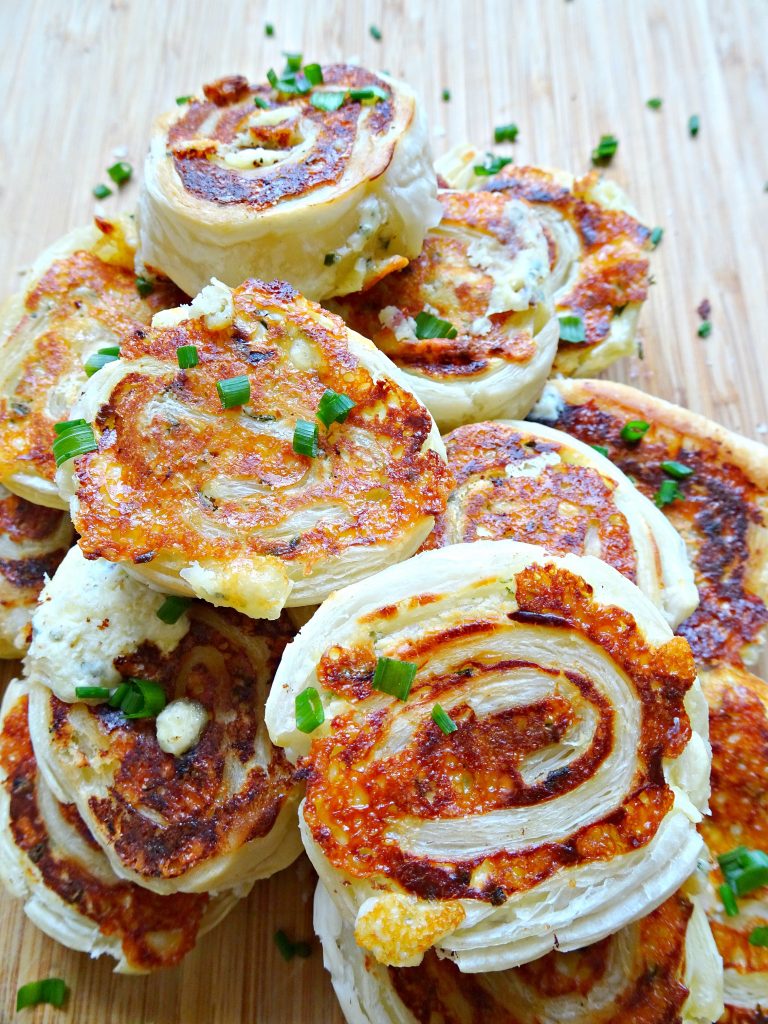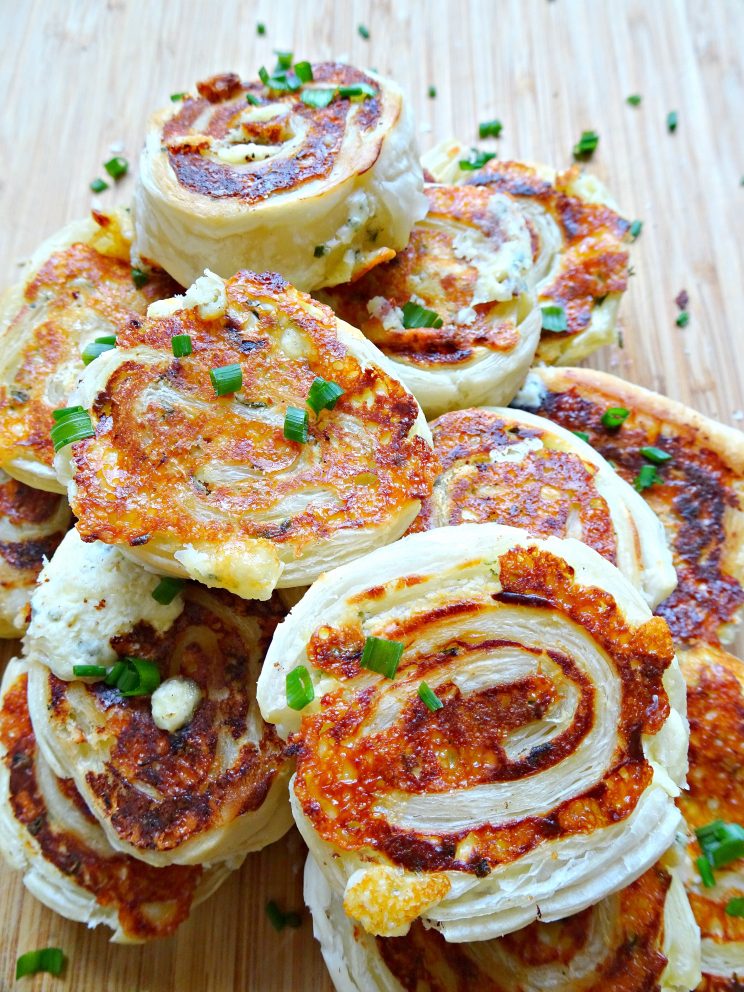 But hey, who doesn't want to get carried away with some ooey gooey goodness.
Cheese and chive really are a match made in heaven and when combined with the greatest invention to date i.e the pinwheel, produce something mouthwateringly good. The great thing about this recipe is the way the cream cheese oozes out when in the oven and crisps on the bottom. For me there's nothing tastier than crispy (verging on burnt) cheese.
You know the way the cheese goes orange and crispy when making cheese on toast? Literally makes me cry rainbows.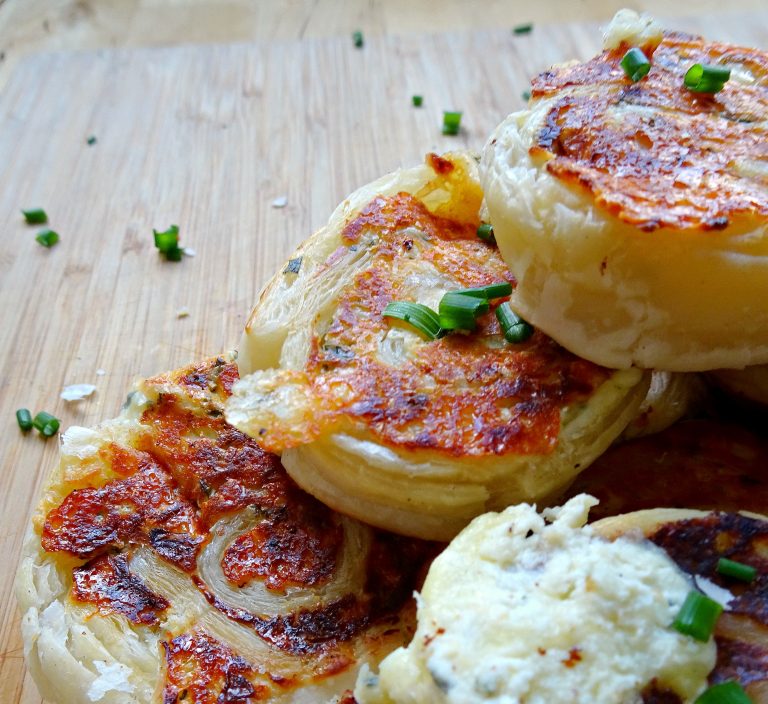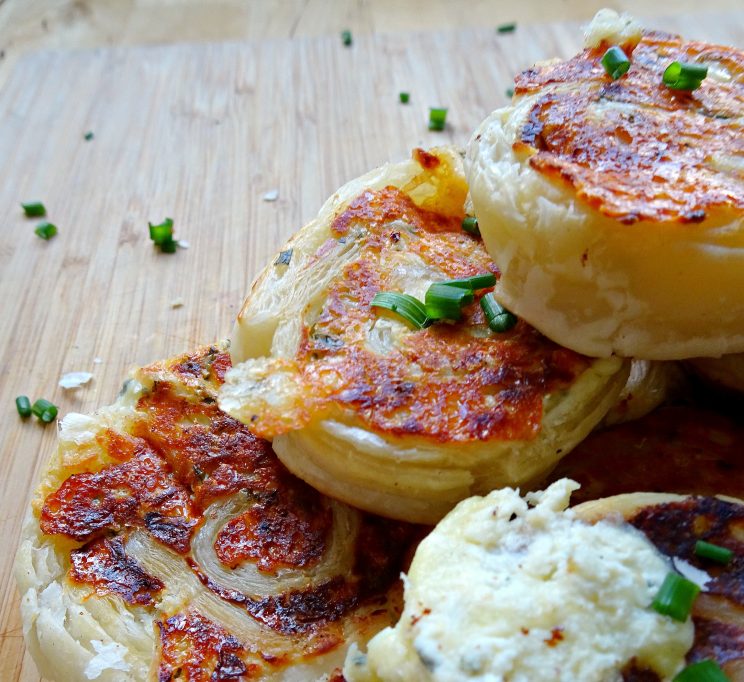 I called these 'mini' cheese and chive pinwheels because firstly, they are mini. But secondly, I don't know about you but when I think of pinwheels I think of those giant palm-sized ones you get from the bakery. These ones are much more bitesize, mainly because premade pastry is made a lot thinner and smaller. Leading to the perfect finger food.
These beauties are perfect for most occasions. They're also really versatile. I've seen tonnes of pizza style pinwheels, alongside cheese & ham and spinach & feta. The perfect lunchbox snack that the kids can get inventive with.
These cheese and chive pinwheels really couldn't be more easy to make. So at your next gathering or simply you and your partner's next cheese and chive craving, give these delicious bites a go.
Enjoy the recipe and let me know how you all get on. Catch you on the next post! Full deets below.
---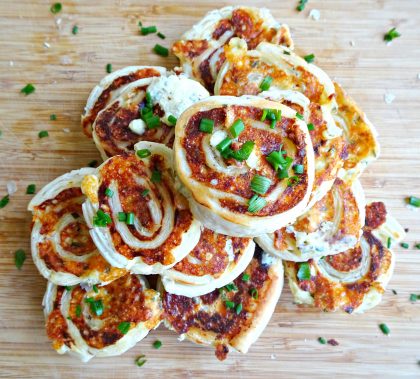 Cheese and Chive Pinwheels
'The ultimate after school snack or tasty party platter, these Mini Cheese and Chive Pinwheels are super easy and incredibly moreish'
Ingredients
2

sheets of Puff Pastry

thawed as necessary

250

g

(8.8 oz) Cream Cheese

4

tbsp

finely diced Fresh Chives

3 tbsp in mixture, 1 to sprinkle on top

2

Handfuls of Cheddar Cheese

grated

1

tsp

dried Parsley

1/2

tsp

Garlic powder

Salt & Pepper

to taste

Pinch

of Flour

Dash of Water
Method
In a suitably sized bowl, combine your Cream Cheese, Cheddar Cheese, Chives, Parsley, Garlic Powder and Seasoning.

Sprinkle a pinch of Flour over the worktop and lay your two sheets of Puff Pastry. Evenly spread your Cream Cheese mixture, leaving a 1/2 inch gap at one of the ends. This will be to the seal the pinwheel.

Roll up to a log shape, wet your finger and pinch the end to ensure they don't unravel in the oven.

Slice into 12 wheels (around 1/2 inch slices) and place them face down in the oven at 190c (375f) for around 10-15mins until golden and puffy. Flip once throughout.

Leave to cool for a few minutes and sprinkle some fresh Chives over the top.
Recipe Notes
a) After you've rolled your pastry into the log shape, if it's too soft consider popping in the freezer for 10mins just to help keep shape before you slice. Using an extra sharp knife will help.
b) As you can imagine, cheese is going to ooze out of the pinwheels when in the oven. Take that into consideration when lining your tray.
Nutrition Facts
Cheese and Chive Pinwheels
Amount Per Serving
Calories 170
* Percent Daily Values are based on a 2000 calorie diet.
---
For more perfect finger food check out my Crispy Baked Jalapeno Poppers!
---
---
Cheers guys, this has been 'Mini Cheese and Chive Pinwheels'. Comment, share, do whatever you fancy but for crying out loud don't go bacon my heart. See you next time 🙂