'It's time to whack out the BBQ and create the most incredible burger imaginable. This Mighty Mexican Cheeseburger is the definition of winning at summer!'
This post is sponsored by the amazing Iceland! As always, these opinions are strictly my own. Thank you for supporting the brands I love!
Oh boy, do we have some catching up to do. For those of you who follow me on Instagram, you'll have already seen me stuffing my face at the Iceland BBQ event last week. For those who don't, I'll spare you the imagery. But what an incredible event it was! We were graced by head chef Neil Nugent who alongside feeding us with the most delicious food imaginable, gave us some awesome tips and tricks to work the BBQ this summer.
Speak of the devil, here's Neil waving a fan of lobster tails 😍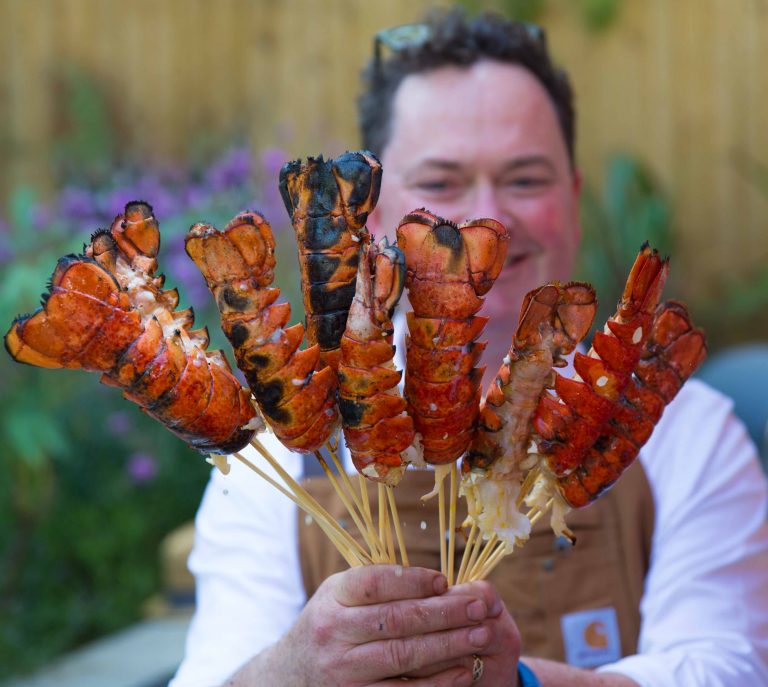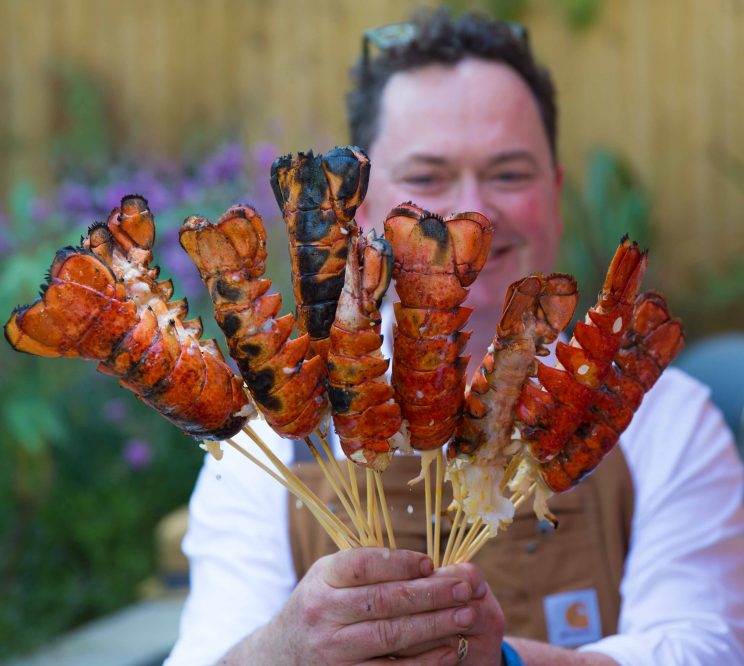 I'll get to those awesome BBQ hacks in just a sec, but first things first, the food. Ohhhhhhh the food.
You know what, I'll keep it real with you here. I was truly taken back at how delicious the food was. And the best thing was all the dishes we had were made right in front of our eyes, meaning you got to see how easy it was to make delicious food with simple ingredients.
The Iceland BBQ Range is packed full of approachable products designed to make BBQ season a breeze. Most importantly, it's packed full of delicious products, designed to put any misconceptions to rest.
Anywho, I'm drooling all over again so let's continue.
BBQ Hack #1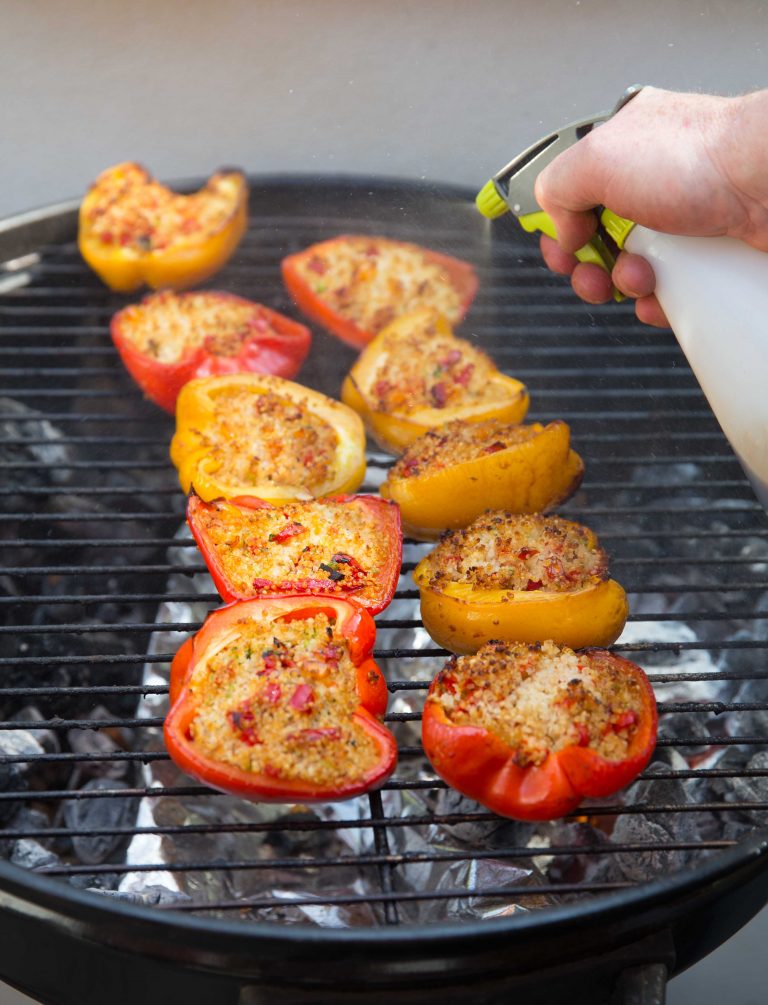 I was already sold when Neil whacked out some stuffed peppers and chucked them on the BBQ, but when he starting spraying them with a marinade things got real intense.
Turns out that filling a spray bottle with 1 part soy sauce/1 part balsamic vinegar and spaying it over anything that goes within 1 mile of the BBQ does really great things.
All jokes aside, this simple little trick really works. Especially with those stuffed peppers!
So, BBQ hack #1 – use a 50/50 balsamic vinegar/soy sauce marinade to spray over your food on the BBQ!
BBQ Hack #2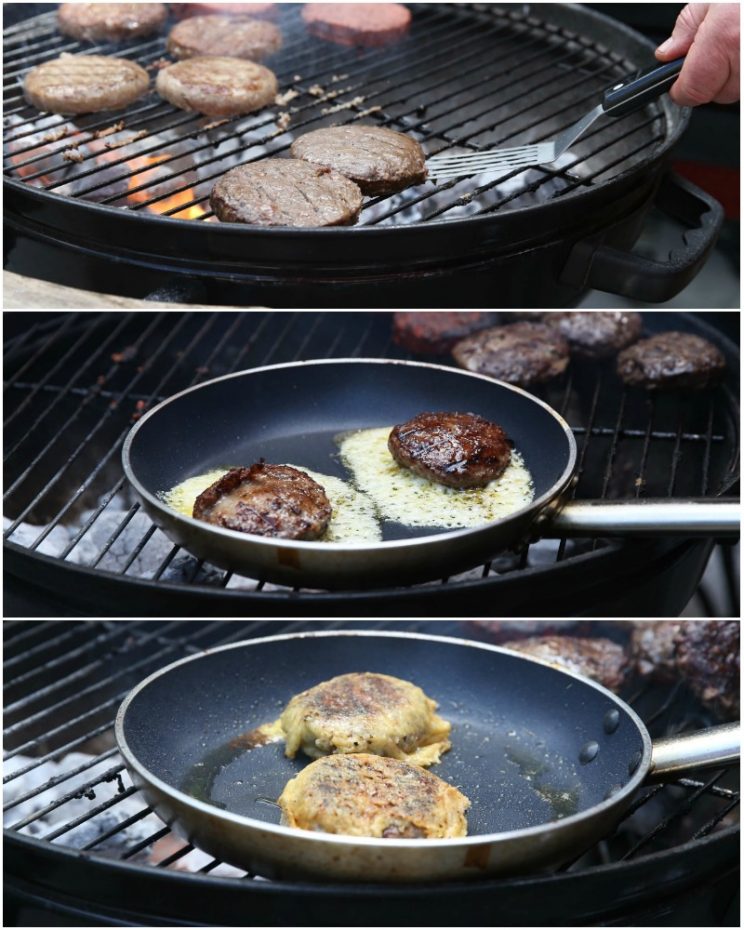 Burgers on the BBQ? Standard.
Wagyu Burgers on the BBQ? Better.
Burgers with a freaking skirt made of cheese on the BBQ??? Bingo!
Yep, this hack changed my life for the better. Instead of chucking a slice of cheese on your burger and letting it melt, grab a pan, melt the cheese in said pan, plonk your burger on the cheese and wait for it to turn crispy. Voila, cheese skirt. Genius right?
So, two hacks down and a whole load of inspiration from Iceland's BBQ range, it was time for me to take the reins.
Here's what went down..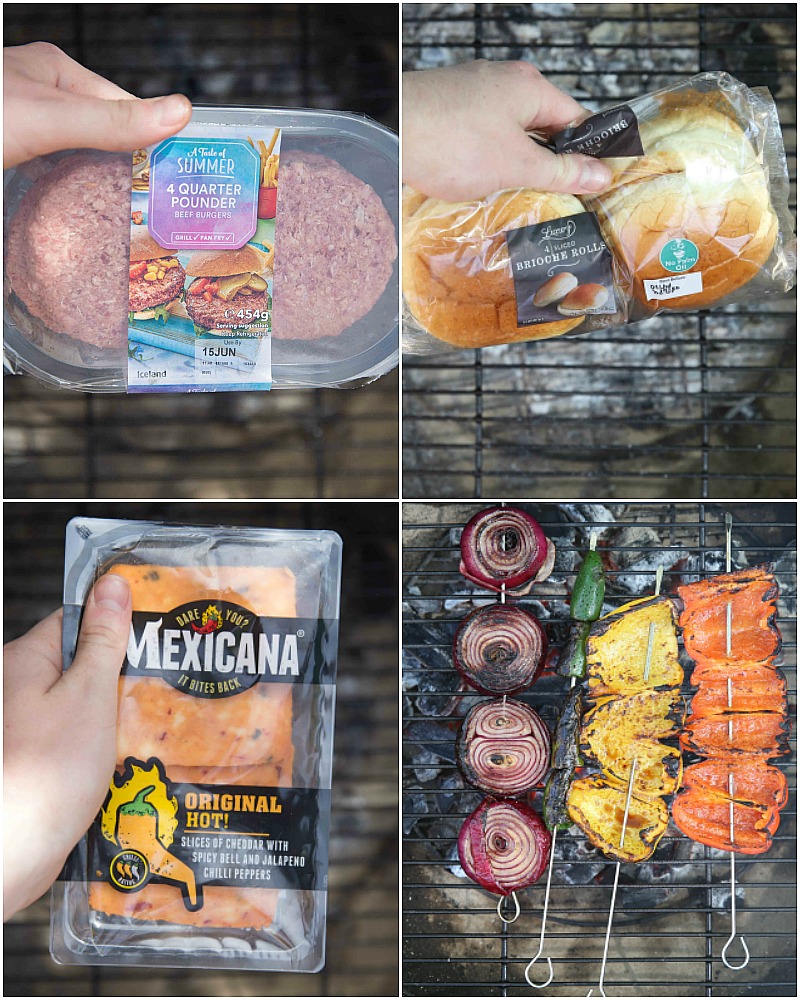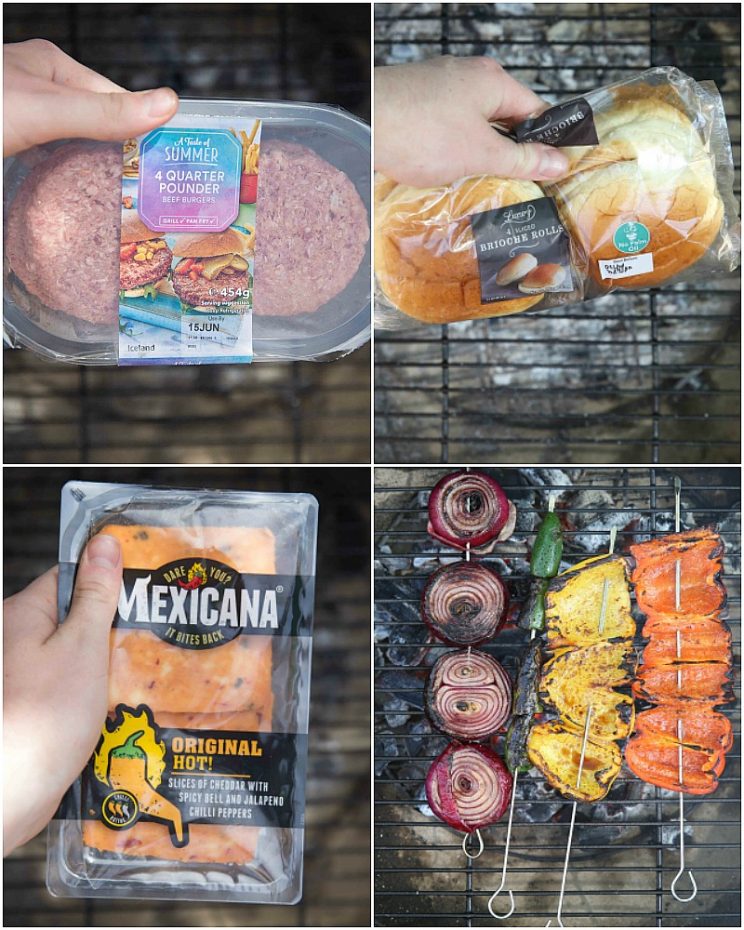 Incorporating a few of the hacks we learnt, my love for burgers AND my love for Mexican food, this recipe was a no brainer..
Introducing the only burger you need in your life this summer –
The Mighty Mexican Cheeseburger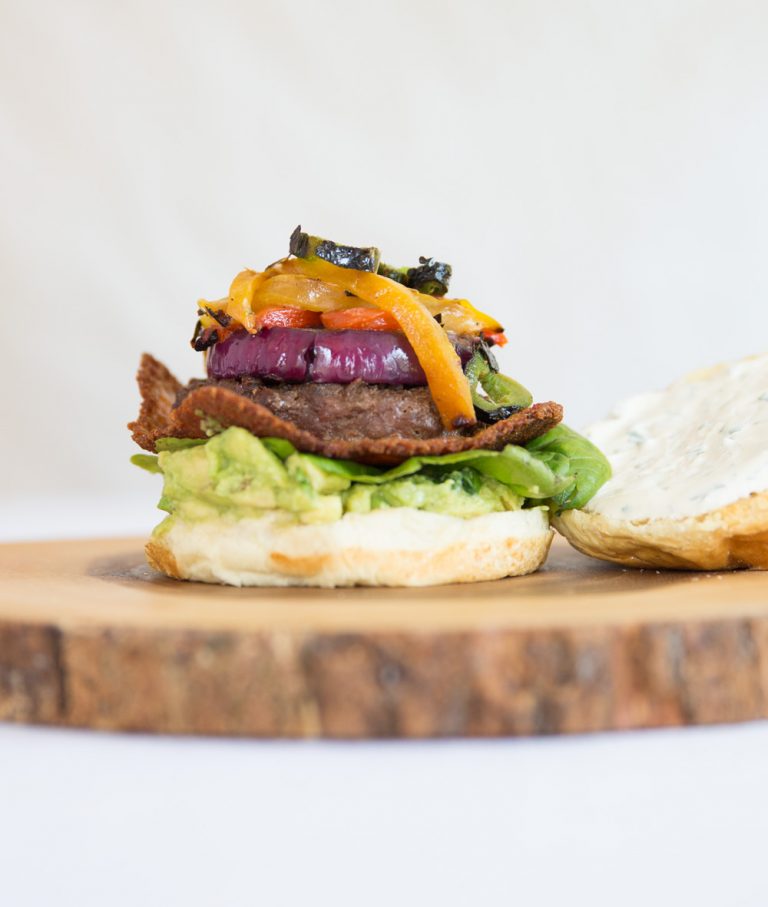 Toasted brioche buns, topped with guacamole and baby gem lettuce, followed by a quarter pounder beef burger with a Mexican cheese skirt, topped with grilled peppers, onions and jalapeños, finished with a lime-coriander sour cream sauce.
Holy damn smokes.
When I tell you this burger is about to bless your tastebuds I truly mean it. The perfect balance of sweet, spicy, creamy, cheesy and crispy goodness.
Better still, it's so easy to make.
Using really simple ingredients and 2 awesome BBQ hacks, this easy cheeseburger is what dreams are made of.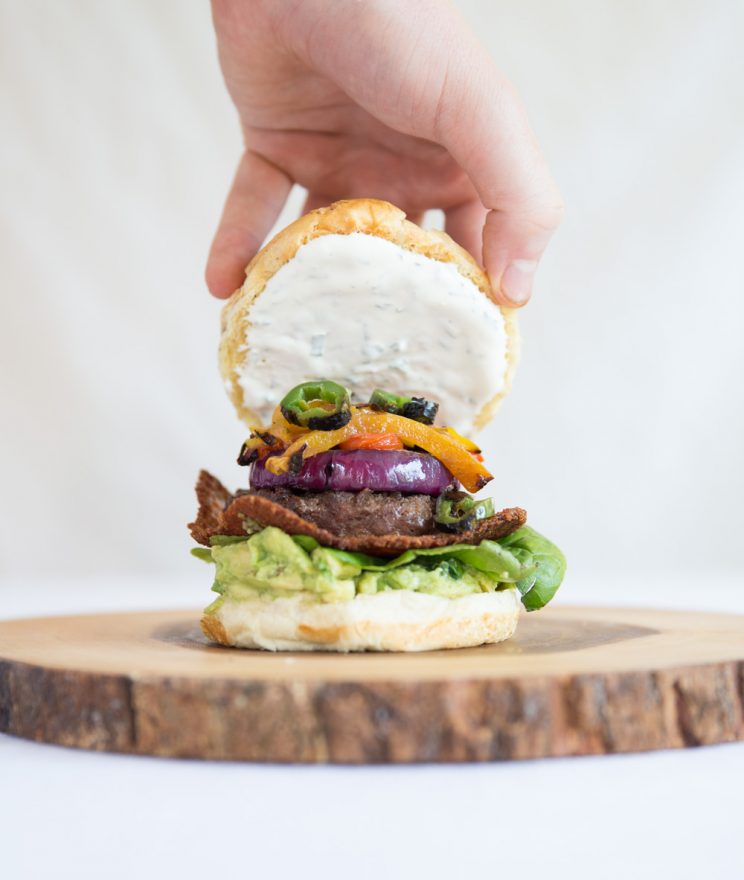 So my friends, erase those boring dry burgers from your mind and make yourselves a mighty Mexican cheeseburger. Inspired by the Iceland BBQ Range and using two game changing BBQ hacks, you'd be a fool not to give this foolproof recipe a go 😋
Join the foodie family! – Get awesome recipes sent straight to your inbox by signing up to my Weekly Mailing List (where you'll receive your FREE ECOOKBOOK) and stay in touch on Instagram, Facebook and Pinterest! 🧡
How to make a Mighty Mexican Cheeseburger (Full Recipe & Video)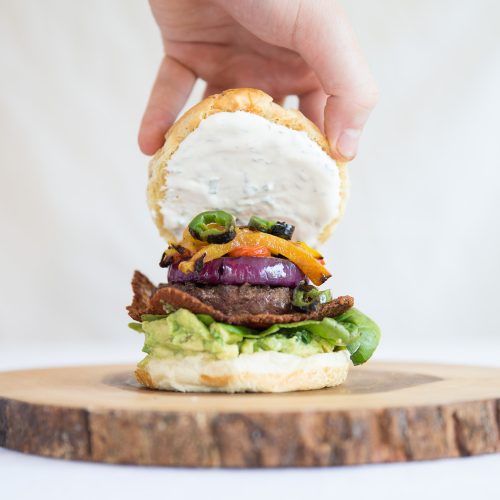 Mighty Mexican Cheeseburger
It's time to whack out the BBQ and create the most incredible burger imaginable. This Mighty Mexican Cheeseburger is the definition of winning at summer!
Print
Pin
Rate
Servings (click & slide):
4
Ingredients (check list):
Sauce
1 cup / 250 ml

Sour Cream

1

Lime, juice of

1

tbsp

Fresh Coriander (Cilantro) or more to taste

1

clove

Garlic, minced

Salt & Black Pepper, to taste
Fillings
4

Little Gem Lettuce Leaves

4

tbsp

Guacamole

4

Fresh Jalapeños, deseeded (can sub pickled)

1

Red Pepper, cored & deseeded

1

Yellow Pepper, cored & deseeded

1

Red Onion, peeled & sliced into 4 rings

Olive Oil

Salt & Black Pepper
Secret BBQ Marinade
1

part

Balsamic Vinegar

1

part

Soy Sauce
Non-food
4

Large Skewers

1

Spray Bottle
Instructions:
In a suitably sized bowl combine all of your ingredients for the sour cream, test for seasoning, then cover and pop in the fridge until needed.

Brush all sides of your onions, peppers and jalapeños with olive oil and season with a pinch of salt and pepper. Place evenly on 4 separate skewers (see video for guidance).

Place on the BBQ until charred, flipping once and spraying both sides with the marinade. Take off and place to one side.

BBQ the burgers until just cooked throughout, flipping once. Move to one side of the BBQ away from direct heat.

Grab a pan and place it on the BBQ, add a slice of cheese to the pan and leave until it begins to melt. Add one of the burgers and place on top of the cheese until it gets crispy. Repeat for all burgers (or do all at once in a suitably sized pan).


Place your buns on the BBQ to toast (optional).

Stack by spreading 1 tbsp guac on your base bun, topped with lettuce, followed by your burger, followed by your peppers & jalapeños (sliced if desired) and finish by spreading your sour cream sauce on the other half of your bun.
Notes:
a) I don't have a BBQ/don't want to use one - No problemo! This recipe works just as well using the grill OR the hob.
Grill - place peppers/onions under the grill until they begin to char, flipping once. Grill burgers according to packet instructions (slightly under grill one side). Place cheese in a pan, pop the pan under the grill to melt, add the burger until it crisps.
Hob - place peppers/onions over the flame and flip once when they begin to char. Pan fry your burgers according to packet instructions. Take burgers out, add cheese to melt, then place burger on top until it crisps.
b) Can I eat the black char on the peppers? - Absolutely, I think it adds great flavour to the burger. However, if you want the roasted flavour without the char, simply pop them in a bowl after they've grilled and cover with cling film. Once cooled, peel off the skins.
c) Iceland Products - All of these ingredients were bought from Iceland! The only sub I made was using up some fresh jalapeños I had on hand, but they do sell pickled jalapeños in store 🙂
d) Calories - Using 1 tbsp sour cream. Slight overestimate as a lot of the fat from the cheese leaks out when it's frying.
Nutrition:
Nutrition Facts
Mighty Mexican Cheeseburger
Amount Per Serving
Calories 646
Calories from Fat 311
% Daily Value*
Fat 34.5g53%
Cholesterol 11mg4%
Sodium 821mg34%
Potassium 148mg4%
Carbohydrates 48.4g16%
Protein 35g70%
Calcium 100mg10%
Iron 0.4mg2%
* Percent Daily Values are based on a 2000 calorie diet.
Nutrition is based on the absence of salt unless stated as a measurement in the ingredients. Cost is worked out based on ingredients bought from UK supermarkets, then divided by the number of servings. In both instances these values are just for guidance. Please check out my FAQ Page for more info.
---
For the perfect side dish at your BBQ check out my Chicken Bacon Ranch

Pasta Salad!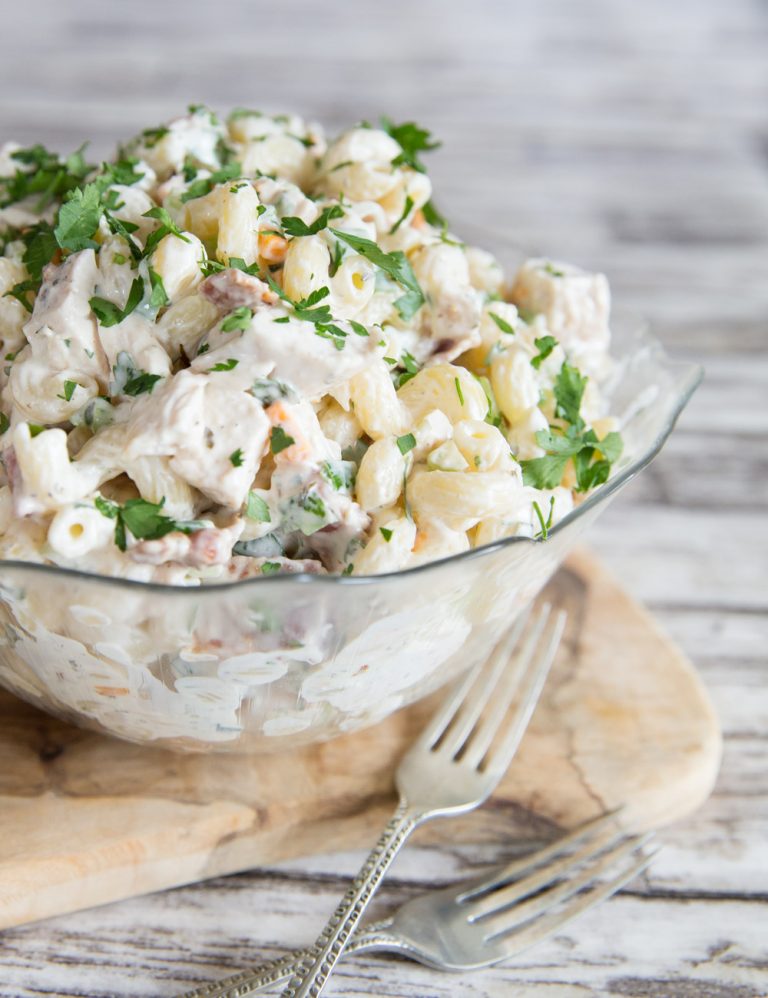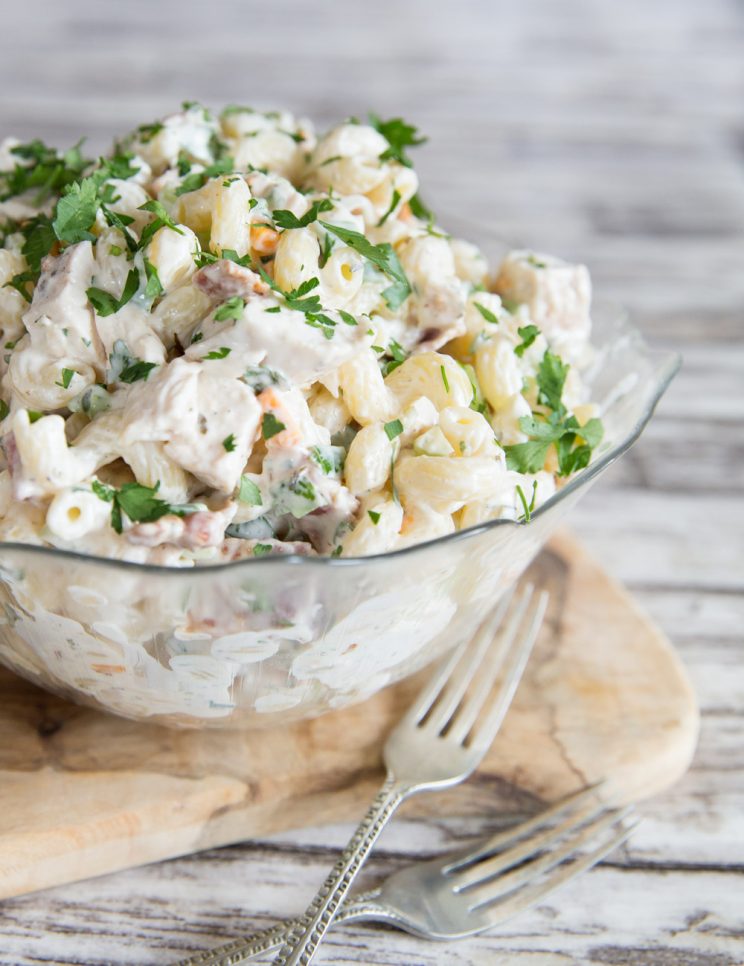 If you loved this Mexican Cheeseburger recipe then be sure to pin it for later! Already made it or got a burning question? Give me a shout in the comments and pick up your free ecookbook along the way!