---
' Loaded Sweet Potatoes are super easy to make and even more delicious to eat. A healthy twist on the traditional Loaded Potatoes Skins. Enjoy!'
You know what, I've seen (and eaten) enough loaded potatoes to last me a lifetime. So naturally I thought it was about time to jump aboard and create some of my own, of course.
My only sliiiiiight issue with loaded potatoes is that they can sometimes be an incy wincy bit, ermmm, generic? Yeah I guess that's the right word. You know, the standard cheese, sour cream, green onion and bacon. WHICH by the way is one of the greatest combos of all time, not just on potatoes but literally anything. I.e my Crispy Baked Jalapeno Poppers.
But this time round, I thought I'd mix it up a bit. Hello sweet potato my friend, it's been a little while. Okay let's move forward before I start expecting a response. The sweet potato is too often forgotten in the world of loaded potatoes and today I took one step in trying to change that. Along with a couple of spices mixed in and a few more flavours plonked on top, here's the final result of the loaded sweet potato skins.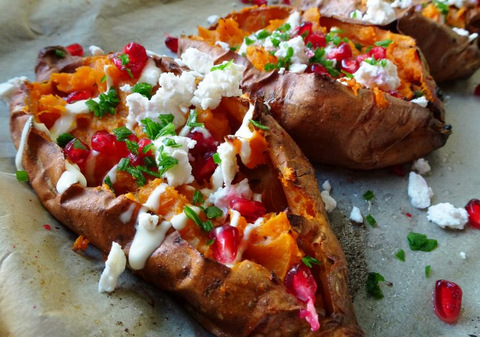 The combination of these flavours, in my opinion, are second to none. So heavenly I genuinely nearly cried when it was all over. The perfect balance of sweet, salty and spicy. This baked stuffed sweet potatoes recipe is so perfect for that quick fail-proof starter that's going to impress. Or that summer brunch snack with a nice, tall chunky glass of wine.
What's best, is these beauties are super easy to make; literally zero cooking ability needed. So see what you think, have a play around and let me know what you come up with. Enjoy!
---
Loaded Sweet Potatoes with Pomegranate and Feta
Loaded Sweet Potatoes are super easy to make and even more delicious to eat. A healthy twist on the traditional Loaded Potatoes Skins. Enjoy!
Cuisine:
Low-Calorie, Original
Ingredients
4

Medium Sized Sweet Potatoes

1/3

cup

(50g) Danish Feta

crumbled

2

tbsp

Fresh Pomegranate Seeds

2

tbsp

Sour Cream

1

tbsp

Chives

finely diced

1

tbsp

Butter

2

Pinches

of Paprika

1

Pinch

of Nutmeg

1

Pinch

of Cinnamon

Salt & Pepper

Olive Oil
Method
Cut off any ugly bits off the Potatoes (i.e the very ends). Lightly coat them with Olive Oil & Salt and pop in the oven at 200c for 45mins, until golden/crispy on the outside and soft on the inside.

Horizontally slice your spuds, gently scoop out the contents and place in a bowl, leaving a thin layer attached to the skin to keep shape.

In your bowl, mix in the Butter, Nutmeg, Cinnamon and Salt & Pepper. At this point taste for seasoning and add more to suit preference. Scoop back in to the skins and pop back in the oven for a good 10 minutes or so, until they just start to crisp on top.

Drizzle your Sour Cream and top with Pomegranate, Chives and Feta. Serve immediately.
---
Love things loaded? Check out my Loaded Pizza Mushroom Caps!
---
---
Cheers guys, this has been ' Loaded Sweet Potatoes with Pomegranate and Feta '. Comment, share, do whatever you fancy but for crying out loud don't go bacon my heart. See you next time! 🙂