'Honey Orange Chicken is the perfect restaurant style meal made in the comfort of your own home. Crispy chicken with a sweet and sticky sauce – delish!!'
And that's the perfect thing about this recipe, it really does taste just like a restaurant dish! Take the deliciousness of your favourite chinese dish and bring it to the family at home, a honey orange sauce is so ridiculously easy it would be rude not to. After all, nights in are the new nights out right?
I developed this recipe through my pure love for takeout orange chicken. Uhh, crispy on the outside, moist in the center and all wrapped in a gooey sticky orange sauce. Gimme.
It did make me wonder though, what the heck was being pumped into this chicken? And at the same time surely it's not too difficult to copycat this kinda dish.
Plus you'd know EXACTLY what ingredients are going into it aswell.
So, I took off on an edible journey to create my very own easy homemade honey orange chicken recipe.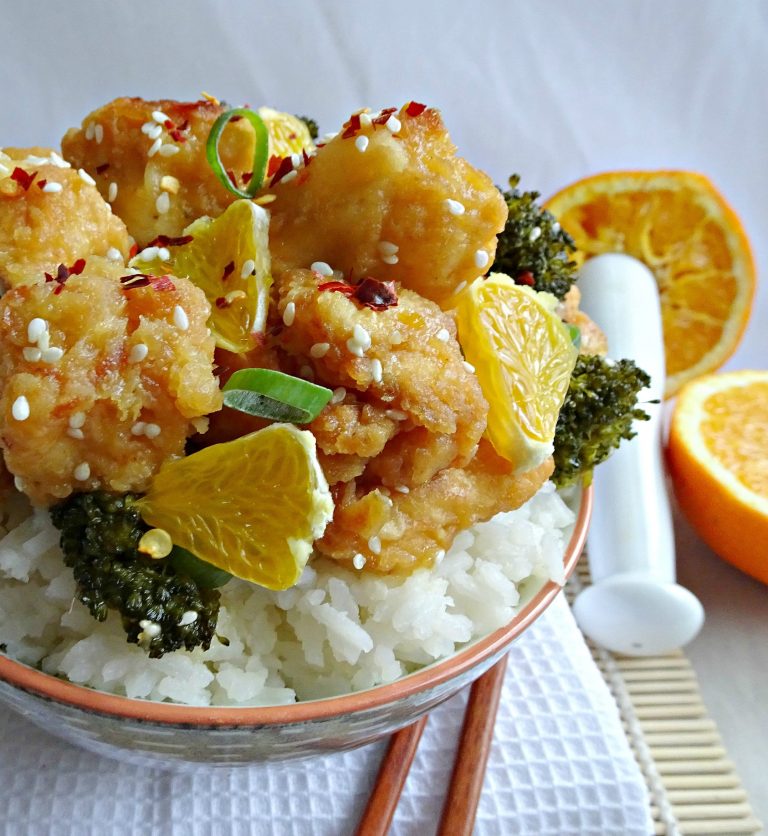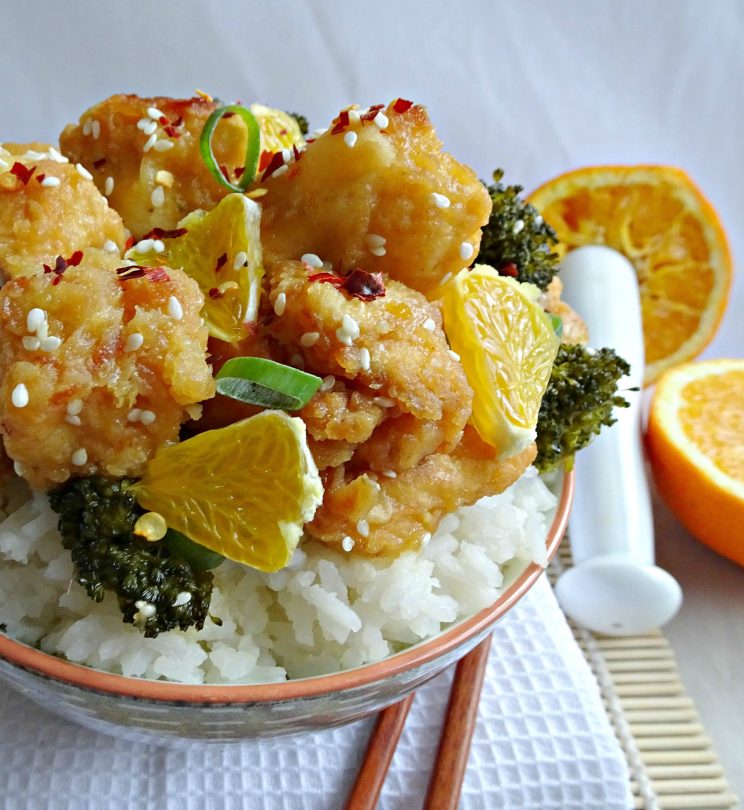 As classy as a baked honey orange chicken recipe would have been, for me the only way was fried.
I played around with a few different batters for the chicken and settled on a combo of cornstarch, egg, baking powder and flour. I found that a full cornstarch coating came out quite flakey and powdery, whereas a full flour coating came out too potent and tough because too much gluten formed whilst it was cooking. A fairly even split balanced out neatly.
Adding a small amount of baking powder also produces a nice light and airy batter because it creates tiny bubbles whilst it's cooking. This is because it undergoes a chemical reaction and in turn, this is where I turn the explanation to this source where you can delve a little further into what why and how. But for now, light and airy batter? Yep, I'll take it.
The honey orange sauce came together fair quickly and I changed very little throughout. I opted for the juice of fresh oranges just so I felt at one with mother nature. A few big glugs of honey? Yep. Some broccoli to capture the sauce and release it with every nibble? Sure. With a few other simple ingredients combined, I'm beyond happy with the final product.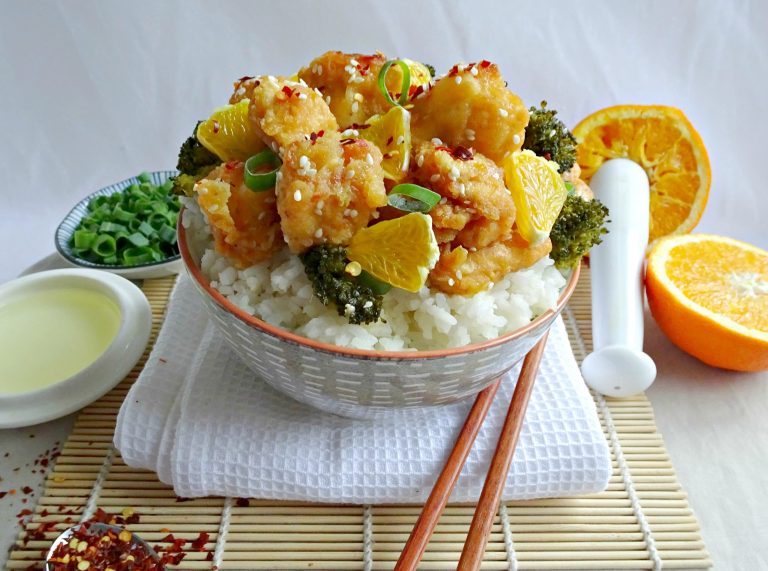 So here we have it folks! Easy to make crispy chicken chunks with an even easier honey orange sauce – presenting my homemade honey orange chicken recipe.
Let me know how you all get on and I'll catch you on the next post! See ya 🙂
---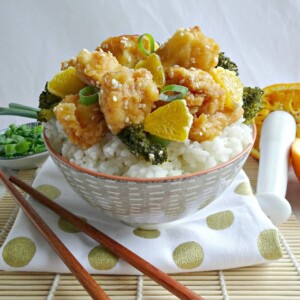 Honey Orange Chicken
' Honey Orange Chicken is the perfect restaurant style mealmade in the comfort of your own home. Crispy chicken with a sweet and sticky sauce - delish!!'
Print
Pin
Rate
Ingredients
Chicken & Batter
2

Medium - Large

Chicken Breasts

1/2

cup

(60g) Cornstarch

2/3

cup

(85g) Flour

1/2

tsp

Baking Powder

2

Eggs, beaten

2

cups

(500ml) Oil (Canola or Vegetable)

Salt & Black Pepper
Sauce
4

Large

Oranges (Juice + 1/2 tsp Zest)

4

tbsp

Honey

3

tbsp

Soy Sauce

2

tbsp

Rice Wine Vinegar

2

tbsp

Cold Water

1

tbsp

Cornflour

1

tbsp

Sesame Oil

1

tsp

Garlic, minced

1

tsp

Ginger, minced

Salt & Black Pepper
Extras 'n' Toppings
1

head of

Broccoli

1

Green Onion

1

tsp

Sesame Seeds

1

Red Chilli

Rice, to serve
Instructions
Preparation
Cut the Broccoli into florets, finely slice your Chilli and Green Onion and Juice your Oranges into a bowl. Place Orange Juice and Green Onion & Chilli to one side and place Broccoli in a pot of boiling hot water.

Mix together your 1 tbsp Cornflour and 2 tbsp Water and use to thicken sauce when needed.


Line up 3 bowls and place your Cornflour, Baking Powder and a fair amount of seasoning in the first, your beaten Eggs in the second and Flour in the last. Dice Chicken into bite sized pieces ready to be dunked.
For the Chicken & Batter
Begin coating your Chicken in the Cornflour, then dip in the egg and finish with your flour, making sure you're getting full coverage each time.

Heat up your Oil and in batches begin deep frying your Chicken until golden and crispy on the outside and white and piping hot in the center. When each batch is finished place to one side and not straight into the sauce, just to keep them crispy.
For the sauce
Heat up your Sesame Oil in a suitably sized pan and add your Garlic, Ginger and Orange Zest. Once fragrant, add your Orange Juice, Soy Sauce, Vinegar, Honey and Seasoning to taste. Once bubbling, stir in your Cornflour mixture to thicken.
Combined
Mix in your Broccoli then throw in your chicken and coat well. Top rice and finish by sprinkling over Green Onion, Chilli and Sesame Seeds.
Notes
a)
Make sure you don't overcrowd the chicken whilst deep frying and also keep them to consistently sized batches. This ensures they all cook to an equal time and don't stick together.
b)
Definitely make sure you add the broccoli, chilli and onion. The broccoli will soak up and hold the sauce beautifully. The chilli and onion help balance out the sweetness of the sauce.
c)
Feel free to use dry chilli flakes instead of fresh chilli.
d)
I tend to put the broccoli in boiling hot water, pop on the lid and leave it right until then end when it's needed. I find by that time it's just soft enough and finishes cooking in the sauce. It also helps to not overcrowd the hob, especially if you're boiling rice too.
e)
A neat little garnish idea is to use a few of the orange segments and arrange on top at the end
f) 
If you're cooking rice on the hob, check out my guide on
How To Cook Fluffy Rice On The Hob
, if ya fancy!
Nutrition
Nutrition Facts
Honey Orange Chicken
Amount Per Serving
Calories 542
* Percent Daily Values are based on a 2000 calorie diet.
Nutrition is based on the absence of salt unless stated as a measurement in the ingredients. Cost is worked out based on ingredients bought from UK supermarkets, then divided by the number of servings. In both instances these values are just for guidance. Please check out my FAQ Page for more info.
---
For another easy to make chicken dinner recipe check out my Creamy Cajun Chicken Tagliatelle recipe!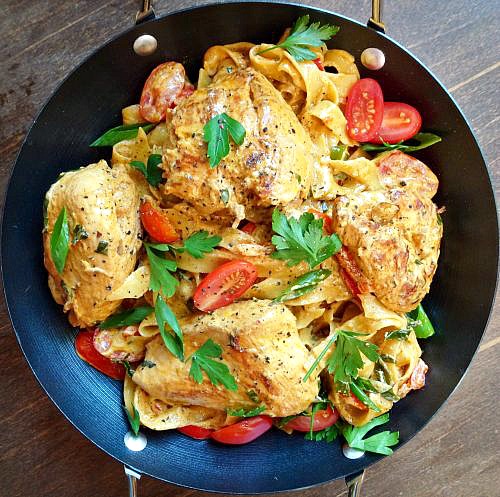 ---

---
Cheers guys, this has been ' Honey Orange Chicken '. Comment, share, do whatever you fancy but for crying out loud don't go bacon my heart. See you next time! 🙂