'Grilled Garlic and Parmesan Asparagus with Hollandaise Sauce is so quick and easy to make. The perfect starter or side to any meal' – Hungry now?  Jump to Recipe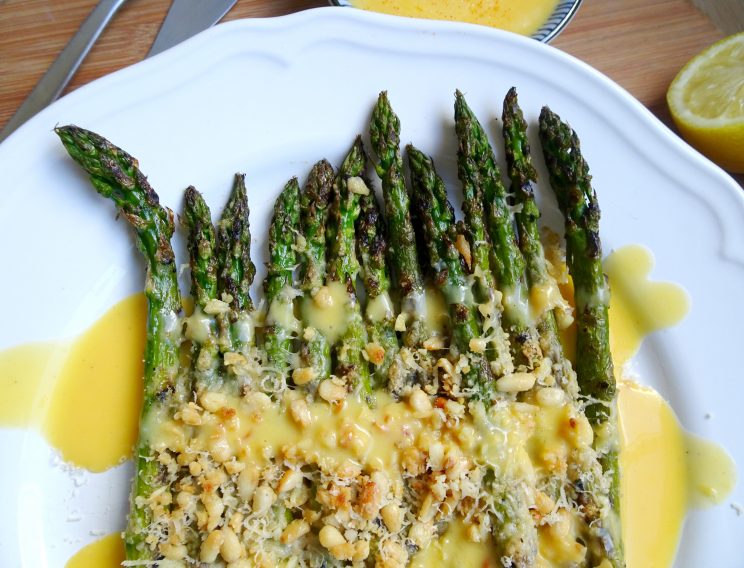 Asparagus can do no wrong for me. So versatile, so beautiful to look at and even more beautiful to eat. Chuck it in a pasta or stir fry, blend it into a soup or just grill it up for an easy starter. I usually do the latter with a little dressing and seasoning, but thought I'd spruce it up this time round. The end product was SO yummy, I thought it only rude not to share.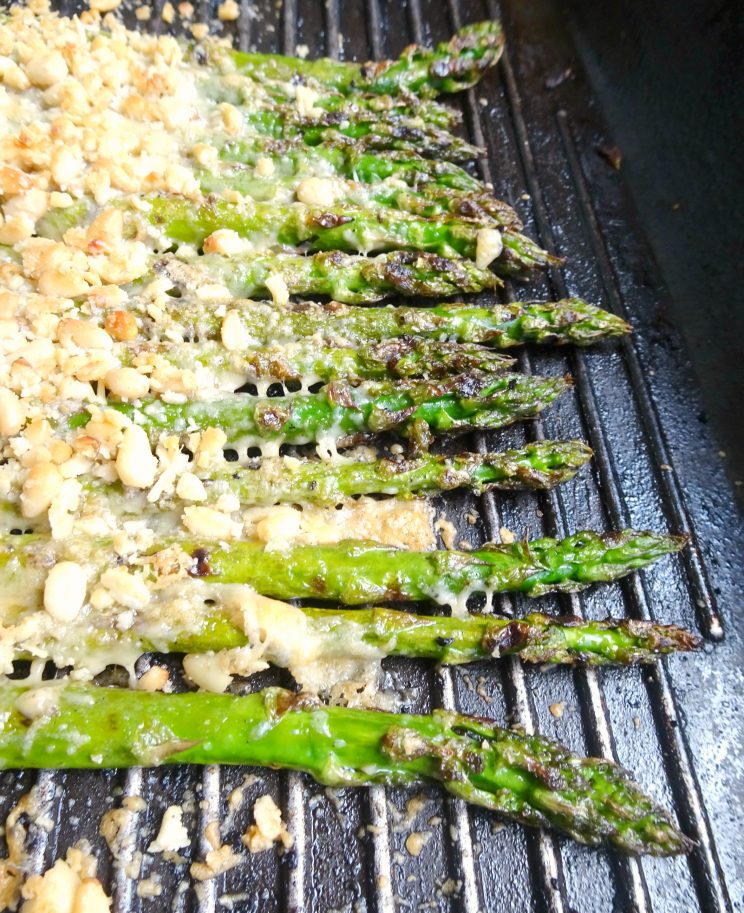 The combination of ingredients in this dish really came from such little thought, it all just made sense and married together so perfectly.
The crispy and crunchy textures of the pine nuts and parmesan lay so well over the tender asparagus. The acidity from the lemon emphases that sharp parmesan taste which is balanced out beautifully with the sweetness from the nut; all bound together with a blast of flavour from the garlic.
But, this is me we're talking about here, so I couldn't just stop there.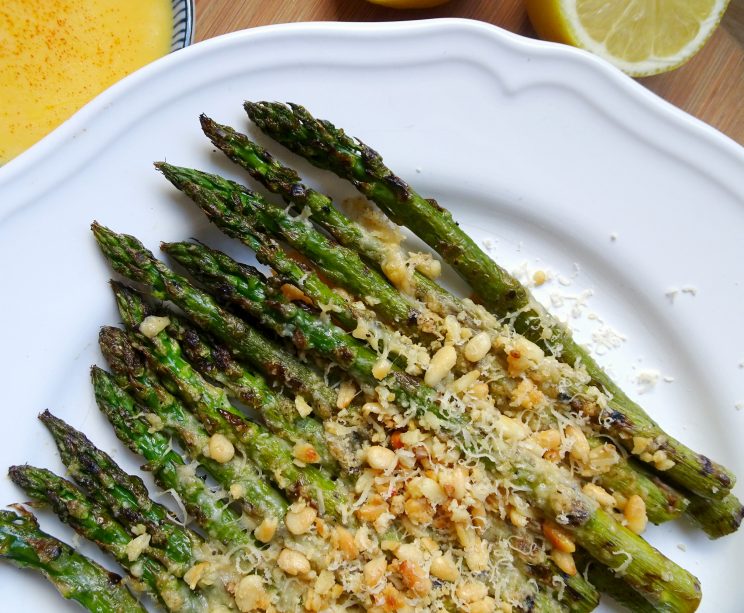 Hollandaise sauce to me is like liquid gold. If a food coma wasn't waiting for me at the end of it, I'd down an entire jug of the stuff. So naturally when making a marginally healthy lunch I thought 'how can I increase the fat content in this dish'. But for real the Hollandaise Sauce absolutely completes this recipe. It just binds everything together so gorgeously and adds a neat pop of colour.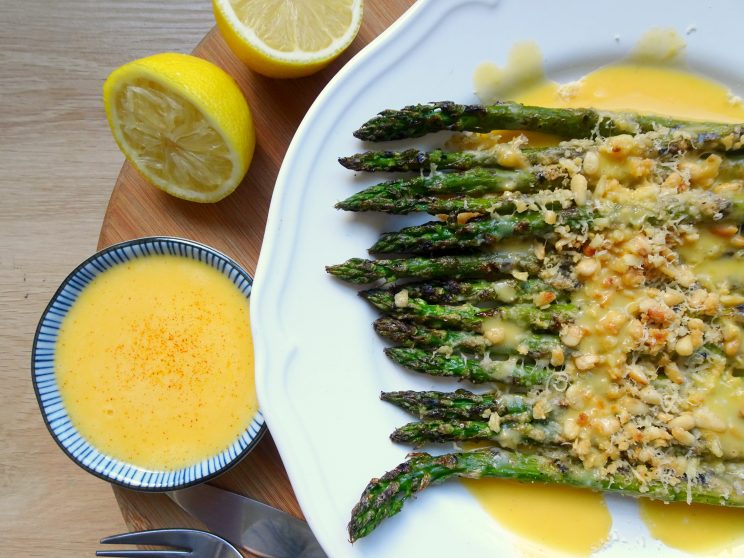 This dish, just like asparagus itself is so versatile. Today I shared it as a light lunch, but it could really hold up well for a starter/appetizer, or even a quick brunch. It's super easy to make and once you've mastered the art of Hollandaise sauce I guarantee this dish will be one of your go-to's. And by 'mastered the art' I mean gained self control in not jug-drinking. Anywho, let me know how you all get on and I'll catch you on the next post!
---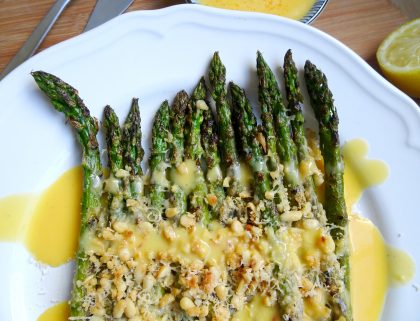 Grilled Garlic & Parmesan Asparagus with Hollandaise Sauce
' Grilled Garlic and Parmesan Asparagus with Hollandaise Sauce is so quick and easy to make. The perfect starter or side to any meal '
Course:
Appetizer, Side Dish, Starter
Ingredients
2

Bunches of Fresh Asparagus

2

tbsp

Olive Oil

1

tbsp

Lemon Juice

1

tsp

Garlic

minced

2

tbsp

Parmesan

grated

1

tbsp

Pine Nuts

roughly smashed

Salt & Black Pepper

to taste
Hollandaise Sauce:
1/2

cup

(125g) salted Butter, melted

2

Egg Yolks

whisked

1

tbsp

Lemon Juice

1

tbsp

Water

pinch

of Cayenne Pepper
Method
For the Asparagus:
In a small bowl, combine your Olive Oil, Lemon Juice, Garlic and Salt & Pepper. Cut off the woody ends of the Asparagus and with a brush, evenly coat with your Garlic Oil dressing.

Cook over medium heat on a griddle pan for around 5-7mins, until tender and beautifully charred. Turn throughout to ensure even charing.

Sprinkle your Parmesan, Pine Nuts and an extra little seasoning over the Asparagus and transfer your griddle pan under the grill and broil for a few minutes until crispy on top.
Hollandaise Sauce:
In a bowl, whisk together 2 Egg Yolks, Lemon Juice and Cayenne Pepper. Place the bowl above a pan of simmering water, ensuring the water does not touch the bowl. Slowly add in your melted butter, making sure you whisk throughout to avoid any scrambling. If the sauce becomes too thick then simply add a tbsp or so of water.

This process should take around 6-8 mins, whisk until you have a creamy smooth texture. Taste the sauce before serving and add any extra measurements accordingly.
Recipe Notes
An easy method in deciding where to cut the Asparagus bases is to hold both tips either end and gently push until it breaks. Where it breaks should be the perfect point.
---
Love Hollandaise Sauce? Why not give my Breakfast Stack with Hollandaise Sauce a try!
---
---
Cheers guys, this has been ' Grilled Garlic and Parmesan Asparagus with Hollandaise Sauce ' Comment, share, do whatever you fancy but for crying out loud don't go bacon my heart. See next time 🙂