Juicy pork chops smothered in a rich onion gravy and topped with melted cheese!
These pork chops are awesome, mainly because they're so delicious, but also because you only need a handful of ingredients to make them! Follow me…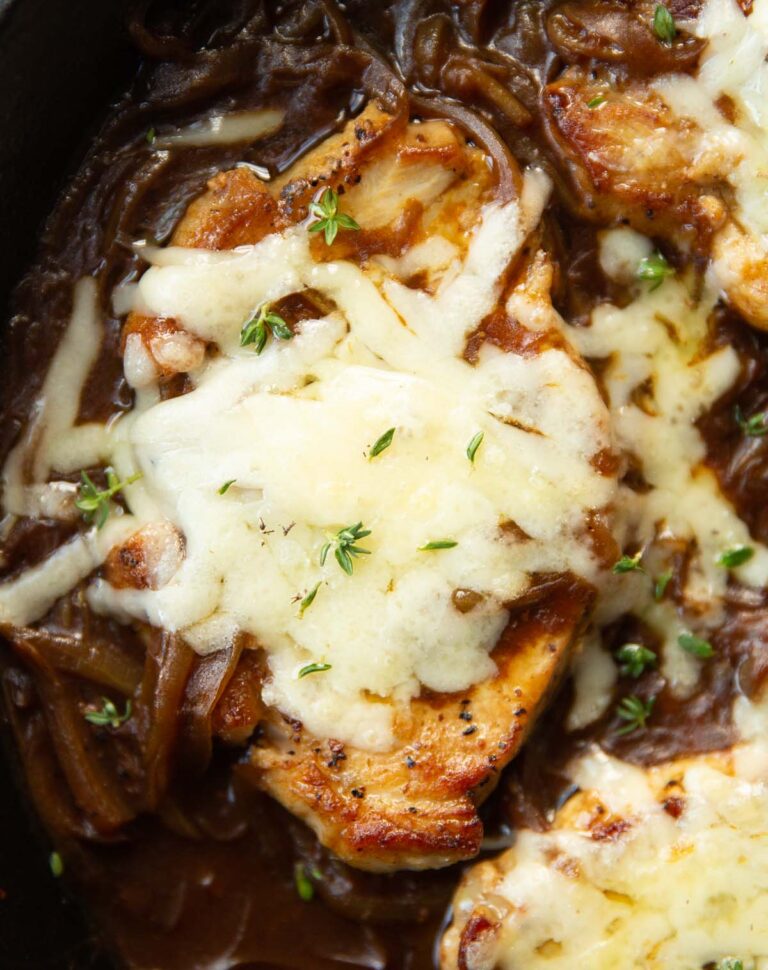 Caramelized Onions
These are a key ingredient in French onion soup. They also add the body of flavour and texture to this recipe too.
Don't rush the process!
The aim of the game for caramelizing onions is to fry them fairly low and slow. You want to tickle out the natural sugars and have them caramelize in the pan. If the heat is too high the onions are going to cook too quickly and you'll just end up with regular fried onions.
Can I make these ahead of time?
Besides the caramelized onions, this recipe is super speedy. As such, to keep things 'weeknight friendly' you can definitely make the caramelized onions and store them in the fridge until you're ready to whip up the rest of the dish.
Process shots: add butter and oil to pan (photo 1), stir to melt butter (photo 2), add onions (photo 3), caramelize (photo 4).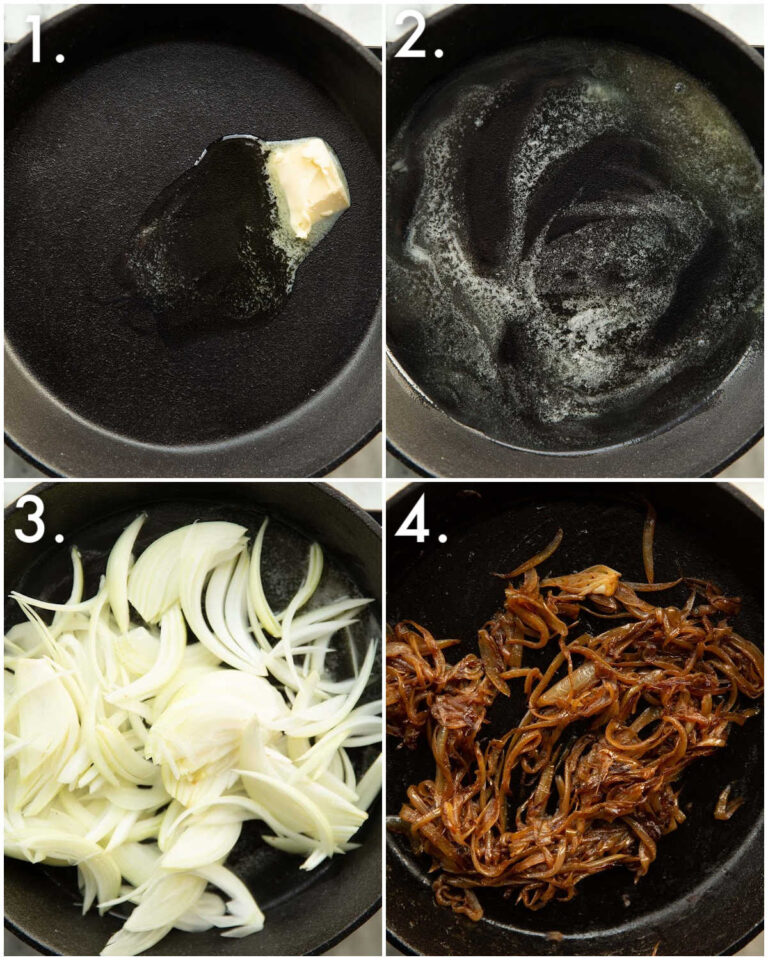 Pan-Fried Pork Chops
Once you've caramelized the onions, remove them from the pan and get cracking with the pork chops.
What kind of pork chops should I use?
Here I'm just using boneless pork loin steaks. They're relatively small/thin, so they cook through quickly. You can use thick cut pork chops, or even pork shoulder steaks, you'll just need to adjust the cooking times slightly. You only want the pork just about cooked, because it'll cook slightly more when the cheese melts on top.
Pork Fat
Unless the pork chops are lean, there will likely be a thick strip of fat on one side. Depending on how thick it is, you might want to consider scoring it (making small slices in it). This will prevent the chops from curling up in the pan when you fry them. I also like to flip the chops on their side and render down the fat in the pan. This will add a huge amount of flavour to the sauce.
Pork Chop Seasoning
I tend to keep it fairly simple and just liberally season with salt and pepper. You could add some garlic powder as well if you'd like.
Process shots: add seasoned pork to pan (photo 1), fry both sides (photo 2), render fat (photo 3), remove (photo 4).
French Onion Pork Chops
For the base of the sauce, all you need is flour and beef stock. A lot of the flavour will come from the caramelized onions, but for added flavour, I love adding Worcestershire sauce alongside the resting juices from the pork chops.
Once you've made the sauce, add the chops back in the pan, top with some of the onions then plonk on some gruyere. To melt the cheese I typically pop the pan under the grill, but you could add on a lid and let the steam melt the cheese.
Process shots: add onions back to pan (photo 1), stir in flour (photo 2), stir in stock, seasoning & Worcestershire sauce and add pork chops on top (photo 3), add cheese (photo 4).
French Onion Pork Chops FAQ
Can I use a different meat?
I have tried this with chicken in the past which works pretty well!
What kind of pan should I use?
The best kind of pan would be non-stick (best for caramelizing onions) and oven-safe (best for melting cheese under the grill). If the pan isn't oven-safe just add a lid on to melt the cheese. If it's not non-stick (i.e. cast-iron skillet) just make sure it's well seasoned.
What can I use instead of Gruyere?
Any sort of melty Swiss-style cheese will do the trick. Grated or sliced!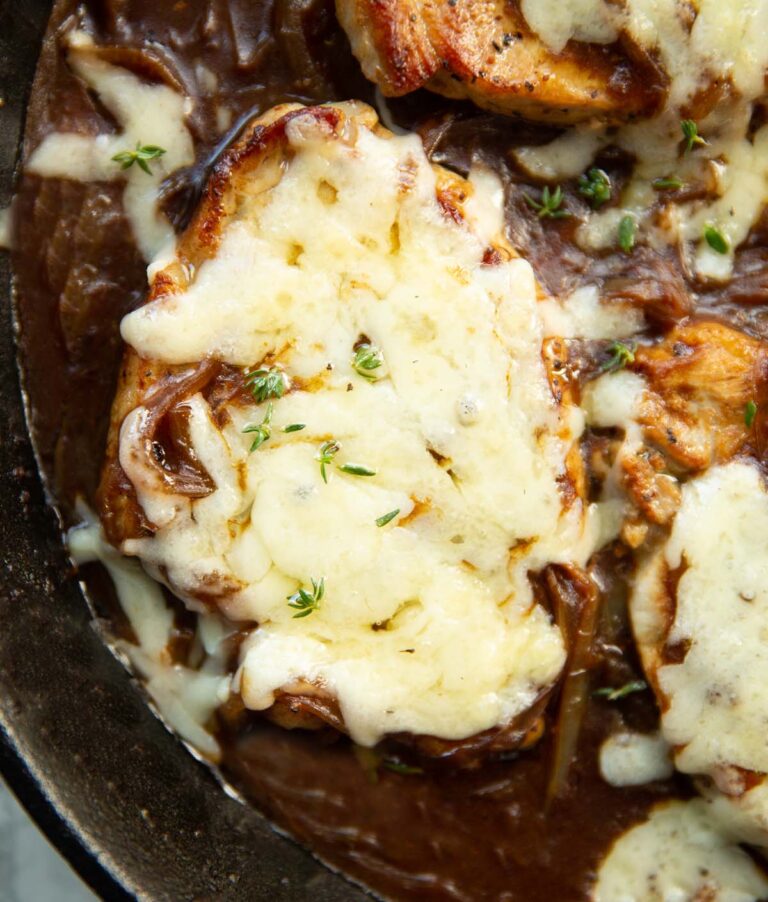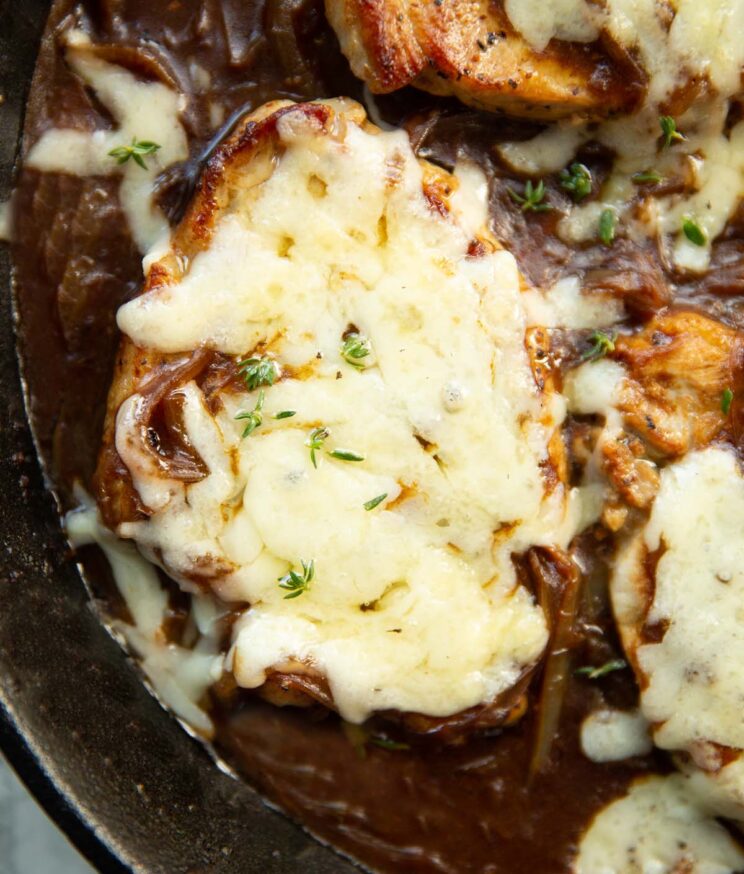 Serving French Onion Pork Chops
To serve, I recommend finishing with some fresh thyme. Here I've served with Mashed Potatoes and Green Beans, but do check out all my Side Dishes for more inspo!
Alrighty, let's tuck into the full recipe for these French onion pork chops shall we?!
How to make French Onion Pork Chops

 (Full Recipe & Video)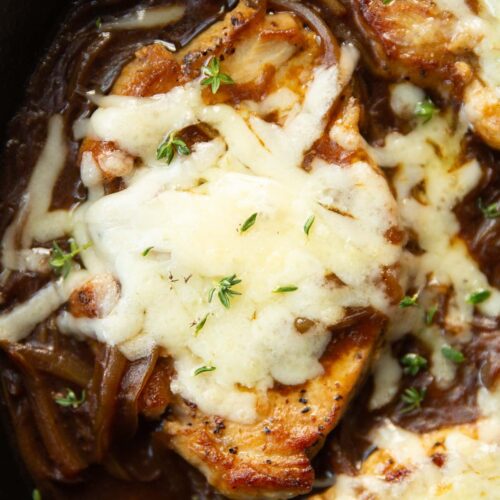 French Onion Pork Chops
Juicy pork chops smothered in a rich onion gravy and topped with melted cheese!
Print
Pin
Rate
Servings (click & slide):
4
Calories per serving:
430
kcal
Cost per serving:
£2 / $2.50
Equipment:
Large Oven-Safe Pan

(see notes)

Wooden Spoon

Tongs

Cheese Grater

Sharp Knife & Chopping Board

(for onions)
Ingredients (check list):
4x

4-5.3oz/120-150g

Pork Chops, brought close to room (see notes)

2

large

White Onions, finely sliced (approx 14oz/400g weight of both BEFORE peeled)

1 cup / 250ml

Beef Stock

1 cup / 100g

grated

Gruyere, or as needed to cover pork (see notes)

1

tbsp

Butter

1

tbsp

Olive Oil, divided in two

1

tbsp

Flour

1/2

tsp

Worcestershire Sauce
Salt & Black Pepper, as needed
Fresh Thyme, to garnish
Instructions:
Add 1 tbsp butter and 1/2 tbsp olive oil to a pan over medium heat, then add in the onions. Fry for 15mins, stirring somewhat frequently, until the onions turn soft and golden.

Add in 1/8 tsp salt & black pepper, then lower the heat slightly to low-medium and continue frying for another 10-15mins, or until completely soft, deep golden and sticky/sweet. If any fond (flavour/char) builds up in the pan at any point, just add a dash of water and use your wooden spoon to scrape it off. Remove onions from pan when done.

Meanwhile, generously season both sides of the pork chops with salt and pepper and score the fat if it's relatively thick. Turn heat to high and add 1/2 tbsp olive oil. Place in the pork chops and fry for a couple of minutes on each side until golden brown (should only just be cooked through the centre). Stack the chops on top of each other with the fat aligning, then use your tongs to flip them on the sides and sear the fat for a couple of mins. Remove from pan and place to one side. Lower heat to medium.

You should be left with around 1 tbsp oil/fat left in the pan. Top up with butter or oil to make around that if needed (just eyeball it). Add the onions back to the pan and stir in 1 tbsp flour. Pour in 1 cup beef stock, stirring as you go to ensure no lumps form. Stir in 1/2 tsp Worcestershire, any resting juices from the pork and seasoning to taste, then add the chops back in. Spoon over some of the onions, top with cheese then place under the grill and broil until the cheese has melted (add a lid on top to melt the cheese if your pan isn't oven safe).

Garnish with fresh thyme then serve up and enjoy!
Quick 1 min demo!
Notes:
a) What kind of pan should I use? - Okay, here are a few different options:
Non-Stick and Oven-Safe: This is great because the onions won't stick and you can pop it under the grill at the end.
Oven-Safe but NOT Non-Stick: I.e something like a cast iron skillet. Just make sure it's well seasoned so it doesn't cause too much sticking. Or, make the caramelized onions in a separate non-stick pan.
Non-Stick, but NOT Oven-Safe: If this is what you have then you'll need to make sure it's got a lid so you can melt the cheese at the end. Or, make the onions and continue the recipe in an oven-safe pan.
b) Pork Chops - Here I use boneless pork loin chops. They're relatively small, so they don't need long to cook at all. I keep the fat on and render it down in the pan for added flavour. You could remove it if you'd prefer, you'll just need to top up the fat before stirring in the flour to create a roux. You could also use larger pork chops, they'll obviously just take longer to cook. In all cases, you'll want to get the internal temp of the pork to at least 63C/145F (will be a blush of pink at this temp).
c) Caramelized Onions - Don't rush this process. Caramelizing the onions is crucial as it gives them a gorgeous sweet flavour. 
d) Cheese - Gruyere is the classic option so use that if you can (has a gorgeous sweet and nutty flavour too). Failing that you could just use some slices of Swiss cheese.
e) Make/Prep Ahead - I don't recommend making the whole recipe ahead of time, but you can certainly caramelize the onions ahead of time (which takes up most of the time). Just allow to completely cool and tightly store in the fridge until needed.
f) Serving - Here I've served with Mashed Potatoes and Green Beans, but do check out all my Side Dishes for more inspo!
g) Calories - Whole recipe divided by 4 assuming 5.3oz/150g chops and no sides.
Your Private Notes:
Nutrition:
Nutrition Facts
French Onion Pork Chops
Amount Per Serving
Calories 430
Calories from Fat 229
% Daily Value*
Fat 25.47g39%
Polyunsaturated Fat 2.261g
Monounsaturated Fat 10.408g
Cholesterol 138mg46%
Sodium 298mg12%
Potassium 698mg20%
Carbohydrates 7.25g2%
Protein 41.23g82%
Vitamin A 353IU7%
Vitamin C 5.6mg7%
Calcium 302mg30%
Iron 1.01mg6%
* Percent Daily Values are based on a 2000 calorie diet.
Nutrition is based on the absence of salt unless stated as a measurement in the ingredients. Cost is worked out based on ingredients bought from UK supermarkets, then divided by the number of servings. In both instances these values are just for guidance. Please check out my FAQ Page for more info.
---
For another French onion inspired recipe check out my French Onion Mac & Cheese!
For more similar recipes check out these beauties:
Pork Chop Recipes
---