'Fettuccine Carbonara No Cream – A traditional Carbonara recipe, with a modern twist. Creamy in texture, but no cream involved ' – Hungry now? Jump to Recipe
For me, a traditional carbonara recipe is pretty difficult to find nowadays. So many different variations of this recipe, it's hard to know it's classic roots. Most Italians will swear by the idea that absolutely no cream should go near the cooking process, and after much trial and error, that I do agree with. I think it's a myth that a carbonara with cream is a good carbonara, when in reality it's all about the egg. Ironically, it's the egg that actually makes this dish creamy!
Gently warming the eggs and cheese by tossing through the fettuccine creates a delicious glossy and creamy texture. The end product is so thick and smooth, it's just absolutely delicious.
Oh yeah, the egg on top… Some people freak out, others appreciate the rich gooey yolk oozing in 'n' out of the fettuccine. I for one am a huge ambassador of the egg yolk plonked on top. Just look how pretty it is.
Okay, let's fork the bugger.
I've kept this recipe as authentic as possible, just with a few minor tweaks. Traditional fettuccine carbonara no cream recipes maybe don't call for the yolk topping, but I feel it helps emphasise the simple and beautiful ingredients in this dish. Cause let's face it, this dish is pretty darn beautiful.
An authentic carbonara recipe also usually calls for spaghetti, where here I've used fettuccine just through personal preference. Lastly other traditional carbonara variations may use pancetta. I use bacon as I find it much more easily accessible and quite frankly it's the backbone of my blog.
I always forget how quick and simple a carbonara is to knock up and how little ingredients you need for it. When the cupboards are looking bare and you're too sleepy to cook (which is a scenario to often experienced) a carbonara should come to you like a lightbulb.
Like what, 6 ingredients? Under 20 minutes to make? Okay I'm sold.
I think I just sold myself a carbonara, that just happened.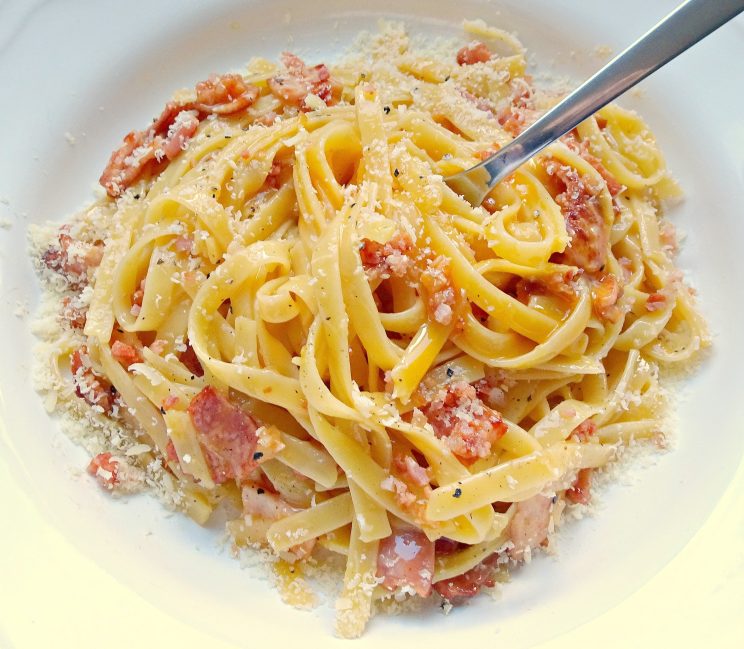 Right I'll let you go folks before start talking to myself or something crazy… Enjoy the recipe and let me know how you get on. Catch you on the next post! For now, fettuccine carbonara no cream – roll out.
---
Fettuccine Carbonara No Cream
' Fettuccine Carbonara No Cream - A traditional Carbonara recipe, with a modern twist. Creamy in texture, but no cream involved '

Ingredients
12.3

oz

(350g) Fettuccine

5

oz

(150g) Bacon, chopped

1

clove

Garlic

minced

2

Whole Eggs + 1 Egg Yolk

beaten

1

Egg Yolk

per serving to add on top

1/2

cup

(35g) Parmesan, plus extra to serve

1

tbsp

Olive Oil

Sea Salt

Ground Black Pepper
Method
In a bowl, add your 2 whole eggs, 1 egg yolk, finely grated parmesan, pinch of salt, generous helpings of black pepper and mix well with a fork. Place to one side, away from direct heat i.e the hob or kettle so they don't begin to cook.

Add your Fettuccine to a pan of salted water and cook until al dente.

Meanwhile, dice your bacon and fry up in a large pan until crisp. When almost cooked, add your garlic and cook until the bacon is nice and crispy, leaving a nice salty/garlicy/oily texture in the pan. If there is too much oil, then simply grab a sheet of kitchen roll and soak a little up. (*)Turn off the heat.(*)

By this point your fettuccine will be cooked so drain and pop in the pan with your bacon and toss well, coating all the fettuccine. Grab your egg mixture and pour onto your fettuccine; continue to toss, making sure all of the ingredients are being mixed so all the flavours get soaked up. The heat from both the fettuccine and the pan will cook the eggs. If the heat is too high (eg the hob is still on) the eggs will scramble. Continue this for a minute or so until the fettuccine becomes a nice glossy and creamy texture, do not overcook.

Check for seasoning and adjust accordingly.

Serve immediately with sprinkle of extra parmesan, a sprinkle of your crunchy bacon fat bits & an egg yolk carefully placed on top of the pasta. The egg yolk will lightly cook from the leftover heat of the fettuccine and when burst with a fork, will run beautifully down the pasta. Enjoy!
Recipe Notes
a) To make your Carbonara more creamy, reserve some of your pasta water and mix in once cooked.
b) I don't recommend putting salt in the dish (only in the pasta water) as the bacon and parmesan are usually salty enough. However fair amounts of black pepper are encouraged.
Nutrition Facts
Fettuccine Carbonara No Cream
Amount Per Serving
Calories 588.5
* Percent Daily Values are based on a 2000 calorie diet.
---
Love quick and easy pasta recipes to add to your dinner rotations? Check out my Penne Alfredo with Bacon and Sundried Tomatoes!
---
---
Cheers guys, this has been ' Fettuccine Carbonara No Cream ' Comment, share, do whatever you fancy but for crying out loud don't go bacon my heart. See you next time 🙂