---
'A foolproof family spaghetti bolognese recipe, accompanied with a quick and easy starter finished with the perfect idea for any leftovers'
For me growing up, family spaghetti bolognese night was more of an event than just a rotation dinner. Alongside Cottage Pie and Mac 'n' Cheese, Spag Bol was one of those dinners I knew would leave me waddling from the dinner table afterwards. I guess that association has stuck with me and essentially explains how we ended up here – the best way to maximus your weekly spaghetti bolognese family night, by throwing together a quick starter and having tomorrow's lunch prepared with any leftover bolognese.
All 3 recipes are super simple, big in flavour and 100% waste free. Pick one or go for the hat trick, either way there's no way the family are gonna go hungry. How do you celebrate Bolognese night? Let me know how you get on and I'll catch you on the next post!
---
Once in awhile it's nice to treat your family to a starter and there's nothing more simple and delicious than a quick bruschetta.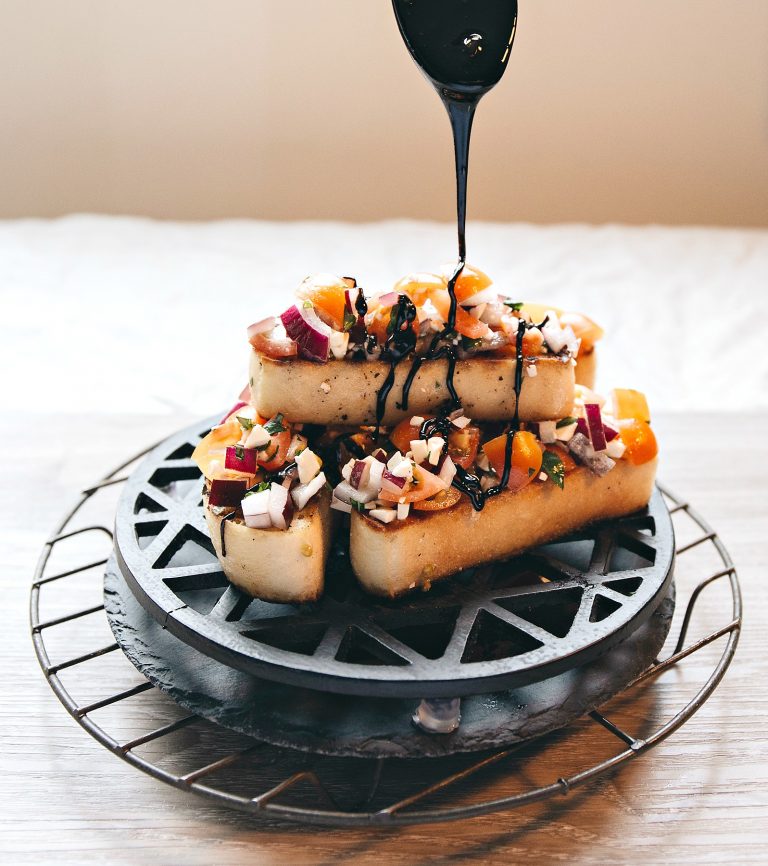 I love to jazz up bruschetta by adding some feta and drizzle a really easy to make balsamic glaze.
The bread itself is simply store bought garlic ciabatta – completely fuss free!
The tomatoes, basil, onion, bread, and olive oil are all ingredients used in the spaghetti bolognese which reduces the risk of any waste.
Also these are so great to get the kids involved in drizzling over the glaze!
Grab the full recipe for Feta Bruschetta with Balsamic Glaze HERE!
---
It's always a bit spooky when you let go of your family spaghetti bolognese recipe to switch it up for a new one. But hey, you're here now right 😉
I truly believe this a one heck of a bolognese recipe.
Bursting with homely flavours which transform the scent of your house into a piece of Italy.
The perfect recipe for my family and I'm confident it'll be the same for yours.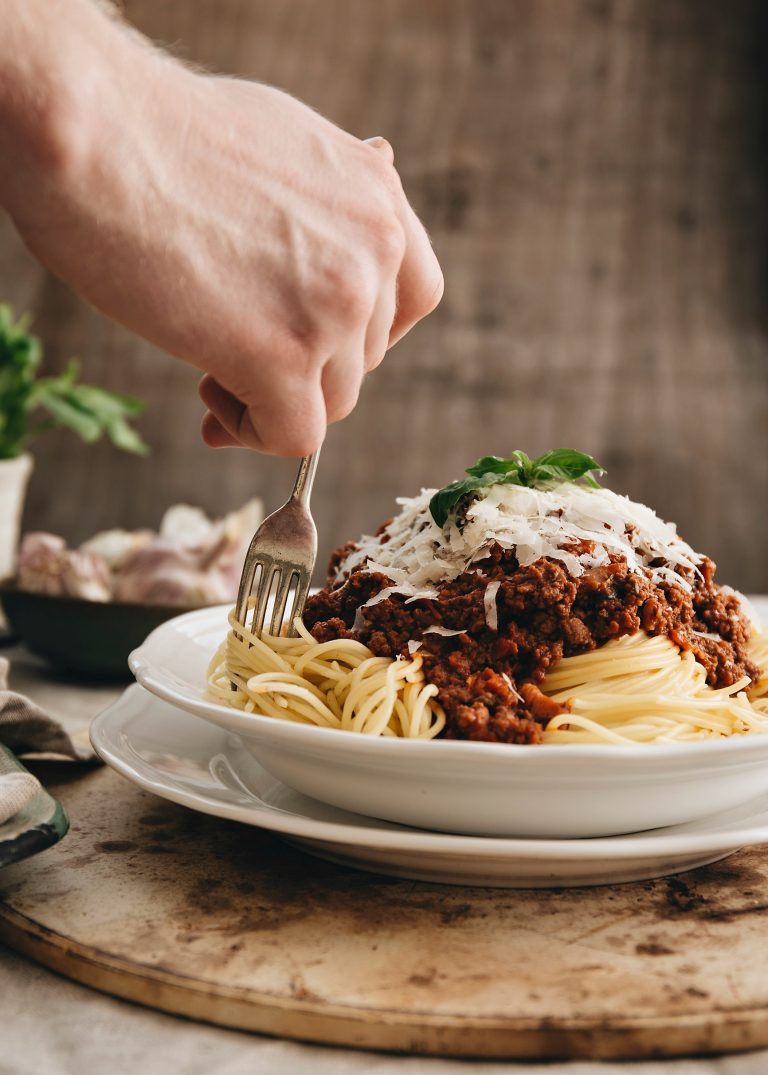 Grab my Perfect Spaghetti Bolognese Recipe HERE!
---
If you haven't licked the bowl clean then use up any leftovers to whip up some tasty bolognese sliders.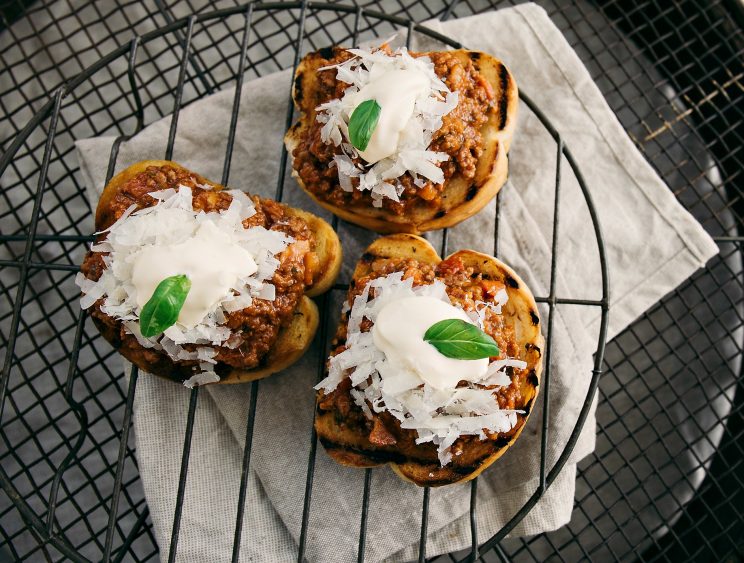 I often make these the day after for lunch or sometimes even for a side dish at dinner.
If you resisted using a whole block of parmesan and the whole bunch of basil then this is the perfect opportunity to finish them off.
There's also something about leftover bolognese that sends me weak at the knees, the way it soaks up all those gorgeous flavours overnight. YUM!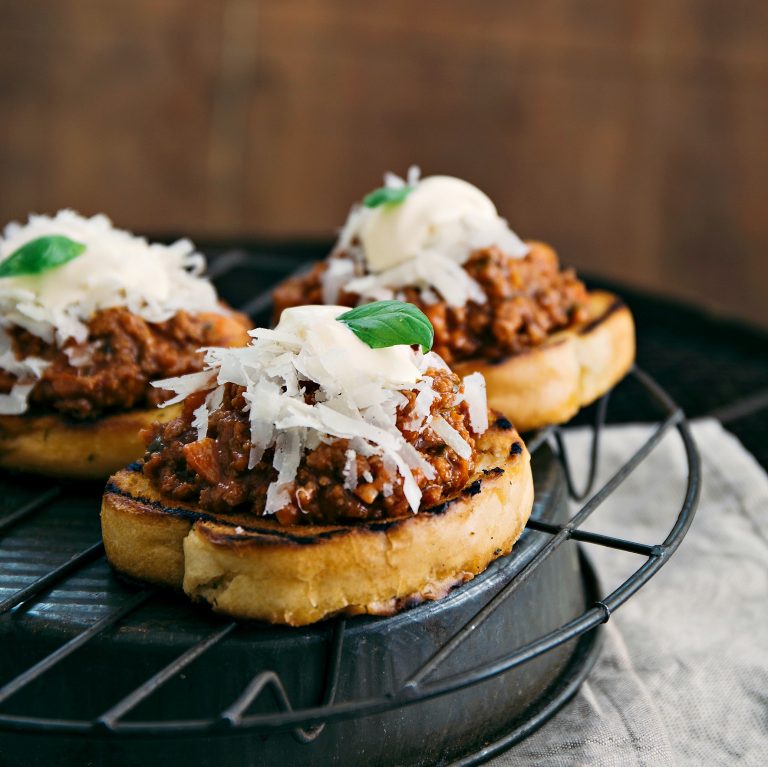 Grab the recipe for these Leftover Bolognese Sliders HERE!
---
Pin for later!
---
Cheers guys, this has been ' Family Spaghetti Bolognese | The 3 Course Edition ' Comment, share, do whatever you fancy but for crying out loud don't go bacon my heart. See you next time 🙂