'These Easy Pan Fried Pork Chops with Peach Salsa really couldn't be more quick to make. Although they make a fancy looking dinner, they're SO easy to whip up in the comfort of your own home. The PERFECT date night dinner!' – Hungry now?  Jump to Recipe
And that's what's so perfect about this dish. Restaurant style food made at a fraction of the cost, in the comfort of your pyjamas and a cheap glass of wine. Now if that doesn't sound like a romantic dinner for two I don't know what does. I mean it certainly looks like one anyway.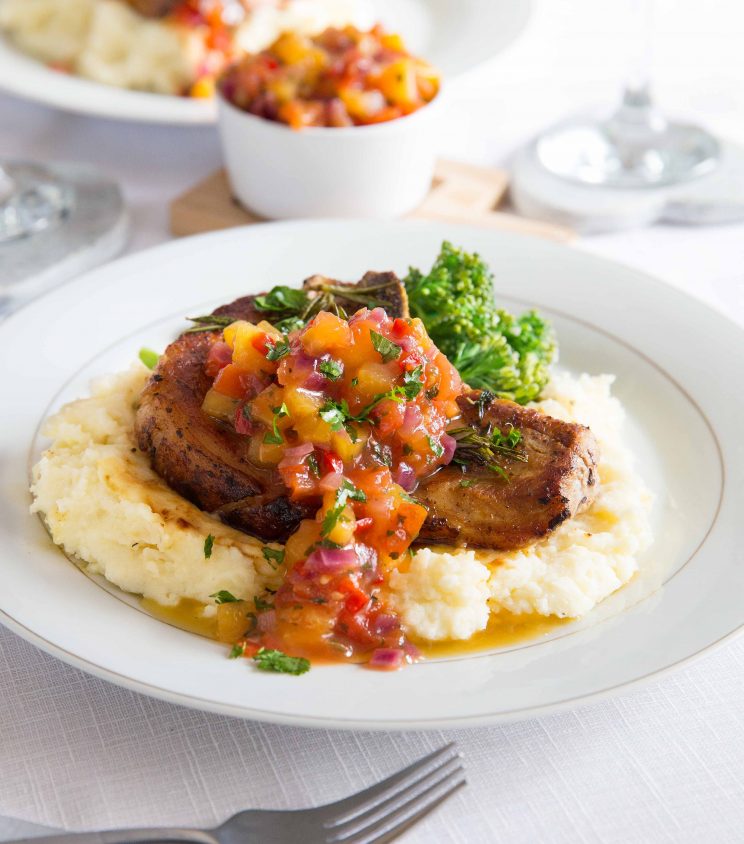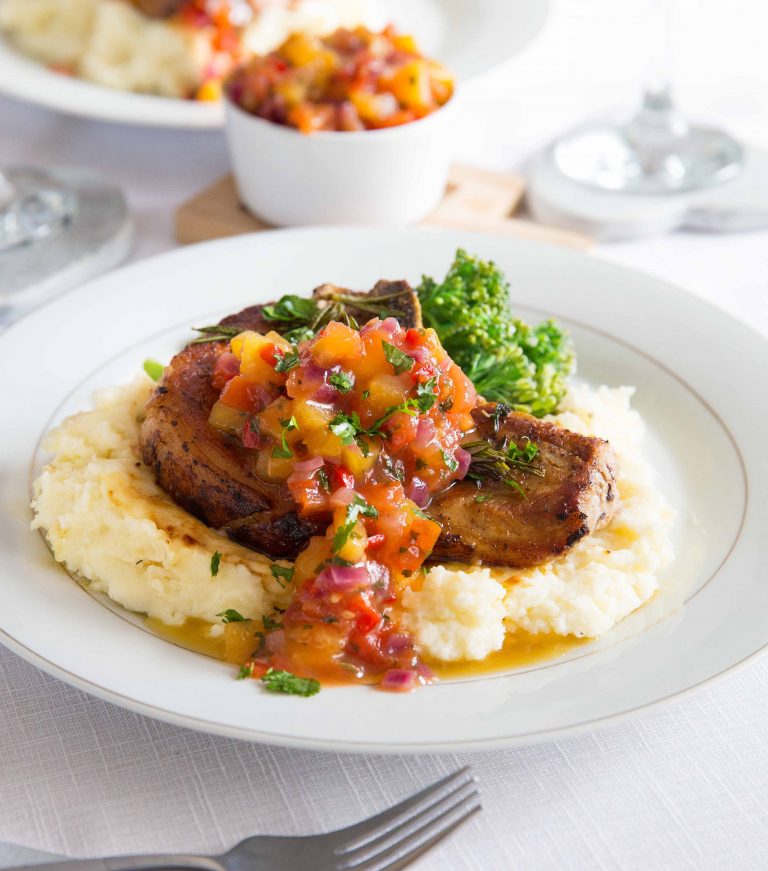 I was actually inspired by this dish when I visited an Italian Masterclass at the Edinburgh Food of School and Wine (I know, who do I think I am these days). We were taught something similar to this and seriously it's been my go-to date night dinner every since then. You'd think my hubby would get bored but nope, it's just THAT scrumptious.
But alongside this being my go-to dinner for two, it's actually the peach salsa I get most use out of. Like, I pair this stuff with everything. Seriously, I'm yet to find something that doesn't go well with the sweet, tangy and mildly spicy flavours in this salsa. And like most things on this blog, it's so freakin' easy to make!
How to make Peach Salsa in 3 simple steps
1. Saute red onion & red chilli until soft
2. Add in chopped peach and tomato and fry until soft.
3. Stir in honey, apple cider vinegar, fresh thyme & coriander/cilantro and salt & pepper. Simmer until thickened.
That's literally it. Delicious hot or cold, used as a dip or sauce. Personal favourite though of course smothered over some pan fried pork chops.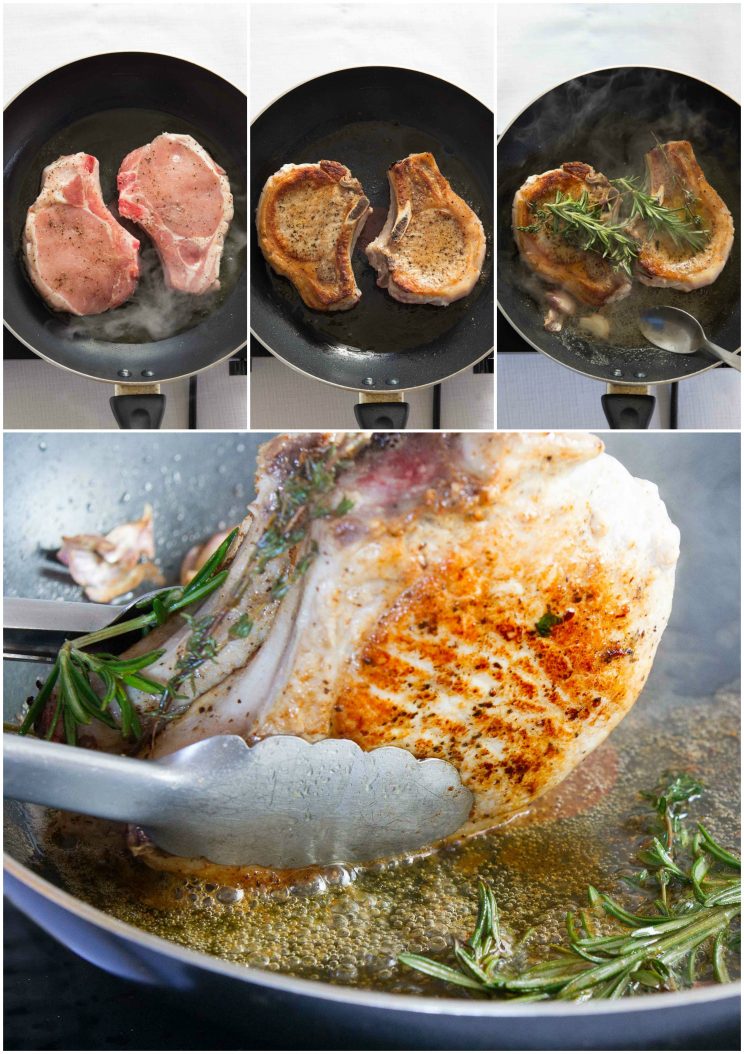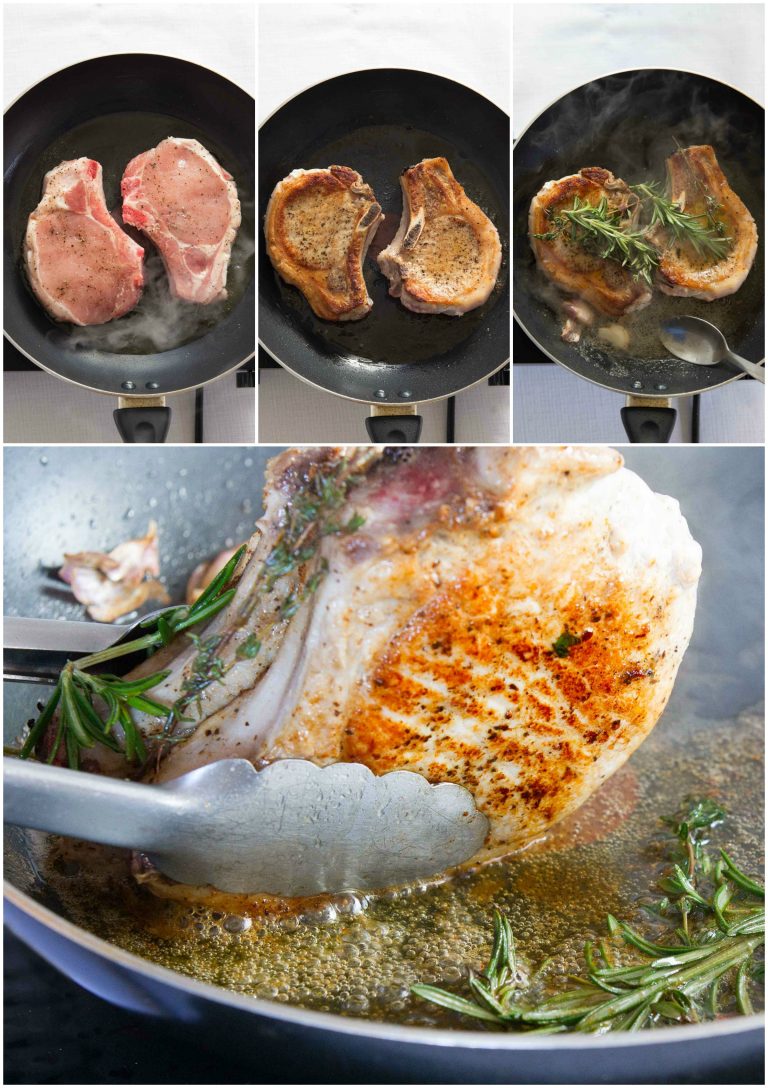 There's a few simple tips and tricks to make perfect pork chops. The first is cooking them at room temperature. I find that cooking any meat straight from the fridge results in a chewy texture. Second is heavy pre seasoning. I use heaps of salt and black pepper, cover all surfaces of the meat and push in with my fingers to really get the seasoning in. Next, make sure you're cooking on a high heat. This will give a delicious caramelization on the outside, including that gorgeous streak of fat on the side on the chop.
Lastly is to rest the meat. For real, even if you ignore all my other tips, for heavens sake rest the meat for 5 minutes after you've cooked it. Not only will this finish off cooking the meat through the centre (cooking on high heat means the centre won't quite be cooked) but it will also soak up the juices trying the escape the meat.
I know it's hard to not eat whilst it's sat there staring at you but trust me, it'll be worth the wait. Ugh, just look at it!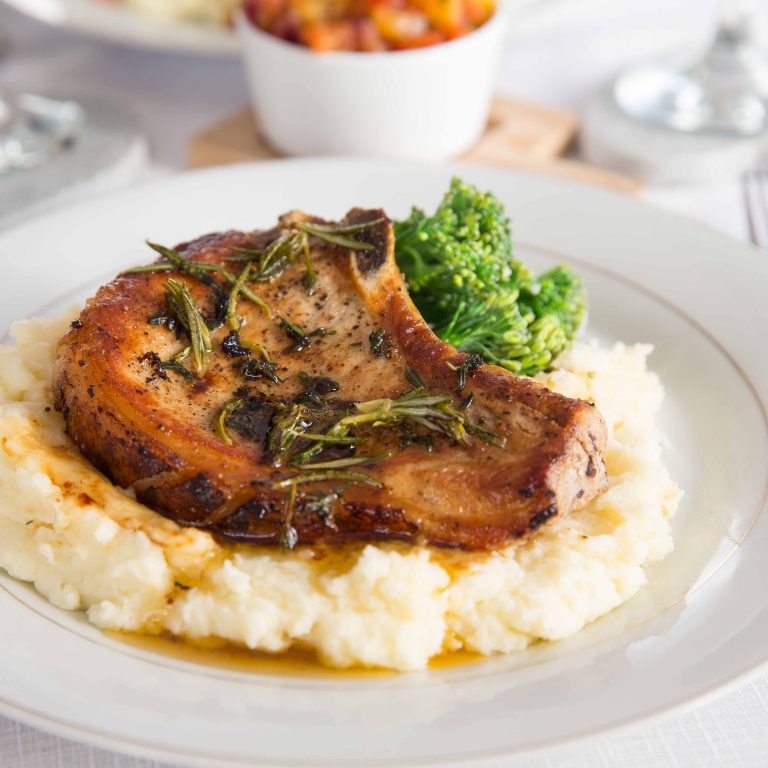 And when you combine the two, it's just a whole lot of happiness.
Pork lends itself to fruit (traditionally apples, cranberries etc) but for me, the power of the peach is all you need. A gorgeously succulent pork chop, topped with a sweet and tangy peach salsa. Did I say this was a dinner for two? Because I'm totally down for eating both right now.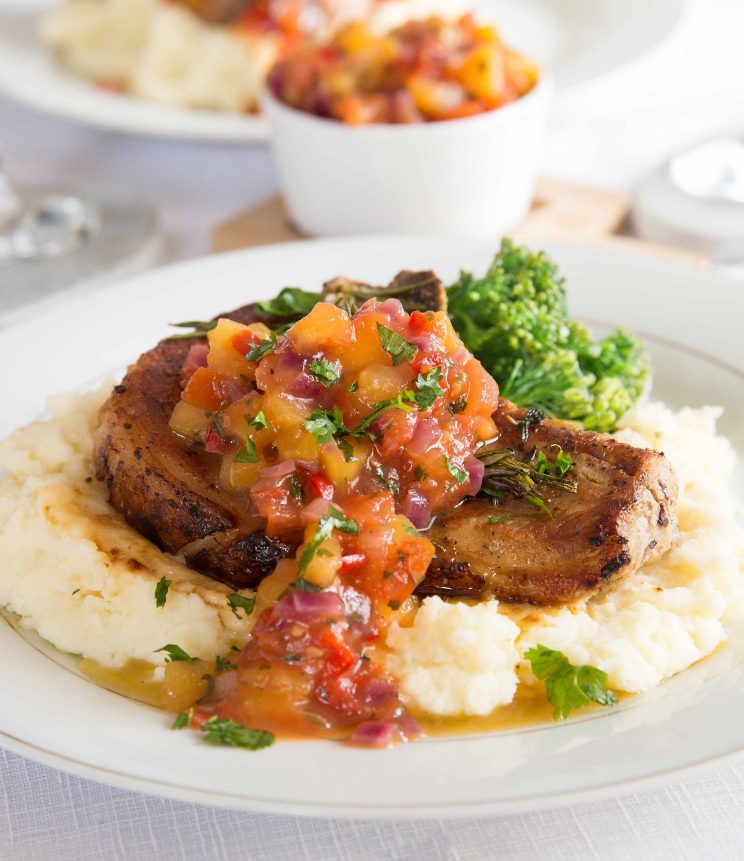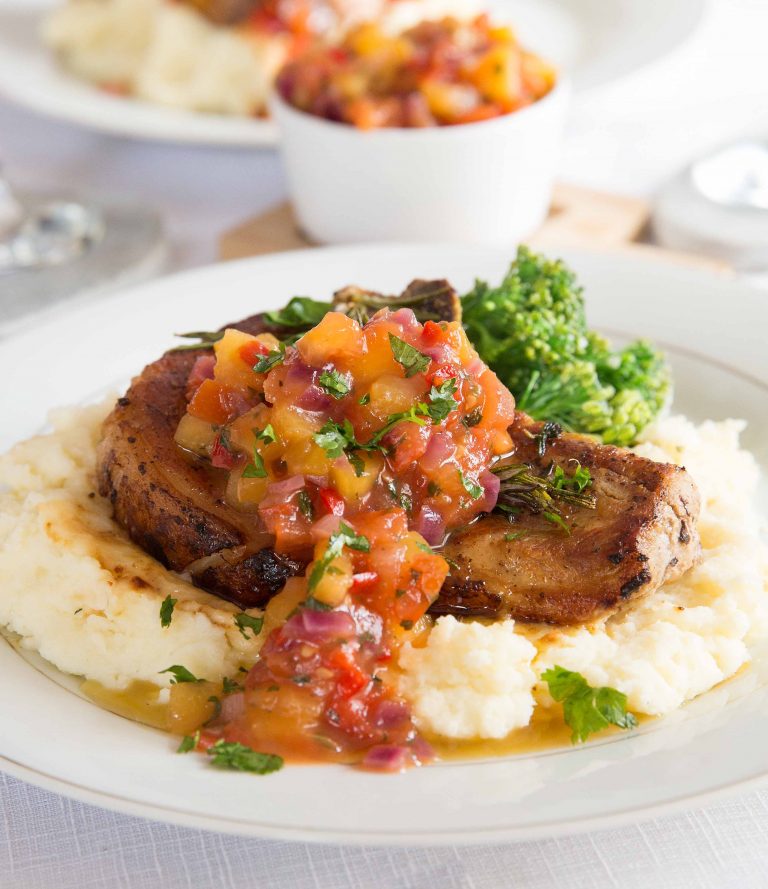 So in your next quest to find an easy home cooked meal for two, give these easy pan fried pork chops with peach salsa a thought. You shall not regret!
Check out the 1 minute recipe video below and grab the full printable recipe just below that. As always, let me know how you get on in the comments below and I'll see you on the next post! 🙂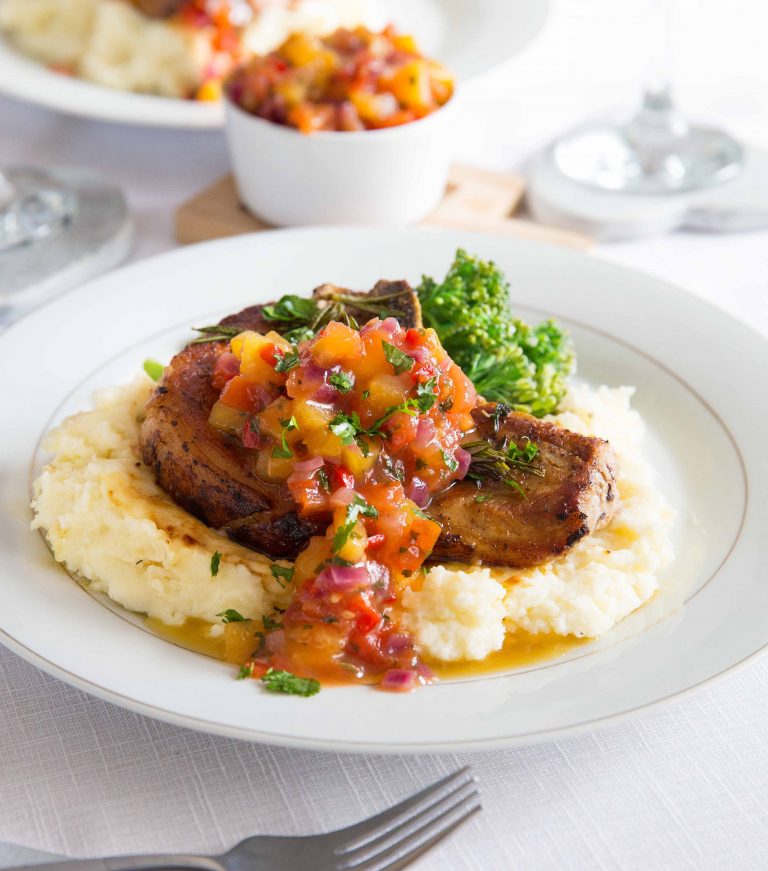 Easy Pan Fried Pork Chops With Peach Salsa
'These Easy Pan Fried Pork Chops with Peach Salsa really couldn't be more quick to make. Although they make a fancy looking dinner, they're SO easy to whip up in the comfort of your own home. The PERFECT date night dinner!'
Course:
Date Night, Dinner
Ingredients
Pork Chops
2

8oz

Pork Chops (225g)

Few

small knobs of

Butter

1

sprig

Fresh Rosemary

1

sprig

Fresh Thyme

2

cloves

Garlic, lightly crushed (skins left on)

generous amounts of

Salt & Black Pepper

Olive Oil for frying
Peach Salsa
2

Peaches, skinned & diced

2

Tomatoes, diced

1

small

Red Onion, finely diced

1

Red Chilli, deseeded & finely diced

2

tbsp

Apple Cider Vinegar

1

tbsp

Honey

1

tbsp

Coriander/Cilantro, finely diced

1

sprig

Fresh Thyme

Salt & Pepper, to taste

Olive Oil for frying
Method
Pork Chops
Take them out of the fridge at least 10 minutes before hand, to bring up to room temp.

Season all sides of each chop with a generous helping of Salt & Pepper. Rub in and push down with your fingers to really get the seasoning into the meat.

Heat up a good glug Olive Oil (1-2 tsp) over high heat. Place both chops in and fry for 3-4 minutes or until a deep brown colour.

Flip over and place in your Butter, Rosemary, Garlic & Thyme. Slightly tilt the pan towards you, making sure it stays clear of the flame, and with a spoon continually pour the melted butter over your pork chops. Again, fry for 3-4 minutes.

Grab both chops with a pair of tongs and place them fat side down and sear for a minute or so until caramelized.

Take chops out and rest on a flat surface for a minimum of 4 minutes and maximum of 8 minutes.
Peach Salsa
Heat up a little oil in a pan and sauté your Onions & Chilli until soft. Add in your Peach and Tomato, stir, then add your Vinegar, Honey, Thyme, Salt & Pepper.

Simmer until thickened, stirring occasionally. Remove sprig of Thyme, add Coriander/Cilantro and serve.
Recipe Notes
a) Room Temp - allowing the pork chops to come to room temp before cooking is crucial. Cooking straight from the fridge will increase the chances of a dry pork chop and nobody likes a dry pork chop!
b) Bone is better! Aim to get pork chops with the bone in. These are slightly fattier and we all know fat = flavour. They also cook more evenly, as the bone heats up it will cook through the centre of the chop.
c) High Heat - Cooking the chops at a high heat is crucial for a gorgeously caramelized surface. Although the centre won't be fully cooked after frying, when the chops are resting they'll carry on cooking through the centre.
d) Resting - Just when you put the chops down to rest, spoon some of the juices in the pan over them, just for extra moisture/flavour.
e) Chops + Salsa combined - Because the salsa doesn't take long to cook, you can pour out the leftovers from cooking the chops and go from there in the same pan whilst the chops rest. Or you can do alongside in a different pan whilst they're frying, up to you.
f) This recipe is inspired by a dish I created at an Italian Masterclass at the Edinburgh School of Food and Wine
---
Looking for more romantic dinners for two? Check out my Date Night Baked Gnocchi!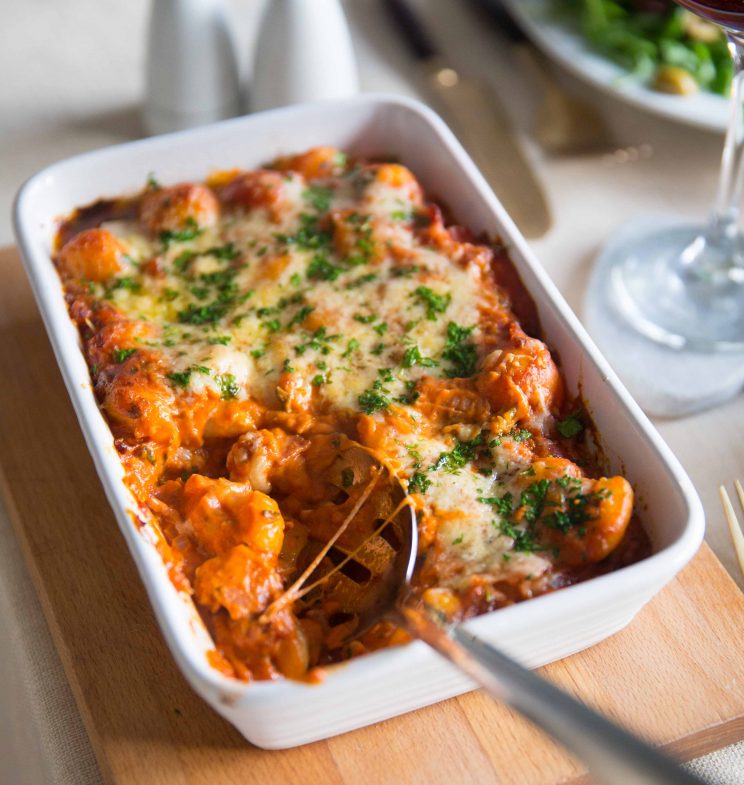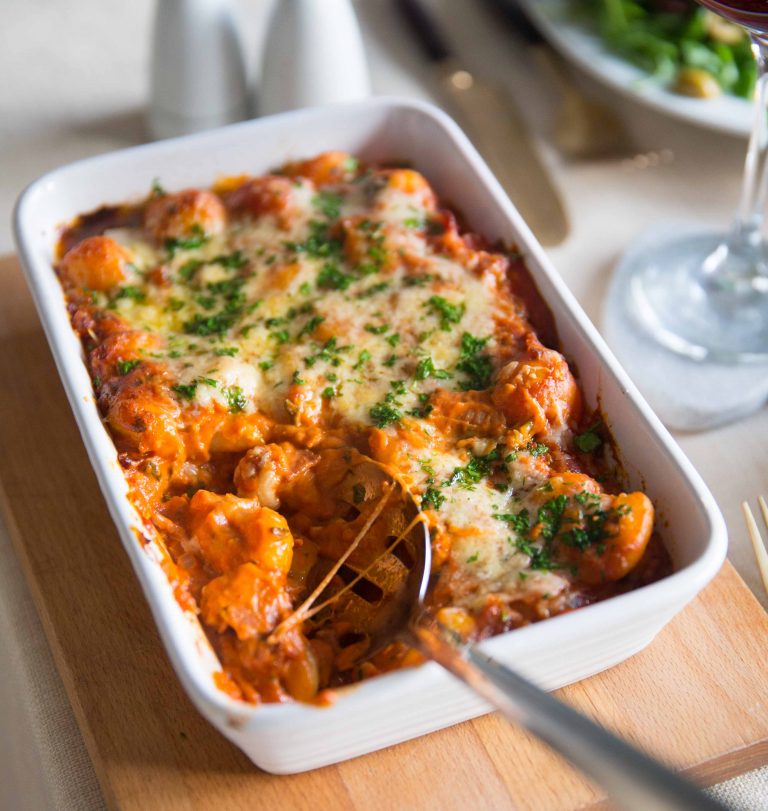 ---
---
Cheers guys, this has been ' Easy Pan Fried Pork Chops with Peach Salsa ' Comment, share, do whatever you fancy but for crying out loud don't go bacon my heart. See you next time 🙂