Stir fry is the perfect quick fix mid week dinner! Here I give you all the tips and tricks you need to create the most mouthwateringly delicious, and most importantly EASY Chicken Noodle Stir Fry!
I know right, you've been stir frying your dinners your whole life, what the heck could I possible teach you!? I mean it's a valid question, but one I do hope to answer by the end of this post. A stir fry comes in many different shapes and sizes but for me, I've only got eyes for chicken noodle stir fry.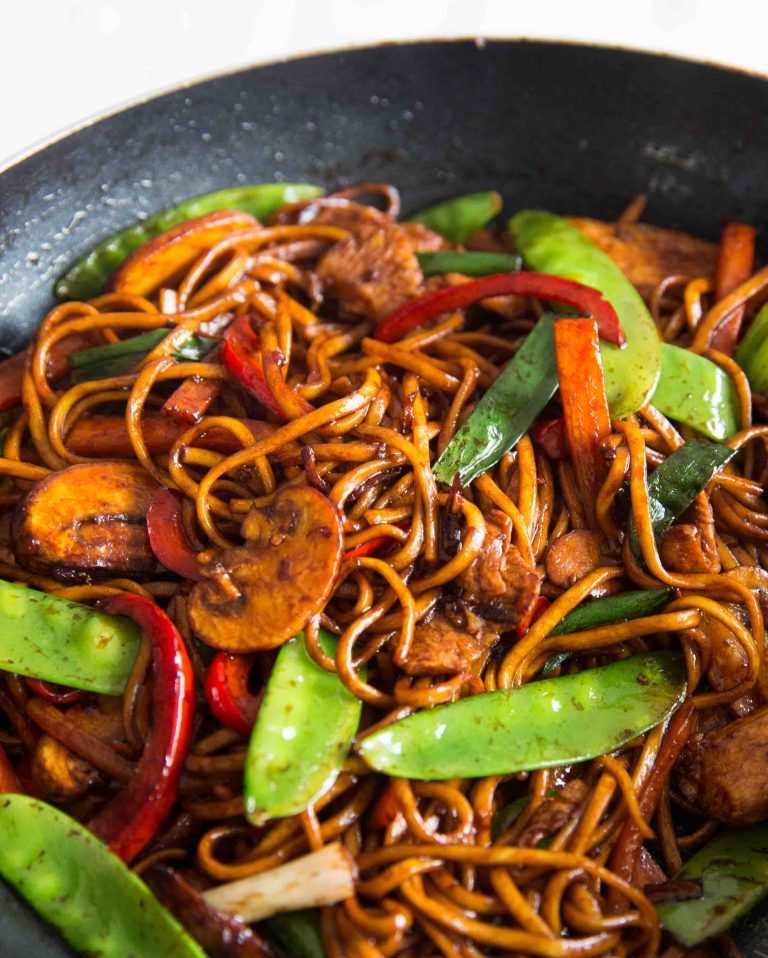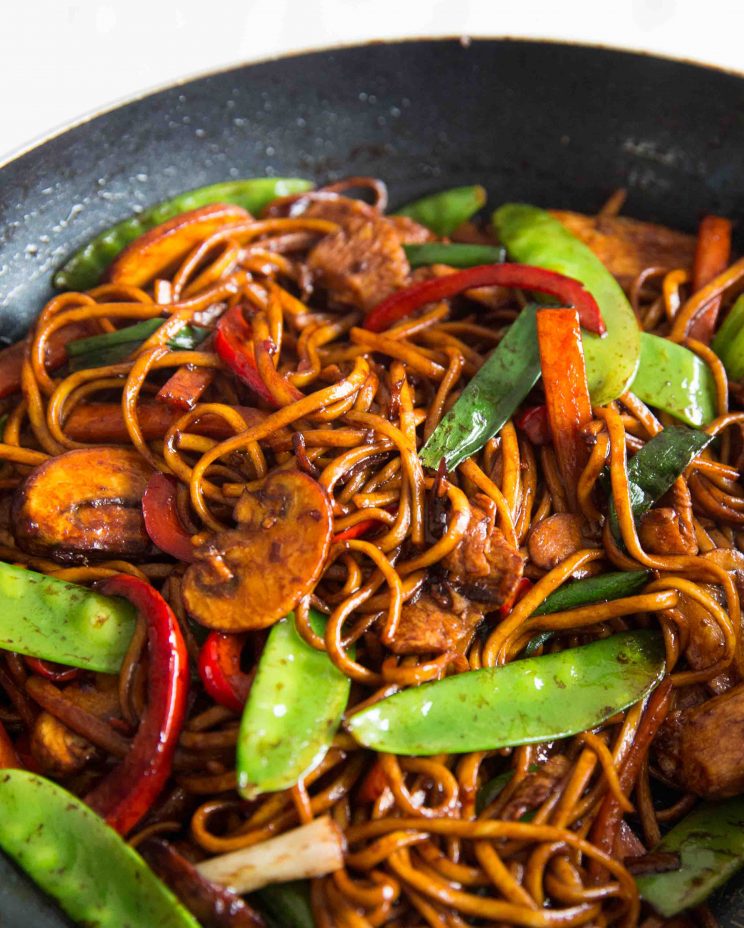 A delicious chicken noodle stir fry for me, is the meaning of life.
Okay, dramatic. But you know what I mean. Quick, easy and most importantly it's the perfect opportunity to use up some leftover veg knocking about in the fridge. Plus – chicken and noodles is just the perfect combo.
Meaning of life? Maybe not. Meaning of the most convenient dinner ever. Absolutely.
And like I said, there's a million and one ways to make a stir fry, but here I'll give you some general tips that will really make a difference next time you knock one up for dinner!
So let's tuck in shall we?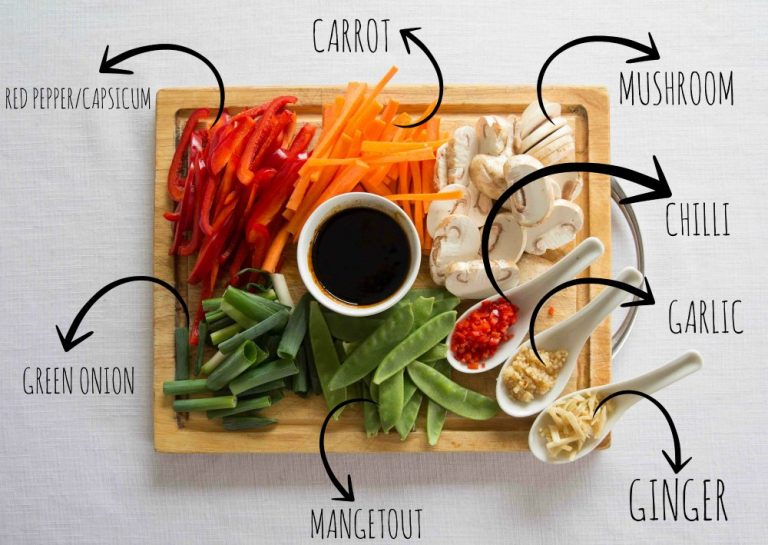 The most versatile part of a chicken noodle stir fry is the veg. Come to think of it, I don't think I've ever eaten a stir fry with exactly the same veg in it twice. Besides opening the fridge and picking whatever veg looks like it's on it's last legs, here's my tips for what to include.
Best Veg for a Stir Fry
Aromatics – Aromatics are ingredients that when heated in oil or fat, release aroma and inject a gorgeous base flavour to whatever you're cooking. For a chicken noodle stir fry I would definitely include aromatics. My 3 must haves are chilli, garlic and ginger.
Variety – Whatever veg you settle with, make sure you include a range of different textures and tastes! After all, variety is the spice of life and all that.
Colour – Not as important, but you really do eat with your eyes. Nothing worse than seeing a beige chicken noodle stir fry!
Now we've got the veg, let's crack on to the sauce.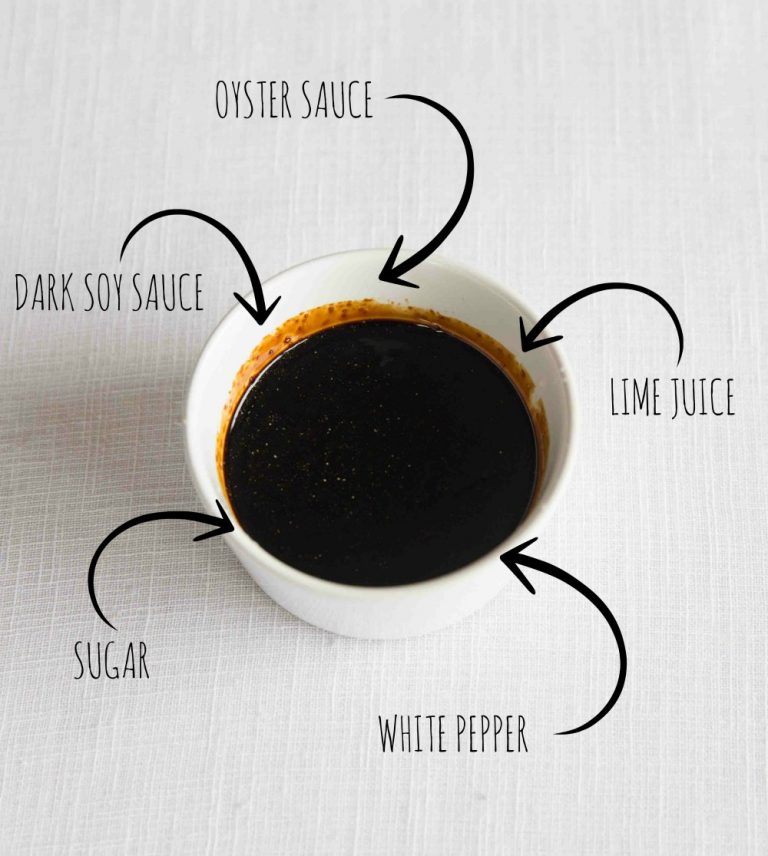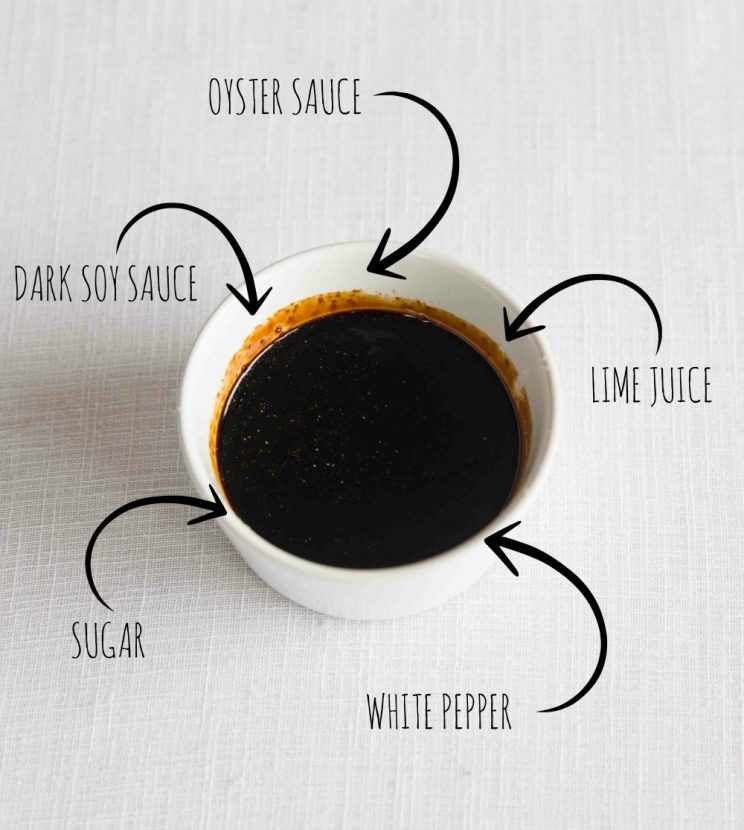 Basic Stir Fry Sauce
I've been guilty in the past of just chucking in some soy sauce or sweet chilli sauce and calling it a day. Not that that tastes bad, but it can be a whole lot tastier.
For me, the perfect chicken noodle stir fry sauce has to be a balance of sweet, sour, spice and salt.
The oyster sauce and dark soy sauce will give you the base flavour for the stir fry and add a good amount of salt. To balance out and sweeten that powerful salty taste, I add brown sugar. Just 1/2 a tsp, but it's enough to balance things out. From there I add fresh lime juice to add the sour component. Lastly I add in white pepper. White pepper is spicier than regular black pepper and goes perfectly in a stir fry.
Many recipes also thicken stir fry sauces with cornstarch/cornflour. I tend to find that dark soy sauce and oyster sauce are thick enough already, but if you feel like it needs thickening then add in cornstarch/cornflour.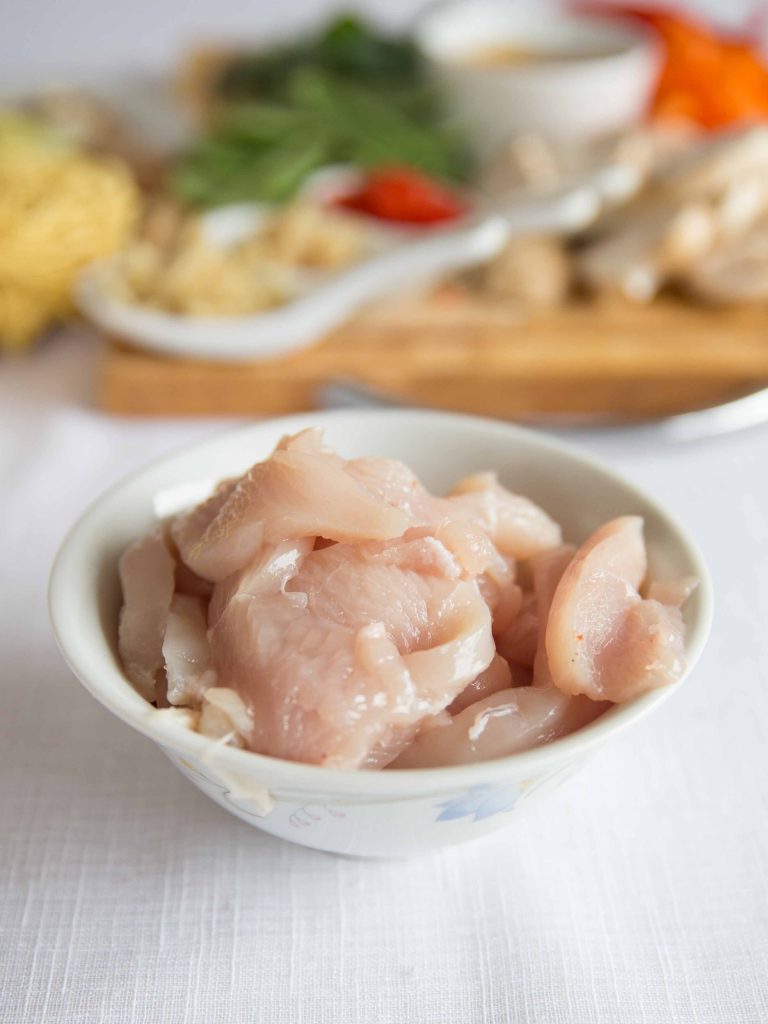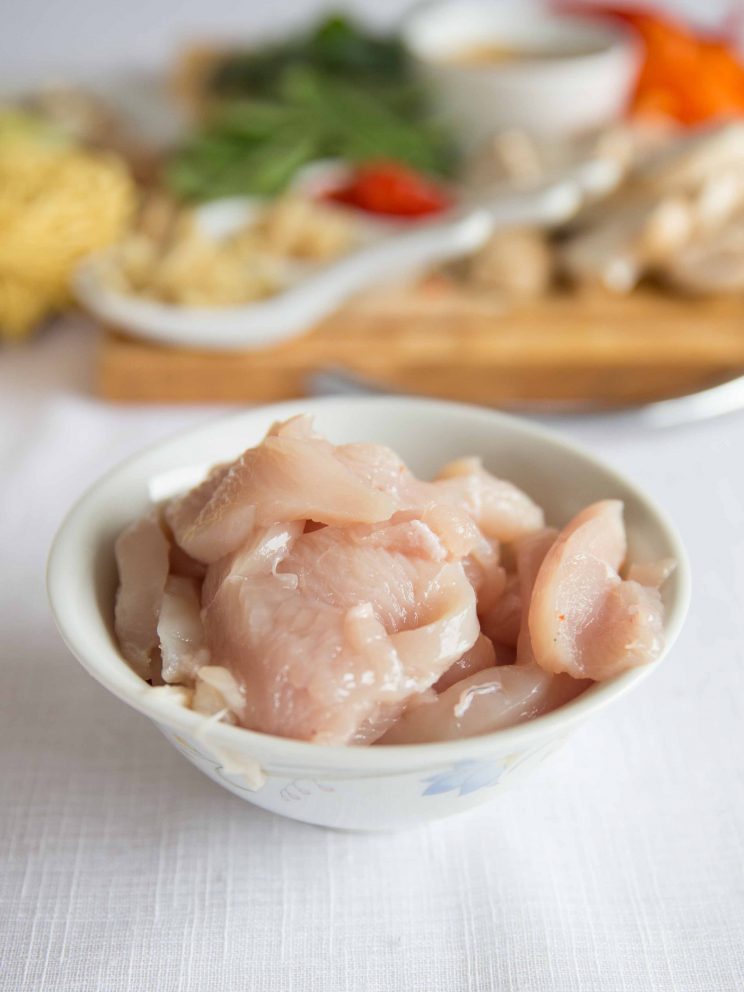 Chicken Noodle Stir Fry
Of course, what's a chicken noodle stir fry without the chicken? Well, a noodle stir fry I guess.. But that's not what we're here for today!
Typically I use chicken breast because it's usually what I've got on hand, but chicken thigh works perfectly too.
My tips are to firstly make sure it's thinly sliced and roughly the same size. You want the chicken to cook quickly and most importantly, at an even rate. Secondly, ensure you don't chuck it in straight from the fridge. I find that frying cold chicken produces too much moisture, which in turn prevents it from browning. Bring your chicken just to room temperature then chop and chuck it in.
Lastly don't cook it completely. You want it about 80-90% cooked, then take it out and pop back in right at the end to finish heating it through. If you left it in the wok the whole time it's going to overcook and become tough.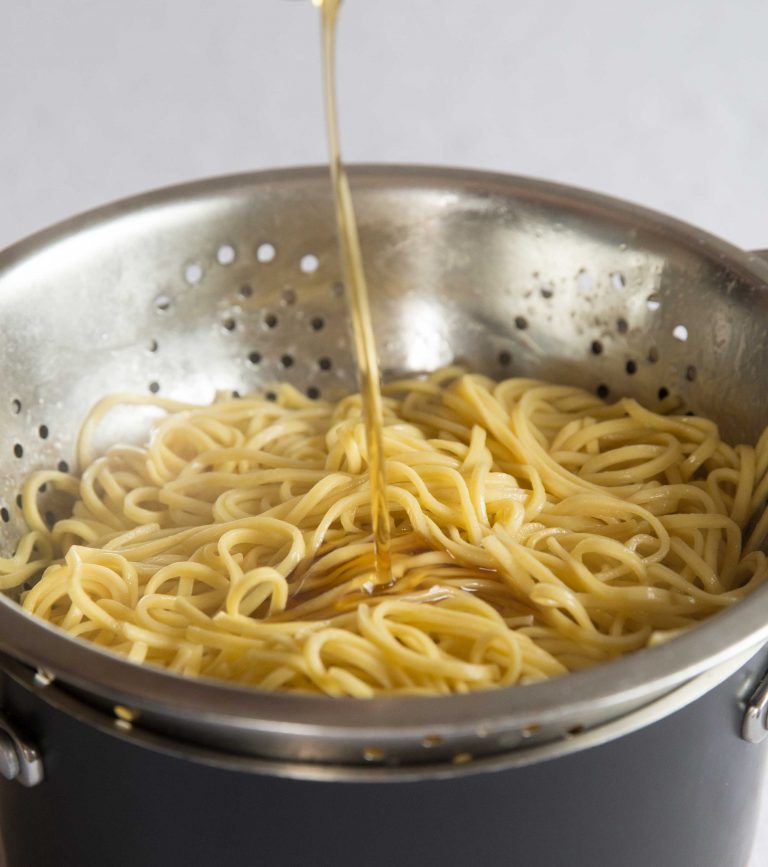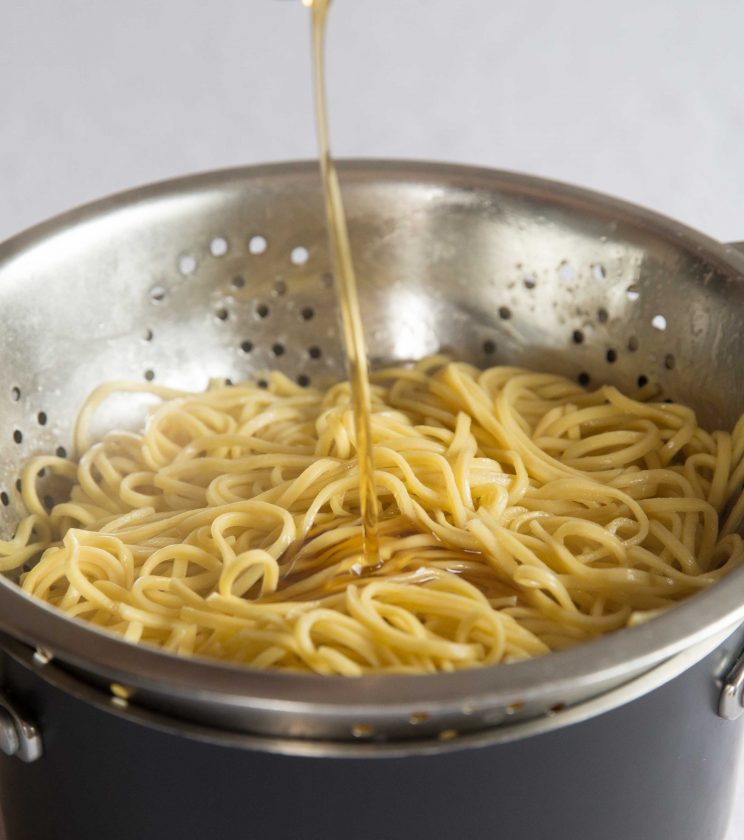 Best type of Noodle for a Stir Fry
When it comes to the noodles, I tend to stick to egg noodles just out of preference.
I also tend to get medium thickness. I find that if they're too thin they kind of just get lost, especially if there's tonnes of veg.
What I do recommend is whatever noodles you choose, after you've cooked and drained them, toss a little sesame oil through them.
This will not only ensure they don't stick together, but will also inject a gorgeous sesame flavour into your noodles.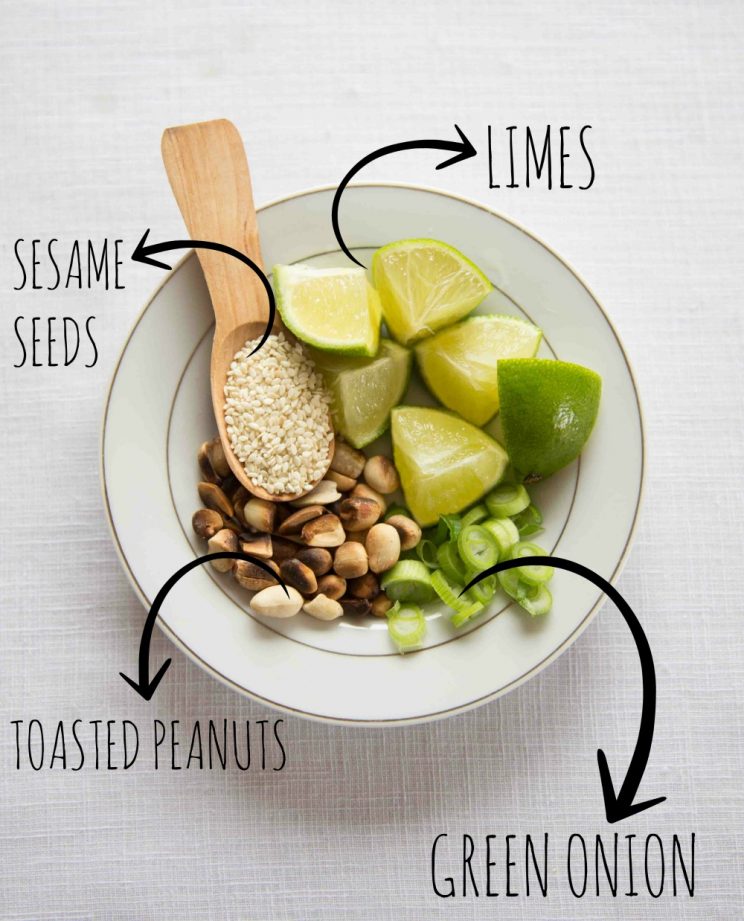 Chicken Noodle Stir Fry Garnish
I try not to think of garnish as just a pretty face, but more of an opportunity to add some more texture and flavour to the dish.
One of my favourite things to do is grab some peanuts, lightly toasted them, crush them up and sprinkle them over top.
So much yumminess it's insane.
Adding some sesame seeds will also enhance that sesame oil you tossed the noodles through as well.
Ya know, just for even more yum.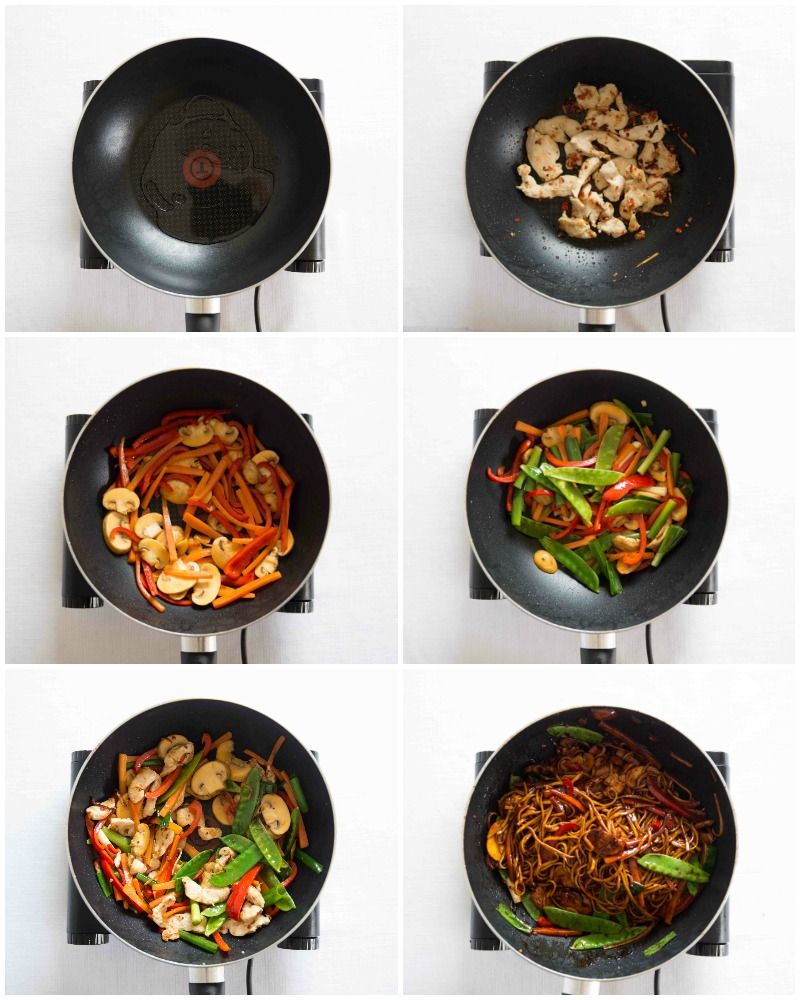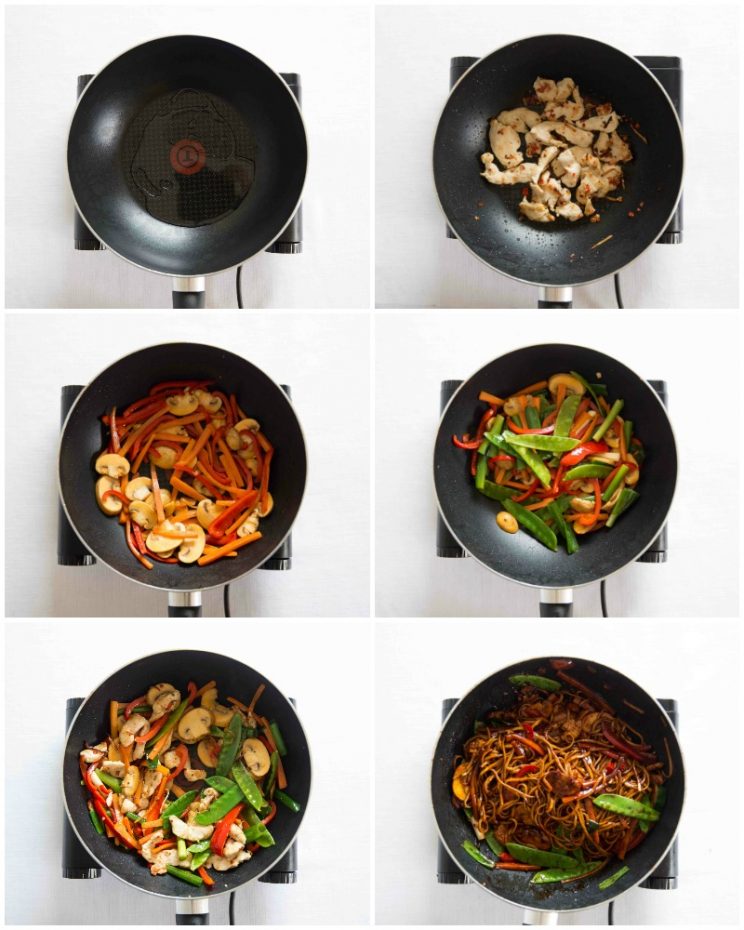 How to make an Easy Chicken Noodle Stir Fry – Top Tips
Wok – Using a wok, or at least a large pan, is essential in making a stir fry for two reasons. Firstly, because you want room to fit all the ingredients and more specifically, you want room to shake, flip and stir all the ingredients. Secondly, the depth of a wok helps keep everything piping hot by circulating heat.
Heat – Keeping everything piping hot for the entire cooking process is essential for a light and crisp chicken noodle stir fry. There's nothing worse than soggy veg, so keep it quick and crank the heat up high.
Order – Always start with your chicken, brown on each side, then take it out the pan to finish later. I always add the aromatics in once I've flipped the chicken, just long enough for them to release their flavours, but not long enough they burn. In between, just evaluate which veg is gonna take the longest to cook. I put things such as carrots, broccoli and peppers in at the beginning, and thinner less 'dense' veg such as green onion and beans sprouts towards the end. Always place the noodles with the sauce in right at the very end.
Righto, that's certainly enough from me. Let's tuck in shall we?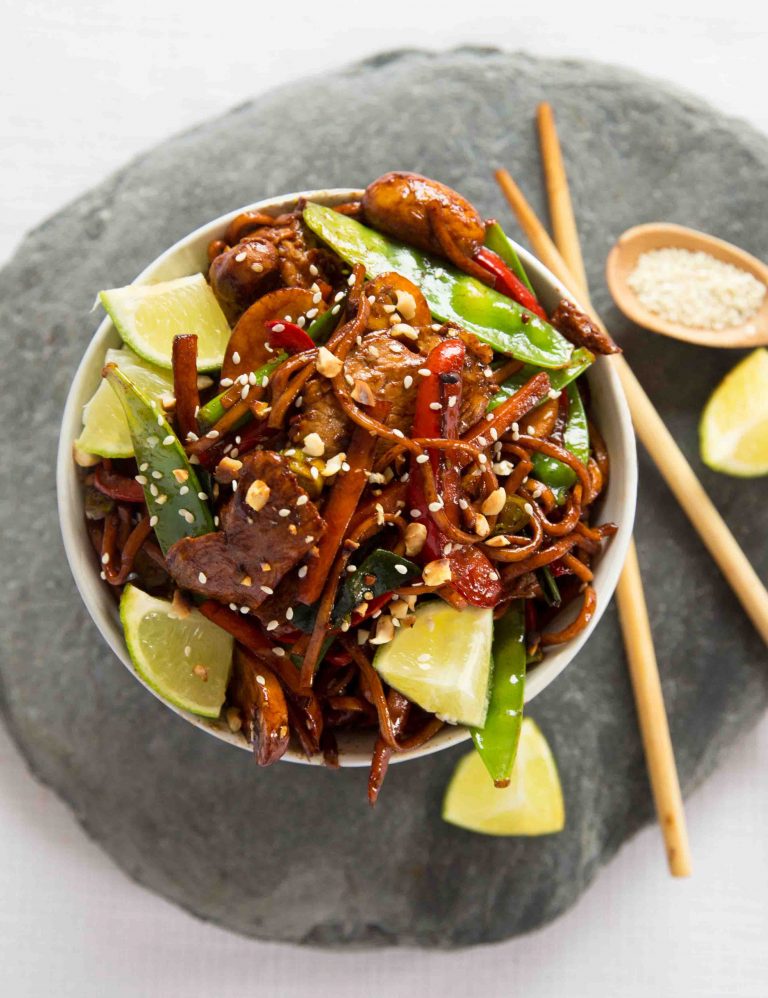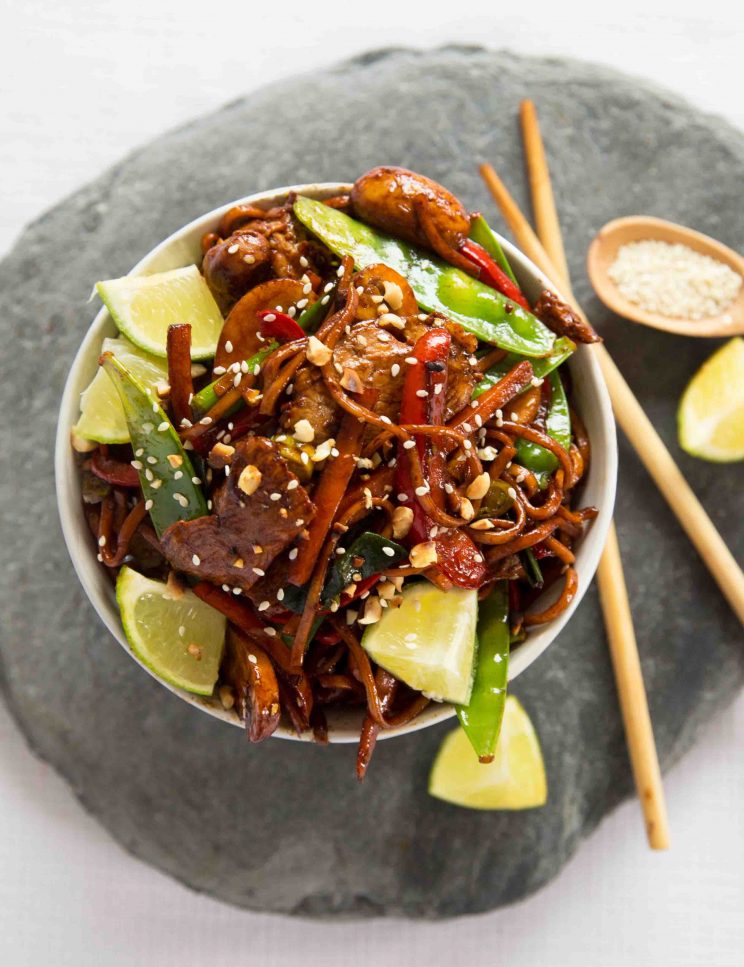 How to make an Easy Chicken Noodle Stir Fry (Full Recipe & Video)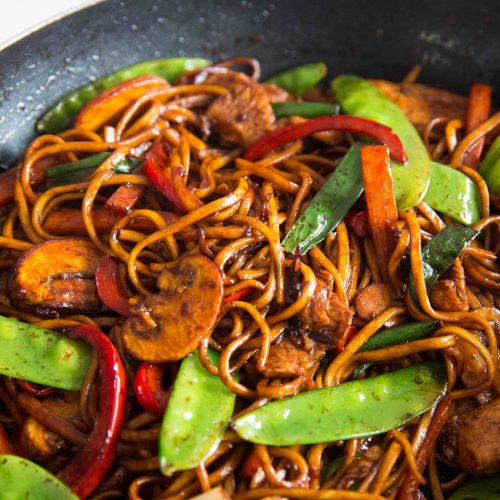 Delicious and Easy Chicken Noodle Stir Fry
Stir fry is the perfect quick fix mid week dinner! Here I give you all the tips and tricks you need to create the most mouthwateringly delicious, and most importantly EASY Chicken Noodle Stir Fry!
Print
Pin
Rate
Share by Text
Servings (click & slide):
3
Calories per serving:
253
kcal
Ingredients (check list):
Chicken
8.8oz / 250g

Chicken Breast, sliced into strips

1

tsp

Fresh Red Chilli, finely diced (adjust to preference)

1

tsp

Garlic, minced

1

tsp

Ginger, minced

1-2

tbsp

Vegetable Oil

Salt & Black Pepper
Sauce
2

tbsp

Dark Soy Sauce

1

tbsp

Oyster Sauce

1/2

Fresh Lime

1/2

tsp

Brown Sugar

1/4

tsp

White Pepper
Veg & Noodles
5.3oz / 150g

Dried Noodles

drizzle of

Sesame Oil

2.6oz / 75g

Mangetout

4-6

Mushrooms, sliced

3

Green Onions, sliced into approx 1.5" chunks

2

medium

Carrots, peeled & sliced into strips

1

Red Pepper/Capsicum, sliced into strips
Garnish
Diced Green Onion

Crushed Toasted Peanuts

Sesame Seeds

Lime Wedges
Instructions:
Combine the ingredients for your sauce and place to one side.

Cook your noodles according to packet instruction, drain and toss with a good drizzle of sesame oil. Do not rinse.

In a wok or suitably sized pan heat up your vegetable oil over high heat. Season your chicken with a pinch of salt and black pepper then place in the wok. Fry for a minute or so until golden on one side, then slip and place in your garlic, chilli and garlic. Fry further until the chicken is golden and just about cooked through, and the aromatics begin to brown. Remove from wok and place to one side.

Keeping the heat high and adding more vegetable oil if necessary, add your carrot and red pepper/capsicum. Shake the wok regularly to ensure an even char.

After about a minute, add in your mushrooms and fry for a further minute or 2, shaking often.

Add in your mangetout and green onion. Fry until they just soften, then add back in your chicken, garlic, chilli and ginger, then stir in your noodles and sauce. Give everything a good toss to ensure the sauce spreads evenly and the chicken heats through.

Serve with extra garnish and enjoy!
Notes:
a) Heat - it's essential to make sure your heat is high from start to finish. You want your veg light and crispy, not limp and soggy. Keep everything moving throughout to make they don't burn. b) Chicken - allow the chicken to just come to room temperature, don't fry straight form the fridge. I find that fry cold meat produces too much moisture and prevents it from browning. Also don't panic if your chicken isn't completely cooked through after initially frying it. The carryover heat will continue to cook the chicken whilst it's resting. It will also finish off cooking when you return it to the wok. c) Overpacking/Underfeeding - whilst it's great to pack as much veg in the wok as possible, you don't want to over do it. If there's too much in the wok at once everything is just going to steam instead of fry. This will not only inevitably increase the time it takes for everything to cook, but will also cause everything to steam instead of fry. The recipe measurements I've provided will offer 3 modest portions. My advice is to pack out the stir fry with beansprouts right at the end if you're after 3 bigger portions. That or repeat in two batches.
Your Private Notes:
Nutrition:
Nutrition Facts
Delicious and Easy Chicken Noodle Stir Fry
Amount Per Serving
Calories 253
Calories from Fat 123
% Daily Value*
Fat 13.7g21%
Cholesterol 40mg13%
Sodium 390mg16%
Potassium 281mg8%
Carbohydrates 16.9g6%
Protein 15.9g32%
Vitamin A 2050IU41%
Vitamin C 54.5mg66%
Calcium 20mg2%
Iron 1.1mg6%
* Percent Daily Values are based on a 2000 calorie diet.
Nutrition is based on the absence of salt unless stated as a measurement in the ingredients. Cost is worked out based on ingredients bought from UK supermarkets, then divided by the number of servings. In both instances these values are just for guidance. Please check out my FAQ Page for more info.
---
If you're after another delicious stir fry recipe check out my Pork & Pineapple Stir Fry!
For more similar recipes check out these beauties:
Noodle Recipes
---
If you loved this Chicken Noodle Stir Fry recipe then be sure to Pin it for later! Already made it or got a burning question? Let me know in the comments below and pick up your free ecookbook along the way!