---
' Creamy Cajun Chicken Tagliatelle is beautifully creamy with a nice Mexican kick. Absolutely packed with flavour, this dish is like a 2 in 1 Fajita style pasta.'
So, the New Year's healthy eating diety thingy was going well, until today. The dish itself isn't too bad, but the fact me and my other half demolished the entire skillet (which should feed four) does raise some concern on my change in eating habits – or lack of. But hey no regrets over here this recipe is heavenly, if i do say so myself. Anyway, less of me and more of this. Creamy Cajun Chicken Tagliatelle. Yum. As always, fairly experimental but it really works. Beautifully creamy with a nice Mexican kick and packed with gorgeous flavours. Almost like a 2 in 1 Fajita style pasta – two of the best things in the entire world right?
Tagliatelle is my all time favourite pasta, but go ahead if you fancy something different – a Fettucine or Linguine would also work great. Do try and stick with the noodley (is that even a word?) kind of pasta though as it allows the sauce to ooze in and out of it, making a nice little bed for the chicken breasts to sit on.
With regards to the seasoning, pre made Cajun Seasoning is perfect and in this case, do not be afraid of the store bought. But again, mix it up and feel free to make your own if you fancy.
Feel free to slice up the chicken! I just personally love them whole in this recipe 🙂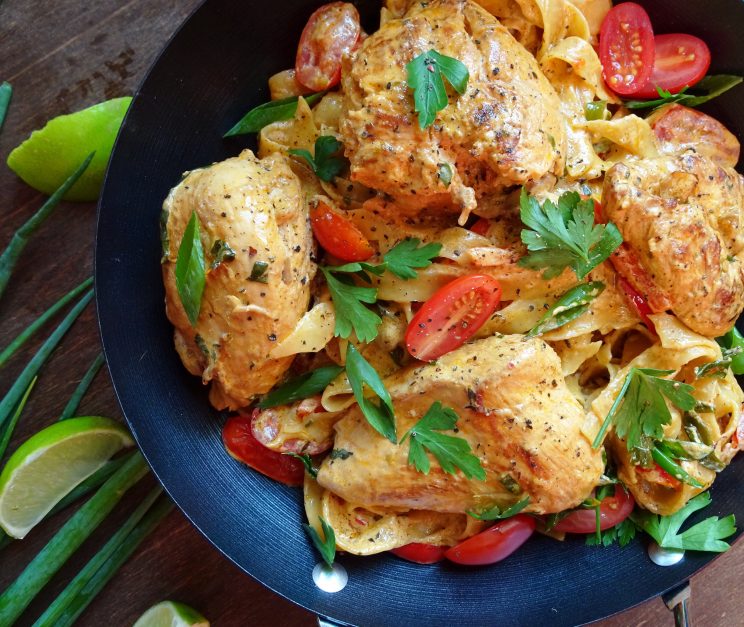 This recipe is a fantastic dish to add to the family meal rotation. Super quick and easy, this creamy cajun chicken is nothing less than heavenly. Above all, it's incredibly filling.
Let me know how you get on folks and I'll catch you all on the next post. See ya 🙂
---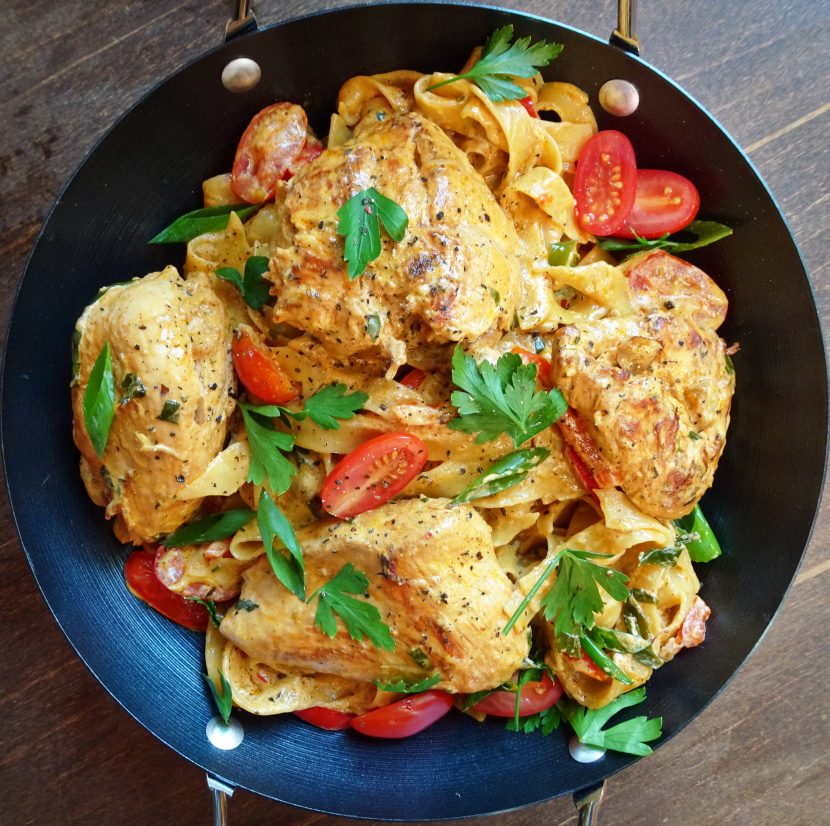 Creamy Cajun Chicken Tagliatelle
' Creamy Cajun Chicken Tagliatelle is beautifully creamy with a nice Mexican kick. Absolutely packed with flavour, this dish is like a 2 in 1 Fajita style pasta '
Cuisine:
Italian, Mexican
Ingredients
4

Medium Sized Chicken Breasts

250

g

(7-8 clusters) Tagliatelle

300

g

(1 cup) Heavy Cream

3

tsp

Cajun Seasoning

2

tbsp

Butter

2

tbsp

Parmesan

1/2

tsp

Garlic

minced

1/2

tsp

Smoked Paprika

1

Green Onion

sliced (save a sprinkle for garnish)

1

Red Capsicum

sliced

1

Lime

halved

100

g

(1 cup)Mushrooms

sliced

100

g

(1 cup) Cherry Tomatoes

sliced

1

Handful fresh Parsley

roughly chopped (save a sprinkle for garnish)

Salt & Black Pepper

to taste

Splash of Olive Oil
Method
In a small bowl, mix together 2 tsp of Cajun Seasoning, a pinch of Salt & Pepper and the juice from half a Lime until a paste-like texture forms. Coat your Chicken breasts, cover and leave in the fridge for at least 1 hour to marinate. Now is a good opportunity to prepare your veg.

Once your Chicken has marinated, heat up a little oil in a large skillet over medium heat and begin frying. Overall, it should take around 6-10mins depending on size, flipping once (depending on size) for your Chicken to cook throughout. Once just about white through the center, take out the skillet and place to one side to allow it to soak up and retain the juices.

Pop your Tagliatelle in salted boiling water and cook until al dente.

Stir in your Capsicums, Onion, Mushrooms, Smoked Paprika, Garlic, the final tsp of your Cajun Seasoning and cook further until the veg begins to soften.

Add in your Butter and gently stir until it melts. Now add your Cream, Parsley, Tomatoes, Parmesan, the juice from the other half of the Lime, Salt & Pepper (to taste) and toss in your Tagliatelle. Once thickened, add your Chicken and coat with the sauce. Serve with Tagliatelle topped with Chicken and extra garnish.
Recipe Notes
a) I have used Sour Cream in this recipe before and it works great. However it soaks up a lot quicker, leaving a less creamier and more silkier finish.
b) If your chicken breasts are uneven sized, place in cling films and bash with a rolling pin until flat and evenly sized. This will ensure all the chicken cooks at the same time.
Nutrition Facts
Creamy Cajun Chicken Tagliatelle
Amount Per Serving
Calories 620
* Percent Daily Values are based on a 2000 calorie diet.
---
After more quick, easy and filling dinner ideas? Check out my Hearty Homecooking page!
---
---
Cheers guys, this has been ' Creamy Cajun Chicken Tagliatelle '. Comment, share, do whatever you fancy but for crying out loud don't go bacon my heart. See you next time! 🙂